Not Recommended
App last updated
Oct 30, 2017
Screenshots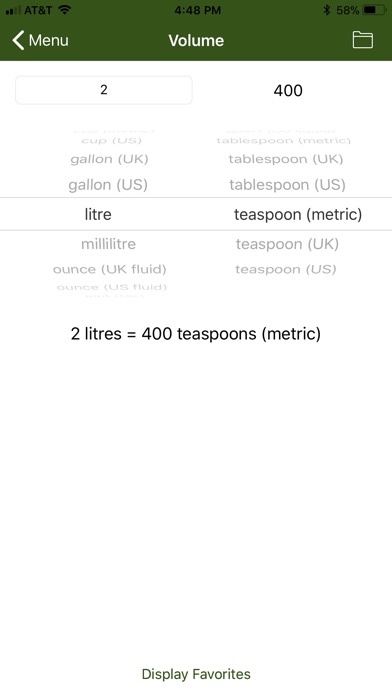 New in version 2.5
Updated for iOS 11 and iPhone X along with other minor improvements.
Description
KitchenUnits is an intuitive and easy to use unit converter for the kitchen. Is your recipe in grams and milliliters and you need it in pounds and cups? What if your recipe tells you to set the oven to 177 degrees Celsius and your oven uses Fahrenheit? KitchenUnits helps you convert your recipe to the units you need. You can even save your favorite or most used conversions to find them easily next time.

Features:
- Converts 27 distinct units across temperature, time, volume, and weight categories.
- Displays common conversions for each unit category.
- Saves and displays user selected conversion favorites for each unit category.
iPad Screenshots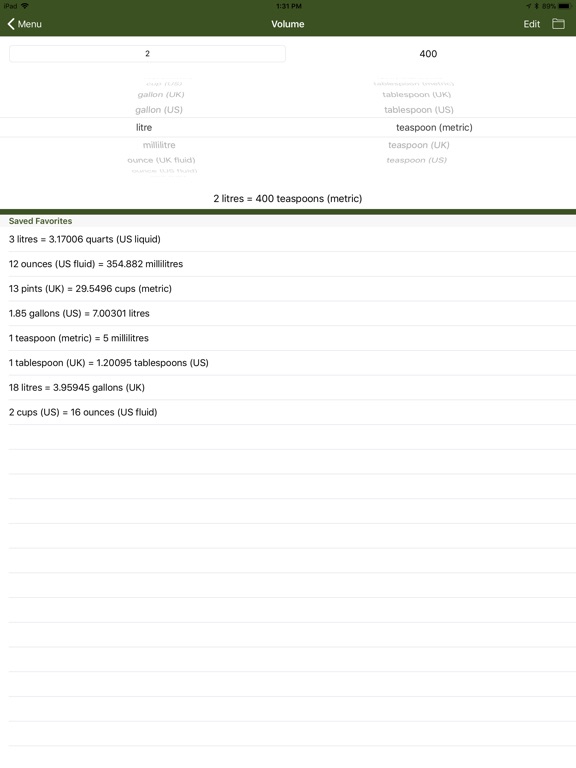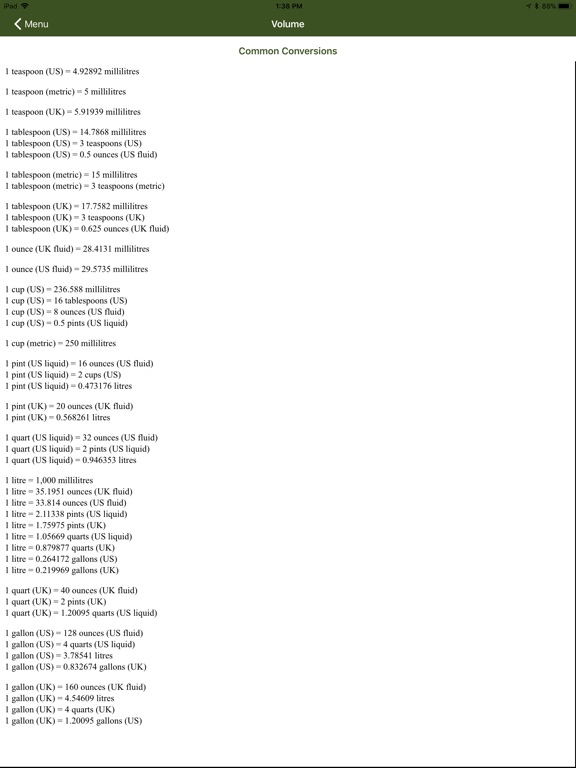 Reviews
Horrible do not download!
Not worth your time!! Doesn't convert!
Conversion app
Very easy and straightforward. Everything I need to convert recipe measurements.
Excellence
Jaimbo's iphone
on
11/12/2014
Easy to use and just what I need!!
Excellent!
FCD Player 10
on
8/6/2013
The app is always here when I need it!
Great...but Ads!
Great, simple converter that's exactly what it sounds like. But...it does have a banner ad at the bottom. Not a big deal, and the app is free. Just an FYI.
Disappointing
Adoptdontshop
on
2/4/2013
I had an app on my Droid that was more useful and had more options.
Sadly pretty useless
Better conversion tables in most cookbooks
Fantastic!
Coolstuffinabox
on
1/16/2012
Awesome app! Very useful and easy to manage.
Really Great App!
Love the app. I cook a lot of Asian recipes and always need to convert them into American measurements and temperatures. I had to go online and search a long time before i find a site that has a close measurement or temperature, but with this app, I just select this and that and hit done in less than a minute. Best app I have used!
Great App!
I downloaded and used this app in an Asian market. It's quick, easy to use, and does exactly what I was looking for...and it's FREE!
Fantastic!
Just what I was looking for!!!
Kitchen Units is GREAT!!!!
65368833784389747greg
on
4/23/2011
It never crashes for me and it can convert just about anything. This works so good that I bought Metrebug it converts anything that kitchen units can't like miles to kilometers. I Highly recommend this app and Metrebug also.
A Keeper!
Just what I needed. Works great!
Fix the description!
Old Johan, Motu007 may have said that because of the confusingly worded description; actually that's what I was looking for as well. Just because one measurement is a volume and the other is a weight doesn't mean you can't convert between the two; provided you know the volume and weight of a unit of an ingredient, you can of course calculate it to at least a general degree of accuracy, and there are websites that do this and/or have tables with these measurements listed. Unfortunately this app does not. It does look better than the very not free competitor though (although its icon does not), and seems to execute the functions advertised smoothly enough. But... The wording of the description was a cause for disappointment on my end... I'd recommend revising it (or better yet, adding weight-volume conversion!).
Crashed constantly
Tried to open 3 times-crashed 3 times. Finally deleted.
Works great
Uploaded the latest version onto my iPad. Doesn't crash for me. Works great.
Always crashes!!
It crashes everytime I try to make a measurement. Has potential to be a very app if the bugs are fixed.
Crashes everytime
Cameronlazzari
on
1/15/2011
Everytime go into the measurement or weight page it exits out of the app. Please fix and then I can give you a good review.
Can't complain
Does the job, simple enough
On the SPOT.
This program can't convert OZ to CUPS because one is a WEIGHT and the other a VOLUME...but for just about everything else, in the really real world, this is a SIMPLE and COMPREHENSIVE measure conversion program!
Not so much
The first thing I wanted to do was convert oz to cups or tablespoons for a recipe. This app couldn't do that!!!!
Fact Sheet
Publisher:

Hamilton & Weston Holdings

Category:

Utilities

Released:

Sep 21, 2010

Current Version Released:

Oct 30, 2017

Version:

2.5

Size:

7.3 MB

Compatibility:

Requires iOS 10.0 or later.

Recommended Age:

4+

Game Center Certified:

No

Supported Languages:

English;