Games
Arcade
Entertainment
Action
Recommended app!
App last updated
Mar 11, 2015
Screenshots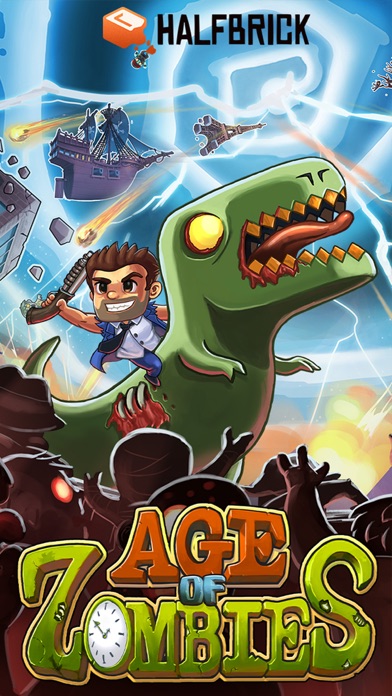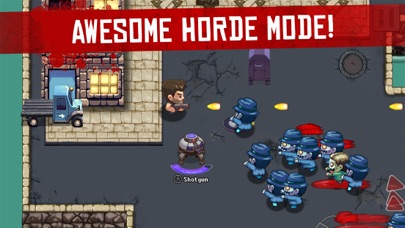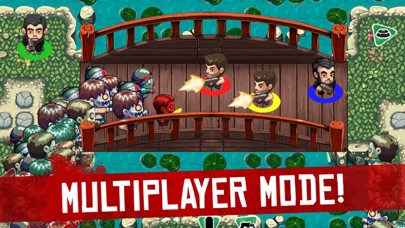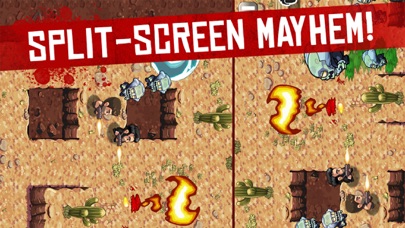 New in version 1.2.81
After a brief foray into the third dimension, Barry Steakfries is back where it all began: in 2D. The original art style is back!
Description
From Halfbrick, the creators of Fruit Ninja and Monster Dash comes their newest and biggest adventure yet! Lock and load through the history of time as a tough-as-nails commando named Barry Steakfries, who is looking for nothing more than to shoot some zombies and make it back in time for a hearty dinner!

*******

"Age of Zombies is an excellent pick." -- Touch Arcade

"The bite-size level play offers good pick-up-and-play value and is a ton of fun." -- 4.5/5 AppSmile

"Halfbrick has yet again delivered an enjoyable and memorable gaming experience." -- IntoMobile

"A time travelling, zombie shooting, wise cracking good time." -- GameZebo

*******

The evil Professor Brains has sent hordes of undead to the furthest reaches of time to destroy mankind, but Steakfries won't be taking that lying down. He'll take it with a gun, a Zombie T-Rex and a whole repertoire of cheesy one-liners!

Shoot up ninjas, mummies, cavemen and massive bosses with a huge variety of weapons and explosives!

Bonus Survival mode to take your zombie-blasting skills to the next level, with Game Center leaderboards and achievements!

Age of Zombies is the definitive action-comedy experience for the iPhone and iPad!

*******

IMPORTANT NOTICE TO PARENTS

This game may contain:

- Promotional material for Halfbrick products and trusted business partners.
- Links to external social networking sites intended for users over the age of 13.
- Direct links to the internet which may open the default web browser on your device.

Privacy Policy: http://www.halfbrick.com/pp
Terms of Service: http://www.halfbrick.com/tos
iPad Screenshots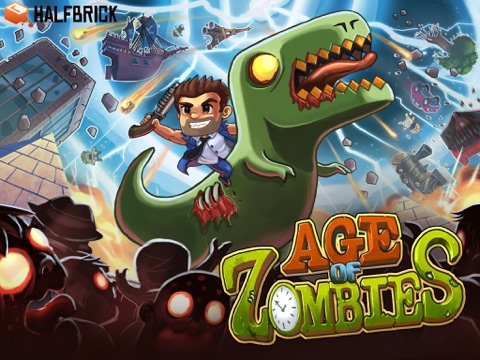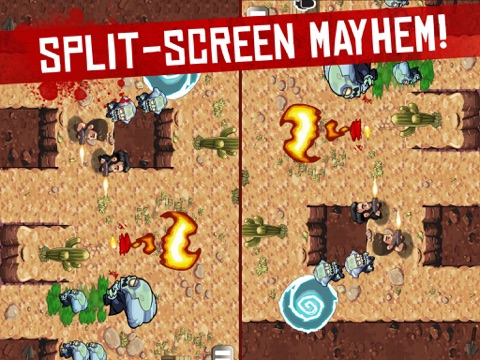 Reviews
Please update this game for iOS 11
I played this game before it's great but please update it for iOS 11.
Update please
Green man 19
on
1/20/2018
Please update I really miss this game and what to do a YouTube vid on it but I can't because iOS 11 won't let me play with out a update so please give us an update to make us happy
Best zombie app ever
Please update
Needs a update
It's not iOS 11 comparable Plz fix and I agree to update for good moments
Update for iOS 11.2.1
It's a very fun game. Especially co-op. But please update for iPhone iOS 11.2 ASAP.
No more iOS
iamdalengendarybris
on
1/13/2018
Hey why doesn't these game work on iOS anymore
Amazing!!! But...
One of the best mobiles games I have ever played to date I played it way back when it first came out and I well overplayed i came back to relive so moment of zombie killing pleasure as berry steakfries come to find out it doesn't work with iOS 11 so please halfbrick if you listen to fans update this game so we can all relive our favorite zombie killing moments!
One of the best games of iOS of all time
elitellsthetruth
on
1/8/2018
Please just make an update to this game and add some new mechanics because this used to be one of my favorite of all times
No longer works 😢😭
Was an absolutely fantastic game. No longer works on iOS 11 on iPhone X because it's out of date. Please fix this and let us have our Barry back
Update for iOS 11
wwe imortals player
on
12/30/2017
I cannot download it because it is not compatible for iOS 11
Pls update the game for iOS 11i can't play it any more even though the game is really fun
Thank you pls do it
Best game I've played
I enjoyed playing this game and I lost the game and forgot about it..I want to get back in it..let's get an update for this game because it's a super fun game that I would love to play with friends. All the modes were amazing for me as well.
really good!
I like it. I sometimes play it with my sister. I'm really good at games, so this was pretty easy.
Update please
KaiusCaesar
on
11/29/2017
Can you please update this game so I can re-download it on iOS 11?
Update please
Call of duty gamerghalanmy
on
11/26/2017
I love this game, but they need to updated to ios11
Update for Good Moments
Sizzle_frizzle
on
11/26/2017
I've has this game and beat it (I THINK) and it was a long road to have that special moment of defeating the sir himself who created the whole disaster at the beginning. (FORGOT HIS NAME, BEEN A WHILE) And now I want to take my skill once again at this game and have fun but I can't download it anymore since it doesn't work with IOS 11. I really want to say that this game was the best game I have ever played with my brother and it is! But now I'm sad that I can't play one of my favorite games ever. PLEASE UPDATE THIS ASAP BECAUSE I WANT MY FAV GAME BACK! AND I THINK I MIGHT SPEAK FOR OTHER TOO. PLEASE IF YOU SEE THIS UPDATE THE GAME ASAP!
UPDATE
ThatKidWitNoFrien
on
11/25/2017
I loved to play this game but it wont work on ios 11.1 pls update to work on ios 11 :) thank you
Make this game good
zippywippyblaaaa
on
11/25/2017
HELLO I have iOS 11 work with iOS 11 I love this game but I can't play it because you haven't worked with iOS 11 work with it
GAME IS AWESOME BUT
Ffoofofofoffofoofofoff
on
11/24/2017
It really needs to update for iOS 11
iOS 11
Supercow9000
on
11/23/2017
I love this game and I loved it in the past but I can't play it now that I updated my iPhone to iOS 11 and would really appreciate it if you guys fixed it thnx!
Hasn't been updated yet
Im asking you to update this game and make it work on ios 11
Please upgrade for iOS 11
I love this game but I updated to iOS 11 and it is not available anymore, please update so we can play again
Please update the game to work with iOS 11
TrailBlaizer44
on
11/17/2017
I love love love this game but it will no longer let me play it :( it costed me money please help!!!!!
iOS 11
Picture panorama
on
11/17/2017
Hay developer can you please up date it for iOS 11 this is my favorite game and if I can't play it on the iPhone X than I'm sad it really fun I even made friends playing this game I'm just asking can you please update the game to iOS 11
It was amazing but I can't play it anymore
Marshmallow42
on
11/11/2017
It was so fun but I can't download again bc apparently the developers haven't updated for 11.1.2! So if you can, developers please update it so I can play again and have a ton of fun
Game doesn't work for iOS 11 or higher
Jackson Jungwirth
on
11/7/2017
Very fun game but doesn't work for iOS 11 or higher fix this please.
Bring it back
Please bring this game to iOS 11
Update
San andreas lover
on
10/9/2017
Plz update to IOS 11 compatible i have loved ur game since it was free
Update
Rushed they'd
on
10/7/2017
Please update this to iOS 11 I'm used to make videos of this game and then I can't promise me I can revive this game
Any chance for a compatibility update?
infinitely curious
on
10/5/2017
Haven't made the iOS 11 leap yet, AoZ is one of the classics I hope gets a quick recompile for 64-bit.
Need IOS11 Support
Stefani Linn
on
10/5/2017
Please, PLEASE make this ios 11 friendly. I can not live without this app so just update it for ios 11!🙏 Update: ok its been a bit since I made that review. AND THERE STILL ISN'T IOS 11 SUPPORT! Refund plz.
Game needs to be updated!!!
This is an amazing game that I've enjoyed playing for years but it is unplayable With IOS 11 Halfbrick needs to update it!!!!!
Just update
Really I bought it recently so just update it
Update
NotBuyingIt21266
on
9/22/2017
Need an update to work on iOS 11
Zombies to o.p
In the game you are already fighting a boss that has three moves then to top that off the zombies take way to much damage and are super fast. there faster than you.
What happened to this game
I use to play this game on my psp and it was really fun.now only the stupid sentrys spawn in the survival mode. i miss the times when the biggest thing I had to worry about was giant cyborg zombies.what happened to explosive zombies in survival and weapons spawning everywhere randomly.why is the original future survival map gone.it was my favorite map
Awesome Game!
This has been one of the best gaming experiences in my life! Age of Zombies is an awesome. Continuous updates, more maps, and some variations in gameplay would be appreciated, as would other modes. Fun and awesome zombie shooter!
A pretty good game.
A_Dude_With_Ideas
on
6/5/2017
Just for the record, this game is AMAZING.Got it yesterday and already passed the WHOLE STORY.But honestly, the game would be better by updating to these requests: 1) This game has very limited guns.Would be better if more guns were added. 2)MORE CAMPAIGN. I finished it all and I'm still excited to see what happens after the last mission. 3)This game also requires more rides, for example: you could add the chopper from jet pack joyride, a buggy(a type of all-terrain car), or even a small companion like a German Shepard. 4)ADD MULTIPLAYER MODE!!One of the main reasons I got this game is because in the pictures about the game it states that there is multiplayer mode, but when I downloaded the game, I tried to look for multiplayer mode, but I wasn't there. I hope that Halfbrick updates these 4 requests that I personally think would make the game even better than what it is.
Best Co-Op Multiplayer game on the AppStore!
It's been a while since the last update, imagine online co op multiplayer! That would be awesome
online multiplayer
Add online multiplayer or local multiplayer
Too easy...
DragonMasterx13
on
4/21/2017
I just beat the story mode in one day and I believe it was way too easy. Halfbrick, if you're reading this, please update the game to make the story mode harder. I seriously beat level 7-2 with only a pistol. Other than the story mode, horde mode is the best! 4 stars :D
Good game
Great game but the campaign is rather short.
Update
Sir epicmchamsterman
on
3/3/2017
Please make compatible with SE
Fun game but doesn't work on my phone
E yoyoyoyoyoyoyyoyoyoyoyo
on
2/19/2017
Fun game, nothing wrong with the gameplay, it's just the game crashes every time I open it and I can't play it. I have an iPhone 5s with the latest iOS version.
Just what I've been looking for!!
The Living N64
on
12/27/2016
I've spent hours looking for a game like my favorite,Nuclear Throne,but to my dismay,I never found one,UNTIL NOW!!Man,this game is pretty much Nuclear Throne mobile.Bullet hell,Check,Hard Af,check,Different characters with different abilities,Check?Yes,I wouldn't be writing this review for nothing.So all I'm asking is,ADD MORE LEVELS AND COSTUMES.It would be really cool if you also partnered up with Vlambeer(Vlamber?)And inputted Nuclear Throne costumes that do things.Like the Fish one would roll out of danger,The Crystal would shield,E.T.C.Just please do this Halfbrick,I REALLY like this game.If you do,THANKS👍
Needs more
Comepletelyrandomguy
on
10/21/2016
Please.make a second game or something.maybe add gun-fusion or something.like if I get a SMG and a shotgun immediately after, and get an SMG shot gun.tha would be SICK.also, more story mode.perfect amount of jokes I SHOULD have outgrown,but haven't.we simply MUST have more,it's too good.the level of good this is, is at the level of when you make something this good, you sign your souls over to us, and we demand more.worth the download,absolutely amazing, this is the first review of mine in over a YEAR!(insert "it was just right"meme here)maybe eventually be able to upgrade guns for cheap, and make giant zombie boss fights where you get into a mech, against like, zombie Colossatron,or the final boss of dan the man 2.zombified of course.
Great but...
This is a great game and the update returned it back to its rightful place in my top 5 favorite mobile games BUT I wish there was an option to turn off bosses in horde mode. They are a pain and do not add much fun to the gameplay
Great but
Great gamer drew
on
10/6/2016
The game is great, worth every penny but it needs MULTIPLAYER and more LEVELS but other than that it's perfect!!! Keep up the great work!!!👍
This new update is perfect
Luckycr4zyzombiebassist
on
9/29/2016
I bought this game 4 years ago and just recently redownloaded it. I was pleasantly surprised by the update. I love this retro style game. Please make more!!
Bloody
awsomnesss112356842;7
on
7/23/2016
The game is really cool especially the awesome zombie t-Rex but I expected it to be less BLOODY
Fact Sheet
Publisher:

Halfbrick

Category:

Games

Released:

Oct 28, 2010

Current Version Released:

Mar 11, 2015

Version:

1.2.81

Size:

53.8 MB

Compatibility:

Requires iOS 6.0 or later.

Recommended Age:

12+

Game Center Certified:

No

Supported Languages:

English;

Parental Advisory:

Suggestive Themes; Mild Realistic Violence; Intense Cartoon or Fantasy Violence; Fear Themes;