Games
Adventure
Entertainment
Strategy
This version of the app is not recommended
App last updated
Feb 23, 2011
Screenshots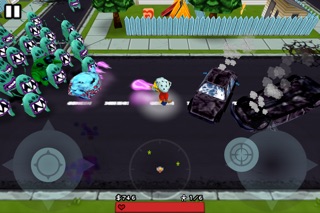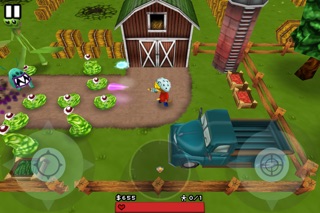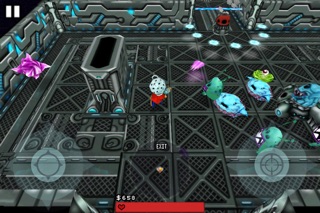 New in version 1.2
- New survival level - The Arena! The toughest survival level yet!
- Added confirmation popup when exiting level before finishing to make sure you don't lose your progress
- Lots of performance improvements
- A few bug fixes
Description
Earth has been invaded.

All the adults have been captured.

The fate of the planet depends on you.

Can you save the world?

Battle the alien horde, navigate through maze-like neighborhoods, save your friends, and send the aliens back where they came from. And maybe even answer your burning questions. What are these aliens doing here? Will a colander keep your thoughts safe? Why is the alien overlord always wearing a tie? And what in the world do they want with your parents?

Let's hope your years of fighting imaginary enemies in your backyard have prepared you for Armageddon!

FEATURES

* Story mode with hours of gameplay, taking you from the suburbs to farmland to the alien mother ship as Max searches for his parents

*Survival mode for endless adventure

* Huge levels to explore with many hidden areas

* Varied mission types - battle off the aliens, save your friends, lead your friends to safety, fight mega bosses, explore mazes, and more!

* Tons of enemy types to battle

* Collect money to upgrade your weapons and skills

* Game Center high scores and achievements

* Retina Display support

* Universal iPad and iPhone support

REVIEWS

"Refreshingly Fun" - TouchArcade.com

"Will have you hooked from the very beginning… Best dual stick shooter and adventure game in the App Store. " - AppAdvice.com

"A fricking awesome game. You took the dual-stick shooter and made it interesting and deep. One of the best games for the iOS." - Poutini, TouchArcade Forums

"You can go buy a cheeseburger and get fat for $1. Or you can buy an awesome game with tons of gameplay for the same price." - iStephen, TouchArcade forums
iPad Screenshots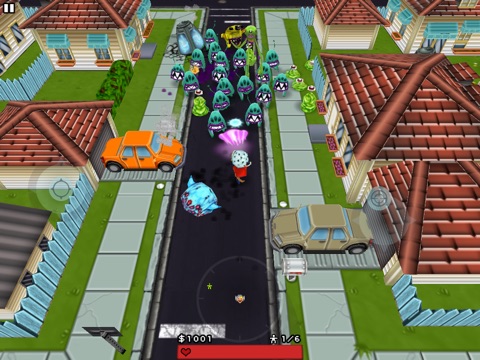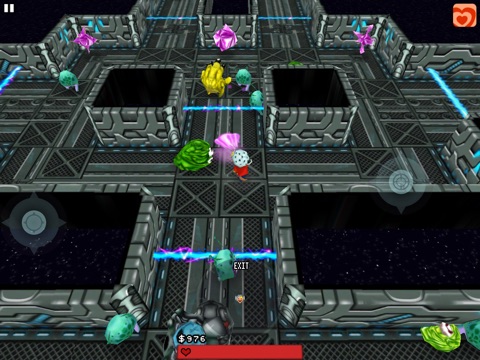 Reviews
Need update asap
mmaalleennkkaa
on
9/30/2017
Please update this game, i really wanna be able to play it again, one of my fav games ever
Ugh nooo
This would be a honestly great game... IF THERE WAS BETTER GRAPHICS I MEAN COME UP DATE IT THIS GAME WOULD GET SO MUCH MORE ATTENTION IF YOU DID.
Best game
Selena Gomez Rocks22
on
8/1/2017
This game is great 🖕🏻 to the haters
Scene freezes
On my iPhone and my iPad with everything updated this game freezes with a white screen in the corner like there is an ad. This has done it a few times I've uninstalled and installed twice now
I love it
It's the second best game I have ever had!!!!!
I'm so sad 😭 😭😭😭
Bad do not get it 👎🏻
on
3/4/2017
Hi I just have win the game I'm soooo sad because It has ended ;( 😭😭😭 it was great 👍 👍👍👍👍❤️❤️❤️ but 😭😭😭😭 it was Great job BUT SO 😭 SAD so happy and so sad so ya But GREAT game
Broken
Used to be an awesome game but it's broken on the latest OS. White pop up screen with no buttons will come up once you try to continue a saved game
Please update!
I used to play this game on a lower ios level, and when I got a new phone with more storage, I was so excited to play again. But then I couldn't purchase anything in the store because when I tried to do so, a blank box pops up on the screen and I am forced to reload the app. Please update and fix, because I am still just as excited about this game as I was in 2010.
Says "Hours of entertainment" in the Description
AndroidBeatsIOS
on
12/17/2016
This game took less than an hour to beat. Although the game was entertaining.
One of the most satisfying games I've played lately
A charming story, a nice throwback feel. Different from the other games Imangi have done, and it has a bit more attention to detail. Occasionally buggy, but not much a restart wouldn't fix.
Freezes
Lame game max
on
11/26/2016
Game freezes and no way to resume gameplay without removing the game and reinstalling loosing all your progress. Play a different game.
It's 2016 and I still LOVE this game !
If your seeking an adventure!? You found the right game! It is the right type of challenge level if you like a good game of nothing too easy but also nothing too hard. It almost feels like it will never end.
Great game but the glitches!
This is a great game. Loved it, but the glitches made it almost impossible to complete. If you get a notification while playing the game, the game freezes and will not unfreeze. The only solution I found was to delete the app and reinstall losing all of your progress. Aside from the glitches, I had great fun killing aliens and rescuing the parents. I want a sequel with the glitches resolved!
Freezes
Downloaded 5 times and it always freezes up then you have to start all over again!
Awesome!
Jordan Heidi Nfld
on
5/17/2016
Thank you so much for the hours of entertainment, and for it still being able to work on the 4.2.1 iOS :)))
BEST GAME IVE EVER PLAYED!!!!!!
Aret sky walker
on
12/20/2015
this is the funnest game I've ever played. So why did I give it one star? Because when I'm at the home screen, THE FREAKING THING FREEZES!!! FIX THIS NONSENSE, IMANGI Also, I finished the entire game in 10 mins(after I deleted it and had to start over) and the boss... I finished it on my first try. Make the game longer, make the boss a lot harder, and MAKE SURE IT DOESNT FREEZE AT THE HOMESCREEN
Crash central
Themang5150
on
12/16/2015
The game is fun if u can get it to keep going. But, it freezes every time i have a feeling theres no updates. But, the fun has ended. :/
stop forcing my browser to switch to the app store
if you're going to pay advertisers to hijack my Safari browser to force my iPhone to launch the app store to download this crappy game, I'm going to rate all of your games 1 star and will do that to all of your future apps. i am sick of in-app purchase games. it's annoying and paying advertisers to force something like this upon me is making me lose faith in the app store.
Great game
This game is so awesome!
Awesome
Thank u I love this game a game that I can play 4.1 god
Great game but upgrades fail
Love the game but twice I've tried to upgrade to extra slots for power ups and both times the game froze and I lost my upgrades :(
GREAT!!!! :)
L,jsmxjnxjxiiusnjxiSisxinisx
on
5/31/2015
I am very happy with this game and would get it again if I had to. There are a few problems though. I thought the game was really hard (GREAT!!!) except for the boss. The boss was way to easy for a game like this. I took off all my power ups except for the 3x shot and still beat him. Also the radial shot is so bad. I don't like how you need to get radial shot in order to get other things. But over all the game was great. I loved the music and most of the power ups. This company should make other games like this one!!! Just make the boss harder.
I can't
When I got the game it when in the installation and it didn't go on the App Store it said open and it won't open andddd it would not let me delete it so if you cold fix that that wold be asome 😀😀😀😀😀😀😀😀😀😀😀😎
It stopped working
All nick names taken-1234567
on
5/7/2015
It used to work, now it's stuck on the home screen.
Awesome game
I remember when I was about seven me and my cousin were in LOVE with this awesome game. I would delete and re download the game just to play it from the beginning without OP guns. I have so many memories. Once I even tried to play max adventure in real life. Let's just say it didn't go well😸😸😸but anyways I love this game and I recommend it to people who enjoy shooters like ,this. It amy be sort of short but it is really fun.
Addictive but gay
Nnnaaaiiilll
on
3/18/2015
This game is really addictive but gay
Games freezes
Game freezes after upgrading weapons and sometimes it will it restart until I delete and re download the. Game. Fun game but hate the glitches
PURE AWESOMENESS
Destinygamer
on
2/25/2015
The game is ✨AMAZING✨ and it can keep you occupied for a while.I also love the graphics they are kid appropriate and it's a good game and I don't usually actually write a review unless it's a good game but this one isn't good. It's ✨AMAZING✨ as I said before.But overall it's a great game if you just want to pass time on the bus,road trip,school or just about anything. Definitely worth the 5 stars 😊
It freezes
The game freezes after a certain point I really like it but I tried to play up until I got up to the big alien an vaporized the whole set it froze an started me all the way over please fix it even willing to buy if the bugs get fixed
Love/Hate
BrooklynWhite
on
1/17/2015
I have downloaded this game 3 times and made it to level 4 each time and then the game locks up. I love the first 3 levels though.
Great!
Sure wish you'd make another!
Love this but don't
Becky Yuska
on
12/23/2014
I love this app because it is so much fun and hard. But I hate that it freezes every once in awhile and I can't get it to un freeze so I have to delete the app and re down load it so if they fix that the app would be great.
fun.
oheythereitsnat
on
12/15/2014
this game is really fun. just want to thank the creators! I crave playing this game all the time. :)
EPIC!
Chattman4311
on
11/12/2014
I think it's a cool game but I does need more upgrades like faster healing or more radial shot damage or even combine weapons like in the slots if I had freeze shot and that fast shot to make...Freeze frenzy shot, otherwise still an good enjoyable game :)
This game is difficult
I was into the game then on the teleporter level there are 3 gates to unlock and there were only 2 keys and I couldn't beat the level
Needs upgrades!!!! Be a little more creative!
Blorenz123456789
on
7/31/2014
This game is good but I think all the gear in the shop needs a couple of upgrades. But first... There should also be another adventure (in the same game) where there's a new Alien that attacks with new enemies. New Zap Guns! There's a Freeze Shot but what about a... Fire Shot where it burns the enemies There's a Shrink Shot but what about a... Exploding Shot where they grow so big they explode. What about a Gun where the gun goes around the character and shoots a cluster of bullets. What about a gun where the bullets go towards the enemies (like a missile guided rocket) What about a gun where it shoots that blue bullet the aliens shoot. Here are some ideas for the gear existing: Super Speed- There should be at least two or three upgrades that increase the speed more. Health Restore- one upgrade could be that it restores health quicker and then the next one could be that it restores it quicker while shooting. Dual Shot- For this one, there can be speed upgrade and a little bit wider shot upgrade. Radial Shot- Speed and and also a more Radial Shots that shoot out would be good for accuracy. Spread Shot- More damage Freeze Shot- More faster and the ability to combine with other shots like the Spread Shot. Also an upgrade to make the freezing to enemies last longer and to keep the enemies re-freezing with every hit to stop them from thawing would be good. Shrink Shot- More faster and the ability to combine with other shots like the Spread Shot. Also an upgrade to make the shrinking to enemies last longer and to keep the enemies re-shrinking with every hit would be good. Power Shot- More damage. Thanks! This would really improve the game. (At least add something to the game if your not going to listen to this review)
Good short game
GameLoverMuch
on
7/24/2014
This is a short game to play if you have nothing to do. It would occupy you for a couple hours (I beat the game in less than 3 hours). However, it is appropriate for kids because it is not too hard and kind of cute. Should try it out.
nburshem
this is a good game for my kids. they love it. a little to simple for adults. but my kids love it
Update!
Please update the game! It needs to fit the iPhone 5 and iPod touch 5th generation screen.
Awesome!!!
This game is awesome! I love it! So much fun! I have no complaints about it watsoever!
Good fun!
SGTHammerfist
on
1/10/2014
Perfect little game to pick up if you're bored. Hope they enable achievements and leader boards soon. Also more content would be amazing, I would pay for it!
Really addictive
Every time I go back to the game there is always a new alien on every new level
Great game, but a tad short
The game is excellent. Fun and exciting, a neat storyline, weapon upgrades are awesome. However, the story mode is a bit shorter than I expected. Has maybe three hours of play time in story mode. Survival mode has some good replayability aspects, though.
No iOS 7 support
4x4Adventures
on
11/18/2013
Great game, loved this when I first played it a few years ago. Now with the iOS 7 update Max and aliens are white blobs, sad because I was really looking forward to revisiting this.
Great game!
Zorg is easy to destroy if you upgrade your gun
Great game
Fun and games defines this game
Great fun.
Easy to play game. Very much like the oldschool SNES/Genesis game Zombies ate my Neighbors. My 4 year old autistic son likes to play this game every time he gets his hands on my phone. Love it.
Fact Sheet
Publisher:

Imangi Studios, LLC

Category:

Games

Released:

Dec 14, 2010

Current Version Released:

Feb 23, 2011

Version:

1.2

Size:

20.7 MB

Compatibility:

Requires iOS 3.0 or later.

Recommended Age:

9+

Game Center Certified:

No

Supported Languages:

English;

Parental Advisory:

Mild Cartoon or Fantasy Violence;