Screenshots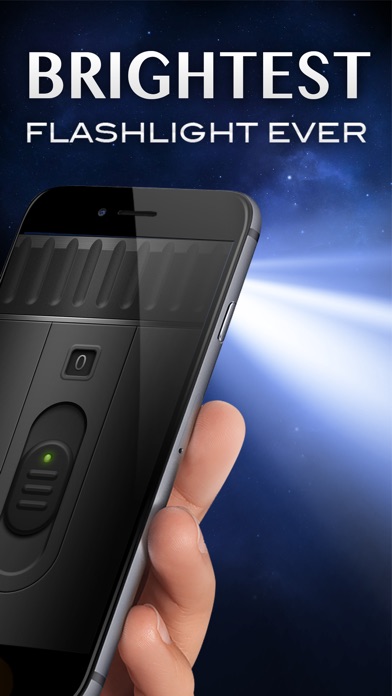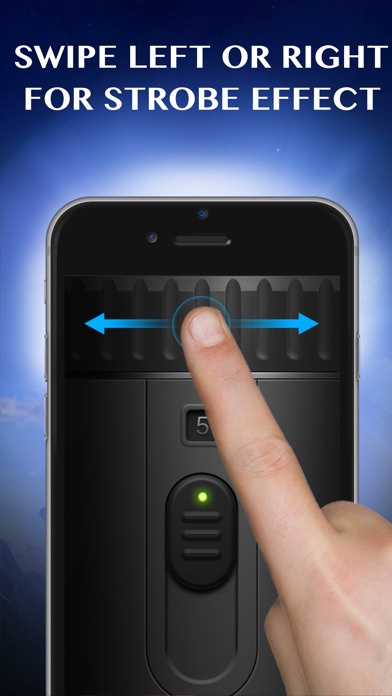 New in version 1.6.3
New update for the holiday season!
- iOS 10 Compatibility. Flashlight ¤ is fully compatible with iOS 10 now.
- General performance and stability improvements.
Thanks for using.
Description
Flashlight ¤ instantly turns your iPhone into a REAL brightest flashlight! The ultimate lighting tool that takes full advantage of the iPhone 4/4S LED light. Strobe/Blinking Mode is also supported and it's FREE!

Features:?
- Brightest Flashlight available - Guaranteed!
- Convenient - Switch On/Off the light just like using a real flashlight
- Strobe/Blinking Mode supported - Blinking frequency adjustable
- Stunning graphics - This is the most beautiful flashlight you can get in hand!?

Enjoy!


Disclaimer: Continued use of the flash may dramatically decrease the battery life.
Reviews
Best flashlight app
This is the best app!
Nice light
Works great for me.
don't get this if you actually need a flashlight
Happy campr
on
11/30/2017
Pop up ads after a few seconds shut off the flashlight and take you to the App Store. I know it's free but still Junk.
Too many ads
Alleffingnamesaretaken
on
11/29/2017
This app has lots of shady ads pop up, some that take you straight to a website without even touching the screen. So if you need to use the flashlight for an extended period, get a different app because this one has a mind of its own. Plus the light will turn off if you have to leave the app to use another one, and when you come back to this one you have to restart in order to turn the light back on. I would not recommend this flashlight app to anyone.
Too many ads
Rushdbarbarik
on
11/25/2017
Theirs too many ads i cant flick the switch on or off with out an ad popping up even if it stays on for a bit without touching it and an ad pops up.
Great app
I have used this app for years. I was not happy when it was not compatible with os10. Glad it is updated. It is the fastest and it shuts off when you go back to home screen. On and off are fast. Love this app.
App needs major fixing
1. Light does not always go on 2. Sick of having it on and then being rerooted to other apps to buy. Also, the ads below the app do not need to be clicked in order for you to be rerooted to them too.
Fastest flashlight ever!
Wanted to make sure this review was read so i gave it 5 stars! I find that this app does what all the other flashlight apps do...it lights up and illuminates what I need to see. As far as being the brightest...ummmm....there is no way that the app magically makes the light bulb a brighter stronger light bulb. Every phone has the same standard bulb when manufactured at the factory...smh. So if you really buy into the hype, I have the worlds hardest set of rock hammers cut from the same materials as any other rock hammer. I also have the worlds fastest snails ever raised in captivity.
Just right
Psslusedtolike
on
11/14/2017
Why make it complicated when you just want a flashlight? This app simply does what you want.
Awesome flashlight
Very handy+ bright enough
Not for use when helping your mom.
Mike Ferrier
on
11/8/2017
I've used the free version of this app for several years. At first it was very reliable, and would just show an ad on the app's screen now and then. Over the past year it's increasingly turned off the flashlight while I was using it, to show a full screen ad, and would not turn the light back on until I had clicked to close the ad. Just recently it started showing porn ads. Today it popped up a porn ad with a nude woman when I'm trying to use the flashlight with my 86 year old mother. Today I uninstall this app.
This is my feelings
yashilia301
on
10/23/2017
How am I supposed to know I haven't even tried it out yet 😠😡😠😡😠😡😠😡😠😡😠😡😠😡
Flashlight
Dimples4evr
on
10/19/2017
Works great! You can adjust how much light you want
Flashlight
Wildcutie308
on
10/15/2017
It's easy to use nd its brightness anyway I like.
Voice command and on when opened
Iam_mrcashflow
on
10/9/2017
It would be nice to use Siri to turn on the flashlight and also to have an option to have the light turn on as soon as the app is opened.
Great app! Very handy
Great app! Very handy, used it many times.
Flashlight
Use it all the time. Get grands to use flashlight to look under bed and other places hard to see and reach
Flashlight
Great application
Love it!
So simple and easy to use.
Very quick and easy!
Better flashlight that the one that came with iPhone 6, (and then disappeared). Glad I have this flashlight that is easy to use.
Great app
Excellent application it works really great!
simply works
KentMagnuson
on
9/21/2017
I have been trying several other similar apps and this one has fewer adjustments and such. I just want a simple light with minimal bells and whistles. I like this one.
Нравится
Я люблю это. Фонарик хороший.
Flashlight
Awesome App!!!
Lights
Justcallmegrammy
on
9/12/2017
Good ty
Handy
Onestell1295
on
9/10/2017
Handy and lovin' it.
Flash lite
Really good helps with really dark rooms the only bad thing about it is it don't work on tablets don't try it
Lite
Best brightest easy use Love it
Awesome flashlight
I love it it's the best mobile flashlight ✌️
Love it
haejaeleestuio
on
8/26/2017
Very handy.
Flashlight
Easy to use and very helpful thanks for making it 👍👍👍👍
Very bright
Very cool light check it out
Great app
stevematlbch
on
8/20/2017
Way better than the one I was using. And free. Very small ads at bottom but not a problem. Can't find anything to not like
Unlike my last Flashlight application
Tuesday's Jewel
on
8/20/2017
This one actually works! Easy to use!
ᔕO ᗷᖇIGᕼT🔆
katiebug♥️♥️
on
8/18/2017
TᕼIᔕ ᖴᒪᗩᔕᕼᒪIGᕼT Iᔕ ᗩ ᐯEᖇY ᗷᖇIGᕼT ᒪIGᕼT!! IT ᑕOᗰEᔕ Iᑎ ᕼᗩᑎᗪY ᗩᒪᒪ TᕼE TIᗰE. Iᖴ YOᑌ GET ᗩ ᖴᒪᗩᔕᕼᒪIGᕼT ᗩᑭᑭ YOᑌ ᔕᕼOᑌᒪᗪ ᗪEᖴIᑎITEᒪY GET TᕼIᔕ OᑎE I ᗯOᑌᒪᗪ ᗪEᖴIᑎITEᒪY ᖇEᑕOᗰᗰEᑎᗪ IT ᗩᑎY ᗩGE!!
Pop up thing
I'm only putting a review so the pop up rate us questions will stop popping up.
Works great
Handy app. Exactly what you need, when you need a flashligh
Handy
hypocrisywars
on
8/5/2017
Not super bright but Comes in handy
Wonderful
I cannot begin to tell you how much I love this flashlight!! Thank you
AWSOME AS HECK
Ansley.Hamilton
on
7/30/2017
This game is so helpful I totally recommend you getting this app
Standard
You want a bloody flashlight, it's a bloody flashlight. Standard, nothing to discuss yea. It work, download it yea and have yourself a flashlight fam.
Flashlight
ruffntumbled
on
7/29/2017
works great!👍
Great app--very handy!
Asleep at the keyboard
on
7/22/2017
I highly recommend it.
Great!
This is a great tool, now some people are saying in reviews, "We already have a flashlight in the control center!" Well yes, you do if you use iOS. However, this app allows flashing lights (Yay also a free seizure test app!) and a brighter flashlight than what the control center gives. And, a lot more easy to access, and use! Great app, 10/10. And it's free (which I wouldn't get if you had to pay 😐) and incredibly fast download and usage size! Great app! 👌🏻
It's a great app!
This app is convenient and easy to use
Brightest and user friendly
I have using the Apple built-in but swiping to bring up flashlight is hit or miss. So I tried two other apps. But they are burdened by extra fancy features such that when I needed a light, I fumbled through features I never need. So frustrating. This app is the real deal. Smartly designed, super handy. Yes the brightest. The slide bar to vary the intensity could be improved by making it longer but this is minor. Perfect and FREE. elegant design and user friendly.
It does what I need it to
As long as I have my phone close by I have my flashlight
Fact Sheet
Publisher:

Surpax Technology Inc.

Category:

Productivity

Released:

Oct 11, 2010

Current Version Released:

Dec 14, 2016

Version:

1.6.3

Size:

29.1 MB

Compatibility:

Requires iOS 6.0 or later.

Recommended Age:

4+

Game Center Certified:

No

Supported Devices:

iPhone3GS-iPhone-3GS, iPhone4-iPhone4, iPodTouchFourthGen-iPodTouchFourthGen, iPad2Wifi-iPad2Wifi, iPad23G-iPad23G, iPhone4S-iPhone4S, iPadThirdGen-iPadThirdGen, iPadThirdGen4G-iPadThirdGen4G, iPhone5-iPhone5, iPodTouchFifthGen-iPodTouchFifthGen, iPadFourthGen-iPadFourthGen, iPadFourthGen4G-iPadFourthGen4G, iPadMini-iPadMini, iPadMini4G-iPadMini4G, iPhone5c-iPhone5c, iPhone5s-iPhone5s, iPadAir-iPadAir, iPadAirCellular-iPadAirCellular, iPadMiniRetina-iPadMiniRetina, iPadMiniRetinaCellular-iPadMiniRetinaCellular, iPhone6-iPhone6, iPhone6Plus-iPhone6Plus, iPadAir2-iPadAir2, iPadAir2Cellular-iPadAir2Cellular, iPadMini3-iPadMini3, iPadMini3Cellular-iPadMini3Cellular, iPodTouchSixthGen-iPodTouchSixthGen, iPhone6s-iPhone6s, iPhone6sPlus-iPhone6sPlus, iPadMini4-iPadMini4, iPadMini4Cellular-iPadMini4Cellular, iPadPro-iPadPro, iPadProCellular-iPadProCellular, iPadPro97-iPadPro97, iPadPro97Cellular-iPadPro97Cellular, iPhoneSE-iPhoneSE, iPhone7-iPhone7, iPhone7Plus-iPhone7Plus, iPad611-iPad611, iPad612-iPad612, iPad71-iPad71, iPad72-iPad72, iPad73-iPad73, iPad74-iPad74, iPhone8-iPhone8, iPhone8Plus-iPhone8Plus, iPhoneX-iPhoneX,

Supported Languages:

Dutch; Flemish; English; French; German; Italian; Japanese; Korean; Portuguese; Chinese; Spanish; Castilian; Chinese;