Screenshots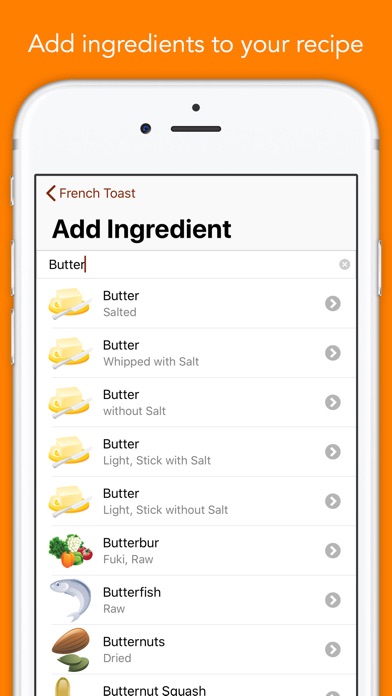 New in version 7.1
Redesigned with iOS 11 in mind! Search nearly 180,000 new foods using your keyboard or scan barcodes with your camera.
Description
Nutrients (previously called Foodle) is nutrition at your fingertips! How much sugar is in an apple? How much potassium is in a banana? Discover nutrition facts on tens of thousands of foods complete with all vitamins, minerals, amino acids, fats, fatty acids, sugars, sterols and more compounds like caffeine.

Nutrients works completely offline with no internet required! Search our entire database of nearly 200,000 foods without using any data.

"After a heart attack I really needed a good tool to determine the fat content of my diet. Nutrients has a comprehensive, well tended and ever expanding database of nutrition info. It's easy to search and attractively presented. Its built in units conversion ability makes it simple to compare servings of like amounts of diverse foods. Best app for this purpose I could find, and I looked at a bunch."
▸ Literally a lifesaver by DanCasali

Create your own recipes! Add ingredients and select the serving size to get the most comprehensive list of nutrition facts for your recipes.

"Being a type 1 diabetic, I have to count carbs in everything I eat. This app has made it easier to look up the nutrition information on many foods. Truly an amazing app!! Every diabetic should have this app."
▸ Great for diabetics by Diabeticfittie

Keep a record of the foods you eat every day! Nutrients features a new and improved food journal with a complete breakdown of your daily nutrition and options to change specific daily values of each nutrient. Nutrients even syncs your journal to the Health app making it easy to see what nutrients your consuming with other apps.

"Finally an app that gives a complete nutritional breakdown of food. This holistic approach takes the focus off calories and back onto food as a whole. As a nutritionist I highly recommend it to all my clients."
▸ iPhone's best food reference guide by The Shazmeister

Find foods highest in specific nutrients like vitamins and minerals. The nutrient browser sorts foods by the selected nutrient and food category. Find fruits with the highest amount of potassium or vegetables with the most iron. The combinations are endless!

"I am getting my bachelors in Nutrition and Dietetics so I am always looking up nutrition information. This is a beautiful, easy to use app that is full of nutritional information! I love it!"
▸ I love this app! by Evbaker92

Create your own list of favorite foods! Use this feature with the nutrient browser to find out which of your favorite foods are highest in specific nutrients such as vitamin A or iron.

"Great app! Specially to nutritionist, when a patient ask for some random ingredient we don't know all its values! Works like a lucky charm!"
▸ Great! by Awesome short stories

Show and hide foods by category such as hiding meats for vegetarians or dairy & eggs for vegans to customize Nutrients to your diet.

"This app is the best food app ever. It has never froze on me and it is so informational. It helps my fiance and I keep healthy and buy the right foods."
▸ Amazing!!! by Kana557

Search for Baked Foods, Beef, Beverages, Breakfast Cereals, Cereal Grains & Pasta, Dairy & Eggs, Fish & Shellfish, Fruits, Nuts & Seeds, Oils, Pork, Poultry, Seafood, Spices & Herbs, Vegetables and more in Nutrients!

"An embarrassment of riches! The most thorough and complete nutrition atlas I have ever seen! If you want to know what you eat I strongly suggest this great app!"
▸ Unreal! by Whatrix

Search for foods like "cooked salmon" or "egg whites" and perform unit conversions using natural language such as "tablespoons to 1/4 cup" or "cups in a gallon".

"Love it! The update is amazing. Very informative app. Especially if you are trying to eat healthier or get more of one type of nutrient. You can eat more of that type of food."
▸ Best app ever by Deen1stApps

Nutrition data is provided by the USDA.
iPad Screenshots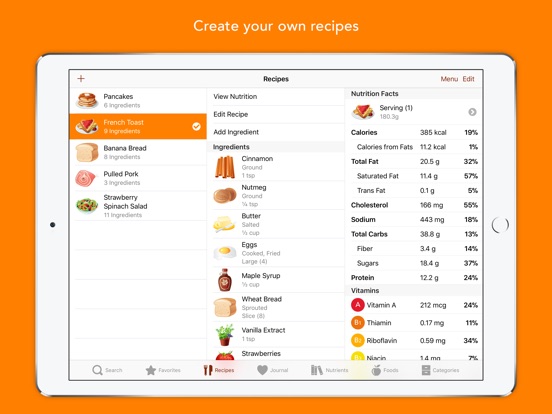 Reviews
iWatch — does not work on
It looks like the app works in iWatch, but every time I try to open it, it crashes— doesn't open — watch is brand new — there are pix of the app on a watch, but looking in the spex the watch is not listed— wanted this for my college-age son who has Type 1 — bummer — would love it to work if it can't— refund please? Thanks.
Limited foods... no option to add your own food brands
NeedsAccuracy
on
10/15/2017
Nice app if you're not concerned with accuracy. The food journal nutrition information doesn't tell you the total quantity (mg, mcg, IU, etc.) of the vitamin or mineral, it only shows a percentage you have consumed. The total vitamins and minerals needed for males and females is different and the app doesn't ask for sex to calculate the correct RDIs. The app advertises thousands of foods. This is true, but still the selection doesn't include any of my healthy organic and/or gluten free staples. Additionally there isn't an option to add your own food brand's nutrition information into the app so that the displayed nutrition facts are accurate.
Really helpful
moirajanning
on
10/7/2017
Great app, love being able to track what I'm eating and get a sense of what vitamins/minerals I'm not getting enough of
Enjoy Using!
I like this app for better understanding of the foods I choose to eat. It gelps me with those choices and with portions. I recommend this app.
Best App For Tracking Nutrition IMO
I have tried multiple other apps for tracking calories and this one is my favorite, hands down. The very simple search interface allows you to find the ENTIRE nutritional profile of an exact portion of food including total calories, total protein, fat, carbs, vitamins, and minerals. On top of that, you can add individual food items or even ENTIRE CUSTOM RECIPES to "your journal" which then keeps track of how much you have eaten for the day. Very happy I purchased this.
Simple and Accurate
Some time after using this app, I've realized it frequently miscalculated percentages of nutrients. The app is basically useless if it tells me I'm getting 0% of a vitamin when I'm actually getting 50%. Earlier review: This app is very impressive and has a great, intuitive, user friendly platform. The food items are quite generic and there are some missing (like bok choy), which is a bummer, but the data seems accurate which is important for me (I see that it comes from the USDA). It competes with MyFitnessPal. However, it would be GREAT if it broke down protein, fat, and carb percentages per day. And it would be nice if it included omega-3 which is critical. Lastly, I'd like to be able to go back and change food items for a previous date. I want to reiterate that the food items are very generic so MyFitnessPal has a leg up because of that--however, I prefer quality of accuracy over quantity of items. Anyway, thanks a lot for a great and useful app! I'm updating this review to say that I've noticed that sometimes the nutrients don't add up properly, which is very frustrating. Sometimes I add a food and the values become lower. Especially with vitamin B5. It's important for me because I'm fighting allergies. Could you please fix that? Thanks again!
Not for home cooks
Super annoyed subscriber 10001
on
7/2/2017
As a home cook, I'm disappointed in this app. Its food journal feature will let you choose between any number of commercially available, processed foods (i.e. Digiorno's pizza), but won't let you select basic ingredients that go into a home cooked recipe (i.e. pizza dough). I'm confused about this because presumably people who want to keep track of their nutrition are not the top consumers of processed foods like Digiorno's pizza? Also, the app seems really unscientific to me because it tells me how much of my recommended protein intake I've achieved per day without having ever asked me about my weight. My understanding is that your recommended daily value of protein is directly tied to how much you weigh so this feels sketchy to me. Would not recommend.
Amazing! - All data is offline and instant!
This is exactly what you need if you want a no frills app with all the USDA data for nutrition. It is like self.com, but all offline and inatant. Can't rate it highly enough!
Very disappointing. Could be 5-star but...
1st) There was no way to trial the app without paying first. I purchased it based off of reviews but, I would have liked to have a trial option first, but I gambled anyway, and lost... 2nd) Once I had the app, I was very surprised to find no systems or account setting or about the app, or any introduction on its intention, purpose and the best way to use it. So I was left just to use intuition. And this is what I discovered from that… 3rd) it seems to be fine if you just want to look up an average item such as an apple and get detailed information on it. However if you really want to track and customize, this app won't do it. It will send all the information from your journal to apple Health where you can see the running balance of stats. That's OK that its not internal, but... 4th) the biggest issue comes with the fact that you cannot add items that don't exist in their database, such as the protein powder and almond milk that I drink in the morning. Neither are in the database. So, I tried to create it as a recipe, but if ingredients aren't and the general database you cannot add it. And you can't just simply add nutritional info from the label either. 5th) This app would go from a 1-star to a 2-star if they could just simply provide a welcome intro page that gives an overview of their mission and the best way to use their app; from a 2-star to a 3-star if you could trial test before purchase, and... 6th) it would go from a 3-star to a 5-star instantly if they could allow you to add in your own items in detail if they don't have it specifically in their database (such as creating a new item by manually inputting info from label and or activating a reliable bar code scanner) But as it stands, its a waste of my money. I was looking for something to be better than MyFitnessPal at customizing/saving AND have detailed micro-nutrient data. So far I'm still searching.
Easy to use
Great app for nutritional information.
Want to add items
I think Centrum Multivitamins should be listed so can be added to the Journal to know that those vitamins have been taken. I do not see a way to add it myself.
Great app for whole foods
40s getting fit
on
4/26/2017
I have been using this app for years and I rely on it more than my other nutritional trackers. The info is robust and accurate, the list of whole foods is great! I would like to add my supplements, but I am forced to use another app for that feature & refer to the tally in the health app. Still, overall an excellent app!
One more thing
Need food gram number measurements in addition to daily percentages for carb tracking, etc. Also ½ frank for calorie watching. More later...
Worst App Ever
This is the absolute worst app. I paid 4.99 to use this app to calculate my nutrition facts for my recipes. It didn't even have simple products in the database for me to calculate. No cups or tablespoons not even servings. You cannot calculate anything right with this app. Best to not waste your money.
Limited
Been using for a week and like the app however it needs to allow the user to input their own recipes/ingredients with nutrient info if the food item is not in the app database. Can't track nutrients accurately if you can't input data, a barcode scanner feature would be awesome too!
good one
one of the best app in nutrition facts :)
The Fact ways
alimah56@cool
on
12/28/2016
Very easy and useful app to know a numerous of vegetables and fruits properties
Love the details!
Great for tracking those detailed nutrient needs EXCEPT would love to see a way to add your own items and supplements!
App needs work!
Love this cook!
on
11/13/2016
I was so excited at the thought of this app as I love to cook and Create recipes and like a breakdown of nutrients for each recipe. Ingredients are way too limited and there seems to. E No way to add the Ingredient even If you have facts On Item. Really disappointed and waste of money :(
What I needed
I wanted a food app that isn't just a calorie tracker. This is a nutrition app including calories. I don't need to watch my weight. I'd just like to know what's in the food I'm eating. This app seems to provide that information in great depth. Also I can keep a record, although I don't really need that.
Cool app using USDA's latest nutrient database
PowerObject!
on
9/25/2016
However, not sure if app developer modified item descriptions to simplify search because searching for "cashews" on USDA site brings up bunch of results but not in this app. Your app finds only "cashew". Please clarify...
Disappointed
I was looking for an application that would allow me to enter recipes and give me the nutrient value for those recipes. It does do this. However I can find no way to add recipes to the foods item or the name list therefore I am not able to put it into the journal. I would like to keep track of all the nutrients I eat per day. Is there anyway of doing this on this application?
great nutrient info, but lacking a few features
I've been looking for an app to track micronutrient data for quite some time and, as others have stated, nutrients does a great job at this. however, it would be awesome if it could: 1) allow users to input custom foods and nutrition data. while the database contains many foods, it doesn't have everything (reasonably so). these foods could even be saved in a new category (eg community) that others could enable in search. it'd be really cool if data could be entered via a picture of a nutrition facts label, but thats a nice-to-have feature. 2) provide more flexibility in recipe serving size. 1/4 of a recipe is sometimes still too large. allowing a user-entered value should be simple. its just math, after all. 3) improve search. if I type "beef," the only result is beef carcass, but no ground beef.
Needs work
While it has a good set up it has a very skewed selection of food options. It has every option off the McDonald menu and yet not an option for mixed greens (in terms of a salad). This could be okay, but it also has no function that allows you to add new food items that aren't provided. I'd be happy to input the nutritional information of some of my commonly eaten foods that aren't listed, but as of right now I have no way to accurately record them. Which could be fine for a free app but a big problem for a ten dollar one. Probably will stop using soon due to this issue.
Good for free
Update: this app is falling behind other apps due to a limited food database and lack of bar code scanning. The data they supply is very good, but their database is incomplete. They are missing basic items like steak, bread and sweet potatoes. Also, unable to sort by nutrient. e.g. What veggie is highest in vitamin C? Etc.
hate it for recipe building
just paid for this app, only to discover it's extremely limited food library. when inputting ingredients to calculate nutrition facts of a homemade meal, I found it nearly incomprehensible. don't waste your money like I did.
Needs more
I like a lot of the features, however allowing the user to add and save products and nutritional info would be better or even to scan them into the system. I'm vegan and there aren't any protein powders that are plant based or plant based cheese either. So my journal shows me having a protein deficiency.
Some obvious fixable shortcomings
1. The food list is too limited. This really needs a custom food function so users can add their own foods manually with the nutritional information. For example, as part of my diet I got no natural source of B12 so regularly eat nutritional yeast flakes fortified with B12 - I can't record this and my micronutrient journal will always show a major vitamin B12 deficiency. This obviates the point of nutrition tracking. There is no reason to keep users from adding personal custom foods to their pantries. 2. It also needs an export function: I'm using this app specifically to record micronutrients which is where myfitnesspal fails miserably and this app could theoretically succeed. I would like to extract the data later to see if there are correlations with health outcomes. 3. It should be compatible with Fitbit! 4. The recipe feature needs work. First a user should enter all the ingredients then enter the number of servings. Imagine a recipe has four servings. The way things stand, all the data entered count as one serving and a user can select 1/4 serving when saving it in the journal to reflect the true intended serving size. But it only goes down to 1/4 so if you wanted to write that you had half a true serving, there is no 1/8. Too fiddly to work around. This could be really good, so fix these easy issues!
Non vegan friendly
Andrewsobryan
on
5/30/2016
Did not have my brackets in the proteins just don't have a lot of info want to return the app don't think I will use it.
Perfect for what I needed
This is a great app particularly if you find that geeky moment in life where you MUST know (approx) how many of what kind of nutrients you are taking in per meal. I am very pleased with the ability to modify values, and it has helped me to effectively research proper supplementation and future vitamin purchases.
ALMOST
Good source of raw info but not useful as it could be. A very disconnected and buggy. You can waste so much time you're likely to forget why your trying. Adding food to the pantry doesn't work, so you have to search each ingredient over again. Create a recipe and there is no way to know the collective nutrient value. The iPhone & iPad work independent so plan on doing it twice. After three emails to support and no response, I guess there is none. I am also disappointed in Apple for allowing this inferior app. For profit
Very Useful! Needs a profile of each nutrient.
FutureDietitian
on
4/25/2016
I have used this app for quite some time and find it extremely useful. Would give it 5 stars if it included information about each of the nutrients (especially each of the vitamins and minerals) and their role in the body, health benefits, deficiency and toxicity info, etc. A link to the Wikipedia page (as it has been done for each food item) for each nutrient might suffice. Thank you.
All you want to know about the food you eat.
Very detailed app. It's a must for people on a diet. Makes keeping track of calories and carbs easy.
Very Knowledgeable and handy
I love how detailed this app is. Practical and functional, i can just look on it when I'm doing my food shopping to decide or clarify on some foods to buy. Specially now that I'm going into a transition to eat more vegan diet, this helps me to know what I'm eating supplies my nutrients need. Also, I have some friends who chatting to just tells me their doctors said they need more iron, or more protein, or more this or that, and I can help them to chose the right food to eat, also telling them about the app so they can download and have it handy as well. Great job NUTRIENTS keep improving it, and we'll help spread the word!!! I'm so happy I found it! 👌🏻👏🏻❤️
Handy
peterparker62
on
4/9/2016
Love it. Wish it had details on fatty acids, but otherwise everything I need.
Essential Fantastic
Found nutrients after my health, and my doctor, required a diet that targets getting a range of sodium, prosperous, potassium and sugar each day. This app makes it possible for me to eat! Strongly recommended for anyone on a restricted diet and especially for folks, like me, on kidney dialysis.
Very useful
John Deere gal88
on
3/14/2016
Exceptionally useful for those special needs diets. Much handier than a printed book and is complete for my inquiries. Nice to have.
Detailed
I am a new Nutrients App user. I am still learning how to navigate this app. I could use some assistance with the Journal feature. But, I really like all the detailed information that Nutrients provides for each food listing.
Great app
This app is helpful for finding out nutrient levels of foods, but they need to continue to work on the varieties of fruits, vegetables, etc.
Favorites gone!
Veganlolosammy
on
2/20/2016
With the change in the app, all of my favorites are gone except one. Dumb.
Great app
Gives you a lot of information on what's in the food you eat.
The prefect app love it
The perfect app but please include iodine love. Thank you
Could be a great app, but very hit or miss
Trumpetskinner
on
1/20/2016
The app is very easy to use and a fantastic idea. I appreciate how easy it makes it to look up carbs for my insulin injections. The missed opportunity here is finding items that aren't every day things for me, like Thai food as a whole. Try looking for Pad Thai in this app, try looking for any Thai food... One thing comes up. For a paid app I just expected more I suppose and that's why I gave it 3 out of 5. Needs improvement.
Top Shelf App!
After using this app for over two years it does a credible job for all my searches. I personally have added many items to the journal. If I could, I would give ten stars!!!
My go to nutrient app
100% Plant Based
on
12/31/2015
This is my go to app for nutrient information. It features macro- and micro-nutrient information such as vitamins, minerals, and amino acids. This alone makes the app indispensable. The app has an easy to use interface and a tremendously useful presentation of the nutrient data. You can also specify food quantities in a variety of measures (e.g. grams, ounces, cups, etc.). If you want a comprehensive reference for a huge number of foods - you will love this app.
Foodie
Flower purple
on
12/29/2015
An excellent source of finding details of food you like
Great
Brandon white
on
12/12/2015
Extremely informative, accurate, and up-to-date.
Pretty solid basics
Jack Jack Jack Jack
on
12/11/2015
But needs a journal that can at least compute each day's total intake of macronutrients. As it stands, it's a decent reference tool but the journal feature is not yet useful.
Excellent!
Centrallanding
on
10/13/2015
I am really impressed with Foodle. It tells me everything I need to know about just about any food. All of the nutritional information you would find on a label (calories, carbs, protein, vitamins, minerals) plus amino acids. I could quickly see why a pear is a much better choice than an apple. Love it!
Wow
I'm really impressed with how comprehensive and easy to use this app is. The ONLY drawback is when you're journaling in the foods. You have to tap the icon and then a little pop up over and over. Case in point; coffee. 1 cup = 8 oz. I have to tap the journal 8 time and a little pop up message 8 times. Its annoying. Other than that, it's $5 well spent.
Fact Sheet
Publisher:

Pomegranate Apps LLC

Category:

Food & Drink

Released:

Oct 27, 2010

Current Version Released:

Oct 06, 2017

Version:

7.1

Size:

33.6 MB

Compatibility:

Requires iOS 9.3 or later.

Recommended Age:

4+

Game Center Certified:

No

Supported Devices:

iPad2Wifi-iPad2Wifi, iPad23G-iPad23G, iPhone4S-iPhone4S, iPadThirdGen-iPadThirdGen, iPadThirdGen4G-iPadThirdGen4G, iPhone5-iPhone5, iPodTouchFifthGen-iPodTouchFifthGen, iPadFourthGen-iPadFourthGen, iPadFourthGen4G-iPadFourthGen4G, iPadMini-iPadMini, iPadMini4G-iPadMini4G, iPhone5c-iPhone5c, iPhone5s-iPhone5s, iPadAir-iPadAir, iPadAirCellular-iPadAirCellular, iPadMiniRetina-iPadMiniRetina, iPadMiniRetinaCellular-iPadMiniRetinaCellular, iPhone6-iPhone6, iPhone6Plus-iPhone6Plus, iPadAir2-iPadAir2, iPadAir2Cellular-iPadAir2Cellular, iPadMini3-iPadMini3, iPadMini3Cellular-iPadMini3Cellular, iPodTouchSixthGen-iPodTouchSixthGen, iPhone6s-iPhone6s, iPhone6sPlus-iPhone6sPlus, iPadMini4-iPadMini4, iPadMini4Cellular-iPadMini4Cellular, iPadPro-iPadPro, iPadProCellular-iPadProCellular, iPadPro97-iPadPro97, iPadPro97Cellular-iPadPro97Cellular, iPhoneSE-iPhoneSE, iPhone7-iPhone7, iPhone7Plus-iPhone7Plus, iPad611-iPad611, iPad612-iPad612, iPad71-iPad71, iPad72-iPad72, iPad73-iPad73, iPad74-iPad74, iPhone8-iPhone8, iPhone8Plus-iPhone8Plus, iPhoneX-iPhoneX,

Supported Languages:

English;