Screenshots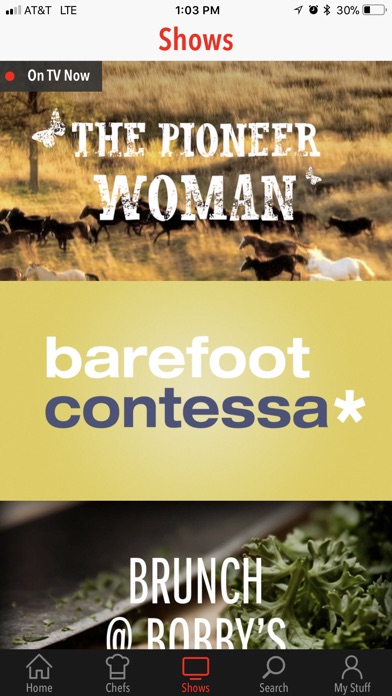 New in version 5.6.4
- Now you can easily access ingredients while reading a recipes directions.
- Enable push notifications to start your day off with Daily Bites -- irresistible food facts, cooking tips and delicious recipes.
- No more #kitchenfails. We've fixed crash issues that some users were experiencing.
Description
THE ALL-NEW FOOD NETWORK IN THE KITCHEN APP IS HERE!

Rated as one of the *top recipe apps* in the App Store, Food Network's In the Kitchen app is your one-stop shop for all things food. Get instant access to our most-popular recipes from Ina Garten, Ree Drummond, Alton Brown, Giada De Laurentiis, Rachael Ray, Bobby Flay, Guy Fieri and many more. Need inspiration for your next meal? Or looking for a recipe that's on TV now? Our new app will help you do just that! Finding delicious recipes from your favorite Food Network chefs and shows has never been this quick and easy.

With this app, you can:

FIND RECIPES ON TV:
- Instantly save recipes from your favorite Food Network shows, even ones that are *on TV right now*.
- Search for the perfect recipe to satisfy your meal-planning needs. Narrow down your search by chef, course and *recently aired* recipes.

GET INSPIRED IN THE KITCHEN:
- Browse over 70,000 recipes from your favorite Food Network chefs.
- Looking for a decadent dessert, a festive cocktail or even just dinner for the family? Find a variety of recipe collections, including:
Healthy
Weeknight Dinners
Quick and Easy
Kid-Friendly
Desserts
Cocktails
*Top Picks* from Food Network

COOK LIKE A PRO:
- Hone your cooking chops by watching our how-to videos.
- Get creative by adding your own tips and substitutions on each recipe with the Notes feature.

SAVE AND SHARE RECIPES:
- Save recipes *instantly* and organize them into your very own collections.
- And don't worry! All of your previously saved recipes are safe and sound. You can now find them under My Stuff.
- Share recipes with your friends and family via text, email, Notes, Pinterest, Facebook and Twitter.
- Discover what the Food Network community is saying about our recipes through ratings and reviews.

GROCERY SHOP STRESS-FREE:
- Save recipe ingredients directly to *Notes* and collaborate with your family and friends while you shop.
- Please note that your FoodNetwork.com grocery list will remain independent from the app. However, you can export your existing FoodNetwork.com Grocery List to Notes app anytime by going to My Stuff > Settings > Grocery List.

APP EXTRAS
- Enable push notifications to receive daily bites with irresistible food facts, cooking tips and delicious recipes.
- Enable the iMessage extension to search for and share recipes with friends and family without having to leave the Messages app.
- Customize your In the Kitchen app icon with an image of your favorite Food Network chef.
- Start your day off right with irresistible food facts, cooking tips and related recipes with our Daily Bites widget, available in the Today View.


Want to talk? If you have questions, comments or suggestions for the app, we'd love to hear from you. Please email us at app-foodnetworkinthekitchen@foodnetwork.com.

Please note that videos are available for playback only in the United States, due to licensing restrictions.

Food Network In the Kitchen is compatible with iOS 9, 10, & 11 for the iPhone, iPod touch, iPad and iPad Pro.
iPad Screenshots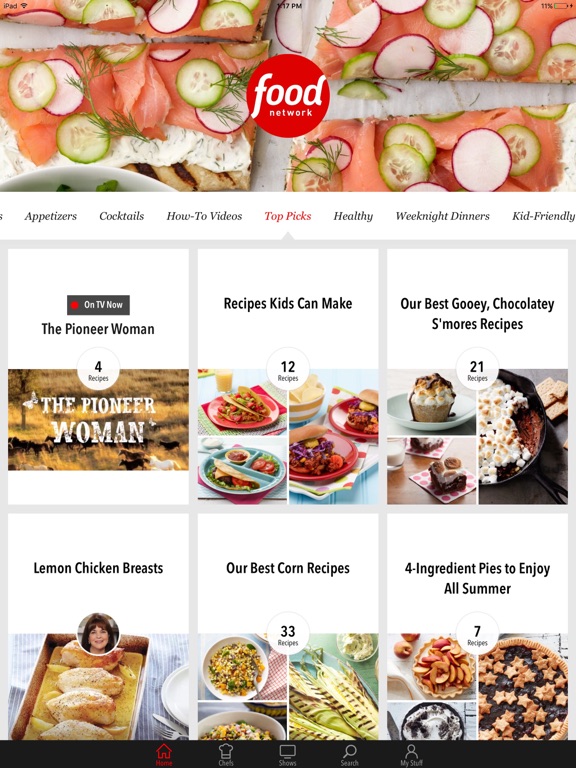 Reviews
Needs a different format
Having the ingredients down the left side of the instructions is annoying. I forgot the last 3 ingredients in a recipe since I hadn't scrolled down that far. Please make this like a normal recipe with all ingredients at the TOP of the page.
Videos hardly work at all
Dancediva:)
on
11/20/2017
I love app but the videos hardly work at all and I've already updated it.
Great app
User female
on
11/17/2017
I love the look and feel of the app. I absolutely love being able to pull up all the recipes that are currently being featured in an episode or on tv! Only thing I would want in the next update is to search by ingredient. I love they've added a breakfast tab! I struggle figuring out what to make for breakfast all the time. And I am so glad there's the ability to search within your saved recipes, as well as being able to sort by newest too!
My favorite recipe book...Food Network
When I need a new recipe, I get my IPad out and go to Food Network app. Search what I'm looking for, and save for further use. I especially love my very own recipe box, where I save all my favorites!
Bad update for iPhone 8
scootie1123
on
11/14/2017
New update won't let this work on iPhone 8. Every time I open the app it closes.
App crash
Lunaria box
on
11/14/2017
Love this app I use it a lot as a reference to my cooking but it keeps crashing. 😭
Keeps crashing
Katalinas_momma
on
11/12/2017
The app keeps crashing on me. It's annoying.
Crashing
BigPimpinCleanSouth
on
11/10/2017
My app keeps crashing before the landing page will even load. I️ hope it's fixed soon because I️ use this app all the time!
Problems
Alex23rodriguez
on
11/8/2017
I love this app but now it keeps force closing every time I use it? Why??
Doesn't work
Doesn't work
Black screen ?
Saint Cipriano
on
11/7/2017
Watching a video instruction on how to make certain recipes and the video goes black on me? What kind of stuff is that??
App closing within seconds on IPhone 7 Plus.
I have had no problem with this app in many years of use. My recipe box contains most of my favorite recipes. After the latest update to make the app work on IPhone X, I'm unable to keep in open more than a few seconds. Please look into this! Thanks.
FINALLY...
Janelle Mashtal
on
11/5/2017
...a sort feature for my saved recipes! So now the app is perfect now. That is all. 🤣
Still ok
I absolutely love this app so very helpful and everything amazing. There used to be a feature where I could add my ingredients to a shopping list and it was all in one place. That has disappeared and I'm so disappointed. It was very helpful for multiple dinners. I hope you can add that back I'm looking into an app that will provide this. I still enjoy this app but disappointed with the loss of adding ingredients to shopping list
Crashes after latest update
Love this app, used to use it all the time however after latest update the app crashes before it even fully opens. I have a 6s and my iOS software is fully updated. Please fix this ASAP. Would've given 5stars if it still worked. So disappointed.
Version 5.6.3
Since updating the app to 5.6.3 on 11/4/17 the app keeps crashing. When I can get it to load, as soon as I click something or try to search it crashes. I really like this app when it works.
Love this app
I use this app all the time. Very helpful.
Great foodie app
Great app but with the new iOS update it crashes.
Love the app, but it crashes on iPhone after updating
Can't get beyond the opening screen without the app crashing and quitting. What happened?
Love that it exists but it is the dumbest app ever
You can't search through your own saved recipes and pretty much all items have a name you won't remember. Can't search "lemon chicken" to find "general Isaac lemon chicken." Also the collections option is ridiculous. Really, really poor design. You should be all levels of embarrassed Food Network. Update: now my app will open and automatically close. Can't search, can't access saved recipes, can't use it.
Clicking on Ads freezes my experience
iPhoneUser63
on
10/29/2017
If I click on an Ad, it won't let me tap the little 'X' at the bottom right corner. I have to force close the app which is so frustrating because then I have to search again for where I was.
Used to love this app
Jennipoo1962
on
10/23/2017
2 days after an update and I can't open the app.
Crashes repeatedly
Will not work, only CTDs. Please update and fix for iOS 11.0.3
Great App
Who needs to buy another cook book with this app? Great recipes, easy to follow, pictures, and some videos.
John's Kitchen
John's Kitchen
on
10/18/2017
I truly love this app. Recipes are very easy and are fun to make and taste great. I would highly recommend this app for anyone who loves cooking. Thank you John
App Crashes
Been trying to use the app now for 3 days and every time I open it up it crashes completely! Super annoying! Hope they fix the problem soon.
Food network
Was a great app but is now frozen on all my devices since the last update. Nothing seems to unfreeze it. Two weeks later and I managed to unfreeze it but it will not open. Aug. 15 th. App worked on phone for a few days but not iPad. Now it won't open on either device. Guess my recipe collection is gone. Sept.11 still won't work on iPad. Please do something if possible. Hate reading recipes off my phone. Oct. 9 th. Still won't open on IPad and have received no support. Don't even enjoy watching food network without the app to save the recipes. Hate having to use my phone Instead of my Ipad 10/16/17. Now what happened? App won't open on iPad or iPhone! This is getting ridiculous!
Hate,hate,hate this app...used to be good
I used to love this app and gave it a 5 star review, but now somethings you guys changed has made it completely useless. I can no longer see the latest recipes I have saved, I can no longer categorize them, I can no longet put them into folders from the website. Too bad.... I will have to turn to something else.
Love it!
Love the Food Network and this app is really easy to use when searching for recipes!
Good APP
Just a good cooking app, no B's ads popping up or unnecessary crap. Just good recipes. Well done.
Useless app
I don't know how this app is getting good reviews with the way it's been working for me... Everytime I open the app it literally crashes within a minute sometimes even seconds after opening and returns me to my home screen, crazy how am I suppose to cook when the app can't stay stable for more than a few minutes.
App is great, when it's not crashing
I love the app but it has stopped working properly since the iOS 11 update. Please send out an update ASAP!!
Bothersome
I've tried to block the notifications from this app... The notifications keep coming. Makes me want to delete the app
Love this app!
I love the convenience of this app. I can look up my favorite chef and see a recipe that they've made. It's a very handy app to have especially if you like to cook or bake!
I love thisapp!
I love this app, this makes it easy to find recipes I watch on food network. AWESOME!!!!'!'!!!!!!
Corn chowder
I used Yukon gold potatoes my own chicken stock. That is the only changes I made. This soup was perfectly delicious! A keeper in the recipe book!
No live support
From the website, I used to be able to organize my recipes into the various folders I created to make it easier to pull them up later. NOW, I'm unable to do this from the website or the app. I have gone to the FAQ and the directions for filing them into "My Stuff" (recipe i.e. folders), doesn't work and there's no live chat to be able to resolve the issue. This is extremely frustrating. Poor customer support, in my opinion.
Guy Fierri is bae
That's all I gotta say
Enjoy the app
I have really enjoyed this app!! Going and checking things out I get around easy!! Finding my favorites!!!!! Classic recipes and all I tried are great!!
connecting to server
Constantly having issues connecting to server.
Awesome App
I simply love the app, the first show I discovered I think was Chopped and my son and I watched it together. Then I watched Trisha's Southern Kitchen and on it, it said if you liked her recipes to go on......and get that recipe. Well, big mistake for me, that's when I downloaded the app, saved a bunch of recipes and I'm in heaven!!!! I love this app. It's awesome, thank you!!!!!!
Don't spam for ratings.
Don't spam for ratings. I have used it for all of two seconds and asks for a rating.
Very Slow
You will starve to death waiting for recipes to load, if they load at all
Sad...
Aviator19681
on
9/30/2017
The app is now completely useless. I have never used an app where the ads are so invasive. I'm trying to scroll through a recipe and an ad pops up, I close it, and immediately is poos back up again. I close it, scroll a couple of ingredients more, and the ad pops back up again, I close it, it pops back up... I used to really like this app, but I had to update because they turned off the search results. I searched eggs, egg, breakfast, and all returned "no results". I updated the app, and now get search results, but also so many pop up ads that the app is now useless. Unfortunately, I'm deleting the app and will lose many delicious recipes, but I can't use the app anymore...
My Go To
I love love love this! I go here on a daily basis. So much help and inspiration. Did I mention I LOVE this! It has made me a better cook👏👏😘
Advertisements
I don't like the ad videos that pop up when you are reading a recipe and won't let you continue until you watch the complete ad. Otherwise I like the app.
FC recipe ap
First time using the FC ap... I hate the ads that continue to pop up, extremely annoying. Does a heart mean you would like to save recipe or does the save ingredients button save the recipe? Why would I want To save the ingredients without the recipe cooking instructions? For a shopping list??? On the plus side I like the notes option and inclusion of video. Sorry but NYT my go to, overall much better recipes, no ads and serious reviews and comments.
Fix the ads
Can't scroll without an ad automatically opening - even when there's no ad on the screen at the time. I dread having to use the app at this point.
Best I have ever had!!
Weatherologist
on
9/29/2017
I made this to use up some apples for a card party. Was a hit, huge hit.
Fact Sheet
Publisher:

Television Food Network G.P.

Category:

Food & Drink

Released:

Nov 02, 2010

Current Version Released:

Nov 17, 2017

Version:

5.6.4

Size:

147.7 MB

Compatibility:

Requires iOS 9.0 or later.

Recommended Age:

4+

Game Center Certified:

No

Supported Devices:

iPad2Wifi-iPad2Wifi, iPad23G-iPad23G, iPhone4S-iPhone4S, iPadThirdGen-iPadThirdGen, iPadThirdGen4G-iPadThirdGen4G, iPhone5-iPhone5, iPodTouchFifthGen-iPodTouchFifthGen, iPadFourthGen-iPadFourthGen, iPadFourthGen4G-iPadFourthGen4G, iPadMini-iPadMini, iPadMini4G-iPadMini4G, iPhone5c-iPhone5c, iPhone5s-iPhone5s, iPadAir-iPadAir, iPadAirCellular-iPadAirCellular, iPadMiniRetina-iPadMiniRetina, iPadMiniRetinaCellular-iPadMiniRetinaCellular, iPhone6-iPhone6, iPhone6Plus-iPhone6Plus, iPadAir2-iPadAir2, iPadAir2Cellular-iPadAir2Cellular, iPadMini3-iPadMini3, iPadMini3Cellular-iPadMini3Cellular, iPodTouchSixthGen-iPodTouchSixthGen, iPhone6s-iPhone6s, iPhone6sPlus-iPhone6sPlus, iPadMini4-iPadMini4, iPadMini4Cellular-iPadMini4Cellular, iPadPro-iPadPro, iPadProCellular-iPadProCellular, iPadPro97-iPadPro97, iPadPro97Cellular-iPadPro97Cellular, iPhoneSE-iPhoneSE, iPhone7-iPhone7, iPhone7Plus-iPhone7Plus, iPad611-iPad611, iPad612-iPad612, iPad71-iPad71, iPad72-iPad72, iPad73-iPad73, iPad74-iPad74, iPhone8-iPhone8, iPhone8Plus-iPhone8Plus, iPhoneX-iPhoneX,

Supported Languages:

English;