Screenshots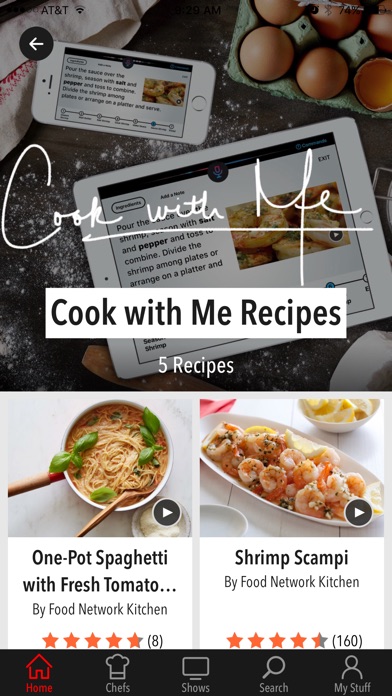 New in version 5.6
Enjoy the fun of baking right on your phone! Decorate virtual cupcakes & share your creations with friends in our new augmented reality feature using Apple's new ARKit technology. Available to users on iPhone 6s and above, 2017 iPad, and iPad Pro using iOS 11.
Description
THE ALL-NEW FOOD NETWORK IN THE KITCHEN APP IS HERE!

Rated as one of the *top recipe apps* in the App Store, Food Network's In the Kitchen app is your one-stop shop for all things food. Get instant access to our most-popular recipes from Ina Garten, Ree Drummond, Alton Brown, Giada De Laurentiis, Rachael Ray, Bobby Flay, Guy Fieri and many more. Need inspiration for your next meal? Or looking for a recipe that's on TV now? Our new app will help you do just that! Finding delicious recipes from your favorite Food Network chefs and shows has never been this quick and easy.

With this app, you can:

FIND RECIPES ON TV:
- Instantly save recipes from your favorite Food Network shows, even ones that are *on TV right now*.
- Search for the perfect recipe to satisfy your meal-planning needs. Narrow down your search by chef, course and *recently aired* recipes.

GET INSPIRED IN THE KITCHEN:
- Browse over 70,000 recipes from your favorite Food Network chefs.
- Looking for a decadent dessert, a festive cocktail or even just dinner for the family? Find a variety of recipe collections, including:
Healthy
Weeknight Dinners
Quick and Easy
Kid-Friendly
Desserts
Cocktails
*Top Picks* from Food Network

COOK LIKE A PRO:
- Hone your cooking chops by watching our how-to videos.
- Get creative by adding your own tips and substitutions on each recipe with the Notes feature.

SAVE AND SHARE RECIPES:
- Save recipes *instantly* and organize them into your very own collections.
- And don't worry! All of your previously saved recipes are safe and sound. You can now find them under My Stuff.
- Share recipes with your friends and family via text, email, Notes, Pinterest, Facebook and Twitter.
- Discover what the Food Network community is saying about our recipes through ratings and reviews.

GROCERY SHOP STRESS-FREE:
- Save recipe ingredients directly to *Notes* and collaborate with your family and friends while you shop.
- Please note that your FoodNetwork.com grocery list will remain independent from the app. However, you can export your existing FoodNetwork.com Grocery List to Notes app anytime by going to My Stuff > Settings > Grocery List.

APP EXTENSIONS
- Enable the iMessage extension to search for and share recipes with friends and family without having to leave the Messages app.
- Customize your In the Kitchen app icon with an image of your favorite Food Network chef.
- Start your day off right with irresistible food facts, cooking tips and related recipes with our Daily Bites widget, available in the Today View.


Want to talk? If you have questions, comments or suggestions for the app, we'd love to hear from you. Please email us at ITKPanel@foodnetwork.com.

Please note that videos are available for playback only in the United States, due to licensing restrictions.

Food Network In the Kitchen is compatible with iOS 9 and iOS 10 for the iPhone, iPod touch, iPad and iPad Pro.
iPad Screenshots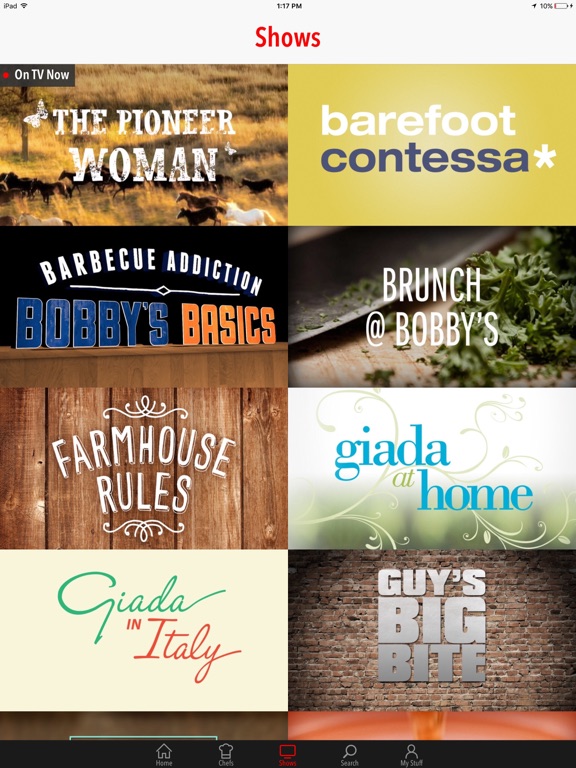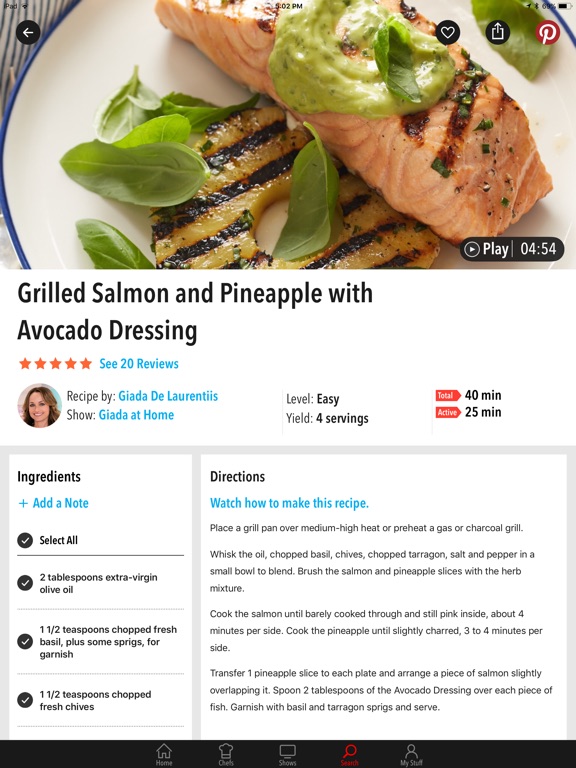 Reviews
Love that it exists but it is the dumbest app ever
You can't search through your own saved recipes and pretty much all items have a name you won't remember. Can't search "lemon chicken" to find "general Isaac lemon chicken." Also the collections option is ridiculous. Really, really poor design. You should be all levels of embarrassed Food Network.
Love it!
Christinaassa
on
9/23/2017
Love that I can look up what's on tv right now and see the recipes for the show and save them.
What's happening?
ladyslipper55
on
9/23/2017
This has been the BEST app, but lately seems to be lacking in maintenance and seems less user friendly. ??
Please go back!
Jessesgirl88
on
9/23/2017
I loved this app especially on Saturday mornings. Whatever cooking show was on would automatically pull up the recipes being made and you could just save the ones you liked! Now the app isn't showing that!! So unfortunately you have to search for the recipes. Why would you change this????
Need new tech people
Constantly crashes with ios 11
Food Network app
This app you couldn't ask for more. Favorite chefs and recipes all in 1 app. One word AWESOME!!!!
Love this app❣️
I love that I can find tried and true recipes easily. I have many cookbooks that I love. But this app is so simple and easy to use. Love the photos and that I can save my favorites. I also like reading the reviews.
Good recipes, could be more functional
So far, most of what I've cooked here has been pretty good, and a few have been excellent. And nearly all the recipes seemed accurate, which likely means they've been tested - a situation which is definitely not universal in my experience. I downgraded one star because I wish the app were more functional, and allowed me to sort the recipes I've saved more easily. Also, I find that lately the app home page seems to list videos without written recipes, and I find that annoying. I don't want or need to watch a video - I just wanna read the recipe. FYI, I've used this app for about 3 months, and have cooked at least a dozen dishes.
LOVE THIS APP
I have 5 Granddaughters 13 - 9. They Love to cook. Using this App they love to pick out their next masterpiece,from Grown ups recipes. Thanks a bunch for making Grandma time more Fun.
One of my favorite sites
I find this site inspiring Whenever I get creative for something special I go to it first and I'm never disappointed A well constructed site Easy to navigate Thanks for making it available
In the kitchen
JD Always cookin
on
9/20/2017
Great stuff use it all the time gives a great base and you can tweak the recipes to your liking good go to when you need a little help or outright use the recipes most of them are excellent anyway.
No link to recipe from most videos
Hunting Godess
on
9/19/2017
We live in a visually driven culture. The videos shown for each category on the app are a great teaser for the recipe. And that's it. You get teased and hung out to dry. You can't get to an actual recipe with measurements and methods from most of the videos. So now what?? You wing it, hoping to get close to the final result by guessing?? It's the suckiest part of this app. So lame.
Chicken pot pie
Christina perez
on
9/19/2017
Omg this was an easy recipe and it was so good.
Great app
MyraChristine
on
9/17/2017
So easy now to find recipes of your favorite host. Also, great way to save the list of ingredients.
Greatness
This helped me cook amazing meals that the whole family loves!❤️❤️❤️
The app stopped working completely after the latest update
It just freezes the moment you launch it and that's it, it even makes the phone freeze.
Great app!
Sunshine1111
on
9/15/2017
I love this app, easy to find recipes with reviews and feedback, I can save my favorites, leave feedback... love it!
Worst icon ever!
Five star fan
on
9/15/2017
Love the recipes here, but why is the app icon Geoffrey Zakarian's face?!? Is there a way I can change this? Help - it creeps me out a bit to see him smiling back at me from my screen. (Although I'm sure he's a lovely person in real life)
Great app but....
I love the app but it would be better if I could search in"my stuff". I can't always remember the name of a recipe and have to scroll through everything to find it.
Great recipes, terrible app
I use the app often due to the wonderful recipes. But, the functionality is terrible and seems to get worse with each revision.
Food Network App
App doesn't work. Please fix.
Food network
Was a great app but is now frozen on all my devices since the last update. Nothing seems to unfreeze it. Two weeks later and I managed to unfreeze it but it will not open. Aug. 15 th. App worked on phone for a few days but not iPad. Now it won't open on either device. Guess my recipe collection is gone. Sept.11 still won't work on iPad. Please do something if possible. Hate reading recipes off my phone.
Junk app
Just downloaded app and can't use app at all, it just keeps shutting down. Worst app ever. Why change a great app with crappy app? Do testing first before releasing a new version! Very disappointing!
No longer works
Used to be a great App but with the latest update it won't even open. Please fix it
Amazing app
Works great and has amazing recipes.
Review comments
Ahdiddjenjefiuhwhehs
on
9/9/2017
Why did you change so no one can comment on reviews? Some people are asking for advice and there is no way to respond.
Not working
Still not working
Discontinued???
The app hasn't worked in over two weeks. It's not an update issue. Every time I open the app, it crashes.
Newest format
I have yet to find a recipe with this format. I've given it plenty of time, but it just doesn't work for me.
The app needs improvement.
The app needs to be improved to allow filtering the recipes from "highest rated -lowest rated", which used to be an option on the website. Also, at random times when I am in the app I keep getting re-directed to a sponsor website without clicking on anything. I get that advertisements won't go away, but it's super annoying being re-directed to websites I am not interested in.
I miss this app
lilycallalily
on
9/5/2017
The app doesn't work anymore over Wi-Fi. It hasn't worked since before the July 17 update.
Too easy to click ads on the current version
While scrolling the app clicks ads and redirects out to a webpage constantly. This is an annoying change to a great app. Pls fix this terrible feature.
Won't open
This app used to be great but it won't open now. Please fix this!
Awesome cooking app!
Love this app! It's great for amateurs and professionals alike. I use it often.
Capecodder
5 Star. Love this app. Easy to use. Reviews are accurate, helpful and thought provoking - new ideas. Perfect for getting recipes for the odd items in my CSA basket. This will be your recipe go to app.
Update isn't working
I love this app, its my favorite app by far. However, I've had to delete and reinstall twice since the latest update and it's still not opening correctly. Please fix!
Update
CrowderDemons20
on
8/26/2017
Needs to be more user friendly
what's with the forced ads......?
djbuttspider
on
8/22/2017
I lovedthis app, it was user friendly and informative.... but the new update that pulls up ad videos on your phone without any prompting? incredibly annoying and a waste of time to use the app now. deleting.
Just when I'm stuck...
...I go to Food Network App, and I start getting ideas for a meal. Or, I'll try something new and different. Get out of my comfort zone. I love cook books, but sometimes I just need a quick reference. This food app, offers so much!
Crashes every time
Elizabeth fr San Jose
on
8/20/2017
App crashes every time I open it. I've had it installed for several years but now it's terrible. My IOS is up to date, and I have reloaded it several times. Still occurs after app updates. I'm not going to try to reinstall it. I'm done.
Nope
WetzelHillman
on
8/19/2017
Still is not working just freezes. Not only not working but there is no application help available. Installed and uninstalled and reinstalled and uninstalled. No bueno Hopefully FN will get this worked out.
Love it, but......
But, for the past few weeks it is frozen, will not open at all, both on iPad and iPhone. Used to use daily, hate that I can't use this app.
Not Updating
Can't get the recipes that are on the show that I'm watching. Frustrating,
App no longer works
sonicsminion
on
8/14/2017
After the last update the app no longer launches. I've done a hard refresh on my phone, turned it off, reinstalled the app a few times. It doesn't work and I'm real disappointed as I used it constantly and hope it's fixed ASAP.
Crashes
Unstable since the last update. Deleted app. Reinstalled. Still nothing.
Help
Rento Lighter
on
8/10/2017
I can't watch video ..
Crashes on open
Maybe just me but the current version crashes every time I try to open it. iPhone 6, iOS 10.3.3. Unusable for me. :-(
Amazing
Kamilkapsycholka
on
8/6/2017
Very easy to access recipes!! :) So excited to start using it more.
Food network
Used it all the time that is till update now it won't even open! Come on show us you actually read these reviews and FIX IT!
Love this app but....
Would really like to see nutritional information added to the recipes on the app. Would make it so much easier than having to look up on website. Love being able to put into my own collections!
Fact Sheet
Publisher:

Television Food Network G.P.

Category:

Food & Drink

Released:

Nov 02, 2010

Current Version Released:

Sep 19, 2017

Version:

5.6

Size:

135.1 MB

Compatibility:

Requires iOS 9.0 or later.

Recommended Age:

4+

Game Center Certified:

No

Supported Devices:

iPad2Wifi-iPad2Wifi, iPad23G-iPad23G, iPhone4S-iPhone4S, iPadThirdGen-iPadThirdGen, iPadThirdGen4G-iPadThirdGen4G, iPhone5-iPhone5, iPodTouchFifthGen-iPodTouchFifthGen, iPadFourthGen-iPadFourthGen, iPadFourthGen4G-iPadFourthGen4G, iPadMini-iPadMini, iPadMini4G-iPadMini4G, iPhone5c-iPhone5c, iPhone5s-iPhone5s, iPadAir-iPadAir, iPadAirCellular-iPadAirCellular, iPadMiniRetina-iPadMiniRetina, iPadMiniRetinaCellular-iPadMiniRetinaCellular, iPhone6-iPhone6, iPhone6Plus-iPhone6Plus, iPadAir2-iPadAir2, iPadAir2Cellular-iPadAir2Cellular, iPadMini3-iPadMini3, iPadMini3Cellular-iPadMini3Cellular, iPodTouchSixthGen-iPodTouchSixthGen, iPhone6s-iPhone6s, iPhone6sPlus-iPhone6sPlus, iPadMini4-iPadMini4, iPadMini4Cellular-iPadMini4Cellular, iPadPro-iPadPro, iPadProCellular-iPadProCellular, iPadPro97-iPadPro97, iPadPro97Cellular-iPadPro97Cellular, iPhoneSE-iPhoneSE, iPhone7-iPhone7, iPhone7Plus-iPhone7Plus, iPad611-iPad611, iPad612-iPad612, iPad71-iPad71, iPad72-iPad72, iPad73-iPad73, iPad74-iPad74,

Supported Languages:

English;