Recommended app!
App last updated
May 29, 2017
Screenshots
New in version 1.6
Now with 64 glorious bits! Tweaks and improvements throughout.
Description
"iPad Game of the Year" - TouchArcade
"iPad Game of the Year" - MetaCritic

Beautiful and surprising, the millions of Goo Balls who live in the World of Goo are curious to explore - but they don't know that they are in a game, or that they are extremely delicious.

This is the FULL award winning game, now on iOS. Drag and drop living, squirming, talking, globs of goo to build structures, bridges, cannonballs, zeppelins, and giant tongues.

Mysterious Levels - Each level is strange and dangerously beautiful, introducing new puzzles, areas, and the creatures that live in them.

World of Goo Balls - Along the way, undiscovered new species of Goo Ball, each with unique abilities, come together to ooze through reluctant tales of discovery, love, conspiracy, beauty, electric power, and the third dimension.

The Sign Painter - Someone is watching you.

World of Goo Corporation - Congratulations! World of Goo Corporation is the Global Leader in Goo and Goo Related Product, including World of Goo Corporation Trademark Brand Soft Drink Beverage and World of Goo Corporation Trademark Brand Facial Exfoliating Lotion. Succulent!

Massive Online Competition - Human players around the world compete in a living leaderboard to build the tallest towers of goo in World of Goo Corporation's mysterious sandbox. World of Goo Corporation is contractually obligated to state that everyone is a winner and is enthusiastic to celebrate everyone's tower building opportunities equally.

Congratulations, and good luck!

Awards and recognition for World of Goo:
* Best Design -Academy of Interactive Arts and Sciences
* Best Downloadable Title -Game Developers Choice Awards
* Best Design -Independent Games Festival
* Technical Excellence -Independent Games Festival
* Best Indie Game -Spike TV Video Game Awards
* Game of the Year -Rock Paper Shotgun
* Game of the Year -GameTunnel
* Wii Game of the Year -IGN
* Best PC Puzzle Game -IGN
* Best Wii Puzzle Game -IGN
* Best Artistic Design Wii -IGN
* Best New IP Wii -IGN
* Most Innovative Design Wii -IGN
* Puzzler of the Year -Golden Joystick Awards
iPad Screenshots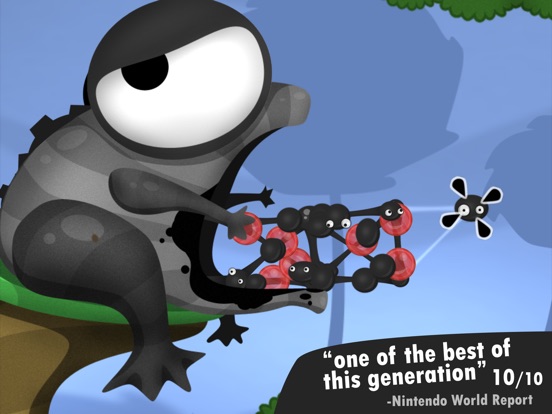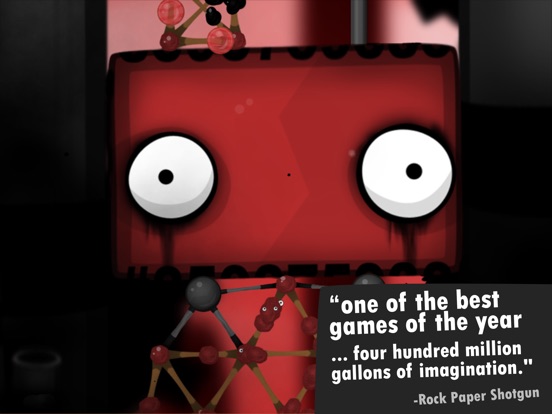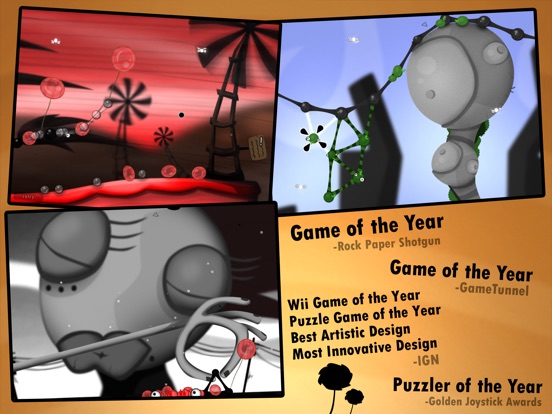 Reviews
LOVE IT
Bought when it first come out 6-7 years ago. Glad to see an update! Fun!
Awesome fun
I played this years ago on PC, and to be honest I forgot I even bought it on iOS until last month. As always, great fun. Really hoping for more games from 2D Boy
Love this game
This so much fun Need more part
Switch!
It's coming to Nintendo Switch!
One of the best games on the App Store.
DillPickleDave
on
11/29/2017
I don't have a good computer, but I would play the demo of this game in school. So seeing this game made me really happy. The levels are challenging but still fun, and never gets boring since there are always new goo balls. Good job
More games
Mohammad Dalesh
on
11/24/2017
World of gooo creative ,simple and awesome....that's happening when science and brilliant ideas are together.... We need more game 2D
The best
This game made me cry a little....... the soundtrack tho......best game ever
😍
Pavlov the heghog
on
11/5/2017
I have been playing this on the Xbox since I was little but I absolutely LOVE the phone version. I think it's an improvement over the Xbox version.
Great animation and music score!
Awesome game! One of the best games on the idevice. Truly a classic game.
The "demo" version is better
I bought World of Goo for iOS because I liked the free demo on the developer's site. After playing the full version for about an hour, I got stuck over and over again because the goo blobs just won't connect with 3 connections no matter how hard I press my finger to the screen. On the "demo" version for free, you can make up to 4 connections with red blobs instead of the icky black ones in this game. Also, the levels are all infuriatingly difficult and are no fun to play. It feels like I am taking a skills test and failing miserably over and over again rather that having fun like in the "demo". The levels are not creative or playful in any sense. The goo is weaker and can only make 2 connections in this version which is a complete letdown for me after having fun with the "demo" of World of Goo. Surely, you can skip levels, but I am yet to see a level that I enjoy with the dark and gloomy appearance of every level in every world. The free Adobe Flash version of this game (levels are different) is a lot more fun, but there is no save functionality. I understand that this game was updated to 64-bit to work with iOS 11, but I am having no fun with it even though I enjoy puzzle games like Forest Home and Splitter Critters.
Buen juego pero se cierra
Es muy bueno el juego pero se me cierra inesperadamente en mi iphone 6 plus
Amazing
Jhfjgvvjhguybvyrgds
on
6/3/2017
Must play puzzle game
Thank you!!
thabkyouyayyayyay
on
6/2/2017
I loved this game from years ago and really wanted to play it again. I bought it last week and it would crash every time I beat a level because it hadn't been update in a while. I'm so happy you guys updated it! Thank you so much! I love this game!
My favorite game on iPad
Hands down the best game for iPad
World of Goo is back!
Slithy Toves
on
5/31/2017
Thank you so much for updating this so it will keep working on 64-bit devices! This is such a wonderfully bizarre and beautiful game. Serious points to the developers for updating it for us Goo fans.
Awesome game!
TheNameIsWaffles
on
5/30/2017
Thank you for updating it! A must have!
Thank You
FIFTHSUN2012
on
5/30/2017
This is such a classic. Thanks for updating it. I've had it for years now, it's one of my all time favorite games.
Oddly fun!
I have had this game for years now, and I have played it on and off. The game itself is highly entertaining in all of its strangeness. Perfect game for those looking for a good challenge! Also, kudos to the developers for updating this game after nearly 4 years to keep it going strong!
Thank you for updating to 64bit
Artherious87
on
5/29/2017
I love this game. It's challenging and a great way to pass the time. I own it on multiple platforms and keep coming back to it. Can't wait to World of Goo 2!!!
Thanks for the update!!!!!!!!
You guys rock!!!!
Thank You!
Thank you for adding 64 bit support! Love this Game!
Great game! NEEDS 64 bit update!
I love this game - it's a classic! Very creative, fun, and funny. Please update it for 64 bit so my grandchildren will be able to play it - thanks! With update this would be 5 stars. - The Sign Painter
I love this app
64bit please.
It's time for an update
This app is not 64-bit supported and is not optimized for the new iPhone screens which is a shame because it's an amazing game and I want to recommend it to everyone.
Great game massively in need of updating
This is an excellent game that I've been playing since v1.0 on a 3GS and iPad 1. Sadly it hasn't been updated in many years and is still 32bit only and will likely not work on future versions of iOS. Not sure if the developer will update or if the app has simply fallen to the wayside.
Great Game!
My mom and I used to play this on my Wii when I was younger. I love that I can play it on the go whenever I want now. The touchscreen makes it pretty easy to control. The visuals are very unique, pretty, and kind of silly. It's very fun and challenging at times. Would definitely recommend.
Sounds options
Decently fun game but it's a little ridiculous I have to listen to their soundtrack instead of being able to play music. Pretty big oversight in my mind
Needs optimization
CheeseCannon
on
11/22/2016
Game hasn't been updated since 2013. Needs support for current gen iPhones. Game works fine but it looks zoomed in bc it's not optimized for 4.7" and 5.2" screens
Good graphics and gameplay
Gamergod2006
on
11/18/2016
Best game ever!! The graphics are amazing and I love playing this all the time! I think it has nice storyline, music, and also fun to play if bored. If I could rate 10 stars, I would.
One of the best games
Jason Esteves
on
8/16/2016
Love this game,cleverly put levels, easy and mind boggeling levels,beautiful soundtrack,runs smoothly on my ipad mini👍👍👍
Great game with problems on iPad Air 2
Love the game, but I have sound on my iPad Air 2. Works great on my iPhone 6s Plus, MacBook Pro, and Windows laptop.
Great Game
Thatvampiredud
on
5/19/2016
I love this game! It's something that everybody should get and I mean no kidding about that. I'm serious, even though some of the levels I had to skip since they were too hard, it doesn't matter, very great game, and graphix, 10/10, 5 *****. Your still reading? Stop reading and get this game already! GET IT!
No sound iPad Pro 9.7
Seems to be a general bug with iOS 9.1 and the new iPad. Sound is not present
Sequel please!
This game is amazing. Make a sequel!
Doesn't work with my iPhone
I was unable to get past the initial sign-up. I tried 4 times, but it kept freezing. $4.99 for an app that doesn't work.
Crashes on 9.0.4
Please fix
Such a joy!
Some anonymous parent
on
10/10/2015
I found this app by chance. It seemed intresting, so I downloaded it. The story was beautiful, the diffrent worlds, particularly biome 2, 4, and 5 were amazing. I loved playing this game, I loved the goo, Everything about it was wonders. I cried at the end of the Epilogue.
Keeps crashing. Very annoying
Keeps crashing on iPhone 6 with iOS 8.4. Very often I say. Especially annoying when that happens in the middle of the level this making me to start over.
MAKE A SECOND PLEASE!!!!!
TheSpiritofradio
on
9/11/2015
Please make a second world of goo. Please
I bought a blimp for 99¢!!
At the end of the game, after the credits you'll see a sign and more saying 99¢ when you go to the right you'll see a cabin with a sign and another that says 99¢ and 1 that says open. So you talk with this guy (goo ball) and soon when you get a 99¢ thing (not literally 99¢) a blimp will pop up from the dead end of the road and it's end then you'll see the blimp from the title screen, go to it and the level will be called "mighty blimp" I say "the mighty blimp" and you'll go to it and you'll see the blimp with a sign attached to it and the sign will say "I bought a blimp" I personally love this Easter egg for the iOS and I felt like starring at it for half an hour. So yah, the mighty blimp!! Comment bellow plz if you'd like ;) Ps: if you go to that guy again he will be closed but he'll still talk to you and please say that you like the blimp (even if you don't, just to be nice) another ps: I don't know if you have to complete all levels but comment in bellow please to tell me I just want to know plz wait did I already right this comment?!
Where is World of Goo 2?
Easily one of my favorite iOS games to date. Solid story with challenging enough puzzles. Love making the tower with extra goo!
Favorite game
Carrot 0000456
on
7/26/2015
I am a seven year old and I finished this game in two weeks...this game is the most favorite game that I have ever played in my life, and I have played many. I really really love it. I hope you make more levels!
Refund NOW!!!
I just bought this app and can't even open it because it keeps crashing!!! Give me back my 4.99!!!
Love the game but crashes all the time upon opening
Sinister Samson
on
5/26/2015
If someone could refresh this game so that it works seamlessly on my iPad I would love you forever!
Updates?
Isn't it about time you do an update and maybe add some new levels?
It was good
anon/anonymous
on
4/30/2015
Played it before and it was amazing But now it just keeps crashing on the 6 edition iPhones If it just got updated it'd be safe.
Best game ever
Farhan Sherwani
on
4/18/2015
I played this game first time in 2010 and it inspired me alot. Great levels, best puzzler, very artistic, amazing music and very helpful sign painter. I RECOMMEND it to everyone. Also try to solve levels with ocd. Thanks
NEEDS IPHONE 6 SUPPORT
surpreme awsomeness
on
4/4/2015
This app should be optimized for iPhone 6 to run smoother. It has a few bugs there. I also wouldn't mind more levels
Killed Family Sharing
Goo, you are dead to us now. Forced repurchase for every device? Sorry, no!
Fact Sheet
Publisher:

2D BOY

Category:

Games

Released:

Dec 16, 2010

Current Version Released:

May 29, 2017

Version:

1.6

Size:

119.1 MB

Compatibility:

Requires iOS 8.0 or later.

Recommended Age:

4+

Game Center Certified:

No

Supported Languages:

English;