Screenshots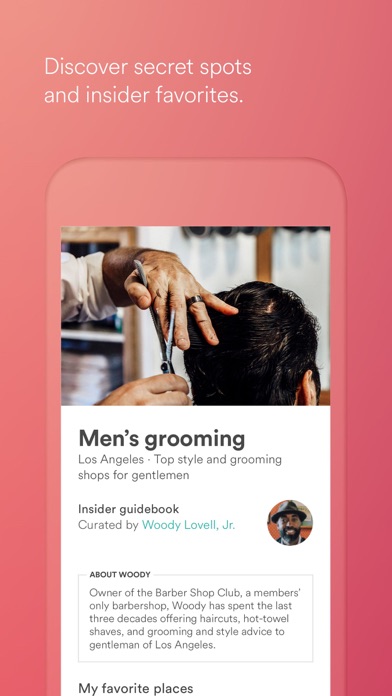 New in version 17.42
Further stability tweaks to make managing your listing and your travels as easy as possible.
Description
Unforgettable trips start with Airbnb. Find adventures in faraway places or your hometown, and access unique homes, experiences, and places around the world. Book everything your trip needs, or start earning money as a host.

BOOK HOMES
Choose from over 4 million homes across 191+ countries. Search by price, neighborhood, amenities, and more.

BOOK EXPERIENCES
Go on experiences led by local experts, whether it's for multiple days or just an afternoon. Explore Seoul's underground music scene, hunt for truffles in a Tuscan forest, or give back to the community with a social impact experience.

DISCOVER PLACES
Find the city's best bars, restaurants, and secret spots. Get the latest recommendations on where to go from notable locals, celebrities, and hosts.

RESERVE TABLES
Discover and reserve tables at the most sought-after restaurants, hand-picked and powered by Resy, right from the Airbnb app. (US only)

For travelers:
• Book homes and experiences for your next solo journey, family vacation, or business trip
• Search for last-minute accommodations or long-term rentals
• Save your favorite homes, experiences, and places—and invite friends and family to plan the trip with you
• Reserve tables at popular restaurants, ahead of time or on the spot (US only)
• Add experiences and events to your itinerary
• Message your host and get directions to your home

For hosts:
• Share your extra space or lead experiences that showcase what makes your city great
• Update your listing and calendar availability
• Share what's special about your neighborhood with a host guidebook
• Message guests and manage their reservations
iPad Screenshots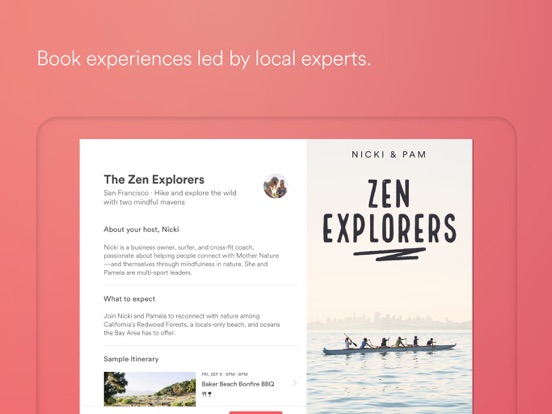 Reviews
Too heavy for everyday update
all in subject
Love AirBnB!
Halimaryland
on
10/19/2017
I consider AirBnB one of my travel essentials. I've enjoyed all my convenient stays in homes across the country. In cities that run out of hotel space or seem over priced - AirBnB often provides an affordable and convenient option. The reviews make all the difference. There are exotic choices provided here as well. I look forward to trying something a little unorthodox - like a tree house or boat at some point (when I'm not traveling for business).
App is still slow to update
Sometimes the app is really slow update messages read, etc. great app otherwise
Can not remove stored government ID!
Babadook1981
on
10/18/2017
On iOS 11, iPhone 8. I tried removing my ID and the app says it was successfully removed, however, going back to my profile it shows up again with the option to remove it yet again. Please fix.
Contenta
Estoy muy contenta con Airbnb Las preguntas son resueltas Inmediatamente y los pagos al día Tener la App en mi teléfono es importante para estar conectada con los huéspedes en todo momento Gracias Yal e hijos
App
App crashes, times out, makes you have to re-save info over & over. Your help desk was very good the other day about issue. Tried downloading my photo ID (front & back) over & over and it would time out on me. The app makes it very hard to do business trying to rent from owner's of property.
If system atrocious
The worst, takes about an hour to deal with, forces you to install their stupid app for booking. Nobody wants your app on their phone!
Airbnb é 10!!
Brennoblass
on
10/18/2017
Airbnb mudou minha vida pois agora alugo minha casa sem burocracia!
Love it!!
Onecastmama
on
10/18/2017
Love it!!
AirBnB is number 1!
I love the AirBnB service. They do a good job of making sure you have good people in your home.
Slow
I'm using app as a host and it is amazing. I can configure every small detail from the app without the need to open my laptop. The only thing is that it's not optimized very well for iOS. Read messages show up as unread. The app crashes occasionally. Because of that 4 stars.
Great stay
We enjoyed our stay here very much enough room for the 6 of us and convenient for shop and transportation. Host is very helpful. Thank you.
Bugs and bugs
Chilidog 2006
on
10/17/2017
The bugs within this app had caused delayed communication between me and the host.
Multiple listing woes
Rosevalaide
on
10/17/2017
With the latest update, I am no longer able to login to both of the separate rentals I host. Would like to be able to switch between multiple accounts i keep separate for tax purposes.
Great app
Easy to work as both a guest and host.
Practical and helpful!
Great app that is practical and easy to use
AirBNB
Ravenkeeper88
on
10/17/2017
This has been an incredible! We have a lot to learn being new hosts but we've enjoyed the experience. We are constantly brainstorming new ideas. We've just come up with the bath bombs as a gift for our guests. We added pastries along with the coffee and thinking along the lines of experiences. It's a gradual growth. It's a job but it's fun. We look forward to meeting more people and improving our process. Great idea AirBNB!!
Wish I used AirBnB before now
It's an amazing app with quality data and algorithms to help hosts figure out how to offer their property to great guests.
I love Airbnb
It is great!
Hosting made easy!
Airbnb has been AMAZING for us! It is very easy to set up your site, and they are always there to support you if needed! We are enjoying our hosting experience! Stephanie The Fan 4 Life House La Quinta, Ca
Airbnb iPhone app
David Andes
on
10/17/2017
The Airbnb app is very easy to use. I am the host and have four units currently on Airbnb and I have never had any issue dealing with the app. I highly recommend this app
Love!
Chick Pea Woman
on
10/17/2017
We love traveling in hosting! Airbnb is a wonderful thing – meeting new people and making new friends.
Love Airbnb and love the App!
Airbnb has completely transformed travel. I'm staying in a cool flat in London while I host guests in San Francisco. The app is so comprehensive and easy to use. I love that you can seamlessly switch between travel and host. The host options are many and VERY helpful. I'm editing my posting while waiting for the Tube. So happy with this app.
Best remote management app
Lug,jyglyfkutfufkyfl
on
10/17/2017
We could not do business without Airbnb
Airbnb is the best. DONT use VRBO
Airbnb is BEST!! I booked through VRBO and after I rented an apartment and it was not livable with brown running water as 1 of the problems & VRBO only gave me half my money back. They stole $800 bucks of my money sonIll never use them again!!!
Nice update to the 'My Stats' view
BrobalStones™️
on
10/17/2017
Nice update for hosts to the My Stats view! Provides the historical detail that previously required copying and pasting everything into a spreadsheet Update: 10/17/2017 Past and future months under the My Stats view has not worked for some time now. When you tap previous or future months, nothing happens...Will update star rating once this issue is fixed.
A positive experience
There is a learning curve during which a new host must learn to follow their instincts and be selective about who they rent to. I find that it's better to miss out on a rental than to take a chance on someone that doesn't seem to fit. Almost every one of my guests was a delight to host! Airbnb hosting is a seamless relationship that I can recommend to anyone. It's fun and profitable.
Excellent service!
happyairbnber
on
10/17/2017
Love Airbnb! Excellent service, easy to use with a clean look. Thanks!
Best thing since sliced bread
Jessica Dal
on
10/17/2017
Airbnb is a life saver- great way to travel - great way to rent- So much better than hotels, I love being able to travel with my dogs
Forced to install app when trying to book on iPad
I had a very frustrating time trying to book a hotel in Italy. I could not book without giving a picture of my government identification and also a picture of myself. I was unable to do this without installing the app. It took a long time and was very frustrating.
Ms D
I tried to reserve a house , they will not honor it because I had no ratings yet. This is my first time to use it. How can I have a rating? I already sent my picture and drivers license. This is not a good company. I went to home away from home and no problem. I paid with my credit card and I got the place. Thank you Home away from home. I hope you're not related to Air BnB.
Fix your app
Does not let me click an option for confirming email. (Get a message, phone call)
Worst costumer service
the room I booked ended up being fraudulent. I called Airbnb at 7pm when I found out. They promised to call me back with in 30min with a solution. I didn't get a response until 11pm(4hrs later) after I called them back a third time. they finally told me there was nothing they could do for me and just to "book another room." They didn't even offer my money back. I had to demand it. I ended up paying more for a hotel.
Sticking with hotels now
Airbnb USED TO BE great. Not sure what changed but no longer the case. After going through a verification (in spite of being a long time user) process that cost me hundreds of dollars in hotel bills waiting to for the red tape, six weeks ago, I went to book another Airbnb to escape the horrendous air in Marin for the weekend. They said I needed MORE verification. So I wrote them explaining I had just rented an Airbnb a few weeks ago and time was of import as the air we are currently breathing is hazardous. They sent a form letter in return. I'm pretty amazed at their callous indifference. I've never had a hotel make me wait three days before I could book. I'm done with this company.
Scam
Jewelljanell
on
10/13/2017
Do not trust this website guys , I was scammed out of 800$ on here , only gave it one star because I had too
Buggy signup
Tried to sign up. It said I wasn't old enough. Nov 1 1953 wasn't old enough. Oh well Won't bother with this service
Worst experience ever
identity theft risk
on
10/12/2017
I was recommended by multiple people to use this business for accommodations in Florida. My experience was horrendous. I completed all the appropriate steps as listed on their site, yet was unable to reserve a house. After multiple calls, I was told I needed a photo of myself. I did that. Still could not place a reservation. More calls to their customer support. I then learned I had to submit front and back photos of my drivers license or complete passport photos. None of my friends who use this site regularly have ever had to do this step. This step is not listed on line as a requirement in their simple 5 steps to get started. I gave in and submitted my ID photos. Still unable to get a reservation. Multiple calls, long waiting times with the response being....that my problem was being submitting to higher up tech support and some one would call me back. No call backs ever happened. I was emailed instead, so no human had to talk with me. I was told that my credit card would be billed a small amount and I was required to show picture proof of it on my credit card statement. At that point I had enough. I should not have to show anyone my credit card statement. Again, none of my friends were required to do this. All that personal data is not needed... and I'm now risking identity theft. I spent a total of 8 hours that day trying to get a reservation that never happened, wasted a day and ruined my birthday. I did however, receive a follow up call 2 days later asking if I still wanted to reserve accommodations with them. I nicely asked them to delete my account and all my personal information. Hopefully, they did. I can promise you.... I will never use this business again nor will I ever recommend them to anyone. Biggest mistake I've made in a long time.
Airbnb has gone downhill fast
We rented our house out on airbnb for 3 years, hosted hundreds of groups with a 4.9 star rating when all of a sudden airbnb canceled all of our upcoming bookings and our listing with no explanation or reason. We never had a single issue and many guests returned to stay at our home multiple times. Don't trust or put any faith in airbnb; it's been over a month now and we still have no idea why. Do not trust them with your property or your guests. Use VRBO.com instead or findyourrentals.com (no service fee on find your rentals.com
Airbnb is too bad shady expensive crappy
I'm running out of words! How many times I've been ditched and betrayed by Airbnb homes! All shady haunted houses which no one will ever live in! We paid and left many houses all shady creepy houses! I have finally uninstalled the app bloody bulls ! I would not suggest anyone to book any house from this app all ARE HAUNTED AND CREEPY SHADY
I love the service, hate the app (rarely works)
I love using Air BnB, it allows me to utilize my house in the more effective way. However, the app keeps having issues. It almost always can't upload and usually has a "network error". If they could fix that so I can manage my house and communicate with guest better, I'd appreciate that.
Major Issue
EastCoastFloridaGirl
on
10/11/2017
Verifying your ID (by scanning a driver's license or a passport with your phone's camera) is completely non functional, yet you have to do that in order to make a reservation. I tried deleting & reinstalling the app. No go. I did an internet search on the topic. No solution. Tried to find a way to reach Airbnb. Not one. I ended up going old school & making my reservation on my laptop & uploading pics of my id. All in all, it was almost enough to make me walk away from this reservation.
Discrimination/Misleading
Be careful with Airbnb. The app is misleading because it doesn't show full details like it would a browser. First time using Airbnb and my last because of how they handled a simple refund on a host who hid the fact that the bed was an air mattress. Allows for discrimination towards black people and minorities. Never even got a chance to book since nobody approved my requests.
Terrible App
This app is horrible!!! You're better off going on the website
App gets stuck on verify ID
Zzzzzzzzz222
on
10/10/2017
At time of booking the app asks to verify ID. But crashes. This is awful as it's my first time using it. I've spent 2 days now trying to get help and book a stay but alas, it's not happening. No way to call for support. What a miserable business. I see I'm not the only one.... grrrr
DO NOT DO THIS
Elli.chanel
on
10/10/2017
THIS WAS ONE OF THE WORST MISTAKES OF MY LIFE! Honestly, before you go ahead & book with these people, think to yourself for a minute, how do you know what kind of person the host is? How do you know what kind of person the boarder is? How do you know what kind of person the room mates are? YOU DON'T. We stayed at this seemingly nice little place with deceptive pictures ( the room barely fit the bed in it), we were told we would have 2 male roommates, by the 3rd day staying there we weren't sure exactly HOW many roommates we had, we know it was more than 4. 4 single male room mates who hated children and according to the hosts, constantly complained to them if my child so much as giggled. One of them being an alcoholic. The alcoholic would puke on the kitchen floor, complain about my baby making any noise at all, talk down to my husband all day while I was at work, eventually I came home 3 days before our stay was up and the drunk had accused us of taking his clothes, like uhhhh dude I've been at work, my husband is overweight, the drunk was the size of a twig, just no. We ignored it as normal civilized people would do, because, he's drunk... and around midnight that night they had a "house meeting" with the hosts about how to get us out because we have a baby and the guy was still all drunk ranting about clothes. So then apparently according to the hosts, AIRBNB told the hosts to SEARCH through OUR THINGS!!! After they searched and found nothing, we had enough and left. THIS ALL HAPPENED AT MIDNIGHT. On top of all of this, the hosts contact us several weeks later requesting large amounts of money for the strangest things ever. Like having the living room deep cleaned... we never even entered their living room. Not to mention during our stay, the young roommate would bring over his several sex-friends and leave condoms on the floor of the bathroom. It was a filthy environment with mold growing in the toilets and we never ever should have done this app, never will again. It's actually quite traumatizing seeing "Airbnb" anywhere.
When a rental triples in price....
Preface : I'm typically against writing a review of an app for the company at hand. With that said, I couldn't review the person who jacked up the price, lies about my card being charged, etc. I'll keep it short and sweet-er, I mean factual: -pick airbnb for 2 nights (auto-accepted/confirmed) for 384.08 -got excited, card is billed -owner sends email stating I owe 739.10 as he forgot to gouge for the game rate -file complaint with air BnB -reservation cancelled, card still charged but allegedly refunded. This was my first experience with air BnB and it reminds me why I use home away. I have a 5-star rating as a tenant, and have rented 10+ places with no issue on HomeAway. It's unfortunate they done take these things seriously.
Calendar issues
The app can be very helpful managing our listing but I have to say that I can't access the calendar three to four days out of seven. This is a big deal as I am out of the house most days and have fairly full bookings. Not being able to see my calendar from the road is a huge problem. I have contacted Air BnB for this and other issues that I have had with app access and pre blocked dates opening up without any adjustment from me. I have yet to get a response about either issue.
AirBnB is great, but App has issues
If I type in my dates of travel, why do I still get search results which are unavailable for these days? It would be much easier if the app filtered these results out, otherwise what is the point of entering my dates of travel?
In need of improvements
This has to be one of the crappiest apps on my phone. Constant issues connecting when I know it's not my phone or network. They really need to invest in addressing longstanding issues.
The best way to travel!!
We adore Airbnb. We've had nothing but excellent experiences.
Fact Sheet
Publisher:

Airbnb, Inc.

Category:

Travel

Released:

Nov 10, 2010

Current Version Released:

Oct 18, 2017

Version:

17.42

Size:

233 MB

Compatibility:

Requires iOS 9.0 or later.

Recommended Age:

4+

Game Center Certified:

No

Supported Devices:

iPad2Wifi-iPad2Wifi, iPad23G-iPad23G, iPhone4S-iPhone4S, iPadThirdGen-iPadThirdGen, iPadThirdGen4G-iPadThirdGen4G, iPhone5-iPhone5, iPodTouchFifthGen-iPodTouchFifthGen, iPadFourthGen-iPadFourthGen, iPadFourthGen4G-iPadFourthGen4G, iPadMini-iPadMini, iPadMini4G-iPadMini4G, iPhone5c-iPhone5c, iPhone5s-iPhone5s, iPadAir-iPadAir, iPadAirCellular-iPadAirCellular, iPadMiniRetina-iPadMiniRetina, iPadMiniRetinaCellular-iPadMiniRetinaCellular, iPhone6-iPhone6, iPhone6Plus-iPhone6Plus, iPadAir2-iPadAir2, iPadAir2Cellular-iPadAir2Cellular, iPadMini3-iPadMini3, iPadMini3Cellular-iPadMini3Cellular, iPodTouchSixthGen-iPodTouchSixthGen, iPhone6s-iPhone6s, iPhone6sPlus-iPhone6sPlus, iPadMini4-iPadMini4, iPadMini4Cellular-iPadMini4Cellular, iPadPro-iPadPro, iPadProCellular-iPadProCellular, iPadPro97-iPadPro97, iPadPro97Cellular-iPadPro97Cellular, iPhoneSE-iPhoneSE, iPhone7-iPhone7, iPhone7Plus-iPhone7Plus, iPad611-iPad611, iPad612-iPad612, iPad71-iPad71, iPad72-iPad72, iPad73-iPad73, iPad74-iPad74, iPhone8-iPhone8, iPhone8Plus-iPhone8Plus, iPhoneX-iPhoneX,

Supported Languages:

Catalan; Valencian; Croatian; Czech; Danish; Dutch; Flemish; English; Finnish; French; German; Greek; Hungarian; Icelandic; Indonesian; Italian; Japanese; Korean; Malay; Bokmål, Norwegian; Norwegian Bokmål; Polish; Portuguese; Romanian; Moldavian; Russian; Chinese; Spanish; Castilian; Swedish; Thai; Chinese; Turkish;