Screenshots
New in version 17.50
Further stability tweaks to make managing your listing and your travels as easy as possible.
Description
Unforgettable trips start with Airbnb. Find adventures in faraway places or your hometown, and access unique homes, experiences, and places around the world. Book everything your trip needs, or start earning money as a host.

BOOK HOMES
Choose from over 4 million homes across 191+ countries. Search by price, neighborhood, amenities, and more.

BOOK EXPERIENCES
Go on experiences led by local experts, whether it's for multiple days or just an afternoon. Explore Seoul's underground music scene, hunt for truffles in a Tuscan forest, or give back to the community with a social impact experience.

DISCOVER PLACES
Find the city's best bars, restaurants, and secret spots. Get the latest recommendations on where to go from notable locals, celebrities, and hosts.

RESERVE TABLES
Discover and reserve tables at the most sought-after restaurants, hand-picked and powered by Resy, right from the Airbnb app. (US only)

For travelers:
• Book homes and experiences for your next solo journey, family vacation, or business trip
• Search for last-minute accommodations or long-term rentals
• Save your favorite homes, experiences, and places—and invite friends and family to plan the trip with you
• Reserve tables at popular restaurants, ahead of time or on the spot (US only)
• Add experiences and events to your itinerary
• Message your host and get directions to your home

For hosts:
• Share your extra space or lead experiences that showcase what makes your city great
• Update your listing and calendar availability
• Share what's special about your neighborhood with a host guidebook
• Message guests and manage their reservations
iPad Screenshots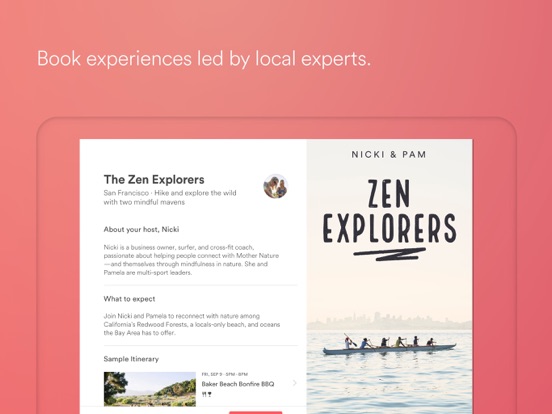 Reviews
Great concept, mediocre execution
AirBNB concept is great and they do well conceptually. As a host the website and app is hard to use, even after they just revamped it. It was even worse before. Customer service and resolutions is where they are truly lacking. Even though they are making money off of our homes, they treat us like we have to use them and that there are no alternatives. In fact, there are, VRBO being a great alternative! Again I like the concept, but as of December 2017, they really need to work on the website and their customer resolution. They should treat the hosts as if we are an integral part of their business instead of an after thought where they can be at times rude or indifferent to our issues.
Excellent App
Hawgknuckle
on
12/16/2017
Airbnb allows us the opportunity to host people from all geography's and all different walks of life. If you are considering hosting, I would absolutely recommend Airbnb. If you are considering utilizing this service to find a place to stay, I would absolutely recommend it!
Great app
Mountain Grizz
on
12/16/2017
Very easy to see your housing in the area you want to vacation highly recommend Airbnb to everyone
Trouble adding ids and selfies
No all pictures and selfies will match, normally for IDs you shave, etc. For a selfie you may not, and is the same person. Luis
Happy Association
Working with Airbnb for hosting and for traveling has been happy for us. Having the app on both our phones and on our tablet has been a blessing. Airbnb has made our retirement years most fulfilling.
Love it! Love it! Love it!
AirB&B is our go-to for all our cross country road trips. We did an impromptu honeymoon across several states and used the app the whole way. Super convenient!
Awesome
These is the greatest thing since sliced bread.
Revolutionized travel
So grateful for Airbnb. I would not be able to travel without it!
Not worth it
i dont need more of it
on
12/16/2017
Took me 3 hours, laptop, cell phone and immense amount of aggravation to book a house for one night. One the cell phone you cannot see where the property you are booking is. Driver licenses, selfies and what not. I had enough of it already. This is the last time I am wasting my life with this piece of manure.
Dismiss homes to shortlist
Lsiucgkamre
on
12/15/2017
I would rather swipe out homes I know I don't like and have a shorter list than having to make a separate list of ones I like. That would really literally help me narrow down my list of potential homes.
Love Airbnb
My first experience hosting... it has been great.
Great Customer Service
I used AirBnb in their earlier days and remember how long it took to reach anyone for help. But they have since changed everything and the communication is excellent whether you try to reach them on the phone or through messaging. And they always go the extra mile for what is fair. So if you tried AirBnb in the earlier days and got spooked, I promise things have changed. Feel safe and protected as a host or a traveler.
Good
Marieangelic
on
12/15/2017
I love the app but was a little disappointed on some of the troubles and struggles I've been having trying to book with the application.
Love it!
Renatadiasgl
on
12/15/2017
Airbnb is much better and cheaper than hotels. Easy to use and communicate with hosts and guests. You talk with locals wherever you go.
Poor traveler experience through and through
The app has tons of glitches like if you sign up with Facebook and try to make any changes to your account it will ask for a password that you've never had or set. Then it locks you out. Customer service is non existent. If you do find their phone number, the phone menus won't let you talk to anyone. Some buttons on the app esp the map and redo search button flat out don't work. Can't believe how much worse this is than most other travel apps given all the hype.
Felt supported
George Stair
on
12/15/2017
I was pleased with AirBnB's support when I had a problem with a guest.
Crashing
Ewerton Garcia
on
12/15/2017
They keep sending out updates after updates and the app still run very buggy. Now it looses it connectivity and we aren't able to browse until we force quit the app and open again. It's about time Airbnb hires a good app developer to get this right.
Don't use you will be discriminated
PokerChampion
on
12/14/2017
This app is a total joke. You have much better luck via Craigslist. Never have I ever been discriminated against more than here!
Not functioning
App only loads data sporadically and mostly does not work. Tried reinstalling and restarting my phone- no luck. Very badly made.
Very good customer service
Brave20121988
on
12/13/2017
I have been using Airbnb for 2 years, and only have one problem recently, the host charged us $50 a night in China which is a little pricey here, however the apartment she given us worth $10 a night, which is extremely poorly and insecurity. Her cancel rule is no cancel at all, we booked four nights! I even don't want to stay there for one more minute. We contacted Airbnb, they responded us in 24 hours and give us FULL REFUND according to this! I am very happy about they are very trustful and help us to solve this problem!
Love the concept - the app is giving me issues
Gabby Giraldi
on
12/10/2017
I'm a host and have been a guest several times. I love Air Bnb, don't get me wrong BUT the app has been giving me constant issues for the past month on the host side of things. The calendar doesn't load, I keep getting locked out of my account, I keep having to uninstall and reinstall the app for it to work and it's really aggravating especially for the business that I'm trying to maintain via the app. I think the developers really need to look into this issue. Thanks!
Search function horrible
King Cole!!!
on
12/10/2017
Searching for properties with city and date entered. Often stalls out and never produces results or even a message.
Sign in verification error
Slide verification picture doesn't show up
New update crashes on iPhone
Weekly Tom Tom
on
12/10/2017
I just updated the app and it crashes every time I put dates in. Bad update!!!
Quit working
Was day dreaming about my future trips to Italy. Everything was going fine. I was searching for a private bedroom with one bed when I decided to hit the option button for entire apartment. Now the app won't work. It keeps saying that I have selected too many filters so I went into filters and selected reset but it won't reset the filters. I then deleted the app and turned my phone off waited a few minutes before restarting my phone and then downloaded the app again. Same results. I'm using an iPhone 7 running iOS 11.0.3
App is buggy
Showing no results no matter the location / date
Redo-search on map doesn't work on iphonex
Nien Michael
on
12/10/2017
I'd try to tap on the "redo search in this area" 100 times, slow, fast, double tap... it only works 1/10
Travel
I love using air bnb when I travel, so many options and hosts to choose from!
Air BNB Benefits
Coconut Creek FL
on
12/9/2017
Air BNB is an amazing way to share your home and meet people from all around the world. People are wonderful and the culture is amazing. Thank you for allowing us to be a part of this wonderful journey.
Very happy with the app and Airbnb
wholebusiness
on
12/9/2017
I've been hosting with AirBNB for over a year now and it's always been great. Support service is so well trained and awesome, too. During this time I've seen continuous improvement in the iOS app and am very satisfied that I can pretty much handle everything I need in terms of day to day operations from my phone.
Great interface
Looks great. Easy to understand. Not overcomplicated.
Notifications not great.
Sometimes has a notification but no message. Otherwise would be 5 stars.
Credit card
MrRightWilson
on
12/9/2017
The add a credit card UI isn't working correctly. Otherwise the app is good. As a designer, I found the hierarchy of some UI screens to be out of order. There's also something a bit odd about hiding the Book It button while scrolling around the rental pages. Maybe just put the button at the top of the screen so I don't have to wonder, 'How do I even book this?'
Airbnb App is Fab!
Nick Batchelor
on
12/9/2017
We so appreciate this Airbnb App and all its features. You guys at Airbnb who are doing the behind the scenes work are doing a great job! You are to be commended for well thought out, user friendly navigation. 5 stars all the way!
Such a robust company can afford to do better.
The app is a bit slow when switching from messaging to calendar views. Could also have better functionality, eg - a way to itemize extra charges in price settings (bkfst, luggage storage), or a way to set different prices for different seasons. Having to switch from travel to host just to view messages is lame. There should be an 'all messages' option.
Easiest money I've every made!
Apsiiejnwbqvgxycowjwjhxicowon
on
12/9/2017
For any multi unit owners out there, you need to get on board with Airbnb! They make it extremely easy to connect you to your guest and payout is seamless and simple. As a host I can't wait to purchase an additional multi unit building and continue on this journey with Airbnb!
Love this service
Air BNB has allowed is to travel more than we ever imagined.
Worst experience of my life
Booked an Airbnb for my family vacation in FL. One in Tampa and the second in Orlando. One in Tampa was in the ghetto and the host claimed to be in one of America's top rated neighborhoods. The house was filthy and rundown. Second house in Orlando, Airbnb called to tell us our reservation was canceled 1 hour before we arrived. Will never use again. Ever.
No non smoking filter
No filter for finding non smoking apartment. Woke up in a cloud of smoke at 4am. I'm a singer and had to cancel the very gig I was traveling for.
I'm not allowed to book anything.
Great again, make America
on
12/8/2017
As far as I know, being a trump supporter excludes me from renting through airb&b. I'm also not a fan of the cameras that are being found inside the rentals. Call me old fashion, but I think I'll stick with hotels. They don't discriminate against people for their political views.
Love AirBnB
Air BNB is by far the best source for renting short term vacation rentals.
Awesome
It is the best app ever
Comment
AirBNB provides a good service but the site is difficult to navigate around when traveling and no WiFi available, especially easy access to the messaging.
Calendar problems/too many questions submitting reviews
The app is good, but the calendar is slow or never loads at all. Also when submitting guest reviews it ask you to take a survey or refer a friend every time and is quit annoying, please remove this!
I've had several issues
And Air bnb customers service is the absolute best. I love this company.
AirBNB ROCKS!
This idea of sharing what you have with the world has changed my life for the best! I used to be so concerned about getting back home to maintain the costs, keep work flowing steadily, and focus on the steady grind of life. With AirBNB I suddenly feel like a touch of Native American culture is brought back to the land, where people can enjoy the world, share more with one another, and become more confident while doing so. Not only has AirBNB helped with the costs of homeownership, it has broadened my spiritual perspectives as well. From the optimistic travelers who visit, to suddenly having the freedom to travel while reliable and trust worthy people enjoy the Casa brings an abundance of fulfillment and joy. I have only been doing this for half a year. It fits my personality perfectly, and allows me some room to improve while learning the ropes. Most everyone who visits is tenacious with the goal being to enjoy life, and air bnb seems to bring those people together as a collective. I like being a part of something, not just being handed a pay check. I like to know how it works from the ground up, and air bnb is a way to connect with who you really are, all while giving you pride of homeownership, together with Airbnb we can make the world a much more graceful place, with options that stream clear around the globe. Bnb is something I plan to be a part, and dedicate myself to, not only being an A plus 5 star bnb, but also a 5 star bnb traveler as well. This is the best thing that happened to America since the 4th of July was created. Thank you bnb for giving me a feeling of independence back into my step. Time to get stepping now, gotta guest checking in a few hours, nothing like having a steady job, just on the opposite side of the house. Way to go bnb ers', Air BNB Rocks!!! Hope to see you all at the Grotto Cave Pool house here in the valley real soon!
Awesome!
Jeff Salazar
on
12/8/2017
All hosts have been great, highly recommend when you need time that costs about less the a cost of a good hotel three star.
Airbnb grows friendships and good will
My guests over the last several years have been a steady reminder that optimism, kindness, joy and adventure comes in many forms. And is not diminished but enhanced as we pay it forward to our fellow man.
Airbnb Server Issue
Quincyexoticreview
on
12/8/2017
Received multiple notifications during booking of airbnb server error. Resulted in 30 min delay in booking, while trying multiple times and price per nite increased by $14. For folks who value efficiency of airbnb app and service, this is unfortunately unacceptable performance
Be careful
Spider guy on the 4S 2012
on
12/8/2017
Air BnB will scam you. When looking at locations they will tell you to hurry and book and that you can simply cancel leaving the consumer to think they are safe to book in an emergency and cancel if you change your mind but there is a $5 service fee for every cancellation and sometimes a big cancellation fee from the BnB. I just spent $45 thinking Air BnB had my back. I'll be more wary. Also while traveling in Italy the app stopped working many times.
Fact Sheet
Publisher:

Airbnb, Inc.

Category:

Travel

Released:

Nov 10, 2010

Current Version Released:

Dec 14, 2017

Version:

17.50

Size:

257.1 MB

Compatibility:

Requires iOS 9.0 or later.

Recommended Age:

4+

Game Center Certified:

No

Supported Devices:

iPad2Wifi-iPad2Wifi, iPad23G-iPad23G, iPhone4S-iPhone4S, iPadThirdGen-iPadThirdGen, iPadThirdGen4G-iPadThirdGen4G, iPhone5-iPhone5, iPodTouchFifthGen-iPodTouchFifthGen, iPadFourthGen-iPadFourthGen, iPadFourthGen4G-iPadFourthGen4G, iPadMini-iPadMini, iPadMini4G-iPadMini4G, iPhone5c-iPhone5c, iPhone5s-iPhone5s, iPadAir-iPadAir, iPadAirCellular-iPadAirCellular, iPadMiniRetina-iPadMiniRetina, iPadMiniRetinaCellular-iPadMiniRetinaCellular, iPhone6-iPhone6, iPhone6Plus-iPhone6Plus, iPadAir2-iPadAir2, iPadAir2Cellular-iPadAir2Cellular, iPadMini3-iPadMini3, iPadMini3Cellular-iPadMini3Cellular, iPodTouchSixthGen-iPodTouchSixthGen, iPhone6s-iPhone6s, iPhone6sPlus-iPhone6sPlus, iPadMini4-iPadMini4, iPadMini4Cellular-iPadMini4Cellular, iPadPro-iPadPro, iPadProCellular-iPadProCellular, iPadPro97-iPadPro97, iPadPro97Cellular-iPadPro97Cellular, iPhoneSE-iPhoneSE, iPhone7-iPhone7, iPhone7Plus-iPhone7Plus, iPad611-iPad611, iPad612-iPad612, iPad71-iPad71, iPad72-iPad72, iPad73-iPad73, iPad74-iPad74, iPhone8-iPhone8, iPhone8Plus-iPhone8Plus, iPhoneX-iPhoneX,

Supported Languages:

Catalan; Valencian; Croatian; Czech; Danish; Dutch; Flemish; English; Finnish; French; German; Greek; Hungarian; Icelandic; Indonesian; Italian; Japanese; Korean; Malay; Bokmål, Norwegian; Norwegian Bokmål; Polish; Portuguese; Russian; Chinese; Spanish; Castilian; Swedish; Thai; Chinese; Turkish;