Screenshots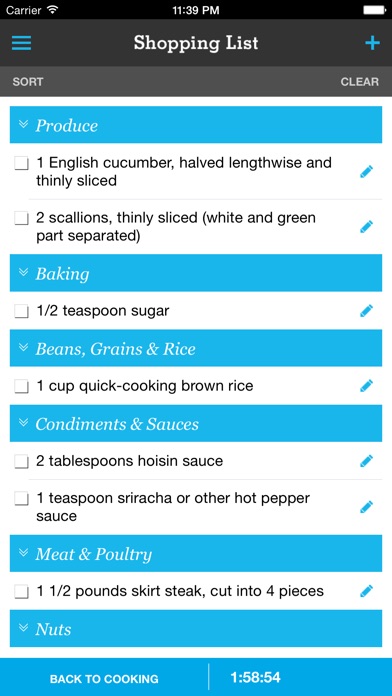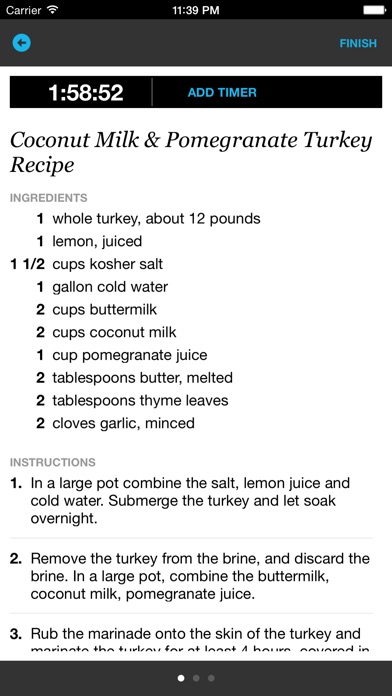 New in version 2.8
Import recipes directly from the browser on your iPhone or iPad
Facebook login improvements
Support for iOS 9
Description
Pepperplate is the only app for serious cooks - it has all the tools you need to cook weeknight dinners or host a dinner party for 12. Manage your recipes, create menus, shop with ease and cook like a pro.

Features:

* Seamlessly manage your recipes, menus and shopping lists on the web, iPad and iPhone.
* Take your iPhone or iPad into the kitchen and cook your whole menu with multiple cooking timers.
* Create recipes on the iPad and iPhone or make changes to existing recipes.
* Share your favorite recipes with friends and family via Email, Facebook and Twitter.
* Import recipes from your favorite sites and add your own from cookbooks, magazines or old family recipes.
* Combine recipes into menus for dinner parties or holiday meal planning.
* Organize your meals for the week or month by adding menus and recipes to the schedule.
* Add to your shopping list and it automatically syncs to your iPad, iPhone, iPod and Pepperplate.com.
* Organize your shopping to automatically match the way you shop in the grocery store.
* Create your own unlimited categories to organize your recipe collection.
* Your collection synchronizes from the website to the iPad and iPhone and is backed up without connecting to a computer.
* Take your entire collection with you to the grocery store or while traveling, no internet connection required.
* Manage your cooking timers over wifi away from the kitchen on your iPad, iPhone, or iPod Touch.
* Login with Facebook or your free Pepperplate account
iPad Screenshots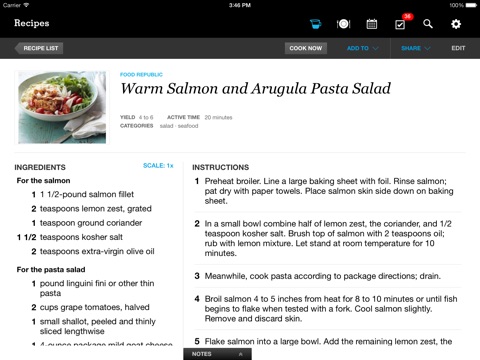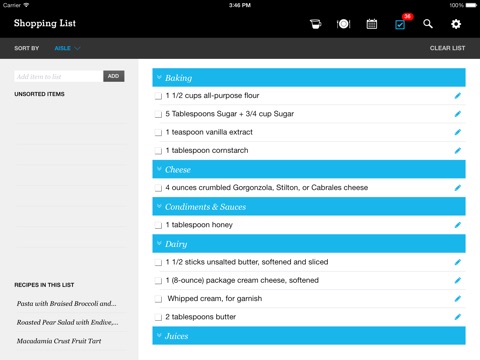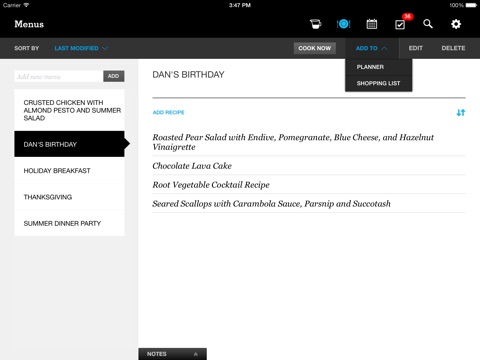 Reviews
Used to LOVE this app...
Used to LOVE this app, however in the past year it has not worked as smoothly as it used to. I can no longer import recipes through All Recipes app (& others). When I send a recipe to a friends via email link, when I go back to send another recipe, the same recipe populates even though I am sending a different one. I have emailed CS a few times regarding these issues, and receive a reply, "we are working on that functionality improvement". (That has not happened). I would like to continue using this app but it appears they are no longer updating this app to continue iOS compatibility.
Works mostly
Love everything about the app. Works great. Love using it to share recipes with friends. However the post to Facebook thing on the app has never worked for me.
Bugs
Mad in the Methow
on
11/28/2017
I absolutely love Pepperplate and I would rate it 5 stars or more if it weren't for the bugs. I am still having trouble with the app not providing me with the ability to share to share and/or e-mail my recipes. I have reported this in the past and was told they didn't know what the problem was. And it still hasn't been fixed. Not what I call good customer service. App also frequently quits. If they can't get the bugs under control, I guess I will have to look for another app which is something I REALLY don't want to do. It has so many other great features. Please, do something about the bugs!
No commits in 2 years?
I like pepperplate and have been using for 3+ years, but seems to not be ongoing development anymore.
Almost the perfect app
Great app, I will be using this app to track recipes, create menus and plan meals. I would have given it a fifth star if I had the ability to either email or txt the shopping list.
The perfect app
Love it. It has everything I need without being cluttered up with a bunch of useless features!
Needs improvements
foroneaudience
on
10/29/2017
The website is better (still not great) than the app. When I add stuff to my grocery list on the app it doesn't bring up a menu to allow me to remove items I don't need like it does on the website. Also, there is rarely a website that is compatible to upload so I have to manually enter just about every recipe I need. Please work on these two things!
Possible IOS 11 issues
Phineas1011
on
10/26/2017
There are reports (from Pepperplate support) of issues with IOS 11. They say they're working on pushing out a fix. FYI...over a month later. Still waiting for an app upgrade. I've experienced no IOS 11 issues, but the lack of support for this app is disturbing.
Please update for iOS 11
I love this app and have used it for several years. I loved that I could import recipes directly into my recipe file, including pictures from Epicurious and New York Times. Since the new Apple updates this function has not worked for me at all. Now I have to print out the recipes and enter them manually into Pepperplate. It is very time consuming! Please update soon! This rating would have been 5 stars before!
Not working the way it used to!
Ever since new iOS upgrade, app does not allow auto fill of recipes. Must enter all recipes from sites manually☹️
Love this app
Selfie taker
on
10/11/2017
Pepperplate is fantastic but worrisome at the same time. I worry that I've invested time organizing my recipes here and that there are no new updates or new features. Two items of particular importance to me are; improving the recipe clipper. I'd like to be able to pull recipes from all sorts of sources. Right now it's only possible from a limited (reduced) number of sources. Anything else needs to be added manually. Second, I'd like to see a backup feature. Pepperplate developers, you have a fantastic app here. Please keep it going.
Needs work
I have used this app for quite awhile. And made my sisters get it so I could share recipes with them. It needs work desperately. I can no longer import from myrecipes.com, which includes cooking light, southern living, health, coastal living, etc. that's been a problem for awhile. I emailed the several times...the end response was--well, you know you can still manually import recipes. Not my idea of help. I notice there has been no update since 9/2105. Wonder why.
Used to Love this App
The Bennett's
on
10/3/2017
I had to rate a 3; although it used to be a 5. Lately, I have noticed that some of my favorite websites are not loading. For example, Cooking Light -when I copy the url and paste to import, it states it's not a supported website. Although it is listed as a supporting website Importing is quick and easy, when it works...I've just had a really hard time with it lately. I even tried on iPad, window based computer, etc...just to make sure it wasn't just the app...
Great App, UNDER RATED
strawberry1390
on
9/22/2017
Great app but it needs to be updated. I'm professional cook and it helps a great deal. No wasted time hand writing recipes to share with the crew, a quick email gets it done
Needs an update
Designed coma
on
9/22/2017
I've used Pepperplate for many years. I still use it despite it needing a serious update. My fear is when IOS 11 drops it will no longer work. Right now its showing syncing issues and the calendar does not populate all of the dates. I really hope an update comes soon. It's better than all the others out there. Most require an annual sub for advanced features.
A Meal Planning Must
Just downloaded today, but already I'm hooked. Only downside is the recipe import has not worked, but copy pasting into the manual import has worked great! The shopping list is awesome. Love the ability to check off what you picked up and the ability to delete items you already have. A must have for someone getting into meal planning for a healthier lifestyle!
Hopeless
Always "sorry this site is not supported". Useless. Can I give this app negative stars?
My absolute favorite app
I love this app and website so much! It's great for anyone looking to organize all of their recipes and sync them together on different devises. I initially downloaded it so that I could have all of my family's recipes organized together, and then I started going through all of my cookbooks and importing those recipes. Before I downloaded Pepperplate I was too lazy to ever sit down and go through all of my cookbooks to find something to eat, but now that I have everything on my phone and computer it's so easy. I actually enjoy cooking now. There are so many positive things about this app, that I can't say enough. Thank you Pepperplate. Don't ever change :)
Good, needs update
Was a great app, needs an update to be great again. It is easy to use, sort, and find the recipe. Please update it to keep it fully functional!
Not a full app
I shouldn't have to "visit a website" to be able to use the app. Include the recipes in the app or don't make an app at all.
Needs work
This COULD be a great app! But there are glitches that have gone unresolved for months now that keep me from using it. The whole point of the app is to be able to import your recipes and generate grocery lists, but without the import function it takes too long.
So much promise
PurpleRavenX11
on
8/6/2017
This app is amazing as a recipe manager, but the cross-device support keeps breaking everything else. I use my desktop to input recipes, create menus, and make shopping lists, but when I attempt to sync them to my phone, the empty lists on my phone overwrite what I just did on the desktop instead of the other way around. I can't imagine why the shopping list I made up ten minutes ago gets overwritten by an empty list that's been there for weeks since I downloaded the app, but it happens every time.
Crashes & Forgets Info Immediately
Virtually useless.
Everything I need except leftovers
This app does pretty much everything the expensive ones do and does it well. The only thing I'm missing is what most other apps also do not do. I want to search based on ingredient since I might have a ton of potatoes, chicken or other canned goods around.
needs work
Pursuholiness
on
7/13/2017
I don't understand why it doesn't have a streamlined easy way to enter ingredients and instructions. HELP
What happened?
andrew.conkling
on
6/19/2017
I love this app. It has helped me organize and keep track of recipes and meal planning, and even shopping! One of my favorite apps to recommend to my friends and family. Edit June 2017: So many problems importing from sites recently, and they haven't updated their app or system to fix them even after being contacted. Abandoned?
Needs an update
Love this app, have been using it for a few years. But it needs to be updated desperately. The 'upload a recipe from a website' feature needs more websites added to the list. But besides that last few times I tried to upload a new recipe from the list of sites they do support, it didn't work. The only way to add to your recipe list was by copy/paste. Tedious! I really hope the developers patch in an update.
Amazing
It's prettty good I'm only 8 and this helps me make stuff without using the stove or oven like baby steps this helps me make stuff health
Needs open in feature
Do not assume we all have AirPrint friendly printers. Please add the export feature back.
Waste of time
Got the app, signed up, tried to get recipes--never heard of me.
Doesn't work with IOS 10
Actually spent a lot of time on the website (which works well) importing recipes and creating menus. Problem is I try to create shopping lists and open the recipes within the menu options and it just doesn't work. Had high hopes but very disappointed.
No updates for two years, and erases your shopping list when syncing
Just like the title says. This is now an orphan app. And it has now gone from problematically syncing to completely wiping out my shopping list, so that I would have to enter all items from scratch again. Unacceptable, irresponsible, and unprofessional.
Please update and continue supporting this app!
I literally use Pepperplate at least once a day, often more! I love being able to add my own recipes and import recipes from the web. I love the shopping list, and the ability to add a recipe my list. Nearly every time I'm at the store, I look up some recipe to make sure I haven't forgotten some ingredient. It just seems to be getting a little more glitchy. I've essentially stopped bookmarking or pinning recipes, as I mostly use Pepperplate. I'll be so disappointed if it ceases to function!
Update
I have used this for many years and love it!!! Just would love to see it updated and optimized more often. I am having trouble sharing recipes now. I think it might be an optimization issue ?
Favorite recipe app of all time!
I'm in love with this app. I use it multiple times a day to plan my meals for the week. Best part, the recipes are all approved by me! That's right, all the recipes I like I import into this app. The one thing I can't stand, is when you buy a cookbook and half the recipes I don't like. This app allows you to customize your own cookbook 🤗 love it!
Changed my life
In Scout Mom
on
3/20/2017
I have been using Pepperplate for a couple years now and it has changed my life. it has organized the way we do meals and it makes it much easier to plan and go to the grocery store and not have excess food in my cart. I absolutely love this app!!
THIS APP IS FANTASTIC
Corinne Dagmot
on
3/13/2017
it does exactly what I need it to do: Import recipes from web or allow for manual import; pull ingredients into shopping list and manipulate list; sync to phone and web..... it is super smart and detects numbering in ingredients and instructions.... even lets you scale recipes ... I searched for an app that could do all this and it was impossible! So happy Pepperplate exists
Great features, super buggy
I love the features of this app, but it is really buggy. Problems syncing - has deleted my shopping list several times. The import feature works about once every 20 tries. Seriously considering switching to Paprika, which a friend recommended.
Love it
I love that it syncs between phones and my computer. It's easy to use and everything I need. I wish sharing recipes between users was easier, but that's not why I got it
Don't bother
Empty app that has nothing in it. Waste of time.
Helpful kitchen tool, but could use some retooling
I have been using this app now for nearly a year, after the recommendation from a friend. It has certainly simplified my recipe collection and been a much better tool to keep me organized over using Pinterest. I love that I can import recipes, make my own modifications, and add personalized photos. One of my favourite features is being able to see the entire month at a glance on my desktop. I just wish that this feature was also available on the iPad version. Also, when I view the entire month, only the first through the ninth date are visible. I have contacted the company couple of times about this issue, and they promised they will fix it, but so far they have not. Another review were also commented that the filter feature doesn't seem to work very well. This is also my experience. I often search for a particular recipe using a specific word, and the search tool yields no results. This is quite frustrating. Another improvement that could be made is to the menu feature. When I search for a particular menu I can never seem to find it using the search tool. I have to scroll through the entire five pages of menus I have created. There doesn't seem to be a way to filter them by date or title. It only defaults to most recent. Overall, I give it four stars because it has been a helpful tool in my kitchen. I really like having all of my regular recipes at my fingertips on my iPad. But it could certainly use with an update.
Kminton
Jdjhvdihvindfv
on
2/16/2017
I have been using this app for over 4 years and I love it! I store all of my recipes in it and I make a monthly meal plan on the planner so I know what I am making each day and can plan my grocery shopping trips accordingly. The only problem is I used to be able to view the calendar in the planner so I could avoid duplicating meals throughout the month, now I can only view one week at a time. So I have to scroll through each week to make sure I'm not repeating meals, it was so much nicer when I could see the whole calendar.
Disappointing
Nunugirlsnuggles
on
2/3/2017
The app would not let me import any recipes. Why do I need this app to write my weekly dinner list instead of using notepad? Was really hoping to use the recipe function.
THE best!
Seriously can't say enough good things about this app. It does so much more than what I'd expect from a free app. It makes it so easy to grocery shop, meal plan and cook. Thank you to the developers for offering this for free! I love it ❤
Am I the only one?
Desperately needs an update! We've had issues syncing shopping list across devices, and I can never import recipes from supported sites anymore, just get the error message... can't seem to fix these issues. Shopping around for a more versatile app, because Pepperplate no longer seems to be supported by the developers.
Down from a 5+ to a 2 Star
CDP's iPod & iPhone
on
1/19/2017
This has been my all time fav app and I've loaded hundreds of home recipes into it. Easy to use, one can halve or double a recipe with a single tap, prints, emails, etc. It USED to work great and now it doesn't. App no longer auto-imports recipes and hasn't been updated in over a year. When I contacted them, the developer said they were a small group and working on it. I fear this is being killed off and am looking for a replace. Any suggestions?
No Support
Been using this for ages and the app support was never outstanding, and now seems to be either nonexistent or just inaccessible; the "help" link doesn't work any more in the app or on the web...what gives? I will continue to limp along, but the import feature has also become very haphazard, the app unreliable. I truly hope the "help" feature returns and import issues are fixed, because I do like this app and rely on it quite heavily. Please, please, PLEASE make it as good as it used to be again!!!
Tech support
A Gourmet Magazine fan
on
1/12/2017
I too was having a hard time with tech support but found this way to contact Pepperplate. I googled pepperplate and it listed tech support so I did that and there was an email simply support @ pepperplate.com. Will see if someone responds .
It has everything and then some....
If you want an app that is easy to use, lets you arrange files the way you want them, has all the bells and whistles, AND it's reliable- Pepperplate is your best bet. It's a wonderful tool and I'd be lost without it. Thank you designers you did a great job!
Was great -- now is only ok, even for free
I've used Pepperplate for years and highly recommended it to other people. However, it seems to have gone unsupported from some time, and now has a host of issues. For example, when I search for something to find one of my many saved recipes using a simple and obvious key word like "pumpkin", only about half of the recipes including pumpkin in the title. I seem to no longer be able to import recipes from supposedly "supported" websites, and get errors any time I attempt to. I also haven't been able to find a way to change the email address associated with my account, which I've wanted to do for years. This was once a really great site and app, but there are probably better options out there now.
Fact Sheet
Publisher:

Pepperplate Inc.

Category:

Food & Drink

Released:

Nov 18, 2010

Current Version Released:

Sep 21, 2015

Version:

2.8

Size:

94.4 MB

Compatibility:

Requires iOS 7.0 or later.

Recommended Age:

4+

Game Center Certified:

No

Supported Devices:

iPhone4-iPhone4, iPad2Wifi-iPad2Wifi, iPad23G-iPad23G, iPhone4S-iPhone4S, iPadThirdGen-iPadThirdGen, iPadThirdGen4G-iPadThirdGen4G, iPhone5-iPhone5, iPodTouchFifthGen-iPodTouchFifthGen, iPadFourthGen-iPadFourthGen, iPadFourthGen4G-iPadFourthGen4G, iPadMini-iPadMini, iPadMini4G-iPadMini4G, iPhone5c-iPhone5c, iPhone5s-iPhone5s, iPadAir-iPadAir, iPadAirCellular-iPadAirCellular, iPadMiniRetina-iPadMiniRetina, iPadMiniRetinaCellular-iPadMiniRetinaCellular, iPhone6-iPhone6, iPhone6Plus-iPhone6Plus, iPadAir2-iPadAir2, iPadAir2Cellular-iPadAir2Cellular, iPadMini3-iPadMini3, iPadMini3Cellular-iPadMini3Cellular, iPodTouchSixthGen-iPodTouchSixthGen, iPhone6s-iPhone6s, iPhone6sPlus-iPhone6sPlus, iPadMini4-iPadMini4, iPadMini4Cellular-iPadMini4Cellular, iPadPro-iPadPro, iPadProCellular-iPadProCellular, iPadPro97-iPadPro97, iPadPro97Cellular-iPadPro97Cellular, iPhoneSE-iPhoneSE, iPhone7-iPhone7, iPhone7Plus-iPhone7Plus, iPad611-iPad611, iPad612-iPad612, iPad71-iPad71, iPad72-iPad72, iPad73-iPad73, iPad74-iPad74, iPhone8-iPhone8, iPhone8Plus-iPhone8Plus, iPhoneX-iPhoneX,

Supported Languages:

English;