This version of the app is not recommended
App last updated
Mar 06, 2018
Screenshots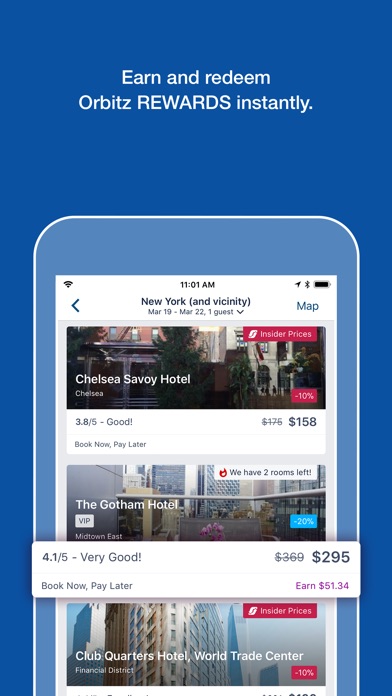 New in version 18.9
We've squashed a few bugs and made other general usability improvements.

Love the app? Think we can improve? Leave us a review and let us know!
Description
DOWNLOAD AND SAVE! Save an extra $25 on your first Orbitz app hotel booking when you use code "25DOWNLOAD"! Just book by 3/31/18 and travel by 6/30/18 for 2 nights or longer. *See full terms at: https://www.orbitz.com/g/rf/25download-25-coupon-terms

***

Orbitz is the #1 way to book travel on your mobile device. The Orbitz app lets you quickly and easily search and book flights, hotels, rental cars, activities. Plus, join Orbitz Rewards and start earning Orbucks on your flight and hotel bookings that you can instantly redeem on hotels in the app.

EARN MORE
-App bookers earn 5% on hotels and 1% on air!
-Plus find last-minute hotel rooms nearby and save 40% with mobile exclusive deals!

HOTELS
- Last minute hotel bookings welcome and free cancellation available!
- Pay when you book or when you arrive at the hotel.
- Find hotels, motels, and inns around you on an easy-to-use map view.
- Review descriptions, photos, user ratings, and amenities from verified hotel guests.
- Sort results by deals, price, or reviews.
- Securely store your payment details for faster, easier, and safe bookings. Apple Pay available!

FLIGHTS
- Save even more on your flight with our combined one-way fares and get a single price for two separately issued tickets.
- Search and book round trip or one-way flights.
- Sort flights by price, time, or duration from any airline.
- Enter a departure date and destination, and your trip-ready. Book now!

CARS
- Search thousands of cars to find cheap, quality rentals. Save big when you book in-app!
- Plan round trip rentals from any airport in the world to make your vacation, holiday or getaway a total breeze.

ACTIVITIES
- Attraction tickets without the lines.
- Book local tours.
- Airport shuttles.
- & more activities unique to your destination!

MY TRIPS
- Share your travel plans with friends and family via Orbitz' itinerary sharing feature!
- View your record locator, gate information, and upcoming trip details on the go.
- Plan your own vacation packages with activities, hotels, cars, and more.

Orbitz offers a simple, secure booking process, and 24x7 customer support. Use our convenient travel tools to view upcoming trip details, access address information and get maps for directions, receive alerts for flight delays, gate changes, hotel check-out times and more.

APP15 coupon code Terms & Conditions
Subject to the restrictions set out in these terms and conditions, the 15% promotion code may be applied to a qualifying stand-alone hotel (not a hotel booking in combination with any other product such as flight + hotel, or flight + hotel + car) booked on a mobile device or the Orbitz app between December 4, 2017 12:01AM CT and April 30, 2018 11:59PM CT, for 1 or more nights for travel between December 4, 2017, and June 30, 2018. Qualifying bookings instantly receive 15% off at check-out through the use of the promotion code. Customers are limited to two redemptions of this promotion code and up to a maximum savings of $150 per booking. After those two bookings, this promo code will not be able to be used again, even if one or more of those bookings is cancelled. Exclusions may apply and most major hotel chains are excluded. The promotion code cannot be redeemed against taxes, supplier fees, cancellation or change fees/penalties, administrative fees or other miscellaneous charges, which are the sole responsibility of the customer. Discounts are not redeemable for cash for any reason. Promotion codes are non-transferable, not for resale, and cannot be combined with other offers or used for any booking previously made. Any attempt at fraud will be prosecuted to the fullest extent of the law. Void where prohibited, taxed or restricted by law. Orbitz reserves the right to change or limit the promotion in its sole discretion. Usual booking terms and conditions apply (see https://www.orbitz.com/p/info-other/legal.htm) and all bookings are subject to availability.
iPad Screenshots
Reviews
Great Service
Have used Orbitz for years, quick and easy service for finding the cheapest flights.
Needs improvement
App is just fine. Should be able to filter hotels that only accepts promo code.
No support
If you want a travel app that doesn't recognize you after setting up the account repeatedly then you found the right one. This app is crap!
Simply the best !
Marie Daudier
on
3/14/2018
So far I've been traveling with Orbitz to Paris,Montreal,Toronto,dubai and Jerusalem And more to come I love it.
Love Orbitz
Big Daddy Drizzle
on
3/10/2018
Always dependable.
Good so far
Just booked a hotel , easy check in no problems
Great
Useful to have the app instead of using the mobile web version or desktop
App doesn't work like the computer version
Their app is so very difficult to filter the specific resorts/hotel you want. It doesn't allow me to write comments/special instructions down for the hotels. The features are not the same.
Tons of texts
I downloaded the app yesterday - deleting it today. Already received way too many ads considering I didn't sign up for rewards.
Finding specific hotels
World Travelbug
on
3/3/2018
Can't find away to search for a specific hotel. Just seems to search the city but try looking back for a hotel, no luck. Needs pictures of the room type selected too, not just random hotel pictures.
5 stars
S. James Sund
on
2/28/2018
Very user friendly app
Love
Kelly Belly03
on
2/28/2018
This app is amazing
Use the App
Staten Island, NY
on
2/25/2018
Betters deals with App than on a PC!
Didn't even know what Apple Pay is let alone accept it for payment
Scott LaFata
on
2/23/2018
App has no selection for Apple Pay. I contact customer support and they didn't even know what it is. Kids playing in background noisy so obviously people working from home
The best
Travel everywhere and this does give the best price
App not so friendly
Imnottellingueither
on
2/21/2018
The app is fairly kludgey, and certainly not easy to use. I wouldn't use it at all if it weren't for the additional Orbucks.
GREAT app, do not listen to negative reviews
Alley Useless
on
2/21/2018
I suspect the people that give negative reviews don't know what they're doing, and they blame the app. Anyways, I've used this company since before they even had an app. Great company, great app, works perfectly and always gets me a good cheap hotel when I'm on the road or gets me a great price on a flight when I want to go visit somebody. And I travel at least 4 to 5 times a year on a plane and 4 or 5 times in a car and use Orbitz almost every time. I've Used other apps occasionally for travel but they're usually the same or more expensive
Hotel address?
Would be great if the app gave the address for my reserved hotel. It has everything else about my hotel except where it is located which is of course the most important thing. This is especially needed when you're traveling in a foreign country and feeling lost. Thanks.
Ruined my Plans
Daughterofaking28
on
2/20/2018
I booked a hotel through Orbitz where the rep guaranteed I would have two beds in the room to accolade the four people who would be staying there. When we arrived there was on bed in the room and orbits did not fix the issue and they also said I'd get a call back from a supervisor. I never got that call back or my money back.
I got charged twice for the same booking
Tv watcher3333
on
2/18/2018
Orbitz charged me for a car rental and the car company Europcar car rental also charged. I have contacted both companies but no reply yet 😬
My First Choice For Travel Bookings
I always start with Orbitz when I'm looking for hotels. I can always find great deals. I also appreciate the rewards system. The app is simple and intuitive.
Your app is not functioning
chinesechecker
on
2/17/2018
I have a flight and hotel booked in Orbitz but when I tap trips... it tells me to log in even though I'm logged in and it tells me my name on the next screen.
Always says Internet Connection is offline
I deleted and reinstalled The app but it still says every time so try to log in that the internet is offline. It isn't and all other apps and data are working fine.
Save $$
Easy app to use and saves extra when you have Orbitz $ and using discount code
My go to trip booking app
frostie3eheh
on
2/15/2018
I've been using Orbitz since around 2012 and I have not had any issues with it. Book in advance for the best deals. It never hurts to get trip protection.
Unbelievable
I've set up my passwords locked it in on my phone and get the App and it will not let me back in using the password that I just created this is the most frustrating process I will never use Orbitz again
Worst Customer Service
I am a platinum Orbitz member and every time I call for customer support, the customer service rep is clueless, does not speak english, never they able to solve the issue
Be alert
Onder Canguven
on
2/11/2018
Using application is easy and useful especially in flight section. BUT you MUST be always alert when you are making reservation for hotel ! Why? E.g. Although I write 3 persons/room with breakfast. It offers prices without breakfast and etc. Of course it is not good to read everything when you want to be relaxed. We want to trust the application and therefore the company. Total price MUST be total. After seeing the last total price, you should not worry about the basic extras e.g. rollaway bed, because at the beginning if you wrote 2 adults and 1 child. Thank you for giving this opportunity sharing my feedback.
Need LastPass Support for Login
I'm happy with the app. Could be better with password manager login.
Worst site ever!!
I will never use this site to book any vacation. Flights were cancelled with no email to us. Pre-paid for a room and got to the hotel and a confirmation was never sent to the hotel that we prepaid for. This site is a joke!!!!!
Sort
Overall good but the sort needs to be updated. I would like to be able to view by distance from a location.
Great app with credit card
App is great and offer extras if you have their credit card. They always have a promo code. Bad thing is you don't know if the promo code works until checkout. It wasn't like this before and it's a pain in the *** going back and forth trying to figure it out. It seems it's done on purpose so u won't get the discount.
No notification of flight change
Arrived at the airport and found out we missed our flight. It had apparently changed but no one thought to notify us. Orbitz app still showed original flight. Did not update with correct info. Called Orbitz and they were able to see that they screwed up and didn't send an update email. But did nothing to help us out. Orbitz blames airlines. Airlines blames Orbitz. Missed our flight. Missed our connecting flight. Big HASSLE.
DO NOT USE
Booking through the app is more expensive and you also cannot add shuttles, trip protection, or coupon codes. I tried to contact their customer service and my experience was awful!
One star
One star due to useless update summary.
Flights only
I've only used it twice in the last year but it works wonderfully...way better than getting lost in online searches. I haven't bothered to do car or lodging reservations.
Hidden fee
Faisal,ssddffgghh
on
1/31/2018
Hedging fee in the car rental they don't tell you about and you will never know about it until they bill you
Success !
Dan iPad user
on
1/30/2018
I am very pleased booking through Orbitz. Any issues have been addressed successfully and in a timely manner. Shopped other apps and find Orbitz easy and convenient.
Don't book a trip with Orbitz
I booked a trip to the Royal playa del Carmen resort. While booking I asked the agent what the cancellation policy was, he said I had until April 25 to cancel with no fees. I called back 2hrs later to cancel the trip and the automated agent said I owed a 50% cancellation fee. I called back and spoke to a human, I thought. She said that was correct. I told he I asked about the policy before booking and what the agent said, she asked me if the agent read the disclaimer, which he didn't. On to the supervisor who stated that was the hotel policy and he would look into it. I called the hotel and that WAS NOT their policy. ORBITZ LIED. Still waiting to hear back from orbitz as the said they record conversations to prove agent did not state policy. The call center is in India and that should tell you something. They push to book the trip as fast as they can. Oh I forgot. They sent a confirmation message to my cell and 1 min later sent a confirmation email with this policy at the end in fine print again never stating it was there. BEWARE OF ORBITZ!!! ORBITZ HAS BECOME A SCAM COMPANY
Known traveler Number
App is good other than if you have your Known Traveler ID in your account information it will not automatically be inserted into all flight reservations. I have had to repeatedly call to get this updated the day of travel.
Love love love
This is a great app and love the ideal getting money when I shop thanks
Keep shopping! Seriously
It counts against you if you book through Orbitz and something goes wrong. Hotels do not view it as a respectable partner and Orbitz does nothing to rectify issues. I made and paid for a hotel reservation, I arrived a couple hours before check in and asked if they had anything I could check into because i would be working late and needed to drop off my luggage. They told me they did and when I told them I booked through Orbitz I was then told there would be an additional fee that was not listed on the app. I opted out of checking out early and when i returned later that night, I was told by a guest care rep who was obviously annoyed that i interrupted her personal phone call, that my room was not paid for and i would have to pay the hotel directly. To add insult to injury their rate was cheaper than the rate Orbitz charged me. I called Orbitz and after a slew of inauthentic canned demonstrations of empathy I was asked to pay them. I refused and asked for them to find another hotel. He said he'd have to try to get a refund from the hotel I had initially payed for and placed me on hold for over 15 minutes without returning. Knowing that at midnight I would have to pay out of pocket or check in at whatever check time was the following day I ended the call and had to book another room and drive 16 miles out of town to get out of the freezing cold and get some sleep. On more than one occasion I have had to take my focus off what I'm traveling to do in order to resolve issues just like this.
Disappointed with services
I have booked a car for Fort Lauderdale. I have booked with orbit at $14.50 with all tax $ fees. When I arrived at for Lauderdale rental center they charge me $25.50 even though I didn't get any extra service or insurance. Rental company told me to contact Orbit, orbit has wrong charges on their website and I should pay $25.50 and contact orbit later. So I called Orbit customer service after return my rental car. They told me that they can't do anything. It is whatever it is. Ohh man it's completely ridiculous. I flew from Cleveland Ohio to Florida on business trip.
Easy to Use!
Freshienoodle
on
1/26/2018
Just booked my vacation with a discount for using the app... I love it!
Best travel app
SweatyMexicanxx
on
1/25/2018
This is by far easiest to navigate and best rates!!!
Solid company and great app
Bob-Colorado
on
1/24/2018
One of the few travel apps that makes booking as easy as possible. Showing every hotel in a given map area is great.
Lousy app
Downloaded, can't sign in. iphone6s. Can't exercise 'forgot password' because the image with characters in it is missing. getting a new image does not get an image. 'listen' does not produce any sound. Come on guys, wasn't the protocol worked out 20 years ago? Bush league.
Couldn't do without it
Great. Convenient, easy and efficient. What else is there?
Super easiest way to fly or any travel
Lickity Spit
on
1/18/2018
Very easy
Fact Sheet
Publisher:

Orbitz Worldwide, LLC

Category:

Travel

Released:

Nov 12, 2010

Current Version Released:

Mar 06, 2018

Version:

18.9

Size:

129.6 MB

Compatibility:

Requires iOS 10.0 or later.

Recommended Age:

4+

Game Center Certified:

No

Supported Languages:

English; Spanish; Castilian;