Games
Entertainment
Arcade
Action
This version of the app is not recommended
App last updated
Jan 16, 2018
Screenshots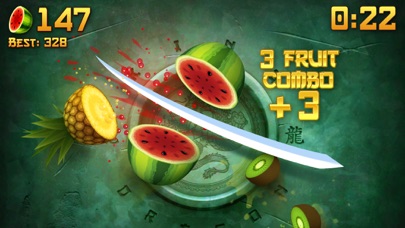 New in version 2.5.11
Improved optimisation and general bug fixes.
Description
Slice fruit, don't slice bombs – that's all you need to know to get started with the addictive Fruit Ninja action!

No matter how you like to play, the free version of the game is packed with features to satisfy your fruit-destroying appetite.

Challenge yourself and see how long you can last in Classic mode, set a high score in Arcade mode or simply practise your fruit-slicing skills in Zen mode. A wide range of blades and dojos are at your disposal to help you cut your way to the top. Want more fun? Take a break and experience a new way to slice your favourite fruit with minigames, or test your mastery of the game and win prizes in the daily Challenge event. Go head-to-head and show off your skills as the ultimate ninja against your friends with leaderboards and local multiplayer.

Up for a real challenge? Play Event mode and do battle against other ninjas for the chance to win unique blades and dojos.

That's not all though - give yourself the edge by logging in every day and be rewarded with daily prizes, including rare blades and dojos that you can use in other game modes!

There has never been a better time to play Fruit Ninja, so unsheathe your sword and get ready for an addictive, action-packed gaming experience!

IMPORTANT NOTICE

This game contains optional in-app purchases. You can disable this feature in the settings menu of your device.

View our privacy policy at http://halfbrick.com/pp
View our terms of service at http://halfbrick.com/tos
Need help with the game? Email us at fruitninja@halfbrick.com
iPad Screenshots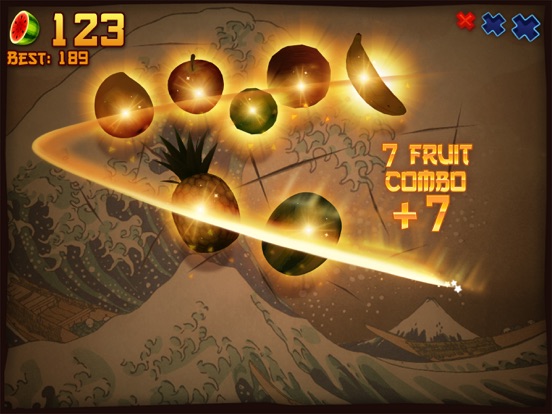 Reviews
Update made it bas on iPhone X
Played this game everyday, now with the update they made the iPhone X screen play not full screen, I understand it addresses the issue where you would swipe up and it would take you home, but now it's worse, if you swipe off the play screen when you swipe back the game does not recognize swipes anymore... bad gaming experience..
Nice game, a few bugs
In both fruit ninja and Jetpack joyride, I have been having trouble with the adds, sometimes they don't work, and I have to go out and get back in, and other times, I won't the reward for watching adds, and after I watch the add, the touchscreen ingame doesn't work, so once again, I have to get out and get back in. (bug on iPad 5 and iPhone 7). But otherwise, it is a fun game, especially arcade mode.
I have no options
I used to be able to play different modes and get new blades but I can't any more. All it does is ask me if I want to play again. All I'm doing is just beating my high score, and it's boring.
no options
fndidkdlz38298
on
1/21/2018
when i play this game, i basically only get the option to beat my high score, and it's nothing like it previews the game in the app description. i'm really confused as to why i have this option, and why my game is so much different.
Totally Different, not in a good way
ALittleWarFan
on
1/21/2018
I used to be really good at this game but, when I re-downloaded it, I only have four options and this thing called "Blade Tokens." All it allows you to do is use 4 blades and try to beat your high score. I've seen the other reviews and I think it's one of those labs. But, I've had it for a month AND IT HASN'T CHANGED!!!
Terrible with the new update
Sylvia Chen girl rates
on
1/20/2018
A little while ago, I used to play it and it was great with different blades, dojos, and modes, but now all you can do is one mode and it's terribly boring....
Nice game 😶
I got a new score on this app Try it(:
No options, extremely laggy
Playing this on the 12.9" iPad Pro, and the game is extremely laggy. Dropping frames whenever I slice a fruit, and slows down whenever a bomb comes on screen. Also, there are no options when I play- only "play". No arcade, no classic, no zen, no blades. This is not the same game I played before. There are literally less features than when I purchased this game.
I absolutely luv this game but...
I absolutely luv this game but... I have been playing it Spence I was I five and is WAY different then the last time I played it. U just need to get the glitches out of the way
No options for other gameplay
I remember playing years ago and thought the Zen mode would be fun to play again. To my surprise, after I redownloaded, there was only the classic option available, even after playing a couple rounds. Uninstalling.
Confused? No options?
I'm not sure what happened but I got a new phone and now there are literally no options? I can't play arcade or zen or do missions it just lets me try to beat my previous score. I can't change the dojo and I have to use blade tokens to use 3choices of upgraded blades? Gonna delete if this is the new game. It's weird because when I go to the App Store, it still looks like it should be the normal game with the picture examples?
Good until...
AsianDomination1
on
1/19/2018
I reached level 30 and now have nothing to do so I uninstalled. Add more stuff please
Not support full screen for iPhone X
The new update does not support full screen for iPhone X. Very small screen after update which is really hard to play on iPhone X.
Iphone X optimization
Iphone X optimization needed. I like ur game so much. The problem is ur game is not full screen on iphone X. And another problem is that when i swipe from blank areas to the game, the blade is cancelled. Need to fix it. Thank u.
Still no iPhone X support ?
What's taking so long... the iPhone X has been out for months already ... please update this app
I just felt like it
I like but now quite irritated
on
1/18/2018
•°°°°
Update it
BrianReynaGarcal
on
1/18/2018
I played this and you only do is cut fruit continue and a special slices It have got very boring it need get a new version
Why
Why do i have no options other than the count down one. I cant unlock anything and do not have options
New update-Smaller Screen
New update today 1-17-18. The screen is smaller on each end if my iPhoneX. ?? Makes all the images noticeably smaller. Not good!
Closing.
I can't even get the app to open past the first loading page. This used to be such a great game. Update: your new update has done absolutely nothing. Thanks
iPhone X loses support in new update
Observatory Boys High School
on
1/17/2018
Hello. I love fruit ninja, but this new "update" re adjusts my screen to a iPhone 6/7/8 style screen so i have half the game size i used to. Also my blade stops working halfway through the game and the game becomes unresponsive. Please fix, will change to a 5 star once the issue is resolved.
Too complicated
Ahdhfbfj174626
on
1/14/2018
I don't understand why you people can't just leave a good thing be. I used to love this game a few years ago, but I got it again recently and it's totally different. There are way too many modes and I just want to slash some fruit! The game keeps trying to force the quests on me. The only reason I still have it is to play the original classic mode.
Change
Ladybutterfly1973
on
1/13/2018
Way to many adds I know you probably could care less about my opinion but you can't even play 2 rounds without adds popping up and there causing my game to freeze I'm running the latest iOS iPad 5 if something isn't done then I will delete and word of mouth best advertising there is thanks I've enjoyed the game up until now
I like it
It's a great game to play while doing nothing. HOWEVER why only 30 levels???? I would love more levels
5 stars but...
Every time i play it my fingers please do something about it like slowing it down or puting less fruit on the screan or any other thing to stop my fingers from hurting, plaese change that.
Halfbrick ruined this
Once again, halfbrick completely ruins one of their best games to make more money. Nobody likes the little special snowflake haired kids in this game who look like they were struck by colorful lightning. And nobody wants to buy a $10 fruit ninja blade unless there's something seriously wrong with them. What were you guys thinking? This game used to be amazing. Nice one
Bad
alienvjsfjhwlekjcnsl
on
1/10/2018
Scammer, not only do you remove daily bonus items from inventory earlier than they should but you also removed the daily login bonus after a while. Your game is super laggy too.
Waste of my time
Been playing for a while now try my to get my presents up to unlock new stuff was very close then this morning the app updates and I lose all my progress this is a load of BS this game is just a waste of your time
Okay, still some issues..
The lag since the last update has gone down, but the laser blade, butterfly knife, and autumn gust still lag the most. Also the mission for combining all 3 bananas is hard, but it allows me to do it now so now all is good! Thank you for your response and the last update!
You am do a thing
seed farmer48
on
1/7/2018
Thing in game what are Do game
Good game but frustrating daily specials
LeviathanPrez
on
1/5/2018
I really like the game but what kills it for me is every time I collect the daily special, such as the the ghostbusters subway dojo or any of the blades , I can't use it. It still asks me to buy the dojo or sword. Really frustrating. I'd give it more stars but that bugs me very much.
Ads
I paid full price for this game and getting ads. It's so annoying. I didn't pay for it to get ads. Can the ads stop or can I get a refund. Most annoying thing I had to deal with
BEST APP EVER
I am a fruit ninja superstar and YOU can be too. Download now!!
Good 👌🏻👌🏻👌🏻
Unicorn Lover ❤️❤️🦄🦄🦄
on
1/3/2018
It's good but you don't have that many options but over all it's all good so can you put more options please respond !!!!
That blade though
The Golden Ember blade is so op.I got it at level 1 and a few days later I'm already at level 21🙂🙂🙂
WAY TOO LAGGY!!!
Mysticalpandacorn04
on
12/30/2017
ive had this game before and it was an amazing game. me and my brother used to play it non stop. but now, is so laggy!! in zen mode, its so slow that 1:30 drags on to 2:30. its very annoying. PLEASE FIX!!!! 🙏🏼🙏🏼🙏🏼
Good strategy for holiday event
I do need to say that since I have no rewards to buy with my apples or starfruit I did get golden apples as a reward for finishing in that event. Good strategy because then I have them to continue playing in the event. New blades and dojos are more fun but playing is fun too
Where's my purchases
Since the latest update I have lost my purchase of the ghostbusters dojo & blade and have now been bumped back down to novice. I had enjoyed playing this game for many years....not so much since now I have to start all over....extremely disappointed
Bring the original back.
I don't care if it costs a dollar or more. This new freemium mission level progression and monetary system is simply bull-crap. This app used to make you feel satisfied earning your blades through achievement rather than leveling up or getting starfruit. The only reason you added this into the game is to get money, and I'm ashamed that I reinstalled this app looking for the simple game I once loved. I won't be downloading it again. Fix this Halfbrick. You know what you did wrong.
New update?
AnonymousPerson82739
on
12/26/2017
Why can you only go to level 30 when you used to be able to go to level 100? And what happened to cool blades like flame blade and shadow blade? Is this a new update? Can you bring them back?
BRING BACK MY FAVORITE HALF BRICK GAME!
Moms Draw Too
on
12/23/2017
Puss n' Boots Fruit Ninja by far my most favorite fruit slasher of them all! iOS 11 needs Puss n' Boots updated or Apple needs to stop stopping our favorite 32 bit apps one or the other ??? I JUST DON'T UNDERSTAND WHATS GOING ON? I MISS PUSS N' BOOTS FRUIT NINJA! PLEASE UPDATE! ☺️
Loaned Items
Fruit Ninja is a great game with awesome features. It definitely has changed a lot, especially when they added power ups to the blades and back rounds. The one complaint is that in the daily gifts, they loan you an item for 12 hours or a day, or so they say. But then I use it once and then I kill the app, but after I go back in the item is gone and I can't use it anymore. That really isn't fair to me, and needs to be fixed.
NO
Just no do not get this game I have no idea why it was ever made. They should not have made it iPhone 5s compatible because it cannot even run the game. Yes the phone is old so keep it that way. The game lags all the time and it always screws up and glitches.
Wow
Pickin and Grinnin
on
12/14/2017
Me and my brothers love this game! I totally recommend it :)
Cannot download
Subzero4080
on
12/10/2017
So I was simply trying to download the game and the app icon appears on the iPhone but it doesn't fill up, it's just there and nothing happens. I've tried delete and re download, turned off the phone and turned it back on, tried a second internet connection and it's still not downloading...
Challangeing😄
Good game! I honestly can't complain about this game! It's fun for all ages,but I recommend you be at least 4.
I don't like it so much
IhvweilugweiñuhvfwlWuhvwñeouh
on
12/9/2017
You should change somethings
please fix it
frame rate drop in a half, from 60fps to 30fps from my iPhone SE, this is ridiculous
Meh...
ally girl 10000
on
12/8/2017
This game won't load
Fact Sheet
Publisher:

Halfbrick

Category:

Games

Released:

Dec 20, 2010

Current Version Released:

Jan 16, 2018

Version:

2.5.11

Size:

166.8 MB

Compatibility:

Requires iOS 7.0 or later.

Recommended Age:

4+

Game Center Certified:

No

Supported Languages:

Arabic; English; French; German; Italian; Japanese; Korean; Polish; Portuguese; Russian; Chinese; Spanish; Castilian; Chinese;