This version of the app is not recommended
App last updated
Jan 03, 2018
Screenshots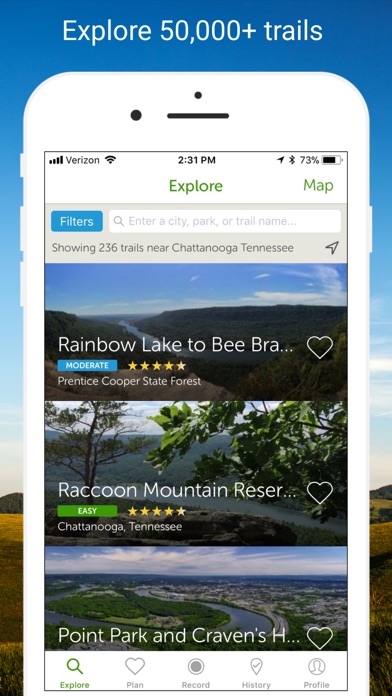 New in version 8.4.2
Fix for a crash in the Explore Map view when swiping through trails
--------------
v8.4
• Check out the new AllTrails Apple Watch App!
- You can now start, pause and clear recordings - and see key recording stats without taking your phone out of your pocket!
• On Explore Map view, you can now browse trails by swiping the resultcard left or right
• Fixed a bug that sometimes appeared to create duplicate recordings
• On Profile Edit screen, replaced zip code with country picker
• Recorder now filters out WiFi hotspots and cell towers in recordings to reduce jumpiness in recordings
• Share screen now auto-closes faster if it is not in a shareable state
• Fixed occasional crashes when viewing photo gallery, and when sharing to a saved image
• Fixed issue where map downloads sometimes prompted for re-download when not needed

Love AllTrails? We'd really appreciate if you would take a moment to leave us a nice review!
Have a question? Email support@alltrails.com. We're here to help!
Description
*** #1 Outdoors app on iPhone! ***
*** Featured in the App Store 700+ times ***
*** Downloaded by over 5 million people ***

AllTrails is your guide to the outdoors!

Find the best trails to hike, bike, or run. With 50,000+ hand-curated trail maps as well as trail reviews and photos crowdsourced from a community of millions of hikers, mountain bikers and trail runners, AllTrails helps you spend more time doing what you love.

Find that dog-friendly or kid-friendly trail that you've been searching for. Take that mountain biking or backpacking trip you've always wanted to do. Explore a national park. Or discover new hiking trails in your area. Whether you're a hiker, biker, or trail runner, AllTrails will help you find the way.

EXPLORE 50,000+ TRAILS AROUND THE WORLD
• AllTrails has the largest collection of detailed, hand-curated trail maps & topo maps
• Browse ratings, reviews, and photos from a community of millions of hikers, mountain bikers and trail runners like you
• Whether at home, at a national park, or on the road, find your perfect hike, mountain bike ride, or trail run by length, rating, and difficulty level
• Filter by dog friendly, kid friendly, and wheelchair friendly trails

RECORD YOUR ADVENTURES
• Turn your phone into a GPS tracker and follow your trail so you don't get lost
• Record your route, distance, elevation gain, and moving time
• Share your outdoor adventures with friends and family on Facebook, Instagram, WhatsApp and more

TRACK YOUR PROGRESS
• See your monthly, annual, and lifetime stats for recorded distance, elevation gain, and moving time
• Track your personal bests at a glance
• View stats for people you follow or are inspired by

SAVE YOUR FAVORITE TRAILS
• Easily save your favorite trails that you've completed, or that you find fun, beautiful, or inspiring
• Make and share lists of trails you want to explore

GET DRIVING DIRECTIONS TO THE TRAILHEAD
• With just one tap, get detailed driving directions so you can get to the trailhead in no time

FOLLOW FRIENDS FOR INSPIRATION
• Check out where your friends have been and which trails they have rated highly

GET MORE WITH ALLTRAILS PRO
• Download maps for offline use - stay connected with your exact GPS location as you navigate the trail, even when you're offline!
• Print your own maps for backup - use your computer to print customizable maps with options including scale, paper size, orientation, map layer, and more
• Design and save custom trail maps using your computer - draw your route(s), select color options, add waypoints, then print, share, or download to your phone
• Access more map layers to understand the terrain - quickly toggle between premium map layers including Topo, Terrain, Open Street Maps, and more
• Stay current with real-time map overlays - know what to expect with real-time map overlays including air quality and satellite weather
• Experience AllTrails ad-free - cut out the distractions of ads, and enjoy an ad-free mobile app and website experience

AllTrails Pro is available for $29.99/year. You can subscribe and pay through your iTunes account. Your subscription will automatically renew unless cancelled at least 24 hours before the end of the current period. Auto-renew can be turned off anytime by going to your Account Settings in iTunes after purchase.

---

COMPATIBILITY
Sign up required to favorite trails, record your activity, or follow users

SUPPORT
We love hearing from users! Email us here: support@alltrails.com

LEGAL
Terms of Use: https://www.alltrails.com/terms
Privacy Policy: https://www.alltrails.com/privacy

Note: Continued use of GPS running in the background can dramatically decrease battery life.
Reviews
Price of App
Is this app free? It never showed me a price when it downloaded. Also, do I have to pay a yearly subscription? Can someone help me?!
No way to upgrade to pro if Touch ID doesn't work on your phone
Artichoke 25
on
1/21/2018
I would like to upgrade to Pro but the ONLY way to do it is with Touch ID. No other option, nothing in FAQ about it, no way to contact support for help. I have a screen protector in my phone so Touch ID doesn't work. So no way to get PRO - see developer response below - that worked. Like that it looks like I can record over a trail map that comes up as being close to my home. But when I tried to save and download that map, I saw it downloading but have no idea how to bring it up offline - can't find out where these downloads are kept or how to access them
Highways aren't trails
Huehuetenango
on
1/21/2018
If you can get arrested for walking on it, it isn't a trail. Interstates are not trails. This is not a trail app.
Hikes do not integrate with Apple health
This should be a five star app. But there are two big problems holding it back. 1) Although it records your distance during hikes, it does not integrate with the Apple health app. So you do not get credit for any calories burned, or your distance traveled, unless you also use a second app to track those items at the same time. You shouldn't have to use two apps to collect that data. The AllTrails app should be able to export that data into Apple Health for you. 2) The base app does not let you download any maps for off-line use. That is a basic need of any hiking app, because most of the time when you are hiking in remote areas you do not have a cell phone signal. So the app does not work unless you can have an off-line map. But the only way that AllTrails will let you have an off-line map, is if you subscribe to their yearly pro service for $20. If you go on dozens of hikes a year, the subscription price is a fine value. But if you only go on one or two hikes year, this one price fits all mentality is too much. They need to have an option of letting you just pay for the maps you need rather than forcing you into a year-long subscription when all you want is one map.
Wish you could download larger areas.
Directions were not to clear on how to download multiple trails. Now that I've figured it out, I do wish I could download larger areas. Otherwise the app does seem to be pretty good.
Perfect for Researching Trails in Advance
This app is perfect for researching trails! Especially if you do it in advance. The first time I used this app was before I went on a National Parks road trip to find trails I wanted to do. The app led me to the Maple Pass Trail in North Cascades National Park, probably the most beautiful hike I've ever done, never would have found it without AllTrails. Also the record option is great, fun to see both the elevation changes and map of what I've hiked. Not a perfect app by any means by it is pretty great for what I've needed.
Fun app for planning hikes
SparkytheSunDevil
on
1/17/2018
Great app for looking at trails, planning out a hike, and checking out pictures. Worth the download, although the "pro" version has some nice features it's a little too expensive for what it provides, wish it would come down in price.
Must have app for hiking
WillClarkRules
on
1/15/2018
I've used AllTrails numerous times for many different trails. Excellent app and love reading the feedback from other hikers.
Avid hiker
Sunbreakthedawn108
on
1/14/2018
Love this app. I just pick a spot near me and browse through all the available options. Super useful and has led me to great hikes
My favorite hiking app
This is a great app to find nearby trails - where ever one is. Even in the area in which I live , I have discovered new hiking trails via AllTrails . I use it in unfamiliar new areas of the entire US , reading reviews of published trails to pick the one that meets our hoped-for trail of that day . For our local trail system , we trail maintainers use all trails to log problem areas . It is ideal to show both a picture of the trail problem AND an exact GPS location . The trail link can then be sent via text or email and recorded in spreadsheets .
Love ability to carry trail maps into the woods
Cellerdweller
on
1/13/2018
I have been using All Trails for a couple of months now & love the ability to draw a trail & follow it into the woods. Especially the recorded routes and off line capabilities. Now using to plan a trip down to Florida through Virginia etc.
Overall a good app
Hike The World
on
1/11/2018
AllTrails is my go to app for finding new trails. It is nice to read reviews before heading out. I have noticed while waking some of the longer trails (10+ miles) that the app doesn't do a good job of showing cut offs. This makes many of the trails "off limits" to people with children or dogs but in reality a 10 mile hike can be cut in half die to a cut off that isn't listed on the trail in the app. I am aware that a person could just turn around at anytime during the hike but who wants to walk the same trail again. I would like to support the app developers financially but don't understand why they went the yearly subscription route of $30/yr. I would gladly pay a one time free for the Pro version but am unwilling to commit to a yearly subscription. I would be willing to continue to see adds (if they were hiking related) with the Pro version.
Junk
Management does not listen to customers.
Great App
Katherine.Ann.666
on
1/9/2018
Great app for hiking!
Deleted trails and argumentative customer "service"
ADDENDUM: Your response to my review completely made my point!! Instead of trying to figure out how to fix a problem, you continued to argue your point. My point was: crucial trails are missing from at least one hiking area I know of. It renders Alltrails useless for hiking in Forest Park, Portland. Those trails need to be added back in to the Alltrails layer of your maps. I have just downloaded and begun to use Gaia because their maps do include all of the appropriate trails in that area. If you decide to take action to correct the problem rather than argue, let me know. (My Pro subscription will not be renewed if I can't trust your maps to include crucial trails, which happen to have names which include "road" or "drive" in them. At some point in the last year, for some reason certain trails— which are labeled as roads, but no longer used as roads, only trails— have been removed from the Alltrails layer and can't be used to plot any mapping routes (pro account) for offline use or even used to calculate distances because although they are included in the "roads" layer and a few other layers, there are no mileage indicators. You can't make an offline map using the "roads" layer and even if you could, you have to map it using the freehand mapping tool and plot it little bit by little bit if you don't want the curvy trails to be recorded as a straight line. A route can't be plotted automatically using these trails because Alltrails suddenly decided to treat them as non-trails. When I contacted customer service, they were of no help with this. They merely kept insisting that I was mistaken and these trails had never been shown as trails, which is totally false since I've plotted many routes along them since I started using Alltrails a number of years ago. 1) Train your customer service people to figure out how something could be improved, not spend their time arguing their point. They did tell me to just use the roads version, which wasn't helpful. 2) Please put back my trails!!!
A must have app
All trails is THE hiking app you must have. Great info, tons of features for free including saving favorite trails, and recording your own hikes.
Apple Watch issues
Do NOT add this to your Apple Watch. Adding AllTrails as one of your Complications will crash the Apple Watch app and will cause your watch to endlessly reboot.
Love it
If you hike you have this app.
Good phone app with a garbage watch app
AnonymousRex05
on
1/6/2018
The app itself is the best I've found so far at finding trails. This probably because of the wider user support compared to other apps. It does hit your battery a smidge harder than other hiking apps I've tried but so far I haven't had that be a real problem. However, I cannot for the life of me understand the thought behind the watch app design. All you can do is start/stop a recording and then check some basic stats. No map integration for you to quickly check and see what way you should go at the fork in the trail, which seems to me to be most of the reason you'd want this on your wrist. Most of the other options on the app store offer this. Also, still no health integration? Not vital but cmon it'd be nice. Overall I recommend it for finding popular trails and helping you get along while hiking as they've got pretty good user support. But man, it's not updated very often and when new features are added they're not very well thought out. I'm coming up on the time where I need to renew pro and I'm not sure I will. I might just use google to find the trails and use another more well thought out and feature rich app for the hiking itself.
Awesome
Love finding new hikes
Great App to have!
Excellent app to have when you travel to new locations.
All this for free!
I am more active simply because of this app. I very much look forward to finding more trails to hike as I get in better shape. Thanx devs!
Jax Trailer
I'm new to Jax and this app has been a great tool to help explore new adventures in a new city. I've also been able to easily plan a couple of out of town trips.
Favorite App Ever!
Love love love this app! It has shown me to so many trails i had no idea about!
Best hiking ap I've found.
Some of the hikes might not exist though.
Great App
Easy to use, lots of trails, accurate descriptions!
Does not work with Apple Watch
Downloaded this map specifically to work with a new series 3 Apple Watch. All I get on the watch is the error message "open app on phone to continue". Gave up and deleted.
Filter
Hiking with dogs
on
12/31/2017
I wish when searching for a trail, the app would take the zip code into consideration. For example, when I looked for a specific trail, it took me to the one in TX. I live in CA.
Outdoor lovers
jrmakaveli3209
on
12/30/2017
I love this app
Landscape view
Please add ability to rotate to landscape. I use my iPad a lot and would love to use in landscape for hands free navigation when off roasting so I can see it. Thanks.
Perfect
Jakismaximus125
on
12/29/2017
We use this app constantly during the summer for hiking and love it.
Outstanding app
I am an avid backpacker and occasional day hiker. Whatever I do, I go all out. Been hiking for well over 30yrs. Saw this app and put it off...Dumb move. It is, by far, one of the most critical elements on my tool belt. It hardly drains my iPhone 7+ battery and I can keep it on airplane mode and it still works. Accurate: I mean, I know I'm off trail within a few feet. Cannot say it enough. Get it now!!! Using it in Northern California where granite is the trail and easy to miss turns, I'm no longer stressed wondering where I am and how much further to camp.
Great app with Pro version
I have serious piece of mind when hiking a new trail with this app and love that I can put my phone in airplane mode to save battery life and still record my movements. One suggestion for a feature would be to allow the user to press and hold at some point on the trail to pin a location that you'd like the map to alert you via notifications when you are within a hundred feet or so or the pinned location. This would be useful to prevent you from passing a turnoff on the trail that may not be obvious.
Great App!
Been using this app for years, and it keeps getting better and better! The underlying topo map is great, and is available when traveling internationally as well. Kept me from getting lost in a Mayan village!
Slow loading and crashes a lot
WazeSpeeder
on
12/29/2017
Opening the app is often slower than any other app I've used other than video games. The app crashes as I am exploring different hikes. Probably once every 10 hikes I click on, it will crash. The only saving grace is that when I reopen the app it returns me to my last 'view'.
App crashing recently on iPhone
kristy kallander
on
12/28/2017
I absolutely love this app and use it all the time. I wanted to get the Pro edition. However, over the last two months with all the IOS iPhone updates it crashes on me before it even opens. I looked around to try to find contact info for the app makers, but hope to try to get into contact here with someone who can help with the app support through a review. This is the only issue I have ever had in the two years I've used this app. I use it daily spring-fall and would love to have it open instead of crash on me. Thank you!
Crashed my Apple Watch Series 3 on 4.2
Hello candy ohh
on
12/26/2017
My Apple Watch keeps crashing with this app installed. I have had it on my phone with no problems, but the "Complication" keeps crashing my watch interfaces when selecting it. Hard resets on my watch and phone didn't help. Finally after deleting the app my Apple Watch is no longer glitching. Hope this can improve the app outcome.
Amazing
I like be this app and used it in four states this year. Hoping to use it for years and years to come. I hope I can get one thing fixed. 'Directions' only want to open a map application. I'd love to see the GPS coordinates for the trailhead visible, so I can plug it into a standalone GPS, or use something like Waze. I think coordinates use to be there, but disappeared in an update.
App won't connect with google, waze, apple maps for driving directions
Mr_yellaboi
on
12/25/2017
I'm in Hawaii and pick several trails to hike to see waterfalls. Every time I try to use the map option it says "can't find a way there". I drove around looking for garden of eden and Bamboo Forest and never found it. Suspiciously, both google maps and waze sent me to locations on major highways. I wasn't able to jump off- tuck and roll. Disappointed.
Downloading maps
KotoGoesRawrr
on
12/25/2017
I've been using AllTrails for over a year now and have pro and don't recall ever not having issues with downloading maps sadly. The current issue is that when I select download, it takes me to the advertisement for Pro then confirms I already have it, and then takes me back to the ad when I try to download a map.
Used to be good
I tried to login to Alltrails on my iPad, iPhone and computer. Every time it said my login failed. I reset my password about 4 or 5 times and though I received an email to reset my password, it still would not let me login. As a side note, REI's "Hiking Project" app is looking more desirable. Please fix!
Very useful!
legallybonnie
on
12/23/2017
Love this app for 3 main reasons- one it forces me to find new trails instead of just sticking to the same ones I know. Two, it makes finding new trails easy, especially with the filters. And third, it makes me feel safe because I can download the map before I go and when I'm on the trail with no reception, I can track exactly where I am and where I'm headed - it's saved us quite a few times from getting lost on some of the trails! Couple of suggestions: 1) have a "daily report" that people can update in regards to conditions of that hike on that particular day/week (don't always want to scour reviews for that) - we went on a hike that was incredibly overgrown over the summer and encountered a bees nest in the midst of it and really did not enjoy it. 2) be able to tick off trails we have done and have a "past trails" list or "history" list that isn't tied to recordings or anything. Otherwise, great job! Thanks!
Annual subscription is lame
Not everyone can hike year round, you guys should really allow other payment options, even month to month, or at least 3 or 6 month packages - the 12 month feels like a cash grab. Not cool. Otherwise the app is great!
My favorite hiking app!
I have tried a number of hiking apps and of all the ones I have tried, this one has proven to be my favorite. I have used it on the A/T, as well as other lesser hikes, but I use it almost every single week as we are hiking somewhere. It has all the features I consider useful and needful and for those who need it, can provide custom downloadable maps. It also works on the phone GPS system alone without any cell service. Highly recommended!
Great app
I use alltrails all the time and frequently tell people I work with to download and use it. I love adding trails that arnt on it, I feel its a way I can give back. This app Definitely helps me with planning on hiking or just easy trail walk. Exploring trails with the map I feel is most helpful. I cant say enough about how usefull this app is!
Not functional
There are several problems with this app. First, it takes several MINUTES to load the app. Why? When the data finally loads, the app is unable to find data on many popular trails that I am able to find on the desktop site. More often that not, when I am using the map option to find a hike it continually searches but never loads any info. Also, for some reason you can't scroll through all of the photos, just the first 2-3. I am deleting the app. It's useless.
Apple watch app
eating spaghettios while i write this
on
12/19/2017
I REALLY wish there was an Apple watch app so I could keep my phone stored away. Other apps have this, but I've already invested in the Pro version of this and don't really want to switch.
Very useful app, great timesaver
ProfessorIonic
on
12/17/2017
We go hiking a lot and this app saves us a lot of time researching a trail. I would highly recommend it to anyone who is even remotely interested in trail hiking.
Great trail app.
Hill Huffer
on
12/16/2017
I enjoy hiking and with all trails I can see where I have gone, where I can go and have a lot of information on both. All trails has changed my way of approaching exercise and has helped me tremendously with recovering from a back injury. I have hiked more miles in the last three months since being told about this app. by a fellow hiker than I have in the last three years! Thank You! Thank You! Thank You!
Saved my backpacking trip
I arrived at petrified forest National Park for a four day back country backpacking trip. I planned on buying a topo map at the visitor center. There were no maps. BUT I had download the Trail we were planning on taking earlier. So we navigated solely with All Trails while in airplane mode. It worked flawlessly. Didn't use up much battery. We would have had to cancel our trip since I would never wander into the wilderness without a map. There are tons of trails and I've used it in many places.
Fact Sheet
Publisher:

AllTrails, Inc.

Category:

Health & Fitness

Released:

Dec 17, 2010

Current Version Released:

Jan 03, 2018

Version:

8.4.2

Size:

158.2 MB

Compatibility:

Requires iOS 9.3 or later.

Recommended Age:

9+

Game Center Certified:

No

Supported Languages:

English;

Parental Advisory:

Mild Profanity or Crude Humor;