Screenshots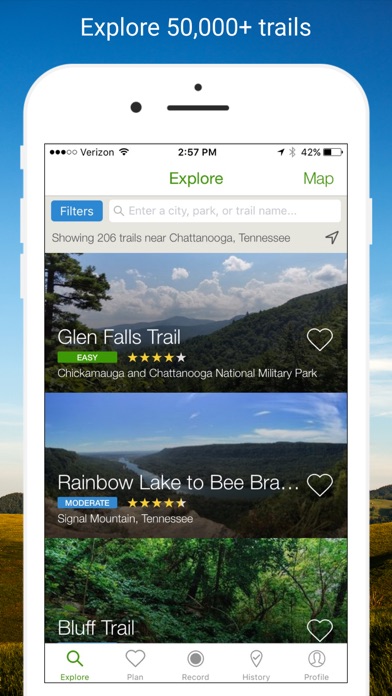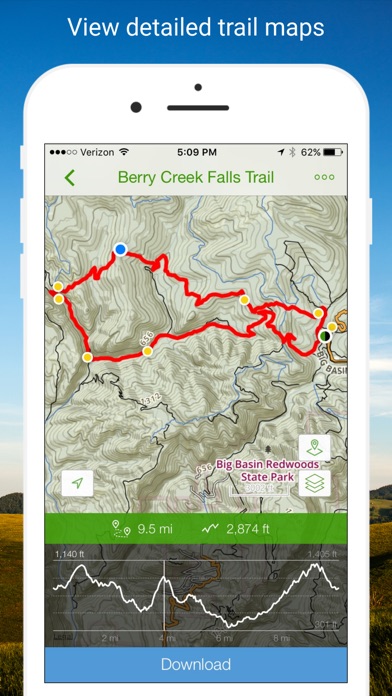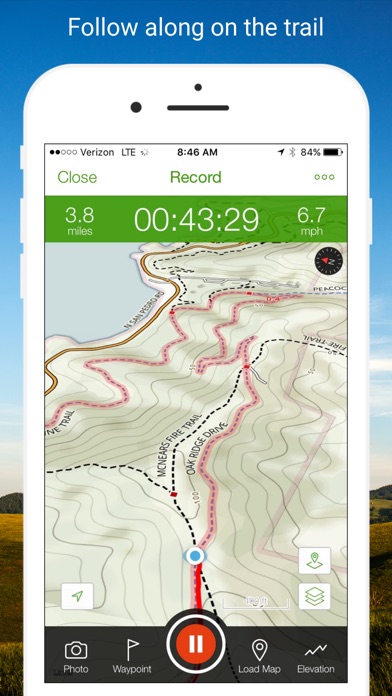 New in version 8.0.2
AllTrails v8.0.2 fixes a bug that caused the app to occasionally crash when in background
--------------
Lots of great new features in v8.0
• Added new details to Trail screen (description, weather, etc)
• Updated the Recorder to handle bad data better
• Added a new real-time air quality overlay (Pro)
• Added more options when editing maps, including rating and activity type
• Added ability to share your friends' recordings and view their photo galleries
• Added current elevation gain to the Recorder's Info screen
• New splash screen when launching the app
• Other small bug fixes and stability improvements

Love AllTrails? We'd really appreciate if you would take a moment to leave us a nice review!
Have a question? Email support@alltrails.com. We're here to help!
Description
*** #1 Outdoors app on iPhone! ***
*** Featured in the App Store 700+ times ***
*** Downloaded by over 5 million people ***

AllTrails is your guide to the outdoors!

Find the best trails to hike, bike, or run. With 50,000+ hand-curated trail maps as well as trail reviews and photos crowdsourced from a community of millions of hikers, mountain bikers and trail runners, AllTrails helps you spend more time doing what you love.

Find that dog-friendly or kid-friendly trail that you've been searching for. Take that mountain biking or backpacking trip you've always wanted to do. Explore a national park. Or discover new hiking trails in your area. Whether you're a hiker, biker, or trail runner, AllTrails will help you find the way.

EXPLORE 50,000+ TRAILS AROUND THE WORLD
• AllTrails has the largest collection of detailed, hand-curated trail maps & topo maps
• Browse ratings, reviews, and photos from a community of millions of hikers, mountain bikers and trail runners like you
• Whether at home, at a national park, or on the road, find your perfect hike, mountain bike ride, or trail run by length, rating, and difficulty level
• Filter by dog friendly, kid friendly, and wheelchair friendly trails

RECORD YOUR ADVENTURES
• Turn your phone into a GPS tracker and follow your trail so you don't get lost
• Record your route, distance, elevation gain, and moving time
• Share your outdoor adventures with friends and family on Facebook, Instagram, WhatsApp and more

TRACK YOUR PROGRESS
• See your monthly, annual, and lifetime stats for recorded distance, elevation gain, and moving time
• Track your personal bests at a glance
• View stats for people you follow or are inspired by

SAVE YOUR FAVORITE TRAILS
• Easily save your favorite trails that you've completed, or that you find fun, beautiful, or inspiring
• Make and share lists of trails you want to explore

GET DRIVING DIRECTIONS TO THE TRAILHEAD
• With just one tap, get detailed driving directions so you can get to the trailhead in no time

FOLLOW FRIENDS FOR INSPIRATION
• Check out where your friends have been and which trails they have rated highly

GET MORE WITH ALLTRAILS PRO
• Download your maps for offline use - see exactly where you are on the trail map even when you have no data signal through your phone's built-in GPS
• Print maps on-demand with customizable options including scale, gridlines, paper size, datum and topo map layers
• Create custom maps - draw your own custom routes to plan out the path you want to take
• Unlock additional map layers like Topo, Open Street Maps (OSM), Open Cycle Map (OCM), and more
• Unlock additional map overlays like fire history, satellite weather, and heatmaps for insider info on all of the route options!

AllTrails Pro is available for $29.99/year. You can subscribe and pay through your iTunes account. Your subscription will automatically renew unless cancelled at least 24 hours before the end of the current period. Auto-renew can be turned off anytime by going to your Account Settings in iTunes after purchase.

---

COMPATIBILITY
Sign up required to favorite trails, record your activity, or follow users

SUPPORT
We love hearing from users! Email us here: support@alltrails.com

LEGAL
Terms of Use: https://www.alltrails.com/terms
Privacy Policy: https://www.alltrails.com/privacy

Note: Continued use of GPS running in the background can dramatically decrease battery life.
Reviews
Please make Apple Watch version!!
squirrelchasingforfun
on
9/24/2017
Just got the Apple Watch with cellular and I don't want to carry my cell phone in order to use this app. There are other trail apps to choose from but they don't look as functional as All Trails. I love this app and have hiked like crazy with it over the last couple of years. I want to keep using it but will switch to something else if they don't get the watch capability soon. My other hiking buddies are saying the same. Please! Make it happen!
It has a few good qualities
Jfdexghffsgvhfdd
on
9/24/2017
I like this app, it helps me with planning my hikes. There are a fair amount of accuracy issues though that keep me from considering upgrading to Pro though. First is the fact that there are a fair amount of trails that are well out of date. From what I understand users can suggest edits, but only through the website on a computer. I personally am rarely on my computer so am unable to submit the edits, and I feel this is against good trail management practices because it encourages people to use trails that are closed to prevent erosion and overuse. In addition the trail names on the map are more often than not completely different from official trail names so in the event of an emergency that could cause some issues. My second issue is there is no way that I can find to flag inappropriate comments on a trail review. Saying a trail has been " ruined by Mexican trash and their families" should be able to be flagged for deletion. Lastly for now, I don't like how you can pick only one trail when you record. I trail hop frequently and just one trail option isn't very suitable for me and in the community aspect it isn't helpful with helping others plan their hikes.
Useless on the trail
I use it to find trails and then i download the maps. Then when I get out to the trail with no connection, the app takes minutes to load, because it's trying to reach their servers I presume. Then it tries to start downloading the map, even though I already downloaded them at home. After 5 minutes or more I can finally see something and start walking and if The phone goes off or I accidentally touch the phone to switch apps I have to start the whole thing over. It would be dangerous to depend on this app. Have they even tested their product on trails that don't have internet connections?
Great trail maps! But apple watch support please!
I love this app. I used it every time I went hiking. But I really hope it has apple watch support. That would be so much easier. I am now looking for a new app that has apple watch support and is as good as all trails. So far, no luck. I really hope you can launch your apple watch app soon!
Alltrails is the best
This app is the best. It's convenient when out on a trail for directions and ascents and descents.
My number one go to hiking app
My number one go to hiking app
Great app.
Enjoy the app, great for finding hikes next to you. Wish there was a written direction section, have been led astray a few times.
Works
Very accurate and complete trails. Low battery needs. Wish it would interface with Strava.
Driving directions always wrong
I want to love this app, as it's my go-to for hiking, and the trail maps have saved my butt on more than one occasion. However, nearly every time I follow the driving directions to the hiking location, it's incorrect and brings me to the wrong parking lot/starting point.
Reload
I really wish it didn't have to reload the trail each time I close my phone
Needs updating
Hydromilkmamachick
on
9/16/2017
Pros and Cons Pros: I've been able to map out trails I want to hike and most all trails have ratings with comments. I've found some trails around me that I didn't know about. Cons: When recording my hike, the GPS mileage isn't accurate. At all. The mileage is usually so far off from my GPS tracker that it is almost useless to record yourself. I paid an extra $29 to have this capability and it doesn't do anything for me. So don't waste your money on an upgrade unless this gets fixed. No way to add new trails. I live close to a state park, but only three trails out of six are on the app. I would love to add them so other hikers know about the other trails, but there isn't a way to do that.
Great app
Pics are helpful
Best money I've spent on "gear" this year!
I just got All Trails Pro this year and I have never been happier with an app performance. This app is amazing to have out in the trail, when maps are downloaded it runs on GPS. I was easily able to find the trail anytime that I decided to take a spur, even with no cell phone signal. This is the best tool that you can have in the field without spending hundreds on a GPS device!
Inaccurate, waste of time
Doesn't show most trails that are actually near me. They are paved trails that have a lot of hikers and bikers on them but they are not shown in the app or they are completely inaccurate. Definitely needs updated. Needs to have user input for trails.
The best trail app
We use this app all the time. When any one ask about where is the best place to hike I immediately tell them to get this app first. Now they have all the hiking trail information they need and it's so easy to use. We even use it when we travel. When we hike with our young granddaughter it's great for finding the right trail.
A must have app for hikers.
This is a great app. I highly recommend it in my episode, "Blazes and Bears," on my YouTube Channel, "Hiking with an Average Jill." Check it out.
Awsome
Spectacular app ! A must have for those who want to explore the nature, perfect to find the right trails for you.
Want to like it
I really like the desktop version and figured the iPhone version would be an asset. So far I have not been able to download or sync any of my maps. This defeats the whole purpose. Can't figure out what is missing in the process.
Frustrating
Trying to download a PDF map and being forced to get 100mb app at the trailhead is frustrating. PDF link won't work on mobile. Ugh.
best hiking, trial planner
King shariat
on
9/10/2017
App is beautiful. period. I'm moving places every now and then, it is great tool to discover new hiking trails.
My Go To Hiking App
My favorite part about this app that sets it apart from the rest is all the details about trails. Today I searched for a trail and found one I was interested in. It was 90 minutes away. When I read some reviews, I noticed someone was there 6 days ago who wrote that the streams and waterfall were dry. Thanks to that comment, I decided to wait until multiple rains before going to that trail. It's a great source of information plus one can track their hike, check out maps, post photos, etc.
The best for any situation
One of the coolest features is that even when I don't have service I can always check where I'm at on the trail. Great for short and long planning
Best addition to your hiking gear.
Tracks yours stats so you can challenge yourself. Helps me remember where random trails are and helps me find new ones. Couldn't be happier! Great work guys and gals!
Don't hike without it
Simon Is Usually Right
on
9/8/2017
Great for keeping your hike on the target path when signage and trail markings are weak.
Best hiking app
sam.f.ziegler
on
9/7/2017
Huge number of trails w/ good details and accurate reviews.
False unsubscribe option
mintcheetah185
on
9/6/2017
I have a dozen emails after I checked to not receive any email from this service. I like the app, but I hate email. I will update the score once I notice there is no longer unsolicited mail from this app.
Love this app
Great app for hiking- I have found trails I would otherwise never have known about. Saving trail maps for offline use is invaluable and has saved me from getting lost time and time again.
Best app ever
I love this app! I started using it because several trails in my area are really poorly signed/mapped, but have since used it to also find new hikes and track my stats. The reviews are really helpful too when preparing for a hike in an unknown area. The icing on the cake is their support team. I accidentally deleted a recording that had duplicated and they were super responsive in helping me fix the issue and restored the deleted recording - and it was one I would have been really bummed to not have in my log. I've tried other hiking apps before discovering this one, and All Trails blows them all out of the water.
My go-to app for hikes
I can't say enough good things about AllTrails. As a novice hiker, the app helps me find new hikes that match my ability level. Photos and reviews help me know what to expect as well as how to avoid crowds and poorly marked trails. I particularly like the "stats" feature (now available both on desktop and mobile) that allows me to keep track of the cumulative miles and elevation changes I've recorded over time. Their customer service department is also prompt and extremely helpful; within hours, they recently helped me restore a recorded track that I had accidentally deleted.
I LOVE this app!
I'm a hiker and I use this app all the time. I also recommend it to everyone I know who is a hiker. I wish there was a social component to this app, though. I do a lot of solo traveling and it would be SO awesome to find people in the new areas I'm in to hike with. I had to use MeetUp when I was in Montana this past August and I'd much prefer to go through this app to find hiking buddies. It would also be so cool if we could leave questions on a trail's page or under other people's reviews. Sometimes I have questions regarding specific trails and there is no way to reach out to anyone who has already done that particular trail. It would be fun if I could link my AllTrails profile to my Facebook and Instagram so that I can find friends I already know that way. Also, finding friends through the contacts on my phone would be helpful. Thanks for providing such an awesome and helpful hiking app!
Very good!
I like this app a lot because it has always shown me Trail options where ever I have ended up. However it does not show my position on a previously saved trail so it is hard to repeat trail routes that I have made up myself.
Purchased pro, doesn't work
I purchased the pro version with a monthly subscription of like $2.50 and it successfully took my money, but was unsuccessful in actually upgrading me to pro version. So basically they just took my money and said sorry, couldn't download pro for ya. Too bad for you
this site is amazing
I love hiking and biking within 50 to 200 miles of home and this site gives me the hike ~gives me the bike ride and gets me there!!!--pinpoint! it tells me if it's hard or easy and helps me while I'm on the hike show me exactly where I am and how far I have to go!--so beautiful everything in one site !!! Jay Bernstein 9/4/17
Painful
App crashes when phone locks. Renders it useless. First time using it so not sure if that's by design or it has a bug?
slow to load, resets view
unusable because of the initializing data and constant resetting of map im in
So so
Sign up or expensive pro version needed for most features. Complicated user interface.
Crashes and reloads
App crashes and reloads every time I lock my phone.
Best app ever
Don't know where I'd be without this app. Probably over a cliff thanks to Siri. This app rocks.
I Love AllTrails!
AllTrails is my favorite app right now! I was looking for an app that could map the trails in my county and also be able to share them with people, AllTrails does that and so much more. Our whole town is using it! My little town, Paintsville, KY, rests snuggly in hills of Appalachia and are in the process of developing adventure tourism. Everyone loves being able to see what's available in an easy to use app right on their phone. Opening the app is a little slow & every now and then when I'm recording a trail it will stop and I will have to restart it, but other than than those small issues AllTrails is a wonderful tool. I look forward to seeing this new updates and future updates.
Constant crashing - unusable/unsafe
I used to be able to lock my screen with AllTrails running and unlock my phone to check my progress and heading but that is no longer the case. The app crashes every time I lock my phone and I have to reload the app/trail from the splash-screen. It really makes the app unusable and, frankly, unsafe. This issue needs to be fixed ASAP. For the record, I have tried uninstalling, restarting my phone and reinstalling to no avail.
Worst app
Just when hiking after paying 20 dollar for app and in top you have to pay 29 doesn't work with out internet worst investment ever scam if you ask me
Love this app
Jeff Chandler
on
8/30/2017
This app is great for anyone that loves hiking, found lots of local trails I didn't know existed.
Ratings for mountain hikes
Would be great if y'all added a class on the mountain hikes. Most of them are rated as hard. However, this offers little insight as to how hard the mountain is. Capitol Peak and Mount Elbert are rated the same, however they are massively different mountains. Elbert is regarded as one of the easiest, while Capitol peak is regarded as one of the hardest. It would be great for me and fellow hikers to know what class the trail is before starting out. Elbert is rated class 1(north slopes) and Capitol is rated as a class 3-4. Class ratings for mountain hikes would be great!!!!!
I took a nap while waiting to "initialize Data"
Slow opening, and downloading maps .... has been forever. Seems like our time is not important as AllTrails coders.
Absolutely Love It!
This app makes it so easy to know what you're getting into, and show others what you discovered along the way! I love the photos and the trail difficulty levels.
Great to have, crashed on me
guidethrudarkness
on
8/30/2017
Not sure why it crashed on me-- I don't use the app that heavily. Great app, like the way it's set up. Gives accurate info and very user friendly.
This was our First time using All trail!!! It was awesome.
The only problem we had with AllTrails wasn't the applications fault and frankly it's automatic features bailed us out. We made a plan before departing for Yosemite to complete a hike recommended by a friend who completed it the week prior. So, I downloaded the app and the intended Hike. Upon arrival at the park entrance we were informed by the ranger on duty the trail was impacted by a fire area and very poor air quality at least. So we revised our plan to go to a completely different area of the park as far away from the smoke as possible. And used the opportunity to go to higher elevation for a bit of repressed from an August heat wave. Our alternate , Cathedral Lakes , turned out to be a super choice. We unfortunately never had any cell service from then on to download the new trails. Fortunately at least a rudimentary trail map was already uploaded in the system automatically. This we were still able to use the app recording our Trek seeing the trail layout, our position, progress and altitude as well as distance and climb remaining. It was really a pleasure to be able to see our progress and pace as well as our altitude. Nothing worse than having no perspective on your progress. When we followed a random side track trail on our return the next day even with limited data we were able to get headed in the proper direction to reconnect without completely retracing our steps. With a more detailed map downloaded the app would have been even more helpful. I Don't believe my son or I will hike more than around the block without the app again. We are true fans Jeff and Aaron Byrd
Very useful app
This app has provided me with some great info on trails that I would have never knew existed off it weren't for the app. It did lead me astray one time in Truckee which got a little hairy but overall it's excellent and trustworthy. It's Yelp for trails.
False Advertising
Was a great app and then when trying to download a map, a ad popped up saying I could get access to just the maps for 2.50/ month and so I clicked download. Immediately I see they charged me $30. Now waiting for iTunes to answer my call. If it's 29.99, just put that! 2.50x12=30 but leading people to believe they can pay that monthly, lying.
Fact Sheet
Publisher:

AllTrails, Inc.

Category:

Health & Fitness

Released:

Dec 17, 2010

Current Version Released:

Sep 08, 2017

Version:

8.0.2

Size:

139 MB

Compatibility:

Requires iOS 9.0 or later.

Recommended Age:

9+

Game Center Certified:

No

Supported Devices:

iPad2Wifi-iPad2Wifi, iPad23G-iPad23G, iPhone4S-iPhone4S, iPadThirdGen-iPadThirdGen, iPadThirdGen4G-iPadThirdGen4G, iPhone5-iPhone5, iPodTouchFifthGen-iPodTouchFifthGen, iPadFourthGen-iPadFourthGen, iPadFourthGen4G-iPadFourthGen4G, iPadMini-iPadMini, iPadMini4G-iPadMini4G, iPhone5c-iPhone5c, iPhone5s-iPhone5s, iPadAir-iPadAir, iPadAirCellular-iPadAirCellular, iPadMiniRetina-iPadMiniRetina, iPadMiniRetinaCellular-iPadMiniRetinaCellular, iPhone6-iPhone6, iPhone6Plus-iPhone6Plus, iPadAir2-iPadAir2, iPadAir2Cellular-iPadAir2Cellular, iPadMini3-iPadMini3, iPadMini3Cellular-iPadMini3Cellular, iPodTouchSixthGen-iPodTouchSixthGen, iPhone6s-iPhone6s, iPhone6sPlus-iPhone6sPlus, iPadMini4-iPadMini4, iPadMini4Cellular-iPadMini4Cellular, iPadPro-iPadPro, iPadProCellular-iPadProCellular, iPadPro97-iPadPro97, iPadPro97Cellular-iPadPro97Cellular, iPhoneSE-iPhoneSE, iPhone7-iPhone7, iPhone7Plus-iPhone7Plus, iPad611-iPad611, iPad612-iPad612, iPad71-iPad71, iPad72-iPad72, iPad73-iPad73, iPad74-iPad74,

Supported Languages:

English;

Parental Advisory:

Mild Profanity or Crude Humor;