Screenshots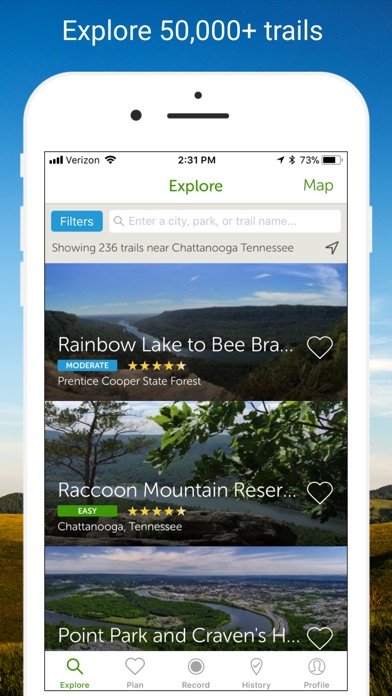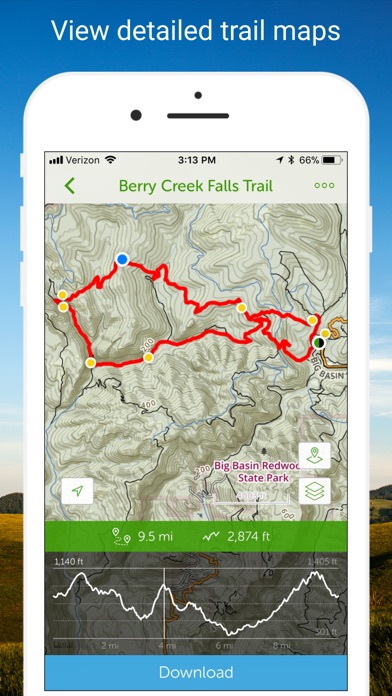 New in version 8.1.2
AllTrails v8.1.2
• Optimized AllTrails for the iPhone X
• Added counts for numbers of reviews, photos and recordings on Trail Details
• Fixed a bug that occasionally caused the app to crash
--------------
AllTrails v8.1 has some great new features:
• When you switch back to Explore "List" view from Explore "Map" view, you will only see trails that were on your screen in "Map" view
• Trail details has a new design so that reviews, photos, and recordings are in a tabbed interface
• Added cool colored gradients to the US Contours overlay
• Waypoint titles can now be displayed as labels on recordings and maps (Pro feature)
• You can now close the sharing dialog more quickly after saving a recording
• Fix for occasionally duplicated recordings and reviews
• New font!
• Bug fixes to reduce some annoying crashes

Love AllTrails? We'd really appreciate if you would take a moment to leave us a nice review!
Have a question? Email support@alltrails.com. We're here to help!
Description
*** #1 Outdoors app on iPhone! ***
*** Featured in the App Store 700+ times ***
*** Downloaded by over 5 million people ***

AllTrails is your guide to the outdoors!

Find the best trails to hike, bike, or run. With 50,000+ hand-curated trail maps as well as trail reviews and photos crowdsourced from a community of millions of hikers, mountain bikers and trail runners, AllTrails helps you spend more time doing what you love.

Find that dog-friendly or kid-friendly trail that you've been searching for. Take that mountain biking or backpacking trip you've always wanted to do. Explore a national park. Or discover new hiking trails in your area. Whether you're a hiker, biker, or trail runner, AllTrails will help you find the way.

EXPLORE 50,000+ TRAILS AROUND THE WORLD
• AllTrails has the largest collection of detailed, hand-curated trail maps & topo maps
• Browse ratings, reviews, and photos from a community of millions of hikers, mountain bikers and trail runners like you
• Whether at home, at a national park, or on the road, find your perfect hike, mountain bike ride, or trail run by length, rating, and difficulty level
• Filter by dog friendly, kid friendly, and wheelchair friendly trails

RECORD YOUR ADVENTURES
• Turn your phone into a GPS tracker and follow your trail so you don't get lost
• Record your route, distance, elevation gain, and moving time
• Share your outdoor adventures with friends and family on Facebook, Instagram, WhatsApp and more

TRACK YOUR PROGRESS
• See your monthly, annual, and lifetime stats for recorded distance, elevation gain, and moving time
• Track your personal bests at a glance
• View stats for people you follow or are inspired by

SAVE YOUR FAVORITE TRAILS
• Easily save your favorite trails that you've completed, or that you find fun, beautiful, or inspiring
• Make and share lists of trails you want to explore

GET DRIVING DIRECTIONS TO THE TRAILHEAD
• With just one tap, get detailed driving directions so you can get to the trailhead in no time

FOLLOW FRIENDS FOR INSPIRATION
• Check out where your friends have been and which trails they have rated highly

GET MORE WITH ALLTRAILS PRO
• Download your maps for offline use - see exactly where you are on the trail map even when you have no data signal through your phone's built-in GPS
• Print maps on-demand with customizable options including scale, gridlines, paper size, datum and topo map layers
• Create custom maps - draw your own custom routes to plan out the path you want to take
• Unlock additional map layers like Topo, Open Street Maps (OSM), Open Cycle Map (OCM), and more
• Unlock additional map overlays like fire history, satellite weather, and heatmaps for insider info on all of the route options!

AllTrails Pro is available for $29.99/year. You can subscribe and pay through your iTunes account. Your subscription will automatically renew unless cancelled at least 24 hours before the end of the current period. Auto-renew can be turned off anytime by going to your Account Settings in iTunes after purchase.

---

COMPATIBILITY
Sign up required to favorite trails, record your activity, or follow users

SUPPORT
We love hearing from users! Email us here: support@alltrails.com

LEGAL
Terms of Use: https://www.alltrails.com/terms
Privacy Policy: https://www.alltrails.com/privacy

Note: Continued use of GPS running in the background can dramatically decrease battery life.
Reviews
New User Kind of Frustrated
In principle this app was exactly what I was looking for but it has a couple of things lacking which are kind of frustrating. First it seems to be incomplete. One specific example is Raptor Ridge Viewpoint in Escondido. I know that it is a continuation of a trail but it sure doesn't show up. There are some trails that have no information on them, you just see the trail symbol, you can't highlight it, so basically it is a map only. Then the display is frustrating because you can basically only highlight one trail at a time, so you lose information of trails that connect to it, I understand there's a reason for wanting to display a single trail if someone is only looking for one trail but when you're just exploring an area you want to see all the available trails.
Amazing app if you love hiking!
Traveling for work this app lets me find a hiking trail anywhere!! It's just Awesome!!!
Best hiking app
App had some bugs recently, but they seem to have been resolved. Great app for discovering and tracking trails.
Love this ap
JRADMCBRIDE
on
11/12/2017
Use this as we travel and explore hikes close to home!
Need more subscription options
The content is there, but they absolutely cripple the app by not allowing you to use any maps offline unless you pay $30 every year. If you hike every month, $30/yr is fine. But for those of us that only hike a a few times a year, $30 is not a great deal. They need to have other options for casual hikers, such as $10 a year that only lets you download a maximum of 10 hikes, or something like that. By its very nature, hiking is usually in areas with no cell phone signal, so offline access for a hiking app is a basic necessity. So if you make everybody pay $30 a year, even when they only use the app a few times a year, you are forcing your more casual users to go find less expensive alternatives.
Very slow to open, but useful
Jonathan M.C.
on
11/11/2017
Takes waaaaayyyy too long to open the app. Also, trails in base map have errors that can't be fixed quickly (via OSM). However, some trails better than Google Maps, so I use both together for best coverage
Awesome / Useful App
Great upgrades, much easier to use. Suits all my adventure activities...kayaking, hiking, trail running, and just runs anywhere
Accurate and reliable
This was a great app to have. I never got lost with this. It of course works better with a service network that covers more areas. Sprint network may experience greater dead zone. I have at&t, so it tracked my movement accurately. I think with this app, I'll feel confident exploring new trails on my own. Love it!!!
Fix this bug in latest version that shows duplicated activity & photos
Everything including recorded activities & uploaded photos now displayed twice: what a distraction!
Shows trails I did know were there
What fun! Great maps on my simple hikes, and I hope it will serve me well as I graduate too harder hikes. Better parking info would be helpful. However, comments and reviews unrelated to the app or the specific trail are allowed to persist. At the very least, I would like to see a "report abuse" button that would flag a comment for all trails staff review, so they can if applicable delete, edit, or send back to the writer for editing.
Incredible App
I love AllTrailand was hesitating to subscribe. Oh boy! It the best investment I made in any app I have purchased so far. I highly recommend it to any serious hiker.
Drain the swamp of melted snowflake water!
I don't think you should be able to to get comments removed. The best solution is for all the little snowflakes to stop hiding behind anonymity of the net. Be a man or woman and stand up and say something. Are they monsters? Are they going to eat you? Growaset. If you don't like the comments don't read them.
Great for finding hikes
Awesome app, has almost every trail you could think of, so it's easy to discover hikes all around you that you never knew existed. Gives great information on every hike. Super helpful
Love the app!!
Unbridled Insight
on
11/1/2017
I use it ever time I go hiking!
Awesome app!
Hanoverhiker
on
11/1/2017
This app has been my constant companion since I got it 5 months ago. Excellent options, reviews are great, works great. It only led me astray once to a trailhead and I was able to use a map from another reviewer to find a trailhead. I've used it 32 times in last 5 months
Beats my Garmin fenix 3
Chief Consigliere
on
11/1/2017
Great app!
Question
I really like the app use it a lot I only wish it was watch compatible is this a possible future update
It's a great app, just needs Apple Watch support!
Zzzzzz..zzz
on
10/31/2017
Would be amazing if it had an Apple Watch app, something to start/pause recordings, get a sense of distance, and quick view of where you are on the trail. Otherwise, it's a great app.
I like it
Really like that the app shows you all the trails close by and tips about parking or how clean, safe, easy etc. the trail is!
Great App
Cathy Ann 78
on
10/29/2017
Love this app! Great why to discover new trails!
Randy Bell trail
Michael1electrician
on
10/28/2017
Nice pleasant stroll after a late lunch - beautiful trees!
Apple Watch
This app would be perfect if you could develop this for the Apple Watch. Most other hiking apps I've found do not have the same number of trails available as AllTrails does. Having this on my watch would make my life easier then having to look at my phone every now and then.
Solid
KrisAlabama
on
10/27/2017
Read the reviews before you venture, invaluable.
Hiking
Easy to Navigate and track your hikes
Useful
I am 100% sure you need this!!!
Alltrails app rocks!
I've heard about this app from a fellow mountain biker. I tried it and found it very useful. Riding in a forest is safe with it, you can always find the way back! Then, I tried it on hiking trail and loved it! It provides the information you really need. No surprises which turn to take, it all works! Then, documenting the trip and sharing the recorded trail, as you went, with photos on the way, great! Z.
Love this app! A must have for anyone in the outdoors!
Took this app on the deer hunt this year. It was amazing. Loved just about every aspect of it. I wish I had a way to figure out distances from one point to another point. Maybe it does and I just haven't figured it out yet. But it is a great application.
Such a useful app
AllTrails is awesome! It has helped me become more motivated to get out more often by being able to browse different trails all over the place. It's great to view other peoples tracks and the user submitted images and whatnot. Good stuff.
Crashes on launch
Pendarvisface
on
10/21/2017
😩 please fix?
What happened!?!?!?!?
I loved this app, until the latest upgrade. I no longer see pictures or other's recordings. Used both tools to determine if the trail would meet our skill level and interest. Bring back the tools!!!!
Very comprehensive
George Ledbetter
on
10/20/2017
Excellent, would be improved by Google map including trail.
Too many "trail is no longer available"
I'm new to Grand Junction, Colorado and specifically looked forward to hiking. Unfortunately this app shows tons of trails, but when you click on them you get the error message "sorry this trail is no longer available ". I'd say half of them in this area I get this message. Please remove them if they're not available.
Portofino walking / trail.
Excellent walking along costal line with beautiful views at any spot and angles. Easy walking but spend a lot time to take photos. Strong recommended- from Santa Margherita 5.4 km.
Just Love All Trails
This app is easy to use. And it is accurate. It is great to rely on the accuracy if the trails and it sure helped to pick out which trails I want to do next. I highly recommend all trails
Great App for Hiking Lovers.
Great App I have been using it for a week now.
App review
Son of Darkness
on
10/15/2017
Excellent app. Have used several times and very accurate. Definitely a must app for the outdoors
Great help for hikes!
This app has many great features. First, it is a great source of available trails in any area that you might be interested in. Second, the map downloads are a great help to keep you in track while on a particular trail. Third, I enjoy the ability to store pictures on the trail for later reference and to share with others. A must have app for all hikers!!
My Go To App For Hiking
My Daughter and I have used this App all over Colorado. Can't do without it. Helps us find Trailhead also I love the stats and summaries Keep this app close at hand!!!!!!!
3 stars cuz of the dumb hassle
Bogus niantic
on
10/14/2017
This app is fantastic! Only thing I really don't like about this is when you click on a place and then go back...it sends you all the way back up to the top of the screen!
Like to hike? You need this!
Indispensable for finding and completing a satisfying hike. My wife and I love this app and use it constantly. The new, recent improvements make it even more enjoyable.
Great App/Poor Coordinates
The app and information are great! Unfortunately the coordinates to get to them are not usually spot on. Unless you are going to a super popular spot I found the coordinates are usually very very off. I can't tell you how many times I have been directed to an empty field and had to drive around searching only to find the actual trail head is 2 miles away...in the opposite direction. It may be that they are submitted by users so I don't know that I should put the blame on the app. All in all it's great for ideas on new adventures. We use it every weekend!
Best outdoors app
Everydayimroflin
on
10/13/2017
Great app to discover trails around you. Purchased pro and having a downloaded map has saved my butt on the trails more than once!
Finally!!
Butterflyflyhigh
on
10/11/2017
I'm in love. Everything I wanted from a hiking app.
Great app
ActiveLife222
on
10/10/2017
This is great for trails you know about and even better when you're in a place that you're not familiar with. It even shows other countries!! So you can hike when you're traveling.
Won't open at all
Crashes to "desktop" when I try to open the app.
THIS APP SAVED MY LIFE!!!
Tonight I was hiking with a group of three of my friends at lye brook falls in Vermont. On our descent it began to get dark to a point where we all had our flashlights on and eventually 3/4 phones died. With the one light left we could barely see and we lost the trail ending up at a dead end, lost and confused in the pitch black of night. With 8% left on the remaining phone we were able to download the "All Trails" app and find our way back to safety and as we arrived at our vehicle the phone died. Without this app I'd be spending the night in the woods tonight. Thank you All Trails!
Fantastic App
I can't live without
Be careful of Pro version
I like the app and use it a lot however I feel like I've been ripped off by upgrading to Pro. I needed to download a map and it came up with a prompt saying I needed to upgrade for 2.49/ month. I figured the map I needed was worth it so I upgraded and was shocked they charged me 29.99 for a year! And it auto renews which I hate. I cancelled the renewal immediately.
Best trail app ever!
The people who made this thing definitely knew what they were doing. I can't even think of an improvement.
Crash crash crash
Open the app crash, shut down, restart, open the app, Crash...... SMH.
Fact Sheet
Publisher:

AllTrails, Inc.

Category:

Health & Fitness

Released:

Dec 17, 2010

Current Version Released:

Oct 31, 2017

Version:

8.1.2

Size:

145.3 MB

Compatibility:

Requires iOS 9.0 or later.

Recommended Age:

9+

Game Center Certified:

No

Supported Devices:

iPad2Wifi-iPad2Wifi, iPad23G-iPad23G, iPhone4S-iPhone4S, iPadThirdGen-iPadThirdGen, iPadThirdGen4G-iPadThirdGen4G, iPhone5-iPhone5, iPodTouchFifthGen-iPodTouchFifthGen, iPadFourthGen-iPadFourthGen, iPadFourthGen4G-iPadFourthGen4G, iPadMini-iPadMini, iPadMini4G-iPadMini4G, iPhone5c-iPhone5c, iPhone5s-iPhone5s, iPadAir-iPadAir, iPadAirCellular-iPadAirCellular, iPadMiniRetina-iPadMiniRetina, iPadMiniRetinaCellular-iPadMiniRetinaCellular, iPhone6-iPhone6, iPhone6Plus-iPhone6Plus, iPadAir2-iPadAir2, iPadAir2Cellular-iPadAir2Cellular, iPadMini3-iPadMini3, iPadMini3Cellular-iPadMini3Cellular, iPodTouchSixthGen-iPodTouchSixthGen, iPhone6s-iPhone6s, iPhone6sPlus-iPhone6sPlus, iPadMini4-iPadMini4, iPadMini4Cellular-iPadMini4Cellular, iPadPro-iPadPro, iPadProCellular-iPadProCellular, iPadPro97-iPadPro97, iPadPro97Cellular-iPadPro97Cellular, iPhoneSE-iPhoneSE, iPhone7-iPhone7, iPhone7Plus-iPhone7Plus, iPad611-iPad611, iPad612-iPad612, iPad71-iPad71, iPad72-iPad72, iPad73-iPad73, iPad74-iPad74, iPhone8-iPhone8, iPhone8Plus-iPhone8Plus, iPhoneX-iPhoneX,

Supported Languages:

English;

Parental Advisory:

Mild Profanity or Crude Humor;