Screenshots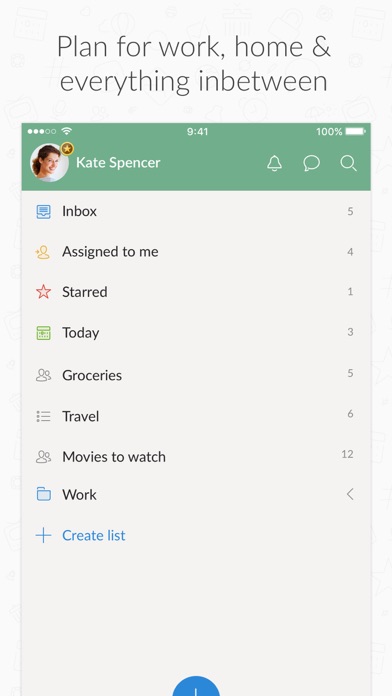 New in version 3.4.10
In this update we squashed some pesky bugs and made a few minor enhancements.
Description
Wunderlist is a simple to-do list and task manager app that helps you get stuff done. Whether you're sharing a grocery list with a loved one, working on a project, or planning a vacation, Wunderlist makes it easy to capture, share and complete your to-dos. Wunderlist instantly syncs between your phone, tablet and computer, so you can access your to-dos from anywhere.

"The best to-do list app." - The Verge

Wunderlist has also been featured in The New York Times, Lifehacker, Forbes, The Guardian, Wired, and Vanity Fair, just to name a few.

Key Wunderlist Features:
• Add, organize and schedule your to-dos from your phone, tablet or computer
• Set due dates and reminders to ensure you never forget important deadlines (or birthday gifts) again
• Use subtasks, notes, files and comments to add important details to your to-dos
• Create lists to help sort your to-dos for home, work and everything in between
• Share lists and collaborate on your to-dos with family, friends and colleagues
• Be productive from anywhere, thanks to Wunderlist's apps for your phone, smart watch, tablet and computer
• Swipe down from any app to get a glance of your due to-dos with our Today widget
• Quickly capture to-dos, and peek & pop tasks with 3D Touch on your iPhone 6S
• Save web pages and articles for later with the Add to Wunderlist sharing extension

Wunderlist is free to download and use. Wunderlist Pro upgrades your experience and gives you unlimited access to Files, Assigning and Subtasks to help you accomplish even more for $4.99 a month through an auto-renewing subscription.

Subscriptions will be charged to your credit card through your iTunes account. Your subscription will automatically renew unless cancelled at least 24 hours before the end of the current period. You will not be able to cancel a subscription during the active period. You can manage your subscriptions in the Account Settings after purchase.

Our Terms of Use: http://www.wunderlist.com/terms-of-use
Our Privacy Policy: http://www.wunderlist.com/privacy-policy

Learn more about Wunderlist at www.wunderlist.com
iPad Screenshots
Reviews
Simple, yet effective
Since iOS 11, this app freezes on me pretty frequently. Otherwise it's great. The app seems to strike the right balance between having an easy to use interface, and being full-featured. One feature that seems to be missing from most simple to-do apps is the ability to create sub tasks. This one does that well. I also like the ability to make notes for a task.
Life saver
Gawd Emperor Trump 2016
on
10/16/2017
Love this app. Simple and easy to enter data.
My favorite organization App
This app keeps my entire family on the same page for the past 2-3 years. It also has all of my to do list for work and my personal life. It's an amazing app, my favorite app in fact. Great work guys!
Goods
liqingvincentlo l
on
10/16/2017
Ddd
Top notch
Keeps me organized over all my devices.
Wunderlist ...exceeding expectations
Based upon some recent reviews, I was hesitant to jump on the wunderlist bus ... glad I did! Until Microsoft's To-do gets up to speed, Wunderlist will be my tool of choice. I have Wunderlist installed on my Windows 10 PC (with Outlook Add-in as well), my iPad and my iPhone. All 3 are syncing seamlessly. Once I figured out how to enable email task, I now add tasks on the fly! I'm still working on the task sharing process ... I highly recommend this App
Best free to do list
I've been using this almost 2 years. You can make categories, due dates, reminders, sub tasks. You can rearrange the order, delete, or edit any of the tasks. It syncs to your account on the Internet and it has an add-on for Firefox browser, although honestly, I've never used it that way. It also has a search feature where you can search through your tasks. It has some additional features that I have never used.
Love it
Elegant and useful
Easy
I am new to the app but the honeymoon is fabulous so far!!
Great App!
ShanxiErin1844
on
10/15/2017
Use it every day! Makes shopping so much easier as a family.
Improvement needed
It's a good app especially for a free one, our issue is that it does not always update the list on both our phones.
Awesome
I share a list with my son in college. It ensures my care packages always include what he needs.
Excellent to-do app.
TheNotetaker
on
10/14/2017
Refer to review title. Says it all,
Greatest to-do app ever!
I would be completely lost without Wunderlist. I utilize both the mobile and desktop app almost daily. They work seamlessly. The only thing I would like to see go is when I delete a "to-do" in the desktop app, I see no reason for it to ask me if I'm sure. I have multiple steps to go through before I can delete an item, & it doesn't need one more. Other than that, I am head over heels for Wunderlist!
Great app
I love that this app has a web version as well, so you can use it on your PC too. Also, you can use it offline, so if you happen not to be connected to the internet, you can still use it (unlike some other list apps I was trying out, which didn't have this option). I use this for all kinds of lists--shopping list, grocery list, things to read, etc. I just wish the lists could be color-coded, or that there was a way to tag lists or items within lists.
Keeps us organized!
Wunderlist has been a huge help to my husband and me. We use it for everything, from regular grocery lists to the tasks necessary to buy a house. It's saved us money by keeping us from duplicate purchases. I love this app!
Keeps crashing when editing list
Sjlongoria210
on
10/13/2017
Not sure what happened to this app, but when I try to edit a list and move items up or down it crashes. Very aggravating.
Very organized
It's an awesome app. Give it a shot.
Unresponsive
With the latest update, the app had become totally unresponsive for me. I can quit it, start back up and then maybe complete one or two tasks before it's unresponsive again. Unusable in this state.
To do List
Simple & Easy to use
Great productivity app!
I've been using Wunderlist almost daily for a year now, and I love it. It helps me keep track of work, personal, and side hustle tasks. Clean, clear, and pleasant UX
Stay Organized with Wunderlist!
Keeps you on track at work & home!
Changed the way I work
Amazing app. Keeps me organized and allows me to maximize my time. I connected it to my outlook and it allows me to add things to my to do list with ease. I use it for work, shopping and travel. Such a great app.
Love it
Great organizing tool. Able to create and customize folders for in depth organization. Simple to dos to complex lists. Syncs across everything and able to work offline. Awesome productivity app and has replaced all my other "things to do" apps!
Keeps getting frozen
The app gets frozen very often- extremely frustrating
Keeps me on track!
Love it! So easy to use and keeps my tasks organize.
Fantastic app
jonny1123144
on
10/11/2017
Really a must-have app for any small business owner. Great way to sync lists with everyone in your company. Highly recommend
Great organize app
Everyone should download this app. It sure helps organizing your daily busy life. Love it, love it!!! 👌👌👌
Can't live without it
Keeps me organized and I don't even use all of the available functions!
Great app
Best task manager
I love the simplicity of it.
abirdzeyeview
on
10/11/2017
Most of the checklist apps I have tried are too "busy" and complicated. Wunderlist is simple and to the point. It would be nice, however, if you could check off a task without it automatically disappearing and instead you could manually delete it when you were ready. I like having the satisfaction of seeing all of my completed tasks for that day. Other than that it's great.
Very user-friendly
Coffeeismynemesis
on
10/10/2017
Crisp, clean and easy to use!
Best best best ever
Tech savvy-ish
on
10/10/2017
It's sooo great. No problems crossing iPhone and pic. Keeps me organized and make me feel like I accomplish more than I do😊🙈
Simplifies my whole life❣
AskLifeCoach
on
10/10/2017
UPDATE...awesome as ever. All they ever do I improve it! ----- If I could have only one app on my iPhone, Wunderlist would have to be it. Before understanding and using Wunderlist nobody could have made me believe how much simpler my life could be. I thought I had a fine system for making lists, but Wunderlist adds a whole new level of efficiency. Once I deleted the stock lists and started making my own lists I discovered I only need to add an item one time even though I buy it repeatedly. One tap moves it from the active list to the hidden list and one tap puts it back on the list. Once I got my standard lists set up it is magical. I always have a list of ALL items I regularly buy at each store. So it's easy to scroll down that list and Mark things I want to get today. Deleting items is a quick swipe away. But the real magic began when I branched out to other lists...beyond shopping. For instance, I have a simple ToDo list but a separate CALL list. We have a summer cabin and winter condo so I have a TAKE TO CONDO list and a TAKE TO CABIN list. And the magic is that these lists aren't on the refrigerator at home. They are on my phone. Adding an item is simple whenever I THINK of it. This is an awesome app. I've been using it a couple years and I've actually stopped people and showed them MY LIST in a store isle when I see them with a paper list. IF I could only have one app in my phone Wonderlist WOULD be my choice❣
Lists galore!
KatieKaboom84
on
10/10/2017
I've created lists for nearly every aspect of my life. Wunderlist keeps them all organized with great desktop, web, and Mobile apps so you're up to date wherever you are.
Best list app
Use this almost everyday all day.
Great way to organize tasks!
Great little app. It's been a great resource to help keep track of work and home tasks!
Would like to change back ground picture.
How do I change the back ground? And I would have given this a 5 start but I can't change the background and I do not prefer the color scheme..would prefer a more clean blue and white.
Great productivity tool
thegoosegoblin
on
10/9/2017
I use it to easily sync lists across multiple users. For instance my wife and I are able to add items to the same grocery list as we think of them. The items are removed quickly when checked off so we can split the list when shopping and know what the other has already found.
Love the ap
Would give it 5 stars except I can't copy lists. I use this to keep track of bills for each month. It's starting to get a little annoying having to type 23 bills into 12 lists for the year. Apparently you can copy lists using anything except Apple products. What gives? We need these features too!
Developers don't seem interested in adding new requested features
Chesterfield zxxv
on
10/9/2017
I've noticed requests for some really good feature updates on the "drawing board" for quite a long period of time. The developers though don't seem to be interested in updating them. For example why can't they have a calendar at your disposal to edit tasks? Instead, I need to have open my Apple Calendar at the same time if I'm scheduling something a few weeks out. Pretty ridiculous. I've noticed also that a repeating tasks occasionally disappear - they don't show up in current or completed tasks. A couple of weeks down the road I'll think "whatever happened to that task?". Sure enough, gone, unable to locate! If I can't rely on the app to be dependable, I'm moving on...
Please add Scribble support on Watch!
shanbey:Steve250
on
10/9/2017
I absolutely love this app, but please add scribble support on Apple Watch!
Change Ownership
There needs to be an option to change or share ownership of a shared list.
It is the best, except
This is a terrific app for those like me with brain injury related memory issues. I need something that I can look at often with reminders. I have a calendar in my purse and one on my wall at home... this is great in that it is more visual and goes where I do. It is the best, except... 1 that I cannot schedule REPEAT every 3rd Wednesdays for Community meetings, classes, etc 2 that it does not change the date on REPEATS. It still shows the same date of the original occurrence I love it otherwise. I love that I can highlight "Today" tasks Thanks for this great app.
Functional, linkable, and easy to use
I really have come to depend a lot on this app. It's fantastic for things like grocery lists and daily errands or appointments. But it's also fantastic for work projects. My favorite feature is that any list you make can be shared and linked up with another account. Meaning, my wife and I can have access to the same grocery list, while my co-workers and I can have access to the same projects list. Another great feature is the "sub tasks," which allow you to add an even more refined list to your initial entries. I.E. say you have MOM'S COMPUTER as a task on a list for groceries, you can click MOM'S COMPUTER to get to a task list pertaining to it and make other entries such as "update anti-virus", "new OS", "upload software", etc. It's a very versatile task app, and one of the best that I've checked out.
Excellent organizer
I am an obsessive list maker and organizer, and have tried a number of apps and programs to keep my ideas in order. This one did the trick. My lists are labeled ASAP, Today, This week ... and so on until I get to Not Very Likely. In this way, I get all my priority items done first. This has been great help !
Crashes Almost Every Time It Opens
App crashes almost every time I open it. If I close it and then open it again it will crash. After crashing and then reopening it after 5 seconds or so, I am then able to input data. I hope this gets fixed because it's very useful app.
Great reminder app!
Great reminder app! Love it and use most often. Most variety and functionality
Fact Sheet
Publisher:

6 Wunderkinder GmbH

Category:

Productivity

Released:

Dec 09, 2010

Current Version Released:

Sep 29, 2017

Version:

3.4.10

Size:

97.6 MB

Compatibility:

Requires iOS 8.0 or later.

Recommended Age:

4+

Game Center Certified:

No

Supported Devices:

iPad2Wifi-iPad2Wifi, iPad23G-iPad23G, iPhone4S-iPhone4S, iPadThirdGen-iPadThirdGen, iPadThirdGen4G-iPadThirdGen4G, iPhone5-iPhone5, iPodTouchFifthGen-iPodTouchFifthGen, iPadFourthGen-iPadFourthGen, iPadFourthGen4G-iPadFourthGen4G, iPadMini-iPadMini, iPadMini4G-iPadMini4G, iPhone5c-iPhone5c, iPhone5s-iPhone5s, iPadAir-iPadAir, iPadAirCellular-iPadAirCellular, iPadMiniRetina-iPadMiniRetina, iPadMiniRetinaCellular-iPadMiniRetinaCellular, iPhone6-iPhone6, iPhone6Plus-iPhone6Plus, iPadAir2-iPadAir2, iPadAir2Cellular-iPadAir2Cellular, iPadMini3-iPadMini3, iPadMini3Cellular-iPadMini3Cellular, iPodTouchSixthGen-iPodTouchSixthGen, iPhone6s-iPhone6s, iPhone6sPlus-iPhone6sPlus, iPadMini4-iPadMini4, iPadMini4Cellular-iPadMini4Cellular, iPadPro-iPadPro, iPadProCellular-iPadProCellular, iPadPro97-iPadPro97, iPadPro97Cellular-iPadPro97Cellular, iPhoneSE-iPhoneSE, iPhone7-iPhone7, iPhone7Plus-iPhone7Plus, iPad611-iPad611, iPad612-iPad612, iPad71-iPad71, iPad72-iPad72, iPad73-iPad73, iPad74-iPad74, iPhone8-iPhone8, iPhone8Plus-iPhone8Plus, iPhoneX-iPhoneX,

Supported Languages:

Albanian; Arabic; Bulgarian; Catalan; Valencian; Czech; Danish; Dutch; Flemish; English; Finnish; French; Georgian; German; Greek; Hebrew; Hungarian; Icelandic; Italian; Japanese; Korean; Maltese; Bokmål, Norwegian; Norwegian Bokmål; Persian; Polish; Portuguese; Romanian; Moldavian; Russian; Chinese; Slovak; Slovenian; Spanish; Castilian; Swedish; Thai; Chinese; Turkish; Welsh;