TapNova recommends this app!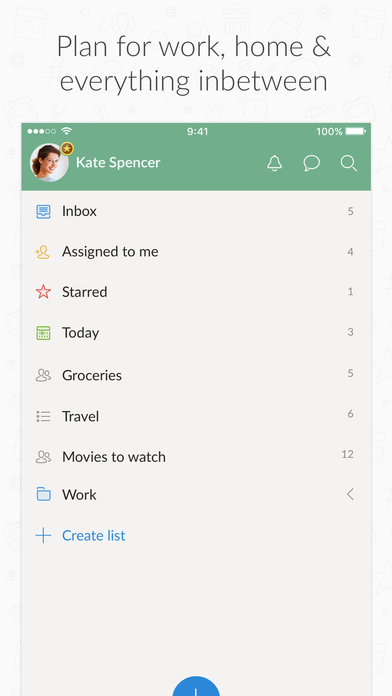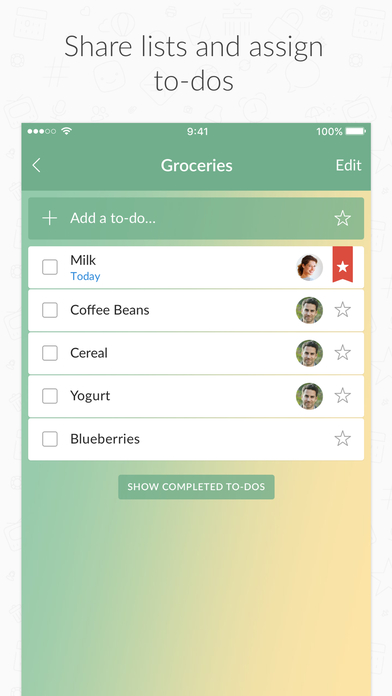 New in version 3.4.8
We've cleaned out the bugs, dusted in the corners and made a few minor improvements.
Description
Wunderlist is a simple to-do list and task manager app that helps you get stuff done. Whether you're sharing a grocery list with a loved one, working on a project, or planning a vacation, Wunderlist makes it easy to capture, share and complete your to-dos. Wunderlist instantly syncs between your phone, tablet and computer, so you can access your to-dos from anywhere.

"The best to-do list app." - The Verge

Wunderlist has also been featured in The New York Times, Lifehacker, Forbes, The Guardian, Wired, and Vanity Fair, just to name a few.

Key Wunderlist Features:
• Add, organize and schedule your to-dos from your phone, tablet or computer
• Set due dates and reminders to ensure you never forget important deadlines (or birthday gifts) again
• Use subtasks, notes, files and comments to add important details to your to-dos
• Create lists to help sort your to-dos for home, work and everything in between
• Share lists and collaborate on your to-dos with family, friends and colleagues
• Be productive from anywhere, thanks to Wunderlist's apps for your phone, smart watch, tablet and computer
• Swipe down from any app to get a glance of your due to-dos with our Today widget
• Quickly capture to-dos, and peek & pop tasks with 3D Touch on your iPhone 6S
• Save web pages and articles for later with the Add to Wunderlist sharing extension

Wunderlist is free to download and use. Wunderlist Pro upgrades your experience and gives you unlimited access to Files, Assigning and Subtasks to help you accomplish even more for $4.99 a month through an auto-renewing subscription.

Subscriptions will be charged to your credit card through your iTunes account. Your subscription will automatically renew unless cancelled at least 24 hours before the end of the current period. You will not be able to cancel a subscription during the active period. You can manage your subscriptions in the Account Settings after purchase.

Our Terms of Use: http://www.wunderlist.com/terms-of-use
Our Privacy Policy: http://www.wunderlist.com/privacy-policy

Learn more about Wunderlist at www.wunderlist.com
iPad Screenshots
Reviews
Excellent
You can't get much better than this for creation and tracking of projects, especially for the price. - this still holds true after 5 years.
Probably the best free to-do list app
It's an intuitive and smooth app that gives you structure but allows you to make lists how you want them to be made. It allows for sub-tasks,recurring tasks, notes, automatic syncing, folders, reminders, etc. The only issue I've come across was earlier today when I accidentally deleted my long-held shopping list and the 'restore deleted list' function isn't working. Overall it's a great app and it's free. I tried a lot of them before settling on this one for the past year.
Key to Gradschool!
Exceeded expectations.
PLEASE INTEGRATE GOOGLE DRIVE!!
Incredible app. This app could be better if there was some way to integrate my organizations files from google drive, not just Dropbox or camera roll. Also, please enable a feature to assign multiple people to one task. Thanks.
Best free to do list
Best free to do list around. Simple and powerful. It makes you want to input tasks with its minimalistic structure. There's a web platform, a Mac app and an IOS app. It really does make your life easier
Great app
Slmstrasburg
on
8/16/2017
Works great
All-around great app
UPDATE: Some bugs have started to pop up in this app where sub-tasks will disappear after I've entered them, right in front of my eyes and I have to keep re-entering them. Agree with others, that the developers need to update this more often than they do. There's always room for improvement but this is probably the best task app out there right now.
I love this app
I've been using Wunderlist for a few months now and I love it. It keeps me organized and focused on what I need to do. It syncs to my iPhone phone and iPad and on top of that it's FREE! Thank you Wunderlist
Useful
wunderlist memory
on
8/16/2017
It is my memory
Absolutely the BEST
I love this app. I love that you can make multiple lists, put lists into folders, set due dates, make reoccurring items, create checklists, attach documents. And my favorite thing is sharing lists. Also the most satisfying sound in the world is checking off a completed item 😍😍. It's absolutely amazing. I've never had a glitch, and the information syncs flawlessly between devices! Hands down my favorite task or to do app.
Review
Great app! Keeps me on track
Helps with productivity
if_u_seek_amy
on
8/15/2017
I'm really enjoying Wunderlist. It has three key features that I like the most: 1. It syncs across all of my devices; 2. It allows me to share lists with my husband; and 3. I can email tasks to myself. I think this app will be really good for when I start school.
Remember
Love to keep organized. This app helps me do this. Never had a problem.
Wunder luis
This app wouldn't stop bothering me to rate it so I am now so it will stop.
Switched from Todoist
I have used Todoist for years, and recently made the switch to Wunderlist after noticing there were more integrations with other apps I used. So far, so good. My only complaint is that the "smart deadlines" (i.e. typing "tomorrow" in the task to set a deadline) doesn't always work.
Great App!
Our daughter clued us into Wunderlist and it is Wunderbar! Easy to use and really helpful.
Could have better support
SCOTT, a support person at Wunderlist is outstanding in his efforts to help clients with problems. BUT, he can only do it with email, not a phone conversation. As a result, despite Scott's best efforts, I still cannot use Wunderlist after having lost all the data on my account. Disappointing!
Lists, lists and more lists!
Irregular mom
on
8/14/2017
Keeps me on track!
Issues
Excellent app. I use it for my personal shopping at all stores as well as for my business chores. Top notch but would like to see the completed tasks alphabetized Thank You
Great App!
The No More Sticky Note App
on
8/13/2017
I really appreciate how the app has cleared my desk of sticky notes and provided those great email reminders.
Great app!
PuzzleJunkieMom
on
8/13/2017
Was using a different app until updates made it impossible to use. The switch to Wunderlist was easy and works like I need it to. Easy to use on iPhone, desktop and iPad. Syncs easily between all three and love how it interfaces with my gmail calendar.
Love it. It works.
ExitCoachRadio
on
8/13/2017
The best at what it does.
Nice app
Use it as my primary organizer
Wonderful app!
Allows me to prioritize tasks each day! Review based on the free edition.
Love this app!
I love that my husband and I can make lists together and we get the updates real time... The best grocery list tool ever!! The only thing that would make it better is a search tool for the completed items so I don't add the same items to my new lists that are in the completed area already.
Good
Good stuff. Simple and nice. Wish I could put custom wallpaper, but free is still nice to have.
Keeps the peace at home!
My wife and I share to do lists so there's no more I told you last week!
This is literally the best app ever
Swim like a pro1234
on
8/12/2017
Whenever I'm looking for an app I never find exactly what I need but I did and this works great. Everything I need is there. I couldn't be happier.
Crazy Good. Better than that other one.
Love Wunderlist. It's so easy to use. So easy to share lists and tasks. My kids and I get the job done much better now. The 3D Touch function is really helpful.
It has made my life a whole lot easier
Great tool.
Fantastic and User-Friendly
red king, white queen
on
8/11/2017
Title says it all. Definitely recommend
Best so far but not saying much
I have yet to find an integrated to do list that is sharable has reminders and is intuitive. This isn't it....
No marital communication required!
Reluctant visiting teacher
on
8/11/2017
My husband's and my lists are synched, so now we don't have to talk about errands to be run, movies to watch, people to have over, what the kids want for their birthdays. It's fantastic...I think…
Wow
If it wasn't for wunderlist I would remember a thing. I love how my wife and I can share our shopping list so easily.
Microsoft, please don't kill this app.
RIP Wunderlist, the latest victim of Microsoft's relentless crusade to prove it cares more about profits and having a monopoly than its users. We'll really miss you.
Excellent App & Best in Class
Terrific!
Excellent works on ALL devices
Works on Computer (Mac), IPad, IPhone, as well as Apple Watch. One of the few Apps that works across device lines which makes it awesome besides being overly functional and easy to use!
Really good but could be improved
I really like this app, very useful. It works well for my husband's and my grocery lists. My only two complaints are that you can't organize the items on the list besides in alphabetical order and you can't organize the completed items at all. The first makes it frustrating when you are shopping. I don't want to make an individual list for each area if the grocery store. The second is frustrating because it makes it hard to find items that I already added.
Don't Go Grocery Shopping Without It
more JOY everywhere!
on
8/9/2017
This app is awesome for lots of reasons, one of which is the ability to share lists. If you've ever taken your significant other to the grocery store via cell phone, you'll totally appreciate this feature. Now, when my wife knows I'm going shopping, she can add things to the grocery list and I'll see them immediately. It's so easy it's almost fun.
Great app
An amazing app but still requires monthly payment for full use.
Simple to use
Love how simple and easy to use this app is
Wunderhelfen
Just great update hubbies phone when I add something
Continues to be the best!
To my utter and complete surprise, it continues to be head and shoulders above all the other apps of its kind even after the acquisition. I'm not sure what the exact numbers are, but I have tried at least 30 other list and task management apps. This one continues to surprise me with its stability, simplicity, and usefulness.
Keeps me organized.
Inneedoflight2
on
8/9/2017
I can keep many lists and they merge into daily tasks. Satisfying ding sound when I check off items. Plus I can add notes to tasks and incorporate photos. Love I have one place for it all.
I'm in love
Have tried several task/to do lists for my real estate business and have finally found the Mac daddy of them with Wunderlist! So simple. So user friendly. So intuitive. Keeps all those contracts flowing and deals closing.
Simple, easy to use
Just started using. So far I'm impressed with the simplicity and usability. Haven't used PC app yet but will try soon. My main goal is to be able to keep things like grocery lists, todo lists and update them at home, at work, when out, on the bus, sitting on the can (need toilet paper...)... Much better than OneNote which is what I had been using but that is such a complex unusable product and a bit of a firehose to water a potted cactus. Will update review as I use more.
Just wonderful!
I use this app to keep track of my todos, appointments, and grocery to buy. I love it! It's so simple yet it comes with convenient features like setting the due date, creating folders, and sharing with others. I'm saying goodbye paper lists.
Great free task management tool
I've been using Wunderlist for a couple of years now and I just don't see any reason to try using any other apps. Simple and effective with some cool features available. Sharing lists with others works great. I've never even looked into the full version but I bet it is impressive as well.
Yup - It Works
To bad it'll be going away, Microsoft's current To Do app just isn't there yet, not even close actually. Took away one star because you still have to use the Apple "spin wheel" to select times and dates for some functions.
Fact Sheet
Publisher: 6 Wunderkinder GmbH
Category: Productivity
Released: Dec 09, 2010
Current Version Released: Feb 21, 2017
Version: 3.4.8
Size: 95.1 MB
Compatibility: Requires iOS 8.0 or later.
Recommended Age: 4+
Game Center Certified: No
Supported Devices: iPad2Wifi-iPad2Wifi, iPad23G-iPad23G, iPhone4S-iPhone4S, iPadThirdGen-iPadThirdGen, iPadThirdGen4G-iPadThirdGen4G, iPhone5-iPhone5, iPodTouchFifthGen-iPodTouchFifthGen, iPadFourthGen-iPadFourthGen, iPadFourthGen4G-iPadFourthGen4G, iPadMini-iPadMini, iPadMini4G-iPadMini4G, iPhone5c-iPhone5c, iPhone5s-iPhone5s, iPadAir-iPadAir, iPadAirCellular-iPadAirCellular, iPadMiniRetina-iPadMiniRetina, iPadMiniRetinaCellular-iPadMiniRetinaCellular, iPhone6-iPhone6, iPhone6Plus-iPhone6Plus, iPadAir2-iPadAir2, iPadAir2Cellular-iPadAir2Cellular, iPadMini3-iPadMini3, iPadMini3Cellular-iPadMini3Cellular, iPodTouchSixthGen-iPodTouchSixthGen, iPhone6s-iPhone6s, iPhone6sPlus-iPhone6sPlus, iPadMini4-iPadMini4, iPadMini4Cellular-iPadMini4Cellular, iPadPro-iPadPro, iPadProCellular-iPadProCellular, iPadPro97-iPadPro97, iPadPro97Cellular-iPadPro97Cellular, iPhoneSE-iPhoneSE, iPhone7-iPhone7, iPhone7Plus-iPhone7Plus, iPad611-iPad611, iPad612-iPad612, iPad71-iPad71, iPad72-iPad72, iPad73-iPad73, iPad74-iPad74,
Supported Languages: Albanian; Arabic; Bulgarian; Catalan; Valencian; Czech; Danish; Dutch; Flemish; English; Finnish; French; Georgian; German; Greek; Hebrew; Hungarian; Icelandic; Italian; Japanese; Korean; Maltese; Bokmål, Norwegian; Norwegian Bokmål; Persian; Polish; Portuguese; Romanian; Moldavian; Russian; Chinese; Slovak; Slovenian; Spanish; Castilian; Swedish; Thai; Chinese; Turkish; Welsh;