Screenshots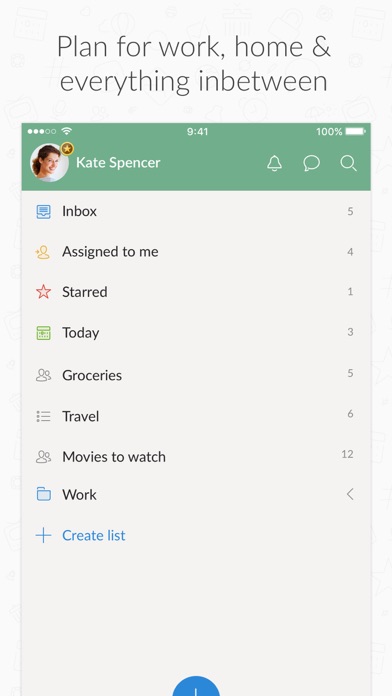 New in version 3.4.11
Improvement: Better support for the iPhone X! Trendsetters may have noticed some layout problems on their shiny new phones. Thanks to this update, our display game is back on-trend.
Description
Wunderlist is a simple to-do list and task manager app that helps you get stuff done. Whether you're sharing a grocery list with a loved one, working on a project, or planning a vacation, Wunderlist makes it easy to capture, share and complete your to-dos. Wunderlist instantly syncs between your phone, tablet and computer, so you can access your to-dos from anywhere.

"The best to-do list app." - The Verge

Wunderlist has also been featured in The New York Times, Lifehacker, Forbes, The Guardian, Wired, and Vanity Fair, just to name a few.

Key Wunderlist Features:
• Add, organize and schedule your to-dos from your phone, tablet or computer
• Set due dates and reminders to ensure you never forget important deadlines (or birthday gifts) again
• Use subtasks, notes, files and comments to add important details to your to-dos
• Create lists to help sort your to-dos for home, work and everything in between
• Share lists and collaborate on your to-dos with family, friends and colleagues
• Be productive from anywhere, thanks to Wunderlist's apps for your phone, smart watch, tablet and computer
• Swipe down from any app to get a glance of your due to-dos with our Today widget
• Quickly capture to-dos, and peek & pop tasks with 3D Touch on your iPhone 6S
• Save web pages and articles for later with the Add to Wunderlist sharing extension

Wunderlist is free to download and use. Wunderlist Pro upgrades your experience and gives you unlimited access to Files, Assigning and Subtasks to help you accomplish even more for $4.99 a month through an auto-renewing subscription.

Subscriptions will be charged to your credit card through your iTunes account. Your subscription will automatically renew unless cancelled at least 24 hours before the end of the current period. You will not be able to cancel a subscription during the active period. You can manage your subscriptions in the Account Settings after purchase.

Our Terms of Use: http://www.wunderlist.com/terms-of-use
Our Privacy Policy: http://www.wunderlist.com/privacy-policy

Learn more about Wunderlist at www.wunderlist.com
iPad Screenshots
Reviews
Works great for this exec and mom
exec and mom
on
12/12/2017
I like compatibility of Wunderlist between my pc for when I'm sitting at my laptop and iPhone for when I'm traveling or off hours. Perfect easy organization tool to manage company and business to dos. Also like that I can share some of my list categories with my husband as I help him with his business and or we develop grocery list. Been using 2+ years no reason to change meets all my needs.
Gets the job done
fireflies and cellos
on
12/12/2017
Just wish that the app would let you add photos into your list.
Simply One of the Best
Dray Wharton
on
12/12/2017
I teach productivity to individuals and teams and one of the hardest things to do is to get people to write out their next action list and keep it up to date. Wunderlist does that, does it elegantly, and does it across platforms. The free version is adequate for most individuals and the Pro version is an excellent collaboration tool. I've used and reviewed several of the top selling tools and I find myself comparing everything to Wunderlist. I highly recommend it.
Loved it so far!!
I use this app on a regular basis and so far loved it.
Needs autocomplete
I love it! We use it for shopping lists, and it needs to autocomplete from completed tasks to get that fifth star from me.
Great family app
I love that you can share the list between family members. It helps so much so when someone thinks of something they need they can add it to the list themselves. we have list for shopping, movies, restaurants, gifts and to do's. It has made life so much easier.
THIEVES STOP CHARGING ME
I CANCELLED THIS SUBSCRIPTION AND MY ACCOUNT ON THE WEBPAGE JUST AS INSTRUCTED. STOP STEALING MONEY FROM ME AND CHARGING PEOPLE WHEN THEY NO LONGER USE THIS APP.
A very useful app
It helps me manage all my tasks with simple steps, flexible calendar and smart reminders. I really enjoy this app because I'm procrastinator :)). This app would be better if it has line graph to evaluate what tasks I did in days, weeks and moths. Thanks developers.
Task organizer
This is a great app for being more organized with lists. How it could be improved is adding a calendar view when selecting tasks that are due or reminders. It is hard to see those from the context sliding view versus a real calendar. I much prefer the app Things right now for my organizing needs as they support these features. I wish wunderlist did because I think they have better overall long term support
iOS app freezes a lot
John Markos O'Neill
on
12/9/2017
I am a premium subscriber, and I use both the MacOS version and the iOS version. Lately, the iOS version is freezing for long periods of time whenever I try to use it. It makes it very difficult to use.
Best list app!
I love this app for all things lists!
THE BEST task app ever used
Multi functional and easy to use. Fun. Best I've used so far, and I only have the free version. For $4.99 can attach and share files between users and various personal accounts. Great tool to help stay organized!
Great app
Love the app! Would love to see an option to turn off the completed tasks when emailing list
App spontaneously deleted my tasks!!
helloworldnickname
on
12/8/2017
2x over the course of a week, multiple items from multiple lists have spontaneously been deleted, and I have no way of recovering them.. I trusted the app as my main list app but, this makes the app unusable. I don't remember what I put on there—that was the point of making a list... and not it's gone forever
Wunderlist!
DelanieSharp
on
12/8/2017
Unlike other to do list apps this is very simple and very easy to use. I am a huge procrastinator and this makes me a lot more productive in my daily life.
Just a couple steps from perfection
SilverShadow132
on
12/7/2017
Minimal app design is great, does exactly what I need it to without extra bells and whistles. Wunderlist is only missing a few small things that would be easy enough to implement and would really up the app's overall quality. 1. You can't currently nest folders. I want to be able to further organize my to-do list into smaller chunks, like College > Class > Homework. The whole point of a to-do app is for organization, so this is pretty important in my opinion. 2. The repeat to-do item feature is great, but it's missing a way to repeat on certain days of the week. You can either repeat daily or once a week, which means that if I have 2 assignments consistently due on Tuesdays and Fridays, I can't tell it to remind me of both without making a duplicate list. Besides these things, which I expect will probably be implemented soon as they've been widely requested, Wunderlist really is great for keeping your life together and remembering the small things you can never remember to do. Definitely recommend.
Keeps getting worse
Bad enough it doesn't update automatically in background now widget doesn't work either.
Life Changing App!
jus joshin' round
on
12/6/2017
This app is excellent. It makes it easy to stay organized with work and personal projects. Tasks can be grouped together, starred based on importance, and archived for review later. Occasionally, the app does not sync immediately and requires a refresh. This is mildly annoying. Overall, this is a fantastic app. I use it daily, and recommend it to friends and family regularly. Download it today, why not, it's free!
Best to do list app
ToDoListFetish
on
12/5/2017
Oh so good
Wunderlist
Bjhinscottsdale
on
12/5/2017
Hands down, best app ever!
Best of the options
Edit: I stand corrected! The Apple Watch does have an option to view all lists! This is OFFICIALLY the best option out there (and I tried a lot out looking for this kind of tri-platform functionality)! Siri functionality and location based reminders would still be great, but that's just being picky! Original review:This app used to be my life, but I eventually moved away because phone sync lagged and my phone notifications lagged along with it. Now I'm back and happy to see the issues seem to be mostly resolved. The app is extremely helpful in terms of organizing tasks, setting reminders, and is available for all your platforms. I use it on my Mac, iPhone, and Apple Watch One thing I will say though, the Apple Watch app could be improved. I was in need of an app that would sync across my platforms and give me a Watch alert when on the go, which Wanderlist does and I'm eternally thankful, but the app itself on the watch could be more user friendly. It exclusively shows the "Today" or inbox/assigned lists with no option to view further in the week or organize by other lists, which would make the world of a difference. I've tried changing some of the settings so if it is possible, it isn't syncing properly to actually carry out. Now if a location service was introduced, the app would be unbeatable! But for now it's definitely the best of the options I've come across!
Was good, now bad
The last two versions are terrible. The app freezes often, can't update titles without erasing them first, can't insert words, syncs slowly, harder to use.
Awesome, simple, to-do list app
No complaints, love the simplicity. Does what I need, looks super clean. Highly recommend.
Awesome app
Love it because my husband and I can link our list
Super useful...
CoMonDenomN8or
on
12/3/2017
...for keeping track and prioritization!
Could be sad but I am lost without it!!
UI/UX can be more engaging. No need to get any other app for to-do, reminder, note or even meeting management. Just not sure if my lists are to be kept private forever. Stay the best guys.
Da bomb
Ehh not so much
on
12/2/2017
Menards lists and groceries, app works great. Can share lists with the gf and either of can check off items and app will update simultaneously.
Allow users to import wallpapers
Wallpaper options are limited allow users to bring their own like WhatsApp
I use it almost every day! Great appeal!
Thank you for the great work!
AMAZING EXCELLENT laptop and Cortana sync.
12-1-17 WOW the depth of this app is amazing. I'm so glad I downloaded this app. 11-29-17 I use Windows and Cortana. This app is helping me keep my tasks accessible. Outlooks task list wouldn't let me sync up my tasks so it became a problem. This app allows me to access my tasks in great detail. It still displays on Cortana's homepage as needed. Very useful and clean cut. The lists created on wunderlist show up for Cortana AND even work with voice command. I'm so glad to have been shown this app. It was suggested as an add in when I was using Cortana on my laptop and I rolled the dice and installed it. Glad I did. Works for my phone too. IMPRESSIVE app even as a stand alone. This app combined with Cortana has made my apple iPhone finally feel and run more like a smart phone. Best collaboration to do list app that I've ever seen. Icons are used MASTERFULLY to show if you have a new chat or update. Tasks are smooth and fluid. Drag n drop is understood by these devs. They did it right. Some of these guys had to have been RPG gamers because these menus are organized too well! (Compliment). Nice work!!!!!!!!!!!!!!! I know this is crazy but... would you guys consider adding support for the Nintendo Switch? I know this is way outside of the box but yeah... thanks for making this app so platform friendly as it is.
Great app for To do lists
I like how this app syncs to all my devices and I can set up email notifications as well. Grocery shopping made easier, I don't have to re-add thinks to list simply uncheck a previous item. Thanks Wunderlist!
Long time user, still loving it!
Love Wunderlist! @Microsoft: Please don't sunset this app; I'd be a jumbled mess without it. One small thing: Please change the Due Date picker to use the string "Today" for today's date, or add a "Today" button, cause I hardly ever know what today's date is (plus then the UI would be consistent with the Reminder date picker).
Useful!
Stellatundra
on
11/29/2017
Love the syncing feature!
I don't usually write reviews
I don't usually write reviews when I'm in an app and it prompts me but Wunderlist is amazing. I started using it with my business partner for work, then my wife for our home, then I showed it to my inlaws as a means to communicate between them and their estate manager and what needs to be done, what needs to be bought, etc., I now have taken on a new job and introduced it in my workplace (just the free version) as a way for my boss to send me tasks. It's amazing and I share it with all my friends. I've shared it with a lot of my friends as a way to just manage their shopping list with their spouse, so anyone can do the food shopping and have the most up-to-date version of their lists. Overall it's pretty cool. I think my only recommendations would be if I could color code tasks within a list. My boss has me work on different projects within one list and I'd love to be able to visually see the different categories within a list.
Love!
Molasseslass
on
11/27/2017
Absolutely love this apps for all my shopping lists!! Easy to use.
No Siri Integration
NoodlyAppendage
on
11/27/2017
Nice to do app that is crippled by zero support for adding items via Siri. Moving on to a list manager with tight Siri integration.
Love Wunderlist
I really love how I can access my lists from several devices. I also like the fact that I can print a list when I need to. This is the best app for my family to stay organized.
Very good free app.
App user ND
on
11/25/2017
Impressed. Thinking about trying paid version.
Great app!!!
Midnightexpresssgmail
on
11/24/2017
So easy to enter and maintain. This app is great for on-the-go people as well as bookkeepers. Easy to see at a scan and then get directly to details of each entry.
So far so good
AddictedGamer#...
on
11/24/2017
I've only had this app a short time but it's already making my life easier. The sharing feature is great
Better than expected by far.
MDS interiors
on
11/23/2017
Great app. Really a great tool.
Great app
pams reviews
on
11/22/2017
Keeps me organized and easy to use
Keeps me on point!
This app is a godsend for people who need help with staying focused on long-term goals, remembering bill due dates and making quick grocery list.
I love this app
I love this app it keeps me so organized and it's also free it's so awesome that I can be so stressed out but really organized at the same time I definitely recommend this app!!
Handy, but.....
It is easy to use and understand. My problem is the app shuts down every time I try to arrange the items on my list.
Best to-do list!
I've tried many others (free) and this is by far the best. I use it for groceries, random to-do's and as a way to organize my work priorities. Due dates are easy and you can organize lists into folders. Would highly highly recommend.
Works great
Syncs well with other people. Eliminate paper lists at the grocery store. Set recurring reminders. Love it.
Extremely beneficial
In all honestly, One of the BEST APPS ever to be developed! Makes your busy and unproductive day into a more organized and accomplished day! You start to get more focus on what you need to get done, especially if you know how fully utilize the "starred" capability. Currently trying to figure out if I can make my tasks be more "reoccurring", if there's an option for that, then that's awesome. If not, maybe the developer can look into that. Overall, best productivity app that's out there! Don't waste your time on the other ones!!!
No more paper lists
A great app that is simple to use. I was skeptical that I would successfully transition from paper lists to electronic lists. I started using this app and I've never gone back. Sharing feature is awesome! Love this app and use it all the time.
Fact Sheet
Publisher:

6 Wunderkinder GmbH

Category:

Productivity

Released:

Dec 09, 2010

Current Version Released:

Nov 09, 2017

Version:

3.4.11

Size:

97.6 MB

Compatibility:

Requires iOS 8.0 or later.

Recommended Age:

4+

Game Center Certified:

No

Supported Devices:

iPad2Wifi-iPad2Wifi, iPad23G-iPad23G, iPhone4S-iPhone4S, iPadThirdGen-iPadThirdGen, iPadThirdGen4G-iPadThirdGen4G, iPhone5-iPhone5, iPodTouchFifthGen-iPodTouchFifthGen, iPadFourthGen-iPadFourthGen, iPadFourthGen4G-iPadFourthGen4G, iPadMini-iPadMini, iPadMini4G-iPadMini4G, iPhone5c-iPhone5c, iPhone5s-iPhone5s, iPadAir-iPadAir, iPadAirCellular-iPadAirCellular, iPadMiniRetina-iPadMiniRetina, iPadMiniRetinaCellular-iPadMiniRetinaCellular, iPhone6-iPhone6, iPhone6Plus-iPhone6Plus, iPadAir2-iPadAir2, iPadAir2Cellular-iPadAir2Cellular, iPadMini3-iPadMini3, iPadMini3Cellular-iPadMini3Cellular, iPodTouchSixthGen-iPodTouchSixthGen, iPhone6s-iPhone6s, iPhone6sPlus-iPhone6sPlus, iPadMini4-iPadMini4, iPadMini4Cellular-iPadMini4Cellular, iPadPro-iPadPro, iPadProCellular-iPadProCellular, iPadPro97-iPadPro97, iPadPro97Cellular-iPadPro97Cellular, iPhoneSE-iPhoneSE, iPhone7-iPhone7, iPhone7Plus-iPhone7Plus, iPad611-iPad611, iPad612-iPad612, iPad71-iPad71, iPad72-iPad72, iPad73-iPad73, iPad74-iPad74, iPhone8-iPhone8, iPhone8Plus-iPhone8Plus, iPhoneX-iPhoneX,

Supported Languages:

Albanian; Arabic; Bulgarian; Catalan; Valencian; Czech; Danish; Dutch; Flemish; English; Finnish; French; Georgian; German; Greek; Hebrew; Hungarian; Icelandic; Italian; Japanese; Korean; Maltese; Bokmål, Norwegian; Norwegian Bokmål; Persian; Polish; Portuguese; Romanian; Moldavian; Russian; Chinese; Slovak; Slovenian; Spanish; Castilian; Swedish; Thai; Chinese; Turkish; Welsh;