TapNova recommends this app!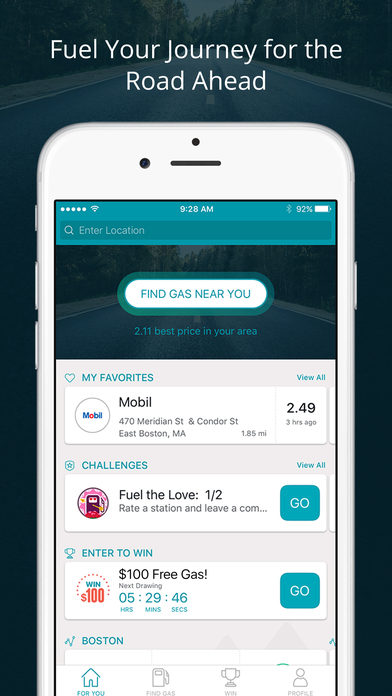 New in version 4.5.1
Fixed an issue with reporting prices.
Description
Save money, save time. Find cheap gas with a community of 60 million users.

GasBuddy is the world's largest community-based fuel app, with over 60 million downloads worldwide. We outsmart the pump together, using information provided by our users. Join drivers in your areas and start saving!

With GasBuddy, you can:
Find the cheapest gas—no matter the type—near you
Find gas stations by distance or price
Report gas prices to help others find cheap gas
Earn points and achievements for reporting gas prices
Enter to win $100 in free gas—every day!
Use GasBuddy on your Apple Watch to see the closest or cheapest gas prices near you

What's new
Earn achievements by completing daily, weekly and monthly challenges
Rate stations and help others find the best station for their needs
Smart sorting: Combine lowest and closest gas prices into the same search
Filter stations by amenities and brands

What real users are saying
"This app saves me so much money it's ridiculous."
"This app is a no brainer! The accuracy is astounding and WILL save you money. Trust me, you want this app!"
"I love this app! It helped me find a gas station just a mile from my house that I never knew existed. This app is easy to use and save you money."

What the press is saying
"GasBuddy is a great help for finding the cheapest gas prices." - Kit Eaton, New York Times
"If you're looking for the absolute best price, GasBuddy can help" - David Goldstein, CNN
"No phone should be without it" - Jefferson Graham, USA Today

Disclaimer
GasBuddy uses gas price information provided by our users to bring drivers together to support the common goal of saving money on gas. Gas prices only for USA, Canada and Australia.

Apple Inc. is not a sponsor of the prize giveaway.
iPad Screenshots
Reviews
Gas Buddy
Not as easy to navigate as the old app. Please bring it back. Nice to be able to check gas prices.
DarkSideVader
Obi-Wan Kenobie
on
6/24/2017
Fantastic, Great App, Not a waste of time. Really helps you save time and money. It really don't make very much sense why we here in Ohio pay so much more than the National average, so a little or a lot of savings on your fill up helps out so very much. Keep up the "great help" Gas Buddy.
Victorshemi
System erases small cheap gas stations
GasBuddy
You discriminate against people who don't have smartphones. You do not give points from iPad challenges. I am beginning to think that I am wasting my time.
Trips
Very useful. I use this service to plan fuel stops for trips, with significant savings. Thank you.
Very Useful app. & easy to use
Depends on the honesty of the users posting, but overall a very good app.
Great site
Bugelman atlanta
on
6/24/2017
Saves me $$$
Very helpful
It's truly wonderful to know Gas Buddy is always there.
Love the March Update
It has great features now, especially gas stations close to you and not north-south-east or west of you, favorites, and the ability to add cash and credit as it applies. I did not find a way to add a new station though and had to email the site on how to do it.
Only app like it!
Almost always spot on with prices. The more you drive the more you can save!!! Great app.
Simple and Powerful
Love this app. I rarely rate apps and this app is fantastic. Easy to use and helps me save lots of money. My only complaint is that the map will have trouble loading when I am panning across it more than about a mile (on the map). It's important to occasionally take the time to report prices as a "thank you" to other users - you know, pass around the benefits. Unfortunately I've never won any of the sweepstakes, but I never win sweepstakes. Oh well - what can you do when you have the pox?
Money Saver
This is one of the best apps on my phone...has saved me time and money!
Keeps Getting Worse Each Release
TakenByPicture
on
6/24/2017
The newest version makes favorites easier to access, but idiotically removes the distance sort, which just cost the app another star. Fonts are still too small. City names only display on secondary pages. Overall, app is OK, but pricing has become unreliable in some areas. Problems with false price reporting, and gamed website reporting are out of hand, which is the biggest flaw. Reliable price reporting is key, but in some areas is lacking. Still, it seems the best of the gas apps, flaws and all.
Gas buddy
I like this app. I live on the state line, so I try to see what side of the road is cheaper. 😉
Great app
Very accurate and very helpful.
Such a great app!
theoneandonlydogg
on
6/24/2017
Gas prices are so changeable here that we ALWAYS check Gas Buddy before we fill up. And we always save money. Easy, fast & correct. Thank you, Gas Buddy!
waymon540
Waymon Henry
on
6/24/2017
I use this App every day.
Gas buddy is my buddy
Christian1092
on
6/24/2017
App works great
Love it
Would like to see gasbuddy for truckers and truck stops .
Accurate
Very accurate service!
So Handy
I feel like this is a handy way to get the best price on gas. I use it everywhere I go!
Great app- what a gas!
One of the most useful apps you can get. Takes all the guess work out of where to get gas no matter where your headed.
Gas Buddy
David from near Beantown
on
6/24/2017
This is the kind of App that you will use all the time, because it really provides a needed service. And when you use it, be sure to enter updated per gallon costs.
My Best Buddy
HarleyGirl 2012
on
6/24/2017
I love gas buddy! I use it all the time but l wish I could still see what town the station is in without clicking on it. I like the way it use to be- by town not miles. I understand why you have it that way- for travelers who are not in areas that are familiar. Thanks for the app it's a great way to keep track of all of the relevant information and be able to make a plan. It really is an invaluable tool.
Easy to use money saver
suzukagreyaudi
on
6/24/2017
Love this app! It's always saving me money!
Accurate & Dependable
Old Meter Reader
on
6/24/2017
Easy to use. Saves time & $.
GasBuddy works for me!
Flatlander2011
on
6/24/2017
Excellent app to find the best deals on fuel.
Great tool for finding low prices.
Using the map for checking prices on a route is most helpful when making trip plans.
By Far the Best App I use Daily
Envygabriel13
on
6/24/2017
I love the Community on Gas Buddy. It's the best feeling to get to a Gas station knowing the price before you get there. 🙌🏽🙌🏽🙌🏽
Gas prices
Prices are right on the money
Extremely helpful
Use every time I need gas.
Great app!
I find it very helpful and accurate when looking for gas
Gas Buddy
Great app for years now. One of the most used apps on my phone. I always check it before I gas up. Great tech people, always responds when a update comes out and maybe a little buggy but that rarely happens. You gas up a lot, YOU need this app.
Of limited usefulness
trailertrish
on
6/24/2017
I pull a 5th wheel. Most of the diesel prices for diesel are for PUC diesel which is 15/20 cents cheaper than non puc fuel. When We pull in to the station i never know the price is going to be,(so thanks Gas Buddy). The app is good for finding independent stations where the price is usually rite on.
Gas buddy
Excellent, have been using it for years on my laptop and now on my iPhone.
Helps me save money
Dead tired of comcast
on
6/24/2017
Accurate and easy.
Great App
A wonderfully designed app that really helps you find the lowest and best fuel prices around you. 👍🏼
Love the app
Great use it allot
Has been few times not correct
Miss Missy Piggy
on
6/24/2017
Application seems to be a money saver it's just frustrating though when you follow the directions to a gas station and the prices that were reported are not accurate.
Very much needed
Since gas prices were only $1.85/gal when Obama took office and gas and all costs of living has skyrocketed since then. One needs a great app to find lowest gas prices anywhere they are.
Won't gas up without it.
Pizzapastafood101
on
6/24/2017
Love convenience of comparing prices with the swipe of a finger.
Easy app
Enjoy having this app in the palm of my hand
Blue la Goon
Blue la Goon
on
6/24/2017
It is very awesome ,I use it alot🤗
Lack of duel pricing ...
Wish you had the ability to show duel cash card pricing as I do Not use duel pricing gas stations.
Top Tier Gas
Top Tier Gas indicators for the relevant gas stations were helpful information for the majority of the users of this app, if not most, when they used to be provided along side. Any reasons why the Top Tier Gas indicators are no longer provided?
BAD
Been stuck on (ironman) for 3 years
Gas buddy user
Awesome app. Helps me save a lot on fuel!
Gas Buddy
We LOVE this app!! We travel quite a bit and this app helps us find available gas stations near us plus the best prices. We have recommended it to several friends and family members.
Gas
I love this no matter where I'm at I check gas prices
Fact Sheet
Publisher: GasBuddy Organization Inc
Category: Travel
Released: Dec 17, 2010
Current Version Released: Jun 12, 2017
Version: 4.5.1
Size: 147.6 MB
Compatibility: Requires iOS 9.0 or later.
Recommended Age: 17+
Game Center Certified: No
Supported Devices: iPad2Wifi-iPad2Wifi, iPad23G-iPad23G, iPhone4S-iPhone4S, iPadThirdGen-iPadThirdGen, iPadThirdGen4G-iPadThirdGen4G, iPhone5-iPhone5, iPodTouchFifthGen-iPodTouchFifthGen, iPadFourthGen-iPadFourthGen, iPadFourthGen4G-iPadFourthGen4G, iPadMini-iPadMini, iPadMini4G-iPadMini4G, iPhone5c-iPhone5c, iPhone5s-iPhone5s, iPadAir-iPadAir, iPadAirCellular-iPadAirCellular, iPadMiniRetina-iPadMiniRetina, iPadMiniRetinaCellular-iPadMiniRetinaCellular, iPhone6-iPhone6, iPhone6Plus-iPhone6Plus, iPadAir2-iPadAir2, iPadAir2Cellular-iPadAir2Cellular, iPadMini3-iPadMini3, iPadMini3Cellular-iPadMini3Cellular, iPodTouchSixthGen-iPodTouchSixthGen, iPhone6s-iPhone6s, iPhone6sPlus-iPhone6sPlus, iPadMini4-iPadMini4, iPadMini4Cellular-iPadMini4Cellular, iPadPro-iPadPro, iPadProCellular-iPadProCellular, iPadPro97-iPadPro97, iPadPro97Cellular-iPadPro97Cellular, iPhoneSE-iPhoneSE, iPhone7-iPhone7, iPhone7Plus-iPhone7Plus, iPad611-iPad611, iPad612-iPad612, iPad71-iPad71, iPad72-iPad72, iPad73-iPad73, iPad74-iPad74,
Supported Languages: English;
Parental Advisory: Gambling and Contests;