Screenshots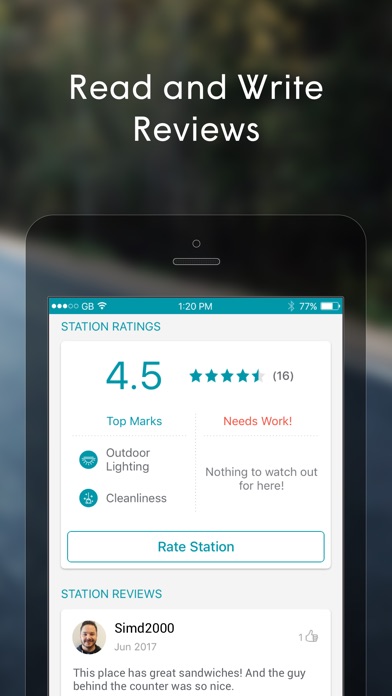 New in version 5.9.1
Various bug fixes.

Introducing GasBuddy Trips! New technology for helping you save even more on gas. GasBuddy Trips analyzes your driving habits - speed, braking, etc. - suggesting how changing habits can save you at the pump. So slow down, Mario (or Danica), and download the update!
Description
Save money, save time and never pay full price for gas again with a community of 70 million users. GasBuddy helps you save $340 a year by telling you exactly where and when to buy gas, and more! Use the #1 car companion app today.

GasBuddy Features

Finding the Perfect Pit Stop

• Locate the gas stations with the lowest-priced gas — no matter the type — near you
• Filter the search results by price, location, brand, and amenities like car washes, restaurants and restrooms
• Read hundreds of thousands of reviews written by the GasBuddy community

Saving Money

• Never pay full price again —join Pay with GasBuddy and save 15c/gal on your 1st fill-up and 5c/gal on every fill up after
• Get price hike alerts so you can fill up before the increase
• Find deals offered by local convenience stores
• Enter the daily drawing for a chance to win $100 in free gas

Other Features

• Report gas prices to help others save money and climb the ranks in your community
• Earn achievements by completing daily, weekly and monthly Challenges
• Write reviews, rate stations, upload photos and add tips for other GasBuddy users

What the press is saying

"No phone should be without it" - Jefferson Graham, USA Today

"GasBuddy is a great help for finding the cheapest gas prices." - Kit Eaton, New York Times

"If you're looking for the absolute best price, GasBuddy can help" - David Goldstein, CNN

Disclaimer

GasBuddy uses gas price information provided by our users to bring drivers together to support the common goal of saving money on gas. Gas prices only for USA, Canada and Australia.

Apple Inc. is not a sponsor of the prize giveaway.
iPad Screenshots
Reviews
​ Ridiculously slow to launch
Spokenwithhonesty
on
12/13/2017
I'm keeping my review separate from the main purpose of the app: to find gas prices in your area. The gas price capabilities are 5 stars but the app itself is not. It's unfortunate though that people can't separate the app from the service. Bots are writing app reviews now, especially positive reviews and are becoming a money making business. This app keeps on getting worse not better with one exception which I'll mention later. The app is getting excessively large. I preferred the way it was when it was first developed (I used it that long) but the Android version always had more features than the iOS even to this day. This app takes a long time to load especially on latest iOS 11.x versions so what's going on behind the scenes? It takes about 10 seconds to load. I am almost certain privacy is being compromised but it seems hardly anyone cares anymore. Features like customized favorites which are viewable on a PC thru GB website are not on the iOS app. Why it's not linked when it's on Android remains a huge mystery, but I believe it's because the developers prefer Android so they give Android the upper edge. Additionally, this app has way too many updates. I've seen two updates a week and that's terribly annoying. Ads are extremely intrusive and bold. Worst of all, there is usually no new description on what's changed with each frequent update. Each update costs money but the developers are being covert most of the time. It seems they're taking a page from Facebook messenger. One can't help wonder how this all is impacting your privacy when you use the app. Here is some info Gasbuddy collects from you: "we will also automatically collect information about your driving habits, including, but not limited to, driving distance, speed, acceleration and braking habits (collectively, "Driving Data"). If your preferences are set to permit collection of Driving Data, we may collect this Driving Data even if you are not logged in to the Service". It's funny how Driving Data is represented as being optional when there is no option to turn it off without it impacting the functionality of the app. The only improvement made as I see it with this app over previous versions is preempting the driver from entering gas prices which is unsafe. I no longer use this app..I typically go the mobile or desktop website version should I need to check gas prices. I've uninstallwd this app.
Fuel
Steven loves t9 get the best bang for petroleum.This way I can get the best price in town!
What a shame
GreyWitch27
on
12/12/2017
All the changes they've made over the past year+ have made this app LESS functional/useful.
GasBuddy Review
Disappointed_Now
on
12/12/2017
Used to be one of my very top favorite sites. No more. The ads are now excessive, obtrusive and some make the app hard to use on a smart phone - actually partially covering navigation keys. The numerous ads make the app slow and cumbersome and at times quite frustrating to use. ALSO this is the only site (out of hundreds that I use) that allows GOOGLE takeover of the screen telling me that "I have won". I use an iPhone and this has only happened on the GasBuddy site. Requires closing the app and reopening. Often this may happen over and over 10 or 12 times in a row. Sorry, but you have ruined the site with excessive ads. I no longer recommend it to people. Finally, the mobile app has become unreliable in displaying "find a station" gas stations. Sometimes it correctly shows the closest first - as it should - but more and more often the station I am sitting at is displayed third or fourth on the list, which, of course, requires scrolling down (past other stations AND an ad) to get to the station which is one foot away from me. Are you doing this n the hopes of getting accidental taps on an ad? It is easy to post wrong prices with this situation. Whomever has made the decision to run amuck with the ads should be fired. I believe you should be able to make money from your efforts. However, you have gone way too far. In the future your membership is going to level out and dwindle. Greed only succeeds for just so long.
Great app!
DJ Megahertz
on
12/12/2017
East to use app. Just please include ethanol free category.
Chas
Well back to same problem? I don't know how app got deleted but it won't let me login thru face book.it says my email is already being used? Duh it's me,& I'm not here to fix tech issues Hello? FIX THE CRAP
Very helpful
Kizzeegurll
on
12/12/2017
Love this app especially since I travel so much.
Forces you to turn on wifi: ok or settings
It automatically creates request to turn on Wi-Fi for location accuracy it gives choice of: OK or Settings, then freezes the phone screen until you choose one of the two options. You are forced to go to go to Settings and only from there can you go back to home screen then, gas buddy and bypass Wi-Fi turn on.
Kidfits
Think site is very nice even my friends ask me if they are leaving town where the cheapest prices are in the town they are going I have been on the road a lot this month and used this for app to find gas several times in the places I've needed gas and have saved in every location I was in I didn't keep track of how much I've saved but I'm sure it was lots of bucks I've put on over 4000 miles visiting friends and family in July I would like to know why I was removed from the top leaders board is this app just another big scam I would give it a zero but it wouldn't let me
Loyal Fan ... 6 Years & Counting!
I happened to stumble across GasBuddy back in July, 2011 when my family was going on a very long road trip from Dallas, Texas to Aztec, NM. GasBuddy has only improved as time has passed! I tell everyone I can about GasBuddy and what an incredible help GasBuddy is! I have never found an app better than GasBuddy! You definitely cannot go wrong with downloading this app!
Removed Top Tier Statuins
David Mealo
on
12/11/2017
Terrible that the top tier stations were removed. That's the most important factor next to price.
Saving $$
Castiron1973
on
12/11/2017
Can't beat the savings, more cents in my pocket and more gas in my tank. Thanks for the savings Gas Buddy, I would rate a 5 star but the thing I don't like is having my bank info available to be access. It's all, other than that I like it.
Thank you Gas Buddy
I appreciate the opportunity to search for the best price each time I need fuel. I drive 65 miles each way to work every day and the savings sure do help!
Commercials get bigger!
Too many BIG commercials taking up too much screen real estate... easy to hit accidentally which takes u away from the reason for having gasbuddy to begin with... finding gas...
Saves me money all the time.
Bigbenbear495
on
12/10/2017
Love this app. Prices always current. Finds the lowest price in any part of town. An essential travel app.
Bad App ❗️❗️❗️❗️❗️❗️❗️
I have this app for over three plus years with No $100 wins. I was number one in Points for my area and because this app had NO challenges for me, I lost my 1st place in Points. This is worthless for Points and challenges too.
Best
Simple and easy to use with fun options and prizes. 👍🏽
Excellent app
Use all of the time
Great app but hate the new look
MemsFoundry
on
12/10/2017
Very slow to start up, stop with the cute car graphics. Poor app for diesel customers.
Lacking updates
Windriverfarms
on
12/9/2017
App works great however Gas Buddy has not added my station suggestion that I've sent at least 50 times. Supposedly Gas Buddy is updated by members, but it appears only the prices. Cmon people add my station!
Fewer filtering options
I used to be able to filter out cash prices (only see what the credit card price was). Why can't I do that anymore? Why remove filtering options?
Don't leave home without it!
Draco the Blue
on
12/9/2017
This app lets you eat the gas station game five finding the best prices worker who you are! If it didn't exist, I would have written it! And I couldn't have done any better… Now if only they would add a multiple price feature to separate out credit versus cash... UPDATE - Dec 2017. I just ran Gas Buddy on both my iPhone and iPad Pro (both running iOS 11.1.1). While the iPhone version shows dozens of stations, the iOS version shows only 4, and they don't overlap with the best stations shown on my iPhone. On my phone, this is a 5-star app, but on the iPad: 1-star. I am logged in with the same GasBuddy account on both devices. What's up with these differences GasBuddy?
Always checking
I really enjoy this app. Thanks for the continuing update of this app. Saves me $$$$ Keep up the great work👍🏼
Gas buddy
Than you for hearing my complaint and making it possible for me to continue as a Gas Buddy member. I no longer enjoy it as since the changes made on 12/05/17. It says to select between Gas and power but doesn't give you anywhere to answer and keeps saying make at least one change. Well I'm going to make a change to a different card.
Ads!!!!!!
Application is great however Too many annoying ads!! Please remove or add a premium option to remove them!!
Love the new 'Trips' feature!!
So great to get specific feedback about how to be a better and more efficient driver!
Wow, saves money and helps with fuel savings!
I LOVE this app, especially the new update they just pushed, which highlights my fuel efficiency on each trip. That feature has already saved me $, AND its free!!!
Saving big money on fuel - this new feature is great!!
This new trip features is fantastic. I've been blown away by how this new fuel efficiency piece of the app has actually saved me money on gas. There's a noticeable difference now and I'm thrilled GasBuddy has introduced something that is so valuable for their community. It's accurate and I have nothing but great things to say about this new feature. Everyone who drives a car will benefit from using this new feature.
Much More Mindful
I've been using GasBuddy for over a year now and rely on the app weekly to find the best prices on gas. The ability to see my trips and assess how fuel efficient I am is making me a better driver- through GasBuddy, I'm saving at the pump and on the road.
Missing WaWa
Jan from sarasota
on
12/8/2017
Not all gas outlets are found - I like WaWa and one just opened near me. Also couldn't find a place on the app to comment, so had to come here. WaWa is usually the cheapest or close to it but would like to see it here.
Love the new trips feature
I love the idea. My boyfriend and I are competing now to see who can drive more efficiently !!
Always helpful
Quick and easy way to check best prices around
Great app - I recommend it
Useful app and pretty accurate prices. Try using it!
Cash price
Hides cash discount price
Gas buddy
Offers a good way to save on gas!! 5 Stars. E.M. Barbour
Gas station disappeared
I can no longer access the Buc-ee's gas station on Main Street in Pearland, TX. I can view their logo in the right place but I can't access it. It they would fix this problems in all their updates I would give the app 5 stars. HELP please!!!
Old version was much better. Quit out thinking.
Hate it. Your app no longer works. Another great update!!
Can't report prices with new update
For whatever reason, the new update doesn't allow one to actually enter in prices to report. You can get to the screen, but you can't enter in prices to report. Buggy programming.
Stop if the price is right !
Really like using this app. Since I drive through 3 towns get gives me the choice who has the best price on diesel.
Great program but the new ads are terrible
Countryheart19
on
12/8/2017
First let me say, I appreciate this program. I am a frequent traveler and I use it all the time to help find gas stations with the best price. It was also extremely helpful during and after the hurricane in finding stations with fuel and power. I am not currently happy with the pop up ad that automatically plays every 30 seconds. I am unable to report a significant number of gas prices because of it and it annoys me to the point of discontinuing use of the program, at least posting prices because of it.
The Rise and Fall of an App...
Ergojnerjovnedjovn
on
12/8/2017
I've used Gas Buddy on my iPhone since the early days and it was one of the greatest apps around!! ...and then it happened; each new version got worse; more ads, more difficult to use, more stoopid clutter. Instead of "if it ain't broke, don't fix it" they've gone with "if it ain't broke, fix it until it is" ?? Although I don't use Gas Buddy anymore more, I keep it in hopes that the developers someday reverse course and make the app useful great again.
Fake Reports & Prices
I am in the delivery business, and I'm so sick of using your app to get the best fuel prices. No fuel station will verify prices over the phone, so I'm left wasting fuel to drive to a location for which one of your reporting members has left fuel price feedback. Over sixty percent of the time, members are leaving incorrect prices and fuel type. Today is another perfect example of how I drove eight miles in DENVER traffic to this Costco, because the member: "freecfire" reported (Diesel for $2.59)! AFTER ARRIVING, this Costco doesn't even have Diesel, AT ALL! If you can't rein in your erroneous/fake information, then turn your app/website/service off! Having a price fluctuation within an hour or two is one thing, but advertising the available fuel is another issue; your app is so frustrating. Until this gets fixed, I will NOT recommend your app or service to anyone; and I'm just an insignificant person that owns and operates over 300 websites in the transportation industry.
App bug
Cheapbastard4
on
12/7/2017
The latest update does NOT allow you to change between different grades of gas. It's stuck on premium and you can't change it! How about fixing this bug!!
Routing
Gas buddy is great but it needs to be able to find gas along the route, it 5 mikes behind you
Gas Buddy has saved us a ton of money!
Glacial_Erratic
on
12/7/2017
We travel a lot and always use gas buddy! If you're not using it, you're throwing money away! I removed one star from the rating. The updated app does not show how "old" the price is. When gas prices are changing rapidly, it helps to know if the price is recent or not. Please put back the time info!
Messed up
Since the last upgrade can't hardly do anything for the same pop up add keeps popping up and the app shuts down
Garbage
The new updates to the app are garbage! Get rid of cash price postings! Takes to long to load. App is F'd up. Can't post any prices!
Cannot submit price anymore
Since v5.9 I can't report prices nor power status anymore. iPhone5/IOS10.3
Anti-price gouging
And the world of apps this is one of the most necessary apps you could have for saving money! Also, It shows the amount of the price gouging that can take place only a few miles away Gas station!
Fact Sheet
Publisher:

GasBuddy Organization Inc

Category:

Travel

Released:

Dec 17, 2010

Current Version Released:

Dec 08, 2017

Version:

5.9.1

Size:

175.3 MB

Compatibility:

Requires iOS 9.0 or later.

Recommended Age:

17+

Game Center Certified:

No

Supported Devices:

iPad2Wifi-iPad2Wifi, iPad23G-iPad23G, iPhone4S-iPhone4S, iPadThirdGen-iPadThirdGen, iPadThirdGen4G-iPadThirdGen4G, iPhone5-iPhone5, iPodTouchFifthGen-iPodTouchFifthGen, iPadFourthGen-iPadFourthGen, iPadFourthGen4G-iPadFourthGen4G, iPadMini-iPadMini, iPadMini4G-iPadMini4G, iPhone5c-iPhone5c, iPhone5s-iPhone5s, iPadAir-iPadAir, iPadAirCellular-iPadAirCellular, iPadMiniRetina-iPadMiniRetina, iPadMiniRetinaCellular-iPadMiniRetinaCellular, iPhone6-iPhone6, iPhone6Plus-iPhone6Plus, iPadAir2-iPadAir2, iPadAir2Cellular-iPadAir2Cellular, iPadMini3-iPadMini3, iPadMini3Cellular-iPadMini3Cellular, iPodTouchSixthGen-iPodTouchSixthGen, iPhone6s-iPhone6s, iPhone6sPlus-iPhone6sPlus, iPadMini4-iPadMini4, iPadMini4Cellular-iPadMini4Cellular, iPadPro-iPadPro, iPadProCellular-iPadProCellular, iPadPro97-iPadPro97, iPadPro97Cellular-iPadPro97Cellular, iPhoneSE-iPhoneSE, iPhone7-iPhone7, iPhone7Plus-iPhone7Plus, iPad611-iPad611, iPad612-iPad612, iPad71-iPad71, iPad72-iPad72, iPad73-iPad73, iPad74-iPad74, iPhone8-iPhone8, iPhone8Plus-iPhone8Plus, iPhoneX-iPhoneX,

Supported Languages:

English;

Parental Advisory:

Gambling and Contests;