Screenshots
New in version 5.4.0
GasBuddy releases regular updates to introduce new features, improve performance, and enhance your experience.
Description
Save money, save time and never pay full price for gas again with a community of 70 million users. GasBuddy helps you save $340 a year by telling you exactly where and when to buy gas, and more! Use the #1 car companion app today.

GasBuddy Features

Finding the Perfect Pit Stop

• Locate the gas stations with the lowest-priced gas — no matter the type — near you
• Filter the search results by price, location, brand, and amenities like car washes, restaurants and restrooms
• Read hundreds of thousands of reviews written by the GasBuddy community

Saving Money

• Never pay full price again —join Pay with GasBuddy and save 15c/gal on your 1st fill-up and 5c/gal on every fill up after
• Get price hike alerts so you can fill up before the increase
• Find deals offered by local convenience stores
• Enter the daily drawing for a chance to win $100 in free gas

Other Features

• Report gas prices to help others save money and climb the ranks in your community
• Earn achievements by completing daily, weekly and monthly Challenges
• Write reviews, rate stations, upload photos and add tips for other GasBuddy users

What the press is saying

"No phone should be without it" - Jefferson Graham, USA Today

"GasBuddy is a great help for finding the cheapest gas prices." - Kit Eaton, New York Times

"If you're looking for the absolute best price, GasBuddy can help" - David Goldstein, CNN

Disclaimer

GasBuddy uses gas price information provided by our users to bring drivers together to support the common goal of saving money on gas. Gas prices only for USA, Canada and Australia.

Apple Inc. is not a sponsor of the prize giveaway.
iPad Screenshots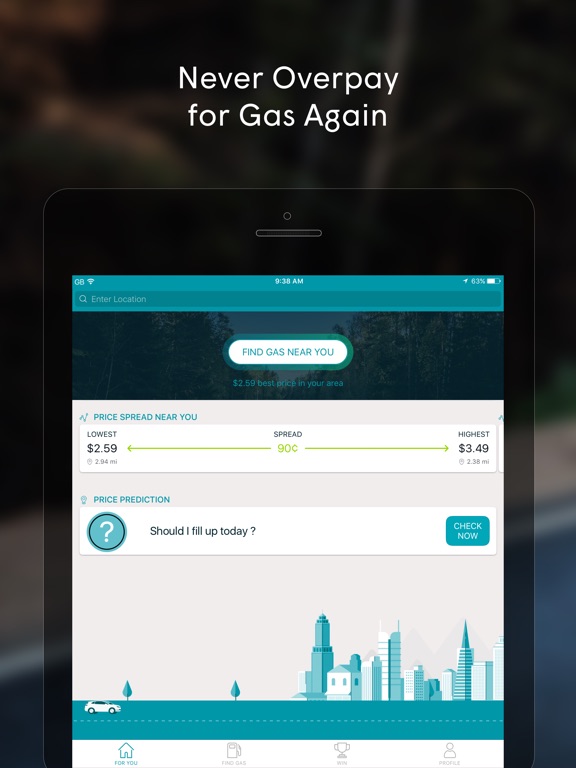 Reviews
Gas Buddy
Good app. Use it all the time.
Great service
Nectarine pony
on
10/19/2017
We have ised Gas Buddy off and on for the past 3-4 years. It is a hreat service and we have found the information to be qute accurate.
Great
homewithdogs
on
10/19/2017
I like being able to see what the going rate for gas is.
Gas Buddies
Excellent program. Enabled me to save money.
Worth it
Very worth it have found good prices for gas on my travels. Easily save you 20-30 cnts on the gal just by finding that cheaper gasstation nearby.
Don't bother.
This actually had potential. I wanted to know what prices gas was and when it was going up. The first part they got down. But the second........ I get a notice that gas in my area is going up. I drive to fill up my tank only to find that every gas station that I checked prices before leaving has already gone up. Most of the reason I got this app was to tell me beforehand. Im deleting the app.
Very useful.
Tom.Branstetter
on
10/19/2017
Great useful app. Love to check prices before heading to gas station. Saves me a bit of money.
Update
7kidsgramma
on
10/19/2017
Hate the new update. Done. Not much incentive to report updated prices once you have earned the "achievement" for the day.
Fantastic
The best money-saving app for drivers!
Wallet does not work!!!
Been trying to get my wallet to work for WEEKs and still no resolution...horrible response time!!!
Full-service
Declan's Grandpop
on
10/19/2017
I would like to see full service stations on the app on the first page
Great app now that the election is over
Havoc 9994367812
on
10/19/2017
I am now a retired medical transport driver. I used to cover all of Western PA, MD, northern W VA, and eastern Ohio. All I can say is that the app works well; but the very best coffee in the areas that I mentioned is SHEETZ BROS not wawa as shown. Sheetz coffee is more consistently delicious over a wide area and the restrooms are perfect and clean. I dislike the Sheetz brothers but they do know how to make a great convenience gas station/store.
4 Star
Scooter8208
on
10/18/2017
Still getting use to app change but helpful in finding best gas price.
👍
MzVenusJean
on
10/18/2017
Awesome app! I use it everyday to check gas prices. My only suggestion is to be able to add hours of operation since some gas stations (like Sam's Club and Costco) actually close.
Trash
Apple Blows Smoke
on
10/18/2017
Boy have you screwed up this app. It is very slow in its response. Time for someone to write a new one.
Love this app
staceystank
on
10/18/2017
Saving money on gas is great. Finding the best price around is even better
No longer great
Used to be able to enter prices in game so most all stations up to date. Since update people not playing game and entering prices. I use this across US and now MANY stations not up to date or no prices at all.
Top notch service. Saves us $$$$!
Corvettedoc
on
10/18/2017
Shows large price differences of stations only blocks apart. Great!
.
DeafBlueEyes
on
10/18/2017
It's just a waste of my time cuz I had been adding prices faithfully everyday 2 years ago and I never won. So I don't believe that anyone had won $100 gas card, too. smh..
Best fuel price app
Gas Buddy is the only app I use to check for fuel prices and I travel all across America. 99 and 44/100 accurate.
Great ap
Wolfgang2014
on
10/18/2017
Enjoy being able to check where lesser expensive gas stations are. But they do not notify us with gas price increases in a timely manner. Several hours behind.
GB Franco2762
Don't do any good when you try to do a good deed & go out of your way and never get a reply back 😞
Good app
It's very good to know gas prices in your area. Unfortunately GasBuddy pay is not accepted at Costco. Costco gas prices are at least 30 cents lower than others, so it doesn't make sense to safe 5 cents elsewhere
Great app, great help!
We're on a month-long road trip to visit family, so this has definitely been my "go to" app. I signed up for the credit card to get my .05/gal discount and I'm having a lot of fun reporting gas prices along the way for a chance to win $100 free gas. Loving it!
Great travel help
Helps find gas stops and best price when we travel NY to No. Carolina.
I hate it I'm a new user
Ew from Josh
on
10/18/2017
I hate this app because I gave them a try I order my gas card then when I received it I cant go to my wallet Cuz it's saying try again later so I can't set up the card
Fuel star
This gas station is located in my neighborhood but many a times Gas buddy is unable to show me this gas station Seems it goes invisible. I'll appreciate if u fix this problem
Mileage update
Mileylikes it
on
10/18/2017
I just put the prices in as I see them. I don't care about points anymore. I'm not gonna win anyway. Some people put prices in just for points without seeing the actual price (guess). I see a lot of inaccuracies from the ones high on the leader list. It has saved me money over the years 👍
No improvement in many releases.
It is a useful service. Apart from changing the metrics on a whim, they took away the 'top tier' label, and station that were in existence are no longer listed. Not clear how to get problems rectified.
Gas Buddy
Braveheart92
on
10/18/2017
Awesome app keep up the good work
4 star
Whipkeydamjim
on
10/18/2017
Great tool when driving. Only problem is you must confirm you are a passenger every time you open it.
Too Much Going On
I love this app but there's so much going on in the app that it takes way too long to load up. Also trying to confirm the deposits for the GasBuddy card is an epic joke!
Luv to drive
Rv'r to subie
on
10/17/2017
Awesome app! I have found cheap gas in out of the way places. When u travel 10 to 17 thousand miles a year, those pennies add up! One of my favorite apps!!!
Fantastic APP
Running a Courier Business is not easy but with Gas Buddy by my side giving me accurate and efficient GAS PRICES. The cost of running a Business doesn't worry me as MUCH!!! Thanks Gas Buddy👍🏾
Love Gas Buddy
Easy to use, great for planning road trips to estimate gas prices. I try and update gas prices near my house daily
Get it!
I've known about the app for a while, but didn't really know about it. In this day an age why not save money doing the things you've got to do anyways?
Yeah 🎉🎉
Friendoftrigger
on
10/17/2017
Love Gas Buddy. I check prices all the time especially when on a long trip.
Love it!!
A must for finding the cheapest (or even any) gas station in your area!
Gas buddy
It use to be great now bad logo and pain to use would not download Management must have started to listen to a bad consulting firm
Best free app ever!
Bosco jackson
on
10/17/2017
Never buy gas without checking Gas Buddy first !
Charliet
Charlie T from Jersey.
on
10/17/2017
Best App of subject matter of fact!
Love the app
Use gas buddy every time before we get fuel
Great way to compare prices as one drives around
Dougnwindycity
on
10/17/2017
Nothing more to say than that
THIS APP HAS GONE DOWNHILL!!!
Browneyes819
on
10/16/2017
This used to be a decent app now it seems the more prices you report the less credit you get for them!!!
Not good anymore. To many ads
Was very good. Until they became greedy. Now the app is full of ads. Trying to find an alternative app.
Love this App!
I dont buy gas without consulting this App. It's FABULOUS!
Diesel?
Our RV is diesel. Gas Buddy is not great locating diesel stations.
Just Save!
NeverLuvAnEditor
on
10/16/2017
This is a no brainer! The set up was easy. It has been accepted at every station I have tried in several states. It's just a simple way to save money. I'm for that!
Fact Sheet
Publisher:

GasBuddy Organization Inc

Category:

Travel

Released:

Dec 17, 2010

Current Version Released:

Oct 12, 2017

Version:

5.4.0

Size:

155.3 MB

Compatibility:

Requires iOS 9.0 or later.

Recommended Age:

17+

Game Center Certified:

No

Supported Devices:

iPad2Wifi-iPad2Wifi, iPad23G-iPad23G, iPhone4S-iPhone4S, iPadThirdGen-iPadThirdGen, iPadThirdGen4G-iPadThirdGen4G, iPhone5-iPhone5, iPodTouchFifthGen-iPodTouchFifthGen, iPadFourthGen-iPadFourthGen, iPadFourthGen4G-iPadFourthGen4G, iPadMini-iPadMini, iPadMini4G-iPadMini4G, iPhone5c-iPhone5c, iPhone5s-iPhone5s, iPadAir-iPadAir, iPadAirCellular-iPadAirCellular, iPadMiniRetina-iPadMiniRetina, iPadMiniRetinaCellular-iPadMiniRetinaCellular, iPhone6-iPhone6, iPhone6Plus-iPhone6Plus, iPadAir2-iPadAir2, iPadAir2Cellular-iPadAir2Cellular, iPadMini3-iPadMini3, iPadMini3Cellular-iPadMini3Cellular, iPodTouchSixthGen-iPodTouchSixthGen, iPhone6s-iPhone6s, iPhone6sPlus-iPhone6sPlus, iPadMini4-iPadMini4, iPadMini4Cellular-iPadMini4Cellular, iPadPro-iPadPro, iPadProCellular-iPadProCellular, iPadPro97-iPadPro97, iPadPro97Cellular-iPadPro97Cellular, iPhoneSE-iPhoneSE, iPhone7-iPhone7, iPhone7Plus-iPhone7Plus, iPad611-iPad611, iPad612-iPad612, iPad71-iPad71, iPad72-iPad72, iPad73-iPad73, iPad74-iPad74, iPhone8-iPhone8, iPhone8Plus-iPhone8Plus, iPhoneX-iPhoneX,

Supported Languages:

English;

Parental Advisory:

Gambling and Contests;