Screenshots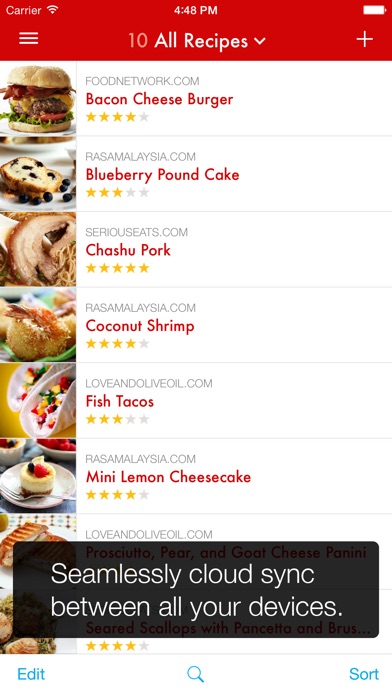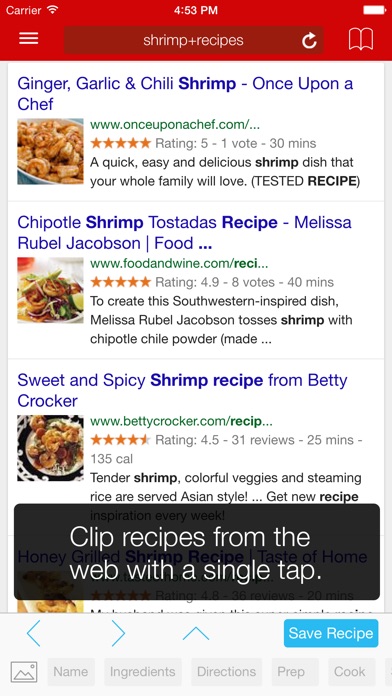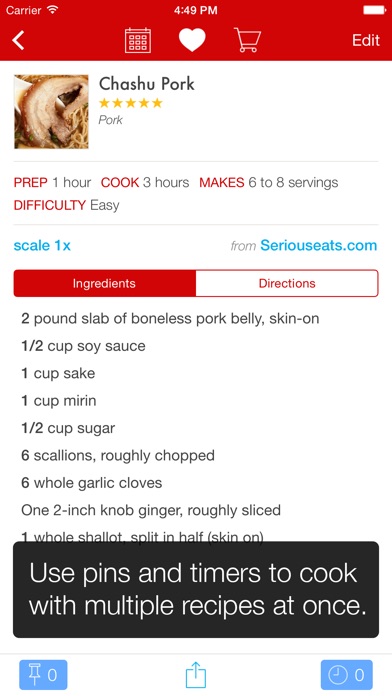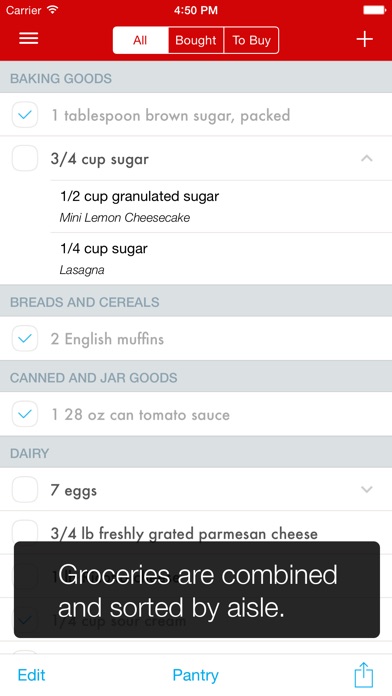 New in version 2.2.1
- Improved compatibility with iOS 10.
Description
Delightfully simple recipe management for everyone: from aspiring cooks to professional chefs. With web importing, grocery lists and meal planning, Paprika is the perfect kitchen companion. If you love to cook, Paprika will be most useful app you've ever downloaded!

Use Paprika Cloud Sync to wirelessly sync between your devices and take your recipes with you everywhere you go! (Please note: each version of Paprika is sold separately for each device, but Paprika Cloud Sync is a free service.)

FEATURES

• Create and modify your own recipes on any device.
• Automatically download recipes from hundreds of websites with a single tap.
• Integrated browser clipboard tools help you clip recipe information from any website.
• Smart recipe view: cross off ingredients when you're done with them, highlight your current step, and keep the screen on while you are cooking.
• Tools to help you cook: start multiple timers, pin active recipes to easily switch between them, and scale ingredients to your desired serving size.
• Timers are automatically detected in your directions: simply tap on one to start!
• Store nutritional information (automatically saved from sites which provide it) and personalized notes for each recipe.
• Find your recipes in a flash with our powerful subcategory organization and advanced search tools which let you search by name, ingredient or source.
• Intelligent grocery list automatically combines your ingredients and sorts them by aisle.
• Use the pantry to keep track of what ingredients you already have.
• Save time and money by planning your meals by the week and month! Create reusable menus from your favorite meals.
• Print and email support for recipes, grocery lists, and meal plans. Support for multiple recipe print sizes including index cards.
• Share recipes via AirDrop or email (that other Paprika users can automatically import).
• Import existing recipes from popular desktop apps such as MacGourmet, YummySoup!, MasterCook & Living Cookbook.
• Export your meal plans to iCal and your grocery lists to Reminders.
• Manual backup and restore keeps your recipe collection safe.
• Offline access. All of your data is stored locally, no internet connection is required to view your recipes.
• Paprika Cloud Sync. Keep your recipes, grocery lists, and meal plans seamlessly synced between all your devices!
• Bookmarklet. Capture recipes from your web browser straight into your Paprika Cloud Sync account.
Reviews
Used to be perfect
Jdbeichsbsb
on
10/18/2017
I hate it when a developer upgrades an app and makes it more difficult to use. Pretty much defeats the purpose of an upgrade. You used to be able to go into your grocery list and tap on the microphone and say an item and hit return and hit the microphone again and keep repeating the process to add items. But now in the latest version, the keyboard disappears so you can't hit return. Instead you have to tap on the keyboard icon to get the keyboard back which adds another step to the process. Please put this back the way it was.
Ridiculous to not be universal at $5
It's my own fault for not paying attention, but paying $5 for an app and then needing to buy it again at full price for my iPad is usurious. I'll be deleting and finding something perhaps inferior but without the need to purchase twice.
I've been using Paprika for about 4 years!
SirTechyBarGuy
on
10/12/2017
While most people use this as a recipe manager for cooking, I simply built out my categories for spirits and drink modifiers. Our bar program has been running on Paprika ever since I picked up the app. Downloading the app and sharing our recipe book is the final step of our training process. Thanks y'all!
Well worth the money
Donna37754321
on
10/9/2017
I've had this app for a long time, through many different phones. It has remained a stable reliable recipe manager all that time. Recipe capture from the web has continued to improve. I haven't run into a recipe in awhile that it couldn't capture. It's awesome at scaling recipes, and making a shopping list for ingredients. It's absolutely perfect and well worth the money.
Great App & Suggestiond
Old Sonos Guy
on
9/27/2017
We use Paprika daily and love it. One of the keys to using the app is to setup your category and sub categories to keep things organized. It is very easy to modify the categories without actually editing the recipe. So we keep a folder/category for this week's meals and add the recipes to that folder for easy access. After preparing the meal we simply remove the recipe from that category while keeping it whatever other category it is in. We have categories for each type of meat, meals ( i.e. Breakfast), courses, ethnic, etc. Regarding the search capability that one reviewer complained about - yes you need to spell correctly. Hard to have Google like AI in a $2 app. The reviewer was incorrect when they said you can only search by Title. You can search Title, Ingredient or Source and if you have categorized well you can look through a category. Things we love: ability to search the web for recipes and save them in the app, ability to make notes, scale the recipe up and down, ability to share recipes with friend via text or email (if they have the app they can simply save the recipe in the app, if not they can print it). We love that when you are using the app on a device it overrides the screen saver function so the recipe stays open. The grocery list is ok. It adds all of the ingredients from a recipe which requires substantial editing. We do not use the calendar function. Suggestions for the developer. It would be helpful if there were tabs in order to have several recipes open at once. Then the scale function could reset to 1x when you close the recipe. It would be helpful to be able to reorder/edit the default categories. I do not need All Recipes at the top. Top Rated and Favorites seems somewhat redundant. The Grocery List should override the screen saver too. Overall a great app and our most frequently used one. We have it on all of our devices so we can prepare different recipes at the same time.
Happy Long Time User
I have been using Paprika for managing my recipes for probably 7 years now and I just wanted to say thank you for keeping it up to date!!
Awesome Timesaver
Merely Martha
on
9/18/2017
I am crazy about this app! I had recipes all over the place and it drove this neat freak nuts! I love that I'm able to put any recipe on this app and find it easily! Suggested Updates • Add categories to the main sorting menu. • Enable texting of grocery list. Thanks for making it so easy to find my favorite dishes in a flash!
Can't scale amounts in the Instructions
I would give this 5 stars, but when you scale, it only scales the ingredients. Example : Say recipe calls for 1 cup wine 3 cup stock , and instructions say to reduce to 1/3 cup. Ok fine. Scale the recipe 1 1/2x but it will STILL say to reduce to 1/3 cup when the now the 1 1/2 scaled liquid is 6 cups total. The scaled reduction amount should in fact be 1 cup not 1/3. The scaling feature does transfer over to the instructions. That being said, it still is one of the best cloud recipe managers out there. I recommend it.
5+ Star app except...
Redwoodgirl3
on
9/13/2017
Intuitive. User friendly. My main app for storing and using recipes. Would LOVE if you would make it so that for the recipe you could add more than one picture. I would like the option to add a new picture and notes each time I make something so I can go through them. Because I make tweaks along the way, having a picture and a note for each time I made a specific recipe would be a great help. Thank you!
Absolutely love it!!
From loading the recipes to adding the ingredients to a shopping list, this app is absolutely amazing. It's easy to use and straight forward. It's an excellent way to organize all your recipes (especially the ones you find on websites and blogs) in one place with easy access. When using the app to cook, it stays on with the screen unlocked for a long time which makes it much easier! It is worth every penny and I strongly recommend it!
Terrific recipe app!
I've used this app for over 4 years now using it on three devices, iPhone, iPad and laptop. I am very happy with this tool. I can sync my recipes across all devices which I love. The ability to seamless download recipes is amazingly useful. For special occasions the menu tools are a big plus. Highly recommend this app.
OBSESSED with this app!!!!
I've been telling everyone about this app, for me and my family it's been a game changer! I typically save tons of recipes in Pinterest but hate scrolling through lengthy blog entries to get to the items needed and how you actually make the dish. Now, I just copy the recipe from Pinterest, Paprika asks me if I want to load it, and within seconds the pertinent information is culled and organized!! I rarely cook a meal without using Paprika now. Cannot say enough wonderful things, this app is a MUST!!!!
This app is incredible. Earned a place on my home screen.
Dancin Nancy
on
8/27/2017
I once said I am no cook. Paprikais changing that. I am trying new recipes. It is so easy to prop open my iPad and follow it as I cook. It is particularly incredible to use with my Instant Pot. It is unbelievably easy. No matter where the recipe is online, all you do is open Paprika, load that URL and click on "save recipe". Paprika has its own browser. If you copy a URL from your own browser, Paprika sees you have have copied the URL and loads it for you. I gifted this app to my daughter. She is particularly pleased with how it will load a grocery list with a click. I bought the desktop app ($20), also. I have one account that can be used on my iPhone, iPad and desktop.
Fantastic recipe manager!
After years of searching for a the perfect digital recipe index, I finally discovered Paprika about a year ago. Importing recipes was easy using the share tool on iOS. Adding new recipes and keeping them organized is equally user friendly.I use Paprika more than almost any other app on my phone. Worth every penny, especially if you set up cloud sync and are willing to Spring for the iPad and MacOS apps as well. Cannot recommend this highly enough, it has every feature a well seasoned cook could possibly want.
TEN STARS!
Grandma Geek
on
8/18/2017
If I could give this app 10 stars, I would. I love it. I use it every day. Planning meals and making grocery lists was such a pain before, so I often just didn't. Now I browse the app, see something that looks good, choose the grocery list icon and I'm set. I love that when I am out and about, I can say, "I need to get something for dinner" and I can choose something on the spot. The app provides the grocery list for me. The other thing I love is how easy it is to save recipes from the Internet. I also love how easy it is to scale recipes. This is the best app I have ever purchased. I'm usually pretty cheap when it comes to paying for apps. I'm so glad I got this. I got it for my iPad, iPhone and PC. It seamlessly syncs between them. I use my iPad when cooking and my iPhone when shopping and my PC when I want to type in a recipe myself. If you get this app, you will not be sorry. Oh, and I recommended this to someone who then got it. I love that I can send her recipes and they load right into her app. By the way, I found out about this app from a Facebook group: "Instant Pot Community." It is very popular with that huge Facebook group.
This app changed my life (no joke)
I never have time to write reviews but I had to do it for this app because of how much easier it has made this fundamental part of my life: eating. I eat much healthier when it is planned and this app allows me to do that. It is a very powerful app that does many things (go look at the list) and yet still remains incredibly user friendly despite the incredible functionality. Kudos to the programmers of this app. One complaint: The browser for the desktop version is not secure and may download viruses. I am on a mac so it doesn't affect me much, but I use that feature only on my phone just in case. But please fix that so I don't have to worry about it! Despite that issue, this app still gets 5 stars because it's just that amazing. Thank you!
Almost perfect!
SimplyOlivia
on
8/12/2017
I've used this app from its beginning and love it. I ended up buying all three versions (iPhone hone, iPod, Mac) because I need access on all the devices. Synchs easily and quickly. It would be perfect if it had an Apple Watch version. Can that happen?
$5 and I'm still assaulted by ads.
I paid $4.99 for this app and I'm still bombarded by ads. Greed has hijacked humanity and this app is just another disappointment on the proof pile. It doesn't matter how great your product is, once you pay for it, you shouldn't have to keep paying for it.
Fantastic!!!!
So easy to use. It's like they've thought of everything. A++++++++++
Full featured
I am amazed at the fully baked(😲) feature set in this app. It looks like its worth every penny.
A MUST for all 21st century cooks
I've had this app for 24 hours and it's already paid for itself. The fact that I can scale a recipe up or down on the recipe itself is a boon! It's great for the panicked chef who (after starting the recipe of course) realizes she only has 3/4 of the essential ingredients, and with a few clicks Paprika can change the portions and save her meal! I also love that I can save a recipe straight from the Safari browser in the Activities tab. I'd love to see a way to do bulk imports from recipes I have saved on Pinterest, but at this point I'm ok to trade a little learning curve for this kind of culinary might!
Outstanding Recipe App!
I have used Paprika to store hundreds of recipes. It works flawlessly, and all of my devices synchronize recipes instantly. Highly recommended.
Love it!
One of my most used apps. It just works and works well. Really has helped organize my recipes and a great aid as I'm cooking.
Poor customer service
Bought the app for iPhone laptop. Sync didn't work so I emailed for help. The company never replied. Now I use Evernote. Paprika is a bad investment.
Love this app!
This app has everything I've been looking for to put all my recipes in one place. It makes it super easy to import recipes. I do wish it had the option to send recipes via messenger.
Fantastic app
I love and constantly use the import recipe features on this app. I have a set of recipes that are my tried and true, but will frequently import 9-10 versions of a similar recipe to find the best one. Paprika makes this very easy with a logical and easy to manage category layout and easy importing. Love it!
JohnB
Very good on the recipe side. Importing, adjusting, and scaleing are all there. Also the Browser to search for and import recipes is excellent. Paprika falls down when it comes to building a shopping list, it assumes you do ALL your shopping in one place. Creating a single store shopping list from planned meals works fairly well, but adding items that are not in your recipes is awkward at best. To become the "top dog" of recipe managers I feel serious improvement on the shopping side will be required.
Paprika is the best!
This is just a wonderful app - it imports easily from other sources, has a great interface, lets my wife and I put our own photos of our creations, successful or not, in the recipes. Synchs great across devices. It's more than a recipe manager, it has become a fun diary of enjoyable times spent cooking with family. It is the best!!
Perfect Recipe and Grocery List App
The iOS 7 update made an already fantastic app even better. The import feature is flawless and if you find sites that don't work, the develop fixes it quick. The grocery list import from recipes is a huge time saver, but the new fast direct input of items is the best new feature.
Pretty good but could use a couple improvements
This app is great for making and storing recipes. I love that you can easily export recipes online and scale your recipe. I like the built in timer and I like that I can do my meal planning/grocery in this app. However, it's not perfect... The image it lets you add is pretty small. It might be just me but I'd love to be able to upload 1-3 juicy images instead of the tiny square. I also wish there was some sort of spell check so I know I'm spelling everything right when writing directions. And last but not least, it would be fantastic if there was an option to add a YouTube video link. I could easily follow along with a video version on some of my recipes but have it written out on the app as well. Anyway these features could ever happen? Adding these would make this app supreme!
Love! Totally improved way I feed my family!
The creators of this app are geniuses!I have tried out numerous systems to plan meals and grocery shopping lists, had been using my own system until I got this. Love it! Has every feature I could want, esp the ability to download and save recipes from Internet. I am super fan.
Keep finding great things about this App
I love this app I've had it for a long time today I found a great feature called scale. You set the scale feature to whatever number of servings you need. From 1/2 to infinite #50 plus. I can't recommend this strongly enough spend some time with it & you'll find some great features!
Best kitchen tool to have!
If only it could convert cups to grams or ounces ((or ounces to grams or cups) it would make life positively perfect.
Great app and totally worth the cost!
I love this app, I have had several others and used Pinterest but none work like this. I especially love the way it doesn't time out when you are working with a recipe and how easy it is to create recipes so easily. Buy it, you won't regret it.
Absolutely love this app!!
I absolutely love this app and have sung its praises far and wide and have converted several friends to Paprika. The only thing that drives me crazy is that you can't categorize a recipe using the web clipper on another browser (like safari, chrome, Firefox, etc). While this isn't a problem if I go through paprika's browser, I frequently come across recipes while looking for other things on safari, etc and having to go back in the app and edit a recipe to categorize it gets annoying.
Change deletes
Awnestreviewer
on
6/25/2017
My only request is that you do a pop up for when you go to delete a recipient, or ask if you want to delete it from the category or from your whole library. I've deleted one too many recipes.
My fav, my Paprika!!
Crazy frames
on
6/25/2017
This app I don't know what to say about it other than it is just totally awesome! The way you can save a recipe, the way you can store the recipe I a folder, the way you can pull it up, you can assign it to a day in the week for having dinner, you can pull all the ingredients into a shopping list and combine. They did an awesome job on this App! I highly recommend it!!!
Love the app only one suggestion
I really love the user interface. It is intuitive, clear, and well laid out. I have used this app to organize everything from grocery purchases, meal planning, and the recipe database. Everything works great! I have one suggestion for a need that has come up recently in my life, and thought it may be applicable to others. There is a group of 3 of us that want to start eating healthier I would like to share recipes and meal calendars seamlessly through the app instead of emailing each recipe to the other 2 people. So I guess my suggestion would be a readable version of a shared paprika app, with an option to import the shared apps recipes into my own recipes. Maybe that could be done for a future update. Otherwise I love the app and use it all the time.
Best recipe app!
Sandy Fitzberger
on
6/17/2017
This is the best recipe app I have come across. All you do is add in the URL and it automatically sets up the recipe to be imported. My only complaint is that it doesn't calculate nutritional information. Other than that it is perfect. I bought it also for my iPad and home PC and everything syncs seamlessly! Love love love it!
Good, almost great
I am not exaggerating when I say this app has changed my life. My family uses it daily and we LOVE it. I have it on iPhone, Android, iPad and Windows. The only thing that keeps this from being a 5-star review is that I wish that there were some features available. It would be nice to be able to sort groceries into different stores (such as BJ's, Target, Market Basket, etc.) - these could be user-defined like categories, and then into aisles. Also, it would be great if I could set the week start day on desktop (since I print my weekly menu from there) as I can on my phone. Then my life would be complete! Thanks!
I used to love this app, but
It is no longer able to save recipes from my favorite websites like serious eats, delish, or food network so I can't add anything new. I tried contacting support and all I got was lists of self help questions.
Recipe Organization at its Best
Fabulous app. Well worth the price. Pulls the recipes out of the endless unrelated blog ramblings and 17 pictures of chopped onions. Since it is saved in the app if the author moves the recipe or deletes it you still have it, but I like that it links back to the original source. Editing ingredients and directions is easy and I love the scaling feature. Being able to browse the web for recipes within the app make it convenient to find new recipes.
Good but expensive
I started using his because my other app wasn't being supported anymore. It is a great app but I was disappointed to find I needed to pay $5 each for my phone and iPad.
Don't let this company milk your wallet
JDGoesMarching
on
6/4/2017
It's absolutely ridiculous that you're expected to pay individually for iPhone, iPad, and desktop use especially when cloud syncing is your primary selling point. Switching to a recipe manager that doesn't try to exploit every inch of your bank account.
Fabulous!
I have tried a number of recipe manager apps and this one is phenomenal. Two things that make this my favorite is ease of use and a picture of the item. Paprika has successfully downloaded every website's recipes (unlike many of the other recipe organizers that only support certain sites). It is also nice to be able to see a photo of the item being prepared and have it categorized
Mom
I just want to say that this is a fabulous product. It is intuitive to use. Everytime I use the program, I find new features that make my experience even better. Thank you for this wonderful kitchen helper. My life is much easier with this assistant.
Has all of the features I need
trippybrowneyes
on
5/16/2017
Prior to using Paprika, I was using the free version of Big Oven for its web scraper. But the app was glitchy (it wouldn't load all of your recipes immediately), it would still send you to the ad-heavy blog post that contained your saved recipe instead of saving a full-text version, and you were limited with the number of recipes and edit capabilities (in the free version). While looking for a replacement, I found Paprika. The one-time fee of $5 is completely worth it. I have had no problems with the app easily loading a full-text version of a recipe from any of the sites I have tried. The recipe is then editable, and I can categorize it as I choose. I can also enter a recipe from scratch. If I decide to add a recipe to my meal plan, I can easily export the ingredients of my choice to a grocery list. One of my favorite features is that the screen doesn't turn off when I have a recipe open. There is nothing more annoying than having to log into your phone every few minutes to refer to the next step of your recipe, when you have raw meat juice on your hands. I highly recommend this app.
Support
Words With Ang
on
5/13/2017
How can I contact support? As in speak to someone?
Great app, some tweaks needed
Amazing app! Very happy with it. Some tweaks needed: - #1 flaw - no way to search two categories at once. I want to be able to search for recipes that overlap between dinner, chicken, and healthy, for example. - #2 flaw - no way to print all recipes at once - needs option to view recipe pictures only (much like instagram - a grid of pics) - needs "delete all" button for shopping list - i wish I could see the categories in the list view - no spreadsheet view on the iPhone - can't edit spreadsheet view on computer - needs a way to a filter tested vs. untested recipes
Very disappointed
I broke bad and spent five dollars on this app something I don't do very often. Very disappointed trying to stay positive and professional. It is very un-user-friendly. I have had to go to support many times to get information on how to try to download a recipe and have difficulty have only been able to successfully download one recipe the other is only partially downloaded have gotten Copy me that for free and it easily copies recipes off of Facebook the Internet etc.
Fact Sheet
Publisher:

Hindsight Labs LLC

Category:

Food & Drink

Released:

Dec 17, 2010

Current Version Released:

Nov 17, 2016

Version:

2.2.1

Size:

10.4 MB

Compatibility:

Requires iOS 8.0 or later.

Recommended Age:

17+

Game Center Certified:

No

Supported Devices:

iPad2Wifi-iPad2Wifi, iPad23G-iPad23G, iPhone4S-iPhone4S, iPadThirdGen-iPadThirdGen, iPadThirdGen4G-iPadThirdGen4G, iPhone5-iPhone5, iPodTouchFifthGen-iPodTouchFifthGen, iPadFourthGen-iPadFourthGen, iPadFourthGen4G-iPadFourthGen4G, iPadMini-iPadMini, iPadMini4G-iPadMini4G, iPhone5c-iPhone5c, iPhone5s-iPhone5s, iPadAir-iPadAir, iPadAirCellular-iPadAirCellular, iPadMiniRetina-iPadMiniRetina, iPadMiniRetinaCellular-iPadMiniRetinaCellular, iPhone6-iPhone6, iPhone6Plus-iPhone6Plus, iPadAir2-iPadAir2, iPadAir2Cellular-iPadAir2Cellular, iPadMini3-iPadMini3, iPadMini3Cellular-iPadMini3Cellular, iPodTouchSixthGen-iPodTouchSixthGen, iPhone6s-iPhone6s, iPhone6sPlus-iPhone6sPlus, iPadMini4-iPadMini4, iPadMini4Cellular-iPadMini4Cellular, iPadPro-iPadPro, iPadProCellular-iPadProCellular, iPadPro97-iPadPro97, iPadPro97Cellular-iPadPro97Cellular, iPhoneSE-iPhoneSE, iPhone7-iPhone7, iPhone7Plus-iPhone7Plus, iPad611-iPad611, iPad612-iPad612, iPad71-iPad71, iPad72-iPad72, iPad73-iPad73, iPad74-iPad74, iPhone8-iPhone8, iPhone8Plus-iPhone8Plus, iPhoneX-iPhoneX,

Supported Languages:

Czech; Danish; Dutch; Flemish; English; Finnish; French; German; Hungarian; Italian; Japanese; Bokmål, Norwegian; Norwegian Bokmål; Polish; Portuguese; Chinese; Spanish; Castilian; Swedish;

Parental Advisory:

Unrestricted Web Access;