Recommended app!
App last updated
Aug 15, 2011
Screenshots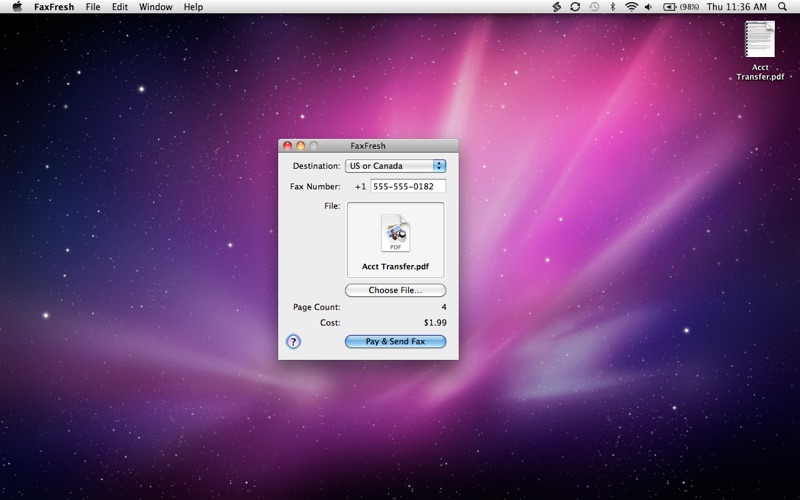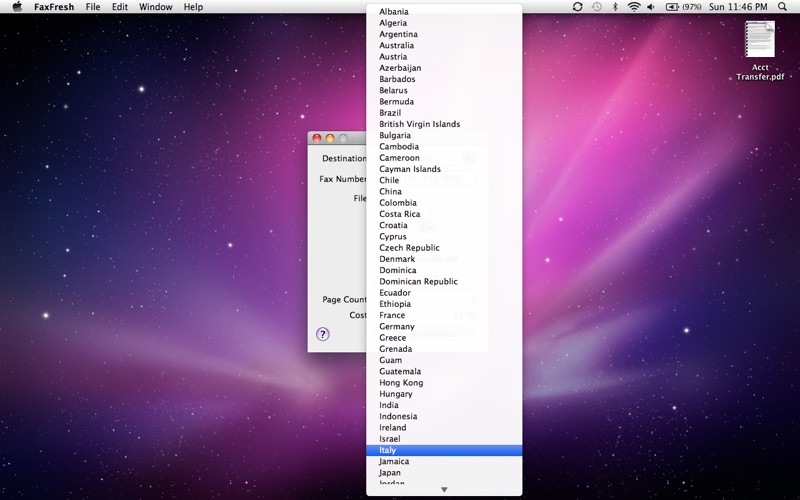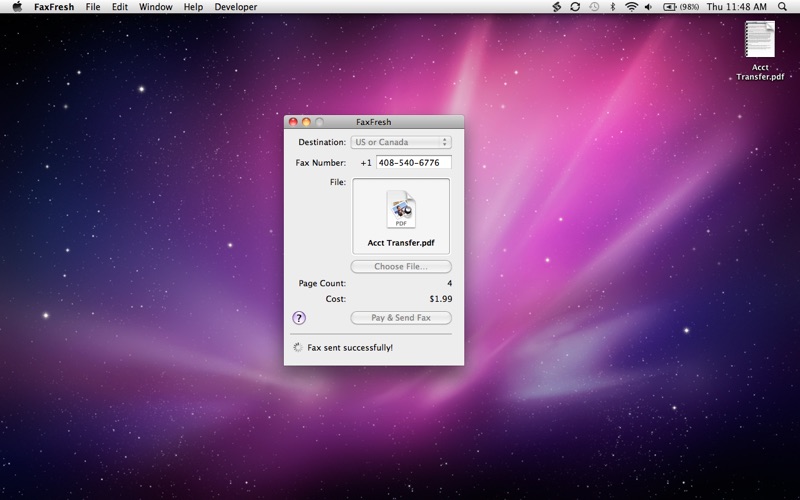 New in version 1.1.1
• Updated help to explain how to merge multiple PDFs.
• Updated help to explain how to add your signature to a document.
Description
*** SEND A FAX FOR JUST $1.99 ***

It's just $1.99 to fax a document of up to 8 pages. Each extra page beyond 8 is 25 cents. To cover telephony costs, a surcharge is applied for select international locations.

*** NOW WITH INTERNATIONAL SUPPORT ***

FaxFresh can now send faxes to over 100 regions, including Europe, Japan, Australia, and many, many more.

*** ABOUT FAXFRESH ***

The FaxFresh app allows you to send a fax from any Mac with an Internet connection to phone numbers in over 100 countries quickly and easily, using the FaxFresh cloud service. Just select the file to send, enter the destination telephone number, and pay a small fee and your fax is on its way. We'll send you an email confirmation so that you can be confident that your fax was received. If your fax is not sent successfully for any reason (e.g., wrong telephone number) then you will not be charged.

*** QUESTIONS? COMMENTS? ***

Get in touch with us: contact@faxfresh.com
Reviews
No cover sheet!
I paid my $1.99 only to find out that the app never asked me for the cover sheet information such as who the fax should be sent to such as Attention: Someone So now my fax is on a machine in an office with a large number of people and they have no idea who it should go to. Thanks! Total waste of time and money. Avoid like the plague.
You're kidding me right?
ReasonablySavy
on
3/9/2018
Who wrote these reviews? The developers? I sat for 30 minutes, trying different fax numbers, differernt payment methods. Nothing. No thanks.
1.99 per FAX is reasonable and secure
Ok I have 1 Fax per every 5 years. FaxFresh is the way to go easy just print FAX document to PDF then drag to FaxFresh. I did compare this app to other apps and this was the most cost effective way to send them number of FAXs I have.
Pretty much a Winner
I don't really need a fax machine on my desk, but when I do this is very convenient. I like the Pay Pal option to pay and the "Fax Sent confirmation". What would give it 5 stars would be the ability to fax other formats than PDFs
Only fax app that I could get to consistently work. Highly recommend.
cphillipsiTunes
on
12/17/2017
Over the years I have tried a number of fax apps from the App Store. This is the only one that consistently gets the job done. Simple, easy to use, no complaints at all.
Two Tries, Two Failures
I need to fax only two of three times per year. Based upon the reviews, I thought this would be a good way to go. In two recent cases, I used the service to send medical records. Both times took thirty of forty seconds to process, but FaxFresh sent me a confirmation in both cases the faxes went through to the correct fax numbers. However, in both cases, when I followed up, they said they never received the faxes. Very inconvient and frustrating. When you get a confirmation, you expect to fax to have been sent. Not with this app...
Nice App!!
Crystal~Lynn
on
8/20/2017
I don't fax things from home very often so using this app is nice. The only negative would be combining pages. I thought that the instructions was a little confusing because it took me several attempts before I got it to work correctly.
Needed some way to send a FAX
For some reason, the medical community still insists on FAX records, so I decided to try this app. It's simple and straightforward and gets the job done. I don't send many FAXes, so I like that it's pay per use. It would be nice if they used my Apple Pay account. Maybe in a future update?
Can't authorize PayPal?!
The program relies on Paypal for payments. After trying for 30 minutes, the program failed to process payment over and over and over again. Very frustrating! Tried using my credit card, and paypal balance. Had to cancel a very important 42 page fax and download iFax instead. Thankfully iFax worked without a hitch.
Pretty easy to use...
Once I got the hang of the program, it was pretty easy and straight-forward. It did not process payment to my PayPal account, but I was successful in using one of my credit cards. I don't have to send a fax too often, so this is a good way to do one… Reasonable pricing.
FaxFresh fax
Merton Louis
on
7/12/2017
Great program, great price, and great support. Well worth the price for thoses who need to send a fax sporadically. I highly recomment it.
Simple, well designed, super convenient app
The app is fast and efficient and payment through PayPal is very convenient. The developer is also very responsive. I emailed him a question last night and got a response a few hours later. Having to send a fax in today's era isn't very common (at least for me). I love having this convenient, efficient, and cost effective option to quickly handle it when those times do come up. I have a multifunction machine with fax capability, but setting that up on a rare occasion or keeping it set up is just way too much of a hassle. I use the MFC unit for printing and network scanning and send my money to Jeff and company at Purple Cover instead.
Who has a fax machine anymore?
I can't believe some companies or government agencies still require documents to be sent by fax! And who has a fax machine anymore?!! FaxFresh has solved this problem for me allowing me to easily send PDF files from my Mac to those still living in the dark ages with their fax machines. The cost to send documents is very affordable and they can be sent internationally. Two thumbs up!
PayPal not accepting their pay button - CRAP
UGH, there was an issue with the FreshFAX paypal button so NO payment could go thru. PASS on this until they get their stuff together. How can you run a payment based service and not be able to accept payments??
Worked Flawlessly
I made a PDF via text edit. I imported all the documents I needed and then exported them as a PDF. Loaded it into FaxFresh and clicked the pay button. It took me to paypal, then processed the fax shortly there after. Paid $2.74 for 11 pages and I'm extremely happy with the results. I got a confirmaiton email after It sent successfully and that was it. I will definitely be using this app in the future any time I need to fax anything. It saves a trip to a store/print center and it saves on gas! =)
Perfect for occasional fax
I don't need to fax very often but this app is perfect. Easy. Reasonable fee and Paypal. Will use it again….when I need it. And I won't pay a fee until I need it. This is what sets this service apart from the others. Love it!
Great but outdated
Frogger123431
on
3/31/2017
Great app, I've been using it for 5 years but got no updates since I bought it. It would have been great to at least get address book functionality and avoid typing in fax number every time I send something to the same recipient.
Absolutely th e Best Fax Application for the Mac
I can't say much more about FaxFresh than I already have in the title of this review. From the price point to the simplistic use, the designers nailed it. And I love the PayPal integration -- gives me an extra sense of security during the payment process. Great Application!
Not a free service
This should read "In APP Purchases" but it doesn't on the App Store. No mention of charges when you download, only if you click and look at the description.
SO SLOW….
Excellent design - very simple and easy to use. However, I don't know if my faxes are sent securely, and they take SO LONG to send it makes me nervous. I have sent one fax, and it took over 10 minutes to send 10 pages.
Excellent
I had been using iFax. Yesterday iFax was down, so I tried FreshFax. It was SIMPLE & worked exactly as needed. There are no bells and whistles in the app, but it does exactly as intended. Once it was successfully sent, I received an email for my records. I was incredibly relieved.
Works great but you have to have a paypal account
I've been able to fax in the past, which is great, I wish it wasn't exclusively paypal. When I go to fax now all I have is an option to pay via paypal…before I'm sure I could use my credit card. Such a shame because this is one of the only fax apps in the store that work…and I live overseas and fax back to the United States. Works great…just need another payment option.
It works
Frustration Landia
on
10/5/2016
I only occasionally need to send a fax. We do not have a landline. This is just what I needed in order to send a fax over the internet through a wireless network connection. It worked fine. It relies on PayPal or credit card, in App, charged at the time of sending the fax. It took about 5 minutes to send the first fax, which was 3 pages. I expect it will be a faster process now that I am familiar with the app. I received a timely confirmation of the transmission, with a confirmation number, via the email address that I supplied at the time that I sent the fax. Very happy not to have to walk to a copy shop or something in order to send a fax.
Recommended Addition
I think this is a great app. But should have the functionality to be able to review what files have been faxed - I just sent a fax and had two files that had similar names, I couldn't tell which file was faxed. I would like to be able to have a list of what fax files were sent and date / time delivered. Otherwise - outstanding.
Excellent App
This app couldn't be simpler. You use Paypal as a secure method of payment, which is nice, and then upload your document to be faxed. Also, kudos to the support team for responding to my question about document security within an hour! That's just fantastic service.
FaxFresh Delivers - painlessly (very quick and easy)
Found this App to be very easy and it got the job done without having go sign up for month service, etc.
Fast, easy, efficient.
Worked exactly as promised. I needed to organize my document, prepare a cover sheet (found at freefaxcoversheets.net, offered in Word but opened in Pages without issue) and PayPal option made the process seamless. Fax confirmed as sent via email, and activity window. Price was more than reasonable for a 6 page fax. Thanks.
fax from macbook
MarilynMuller
on
6/30/2016
Wow that was easy!
Good BUT Needs IMPROVEMENTS! See My Notes!!
The company I work for requires that we fax certain receipts along with a transmittal sheet. Normally, I have been driving 15-20 minutes each way to do this, which is time waisting… They'll even pay for a in office land line, but like everything else, I'd have to expense that,too, with the same methods. I decided to try this app and see if it would save time. I couldn't find any support as to what format it needed to be sent in, so researched and found out faxes go in a bitmap format, then converted my pdf file online to a bitmap format, which the app doesn't take! Guess what, it DOES FAX A PDF format. OK, loaded the PDF into the app, entered the fax to phone number, then used Paypal as a form of payment. Spinning wheels….. said it was approving it and then showed an error! I clicked on it, confirmed payment and spinning wheels again! FINALLY it showed sent and got both a Paypal confirmation of payment AND a receipt showing the PDF document had been successfully sent. Be patient on the first time. Just hope the second time goes smoother! If the app developer is reading this, may I SUGGEST: Make the App a little Bigger on the screen! Add a way to store frequently used phone numbers so the user doesn't have to look it up all the time. Make the payment process faster! Make the speed of sending the fax FASTER!!! PLEASE!!!
You can't Fax if Doc is More than 20MB, no .JPGs
I like to leave fair reviews. So, here it goes. The application seemed easy. It is. But, if you scan a document and even shrink it, you still cannot send it if it is over 20 MB (which it doesn't tell you prior to doing so). Also, it doesn't let you fax .jpg docs. You can only do so if your document is a .pdf. It also took a while to fax (once I divided the doc in two). It took like 15-20 minutes for 12 pages to be faxed. I found those two aspects troublesome. I did like that they explained how to convert a file (for those who don't know) from a .jpg to a .pdf via Preview for the Mac. Because of the troubles encountered, I went ahead and used FaxZero, 25 pages for $1.99. You can't beat that. So, for me this is not great and won't be until they lift the size and document allowed. It is to fax something. Shouldn't be so picky because many people don't even have the means to convert documents to .pdf. I do, but the size just didn't work.
Works!
Simple and easy to use. Technical support was quick and helped me resolve a problem which had nothing to do with app, but a mistake I made with payment method. These days almost everyone uses emails, but some companies still only uses faxes. This app is very easy to use. Just enter the fax number, load you PDF document, pay for just your fax and send. You then receive a confirmation email with a FAX I.D.
Worth The Wait
It took a little while to send, the fax number being sent to was busy, but it keep trying until successful. While it's not as cheap as sending a traditional fax, as a 'sometime' option it can't be beat!
Extremely Functional & Simple To Use
I needed to respond to a request for information immediately. It took about 5 minutes from the time I located and downloaded the app from ITunes, loaded and sent the fax. I received a confirmation email within two minutes after faxing the document. It was quick, simple, and accomplished exactly what I was hoping it would do.
Could not be easier, great support!
I faxed two pages and missed typed my email when paying (which is used to send you the confirmation). I emailed support and they replied right away with the conformation. I highly recommend this app.
Very pleased
I needed to send documents to a government agency because as usual they did not have the ability to receive the documents by email. I downloaded the app, converted my webpage docs to pdf and dropped them into the FaxFresh tool. I used the help option because I had never used the pdf preview merge tool on my mac before. Surprisingly, the FaxFresh Help did a better job explaining how to use the preview merge better than the apple forums. I used my Paypal account to pay and I received an email when the fax was sent successfully and it only cost me $1.99. I saved on gas and waiting in line at my local office depot/kinkos. I plan on continuining to use and would definitely recommend to others.
Simple, fast and effective
I live outside the states, without a fax line. I have tried several other apps that claim to send faxes from your computer, but this is the only one that actually does it, without a single hitch. Scan the doc and save it as a pdf (unless you already have it as a pdf on your computer), enter the fax number you are sending to, choose the file from your computer, click pay and send, enter your PayPal info and you're done. You get immediate confirmation as well as an email confirmation.
Simple and works as described!
Highly recommended for those of us that still have to connect to the 20th century by sending the occasional fax to some backward bureaucracy, this small and simple app does the job. The rates charged per page transmission are extremely reasonable next to other competing apps and services. Perhaps the only thing a user might have to be familiar with is how to stitch together a multi-page PDF file into one document that can be dragged and dropped onto the app for transmission. (Apple's Preview or an app like PDFPen can handle making a single multipage PDF if needed.)
Worked the first time with no problems
Very easy to use. The only painful part is having to type out all of your payment information. Now if there was just a way to save that so that you could send the next time with the same payment method and not have to manually enter it all. And if that's possible and I haven't found it yet, shame on me.
Works Perfectly!
I tried out FaxFresh this morning and successfully sent two 7-page faxes. It does take a little while but, hey, you're sending to a fax machine. Someday, government agencies will get a clue and we will be able to scan & e-mail documents. Until then, FaxFresh is what I will use for all my fax needs. Payment was convenient and secure via my PayPal account. 5 stars for this app!
Multiple faxes not recieved.
pjbradley1977
on
3/29/2016
Sent multiple faxes using this app none recieved.
Sweet and simple and easy to use … still using, still love it
Typewriterman
on
3/29/2016
My faxing needs are very sporadic and this app is perfect. It's easy to use (drag and drop the pdf I need to fax) and payment is integrated through PayPal, and I get a confirmation email when done. What could be easier and I like easy. — Update: My needs are still sporadic and this app is still perfect for what I need. It's simplicity and ease of use are wonderful, and FaxFresh works with small jobs and larger ones. Saves me the trouble of running to Office Depot, Staples or FedEx to handle a fax job. Thanks, FaxFresh.
How Convenient
rhondatravels
on
3/22/2016
The cost and ease of faxing makes this app a must have for folks that will only occasionally need to fax items. Less epxensive and much more convenient then driving out to a local store to print and fax documents. I'm in the process of buying a house and this app has made that process much easier.
Simple to use when fax is the only option.
Usernametaken43
on
3/13/2016
Simple and easy to use and worked first time with email confirmation. Which I know worked as the fax recepient has confrimed this, Plusin the email I recieved from FaxFresh the recepient name was mentioned which I didn't provide, so yes happy to reccomend this. I live outside of North America so works outside of NA in case you are worried only works in NA.
Reliable with Excellent customer service.
Benjamin La Marca
on
3/1/2016
I've sent over thirty pages of faxes using this app — most of them to the IRS. It's legitament and the customer service is excelent.
A Bridge to the 20th Century
When you absolutely, positively have no other way than to send it by FAX - this is a good way to do it. It seemed a bit slow, but then I realized it was going to an actual FAX machine. It's simple to use and gets the job done. Two dollars seems reasonable for as infrequent this is necessary. Gotta go wind my clocks. Take care.
Perfect for me!
It's only once in a rare while that I need to send a Fax, in fact, I was surprised that this was the only way I could send a certain document. I started to use another app from the store, but that required me to purchase a package deal. It may be a year or more before I have to send another fax, so why do I need to pay as if I was sending 15? FaxFresh was really easy to use, and did the job right. Thanks.
Awesome! Easy, quick, fast. Good instructions in the Help.
Make your PDF. Drag and drop. Enter fax #. Hit 'go', pay via PayPal. Check inbox for final confirmation that fax was successful. Great! Simple. Fast. Easy. :-) And it's all so Mac-like. Highlight the text of the fax #, drag that to the app -- done! From the Finder, drag the file to app -- done! Hit "pay&send", log in to PayPal, say "Pay Now" -- done! (Be certain to -login- to PayPal and say "Pay" before asserting that you've paid and are ready to send.) This app is so cool. Been using this for years. Yay! I agree with the maker, and echo David: "the best way to send a fax without a machine"; Thanks for making my one fax a year so painless! —DAVID
Fabulous Customer Service
AlbertJoseph
on
1/12/2016
This app works exactly as described and is a real bargain compared to what you might pay elsewhere to send a fax over a phone line. It would be better if the vendor sent a copy of the fax to your email along with the confirmation and it would be much better if the program could be customized to identify the user as the fax sender instead of FaxFresh. Many faxes today to a large institution or governmental agency go straight to an email program (ironically) and if the sender is identified as FaxFresh, it can be difficult for them to find your transmission. Customer service is excellent. I sent an email with a few questions and within minutes I received a response from an actual human … and quick resolution. The developer really stands behind the satisfaction promise. Very impressive.
Great app
Perfect app. I was looking for a simple way to send faxes and this hit the mark 100%! I always received an email after my fax was sent successfully. The instructions on how to combine separate pages into a single document using Preview on the Mac were not correct for my version, however it is pretty easy to figure out. Now let's join together America and say enough with the faxes!
did not work after several attemps
I am a consumer
on
1/7/2016
Easy app, but fax was NOT sent after several attempts. Still, PayPal charged me every time, AND, added a $1 transaction fee on top of the $1.99. As always, PayPal abuses and is unreliable. Too bad that PAyPal may be the reason for this App to be killed.
Fact Sheet
Publisher:

Purple Cover, Inc.

Category:

Productivity

Released:

Jan 04, 2011

Current Version Released:

Aug 15, 2011

Version:

1.1.1

Size:

1.2 MB

Compatibility:

Requires iOS 10.6 or later.

Recommended Age:

4+

Game Center Certified:

No

Supported Languages:

English;