Screenshots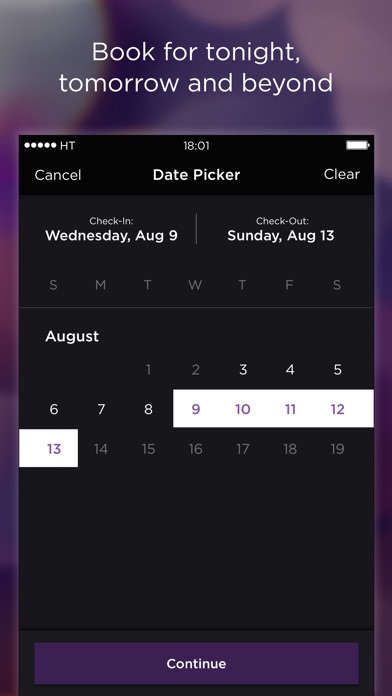 New in version 11.5
Here's what's new:
• Retooled our bookings tab to make your current booking pop (don't have a current booking? get on that!)
• If you haven't heard, you can now book up to 100 days in advance in some of our most popular locations!
Description
Book last minute hotel deals up to a week in advance!

HotelTonight makes it *incredibly* easy & quick to find a great deal at a great hotel. Three taps, one swipe, you're booked! We've been downloaded millions of times (thanks, you guys!) and work with over 15K awesome hotels in 35 countries across the globe (we only partner with hotels where we'd wanna stay, too).

Here's the deal:

* Amazing last minute deals
* Book up to a week in advance
* Top rated hotels you'll love
* Seamless booking in 10 seconds flat
* Search by city, attractions, nearby hotels or on a map
* Ratings, reviews and photos from fellow bookers
* Access to HT Pros, our in-app concierge
* Exclusive location-based discounts (GeoRates) save you even more!
* HT Perks program - spontaneous surprises, plus the more you book, the better our deals get!
* Add Favorite hotels and see whenever they're available
* 24/7 customer support


Some of the many ways you can use HotelTonight:

* Adding a day for play before or after your business trip
* A last minute birthday or anniversary surprise (we won't tell anyone you forgot)
* Spontaneous weekend getaways
* Road trips - hop in the car and see where the road takes you
* A mid-week booking or staycation at that spot you've always wanted to check out… just because
* Summer afternoons by the hotel pool
* Luxury vacations scored on the cheap
* Summer weekend holidays booked on the fly
* To turn tonight (or tomorrow... or next week) into an adventure


People are talking:

"HotelTonight what did I do without you?" - Kelly Osbourne

"You can get great, cut-rate deals on hotels… including luxury hotels." - Jeff Rossen, Today Show

"My fav travel app." - Samantha Brown, Travel Channel Host

"I love saving on last minute bookings using the HotelTonight app." - The Points Guy

"Book the destination of your choice and enjoy your time there – without breaking the bank." - Oprah Magazine

"Delete all your other hotel apps." - App Store reviewer sdraymonds

***Got feedback? We're all ears. Hit us up at: feedback@hoteltonight.com

Let's connect:

* Instagram: @HotelTonight
* Snapchat: @HotelTonight
* Twitter: @HotelTonight
* Facebook: facebook.com/HotelTonight
iPad Screenshots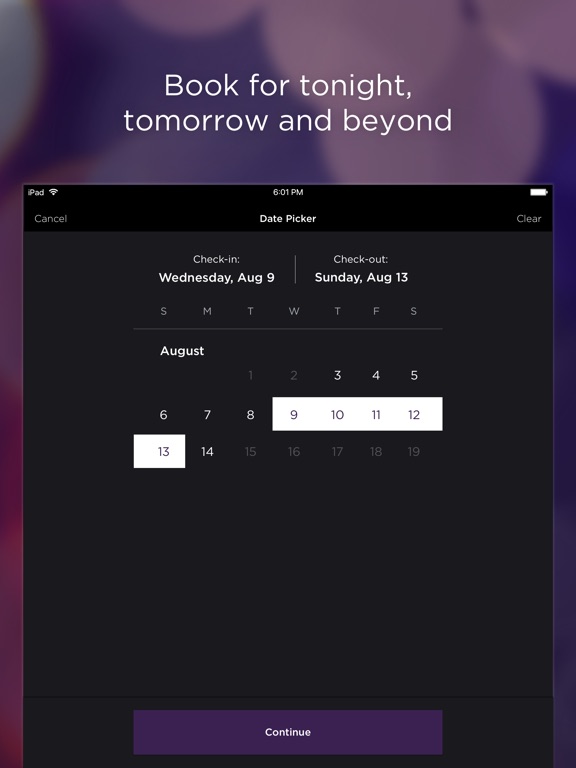 Reviews
Never disappoints
HT is always reliable and quick. It's pretty and feels good to use, too!
Easy as one two three!
Arrowhead Man
on
10/18/2017
A great travel app for quick easy booking in quality places!
Works the way I want it.
Nice and easy.
Meh
The concept is great (that's why I didn't give one star), but the app not so much. Hotel search doesn't show you results in the area you put in instead it's constantly trying to get you a deal in a hot $$ area near you. SUPER ANNOYING!!! costumer support, at least they pick up the phone, but that's pretty much it. Don't expect them to actually get any help in need.
Best Deals online
Very savvy traveler and always find the best deal and this app has surpassed my expectations... don't know how they get these rates but I am not complaining!
So helpful for road trips
I've used hotel tonight on three cross-country road trips and it's honestly made traveling so much easier. I can drive until I start to get tired and book a hotel without having to map everything out ahead of time. The rates are really good and get better the more you use the app (also if you wait till after 10 pm hotels will try to get rid of rooms and bump the rates even lower). Best part is the reviews - I feel safe knowing what to expect in a hotel before I arrive. The only time I haven't used hotel tonight on these past three four day trips from coast to coast, I ended up staying in a seedy hotel that was more expensive than the nice ones through the app. Definitely recommend!
Easiest app ever
Chiyoko Osborne
on
10/16/2017
Used a few times for nyc. Booked totally decent hotel in 3 minutes for not that much $$$ ... doesn't get better than that! 🙌🏻🙌🏻🙌🏻
Don't recommend
Rafael Cedano
on
10/16/2017
I use this app and I get charged 2 times, then they said they are not responsable, I try so many times to get my money back, but always the same answer, if you want to loose your money use this app.
No deals here
Slick app experience but cheaper prices can be found on the same hotels in other apps. The number of hotels offered is really low, I know there are more hotels available tonight...
Love this app!
Karen J of Oregon
on
10/15/2017
We've been on the road 11 days and I love the ease in booking rooms with this app. Have not had any trouble. All rooms have been great.
Best app for quick getaways
Love this app. Quick and easy. More hotels sure sign up to this. My wife and I live in NY and book these small getaways from the kids and explore the many hotels in NYC. This app helps us make it quick to find the right hotel
A great app for how I travel
Love this app. That is all.
Don't waste your time
Freerider714
on
10/14/2017
Rude staff. They hang up on you and you better not ask to cancel or change hotels because that is out of the question. Once they have your money they got you!
Great app!
efficient, simple, user-friendly. Cant ask for more.
Has 4 days that does not open...
What is going on? HT has 4 days that does not open, I deleted and downloaded again and still the same I wait your answer....
Always Solid
DancerDylan
on
10/13/2017
Hotel Tonight has saved me in numerous instances! I love the new concierge feature as well. I highly recommend for those pre planning or in a jam. Thank you Hotel Tonight!
Great app.
Easy and fast to use. What could be better!
Why are their Hotels not cheap?
Defeats the purpose of the app if it's the same price as any other hotel website.
Awesome site! Beats all options at HT perk level.
Chief Consigliere
on
10/13/2017
Brand name hotels at 20- 30% discounts. Not sure, but I think they sell canceled rooms. Who cares - same rooms same great hotels.
The Best Thing Ever
Always book 1-2 days in advance or you'll be kicking yourself. They ALWAYS have empty rooms and they ALWAYS get super cheap the day before
Rates have gone up with longer reserve window
HT used to be a way to grab a cheap room at the last minute. But now, the rates aren't any better than Expedia and there are a lot more hidden fees.
Still needs improvement
namebrandjunkie
on
10/10/2017
I've used this app several times to book hotels and I've never had a problem. The app is easy to navigate and prices are good. I was super excited to hear about the update (booking hotels 100 days in advance) only to be disappointed to find that I can only book select locations that far in advance. Some locations are still limited to a week in advance. Please please please include all locations. Otherwise I'm forced to go elsewhere to book a hotel. THEN I will give this app 5 stars!
Excellent
Donnaevs6357
on
10/10/2017
Found great hotels at bargain prices many times using this app. This is my go to for any trip I take!!
Poor customer service
Gamerdelishious
on
10/9/2017
I use them all the time book maybe 50 nights with them a year, I mistakenly mixed up the name of a hotel and when I booked a hotel an hour a way they refused to help me out ..
Very Very useful
Furiousrobinson
on
10/9/2017
This app continues to come in the clutch, I use it when traveling and when I am home on staycations around Miami. The HT perks are always a bonus and I have never had trouble reserving rooms. Sometimes it's good because the rooms get upgraded for cheaper than they would be originally.
Stranded in Alexandria with no hotel
I was in Alexandria VA this past weekend and showed up at my confirmed hotel and they didn't have my reservation. I waited at the front desk for about 45 min/1 hour while the woman tried to figure out what hotel I was supposed to be in. She was told that Hotel Tonight moved me to a different hotel. Of course I wasn't notified of this. As she was on the phone with Hotel Tonight who was trying to find me a new reservation (of which there were none in any hotels in the nearby area), I had plans and had people waiting on me. So I had to leave and was stranded without a hotel room bringing all of my belongings with me. I ended up having my father and I sleeping on the couch and the floor of a friend's hotel room. It was the most unpleasant experience I've ever had. And the email I received after I had left was an apology with a $35 credit which would barely cover a mini bar snack. This wasn't just an inconvenience, this was absolutely unacceptable, and they didn't make any effort to make it up to me. And to make matters worse, when I called to talk to someone about this, I couldn't get anyone on the phone because the phones were down! Worst customer experience ever. How would you feel if you were stranded in a city you've never been to with no hotel??? Even when you had a supposed confirmation??? Don't use this app. You might be left without a hotel room.
Great App & great experiences!
Have been using this app for years. Have never been disappointed by any of my nights' stays! App makes travel more convenient and more fun!
Overpriced and unreliable
littledancer0718
on
10/7/2017
Hotel tonight tries to charge you 4x more than Expedia or hotels.com or Travelocity!! Save your money and book elsewhere which is just as fast a process and more reliable. Also customer service is nasty.
👌🏾
CITY LIGHTS!
on
10/7/2017
Very reliable and easy. The price you see is the price that's booked. No surprises price wise
Quick and easy
MondoBondage
on
10/7/2017
Nice to book in less than 3 minutes. Awesome! And pricing is competitive!
Love this app- edited
Edit: Ever since they upgraded to allow booking farther in advance the rates don't get as low. Last time I used the app, got to the hotel and was charged an ADDITIONAL 32$ for a 'resort fee' that was never mentioned in the description. If hotelstonight really wants to be a decent app they should try to Find these types of things out before promoting a property. I love this app!! I check it every day even if I don't need a hotel because it really makes travel possible. I book through it monthly and it always works out!
Simple
This site only shows some of the hotels available in an area, never had a bad experience. My last room was double charged. Correctly by Hotels.com, incorrectly by the hotel. It was only last night, and one of them (hopefully the hotels more expensive one) should drop off. Still, it ties up credit-inconvenient when you are traveling a lot.
Convenient
Transaminase
on
10/7/2017
I've used the app for several years. When it first started the rates were better. The customer service is still superb. The app is extremely user friendly and convenient. Even if the rates are the same as the large online hotel sites the simple interface of the app makes it well worth it. I highly recommend.
Really awesome for procrastinators but...
Todaystheday246
on
10/6/2017
If you do too much searching and wait more than 5 minutes to make your choice they will raise the rate on you. Which makes you want to start looking all over again.. so don't be a procrastinator or hotel tonight stop taking advantage of us...
Love this app!
daniellelautner
on
10/6/2017
I've gotta say I'm surprised at all the negative reviews. I just returned from a trip to Laguna Beach and the hotel I booked through HT was fantastic, just as pictured. I wouldn't have given the place a second thought passing by but the pics looked so good and the room in person did not disappoint. I used it exclusively last year on a solo cross country trip as well. It was a great resource because I had no real itinerary. This was a 2 month trip where I moved on average every 2-4 days. That's a lot of bookings. The listings clearly state the fees so I don't know why people are being surprised. Just make sure you look at the location on the map thoroughly and read the listings! Granted, if there are bug issues that's another story and I would agree it's out of their control in some cases, with proof I would think they should offer a credit.
Prices
App lists lower prices than other main sites
Convenient and good deals
It's great having an app that conveniently allows you to book ahead and/or last minute. The deals are usually good. The only thing I probably have an issue with is not being able to request the number of beds and maybe once out of every 7-8 times the hotel didn't turn out as nice as we expected.
Not Honest read details
Small print at the bottom, double bed = bunk bed. Worst travel ap. Never use again.
Hotel Tonight
Awesome for the traveler with Hiking Boots and Senior Citizen Status! We proceed night to night not knowing how long we can stay on the trail. ❤️❤️this App! Mary and John.
Higher than the walk-in price
I had been driving all day and used the app to find a place to sleep for the night. I thought I was getting a good deal ($59) until I arrived at the hotel and the road sign was advertising $42.99 for a room. Every hotel on the street was the same low price too. Customer service didn't care and didn't believe me even after I sent a photo of the sign. Don't bother - they don't have a 'secret formula' and customer service can't be bothered to read your emails.
Very few options !
Level10boutique
on
10/2/2017
This app is great as a quick fix but if your a traveler like myself and stay everywhere you'll need more Options. A lot More...
Very Intuitive App!
Mark Salesses
on
10/2/2017
One of the best Apps ever! It's like it was designed and tested, tweaked, and then launched! What a concept!
Easy Peasy
I live out of my suit case and this is by far one of the easiest ways to book my accommodations.
Wonderful
Yvonne Peace
on
10/1/2017
Great and honest staff members! I will try to only stay at this hotel while in Brooklyn.
Fácil de usar
En un par de minutos encuentras, reservas y confirmas
Graham Smith
I honestly love this app. My only complaint is that they have not established themselves in East Asia. Otherwise, this app is great.
I won't use anything else
After using MANY other apps I have realized none compare to the ease and efficiency of this one! It's by far the best price and yes you may only get a few options but I promise you they are the best prices around! I love the tier system where you get perks as you stay at more places. I could ramble on for hours about this app but "just use it" my version of Nike slogan inserted... drop the mic I'm out!!!!
Love Hotel Tonight!
I always use this app when traveling and I absolutely love it. The app is very easy to use and it has saved me a lot of money all while getting to stay at some pretty nice hotels.
No longer a deal
Since they upgraded the app, you can book out a couple of months. It's no longer a deal. In fCt it's more expensive grab other hotel booking apps.
$100 credits gone
I had invited friends to use the app and had accumulated $100 worth of credits via the referral proram. Suddenly they are gone. Asking the support, they say they had an expiration and I should have read the TCs of the app. You got my money, you got free users from me, you wont get a five star from me. Too bad. Good bye Hotel tonight.
Fact Sheet
Publisher:

Hotel Tonight Inc

Category:

Travel

Released:

Dec 15, 2010

Current Version Released:

Oct 16, 2017

Version:

11.5

Size:

71.9 MB

Compatibility:

Requires iOS 10.0 or later.

Recommended Age:

4+

Game Center Certified:

No

Supported Devices:

iPhone5-iPhone5, iPadFourthGen-iPadFourthGen, iPadFourthGen4G-iPadFourthGen4G, iPhone5c-iPhone5c, iPhone5s-iPhone5s, iPadAir-iPadAir, iPadAirCellular-iPadAirCellular, iPadMiniRetina-iPadMiniRetina, iPadMiniRetinaCellular-iPadMiniRetinaCellular, iPhone6-iPhone6, iPhone6Plus-iPhone6Plus, iPadAir2-iPadAir2, iPadAir2Cellular-iPadAir2Cellular, iPadMini3-iPadMini3, iPadMini3Cellular-iPadMini3Cellular, iPodTouchSixthGen-iPodTouchSixthGen, iPhone6s-iPhone6s, iPhone6sPlus-iPhone6sPlus, iPadMini4-iPadMini4, iPadMini4Cellular-iPadMini4Cellular, iPadPro-iPadPro, iPadProCellular-iPadProCellular, iPadPro97-iPadPro97, iPadPro97Cellular-iPadPro97Cellular, iPhoneSE-iPhoneSE, iPhone7-iPhone7, iPhone7Plus-iPhone7Plus, iPad611-iPad611, iPad612-iPad612, iPad71-iPad71, iPad72-iPad72, iPad73-iPad73, iPad74-iPad74, iPhone8-iPhone8, iPhone8Plus-iPhone8Plus, iPhoneX-iPhoneX,

Supported Languages:

English; French; German; Italian; Russian; Spanish; Castilian;