Screenshots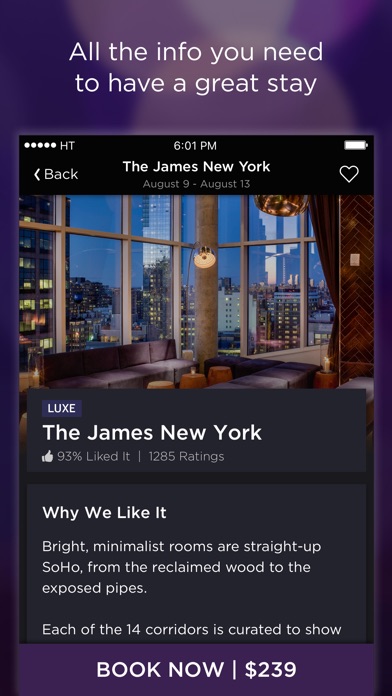 New in version 11.8
We update the app pretty regularly to keep things running smoothly. Occasionally we'll update with something really exciting. We promise to tell you when that happens.
Description
Amazing last minute hotel deals for tonight, tomorrow and beyond!

HotelTonight makes it *incredibly* easy & quick to find a great deal at a great hotel. Three taps, one swipe, you're booked! We've been downloaded millions of times and work with top hotels across the globe (we only partner with hotels where we'd wanna stay, too).

Here's the deal:

* Amazing last minute deals
* Book for tonight, tomorrow and beyond (up to 100 days in advance in some locations and 7 days in advance everywhere)
* Top rated hotels you'll love
* Seamless booking in 10 seconds flat
* Search by city, attractions, nearby hotels or on a map
* Ratings, reviews and photos from fellow bookers
* Access to HT Pros, our in-app concierge
* Exclusive location-based discounts (GeoRates) save you even more!
* HT Perks program - the more you book, the better our deals get!
* Add Favorite hotels and see whenever they're available
* 24/7 customer support


Some of the many ways you can use HotelTonight:

* Adding a day for play before or after your business trip
* A last minute birthday or anniversary surprise (we won't tell anyone you forgot)
* Spontaneous weekend getaways
* Road trips - hop in the car and see where the road takes you
* A mid-week booking or staycation at that spot you've always wanted to check out… just because
* Summer afternoons by the hotel pool
* Luxury vacations scored on the cheap
* Summer weekend holidays booked on the fly
* To turn tonight (or tomorrow... or next week) into an adventure


People are talking:

"HotelTonight what did I do without you?" - Kelly Osbourne

"You can get great, cut-rate deals on hotels… including luxury hotels." - Jeff Rossen, Today Show

"My fav travel app." - Samantha Brown, Travel Channel Host

"I love saving on last minute bookings using the HotelTonight app." - The Points Guy

"Book the destination of your choice and enjoy your time there – without breaking the bank." - Oprah Magazine

"Delete all your other hotel apps." - App Store reviewer sdraymonds

***Got feedback? We're all ears. Hit us up at: feedback@hoteltonight.com

Let's connect:

* Instagram: @HotelTonight
* Twitter: @HotelTonight
* Facebook: facebook.com/HotelTonight
iPad Screenshots
Reviews
13 Dec 17 update 11.8.1 fixed the open failures
sayvilleguy
on
12/13/2017
Kudos to the developers for turning around an update to the update in 24 hours. Now things are back to normal.
Amazing
Just great all around!
Fast. Convenient. Awesome
Natelakeman
on
12/12/2017
I love the Hotel Tonight app for when I am traveling. It is so easy to put in the address where I am meeting someone and find the closest hotel at a great rate!
App crashing after update
I love using it. But can't when I need to because it crashes immediately
Crashes
Chris Myles
on
12/12/2017
Latest version crashes!!!! Won't open
Awesome app
Awesome app. Always so helpful
latest update causes app to crash and not stay open
FTL Cyclist
on
12/12/2017
The latest update causes the app to run in the background, but unable to use as it closes from home screen
Ugh
FYI app stopped working on iPhone X after latest update. Thanks.
Application crashing while opening
Divyakrishna
on
12/11/2017
Hey guys, Newer version is crashing in iPhone X
Straight forward!
No hidden fees. This is the only website that is upfront and honest about their hotels! Thank you
Great services !!!!!!!!!
Minnesota Album available Now !!!!!!!!
Terrible
This hotel Paramount in nyc is terrible. I just checked in after buying the room on Hotel Tonight. The front desk of the hotel was offering no help. The customer service of Hotel Tonight did not provide any support. They charged $370 for the rate plus collecting another $30 fee and they gave us 11x10 feet room. I have stayed in many hotels in nyc and this is a robbery from both the Hotel and the App Hotel Tonight.
This is a real comment lol
Thatdudejay123
on
12/9/2017
This app is honestly great! Quick, simple and great deals!
Scam
They made a booking error and wouldn't credit my credit card back.
Indespensible app for frequent travelers
I have saved thousands upon thousands of dollars by booking my last minute rooms with Hotel tonight.
The best
Gunna take over the hotel app game. They are actually profitable! How can I invest? Lol
Excellent customer service
I had used the wrong card to make a purchase and I thought for sure nothing could be done about it because of the non-refundable rule, but I called anyways to try something. Emily was quick to tell me she could swap the payment method for me. It was such a relieve to finnaly come across quick, easy and painless customer service. Thank you Emily and Hotel Tonight!
Best hotel App ever!!
socalbuckeye1
on
12/7/2017
Booking hotels should always be this easy, fast and reliable
Best booking experience!!
Cutesallydawson9835
on
12/7/2017
If you're looking for affordable great hotels last minute I highly recommend this app. I've been using Hotel Tonight for a few years now and it's the only way I book. I absolutely love the discount prices/ Perks I'm able to receive because I've booked through the app many times before.
Hotel Tonight, Memories Forever
ImpressedUsers
on
12/7/2017
Just over a year ago, the Hotel Tonight app was recommended to me by a friend. Since then, I've used it to book half a dozen hotels. Not once have I been disappointed. The hotels I've found through this app are more beautiful than you can imagine. The staff have always been welcoming. The rooms have been spacious and we've always had a great view. Recently, we booked a hotel only to discover that it was in the path of a natural disaster. Knowing the hotel stays are non-refundable, I called the help line without much hope for getting my money back. I was pleasantly surprised. The phone operators were all extremely helpful and pleasant. They assisted me quickly and were able to grant me a credit. I highly recommend this app to anyone looking to get away for the weekend. My favorite hotel app, no contest.
Best app for the hectic traveler!
Easy and fast to use
False benefit of being spontaneous
You'd think that the price would be especially low because you are booking last minute and doing a hotel a favor by filling a spot that would otherwise be left empty. Thats not the case. These prices are higher than booking two weeks ahead. Using other services to book same day give approximately the same price.
Great service
Makes it so easy when you arrive. No figuring out the rate when you're tired from traveling. Layout is simple and functional.
Great Customer Service and Great Business
I love HT. Here's why: A tangible reward system. Every dollar I spend works towards getting me a better deal. Super flexible planning. I can book a hotel an hour out at 0300 in Dallas....pretty great. Great rates! I save on average 50 dollars per booking. Good service. I made a bad booking and HT was able to apply the money as a credit on my account. NOTE: THERE IS A NO CANCELLATION POLICY. But that's not a problem with me. I highly recommend this app. 9/10, if they had a cancellation policy, 10/10.
Ok app but no customer service
Just that. You can book a hotel but any problems and you're on your own.
Best value
Best value for last minute hotels. Amazing.
Easy to use
Very easy to use had no problems when checking in at the hotel
Crashing on startup
But the website works fine.
A must have app
Ballzzzindamouth
on
12/2/2017
I've been using HotelTonight since I heard about them on CNBC in 2011/12. A great must have app for game time decisions and spontaneity.
Great
This stuff trash
on
12/2/2017
Great
No refunds ever
I use to like this app but not likely to use it again . I booked a hotel advertised as close to the airport with a shuttle a Wyndham in Philadelphia . Found out within minutes of booking that it was actually 40 minutes from the airport and the shuttle did not go that far . I called right away but was not able to cancel or even change my reservation to the Wyndham that was actually close to the airport ( the one I thought I was booking) I even offered to pay extra. Ended up having to book two hotels for the same night and pay for both. I think if you realize there is a mistake and it has literally only been a few minutes that should be able to help you.
Awesome Place to stay!!
Hanninal RIP
on
12/1/2017
Been staying here before they renovated and always loved it. But now since it became The Linq, it is even BETTER! Great atmosphere, terrific staff, and a fun casino to gamble in! Highly RECOMMEND IT!!! 😉👍🏼
Inflexible policy
The allure of hotel tonight is great! Offering hotels at lower rates based on inventory. Unfortunately, I clicked on a hotel that I believe was near my house, and when I finished my purchase I discovered that I had unfortunately purchased a different hotel. This is my first time using this app, and I do believe it must have been a glitch. I called the customer service who was polite and friendly, to see see if they could give me an exception, but were unable to do so. The room is for a guest at my house, and it caused him to have to stay 2 miles away from my house, Rather than down the street. I really think that hotel tonight should have more flexibility in their process for first-time users, it was very frustrating that my guest had to travel, and hotel today was very inflexible and unhelpful with their policies. The experience just left a bad taste in my mouth, and I just don't plan on using them again in the future.
MUST HAVE APP!!
Starmaker07
on
11/30/2017
Class Act! Would never travel without this APP! Any city, any night, last minute n even a day or two before - they get me a class room in a good hotel with a great price - no hassles- no stupid pop up ads..NO website or even direct Hotel call can Do It for me like this! Best APP on the market best for my life.. If only the other apps could be as efficient and helpful and successful for my life as this one!!! And they have such a cool staff and nice and just I just love them!
Great App
X Expedia User
on
11/30/2017
Love this App. I use it religiously. Expedia is jealous.
Jumped the shark
Crow Island
on
11/30/2017
I used to love Hotel Tonight. I recently booked a room in New York.... the room I was given had two single beds. It was in a terrible hotel and it was a very bad experience. Customer service did nothing. I'm not a complainer and I am self aware enough to know this is a first world problem, but, I wouldn't ever use Hotel Tonight again.
Hotel tonight rocks!
Jadine Otero
on
11/29/2017
Really simple to use, with the accommodations information easily accessible!
Great App
This is such an awesome app... I have no problem with it...a convenience that is second to none... secure and safe... a must for people on the go.
The Best place to find a hotel
I don't like ads
on
11/28/2017
I always use Hotel Tonight !
NYC trip
Great app for finding a spot last min in NYC!
Great app
Love using this app for all the best deals when I stay out at new hotels!
Great!
brownsugar16
on
11/27/2017
It was a great experience and everything worked out great!
Excellent
LastThroesDrummer
on
11/26/2017
Excellent app
The best last-second hotel app
Sportsfan919
on
11/25/2017
Super easy to use.
Super easy, trustworthy, inexpensive
Rachiebaby what what
on
11/25/2017
Loveeeee this app! I save so much, plus it's the easiest booking platform I've ever used.
Can't beat it
Motel 6 one night for same price as upscale hotel next night! Are you kidding me?!?! No comparison! Prices changing for better as you scroll!
Past user frustrated
I was a super happy, multi-time user of hotels tonight. I have been traveling less, so it had been a while since I used hotels tonight. I needed a hotel for unexpected travel and tried logging in as I got to the airport. But the app now does NOT let me use a password to log in. Instead the app says something like "to make it easier - because no one likes remembering passwords, that now all I need to do is use a confirmation code they send me. I have ZERO problem remembering my passwords because I use a killer app for that. I JUST NEEDED A HOTEL TONIGHT! So I click on the button to send me a code to my email. BUT the problem is that the email NEVER came. Even after trying several times, checking my junk mail and spam filters, and checking my email address entered. Now, there was no option to log in with my password, as I had in the past many times After trying several times I gave up and booked my hotel on Hotwire where at least I know my password works and it was easy to use. VERY FRUSTRATING when trying to book a HOTEL TONIGHT at the last minute on your app, and it uses a new non-user friendly way to log in. That is what used to be easy.
Test
SingleInNYC
on
11/24/2017
Test review
Great app
Use for all your hotel bookings!
Fact Sheet
Publisher:

Hotel Tonight Inc

Category:

Travel

Released:

Dec 15, 2010

Current Version Released:

Dec 11, 2017

Version:

11.8

Size:

73 MB

Compatibility:

Requires iOS 10.0 or later.

Recommended Age:

4+

Game Center Certified:

No

Supported Devices:

iPhone5-iPhone5, iPadFourthGen-iPadFourthGen, iPadFourthGen4G-iPadFourthGen4G, iPhone5c-iPhone5c, iPhone5s-iPhone5s, iPadAir-iPadAir, iPadAirCellular-iPadAirCellular, iPadMiniRetina-iPadMiniRetina, iPadMiniRetinaCellular-iPadMiniRetinaCellular, iPhone6-iPhone6, iPhone6Plus-iPhone6Plus, iPadAir2-iPadAir2, iPadAir2Cellular-iPadAir2Cellular, iPadMini3-iPadMini3, iPadMini3Cellular-iPadMini3Cellular, iPodTouchSixthGen-iPodTouchSixthGen, iPhone6s-iPhone6s, iPhone6sPlus-iPhone6sPlus, iPadMini4-iPadMini4, iPadMini4Cellular-iPadMini4Cellular, iPadPro-iPadPro, iPadProCellular-iPadProCellular, iPadPro97-iPadPro97, iPadPro97Cellular-iPadPro97Cellular, iPhoneSE-iPhoneSE, iPhone7-iPhone7, iPhone7Plus-iPhone7Plus, iPad611-iPad611, iPad612-iPad612, iPad71-iPad71, iPad72-iPad72, iPad73-iPad73, iPad74-iPad74, iPhone8-iPhone8, iPhone8Plus-iPhone8Plus, iPhoneX-iPhoneX,

Supported Languages:

English; French; German; Italian; Russian; Spanish; Castilian;