Screenshots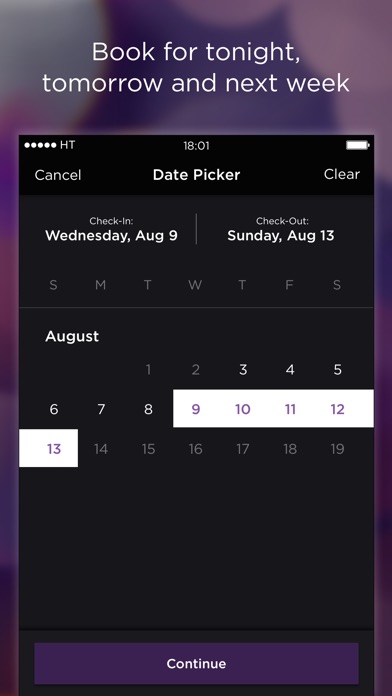 New in version 11.3.1
We update the app pretty regularly to keep things running smoothly. Occasionally we'll update with something really exciting. We promise to tell you when that happens.
Description
Book last minute hotel deals up to a week in advance!

HotelTonight makes it *incredibly* easy & quick to find a great deal at a great hotel. Three taps, one swipe, you're booked! We've been downloaded millions of times (thanks, you guys!) and work with over 15K awesome hotels in 35 countries across the globe (we only partner with hotels where we'd wanna stay, too).

Here's the deal:

* Amazing last minute deals
* Book up to a week in advance
* Top rated hotels you'll love
* Seamless booking in 10 seconds flat
* Search by city, attractions, nearby hotels or on a map
* Ratings, reviews and photos from fellow bookers
* Access to HT Pros, our in-app concierge
* Exclusive location-based discounts (GeoRates) save you even more!
* HT Perks program - spontaneous surprises, plus the more you book, the better our deals get!
* Add Favorite hotels and see whenever they're available
* 24/7 customer support


Some of the many ways you can use HotelTonight:

* Adding a day for play before or after your business trip
* A last minute birthday or anniversary surprise (we won't tell anyone you forgot)
* Spontaneous weekend getaways
* Road trips - hop in the car and see where the road takes you
* A mid-week booking or staycation at that spot you've always wanted to check out… just because
* Summer afternoons by the hotel pool
* Luxury vacations scored on the cheap
* Summer weekend holidays booked on the fly
* To turn tonight (or tomorrow... or next week) into an adventure


People are talking:

"HotelTonight what did I do without you?" - Kelly Osbourne

"You can get great, cut-rate deals on hotels… including luxury hotels." - Jeff Rossen, Today Show

"My fav travel app." - Samantha Brown, Travel Channel Host

"I love saving on last minute bookings using the HotelTonight app." - The Points Guy

"Book the destination of your choice and enjoy your time there – without breaking the bank." - Oprah Magazine

"Delete all your other hotel apps." - App Store reviewer sdraymonds

***Got feedback? We're all ears. Hit us up at: feedback@hoteltonight.com

Let's connect:

* Instagram: @HotelTonight
* Snapchat: @HotelTonight
* Twitter: @HotelTonight
* Facebook: facebook.com/HotelTonight
iPad Screenshots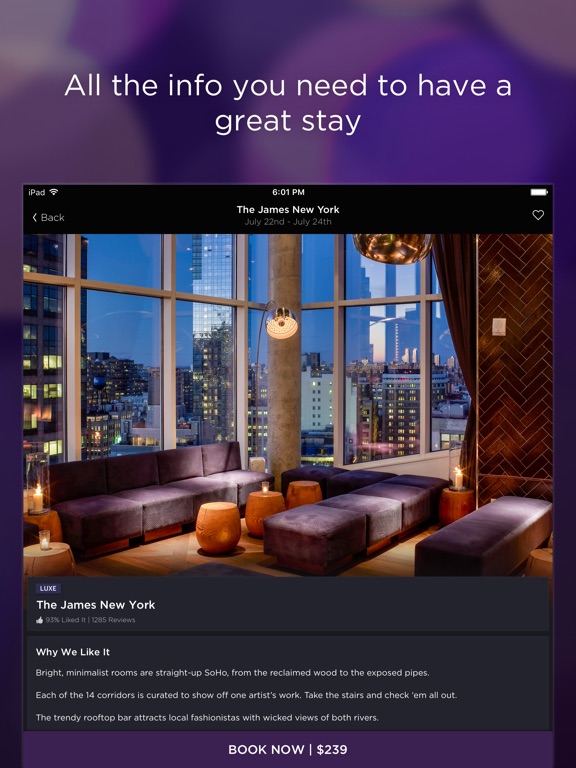 Reviews
Use it all the time
Really easy to use & great prices
Same as all now
I was a first adopter if this app. When it was first out deals didn't start till noon the day of and there were only a few for each city. Now when I needed to use it last weekend all prices are exact same as hotels.com and Expedia. Not it is just another site with same prices
🇹🇿🇬🇧🇹🇱🇺🇿🇫🇲🇲🇦🇳🇪m5
Z F 3:4N.} A '
Easy Does It!!!
So easy, such on-point descriptions of property quality and so super well priced. What's not to like?
Not Best Deals
In this app the same hotel on Orbitz was $30 less. Deleting the app.
Best travel app
SuperBondFan
on
9/22/2017
Love this app - my go to go for last minute plans-personal and business. Best rates and best properties. This app is required for road warriors!
Useful... but??
Dave E, in Ohio
on
9/22/2017
I find it very useful to use in an unfamiliar city... but question whether it's truly getting me the best price.... two nites ago I called and got a better rate on the phone then the app showed.
Must Have
As someone who travels often I always need to book things last minute and EVERY time find exceptional prices for hotels in different cities! Love the perks of using the app as well! I highly recommend, for the world traveler !
I'm your biggest fan!
@DaveMechamTime
on
9/22/2017
And I've been so since the beginning... love the choices and of course the rates. Referral bonuses are great too. Congrats to the HT team on your success. @davemechamtime (Los Angeles)
Easy to use and great prices
My go to app for booking rooms. My wife and I stay in the city occasionally and sometimes it's last minute, Hotel Tonight has a great selection of hotels and the prices are usually much better than booking direct or with Hotels.com. Easy to use and straightforward.
Outstanding app and customer service
I had a family emergency with my infant daughter and Ingrid was outstanding on helping us with our cancellation. Due to our circumstances she was able to give us credit back from our reservation the same day. It's so rare to get good customer service in the travel circuit of companies these days. From airlines to booking sites they treat us like numbers and dollar signs - acting like middle men to things and never being accountable and making customers feel like they have our backs. Well here is a breath of fresh air. Hotel tonight does. Don't be fooled by the fact that it's an app. There are real humans behind those screens and they care.
Love it
looooooooooooloooooooooooool
on
9/21/2017
Basically one of the few apps that I try and force my friends to use.
HT Pro
Provide no service. Can't access help until after non refundable booking.
Road trip ESSENTIAL!
roadguard_sk
on
9/20/2017
If you're on the road and need to plan out your commute, this is a highly recommended assistant. I've been on the road three days with an animal, and running down the list of preferable hotels couldn't be any easier. All the accommodations are listed under each hotel with full photos, directions, and user ratings to help you decide your choice of room overnight. This has been a tremendous help to book vacant rooms during my gas stops on long distance travel. This application is a MUST HAVE if you're a traveler.
Favorite hotel I've ever stayed at.
First time I use the app I stay at what turns out to be my favorite hotel I've ever stayed at. The HT concierge that came with the booking gave me a recommendation for food and I had an UHMAZING diner with the best Japanese food I've had since I was in Japan. Great app. Highly recommended.
💘
I love being able to book on the fly. Hotel tonight has been solid for my trips in California, Louisiana, and Texas. It's a must for the free spirited traveler.
Love it
Spontaneouslove
on
9/20/2017
Hotels Tonight has helped us stay in great hotels around the world!
Great hotels & prices
This app gives you a great list and variety of hotels to choose from at the best prices. My family only uses this app when we travel now. Their support team takes care of any issue we have. Must have app!
Could be better for road trips
While driving it would be cool if it let you ask for hotels about 2 hours away by car, and the current map features are pretty bad without any way of getting to map navigation from the confirmed booking (instead it just shows a full screen view of the address itself for some reason). And every time I tried doing something it asked me to rate the app, so here we are.
Nice helpful app
This app has a great UI, and gives me great deals.
Pm
She allow payment methods to be deleted
HT has Never let me down
Gateway builder
on
9/16/2017
we use HT exclusively! Love it
Great App!!!
Easy to use, great prices on top hotels!!
Beware!
Beware of calendar bumps! I booked for one date and it bumped me to the next day. Had to pay the hotel directly for the correct night and they won't refund my money for their mistake! Total rip off.
Good deal!
Mattizcoop (mac)
on
9/15/2017
I've enjoyed my stays there. It's modest and petite but very comfortable, clean and we efficient
Happy Customer
I love the convenience of hotel tonight, it's perfect for a spontaneous night out and gives you low rates to excellent hotels. I highly recommend.
Horrid service
Hotel Tonight App gets the reservation money up front and goes MIA of an issue. Last night in NYC I had giant issues with a hotel that the app marketed offering services they don't. I messaged them a day before trying to get out of my reservation. They spent almost 24hrs wasting time saying they needed to contact hotel which was not contacting them back. Long story short the hotel maintains they were never contacted by HT. They showed proof and HT never bothered. They offered me a $100 credit only if I book another hotel through them. The credit part I get. The going mia and lying about hotel contact, I don't. Their entire description of what the hotel (Public in NYC) is wrong. They owned up to nothing and the hotel was extremely disappointed after I showed them our text chat. The hotel itself questions doing business with this app further. I never will again.
Easy to use and book a hotel
Joy Choudhury
on
9/14/2017
Like it because it was very easy to use.
I love the freedom of getting a hotel wherever I am
A couple downsides are when there are hidden fees, like huge parking fees, but for the most part it has worked really well
Best Deals Eva.
TonyandBeth321
on
9/14/2017
Every time I think I am gonna have to pay too much for a room, y'all come through for me!
Ruined Our Entire Vacation
We decided to book through Hotel Tonight for our trip to LA. We arrive at our hotel (confirmation email, paid, and all) and they couldn't find us in the system! It was 1am and every hotel for the next 20 miles was booked solid. WORST experience we've ever had. They clearly don't have good relationships with hotels and sell 'fake' rooms (our hotel told us they were sold out for days). Use any other app/website other than them.
Need cheaper hotels
Need cheaper hotels
Not as advertised
First - the app touts itself as a last minute find great deals on unsold rooms. I've tried using it a few times and found the rates are no better if not higher than what I can find on any other app/web site and even the hotels own web site. This would be for day before or same day reservations. Second - there is no way to filter out certain hotels by class. If I want to take a romantic weekend to Charleston, I don't want to see every $45 hotel. Should be a basic function to sort by hotel class. Overall app appearance and ease of use is good. Just doesn't provide results as advertised. Due to 1&2 - it was just taking up space on my phone.
Great App
Easy to navigate, very convenient!
lied about booking in hurricane Irma situation
I booked a hotel through this app to evacuate from hurricane Irma, and I heard from the actual hotel "your booking is not confirmed and we don't have any room." This app charges you without assuring you actually have a room booked! This app even sent me a confirmation letter!! - this nonsense made my evacuation plan seriously dangerous. They also made me wasting total 4.5 hours on the phone to discuss refund and essential compensation. DO NOT use this app - it will NOT secure your room. And their "24/7" customer support will not resolve your issue - you will only end up with hearing a passive-agressive tone basically repeating "we don't really care - this is how our system works." Shame on you HT - you should not do like this for people impacted by hurricane Irma.
Easy, simple.
So easy and so quick
Can't get Term "Predatory Scumbags" Out of Head?
Gay professor
on
9/13/2017
By far IMO the very worst most reprehensible commercial entity I have experienced in nearly 5 Decades! Given the likelihood of pending action I will save the specifics for the appropriate venue. Please, please, please do your research and due diligence. There really are those people out there your mother warned you about and they come equipped conveniently with a no cancellation no refund policy. BUYER BEWARE! - The price is only part of the cost. Stay tuned.
The King of Hotel apps
I was stuck in Mississippi with a reservation of three nights but needed to get back to Florida (after Hurricane Irma passed). Even though reservations are supposed to be non-refundable (this is how they offer you better rates), they allowed me to check out sooner and credited me two days. While they weren't able to pick up the phone, this was all done within minutes via their customer service chat in the app. I already loved them before, but more so especially after this awesome experience. Thank you for being so understanding Hotel Tonight! I will spread the word!
Thanks, Emma at @HotelTonight for the great service - 5 stars!
This is the best app I have used for last minute same night bookings, the inventory of hotels and rooms is excellent, but the main thing about the app is it's ease of use, it is simply the best built easiest to use hotel booking app that there is in my opinion and, as I found out tonight, is backed by excellent customer service, when you call with an urgent need someone answers immediately and begins to address specific questions and makes resolutions on the spot, just like when booking directly with the big hotel groups. Well done HT!
Love
Begoodtoyourself
on
9/11/2017
Love this app! Best for its category for the market. -Kristin
Great family hotel
Was very clean and extremely spacious. We had stay for a few days with my kids and my two dogs. Very clean. It had a sofa, sofa bed, a king bed, a desk so I can work and Fridge and microwave. The friendly staff was always polite and gracious. Only suggestion would be if maybe somehow find a way to have laundry services in house.
America best value
Love the app but should verify standard of some brands . America best value in Cheyenne is not matching with my previous experience . Beside so far so good with hoteltonight !!
Works good so far
305mrw0rldw1de
on
9/10/2017
No issues with bugs yet. Just booked my room
Great App
My family always uses this app when we r doing a spontaneous getaway... they have great hotels. Many of these hotels we stay at, I would never have known even existed.
Easy for spontaneous trips
Chasetepherson
on
9/9/2017
I love this app because it's easy to decide on your hotel for a quick weekend getaway. Also started using it for longer trips. The rates are usually pretty unbeatable. Maybe you can find a better rate at the same hotel but you're spending a lot of effort for minimum benefit because this app makes it so easy to choose and book your room.
Great app... need updated pics
I loveeee this app. I use it a lot great deals for constant customers. The app just needs to update their pictures in some of the hotels
Life saver!
Open Mind Fitness
on
9/8/2017
I love this app I've been a user since day one and it's only getting better. It's saved me a million times and I've gotten some GREAT upgrades thru this app. I highly recommend this to all travelers, frequent or not. This is a must have in your phone. I have loved this since day one!!! Super easy and I've stayed in some fantastic hotels.
Fingertip Convenience
Always amazing to be able to go anywhere in the world and find a place to stay at the drop of a dime... literally.
Fact Sheet
Publisher:

Hotel Tonight Inc

Category:

Travel

Released:

Dec 15, 2010

Current Version Released:

Sep 25, 2017

Version:

11.3.1

Size:

67.2 MB

Compatibility:

Requires iOS 9.0 or later.

Recommended Age:

12+

Game Center Certified:

No

Supported Devices:

iPad2Wifi-iPad2Wifi, iPad23G-iPad23G, iPhone4S-iPhone4S, iPadThirdGen-iPadThirdGen, iPadThirdGen4G-iPadThirdGen4G, iPhone5-iPhone5, iPodTouchFifthGen-iPodTouchFifthGen, iPadFourthGen-iPadFourthGen, iPadFourthGen4G-iPadFourthGen4G, iPadMini-iPadMini, iPadMini4G-iPadMini4G, iPhone5c-iPhone5c, iPhone5s-iPhone5s, iPadAir-iPadAir, iPadAirCellular-iPadAirCellular, iPadMiniRetina-iPadMiniRetina, iPadMiniRetinaCellular-iPadMiniRetinaCellular, iPhone6-iPhone6, iPhone6Plus-iPhone6Plus, iPadAir2-iPadAir2, iPadAir2Cellular-iPadAir2Cellular, iPadMini3-iPadMini3, iPadMini3Cellular-iPadMini3Cellular, iPodTouchSixthGen-iPodTouchSixthGen, iPhone6s-iPhone6s, iPhone6sPlus-iPhone6sPlus, iPadMini4-iPadMini4, iPadMini4Cellular-iPadMini4Cellular, iPadPro-iPadPro, iPadProCellular-iPadProCellular, iPadPro97-iPadPro97, iPadPro97Cellular-iPadPro97Cellular, iPhoneSE-iPhoneSE, iPhone7-iPhone7, iPhone7Plus-iPhone7Plus, iPad611-iPad611, iPad612-iPad612, iPad71-iPad71, iPad72-iPad72, iPad73-iPad73, iPad74-iPad74,

Supported Languages:

English; French; German; Italian; Russian; Spanish; Castilian;

Parental Advisory:

Mild Alcohol, Tobacco, or Drug Use or References;