Recommended app!
App last updated
Jan 17, 2018
Screenshots
New in version 11.9
We update the app pretty regularly to keep things running smoothly. Occasionally we'll update with something really exciting. We promise to tell you when that happens.
Description
Amazing last minute hotel deals for tonight, tomorrow and beyond!

HotelTonight makes it *incredibly* easy & quick to find a great deal at a great hotel. Three taps, one swipe, you're booked! We've been downloaded millions of times and work with top hotels across the globe (we only partner with hotels where we'd wanna stay, too).

Here's the deal:

* Amazing last minute deals
* Book for tonight, tomorrow and beyond (up to 100 days in advance in some locations and 7 days in advance everywhere)
* Top rated hotels you'll love
* Seamless booking in 10 seconds flat
* Search by city, attractions, nearby hotels or on a map
* Ratings, reviews and photos from fellow bookers
* Access to HT Pros, our in-app concierge
* Exclusive location-based discounts (GeoRates) save you even more!
* HT Perks program - the more you book, the better our deals get!
* Add Favorite hotels and see whenever they're available
* 24/7 customer support


Some of the many ways you can use HotelTonight:

* Adding a day for play before or after your business trip
* A last minute birthday or anniversary surprise (we won't tell anyone you forgot)
* Spontaneous weekend getaways
* Road trips - hop in the car and see where the road takes you
* A mid-week booking or staycation at that spot you've always wanted to check out… just because
* Summer afternoons by the hotel pool
* Luxury vacations scored on the cheap
* Summer weekend holidays booked on the fly
* To turn tonight (or tomorrow... or next week) into an adventure


People are talking:

"HotelTonight what did I do without you?" - Kelly Osbourne

"You can get great, cut-rate deals on hotels… including luxury hotels." - Jeff Rossen, Today Show

"My fav travel app." - Samantha Brown, Travel Channel Host

"I love saving on last minute bookings using the HotelTonight app." - The Points Guy

"Book the destination of your choice and enjoy your time there – without breaking the bank." - Oprah Magazine

"Delete all your other hotel apps." - App Store reviewer sdraymonds

***Got feedback? We're all ears. Hit us up at: feedback@hoteltonight.com

Let's connect:

* Instagram: @HotelTonight
* Twitter: @HotelTonight
* Facebook: facebook.com/HotelTonight
iPad Screenshots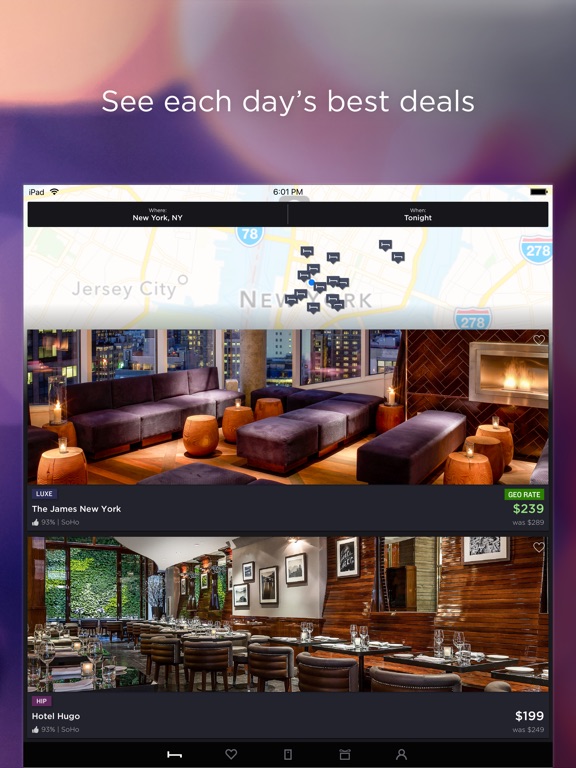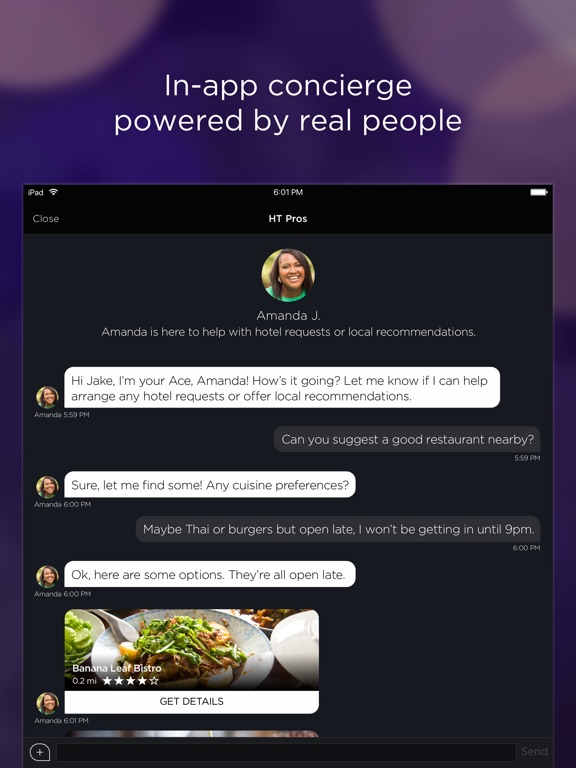 Reviews
Do not update
Used to be a great app, but after recent update app is frozen and will not open, stuck loading hotels page, stupid me never update a perfectly good app, always happens Just updated app again on different device and it is still broken. Stuck loading hotels
Traveler must-have!
pocahontas2112
on
1/21/2018
I am a flight attendant and use this app ALL THE TIME! I've had issues before, mainly my own fault though, and the customer service team has always been very helpful. The rates are great, the app is easy to use and the hotels have all the info you need listed. Just keep in mind that Hotel tonight offers these rates because they are non-refundable. So make sure you're physically in town before booking a room, hence the name: hotel tonight!
Convenience is the key
AvidReader123
on
1/20/2018
I've used Hotel Tonight many times and I've always found the selection good and the results more than satisfactory. When I need a hotel room last minute, it's almost always hotel tonight.
3 Stars because...
Threads&shoes
on
1/20/2018
You can't book for more than 2 people- bummer if you're traveling with a couple of friends. You also can't book more than one room at a time, so basically it's really only good for solo travelers and couples.
Raddisson York UK
crown stinks
on
1/19/2018
Hotel is a first class dumb Overpriced with a dumb Afro check in clerk that ruins the Raddisson name
It's super convenient and fast but......
Skoooooooooot 😎
on
1/19/2018
Sometimes you can find better prices on Google. Generally Hotel Tonight still costs a few dollars less for the most part. It's great for getting a quick general idea about how much hotels are where you're looking, and the booking process is ultra simplified. Select your hotel and draw on your screen and you're booked! Just don't forget to explore your options.
Hotels Tonight Best Kept Secret
Workingmomin20s
on
1/19/2018
Its like being part of a exclusive club where you are offered the highest grade of luxury and hip hotels at the best price. You can't beat that! No other hotel reservation app compares.
Highly recommended
One of the best apps for booking hotels. Very easy to use and got good deals 🤙🏽🤙🏽
Look at the room
Be sure to visually see rooms booked in non Big Name / High Quality destinations. The smaller dumpy places need to close down and step up. But the good name hotels ALWAYS hook Hotel Tonight app users up from Coast to Coast. Very happy great app and service.
Love this app
Greedy greedy game developers
on
1/17/2018
I have had nothing but good luck with Hotels Tonight. Every hotel I have ended up at has been surprisingly nice - nicer than I can normally afford. I highly highly recommend Hotels Tonight.
Hotels that are lit.
This hotel is lit!
Always great
Always a delight to stay here. Within walking distance to most places. Wine in the evening. Fabulous breakfast.
Easy
Easy, convenient, accurate… And very intuitive app. Not to mention actual deals. Great product.
Great app!
Awesome app to use for stay in at hotel! Thank you!
Tons of value rooms
Love it!
Love it!
Finding a hotel at 1am was pretty much impossible till I found this application. I was able to save almost $200!
Honestly? Great app
DaniDontPlay
on
1/12/2018
Great app to book with, Hotels Tonight connects me to great deals without sacrificing style or space -D
Nice
Great view, clean , nice beds, Jacuzzi was nice with a wonderful view of the river
Love this app!
I have been a user since it's early days and it is just wonderful. I get great deals and their support staff is awesome! 5 stars all the way.
Perfect
Literally what every businessman needs
Great app
My go to hotel app.
Monitor Price Tweaks During Purchase
Be careful to monitor how the price changes if you make any modifications to the booking - even switching from two beds to one.
Hotel Tonight - Best of Class - Definitely my "go to" APP
I've never been disappointed. Highly recommend. They do a nice job of editing choices and don't over-sell.
Easy!EasyEasy!
Manuel da Man
on
1/7/2018
Super easy
Love HT
Alijayebabyyy
on
1/7/2018
I've used hotels tonight all over the world. Hands down best prices. It's always nice to be able to online chat with a representative 24/7. The app layout is super easy and convenient.
So disappointed- total ripoff
I was a heavy user of the app , I'm on the road 3-4 days out of every week for work. Then they sent me to a complete dump with a filthy bathtub and toilet. That can happen I get it, but they refused to give a refund even though the room was filthy and looked nothing like the pictures. I will never use them again.
Best Deals at 4 & 5 Star Hotels!!
I used this app a few weeks ago while in Clearwater, Florida on vacation. At the last minute my friend and I decided we wanted to stay in a hotel on the beach. I downloaded several of the other popular apps for hotel rooms but none could even come close to the deal offered on HotelTonight!! We stayed at a highly rated resort that had all of my requested amenities(except no masseuse on site). Even better the front desk employee was absolutely wonderful and very accommodating. I will definitely continue to use this app and already making plans to stay at same resort!! Thanks for making a great vacation even better.
ʟıғєṡѧṿıṅɢ ѧƿƿ ẇıṭһ.ѧ Ԁȏƿє ṃıʟʟєṅṅıѧʟ ṡẇѧɢ
I love this app!! From the design to the most reasonable hotels offered. Not to mention the benefit I get from connecting the app to my acorns account! :)
Great resource!
HT enthusiast :)
on
1/6/2018
We have now used Hotels Tonight for all of our travel- business & pleasure! Very easy and great rates without the negative "3rd party" booking by the hotels. Excellent variety of hotel types- highly recommend!!
Dump rooms
Dump rooms. That is what you get. The rooms a hotel would otherwise not sell. Do yourself a favour and book with a reputable company or the hotel itself
Hotel tonight
Can build up credits! Great app. Easy to use
I've been burned but it's useful
I've been burned for $300 on hotel bookings that I didn't purchase for a hotel that was in Canada It was a horrible experience This app can burn you But it's helpful in a pinch I hate that they didn't help me but we're stuck at the mercy of they don't care because they can just force you into paying or remove you
Best booking app
Great app easy to use. Cheapest app out. Recommended.
Love this App!
Very easy to use, love the variety of options and so far we've been a week of the road and all hotels were good options! Love the last part where I have to track the logo to book, amazing design!
Epically poor customer service - don't use
Due to a problem with their app, I was hooked for the wrong night. After calling to tell them of the issue, I was told it couldn't be fixed, then that it could be fixed, then again that it couldn't be fixed. Finally, the night of the reservation, when I'd already booked a different room, they called to tell me they had booked a room. When I told them I had booked separately due to their lack of communication, they told me they couldn't do a cancellation. Basically a scam. Use Booking or Hotels.com or almost any other service instead.
Love this app
Great app with easy to find hotels. Very user friendly.
Amazing app
I love this app, I use it all the time when i travel.
Using it
I like it and use it over other options.
Horrible
Ginger Spanky Loves
on
1/3/2018
This app is the worst. I used it to book a overnight stay at Pacific edge hotel in Laguna Beach. The app showed nice pictures of the rooms. We were celebrating our anniversary and had reservation at a nearby restaurant in Laguna Beach to celebrate our anniversary. When we checked in they gave us a tiny room that smelled of smoke and the carpets were stained and very dirty. I asked hotel manager if I can change room, but according to him they were all booked up. So I contacted hotels tonight by email and they did nothing about it. Both hotels tonight and Pacific edge did not try to compensate us. Stick with hotels.com
Having issues
I downloaded this app today and I really like the layout and how easy it is to use, but after using the app for 5-10 minutes it shuts down without warning!? I'm not sure if it's just me having problems or if others are too, but I would love to have this issue fixed so I can keep using your app.
Great app for low prices on hip hotels
Reviewer_from_CT
on
1/2/2018
I use this a bunch for work and play when I have let-minute changes. No better rates out there and so far has worked without a hitch!
Beware
App does not clearly explain charges like resort fees as well as its competitors; you will end up paying more for rooms booked through it than you expected.
Great app
Easy to use and always a great price.
It's Easy
It's just easy to do.
TERRIBLE. Run fast!
Hrfaqfjukkdcss
on
12/31/2017
Worst customer service I've ever experienced.
Price scam (be careful)
The prices that you see are not the final that you pay when you bookshelf hotel. We booked a hotel via the app and then had to pay 20% on top when checking in. This was in Florida. Scam.
Easy to use
Cheap, fast , and easy to use
Prices
Excellent choices & better prices
Terrible service
They will change the hotel on you, to a sub standard one.
Fact Sheet
Publisher:

Hotel Tonight Inc

Category:

Travel

Released:

Dec 15, 2010

Current Version Released:

Jan 17, 2018

Version:

11.9

Size:

72.7 MB

Compatibility:

Requires iOS 10.0 or later.

Recommended Age:

4+

Game Center Certified:

No

Supported Languages:

English; French; German; Italian; Russian; Spanish; Castilian;