TapNova doesn't recommend this version of the app.
New in version 10.17
Fixed a few bugs, polished a few things, did some general spring cleaning. Something we missed, or that you think we should know? Shoot it over to feedback@hoteltonight.com.
Description
Book last minute hotel deals up to a week in advance!

HotelTonight makes it *incredibly* easy & quick to find a great deal at a great hotel. Three taps, one swipe, you're booked! We've been downloaded millions of times (thanks, you guys!) and work with over 15K awesome hotels in 35 countries across the globe (we only partner with hotels where we'd wanna stay, too).

Here's the deal:

* Amazing last minute deals
* Book up to a week in advance
* Top rated hotels you'll love
* Seamless booking in 10 seconds flat
* Search by city, attractions, nearby hotels or on a map
* Ratings, reviews and photos from fellow bookers
* Access to HT Pros, our in-app concierge
* Exclusive location-based discounts (GeoRates) save you even more!
* HT Perks program - spontaneous surprises, plus the more you book, the better our deals get!
* Add Favorite hotels and see whenever they're available
* 24/7 customer support


Some of the many ways you can use HotelTonight:

* Adding a day for play before or after your business trip
* A last minute birthday or anniversary surprise (we won't tell anyone you forgot)
* Spontaneous weekend getaways
* Road trips - hop in the car and see where the road takes you
* A mid-week booking or staycation at that spot you've always wanted to check out… just because
* Summer afternoons by the hotel pool
* Luxury vacations scored on the cheap
* Summer weekend holidays booked on the fly
* To turn tonight (or tomorrow... or next week) into an adventure


People are talking:

"HotelTonight what did I do without you?" - Kelly Osbourne

"You can get great, cut-rate deals on hotels… including luxury hotels." - Jeff Rossen, Today Show

"My fav travel app." - Samantha Brown, Travel Channel Host

"I love saving on last minute bookings using the HotelTonight app." - The Points Guy

"Book the destination of your choice and enjoy your time there – without breaking the bank." - Oprah Magazine

"Delete all your other hotel apps." - App Store reviewer sdraymonds

***Got feedback? We're all ears. Hit us up at: feedback@hoteltonight.com

Let's connect:

* Instagram: @HotelTonight
* Snapchat: @HotelTonight
* Twitter: @HotelTonight
* Facebook: facebook.com/HotelTonight
iPad Screenshots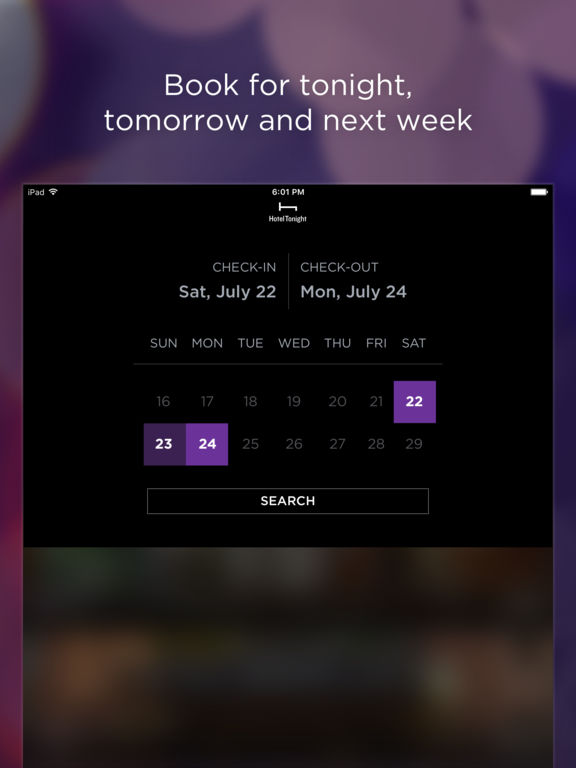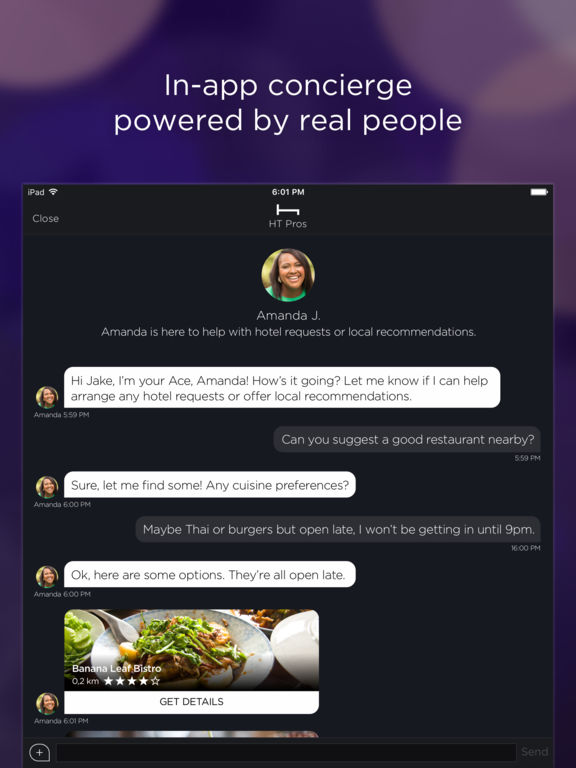 Reviews
Good but not great customer service
craftyness98
on
7/24/2017
The app is great for discount rooms but the referral program is not clear. When I communicated with customer service I was very disappointed.
Amazing App
Been using for over 3 years and this app beats them all
Slick
This app has saved me many a'dollar and has helped me find cool places to stay other than your normal big name hotel chains. Easy to use, polished and slick.
My go to for hotel stays
Michelleblair
on
7/23/2017
I love hotel tonight. I've booked so many rooms through this app I couldn't even count how many. They give you great deals the more you book through them as well. 5 stars!!!
Hope you like getting the worst rooms possible.
All bookings are non refundable, and hotels have the freedom to put you in the least desirable room they have. Get ready for a bad experience. Not worth the few bucks you'll save.
Great app for instant hotel booking but poor customer support
I get email saying account suspended for security reasons, but no explanation offered in spite of repeated emails. Phone support said they don't handle account issues and no response on emails. Great app for frequent travelers with instant hotel bookings with just few clicks and competitive pricing but poor customer support! Wake up customer support team..
Customer Support 👍
Worked with Abraham as I had a booking issue for the wrong date and time. He was able to resolve it. Our plane was losing oil and we had to turn back. It's Sunday 1AM and Norwegian said no hotels were available in Oakland so I turned to the app and didn't realize I booked for Sunday at a 3pm check in. 🙊 Thanks for your support!!!!
Love it!
Use Hotel's Tonight every single time me and my Hubs are traveling! Great selection of hotels and totally user friendly. No regrets.
Great app
Boooooooommmmbaby
on
7/23/2017
I have been traveling Europe and have had only great experiences with this app! 100% great app!
Play on player
Yeah...I said it
on
7/22/2017
;-)
Fix issues
Worked really well for the most part, but right now I'm waiting to check into a room because of problems on their end. Please make sure everything works correctly so I don't have to wait for the people at the front desk to fix your mistakes... Thank you! Will be perfect after that is fixed!
At
cindylouwho3000
on
7/22/2017
Good prices
Great Service at an Affordable Price
HT Perks is amazing!! This app Rocks!
Hidden Fees
So Norwalk, CT
on
7/21/2017
Was ambushed by hidden fees "Service Fees" at hotel. Found them late waaaaaaay at the. Ottom fine print. Fees were "Service Fees", consisting of things not needed. Basically an increase of price BEWARE this app and snuck in fees! Representative essentially said tough luck.
My 1st and last use...
I used the app to book a room and was thrilled until I got to the hotel. The app had booked a smoking room for me. The desk clerk said they had no non-smoking rooms available. She commented that I should not have booked smoking if I didn't want it. I explained that I did not, that HT did it. She said they have had bad experiences with booking through HT. Out of curiosity I asked what their normal rate is, she gave me same price I paid. I verified this online with other booking services. I didn't save any money and got a stinky room to boot. I'll not be using this app again.
Love this app for last minute booking (nice places for great price!)
I basically use exclusively this app for booking last minute hotels in NYC and elsewhere. Really handy for when I work late or need to be in the office early.
Essential App
Easiest, quickest and most dependable travel app I have. Takes all the worry out of impromptu travel and I've not had a problem in all the years I've used it. We use it at least once a month.
Hotel
Ok, we stayed 2 nights very confi, so we are staying another night. Love it here, our next visit to NY we will be here again.
Excellent Service
Cartier Bentley
on
7/18/2017
Excellent easy follow thru instructions 👌🏾👌🏾 #Awesome
Best hotel app
El chapo de cv
on
7/17/2017
Hands down best hotel app for needing short notice hotel room anywhere I go
Best Discount Hotel Site for Luxury Hotels
This is the best app for hotels
Bad Information
On 7/16, I was having problems with the mobile app. I called and spoke with one of your representatives who advised she would book my reservation over the phone. Was told the reservation was booked and that I needed to update my profile name to match my legal name. On 7/17, I find out that my profile/account with Hotel Tonight was disabled and I had no reservation. I find this to be poor customer service and should have been told I needed to rebook the reservation again via the mobile app. I'll be hesitant to use Hotel Tonight in the future
Very dirty / bed bugs
Buchanan Brown
on
7/17/2017
Hotel was dirty Bed bugs or some other pest in room Dirty ashtray in room Not good
More than one room
Like the app, but couldn't figure how to secure more than one room at a time. Saved me some dough though!!
The worst app(bait and switch)
Never try this app. They show you great pictures of the hotels with queen beds, but once you buy it, they send you email that room selection is hotels right, parking is not available or it doesn't have free wifi. Please read all disclosures with small fonts before you book it. And once you click it, that is it, they'll never let you refund it. Even if you never used their service. Also the "low price" you see on their app, is actually not final price, they add "taxes" at the very final stage of check out! Please don't waste your time and money with this crap.
Best app!!
I've been using HT for about 3 years now and I have never had a bad experience! I can rely on HT to find me the best rooms, anywhere at anytime. There were times when I had to go to LA last minute, with no notice. I was able to land at LAX, jump in the Uber, and reserve somewhere to stay using HT all in a matter of minutes! Never disappointed! Plus, the prices can't be beat. FYI, make sure to surf the app after check-in time (3pm) as prices tend to drop to their lowest then. Thanks HT!
Great App
Ever since this app I use it more than my Marriotts rewards membership. Great hotels and rating are very on point. You also get perks once you book several times just like a rewards member. A hidden jewel of an app
Where'd the deals go?
staycation guy
on
7/16/2017
Used to be that I'd log in the day of and find such deals (usually half off) that couldn't be found anywhere else, so I had to book a room. But I think those were deals given away to get the app popularity up. Prices now are equivalent to booking directly with the hotel or Expedia unfortunately.
Love this app
Everyone12345
on
7/16/2017
Great app!
Good app
The app is slick and easy to use It has better prices on some rooms occasionally but you still have to shop around
Favorite app for hotel booking
Coopers pick
on
7/15/2017
Great app wish I made this and wish they had Asia covered
Buyer beware you might have to sleep on the floor
Don't deal with hotel tonight
on
7/15/2017
Used this app for a hotel room. We requested 2 beds for 2 nights. Company contacted us and said there was no rooms available with 2 beds and also they had no cots or couches either. So we have to sleep on the floor tonight!! Who knows about tomorrow. When we asked for a resolution the Hotel tonight rep said "sorry this is non refundable :( " not professional.
Awful. Skip. Move on
Fitzys 15108
on
7/15/2017
Booked a room. My card was charged. I show up at hotel at 1:00 am to find they are over booked and there is no room for me. If you base your entire company on finding last minute rooms but there actually IS NOT a room when customer shows up, we'll, your company is a failure.
No Room at the Inn!
Arrived at my hotel with only six hours to sleep. The hotel I had a reservation for was totally booked! I was sick, tired and miserable. Hotels Tonight said they would refund me (obviously! I didn't get a room!) But they didn't refund me for the cab fare to the hotel or make amends for the lost night of sleep when I had to go back to the airport after the SNAFU. Very disappointed.
Great customer service !
Rockstarnails
on
7/15/2017
Just had to call in for help rebooking a room I made a mistake on .. had excellent help !! Thank you !! Tami Gardner !! Great customer service !
Best hotel app!!!!
Love this app!!
Thx!!
It was just way too easy!!
Business
I use this app almost weekly for work when I'm in the city late and have to be here early. It's such a life saver.
Best Rates
MeTheSrambleAddict
on
7/13/2017
So, what's most important? First, rates Second, current user reviews Third, ease of use The app has the best rates I can find (would love to know where to find better rates) The app could do better getting current reviews Very, very easy to use
I have to pay for upgrades!!
Super easy to use my only complaint is you don't get to pick what type of room so I have had to pay for upgrades because i keep getting a room with one bed and I'm traveling with my family. There should be a way to request what type of room you want!!
Great Price and Helpful
bfrankescape
on
7/12/2017
My fiancé just got engaged and they gave us a amazing room at a reasonable price!
Good, needs multi room booking feature
David Nardolillo
on
7/12/2017
Good app, would be nice if you could book multiple rooms at once
Amazing customer service on top of great prices
The customer support staff on multiple occasions went above and beyond to help me with a difficult situation. It is the kind of personalized and caring support most companies lost 10-15 years ago.
Great App
Always a reliable, sometimes life-saver, app for same night hotels with amazing price reductions.
EXTREMELY DISAPPOINTED
ttredraider7
on
7/11/2017
EXTREMELY DISAPPOINTED! Hotel shuttle took over an hour and a half for pickup at airport. The first shuttle arrived with no room following our call to request pickup. Ended up not even staying at the hotel due to highly uncooperative desk manager. Will be reporting the hotel and HotelsTonight app to DFW airport along with add'l customer service complaint outlets. Unlikely to use this app or a Wyndham hotel again. Hard to understand the sustainability of a business model that lacks basic customer service.
sudden rate change huh?
opened app. within 1 minute i selected a hotel (based on the rate) and up comes a window informing me that suddenly the rate changed. questionable timing if you ask me. also, it said 199 per night but 2 nights added to 418. ? (and that's before the taxes of course). if i didn't feel slightly misled, would have given 5 stars.
Why plan ahead
What a great travel tool. Decent hotels at great rates. I travel all the time for work and never slept on the street with this app. Decent to great hotels / decent rates. You just have to be confident you'll get a hotel. I have stayed at a wide range of hotels which I'd never have experience if I just stuck with Marriott, Hilton, and Starwood's
Excellent source for inexpensive, high quality last minute hotel bookings
Love this site. Least expensive by far. I only wish we could pick the room type (i.e., 2 doubles v. King).
Hotels tonight
This is s great app that has ALWAYS gotten me great deals at NICE places !
Fact Sheet
Publisher: Hotel Tonight Inc
Category: Travel
Released: Dec 15, 2010
Current Version Released: Jun 26, 2017
Version: 10.17
Size: 79.6 MB
Compatibility: Requires iOS 9.0 or later.
Recommended Age: 12+
Game Center Certified: No
Supported Devices: iPad2Wifi-iPad2Wifi, iPad23G-iPad23G, iPhone4S-iPhone4S, iPadThirdGen-iPadThirdGen, iPadThirdGen4G-iPadThirdGen4G, iPhone5-iPhone5, iPodTouchFifthGen-iPodTouchFifthGen, iPadFourthGen-iPadFourthGen, iPadFourthGen4G-iPadFourthGen4G, iPadMini-iPadMini, iPadMini4G-iPadMini4G, iPhone5c-iPhone5c, iPhone5s-iPhone5s, iPadAir-iPadAir, iPadAirCellular-iPadAirCellular, iPadMiniRetina-iPadMiniRetina, iPadMiniRetinaCellular-iPadMiniRetinaCellular, iPhone6-iPhone6, iPhone6Plus-iPhone6Plus, iPadAir2-iPadAir2, iPadAir2Cellular-iPadAir2Cellular, iPadMini3-iPadMini3, iPadMini3Cellular-iPadMini3Cellular, iPodTouchSixthGen-iPodTouchSixthGen, iPhone6s-iPhone6s, iPhone6sPlus-iPhone6sPlus, iPadMini4-iPadMini4, iPadMini4Cellular-iPadMini4Cellular, iPadPro-iPadPro, iPadProCellular-iPadProCellular, iPadPro97-iPadPro97, iPadPro97Cellular-iPadPro97Cellular, iPhoneSE-iPhoneSE, iPhone7-iPhone7, iPhone7Plus-iPhone7Plus, iPad611-iPad611, iPad612-iPad612, iPad71-iPad71, iPad72-iPad72, iPad73-iPad73, iPad74-iPad74,
Supported Languages: English; French; German; Italian; Russian; Spanish; Castilian;
Parental Advisory: Mild Alcohol, Tobacco, or Drug Use or References;