TapNova doesn't recommend this version of the app.
New in version 10.16
Fixed a few bugs, polished a few things, did some general spring cleaning. Something we missed, or that you think we should know? Shoot it over to feedback@hoteltonight.com.
Description
Book last minute hotel deals up to a week in advance!

HotelTonight makes it *incredibly* easy & quick to find a great deal at a great hotel. Three taps, one swipe, you're booked! We've been downloaded millions of times (thanks, you guys!) and work with over 15K awesome hotels in 35 countries across the globe (we only partner with hotels where we'd wanna stay, too).

Here's the deal:

* Amazing last minute deals
* Book up to a week in advance
* Top rated hotels you'll love
* Seamless booking in 10 seconds flat
* Search by city, attractions, nearby hotels or on a map
* Ratings, reviews and photos from fellow bookers
* Access to HT Pros, our in-app concierge
* Exclusive location-based discounts (GeoRates) save you even more!
* HT Perks program - spontaneous surprises, plus the more you book, the better our deals get!
* Add Favorite hotels and see whenever they're available
* 24/7 customer support


Some of the many ways you can use HotelTonight:

* Adding a day for play before or after your business trip
* A last minute birthday or anniversary surprise (we won't tell anyone you forgot)
* Spontaneous weekend getaways
* Road trips - hop in the car and see where the road takes you
* A mid-week booking or staycation at that spot you've always wanted to check out… just because
* Summer afternoons by the hotel pool
* Luxury vacations scored on the cheap
* Summer weekend holidays booked on the fly
* To turn tonight (or tomorrow... or next week) into an adventure


People are talking:

"HotelTonight what did I do without you?" - Kelly Osbourne

"You can get great, cut-rate deals on hotels… including luxury hotels." - Jeff Rossen, Today Show

"My fav travel app." - Samantha Brown, Travel Channel Host

"I love saving on last minute bookings using the HotelTonight app." - The Points Guy

"Book the destination of your choice and enjoy your time there – without breaking the bank." - Oprah Magazine

"Delete all your other hotel apps." - App Store reviewer sdraymonds

***Got feedback? We're all ears. Hit us up at: feedback@hoteltonight.com

Let's connect:

* Instagram: @HotelTonight
* Snapchat: @HotelTonight
* Twitter: @HotelTonight
* Facebook: facebook.com/HotelTonight
iPad Screenshots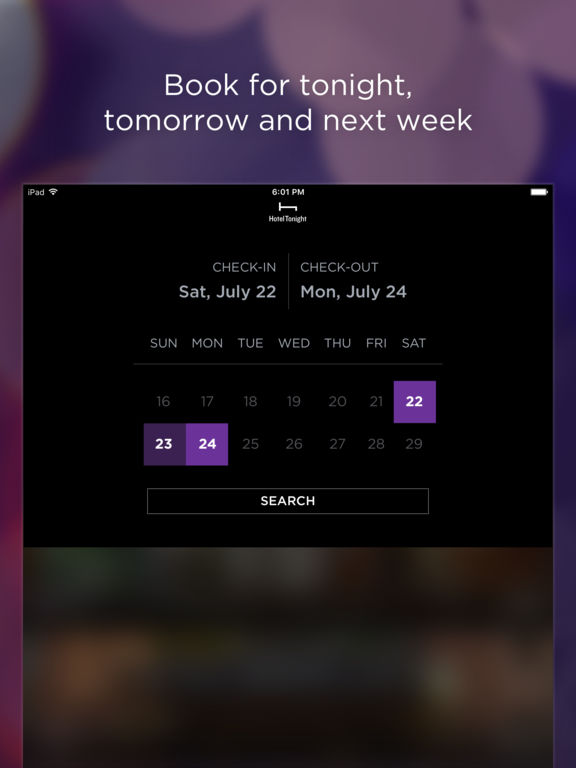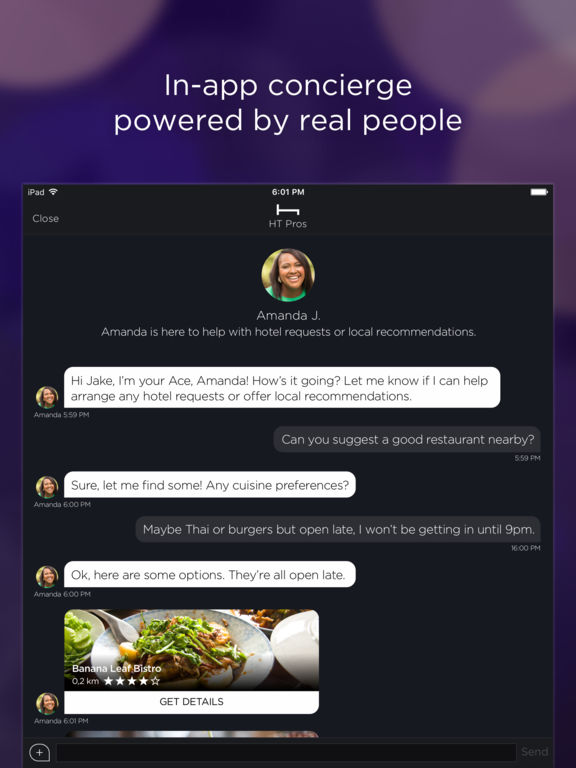 Reviews
Love this app
Just called the same hotel the convention room block was with and saved 150$ booking through hotel tonight!
Lost my reservation, left without a room
Don't use this crap service. I used them to book a room at JFK to spend the night after flying in at midnight from SE Asia. When I showed up at the Hilton Garden Inn, they said they never got any reservation for me from HT. They said HT still _faxes_ reservations to them, and sometimes those faxes get lost... They fax! For every reservation, there is a trained monkey in San Fran that prints out a piece of paper and faxes it to the hotel. Wow, welcome to the 21st century. Anyway, the hotel was overbooked today, as were all of the hotels in the area, which means I ended up hanging out in the terminal waiting for my 10AM flight, instead of getting the good night sleep I planned for. Amazingly crappy service. When I called to get a refund they wanted to give me "service credit" instead of my money back. Forget about compensation, I didn't even get an apology.
Easy
Super easy to use and by far had the lowest prices for a last minute hotel. It was recommended to me by a family member and we both used it that evening in an emergency situation. It made a crappy situation a little easier.
Confusing rates
Da Bigbadwolf
on
6/20/2017
The way they list prices is confusing. Some hotels have resort fees that are not included. They should include all fees and prices so that you know what you are paying.
Love, love, love Hotel Tonight!
TraceyChicago
on
6/20/2017
I've been using this app since it launched 2.5 years ago. We have found some wonderful, unique hotels like the Empire in NY, Inn at Laguna and Hotel Covington in KY. The ease of booking, concierge, customer service and selection of curated properties is top notch. I use HT almost exclusively for my business travel now.
HT Makes it Happen !
HT has been such a help ... everywhere we go... I'm we always find a good option at a great price ! Makes traveling much easier. :)'s All around !
Terrific App
Extremely easy to use. Stay was very pleasant and comfortable. Highly recommend it to all the last minute travelers.
Good rates
You guys are great with rates! Makes it easy to find good hotels
Always the best option...
Not only a great app but also a great service... I never travel without it.
Excellent App, Great Deals
TheOtherOneWithNature
on
6/19/2017
I spend 40+ nights every year in hotels and HotelTonight has become my go to app for booking my stays. The new in app concierge feature is terrific. The deals aren't as good as they once were, but still beat the other guys hands down. I've found so many interesting hotels that I would not have discovored without this app. Thank you, HotelTonight!
Awesome service
The app is wonderful! Great hotels at great prices and top notch customer service. I love using HT for all my travel needs! All the other folks saying otherwise probably didn't read the profile (their not in fine print either.) Give HT a chance you won't be sorry!
Great app!
Easy to use, simple layout. Highly recommend for last minute hotel finds.
#HT fabulous
The app is fabulous for the service provided! Awesome deals with great features!
Clean Cozy Beach Lodge
Granny & Poppop
on
6/18/2017
Friendly staff, clean,comfortable, modest rooms, wonderful clean pool and a view of the ocean. (Continental Breakfast included) Walk across the street and down some steps or a ramp and you are on a beautiful beach that is both adult and kid friendly. The lodge also offers free use of beach umbrellas and chairs. Along the same lot you will find some affordable places to eat, a CVS and a market.
They will steal your money
Worse customer service ever
on
6/18/2017
I had the worse customer service experience with them ever. They will steal your money - STAY AWAY! A hotel they had listed lied about the accommodations they provided. I tried to get a refund, but was given the usual rigamarole about non-refundable charges and how they had their hands tied. NO advocacy for the customer at all. Despite the hotel lying about the services the hotel offered on its website, they refused to issue a refund. Their customer service was also terrible, stuck to a script, and had absolutely no mind of their own. The same idiot mistakes United Airlines made this company perpetuates. Do not book with them!
Fantastic
I love this app I get a lot of inexpensive rooms at a great rate.
Horrible app
Don't waste your time trying to find a hotel here. You can't sort by any criteria, you only get a few options and the navigation is so simple and limited. Plus I tried to recover my password but I never got the email to recover it. I ended up using Kayak instead. Hotels.com you should try KAYAK so you learn from them and make something better!
I love this app!
I've been using ht for over a year now. I think it's a great app. Every hotel I've booked with them has been awesome so far. Great deals, always! Thank you ht! And keep on the good business.
Great App! Must Have!
MrTravel1911
on
6/17/2017
This app saved my life. Had a last minute trip and found a great rate! Thank you Hotel Tonight!
Works great!
Great app. Routinely finds rates cheaper than any online site. Works with Apple Pay so your credit card data is secure.
Alejandra was a pleasure dealing with
She made our horrible booking experience on hotel tonight a pleasure
This service appears to have a crap load of hidden charges.
The number they give you up front is way less than the amount you will end up paying. And, unlike other services, once you pay and they will not give you a refund. If you're very lucky, they will give you a credit towards another stay.
Good but...
App is pretty good. We used this week but found Expedia 25% cheaper after booking. Customer service couldn't help.
Excellent!!!!!!!!!!!!!
I am using this app for hotels from now on!!
THE hotel booking app!
chrisrbailey
on
6/15/2017
Absolutely the best! Super fast and simple! Great curated list of hotel choices, nice photos, very simple booking process. Also now has stellar loyalty program!
Not a good deal
The rates on this app aren't any different from the prices I'm seeing online....
Best app ever!
Traveler Dee
on
6/15/2017
They are super black and white about what they are selling you, just make sure you always read all the description to make sure it is what you're looking for. Great concept for last minute, spontaneous adventures!!
Great App
I've used it a bunch lately and have not been disappointed!
Random Traveler
This is such a great app if you are a spontaneous traveler like myself.
Overbooked me
They let me purchase a hotel room, but the hotel was overbooked. It's 1:30am and I want to go to sleep.
Easy to use and great rates!
Easy to use and great rates!
Awesome!!
My favorite hotel booking app!!
Hate this app
They charge your card like 2 times, then the hotel charges the same amount. Everything stays pending for at least 4 days. Then even if the room is sold out, you'll get charged. So this is pretty much a scam.
Hands down
THE BEST TRAVEL APP OUT THERE. PERIOD!
Love!
PrettyCouturee
on
6/12/2017
Love HT. Always my go to site for booking last minute hotels.
Best hotel app/site
There is no better app; saved me $1,000s since I've had it. I rarely travel or stay at hotels using any other way of booking.
Amazing and Convenient
This app always has the best prices and quality hotels when I take spontaneous trips and need to stay out of town last minute
Horrible experience
Customer service is awful and the support staff is incredibly unhelpful. Also, the $25 off promotion code we got from a friend did not work. Will not be using this app again.
Excelent, Fast, Easy
Greatest app
Building Spontaneity
Francisofthenugents
on
6/9/2017
During the week I'm predictable, boring. On the weekends, I like to get out of town. I use Hotel Tonight to do so! Their recommendations and deals are perfect.
Promos
I can always find my favorite hotels on Hotel Tonight at a discounted rate. The perks program is awesome though I would like to receive more email promo codes. I book frequently through HT and love to feel appreciated. #rewardme #lovesdiscounts
Amazing product, amazing company
Clean design, fantastic deals, and the best IG page for travel. What's not to love? Nothing!
Best app for hotels
Best prices by far, you can only book a week or two out but it's great for last minute trips!
Great job
Smooth nation
on
6/7/2017
This is a great last minute hotel search engine. I hope more hotels realize how awesome you guys are and they can drop in there prices to create more competition for prices
Love This App!!!
Very easy to use. Describe each and every hotel to perfection. Always updating great when you're on the road. I simply love this app and will always use it when making future bookings.
Best Hotel App
That creepy app dude
on
6/6/2017
Absolutely love this app's interface. Beautifully and intuitively designed. Fastest booking app on the planet. Great curated hotels that gives a small sample of hotels that I'll almost always like. I've been using the app for years and the new rewards program is top notch. I'm a few stays away from level 4!
Terrible Customer Service
If you have any issue the customer service is absolutely terrible. Better to pay the $10 more and use a proper company.
Happy Customer
I love this app!! I have booked serval rooms in NYC & Chicago using this app! The rooms have been amazingly priced low and very nice hotel rooms! Please make sure to read the consumer reviews before purchasing a room.
Fact Sheet
Publisher: Hotel Tonight Inc
Category: Travel
Released: Dec 15, 2010
Current Version Released: Jun 13, 2017
Version: 10.16
Size: 79.3 MB
Compatibility: Requires iOS 9.0 or later.
Recommended Age: 12+
Game Center Certified: No
Supported Devices: iPad2Wifi-iPad2Wifi, iPad23G-iPad23G, iPhone4S-iPhone4S, iPadThirdGen-iPadThirdGen, iPadThirdGen4G-iPadThirdGen4G, iPhone5-iPhone5, iPodTouchFifthGen-iPodTouchFifthGen, iPadFourthGen-iPadFourthGen, iPadFourthGen4G-iPadFourthGen4G, iPadMini-iPadMini, iPadMini4G-iPadMini4G, iPhone5c-iPhone5c, iPhone5s-iPhone5s, iPadAir-iPadAir, iPadAirCellular-iPadAirCellular, iPadMiniRetina-iPadMiniRetina, iPadMiniRetinaCellular-iPadMiniRetinaCellular, iPhone6-iPhone6, iPhone6Plus-iPhone6Plus, iPadAir2-iPadAir2, iPadAir2Cellular-iPadAir2Cellular, iPadMini3-iPadMini3, iPadMini3Cellular-iPadMini3Cellular, iPodTouchSixthGen-iPodTouchSixthGen, iPhone6s-iPhone6s, iPhone6sPlus-iPhone6sPlus, iPadMini4-iPadMini4, iPadMini4Cellular-iPadMini4Cellular, iPadPro-iPadPro, iPadProCellular-iPadProCellular, iPadPro97-iPadPro97, iPadPro97Cellular-iPadPro97Cellular, iPhoneSE-iPhoneSE, iPhone7-iPhone7, iPhone7Plus-iPhone7Plus, iPad611-iPad611, iPad612-iPad612, iPad71-iPad71, iPad72-iPad72, iPad73-iPad73, iPad74-iPad74,
Supported Languages: English; French; German; Italian; Russian; Spanish; Castilian;
Parental Advisory: Mild Alcohol, Tobacco, or Drug Use or References;