Games
Family
Board
Entertainment
Recommended app!
App last updated
Nov 14, 2017
Screenshots
Description
The best party game on iOS for 1-4 players!
Are you ready to party with friends?

1. Control a wacky looking tenor.
2. Knock other tenors off the stage.
3. Fight for your fame in 5 game modes!
4. Avoid the bull tenor to become King of Opera!
5. REPEAT – suitable for all ages, young and old!

Guaranteed fun with friends and family.
iPad Screenshots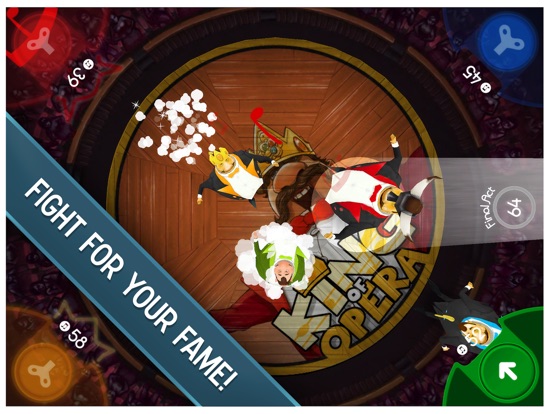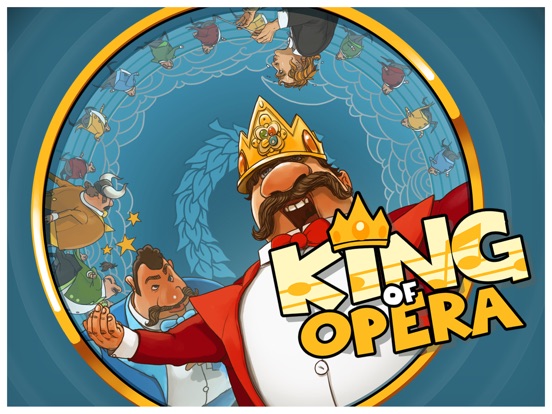 Reviews
I won't say much
ConnossieurGamer
on
2/3/2017
Just a fantastic premium game :)
Original
One of the most original and odd games I've played. Brilliant production design. Love the music. Controls take getting used to but this game makes me smile. Well done.
Fun game
Try one's more
on
8/12/2016
I just play it alone, and feel it is very fun. The music make me laugh sometimes.
Brilliant multiplayer!
Great fun with friends! Would be perfect game for Apple tv also!
Game is a blast
Simple controls. So fun. Great graphics. Only downside is game is much better on an iPad. Other than that you can't go wrong. Great for multiplayer. Don't pass up if you like head vs head or even 2 3 or 4 players. Again, better on iPad for multiplayer.
Really fun game!
Danielsmith46
on
1/13/2016
I like it
One of the Best games I've played
Airdhduehdjehet
on
1/13/2016
I absolutely love this game. It's a super fun party game. I just wish I could get more people to play it with me.
Still Love It
I've had this game on my iPad for ages, and just recently picked it up again. It's still just as humorous and fun as it was when I first purchased it. Definitely should be more popular than it is now.
Super funny!
Spacekid sister
on
3/10/2015
I played with a bunch of friends and we couldn't stop laughing:) The art is adorable and the sound is creative! Super fun!
Good
Super interesting game!! Highly recommended!!
Fun & Funny
What are you waiting for. Get it for an auditory and funnily fun filled experience. 5 stars.
Lots of fun but…
This game is great fun as a single player or multiplayer activity. The splash screen professes that it wants to make Opera "popular among the masses again" and it has wonderful menu music, but during gameplay the characters just chant 'dum dum" over and over again. What a lost opportunity to include some actual amazing opera.
I am in loveeeee
I think this game should be 6 stars honestly there is nothing you should really complain about all of the modes are splendid and I think everyone should start playing this awesome game!!👍
I just love it
I love this game,because it's easy & simple to play .
Very fun
Please make the bulls in the last act less powerful. It is good for them to be strong, but they are so overpowered that it becomes stupid. Other than that, this game is extremely fun and one of the best in the app store
Why is this game not popular?
This game deserves a spot in top 10 (paid). I think the developers need to advertise it more. This game has all the features of a popular game. Controls are simple and the game is really fun. Anyone who has not performed well is given special power at the end so it doesn't dishearten those that are losing.
Wow!💎💕🎀
Totally , AMAZING game ! Thanx 💘💘💘
Lots of fun!
I bought this game for a family night. It was a huge hit! My kids 10,8, and 7 did not want to stop playing. Lots of family interaction. Controls were easy. Game options were plentiful. It also gave special power to the person with the lowest score... So it was still fun for those who did not score as well. Anyway highly recommended!
Good game needs more
Should add airplay support so we can play on the tv and have the 4 buttons on the phone
not support iOS 5.11
heiindnsiejdndjs
on
1/11/2014
simple and fun, but NOT support my ipad(iOS5.11)
maanslide
🚫⚠This app crashes every single time I opened with this update on iPod touch 4th generation. ❗ It used to be part of my activities between me and my friends but now it won't work. 😭😭
Best party game
Great game that is fun for all.
Ms
AnnaGlow27 
on
11/30/2013
This game is super amazing!!!! I'll play it 24/7 ;D
great!!!!!!
it is awesome game,the best game u can play with every one!!!its funny,excited and reallly good!!!
>_> <_<
J-Bird1097 
on
11/28/2013
This is so cute
Best!
Ananta G dasa
on
11/25/2013
Best game ;)
Funny
Prp-perapong
on
9/23/2013
:)
Used to be cool
Was great, but after the update it shuts down at the beginning of round 3 every time! Please fix!
Love it
Great multiplayer app!
Amazing game
Amazing game, my wife love it very much
Fantastic frantic fun
bake me some tunes!
on
9/5/2013
Such a great idea for a game and just so much fun to play with friends while hanging out. I can't get enough of it!
Amazingly Fun
A very fun and exciting game, I loved it!
very enjoyable
It's great for kids, adults who are not going to be driving anytime soon, and people who just like to laugh. The interface is simple. I really enjoy it! i just wish it had two things: a team mode or 3v1, and most importantly, I want to watch all 4 guys sing together... roll the credits above them guys, hint hint!
Awesome Game!!!
This game is sooooo fun!! Especially to play with friends hahaha i remember the first time i got the game. i was so frustrated because i was so bad and even wanted to uninstall the app, but once u get used to it, it's SUPER fun. TOTALLY recommend it. Multiplayer and single player is awesome. Keep up the good work and i hope for awesome updates in the future ;D
👍
Awesome game! Worth the price.
Awesome!!!
Love to play this game with my friends
Gem of the App Store
Astonishing graphics, rich sound, and addictive gameplay brings this game to life, making a already fun concept even better with the multiplayer aspects. A must-buy app for anyone interested in keeping a party entertained. If I could suggest a game mode, I would suggest the implementation of "Avoid the Spotlight", in which players attempt to shove others into the spotlight and keep them from running off the stage, which creates both the teamwork of the original mode and the freshness of new modes implemented. Altogether, this app is one of the greatest out in the App Store. Even if paid games make you antsy, this is worth the dollars for long lasting family gaming.
Fun
Meeko The Gamer
on
5/7/2013
Maybe replay/s for Ipad 1
an unique game!!!
so good
I was skeptical at first...
Leona Barnes
on
4/28/2013
But then my family and I played this for almost 3 hours in one sitting and I knew it was a winner!!!
Definitely Fun
Awesome multiplayer or even single player game. Funny and competitive (:
Wonderful!
Sunshine19850726
on
4/26/2013
It' harder than you can imagine!!! But once you've learned the skills, you can definitely be the winner!!! A fantastic game!!!
Couldn't stop laughing
Couldn't stop laughing when we were all trying to knock off the Fat Lady who stole the spot light.
Very cool game
It is harder than it seems!
Awesome!
Ben Bacheller
on
4/24/2013
Even in the small iPhone screen it's a blast! Not an easy game but easy to make you laugh!! Lets see more of these!!
Hysterical!
What a funny game! It's harder than it looks, and it took me a while to figure out how to grab the spotlight (duh). Highly recommended.
Fact Sheet
Publisher:

Tuotantoyhtio Tuokio Inc

Category:

Games

Released:

Dec 15, 2010

Current Version Released:

Nov 14, 2017

Version:

1.16.38

Size:

134 MB

Compatibility:

Requires iOS 7.0 or later.

Recommended Age:

4+

Game Center Certified:

No

Supported Languages:

English;