Screenshots
New in version 2.3.2
This update contains stability improvements and bug fixes.
Description
GarageBand turns your iPad, and iPhone into a collection of Touch Instruments and a full-featured recording studio — so you can make music anywhere you go. And with Live Loops, it makes it easy for anyone to have fun creating music like a DJ. Use Multi-Touch gestures to play keyboards, guitars, and create beats that make you sound like a pro — even if you've never played a note before. Plug in a guitar or bass and play through classic amps and stompbox effects. Use a Touch Instrument, microphone, or a guitar and instantly record a performance with support for up of 32 tracks. Use the new Sound Library to download additional free instruments, loops and sound packs. Audio Unit Extensions in iOS 11 allow you to play, record and mix third-party instruments or effects right into GarageBand. And then share your song with friends and family.

Live Loops. Make music like a DJ
• Use Multi-Touch to tap and trigger a Live Loop cell or group of cells
• Get started with templates or build your own grid from scratch with Apple Loops
• Create custom loops by recording directly into a cell using any Touch Instrument
• Use Remix FX to perform DJ-style effects
• Tap record and capture your performance

Play your iPad, and iPhone, like a musical instrument
• Play a variety of musical instruments on the innovative Multi-Touch keyboard
• Play and record using the Alchemy synth*
• Build grooves inspired by classic electronic drum machines with the Beat Sequencer
• Download free instruments, loops and sound packs for GarageBand with the Sound Library
• Capture any sound and apply studio-class effects
• Recreate legendary guitar or bass rigs using virtual amps & stompboxes
• Use 3D Touch to play keyboard sounds with polyphonic aftertouch**
• Record performances from third-party music apps directly into GarageBand using Audio Unit Extensions***

Drummer for iOS
• Add virtual session drummers to your song who take direction and play realistic grooves
• Choose from acoustic, electronic drummers and percussionists****
• Each character provides their own sound and the ability to create over a million realistic grooves and fills

Sound like a virtuoso with Smart Instruments
• Play an entire string orchestra using Smart Strings
• Perform with Chord Strips and autoplay using any keyboard instrument
• Groove with a variety of Smart Basses using upright, electric, and synth sounds
• Strum chords or trigger autoplay patterns on an acoustic and electric Smart Guitar

Create a song anywhere you go
• Record, arrange and mix your song with up to 32 tracks using Touch Instruments, audio recordings, and loops*****
• Record multiple times over any song section and choose your favorite using Multi-Take Recording
• Use professional mixing effects, including Visual EQ, Bitcrusher, and Overdrive
• Recording, mixing and exporting a song can be done at 24-bit audio resolution
• Trim and place musical regions exactly where you want them to play
• Automate the volume and record the movement of controls on Touch Instruments
• Add comments or lyric ideas to your song with an integrated notepad

Share your songs
• Keep your songs up to date across all devices using iCloud Drive
• Create custom ringtones and alerts for your iPad, iPhone, or iPod touch
• Share your songs using email or Facebook, YouTube, and SoundCloud******
• Remotely add new tracks to your Logic Pro X project from your iPhone or iPad via iCloud

* The Alchemy synth is available on iPhone 6 or later, iPad Pro, iPad (5th generation), iPad Air 2, and iPad mini 4.
** Polyphonic aftertouch is available on iPhone 6s or later.
*** Requires compatible third-party Audio Unit Extensions apps from the App Store.
**** Requires free download from GarageBand Sound Library.
***** Multitrack recording requires a compatible third-party audio interface.
****** Sharing to Facebook and YouTube requires iMovie.
iPad Screenshots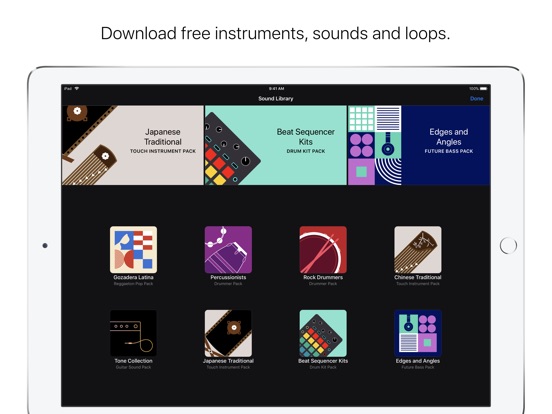 Reviews
Are you serious?!
You want real sound... buy the real instruments... cause garage band is awful on iPhones.... how can I recreate the sound from a Fender Deluxe Reverb amp...you don't know tone if you've never played through a vox ac 30 or a matchless... guitar section is so bad it's like, at least they tried... keyboards are kinda decent, but every song you make will sound like a cheap demo... I like it for fun and entertaining, but not be taken seriously. This app will limit your playing abilities because it sounds awful even with a Gibson won't make it any better... sounds like a bad demo... don't come thinking you'll sound like your favorite artists... at least they tried... *5Stars on Mac book...*
Thank you
Thank you for the stability update. This really helps. Update: ok, I take that back. I'm still having the same issue with new loops, and old loops having issues with being placed on the grid. Also i have issues with copying loops from one song to another.
Uploads too large for updates
ReconMarine911
on
12/13/2017
Why are your updates so large and ends up sitting in my App Store updates for days until you get your act together. This happen last time also, sat in my updates for two until you reconfigured it into a small update in order for it to be done either in parts or all at once. You need to stop thinking about yourselves and start thinking about the end users, your customers. Update 13 December 2017 Third time in two month that this app fails to update, sits there and does nothing. Please do small updates and get your act together, I know that there is nothing wrong with my 128g iPhone 6s.
Problem..
I'm only giving this one star until my problem is fixed. My app keeps crashing over and over. Have an old song I made on a different phone but now after I tried to load it, the app won't even open. Please help.
THE Personal recording software
I'm an avid guitar player. I've used other music recording programs which were okay. But none if them come close to the polish and intuitive controls as GarageBand. My only gripe, is that the drums can sound a bit quiet. Otherwise, a brilliant app!
Creds💯💪🏽
RiiichKiiidTaaaj
on
12/12/2017
It's the best all y'all just gotta get used to using it. I've made plenty of 🔥🔥🔥🔥ass beats
Drum issues
DragonActive
on
12/12/2017
I make a lot of music on this app, but I'm having an issue where if I use and edit drum loops, they are muted, and nothing works to unmute them (pressed unmute and mute and unmute, still didn't work)
Doesn't work anymore
Garage Band Doesn't Work
on
12/12/2017
Used to love this app. I did the update, lost all of my files and now it doesn't work. Total rubbish until they fix that.
Crashes on my device
Plz fix it
Awesome app. Bravo Apple
Lalalahohohahahan
on
12/11/2017
I love how I can practice my violin virtually on the subways. I used to play the notes on my right arm.
This update deleted my songs!
RealHipHopIsLost
on
12/11/2017
This update deleted my songs. Now they just appear as files with a question mark. I had like 8 songs. This app was great before this update. Now it doesn't even let me make a new song.
iPhone 6s blank screen
Over the last two updates, currently on crash number three. Tried the iCloud on/off thing, all variations like that. Just waiting to see what happened to last save. Otherwise, best f-ing 4.99 I ever spent! 5 Stars cause I expect a quick fix. As usual... so hurry please
Inter App - NanoStudio
The app is ok but it would be much better if I can utilize the inter-app controller...I see my nano studio app pop up (both are downloaded), but it says it's not available at this time. Is this going to be fixed?
Does not open since iPhone update
No good in ny
on
12/11/2017
GarageBand worked fine until I updated my iOS. Since then, I only get a black screen.
???
What happened to this app? Before I updated to the newer version it was working amazing for me now all it does is crash on me, freeze up, and have insane wait time for loading screens :-/
GarageBand can't do anything
You can't make any new projects, and you can't access old projects. Fix immediately.
Great App
It's a great app, but I want you to do me a favor.......With the beat sequencer, I want it to be slow cause the slowest it's can get it 1/8 and I wanted I 1/4 cause that's the speed I require to make a beat I desire. Please do this for me.
Needs another update.
ArtistixIndie
on
12/9/2017
It's cool and all but GarageBand won't let me open my projects old or new.
It's awesome
It's awesome
One Problem
Dat Johnson Boy
on
12/9/2017
I am a huge fan of this app. One day out of nowhere, the app no longer allowed me to copy and paste patterns to different sounds. If this problem can be resolved, that would be great! Thank you
Worst Ever
Captain jolly jones
on
12/9/2017
I downloaded it, tried to get it to work, would not. Re-downloaded. Still won't work. Sad.
Amazing... just one thing
bfjdjgenjjgjt3131312
on
12/9/2017
This is, hands down, the best music maker app I've ever seen!!! Kudos to you apple. But can you please and more hip-hop/ rap loops and instruments? Thanks!!!😁
Long
You all have freaking long review
Need beat sequencer!!!
Riot! at the disco
on
12/9/2017
I have the iPhone version and wish the iPad version had the beat sequencer, it makes everything so much better.
Great, but needs a little work
Samantha Fejes
on
12/9/2017
I like this app very much. It's a very great way to get used to making your own music, and it might even get you playing some of them in real life. However, there needs to be some more instruments, like the ukulele. I use this to practice songs for band at home, and there's a ukulele player in my band, but I have to use the acoustic guitar instead in order to remember my parts.
Big Problem With This New Update
SnootyBuffalo54
on
12/9/2017
Don't get me wrong, I love this app a lot, and I think that a lot of people underestimate its capabilities. But after downloading the newest update my songs have all disappeared from their designated area, and I can only see them when I search them. But after I try and search them, and tap to open them, they won't open. Also cannot create a new song because the app won't open a new song. I can see the very few of my recent songs tho, but they still won't open.
Deserves 5 Stars...
Aux Bus Sends
on
12/9/2017
Almost perfect! I love having GarageBand in my phone! Apple app makers... Can we PLEASE write in the iOS version code somewhere, THE Master Fader?!?! Thanks in advance
ALL MY SONGS ARE GONE!!!
Hours wasted... Sad, angry, and very angry! WHY DID THIS HAPPEN? FIX IT!!!!!!!!
More instruments
I love your app it has helped me get introduced to writing songs and I play seven instruments in total my parents own a music store so I have a lot of interest in music so I would recommend that you add more smart instruments I know it would be hard to do but if you could at least add the saxophone that would be amazing because that is one of the seven instruments I play and most of the others are on there
Great
Mywaycaret.com
on
12/8/2017
Hi
Neat
Lil Guitar String
on
12/8/2017
The one problem I have is that it does not work with SoundCloud, I cannot log on to upload my song, please fix.
A lot of fun!
This gives great sounds and helps you learn chords and keys. Easy to use and fun! My wife can now join in easily when we have people over with instruments. It's like using a harpsichord.
APPLE LOOPS NEED FIXING
YoungKenpachi
on
12/8/2017
Amazing overall but here's my issues: (iPhone 6+) - Apple Loops: randomly cuts off and will not be of any use unless you create a new project (process repeats) - Sampler: entering the settings and Adjusting Speed and Reverse will not work if a sound or Apple Loop is put in the Sampler.
"The perfect music app! However..."
a "GarageBand" loving user!
on
12/7/2017
I absolutely love this app! It's the perfect music app! However, there are only two things that it lacks: 1.) most of the instruments are great but some of them aren't customizable enough. 2.) there is no way to share your music with friends or the public. I think that this would be an awesome feature so that you can have your friends give you feedback on your creations or even put your own songs and music for anyone to listen to.
Love it, just needs one thing
I love this app! It's so fun to mess around with or even create professional sounding music. One thing that needs to be added is a ukulele. I'm a ukulele player and would like to be able to play it on the go, and it has a really cool sound that would open a lot of doors for song ideas. Other than that, this app is great and whoever reading this, you should definitely get it!
won't work please fix
i can't open any of my music and all of the pictures above the tile appear as question marks. i'm a afraid that i'll lose all my music so please hurry and fix this
It's broken.
GreysonABeato
on
12/7/2017
To sum it up, I can't open anything. It's stuck! WHAT HAPPENED?
Fix the crashes PLEASE
I love the app overall. Doesn't quite have everything a songwriter needs, but plenty of tools to get a rough concept down. However, I'm giving this one star because it. Keeps. Crashing. Over and over. Resulting in TONS of progress lost. And it's inconsistent enough that it's clear no one thing I'm doing is causing it. It happens at random. I don't know if it'd be easier to include an auto-save feature or to beat the software into submission so it never crashes — I'm not a tech guy — but something definitely needs to be done. Please.
Best App Ever Made for Mobile
hands down.
What did you do?
Charlie041079
on
12/7/2017
I don't know what they did but you can't play musical instruments anymore! Before the update I could open it and play whatever I wanted, now nothing!!
How do I delete this?
BrianGriffin1221
on
12/7/2017
I don't use this at all.
Garage band app
Monique the animal lover
on
12/6/2017
I would Love it if you guys would give us a early Christmas present I'm totally blind and I want the both packs of Christmas apple loops the horror apple loops and the jazz apple loops and the Orchestra apple loops and the classical apple loops and the cinematic apple loops and the brass apple loops from macloops.com but I don't have a Computer we should have all of the same privileges and the same abilities as those people that have a mac Computer, and another thing that is a problem and bothering me and is so confusing to me is that it says that I have one item but when I try to go and take it off of my phone it thinks that garage band is a song, and it will not let me get rid of a song.
Disappointed with the update
Hey I updated to iOS 11 and my garage band doesn't work anymore. I even installed the most recent update (as of Dec. 6 2017) and it's still crashing! I tried to disable iCloud and re-able it but that doesn't do anything and it's frustrating cause I use GarageBand for most of my Business! Anyone got answers to this? When Apple is gonna fix this?
Direct uploading to YouTube removed
Neutral Gravity
on
12/6/2017
I used to love this app, it used to be very convenient to upload directly to YouTube. For whatever reason they decided to remove that feature. You can upload to SoundCloud, so I made an account, but there's an error every time I try to upload something to there. Now I'm unfortunately losing interest in GarageBand.
Sucky updates.
Sucky updates. I thought this app was 5*. But these updates are VERY confusing and buggy, it says to open iCloud Drive to retrieve old songs, when I go there, it won't open! So, I have lost hours of music, and can't retrieve it. Apple, ever since iOS 11, everything of yours became SUPER buggy. I don't care about updates if they will ruin stuff I liked a lot. EVERYTHING is terrible now, Apple, everyone I know gets bugs on apps that you didn't even make when they updated to iOS 11. I really hate how you can't use an actual decent keyboard, so it will make a smooth sound, not a digadigadigadiga sound. I mean, really? What are you, def? You should be able to have brass and woodwind sounds so you don't have to use only piano, guitar, and drums. Overall, the iOS 10 version would get 5*, but the iOS 11 version received 2*. Thank you Apple, for ruining my favourite music app.
What happened?!
I can't access any of my old songs. I can't make any new songs. Seriously, what happened to all my stuff? With this new update I can do absolutely nothing with this app.
Ok
Bob infinity
on
12/6/2017
lol where's the side chaining and the beat sequencer is trash
What you need to add
Chase Aaron Datzko
on
12/6/2017
I think you need to add a banjo A better drum sets And Back up singers.
New update, broken!
Just updated my iPhone 8 Plus (update with Apple Pay in messenger) and now I can't open GarageBand. I tried closing the app, turning my phone off, etc. what happened?! HALP!
GarageBand v2.3.2
Appears to be an update that is corrupted/confounded with the Files application.
Fact Sheet
Publisher:

Apple Inc.

Category:

Music

Released:

Mar 10, 2011

Current Version Released:

Dec 05, 2017

Version:

2.3.2

Size:

1772.9 MB

Compatibility:

Requires iOS 11.0 or later.

Recommended Age:

4+

Game Center Certified:

No

Supported Devices:

iPhone5s-iPhone5s, iPadAir-iPadAir, iPadAirCellular-iPadAirCellular, iPadMiniRetina-iPadMiniRetina, iPadMiniRetinaCellular-iPadMiniRetinaCellular, iPhone6-iPhone6, iPhone6Plus-iPhone6Plus, iPadAir2-iPadAir2, iPadAir2Cellular-iPadAir2Cellular, iPadMini3-iPadMini3, iPadMini3Cellular-iPadMini3Cellular, iPodTouchSixthGen-iPodTouchSixthGen, iPhone6s-iPhone6s, iPhone6sPlus-iPhone6sPlus, iPadMini4-iPadMini4, iPadMini4Cellular-iPadMini4Cellular, iPadPro-iPadPro, iPadProCellular-iPadProCellular, iPadPro97-iPadPro97, iPadPro97Cellular-iPadPro97Cellular, iPhoneSE-iPhoneSE, iPhone7-iPhone7, iPhone7Plus-iPhone7Plus, iPad611-iPad611, iPad612-iPad612, iPad71-iPad71, iPad72-iPad72, iPad73-iPad73, iPad74-iPad74, iPhone8-iPhone8, iPhone8Plus-iPhone8Plus, iPhoneX-iPhoneX,

Supported Languages:

Arabic; Catalan; Valencian; Chinese; Croatian; Czech; Danish; Dutch; Flemish; English; Finnish; French; German; Greek; Hebrew; Hindi; Hungarian; Indonesian; Italian; Japanese; Korean; Malay; Norwegian; Polish; Portuguese; Romanian; Moldavian; Russian; Chinese; Slovak; Spanish; Castilian; Swedish; Thai; Chinese; Turkish; Ukrainian; Vietnamese;