Screenshots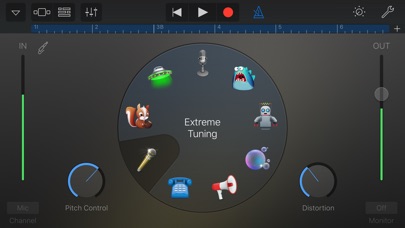 New in version 2.2.2
This update contains stability improvements and bug fixes.
Description
GarageBand turns your iPad, iPhone, and iPod touch into a collection of Touch Instruments and a full-featured recording studio — so you can make music anywhere you go. And with Live Loops, it makes it easy for anyone to have fun creating music like a DJ, by triggering loops and audio effects in real time. Use Multi-Touch gestures to play keyboards, guitars, and drums. Enjoy Smart Instruments that make you sound like a pro — even if you've never played a note before. Plug in a guitar or bass and play through classic amps and stompbox effects. Use a Touch Instrument, microphone, or a guitar and instantly record a performance with support for up of 32 tracks. Audio Unit Extensions in iOS 10 allow you to play, record and mix third-party instruments or effects right into GarageBand. And share your song using email, Facebook, YouTube, SoundCloud, or AirDrop for iOS.

Live Loops. Make music like a DJ
• Use Multi-Touch to tap and trigger a Live Loop cell or group of cells
• Get started with templates like EDM, House and Hip Hop
• Build your own grid using over 1,200 Apple Loops in a variety of popular genres
• Create loops by recording directly into a cell using any Touch Instrument, or live instruments like voice or guitar
• Use Remix FX to perform DJ-style effects like filters, repeaters, and vinyl scratching
• Tap record and capture your Live Loop performance

Drummer for iOS
• Add a virtual session Drummer to your song who takes direction and plays realistic grooves
• Choose from 9 acoustic or electronic drummers
• Each Drummer character provides their own sound and the ability to create over a million realistic grooves and fills

Alchemy Synth
• Play and record using the new Alchemy Touch Instrument with over 150 synth patches*
• Swipe on the Transform Pad to morph and tweak the sound of any patch

Play your iPad, iPhone, and iPod touch like a musical instrument
• Play musical instruments on the innovative Multi-Touch keyboard
• Capture any sound and apply studio-class effects like pitch correction, distortion and delay with the Audio Recorder
• Recreate legendary guitar or bass rigs using virtual amps & stompboxes
• Use the Sampler to create your own custom instrument
• Use 3D Touch to play keyboard sounds with polyphonic aftertouch**
• Record performances from third-party music apps directly into GarageBand using Audio Unit Extensions***

Sound like a virtuoso with Smart Instruments
• Play an entire string orchestra using Smart Strings
• Perform with Chord Strips and autoplay using any keyboard instrument
• Groove with a variety of Smart Basses using upright, electric, and synth sounds
• Strum chords or trigger autoplay patterns on an acoustic and electric Smart Guitar

Create a song anywhere you go
• Record, arrange and mix your song with up to 32 tracks using Touch Instruments, audio recordings, and loops
• Record multiple times over any song section and choose your favorite using Multi-Take Recording
• Use new mixing effects, including Visual EQ, Bitcrusher, and Overdrive
• Trim and place musical regions exactly where you want them to play
• Automate the volume and record the movement of controls on Touch Instruments
• Add comments or lyric ideas to your song with an integrated notepad

Share your songs
• Keep your songs up to date across all devices using iCloud Drive
• Create custom ringtones and alerts for your iPad, iPhone, or iPod touch
• Share your songs using email or Facebook, YouTube, and SoundCloud
• Remotely add new tracks to your Logic Pro X project from your iPhone or iPad via iCloud

* The Alchemy synth is available on iPhone 6 or later, iPad Pro, iPad Air 2, and iPad mini 4
** Requires compatible third-party Audio Unit Extensions apps from the App Store.
*** Polyphonic aftertouch is available on iPhone 6s or later.
**** 32 tracks is available on iPhone 5s or later, iPad Pro, iPad Air or later, and iPad mini 2 or later. Multitrack recording requires a compatible third-party audio interface.
iPad Screenshots
Reviews
Infotainment
Infotainment
Awesome app
I love everything about this software I'm able to make great songs but I'm not able to share those songs to Facebook!
🤦🏽‍♂️
Rell marquise
on
10/16/2017
Edit: how many updates do we have to go through in order to get the force close issue fixed? I haven't been able to use this app in well over a month !! I really wish I could give this 0-⭐️'s This is my favorite app, but it won't open. Every time I try to open it, it force closes !!! Please fix this problem ASAP !
Awesome
Only issue I have is no undo buttons :( I've lost an entire track to a multi track song I spent quite enough time play each track with my guitar and timing them correctly ect. And I accidentally hit one button and the whole rhythm track is gone :( please add a undo or a confirmation text that makes sure you meant to hit such a destructive button thanks
! F ! I ! X !
😜😀😜😜😚😜😔😜😒😜😚
on
10/15/2017
Won't let me save my projects to my file/iCloud I'm running iOS 11 fix !!!
After the latest update for the iOS system...
Boy named Space
on
10/15/2017
The app can no longer connects to my iCloud so when I try to open it it just closes. All my work is on my phone, please fix this. Till then I can't really use the app anymore.
Awesome but...
NinjaBurritoX
on
10/15/2017
I love this app a lot, but can you please bring back the old hip hop bass, because I love making hip hop beats and the new ones just don't sound as good at least to me as the old ones did
4.98 Out of 5! :D
Gabby Grills
on
10/15/2017
I really love this game! I absolutely give it almost a 5!! ⭐️⭐️⭐️⭐️⭐️
Crashes with IOS 11.0.3
Whidbey Greg
on
10/15/2017
Just upgraded IOS to 11.0.3 and GarageBand to 2.2.2 in my iPhone 6. GB crashes on startup. It opens, then immediately closes Geeze, Apple, don't you beta test on your supported platforms before releasing software?
This app is bad
penishead21
on
10/15/2017
The drumming is the worst I have ever see
great...but
Supah_Solby_Boy
on
10/15/2017
add more instruments in the other section, like saxophone, and separate instruments in the brass ensemble, like trumpet, trombone and tuba
Time to mature
Great app but it is time for it to mature some more. More edit capes like Logic Pro and midi edit for the drummer and upgrade the sampler a ton. Luv to be able to add samples to the drum pads. This app is genius but it can go further. Apple let's do it and make this an app that does it all and well.
.
Ang Martinez
on
10/14/2017
Won't download on my phone I have been trying for 20 min🙁
Some Suggestions?
Hello! I've been a fan of GarageBand for a long time now- back before the Alchemy Synth and the orchestral instruments were added. It's been great making music, whether it's covers of songs or my own creations, but I do have a few things to suggest. Key changes and tempo changes. When you're working on a song, there are times when you realize, "Dang. This needs a cool change!" Here's what I'm thinking: When you duplicate/add parts or edit them, there's a switch for key/tempo changes. When you turn them on, the app will ask what key you want to change it to, or the tempo screen will pop up and say, "What tempo will your song be?" or something. 😂 Ukulele. Please. People may've been asking for this already, but please, please add this in! It's a cute sounding instrument and for those of us who don't own one but want to use one in our music, who better to ask than the GarageBand team? Otherwise, it's a great app, and I love using it. I haven't experienced any bugs so far, and I'm happy I haven't! Keep doing what you're doing, guys! ❤️ Peace out! ✌🏻
I love it
Lmjhgyuiomnbvcxz
on
10/14/2017
I use it everyday I just wish they would come out with a new update. I would love to have more mandolin loops. The ability to play banjo, pedal steel, etc. I find making edm, hip hop and rock/blues easier than doing country tracks in it when it comes to using loops and software instruments. But it is still a great app.
Fix this app!!!!
This app, which I use to make music all the time, won't open after the update to iOS 11. This means that all my projects that I'm trying to work on are useless. I was hoping Apple would have fixed it by now, but apparently it's not a priority for them. FIX THIS APP!!!!!
Please fix
I LOVE garageband. It's incredibly powerful but also simply fun to use. However, the app suddenly quits after startup. It's been like this since the iOS 11 update. Please fix and I'll give 5 stars
Amazing app but...
GarageBand is amazing! I love using it too, but all of a sudden it started bugging out. Whenever I tried to send it to someone on message it just crashes the whole app, then when I try saving it too Files as a song it also crashes. It almost feels useless, I tried uninstalling it, resetting my iPad nothing would work! Please fix this I would like to be able to save files again 😢😢😢
Bummed....
After update of iOS 11..... I ama nota able to open the garage band at all, thisa totally bums me out as I use it for pretending to be a musical genius and my music therapy. Is there anyway you can provide an update that would fix an issue of G band not opening, iPhone 7+ Mahalo's
FX issue
eye obsessed
on
10/12/2017
I love this app, I use it the most on my phone. The only issue I've had recently is if I record an FX track to a piano, in playback it won't resister. basically it's like I didn't even record said FX track. Hopefully this bug will be fix in the future, that's my only problem with it.
Won't let me download it
I CANT GET TO DOWNLOAD IT IM SO MAD!!!
IDEA! (please read)
HarringtonJacob
on
10/11/2017
I love garage band. But after awhile of making music, the sounds and beats start sounding the same. Do you think you (the app makers) could add today's sounds in songs or just in general "new" sounds and beats to this great app? I believe it'd be a much more used app if doing so. Hope I help in anyway. 🤓
Orchestra Issues
Great app. It's been extremely useful in recording ideas and fleshing them out. But, it's really obnoxious that the orchestra records over itself when you're trying to add on to a previous recording. This functionality exists with the drums. Why not the orchestra???
Bilal Si Nacer
Bilal Si Nacer
on
10/11/2017
The best application
Keeps crashing
I can't open the app without an instant crash. I've deleted the app and reinstalled it but it still crashes. This needs to be fixed ASAP.
Why and how
There should be Oud instrument !!
Useless after update
After updating to iOS 11, the app WON'T open. It automatically closes and doesn't load.
Great when it works
I used this app in previous versions of iOS. Ever since iOS 11 it crashes upon launch.
One thing though
BrutalHeadHunter
on
10/10/2017
Let us import these song into our iTunes folder so that we can go to iTunes and listen to them
iOS 11 Bug makes GarageBand TAP OUT -R.I.P
Anyone with iOS 11 will NOT be able to use this app until they fix this bullpiss. Absolutely frustrating to say the least. Such a great app, or so I thought because to have not anybody around to protect such an investment must mean it's not only a low priority concern, it means they have almost no concern for low priority apps. Updates come just like iOS 11 and apps constantly must adjust ect. But for THE company itself to have produced the error without any follow up or even remark of it is just lame. I mean at the end of the day they have the 5$ it seems at this point, I may as well have just thrown away. What is it that that is worth between the clergy and customer if there isn't that follow up of assurance? Of Insurance! How one day even big companies like apple will rue the day of -Just- when even as far up as they've gone can only mean the longer the fall back down to earth back to reality to a day when they may face people at the bottom. We are waiting. Please just fix the app <\3 (1 Star until the app is something anyone on iOS 11 may actually use again.. would give it 0 until so if I could. Other then that it's an A-M-A-Z-I-N-G app.. or WAS.)
Issue
Export song not working anymore :(
Small Issue
I have been using GarageBand for about five years now, and I've been satisfied with it for the time I've been using it. Nevertheless, I ran into a few problems: • Ever since I updated to iOS11, it keeps crashing if there are too many songs downloaded from iCloud. It works just fine if there are around three or four songs loaded up, but anything more than that and the app closes. I end up either having to turn off iCloud or waiting until the songs have to be downloaded again. • If there are two or more notes played in a chord in the same track, a note in the chord won't be played. I noticed this happening with almost all of the keyboards. Hopefully these can be fixed soon!
FL Studio mobile charges
Jake Robinson80
on
10/9/2017
But support their clients with updates.
Installed new iPad IOS.seems to conflict
IPad system upgrade caused Garage Band to flash off as soon as it is opened.
Issue
Whenever I open the app to choose an instrument to play, it just shows a blank screen. Don't know if I'm the only one
What happened?
This app used to be great and maybe it still is for everyone else. But on my iphone seven plus it randomly decided to never work again.
Whats going on?
I love this app! It helps me with my production! I have been using it on my iphone 7 plus, and my. Ipad pro. As of lately i open the app on my phone, and it shuts down. I just don't get it. I still have over 100gb on my phone so i know its not a space problem. Anyone know???
Not working on iphone7 since the iOS 11 update
Since the iOS11 update, the app will not load. It just reverts to the home screen. I've deleted it and reloaded it. Still won't work. It is working fine on my 2nd gen iPad running iOS11. Since I wrote that above, I did a total wipe and reload. Now we are working.
Great app, but needs 1 update.
Drummerguy666
on
10/8/2017
So,I've written a review on this before, and there was nothing bad to say about this app. I write my own songs using this app, and it's a wonderful tool for any skill leveled musician or hobbyist that just wants to make some decent, solid music. I was finishing one of my protects this morning, and I realized something that would make this app even more handy to use. I had made the drum part, and I needed a bass part. I was sick of using auto play all the time, so I wanted to put a loop for the bass part. I found the one I wanted, but the one problem was that it wasn't in the key of the song. I would like to have a feature that makes any loop you choose automatically stay with the key of the song. I'm absolutely thrilled with everything else though. Sounds are top notch. I am a drummer with no lessons whatsoever. I use this app to record and just play whenever I want to. I have been playing drums for 10 years. Been using this app since it came out. Props to Apple for making a great app for well worth the $!
Baffled
As soon as i installed the new apple update i was able to update all of my apps along with garageband. Now that everything is up to date, garageband is the only app that does not work or even open at all! Quite disappointed. If you guys can fix this i will definitely rate 5 stars
I would rate 5 stars, but
ukuleleunicorngirl
on
10/7/2017
There is only one thing stopping me from rating this app a 5 star review, WHY IS THERE NO UKULELE!?!?!?!?!?!?!?!?!?!?! If you haven't already seen, my little nickname thing is UKULELE unicorn girl. I love the ukulele!!! Please for the next update, PLEASE add a ukulele! If you do I will DEFINITELY RATE 5 STARS!!!! Thank you for reading ukuleleunicorngirl over and out! 👋
Need help
Robertoparamo
on
10/7/2017
I like the app but ever since I updated my phone it won't open any ideas
NOT EVEN DOWNLOADING!!!!!!!!!
brckinvasion reviews
on
10/7/2017
This app is nooooooooot!!!!!!!!!! Downloading!!!!!! Thats alll I have to say for now. I will have more updates when I actually download it.
Garage Band
It so fun😀😀😀😀😀
IOS 11 CRASHES
Consistently crashes on iOS 11 iPhone 7. Only fix is to disable GarageBand in iCloud so I can't even work on my projects??? App is virtually useless to me without iCloud
Support korg gadget
amin.soltani1376
on
10/7/2017
Plz support korg gadget le app!!! 🙌🏾🙌🏾
No timpani.
No timpani. Why???????
iOS 11
Unhappy Customer #9
on
10/7/2017
needs support for iOS 11. every time i open it, it just crashes and closes.
Fact Sheet
Publisher:

Apple Inc.

Category:

Music

Released:

Mar 10, 2011

Current Version Released:

Jun 05, 2017

Version:

2.2.2

Size:

1697.7 MB

Compatibility:

Requires iOS 10.3 or later.

Recommended Age:

4+

Game Center Certified:

No

Supported Devices:

iPhone5-iPhone5, iPadFourthGen-iPadFourthGen, iPadFourthGen4G-iPadFourthGen4G, iPhone5c-iPhone5c, iPhone5s-iPhone5s, iPadAir-iPadAir, iPadAirCellular-iPadAirCellular, iPadMiniRetina-iPadMiniRetina, iPadMiniRetinaCellular-iPadMiniRetinaCellular, iPhone6-iPhone6, iPhone6Plus-iPhone6Plus, iPadAir2-iPadAir2, iPadAir2Cellular-iPadAir2Cellular, iPadMini3-iPadMini3, iPadMini3Cellular-iPadMini3Cellular, iPodTouchSixthGen-iPodTouchSixthGen, iPhone6s-iPhone6s, iPhone6sPlus-iPhone6sPlus, iPadMini4-iPadMini4, iPadMini4Cellular-iPadMini4Cellular, iPadPro-iPadPro, iPadProCellular-iPadProCellular, iPadPro97-iPadPro97, iPadPro97Cellular-iPadPro97Cellular, iPhoneSE-iPhoneSE, iPhone7-iPhone7, iPhone7Plus-iPhone7Plus, iPad611-iPad611, iPad612-iPad612, iPad71-iPad71, iPad72-iPad72, iPad73-iPad73, iPad74-iPad74, iPhone8-iPhone8, iPhone8Plus-iPhone8Plus, iPhoneX-iPhoneX,

Supported Languages:

Arabic; Catalan; Valencian; Chinese; Croatian; Czech; Danish; Dutch; Flemish; English; Finnish; French; German; Greek; Hebrew; Hindi; Hungarian; Indonesian; Italian; Japanese; Korean; Malay; Norwegian; Polish; Portuguese; Romanian; Moldavian; Russian; Chinese; Slovak; Spanish; Castilian; Swedish; Thai; Chinese; Turkish; Ukrainian; Vietnamese;