TapNova doesn't recommend this version of the app.
New in version 16.3.1
Thanks for using OneNote! We listened to your feedback and updated the application with optimizations to help improve your note taking experience.

Having trouble? Send feedback in the app (OneNote->Settings->Send Feedback)
Have an idea? Add to our feature suggestion box at https://aka.ms/onenote-ios-suggest
Description
Capture your thoughts, discoveries, and ideas and simplify overwhelming planning moments in your life with your very own digital notebook. With OneNote, you can plan that big event, seize that moment of inspiration to create something new, and track that list of errands that are too important to forget. Whether you're at home, in the office, or on the go, your notes are available to you across all of your devices.

-- CAPTURE ANYTHING --
Capture your thoughts, discoveries, and ideas and simplify overwhelming planning moments in your life with your very own digital notebook. With OneNote, you can plan that big event, seize that moment of inspiration to create something new, and track that list of errands that are too important to forget. Whether you're at home, in the office, or on the go, your notes are available to you across all of your devices.

-- POWERFUL ORGANIZATION --
Organize your notes in a way that works best for you. Create, rename, search, sort, and copy pages, sections, and notebooks. Find your most recent notes quickly and pin the pages you use most. Secure your notes with a password and use touch ID to quickly access them.

-- THINK TOGETHER --
Share your notes with your friends and colleagues, whether you're planning a party with others or a working on a school project with your classmates. You can combine forces and all work together at the same time in a shared notebook.

-- ALWAYS WITH YOU --
Access your notes on your Mac, iPhone, iPad and other devices. Your notes are synced to the cloud (OneDrive, OneDrive for Business, and SharePoint) making it easy to access your recipe notes on your iPhone at the store, your homework on your Mac in class, or your itinerary on your iPad during your travels. Achieve more with OneNote.

-- CHECK THESE LISTS --
Create to-dos to keep track of your daily errands, groceries shopping, or travel planning.

-- WRITE & DRAW ON iPAD --
Scribble your notes at a conference, write math equations in class or sketch your ideas. With a variety of pen colors and settings, you can create beautiful handwritten notes and drawings. Draw with confidence with "Convert to Shapes" mode: OneNote will automatically convert hand drawn shapes into crisp, perfectly regular polygons and circles.

OneNote is free on iPhone and many other devices. Get started today! Download OneNote and sign in with your Microsoft Account or the account assigned to you by your work or school.
iPad Screenshots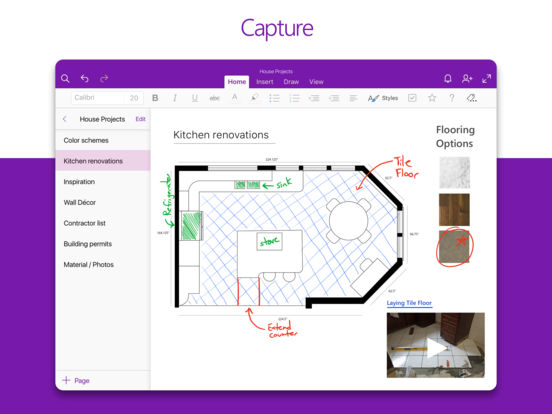 Reviews
Login issues kill an otherwise great app
A few versions ago Microsoft broke OneNote sync so badly I had to clear the device data and reinstall. The app will constantly lose sync and force you to login again, which should not be happening.
Grateful for One Note!
I am one of those people who keep reminder notes so I don't forget but also One Note is awesome for holding my receipts, shopping lists, and creative writing pieces. It saves on all the paper that was waisted because of a change of thought. I am also grateful it doesn't cost me anything extra because our world today costs us so much just to live on. Thank you One Note!
I like it but...
SheltieHenryMom
on
7/21/2017
I like it so far except for fact that there is no option to sort my documents by name. It automatically puts things in date of entry order. I'm creating files and I prefer to file alphabetically.
Error
OneNote on iPad Pro exited 50+ time when turned on this week. The error continued and stopped today after a worst failure. Will try out today while it may last a while avoiding sudden exit
Logs me out every time I close the app.
Apart from logging me out everytime I close the app, it fails to sync, and hold data already downloaded in previous instances. Its performance has not changed much over several iterations, in my experience. "Lousy" is a great word to descibe this app.
Signing in issues
Have been having problems signing in. If the password is mismatch just prompt for the password. So that users can update them
The sync is slow
The sync is slow
Great and keeps getting better.
OneNote has improved steadily in the years I've used it. I'm especially pleased with how well I can use it for personal and enterprise use. Microsoft deserves credit for how well it works across platforms and for how powerful yet easy it is compared to Google Keep and others. My personal and enterprise subscriptions are well worth the price. I'm a G Suite and Slack user too so it is fair for me to say how good this is.
Still improving... closing in on Evernote
Carolina Mom
on
7/21/2017
The interface on the app is much improved and makes for easier navigation. Document scanning is also much improved. One upgrade I would really like to see is adding searchable tags.
Needs text conversion in the iOS version
Great program on computer but needs text conversion in the iOS version
Love it
I love creating lists and only seeing what is left, also love taking pictures in the app to include in my notes
The best note taking tool, except for search on iphone
I use Onenote to store and organize everything across my laptop, tablet and phone and it works great. The search feature on the Windows versions will take you directly to the result within a page. Searching in the IOS version only takes you to the page with the result on it which is a significant shortcoming if the page is large.
The Best
This is the best app to keep me so organized. I let everyone know that this is the best way to keep yourself on task.
Awesome
Love love this app. It has saved me countless hours of trying to find where I wrote the notes. It stays with me on all my devices and I don't have to panic anymore.
Surprisingly good
Seamless syncing across platforms, good functionality
Handy
SingerRinging
on
7/21/2017
One note is very handy to have on all my personal devices. It helps keep me working & organized.
My second brain
This is truly a permanent part of my thinking process now. I use it for ideas, work, play and home.
Live this app !!
Ricky Vantwest
on
7/20/2017
This is an awesome app to have on your phone. I will recommend this app to everyone phone user. Fun fun fun !!
Works well
Works well but doesn't sync quickly . Especially when you put attachments on a page, takes forever
Keeps crashing on startup
I love this app and use it all the time. But lately it has been crashing on start up and is completely unusable, including the latest update.
Very good but has a few quirks
Very good application. I use it every day for note taking. The menu does collapse. Constantly have to sign in over and over again.
Great program. No more note pads
Great program. Ties all of my notes to my PC, IPad and IPhone and updates automatically. Now more pads of paper tied to each project.
Intuitive
Love this application. Easy note taking and really helps to stay organized from a project management perspective.
Sharing sections and pages
Sandiegogreg
on
7/20/2017
When is this going to be supported? Very disappointing.
Love it!!!
I love this app, so easy and it organizes my notes
Authentication has been broken for over 6 months
It used to be one of the most reliable and useful apps available but the sign-in problems which have been plaguing its latest builds are destroying its functionality. These days, easily synching your notes across devices is completely impossible. You must sign-in to the app every time you launch it, for each device - complete with two factor authentication if you have it turned on. This completely destroys its usability. Microsoft can't fix the problem and we're going on well over six months since it was programmed into the app.
Latest update awful for iPad
The app was working splendidly- tabs across the top, ability to put pages on the left or the right side of the page, seamless synchronization, etc. The update ruined all of that. Repeated sign-ins, bazaar layout of expanding and collapsing files only on the right side, an arrow that point left but opens the files out to the right, but then to completely hide the file names to have a clean uncluttered note space, one must tap a small icon in the upper right of the screen... it goes on and on. This is a terrible decision by the designers and hugely disappointing. It is possible they never beta tested the app at all.
LOVE THIS!
The app is so clean and consistent! Thank you Microsoft for helping me stay organized!
Sync never ends
Great tool, however a key feature which is the sync never ends, or doesn't sync end to end
I must be dumb
I can not figure out how to use OneNote, very confused. Can not add notes or sync with my company laptop.
Love One Note
This is a wonderful tool the whole family can use. It's great for both business and personal use. Thank you Microsoft for making this work so wonderfully on Apple.
Love this app...
Gives me the ability to be more productive without having to drag the laptop around. Increases my efficiency exponentially!
Love the Program
EdgarBlackSmith
on
7/20/2017
I use this program daily. I inventory supply items on 4 locations every day. It's a departmental situation so we're not part of the hospital wide system. So, I use the check list feature. I like the hierarchical indentation where I can sub-categorize the location, class, and item. I then type the qty for each item. So, I order or pull the qty for each item and then check them off as I refill the bins. I also add an ordering check list for items that need to be added to my department storeroom. I know there are a lot more applications (uses) for this program, but this one to me is great. I replaced a lot of paper usage with this.
Super Handy and easy to use
Love this app and am now dependent on it.
Pretty solid and good sync nice UI
Just wish it had a few more formatting options like the Star flag and maybe headings. I end up cleaning up the formatting on the desktop.
Bugged
I'm in some bugged state where I can't make a notebook
Useful
It's not as intuitive as the desktop version but it does the job done when you are on the go. Especially the dictation feature in apple products are much better than windows.
Love it
Really love using the iPad Pro version You can import notes and add comments or start from scratch.
The best note writing app out there! Better than that elephant
Nouel Dela Soul
on
7/19/2017
Surface Pro 4 + OneNote = Best note writing gear for a college student. Why you may ask? 1. Your notes are with you 24/7! i.e. Through yor phone, apple watch, and so on. 2. Crash-less software (to me so far) 3. PLEASE ADD A PENCIL MODE!
Flash drive
It's great that sheets is backed up on the cloud and that you can access it from anywhere, and you don't have to worry about if your computer fails to function. The only problem I have in my area is the other computers are not hooked up to the Internet that I could access. Have you considered being able to download to a flash drive. It would also serve as a double back up.
This update crashes often
This update crashes often. Also the application seems very bloated for what it does
Excellent App for meetings, and notes management
I've been using OneNote for several years now to manage my meetings, personal and professional life. Being able to access is from anywhere makes it much more valuable and useful. I strongly recommend this App.
Just essential for everyone
Policjant Husky
on
7/19/2017
Just essential for every cell phone. A "six" star for the ability to share notebooks. Just missing everything that is in the desktop version but close to perfect
Works great
Use every day to track stocks and my medications. Able to enter on any of my devices. Love it🤗
Awesome Product
Most exciting Microsoft product I've used in years. Easy to use on phone and computer. It has become an essential tool for me.
What the what???
I thought from the description I might have something to replace Evernote and penultimate, but I can't make this up to anything! I'm assuming I'm doing something wrong, but it really shouldn't be that difficult to take some notes.
Love it for my shopping lists!
Love it for my shopping lists! I wish I could easily move items to organize my list later. Very helpful!
Horrible syncing
Keeps asking for password over & over & telling me to sign into computer for syncing issues over & over.
I love the app, but login issues...
Best note app out there, but I am really getting annoyed with this persistent login issue that keeps making me enter my password to sync my notes (none of my Microsoft apps do this except this)
Fact Sheet
Publisher: Microsoft Corporation
Category: Productivity
Released: Jan 18, 2011
Current Version Released: Jul 14, 2017
Version: 16.3.1
Size: 238.6 MB
Compatibility: Requires iOS 9.0 or later.
Recommended Age: 4+
Game Center Certified: No
Supported Devices: iPad2Wifi-iPad2Wifi, iPad23G-iPad23G, iPhone4S-iPhone4S, iPadThirdGen-iPadThirdGen, iPadThirdGen4G-iPadThirdGen4G, iPhone5-iPhone5, iPodTouchFifthGen-iPodTouchFifthGen, iPadFourthGen-iPadFourthGen, iPadFourthGen4G-iPadFourthGen4G, iPadMini-iPadMini, iPadMini4G-iPadMini4G, iPhone5c-iPhone5c, iPhone5s-iPhone5s, iPadAir-iPadAir, iPadAirCellular-iPadAirCellular, iPadMiniRetina-iPadMiniRetina, iPadMiniRetinaCellular-iPadMiniRetinaCellular, iPhone6-iPhone6, iPhone6Plus-iPhone6Plus, iPadAir2-iPadAir2, iPadAir2Cellular-iPadAir2Cellular, iPadMini3-iPadMini3, iPadMini3Cellular-iPadMini3Cellular, iPodTouchSixthGen-iPodTouchSixthGen, iPhone6s-iPhone6s, iPhone6sPlus-iPhone6sPlus, iPadMini4-iPadMini4, iPadMini4Cellular-iPadMini4Cellular, iPadPro-iPadPro, iPadProCellular-iPadProCellular, iPadPro97-iPadPro97, iPadPro97Cellular-iPadPro97Cellular, iPhoneSE-iPhoneSE, iPhone7-iPhone7, iPhone7Plus-iPhone7Plus, iPad611-iPad611, iPad612-iPad612, iPad71-iPad71, iPad72-iPad72, iPad73-iPad73, iPad74-iPad74,
Supported Languages: Arabic; Catalan; Valencian; Croatian; Czech; Danish; Dutch; Flemish; English; Finnish; French; German; Greek; Hebrew; Hindi; Hungarian; Indonesian; Italian; Japanese; Korean; Malay; Norwegian; Polish; Portuguese; Romanian; Moldavian; Russian; Chinese; Slovak; Spanish; Castilian; Swedish; Thai; Chinese; Turkish; Ukrainian; Vietnamese;