Screenshots
New in version 16.5
Thanks for using OneNote! We listened to your feedback and updated the application with optimizations to help improve your note taking experience.

Having trouble? Send feedback in the app (OneNote->Settings->Send Feedback)
Have an idea? Add to our feature suggestion box at https://aka.ms/onenote-ios-suggest
Description
Capture your thoughts, discoveries, and ideas and simplify overwhelming planning moments in your life with your very own digital notebook. With OneNote, you can plan that big event, seize that moment of inspiration to create something new, and track that list of errands that are too important to forget. Whether you're at home, in the office, or on the go, your notes are available to you across all of your devices.

-- CAPTURE ANYTHING --
Capture your thoughts, discoveries, and ideas and simplify overwhelming planning moments in your life with your very own digital notebook. With OneNote, you can plan that big event, seize that moment of inspiration to create something new, and track that list of errands that are too important to forget. Whether you're at home, in the office, or on the go, your notes are available to you across all of your devices.

-- POWERFUL ORGANIZATION --
Organize your notes in a way that works best for you. Create, rename, search, sort, and copy pages, sections, and notebooks. Find your most recent notes quickly and pin the pages you use most. Secure your notes with a password and use touch ID to quickly access them.

-- THINK TOGETHER --
Share your notes with your friends and colleagues, whether you're planning a party with others or a working on a school project with your classmates. You can combine forces and all work together at the same time in a shared notebook.

-- ALWAYS WITH YOU --
Access your notes on your Mac, iPhone, iPad and other devices. Your notes are synced to the cloud (OneDrive, OneDrive for Business, and SharePoint) making it easy to access your recipe notes on your iPhone at the store, your homework on your Mac in class, or your itinerary on your iPad during your travels. Achieve more with OneNote.

-- CHECK THESE LISTS --
Create to-dos to keep track of your daily errands, groceries shopping, or travel planning.

-- WRITE & DRAW ON iPAD --
Scribble your notes at a conference, write math equations in class or sketch your ideas. With a variety of pen colors and settings, you can create beautiful handwritten notes and drawings. Draw with confidence with "Convert to Shapes" mode: OneNote will automatically convert hand drawn shapes into crisp, perfectly regular polygons and circles.

OneNote is free on iPhone and many other devices. Get started today! Download OneNote and sign in with your Microsoft Account or the account assigned to you by your work or school.
iPad Screenshots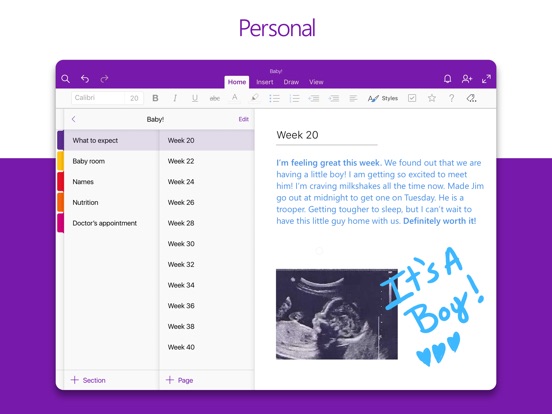 Reviews
Muy buena
Diana Yazmin
on
9/25/2017
Es muy funcional y puedo sincronizar mis notas y verlas o editarlas desde mi lap o mi celular, así tengo todo ordenado y no tengo excusa para olvidar nada (:
Love OneNote
I love OneNote and use it exclusively to keep my work organized. The only drawback that I have found is the difficulty in syncing the app to my different applications (my computer, my IPad and my phone). I purchased a book to learn more of the features, but it is very confusing because not all versions of one note are the same. There are several flavors of OnNote, the desktop program, an app version and a web- based version. My employer pays for a license but it is still difficult to find out how to get the same flavor on all my devices. Please make this easier for your users.
Great app for School and Personal use
I have used this app since college and am in Medical School now. Me and a large majority of my classmates use this for note taking in class and outside. The app lets you download/print out the various power points into the app so you can directly annotate them. Very useful for school. You can password protect various tabs, etc. very customizable, I have not even explored everything it can do yet, but for example, I wanted to record my lecture so O found that you can actually insert a little link and file of a video or voice recording right from the app itself. Very cool, don't know of anything else that does that. Syncs with OneDrive, so I suggest you get a OneDrive account (usually schools have a deal to get you like a TB of storage or something of the sort through Office 365, so ask you IT department before buying anything out of pocket-if you aren't a student Microsoft offers 5 GB free of the bat, so there you go).
I love OneNote. But....
Whahxuucodjsvdduxoxksbs
on
9/25/2017
Ok. I've always loved OneNote, I've used it in school for years it's just so convenient. This... i not. Let me explain.... This app is slow, it doesn't take advantage of touch controls, I don't like how it's not constant it's just not worth it. At the time of writing this, I have the newest iPhone, iOS 11 (the most recent version), and Verizon LTE Data (whenever I'm on the go). So I'm next to positive it's not me or my phone it just he app. I don't give it a 1 or 2 star because I still love OneNote for Computer because it works and is very convent. I guess I'll just use my hotspot and laptop if I'm on the go and need OneNote. :(
Keeps lists and on-the-go content on board
bradfordpeterson
on
9/25/2017
OneNote is my go-to out-and-about software for grocery lists, general reminders, and on-the-road thoughts worth saving for later action. Dependable and easily accessible and does not become easily erased by accident - which my Apple yellow pad would occasionally do. My switch to OneNote has been most excellent. Highly recommended.
JUST GET THIS APP
Don't waste your money on the other note taking apps you need to pay for. Just download this one. It's easy to use and I have no complaints.
Great MS suite
I've been using this app since 2014 and loving it. Most of time I take a note during a meeting. Since my company uses ms products, it is really easy sending a note afterward. Double thumbs up! Great note taking application.
LOVE LOVE LOVE
Bugyvyfygimpnyfrdrdtvubi
on
9/24/2017
Hands down the best app for productivity!!!
Close!
PingpongFan1
on
9/24/2017
Would be 5 stars if you could color text boxes.
Onenote should learn from Evernote!!!
xxxVampirexxx
on
9/24/2017
Onenote developers please take a look at Evernote and learn from them copy and paste functionality ( try to copy and paste any article from website into Onenote and Evernote desktop, then view it on Onenote and Evernote app. You'll see a huge different.
Organise, Record, Create YOUR WAY
"Nemodogdad"
on
9/24/2017
Other organisational apps for "office" tasks, notes of meetings, tracking time sensitive projects, keeping track of creative teams, collecting and/or illustrating developing creative ideas, color coding... well... everything etc., these all force you to organise the correct way....their way. This app enables you to jot down a note, illustrate an event, collect various quotations from various sources and various centuries in a way that YOU will go back and not only find them all but have them assembled in a way that still makes sense to you and There is a learning curve here. It is different, in a good way, and that means loosen up and find YOUR creative path. I am a born and raised Macite so I struggle w/ anything that has a whiff of Windows Office which almost any organisational app does, however, this app allows you to color coordinate your date/ time file cards or hand illustrate your interpretation of a ballet's week prior to opening night, and anywhere in between. The more you experiment the more possibilities the app reveals.
Update made it worse
Was perfectly fine until I updated it. Now when I delete a note, it's still there every time I open the app.
One of the best productivity apps PERIOD!
Johnnie Howard's iPhone
on
9/23/2017
OneNote is outstanding because it lets me keep track of everything in various aspects of life without having separate physical notebooks for every single item are event. I can store items to use now or archive things for later. It's intuitive and easy to use.
Won't work
Won't let me create a new notebook....
BAD UPDATE
FitbitDisappointed
on
9/23/2017
Horrible update now causes lag and freeze. Every 3 minutes i have to restart app. Stupid Update is junk. Don't Do IT people
Love Onenote
Looking for more ways to use it. Helps me keep track of important stuff.
Very Good.
Really Advanced.
Updated without permission and last all my notes
tucker's slave
on
9/23/2017
Nonexistent customer support. Microsoft and Bill Gates should be ashamed of the one note team.
It's close to the perfection
Student opinion: It's very competitive to other note-taking apps, especially Goodnotes. However, here is the pros & cons of this app. Pros: 1. It's FREE FOR ANY DEVICE - no monthly subscription for students 2. Simple & Useful theme/tools 3. Very easy to start while it's very familiar w/ other MS office software/apps. 4. Easy to organize (which is much better than many apps) 5. Full function of most things students need. 6. Can access to any cloud and anywhere (onenote has web-base and can be downloaded on any common operating system -iOS, android, windows, macOS) Cons: 1. Palm rejection needs a better improvement. 2. Apple Pencil is great but not 100% accurate while there are quite lots of times you can feel the delay responds or short lags. P/S: I want to give it 4.5 stars if I can do that. This is better than 4 but not close to 5. However, it's the best free note-taking app you can find anywhere that is useful for students.
Constant reauthentication is a hassle
Pretty good note-taking and idea organizing app, but once you connect it to OneDrive/SharePoint for cloud syncing, it has lots of problems with authorization and syncing.
Supreme organization
For the past few years, I've experimented with Evernote, iPhone notes and OneNote. But OneNote is just absolutely superior. To capture all the categories of thoughts and projects, there's nothing better. Let me explain. I would write notes everywhere -- EVERYWHERE. Then, is always say to myself "oh I'll organize that later." Nope. OneNote makes you organize from the beginning of the project. Whether you're following GTD (like me), priority lists, reference notebooks, study notes, etc I wish I knew how to use OneNote in college -- or even what it was. The level of professionalism this allows me to have is unmatched. I have clarity and quick responses -- storing emails, voice recordings, organizing meeting notes, and optimizing workflow.
Best useful app for on-to-go
Full-M00n_V4mpyr3
on
9/22/2017
Especially in College, you can review your notes for upcoming exams and not have to worry to rush the library to do a quick study. Especially working well with Apple devices, definitely recommend.
Great at taking notes, terrible at syncing them
Just another iSheep
on
9/22/2017
Like pretty much every recent Microsoft service, this app is full of tons of great ideas that are executed like garbage. What's the point of taking notes on a Surface Pro 4 using OneNote if the notes aren't even going to sync properly on my phone? Somehow, an entire page of class notes has turned into a bunch of straight lines across the page. The app refuses to sync other notes taken that day. Honestly, I should have known better than to trust Microsoft in this current age of treating their customers like beta testers. Get bent.
Best Note Ever
MsAntiguanRican
on
9/22/2017
Post it, Note it, pass it down. Enter your note in one place & have it accessible from every place.
Great app on one device bit not multiple
The only issue I ever have with OneNote is getting it to connect between my three devices. It nearly never works on my iPhone, often doesn't work well on my Mac but it's fine on my iPad
Missing features, but really good though.
It's missing too many features from the other OneNote versions like the Surface version or the one you get on PC. It's not as complete as those. :( it's still the best app to take notes, but could be a lot better if it had the same features as the other versions on different machines.
Crashes frequently.
Switched to OneNote from Evernote due to cost. But OneNote crashes frequently on iPad, iPhone and Mac.
Not as great as I expected
I'm a bit disappointed at this point. It could be that I haven't fiddled with it enough so I may update my review with more details in the future. I've purchased Notability so it will depend on which one fits my needs and is easily navigated.
Great productivity
Use it in med school. Absolutely amazing. Syncs well with all my devices
Love this app
I love its portability, ease of use, share ability. I can include pictures in my notes. Love this app!
I love OneNote!
I love that OneNote auto syncs and I do not have to worry about saving my notes. I only take notes in OneNote. I am confident that my notes will always be there. I love the organization of it and the ability to add sections to the notebook.
Frequent sync problems
On four devices, iPad, iPhone, and two w10 desktops. Maintaining sync is a constant headache.
Thank You!
Where have you been all my life?!?!?!
Won't sync
Such a great cross platform notes tool. But for iPad it constantly fails to sync my notebooks. Web and PC clients work just fine. I'll update the rating when this is fixed but given all of the complaints online going back years I won't be holding my breath.
Love it
LifeLessons81
on
9/21/2017
I take all of my notes here!
Fantastic program!!
I use this program every day. It's fast, secure, and automatically uploads my data to the Cloud.
iPhone won't sync
iPhone and iPad will not sync. No choice for share storage except for OneDrive which iPhone won't connect to
Love it!
I absolutely love this app, it makes schooling way more fun.
Will not sync properly!
If the file has photos or anything other than Text forget syncing it with your phone
Few missing things
Few missing things
Helpful but not my sole note taking app
I love that OneNote has many features including tabs, sections, tags, and drawing. I use it daily to organize my medical school notes between my devices. While I use it often, I will also say it is not my sole note-taking app as the interface is not quite as smooth on a tablet as it is on a PC which is why I don't only use it. I would like to see the ability to search tags in a the mobile interface like you can do on a PC interface.
Won't open?
BaylorTaylor333
on
9/21/2017
When I sign in to my Microsoft account and try to open OneNote up, it says that it has a problem and I need to go reset in settings? I may just be doing something wrong, but when I tried to download OneDrive, it wouldn't even open at all - saying there was congestion and my account couldn't be loaded. It'd be great to see whatever this error is resolved and I'll easily give 5 stars.
No drag and drop support
Anonymous9471047
on
9/21/2017
As of 9/21/2017, one note doesn't support drag and drop.
I love everything
I love the fixture; it is so helpful in my studies.
Best notebook app on any device
.
Broekn sync most times
After ios11 OneNote will fail to sync.
The app is just okay, the program on the computer is way better
I love the program on the computer! I use it to record lectures and simultaneously take notes. The written notes sync to the recorded lecture, its great! The app unfortunately does not allow for this. If I'm recording I am not able to type any notes and because if this I only use this app to listen pre-recorded lectures. If they could fix this, the app would be perfect!
Overall great
Claret Rodriguez
on
9/20/2017
I keep one note to have my character sheets organized v neato, helps with world building character design timelines and other writing things I need to keep organized
Works for me
I have used this app for many jobs and keeps every note I create separate.
Great
Jonathanfetene
on
9/20/2017
Great for Med school!!
Fact Sheet
Publisher:

Microsoft Corporation

Category:

Productivity

Released:

Jan 18, 2011

Current Version Released:

Sep 11, 2017

Version:

16.5

Size:

247.2 MB

Compatibility:

Requires iOS 9.0 or later.

Recommended Age:

4+

Game Center Certified:

No

Supported Devices:

iPad2Wifi-iPad2Wifi, iPad23G-iPad23G, iPhone4S-iPhone4S, iPadThirdGen-iPadThirdGen, iPadThirdGen4G-iPadThirdGen4G, iPhone5-iPhone5, iPodTouchFifthGen-iPodTouchFifthGen, iPadFourthGen-iPadFourthGen, iPadFourthGen4G-iPadFourthGen4G, iPadMini-iPadMini, iPadMini4G-iPadMini4G, iPhone5c-iPhone5c, iPhone5s-iPhone5s, iPadAir-iPadAir, iPadAirCellular-iPadAirCellular, iPadMiniRetina-iPadMiniRetina, iPadMiniRetinaCellular-iPadMiniRetinaCellular, iPhone6-iPhone6, iPhone6Plus-iPhone6Plus, iPadAir2-iPadAir2, iPadAir2Cellular-iPadAir2Cellular, iPadMini3-iPadMini3, iPadMini3Cellular-iPadMini3Cellular, iPodTouchSixthGen-iPodTouchSixthGen, iPhone6s-iPhone6s, iPhone6sPlus-iPhone6sPlus, iPadMini4-iPadMini4, iPadMini4Cellular-iPadMini4Cellular, iPadPro-iPadPro, iPadProCellular-iPadProCellular, iPadPro97-iPadPro97, iPadPro97Cellular-iPadPro97Cellular, iPhoneSE-iPhoneSE, iPhone7-iPhone7, iPhone7Plus-iPhone7Plus, iPad611-iPad611, iPad612-iPad612, iPad71-iPad71, iPad72-iPad72, iPad73-iPad73, iPad74-iPad74,

Supported Languages:

Arabic; Catalan; Valencian; Croatian; Czech; Danish; Dutch; Flemish; English; Finnish; French; German; Greek; Hebrew; Hindi; Hungarian; Indonesian; Italian; Japanese; Korean; Malay; Norwegian; Polish; Portuguese; Romanian; Moldavian; Russian; Chinese; Slovak; Spanish; Castilian; Swedish; Thai; Chinese; Turkish; Ukrainian; Vietnamese;