Screenshots
New in version 16.6
Thanks for using OneNote! We listened to your feedback and updated the application with optimizations to help improve your note taking experience.

Having trouble? Send feedback in the app (OneNote->Settings->Send Feedback)
Have an idea? Add to our feature suggestion box at https://aka.ms/onenote-ios-suggest
Description
Capture your thoughts, discoveries, and ideas and simplify overwhelming planning moments in your life with your very own digital notebook. With OneNote, you can plan that big event, seize that moment of inspiration to create something new, and track that list of errands that are too important to forget. Whether you're at home, in the office, or on the go, your notes are available to you across all of your devices.

-- CAPTURE ANYTHING --
Capture your thoughts, discoveries, and ideas and simplify overwhelming planning moments in your life with your very own digital notebook. With OneNote, you can plan that big event, seize that moment of inspiration to create something new, and track that list of errands that are too important to forget. Whether you're at home, in the office, or on the go, your notes are available to you across all of your devices.

-- POWERFUL ORGANIZATION --
Organize your notes in a way that works best for you. Create, rename, search, sort, and copy pages, sections, and notebooks. Find your most recent notes quickly and pin the pages you use most. Secure your notes with a password and use touch ID to quickly access them.

-- THINK TOGETHER --
Share your notes with your friends and colleagues, whether you're planning a party with others or a working on a school project with your classmates. You can combine forces and all work together at the same time in a shared notebook.

-- ALWAYS WITH YOU --
Access your notes on your Mac, iPhone, iPad and other devices. Your notes are synced to the cloud (OneDrive, OneDrive for Business, and SharePoint) making it easy to access your recipe notes on your iPhone at the store, your homework on your Mac in class, or your itinerary on your iPad during your travels. Achieve more with OneNote.

-- CHECK THESE LISTS --
Create to-dos to keep track of your daily errands, groceries shopping, or travel planning.

-- WRITE & DRAW ON iPAD --
Scribble your notes at a conference, write math equations in class or sketch your ideas. With a variety of pen colors and settings, you can create beautiful handwritten notes and drawings. Draw with confidence with "Convert to Shapes" mode: OneNote will automatically convert hand drawn shapes into crisp, perfectly regular polygons and circles.

OneNote is free on iPhone and many other devices. Get started today! Download OneNote and sign in with your Microsoft Account or the account assigned to you by your work or school.
iPad Screenshots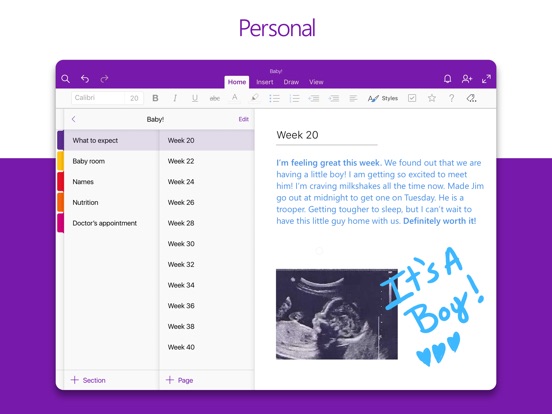 Reviews
Color selector missing
There are no longer any color dots to quickly change the color. Instead individual pens must be created. Even then, these pens reset upon launch
Unstable
aguywithacomputer
on
11/18/2017
Keeps crashing and I lose my work. Now I'm stuck with it. I wish they would stop trying to add features and focus on just making the thing work. Typical MS. Every update chips away at the stability to add some useless U.I. tweak. As soon as I finish my current project, I'm moving on to something else. Maybe it's time to go back to the native notes app.
Great app
New audio listener
on
11/17/2017
So many good things about this app. There is only one complaint: I can't drag and drop images directly from googles search like I can other apps. I have to copy it to my photos and then insert it. I don't like the extra steps. Other than this, it's great
Broken in last release
Don LaVange
on
11/17/2017
Drawing mode is broken. I can get it to work and then it stops.
OneNote Errors
Donald Tynes II
on
11/17/2017
The mobile app will not let me delete or dissociate an old Office 365 for Business account so that I can associate my current Office 365 for Business account. People change jobs. When they do they need to change their cloud accounts.
Syncing errors
This is the best organizational tool I've found. Then it stops syncing and won't open on one of my devices and it takes me weeks if uninstalling and troubleshooting to get it working again. Hope this improves!!
Service Unavailable?
Memdmsalasmdnndmf
on
11/17/2017
I opened the app, and before signing in I couldn't even get in because there was an error code saying service unavailable. I have this for where I go to school and I love it and would like it for my own tablet, but it's hard because I can't get into it.
I luv Microsoft
Hazardous6345
on
11/17/2017
Thank you for helping make minecraft!!!!
Quits/Freezes constantly
I use it with my iPad Pro and my apple pencil. It will freeze will I'm using the pencil constantly....like every 10 minutes. I'm going to switch apps if this doesn't stop happening.
Other Cloud Storage
It would be 5 stars if it would work with Box? They block OneDrive at work.
Love it nonstop PLEASE allow link creation + highlighting on mobile
HaggisTorm3
on
11/16/2017
Thank you
New update
George123457
on
11/16/2017
The new update has taken away the way to use ink color wheel and brightness adjustment!! It's so hard to switch between various different colors now, even though you can program pens into the bar now. Also the options for thickness of the pens are terrible! There is a huge jump between the two smallest diameters that neither are perfect for writing anymore. You added rainbows pens but took out so much utility... Please give us back the past options! Or even the ability to adjust which settings we would like to display, color wheel, pen thickness, color adjustment etc.
Keeps crashing
Nicoisengineer
on
11/16/2017
Great app but it keeps crashing and it would be nice if it saved the pen size.
Don't like the most recent update.
I love using OneNote. I use it for my college classes and it has been very helpful. However, the most recent update has changed the way the colors work for the pens and highlighters and it is terrible. Before the update, there was a circular color palate that was very useful and gave perfect control over the colors. Now, the color palate is within the pens and highlighter and you only have a smaller handful of colors that can be used without having to constantly go in and change the color choices. I am not happy with the update. Companies need to learn when to leave certain things alone. Wish I could go back to before the update.
Constant Freezing
App used to work perfectly but now it's constantly freezing and crashing. Gets frustrating because I fall behind in taking notes. Breaks my train of thought when trying to do homework. Absolutely can't stand it. Tried uninstalling, reinstalling and nothing. Seems to crash a little less when offline but Microsoft clearly needs to fix this app. I have very large notebooks so curious if that causes an issue.
The cloud makes things seamless
Using the cloud with OneNote makes everything seamless. I can start and stop notes across, my tablets, laptops, and phone and pick up right where I left off instead of manually saving and moving files over. Love it
Fonts
This is a wonderful app. I use it for piano music editing and reading. I do wish the font change were less cumbersome. I wonder if the list of fonts could be shortened?
It is. Great
I like it so much so far
Pen thickness
Sarthak Kher
on
11/15/2017
The new update made the pens thickness go from light to thicker strokes the one option between them which was perfect isn't there anymore which is very annoying since I don't want very light strokes but neither very thick. Please help.
Great but needs work
If Microsoft had a best-kept secret, it would be OneNote. Although backed by the world's biggest software publisher and included for a decade in most versions of Microsoft's mighty Office suite, it's still often upstaged by other note-taking apps, such as the ever-popular Evernote. Yet OneNote has evolved into a powerful information capture, management and sharing application that can be used for a wide variety of purposes. It's available for just about any recent computer or mobile device – and best of all, it's free. An example of its potential can be found in the education sector, which uses OneNote tools to create shared notebooks with lessons and homework for classes, and to integrate with learning management systems. It can be also be a very useful business tool, as the following seven tips reveal. More than a note-taking app OneNote uses a simple notebook metaphor, allowing you to have any number of notebooks, tabs within each notebook and pages within each tab. But it's not just for taking notes. OneNote has rich editing tools that let you format text, add pictures and tables to each page, attach files, draw illustrations and link to other OneNote pages. You can also add to-do lists that can be easily turned into Outlook tasks with reminders. OneNote includes a range of templates for quickly creating more complex pages, such as project tasks and meeting notes, and you can create your own templates.
Constant crashing
Parker101200
on
11/15/2017
Cannot rely on app to take notes or do anything due to it crashing every single time you try and write ANYTHING. Longest it has gone without crashing today was probably 5 minutes...................
Not bad
I'd say this is a 60% product. There are some things missing on the iPad version, mainly ink to text, that would be really nice.
Getting better
I don't like when you touch the purple part of the screen and it takes you to the top of the page. I don't know if this is a glitch or a feature. If it is a feature there needs to be a way to turn it off. There is nothing more annoying than accidentally touching it and then going to the top of the page. Secondly the app has been freezing more often. Although I don't place the blame just on this app. I think most of the fault lies with this new iOS. My iPad Pro 9.7 and iPhone 6s haven't done well with the new update. You're headed in the right direction with this app. I definitely like the variety of pens that you can use now👌. You have my my return to school much easier and efficient. Thank you.
Search tags
Please, please, please, the ability to search for tags would make all the difference. Please add this feature, what's the purpose of being able to tag something if you cant search for it later? This app is the best for taking notes during class, it would be so much better with this feature.
So Convenient!
Syncs across my desktop, laptop, iPad, and iPhone. Always accessible. Love it.
Love it!
If I didn't have so much information on my iPhone notes app i would completely delete it 'cuz I definitely prefer OneNote a lot more. If I find a way to export stuff over..I'm gonna be letting my note app go. I love the layout and the functionality.
Probably less
83753784smash
on
11/14/2017
This looks like a great app I really want to use it but when I sign in to Microsoft it says error. So the app is useless till that works.
Upset IPad user
Spoiledmrsjones
on
11/14/2017
I have a surface and become very familiar with OneNote. When I got my iPad I was excited that I could continue to use such a app. Well you can't record and write notes on the iPad. I paid for an app that I can't even use properly. I end up downloading Notability. It bums me out!
Keeps crashing
RyanJohnstone
on
11/13/2017
App keeps crashing unexpectedly at the same time as syncing occurs. App-breaking issue. Continues to crash every 20-30 min. Functions moderately, new update does not allow for selection of default pen sizes. Not a great app.
Notes don't sync anymore, have to sign in everyday, it's been broken for 14 months
BoredMeteor
on
11/13/2017
There has been a sign in bug which keeps notes from syncing between devices. This breaks Onenote and Microsoft is aware of the problem. For the past 14 months, they have offered no updates to resolve the problem and are NOT helping the community find a solution. I have a abandoned one note in favor of Google Keep. Microsoft should be ashamed of themselves. This used to be the most useful app in the store. It's completely broken for thousands of users and they have to using to abandon them instead of addressing the problem
Excellent
nathan_1987_doan
on
11/13/2017
⭐️ ⭐️ ⭐️ ⭐️ ⭐️ isds
Force Closing
I love OneNote. I find it to be very useful for my classes with the syncing option, inserting .pdfs and writing on them. However, with the past two updates I have been having marked problems with the application force closing. I have an iPad A1822.
The best note taking app
davidmc11794
on
11/13/2017
Loving the last update!!! Being able to save more favorite writing utensils is great, it's becoming more and more akin to the full version every time. A powerful note taking app that just keeps getting better. The ONLY thing I would love to see in the next few updates would be the ability to print to pdf without everything becoming too jumbled or mis-formatted, and I really wish that when I exited the app, my pen sizes were saved. Keep up the great work! I've been using this app for years and recommend it over any other note taking app.
Love it!
Love this app and the ability to sync across all devices. Awesome!
Completely unusable
I can't write or view any of my notes with this update. I can't even create notebooks... stay far away from one note and use something else that is at least stable and tested.
Sync issue
Sync issues most of the time
Works so smoothly
Love how OneNote allows me to shift stuff easily between all my devices, no matter what the OS.
Love program, but.....
I have been using OneNote app on my iPad for several years. I use it for personal and business on my Mac, iPad, and iPhone. However with this latest update, the app terminates unexpectedly. I can just browse a document and onenote will terminate. Please get this fixed soon as it is very frustrating.
5 stars for OneNote, 1 star for v16.6
I love this app, this is my primary note-taking app and I use the drawing tab constantly (with an Apple pencil). The new version is fine and certainly an improvement in terms of organization and customization. However, the pens thickness changed?? The thickness I consistently used before now falls between the available thicknesses #2 and 3. Not only do my notes look totally different from the rest now which looks strange, but I cannot get used to the new options - #2 is really too thin and #3 too thick. Please bring back the previous thickness definitions!!
Need little bit of improvement.
I love this app and uses it for my all notes. Its my saviour especially with ipencil. But the reason of deducting one star bec i cant find my all time fav multi colour sparkle pencil (which i have been waiting since ever) 1st time i saw it yesterday and even used it but when i opened my one note today no sparkle pencil option was there and infact all the colour pencils that i added was also not there in the selection. But it was showing above in option to choose. Please developers please i request you to add sparkle colour to notes and black colour in paper colour choice.
Great notes app
Reliable and intuitive app to sync notes across many devices. Search works well.
It's dope
Handle zips z
on
11/10/2017
But what happened to the sparkly pens?!
Super convenient
Lost my windows phone years back. Downloaded this on my new iphone and was soo happy to see my old notes still in the cloud of my email!
Impressive
Hawkeye John
on
11/9/2017
Better than Evernote
This is awesome
Psycho dawgs
on
11/9/2017
So many great features you can use it would be cool if you guys got this no lie this is the best thing you can use on your phone iPad or maybe even computer I would get it if I were you!!!!
Buggy
Nothinbutgold
on
11/9/2017
Won't synch, won't save, no support. Junk. Will be using a competitors solution
just started to use the app
So far so good hopefully it will provide me with what I need and I will be all happy happy happy app user , I will come back and update my review. When I get the chance to get to use it more. I will provide a better fee back on this app review of my news with it and if it's what I was looking for, for a long time ..
Best App to replace my DayRunner binder
Outstanding MS app for iOS, Mac and Windows devices used for business and home needs
One note
I love to use one note. I'm 8th grade and I go to an IB school and it helps me tremendously. It is also very convenient. You can use it anywhere anytime. I would highly recommend getting this app.
I Love this app!!!
The best app to keep your notes organized!!! Love it ❤️
Fact Sheet
Publisher:

Microsoft Corporation

Category:

Productivity

Released:

Jan 18, 2011

Current Version Released:

Oct 09, 2017

Version:

16.6

Size:

250.6 MB

Compatibility:

Requires iOS 10.0 or later.

Recommended Age:

4+

Game Center Certified:

No

Supported Devices:

iPhone5-iPhone5, iPadFourthGen-iPadFourthGen, iPadFourthGen4G-iPadFourthGen4G, iPhone5c-iPhone5c, iPhone5s-iPhone5s, iPadAir-iPadAir, iPadAirCellular-iPadAirCellular, iPadMiniRetina-iPadMiniRetina, iPadMiniRetinaCellular-iPadMiniRetinaCellular, iPhone6-iPhone6, iPhone6Plus-iPhone6Plus, iPadAir2-iPadAir2, iPadAir2Cellular-iPadAir2Cellular, iPadMini3-iPadMini3, iPadMini3Cellular-iPadMini3Cellular, iPodTouchSixthGen-iPodTouchSixthGen, iPhone6s-iPhone6s, iPhone6sPlus-iPhone6sPlus, iPadMini4-iPadMini4, iPadMini4Cellular-iPadMini4Cellular, iPadPro-iPadPro, iPadProCellular-iPadProCellular, iPadPro97-iPadPro97, iPadPro97Cellular-iPadPro97Cellular, iPhoneSE-iPhoneSE, iPhone7-iPhone7, iPhone7Plus-iPhone7Plus, iPad611-iPad611, iPad612-iPad612, iPad71-iPad71, iPad72-iPad72, iPad73-iPad73, iPad74-iPad74, iPhone8-iPhone8, iPhone8Plus-iPhone8Plus, iPhoneX-iPhoneX,

Supported Languages:

Arabic; Catalan; Valencian; Croatian; Czech; Danish; Dutch; Flemish; English; Finnish; French; German; Greek; Hebrew; Hindi; Hungarian; Indonesian; Italian; Japanese; Korean; Malay; Norwegian; Polish; Portuguese; Romanian; Moldavian; Russian; Chinese; Slovak; Spanish; Castilian; Swedish; Thai; Chinese; Turkish; Ukrainian; Vietnamese;