This version of the app is not recommended
App last updated
Jun 05, 2012
Screenshots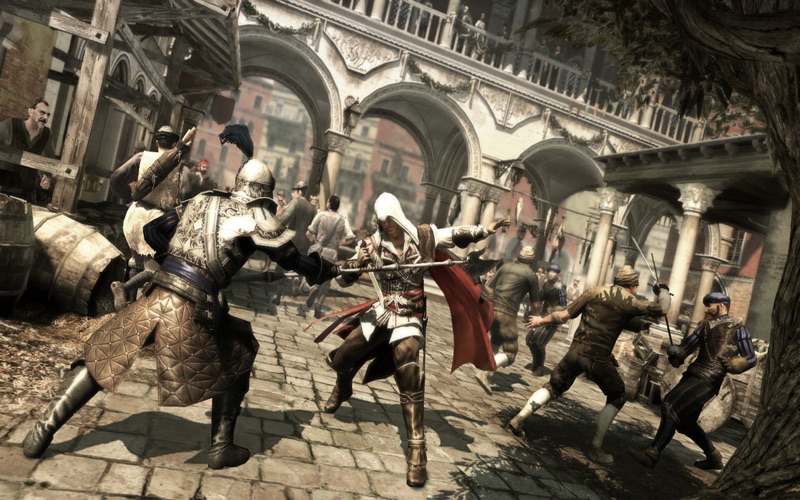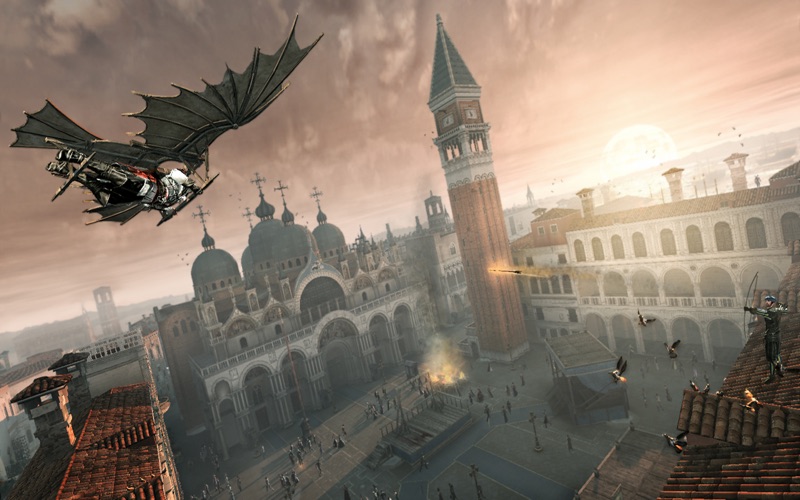 Description
*Please note that the supported OS are Mac OS X 10.5 Leopard or 10.6 Snow Leopard.
MacBook Air and MacBook Pro 13'' are not compatible with this game.*

Assassin's Creed II is the sequel to the renowned historical fantasy 3'rd person action/adventure video game Assassin's Creed.
The game is set in the 21st century, with player-controlled protagonist Desmond Miles escaping from Abstergo Industries with an employee, Lucy Stillman, after being forced to relive the genetic memories of ancestral assassin Altaïr ibn La-Ahad through a machine known as the "Animus". After escaping from Abstergo, Desmond enters a device which is more advanced than the original Animus, the Animus 2.0, and relives the genetic memories of ancestral nobleman Ezio Auditore da Firenze, who lived during the Renaissance period of the late 15th century in Italy. The player controls Ezio, who becomes an Assassin after his father and brothers are murdered by a traitor to the Auditore family. While controlling Ezio, the player can explore game renditions of Italian cities, regions and landmarks in open world gameplay.

The player may now swim in water, and eagle vision —the ability to identify specific people and landmarks— can now be used in third-person view and while moving. A young Leonardo da Vinci is present in the game, aiding the player by creating new weapons from translated "codex pages" that Altaïr, the original game's main character, left behind for future assassins' analysis and insight. Within the game, the player will be able to use Leonardo's flying machine (based on real-life plans by Leonardo) while on one mission. The player also has the ability to control a carriage on one level, but can row gondolas, as well as ride horses at any point in the game where they are readily available between towns and cities.

Features

- New weapons to choose from including an axe, a hammer, a mace, a spear, 2 different sword types, a spear axe, and 2 smaller blades
- Swimming
- Da Vincis workshop is in the game
- Locations include Saint Marks Basilica, The Grand Canal, The Little Canal, and the Rialto Bridge.
- The game opens in 1476, Altair is from 1191
- You play as a new ancestor of Altair / Desmond
- Big characters are in the game including Machiavelli, Caterina Sofrza, and Lorenzo de Medici
- You will pilot the Da Vinci's flying machine.
- Game will feature a new notoriety system that governs how enemy soldiers and people will treat you.
- You can disarm enemies and use their own weapons against them this time.
- Each weapon has a special move.
- 16 unique mission types.
- Hidden objects (like flags in the first one) are there to uncover but this time if you track them down you will get in-game bonuses that make it worth your time.
- New enemy types with unique attitudes and weaknesses are present in the game. Archers, as well as elite enemies, dagger wielders, "Brutish" armored troops with heavy armor and 2 handed swords and axes, and an intelligent halberd enemy will probe hiding places with their weapons if they think you're nearby.
- While hiding in a hay bale you can assassinate people this time, but it may expose your position.
- You can still climb towers and ride horses
- The Lorendo de Medici assassination attempt is in the game.
- There is now a night and day sequence in the game.

System Requirements
--
* SUPPORTED OS: Mac OS X 10.5 minimum
* Processor: Intel Core® 2 Duo 1.8 GHZ
* RAM: 2 GB
* Video Card: 256 MB OpenGL 2.1 compliant card with Shader Model 3.0 or higher (see supported list)
* HDD: 8 GB

* This product does not support Macs based on PowerPC CPU

Recommended Configuration
--
* Processor: Intel Core® 2 Duo 2.3 GHz
* RAM: 4 GB
* Video Card: GeForce® 8800 GT or ATI Radeon® HD 4850 or better

Supported Video Cards at Time of Release:
- ATI® RADEON® X1950, HD 2000/3000/4000/5000 series
- NVIDIA GeForce® 7/8/9/100/200 series
Reviews
Regularly freezes
ubisoftwompwomp
on
1/1/2018
This is a fun game, but it's apparently not updated to work well with newer OS's. I had the same issue as the previous reviewer where the game would freeze when I tried to assassinate Uberto, though eventually I was able to complete it after reinstalling a few times. Now I've run into a new freeze point on the mission What Goes Around. After I kill one of the first guards with the throwing knives, while Mario and his men are fighting the guards outside the gate, the game freezes every single time. I've deleted and reinstalled the game many times and it still freezes. Sometimes I can open the gate and it'll freeze then, other times I can kill a few guards before it happens, but within a few seconds it will freeze. I can abort the memory and play the game that way, but at the moment I'm prevented from progressing through the story because of this freeze. It would be great to get this fixed as I really don't want to lose my saved game.
Game Freezes when i try to assassinate Uberto
sockswererocked
on
12/24/2017
Game Freezes when i try to assassinate Uberto. Fix this please.
HOW CAN I GET MY MONEY BACK ???
I have a new macbook pro 2017 There is no reason why this game would freeze in the very first mission of the game really disappointed...
WASTE OF MONEY
rosablanca48
on
10/21/2017
Don't buy it- a real load of crap !! A stupid story and the action is pathetic.
The only game I need.
Guild Master Wolf
on
8/21/2017
I love this game! Runs great on my new MacBook Pro 13" intel core i7. If any other Assassin's Creed versions are realeased for mac I will prbably get them just becasue this one is so excellent. Stunning graphics, excellent story line, fun fighting.
Beautiful game, wish there were more
JediPanda22
on
11/12/2016
great game, runs beautifully on my mac. the conrtols on a laptop are SO much easier than a game controller in my opinion. I wish they would put other Assassin's Creed games here. My laptop being the only game consol I have at least getting to experience Assassin's Creed 2 has been fantastic. I don't regret buying this at all.
waste of money
I bought the game expecting to enjoy it and play it, come to find out it did no work with my keyboard none of my keys were working so the game was abolsutly useless, I want my money back, and I wouldn't reccommend this download for anyone with a mac.
AMAZING WANT MORE!!
This game is one of the best assassins creed titles there is. I am just very dissapointed that others won't be ported to macs. The storly line was great, but of course for how old it is the graphics aren't the best. Over all it is an amazing game.
terrible controls
This is such a terrific game and I was so excited to see that it had been ported to the mac but once I purchased it I was utterly baffled by the the control layout. it is so confusing and counter-intuitive. I had hoped to overcome this challenge by using a controller through bluetooth but quickly discovered that this is one of the few console original games on the mac that doesn't support other controllers. Which is beyond frustrating. I hope they will update this game soon to either make the keyboard controls more sensible or at the very least provide a second alternative to the traditional keyboard platform.
AWESOME!
ILIKETRAINS1222
on
1/21/2016
good but sometimes there are hard mission so get ready you might rage well not really rage but be angry i still have not completed it it was pretty hard for me
Crashes on Templar Tomb
Steen Sargent
on
9/4/2015
I am trying to finish my last Templar Tomb in Florence, but the game crashes everytime I try to go up the ladder to the second floor.
Great Game
KarloFlorence
on
7/31/2015
Great Game in general and it DID work on my mac book pro 13in 2015 model. Its annoying when you dont have a controller like xbox and playstaion but you get used to the controls. There is barely any lag on 2 settings higher then the regular resolution for graphics. Sometimes the startup is slow but usaslly never the gameplay.
Loved it
1313casssie1313
on
7/11/2015
I really hope that eventually they put some more games on the App Store for the series… The controls are simple. If you are having issues with controls then all you need to do is go to the Options screen and click on Controls. It gives an entire list of what each key does.
Runs seamlessly on MacBook Pro 13"
The game runs seamlessly on my late 2012 MacBook Pro 13" with these specs: 2.5 GHz Intel Core i5 8 GB 1600MHz DDR3 Intel HD Graphics 4000 1024 MB OS X 10.10 It tends to run a little hot so I built a cooling top for it and I can run around 8 hours of gameplay on highest graphics before the app crashes to prevent over heating. Keyboard maping is a bit odd to start with but with some changes and a 3-buttom mouse it runs perfectly.
Compatiblity
It says that it is no compatable with the Macbook Pro 13 inch, but I have been using it for a month now and the worst performance I got was a little bit of lag in the fighting scenes.
Good game, but needs some fixing
Its a great game and runs smoothly on my macbook air 2013. the only problem i had (i no longer have it) is that the controls are not configured to the laptop keyboard buttons, so you have to experiment around to figure out what symbol stands for which keyboard button, and that was really annoying, especially in the beginning, and most annoying during training
3d platformer game with goofy combat…waste of money
Idenity Infinity
on
11/11/2014
Most of the levels are 3d platform jumping around. Tiresome and not interesting at all. Combat is unimaginative. Witcher was more fun than this. Blending in and slow walking in crowds is a *game*??!? Really?
what my money back this is a steal
compre el juego a 25$ y me cobraron el tax, para colmo dice error y no quiere bajar o "instalar",es un robo digital, devuelvanme el dinero,ya!!!
Doesn't work with a new iMac
I love the game on a console, so if I could play it I'd probably love it. Unforunately I have a new IMac with the latest OS. I've downloaded the app twice and am getting a message that the application is corrupt and I should download again. It would sure be nice if the App store didn't sell Apps that run (maybe this was in the fine print somewhere). I hate to imagine what it would take to get a refund from Apple but I guess I'll try.
NO GAMEPAD SUPPORT:(
I cant use my PS3 controller like with most games. Even joystick mapper and controller mate dont fix this. if its patched and makes gamepad support it would be amazing. But until then im not happy…..
Great Overrall
This game is a CLASSIC!!! However it can get a little frustrating. Every five seconds a guard sees you and for some reason attacks you. It takes 20 minutes just to get 3 blocks! but the gameplay is awesome. There is one problem however. AS SOON AS I GET TO LEONARDO DAVINCI'S HOUSE TO HAVE HIM FIX THE HIDDEN BLADE IT FREEZES!!!!!!!! That is extremely annoying because when you quit the game it doesn't save and you have to start everything over again!!!!!!!!! NOT ONLY THAT IT IS SOOOOOOOO HARD TO GET FROM MADONNAS HOUSE TO DAVINCIS HOUSE WITHOUT ALERTING FIFTY GUARDS THAT YOUR WALKING TO SOMEONES HOUSE!!!! THE BLENDING IN WITH PEOPLE ISNT THAT GOOD EITHER, EZIO WALKS SO FAST COMPARED TO THE OTHER PEOPLE!! And if you are in a smaller group of people IT GLITCHES OUT!!!! Besides that negativity in the first part of the game IT IS AWESOME!!! It is so fun to just tackle people! So I recommend getting it jus BE PATIENT!!!!!!
Needs controller support! pleeeease!
I realy enjoyed this game other than the fact that i could not play all the side missions due to the fact that controller support was not pressent. not for any of the avalable controlers even with software that makes it possible for many other games i have that originaly didn't.
i'm mad
buddy.b.moore
on
2/24/2014
EVERY TIME I FIND A TIMED MISSION I SUK AT IT REMOVE THOS STUPID TIMED MISSIONS BEFORE I DELETE THIS GAME PARMNETLEY!!!!!!!!!!!!!!!!!!!!!!!!!!!!!!!!!!!!!!!!!!!!!!!!!!!!!!!!!!!!!!!!!!!!!!!!!!!!!!!!!!!!!!!!!!!!!!!!!!!!!!!!!!!!!!!!!!!!!!!!!!!!!!!!!!!!!!
Good, but hard sometimes
Neva eva Cyborg Pig
on
2/23/2014
I find this game to be really fun, but because it was built for a console, the controls seem to be really weird. It has so many different buttons to memorize. But, this game has tried to be many things. A Dan Brown novel, a james bond movie in rennisance italy, and so many other things. It's really a game about stabbing people with a really pointy thing. And, it's really good at it. But one things stopped me from 5-starring it. I can't command-tab out of it, or switch to a different screen in case I needed to look up something. But really, it's a great game. I highly recommend that you click that "buy" button now. You won't regret it.
Keyboard Problems
The game does not recognize my keyboard and I cannot play the game.
Fun but not without its flaws
Extra points
on
2/12/2014
I'm too lazy to buy a mouse/gamepad so every game i play on my laptop i play with my keyboard and trackpad. this was the first game i felt was too much for me in terms of my equipment. i played the entire game and still by the end felt like i had no mastery over skilled fighting, luckily i could squeak by with a constant slashing-away technique. I was also CONSTANTLY FRUSTRATED with the fact that this is the first game that wouldn't allow me to Command Tab it out of the way so i could do other things and not have to completely shut the program down. Maybe I haven't played every game out there, but the 15 or so games that i've bought since getting this laptop this was the first that i couldn't do that. All that being said, this is a very beautiful game, which taps into a very rich historically beautiful time. i appreciate the attention to detail they put into this game. the multi-level story that went on with the game was very interesting and makes me want to play more from the A.C. series.
Controls were horrible!!!
JackTheRed24
on
1/19/2014
The control were confusing and didnt make any sense, and took over 1 hour each day to know controls. So in all, it was a great game but horrible controls.
Assassin's Creed II
This is a great game. I have a MacBook 13" that I got over summer '13 and it works very well. The gameplay is smooth up to the mission where Leonardo da Vinci repairs the hidden blade. At this cutscene, the game freezes. It doesn't crash, but I have to abort the mission. PLEASE make this game compatible with 13" MacBooks. Many more copies would sell, since 13" Macs are some of the most modern. Thanks for making a great game and I hope to see a few bug fixes in the future!
AC2
call of duty fantrevor
on
1/8/2014
i like it its just a bit of lag when im chasing down pickpoketers or fighting on he rooftops ot sprinting please fix.
DO NOT BUY PRODUCT FREEZES
rwhglassman
on
11/18/2013
Repeatedly had the issue where I could not go farther in gameplay because it kept freezing at the same point every time I tried reloading the program
Horrible port of a great game
Torrack1714
on
11/16/2013
This is a "classic" of the A.C. franchise and has a great story line to follow; not to mention good gameplay and graphics for an "older" game. Having said that… DO NOT BUY THIS. This is a port and the code is not written for desktop (especially Macs). I run this on a 27" iMac with great specs and regardless of max or min graphics settings this game has very frequent 5-10 second lag spikes during gameplay (roughly one every 3-5 minutes). The control system interface is also very poor. I love the A.C. line of games and have played/owned several of them however, I wish I had not purchased this for my desktop. Don't waste your money.
Please put Assassin's Creed brotherhood on Mac
I love the whole assassin creed series. This is my first time playing the full game and I enjoyed every bit. Never got bored. I really really really wish that Ubisoft would make mac version of the assassin's creed brother hood. It would be great if they do.
Please do the sequels!!!!
This has been the best game that I have ever played on my macbook, any sequel for this will be an instant buy for me. It has a great story, simple controls, great action, and awesome weapons! PLEASE DO THE REST OF THESE GAMES!!
great
excellent story, amazing graphics..and the most fun part is you can learn a little of history there…the santa maria del fiore church….medici family and much more..a must play game for any gaming fans!
glitches galore
Great game but can't recommend buying - the mouse control is bad and at least one mission is literally unfinishable b/c the camera gets all out-of-whack and prevents you from seeing where your character is.
Perfect
There are absolutley no problems running it on a 2010 Mac Book Pro 15' and the game is just perfect
Great!
Bought this for my MacBook Air anyway, and it turned out great! Barely any lag ever. Great graphics.
nice
great game, wonderful environment,
GREAT!!!
sandshinobi66
on
9/3/2013
Great Game!!!! Wish it didn't take over a day to load.Now they need to put the other games on mac.
more assassin's creed
get black flag i beat this one but i want more assassin creed games for mac!!!!!!!!!!!!!!!!!!!!!!!!!!!!!!!!!!!!!!!!!!!!!!!!!!!!!!!!!
goood game needs some fixing
it is a very good game but you need to fix the issue of the speach being very lagie once thats fixed it will get the 5 stars it deserves
Excellent
As far as the game goes, it's Assassin's Creed. It's the best game in the series in my opinion and an overall excellent game. As far as how well it's been implemented on mac, all I can say is I'm impressed. The game runs flawlessy on max resolution on high settings on my 15" retina pro and looks stunning. From what I see in other reviews, it runs well and looks great on the majority of macs, even some without gpu's as well. The only thing that worried me was the fact that there is no gamepad support and I constantly heard so many negative things about the keyboard controls. All I can say is that I've been very impressed by the controls and just how well they manage to work. All of the key choices are sensible and work just as well as a controller. Not to mention that you can customize the controls too. Overall, an excellent purchase and a must have game for all.
Never detect a gamepad
I've been trying to figure out the way to make my xbox controller works. I browsed the internet to finid a solution for hours and the conclusion was that there is no solution. It's been long since the claim was firsts found. But the UBI hasn't done anything on it. I request the bug fixed asap.
Wont even open.
I click the app and nothing happens it just jumps on my dock and then goes away and nohing opens. What a waste of money.
amazing
Qwertyuioplkhgdsambvcxzzxghf
on
6/12/2013
i started off playing this on my 13" macbook pro and it sucked. but then i saw that it was only compatible with the desktop computer and its now my favorite game
Horrible
Superferguy98
on
6/3/2013
Can't pass the race against frederico!
good just good
IT WORKS ON 2013, MBP 13IN, WITH INTEL HD 4000. THATS IT. IT WORKS PERFECTLY WITH HIGHEST SETTING!!!! V E R Y G O O D G A M E
Please Refund
Purchased. Downloaded. Imediate crash. every time. please refund.
Great game, small problem
The game is absolutely stunning, hardly any lag (unless you're trying to screen record of course), insane graphics, nice audio too. The only downside is about every other time I play it, about half an hour in, it disconnects my keyboard. I'm not sure if anyone else has had this issue. Now that I think about it, it doesn't disconnect it, but you can no longer use it in the game, so all you can do is quit out of it, which makes it really annoying if you're in the middle of a mission. Hopefuly they can fix that bug soon because overall it's an extremely solid game!
Give Us Revalations!!!
gameplay exceptional, all assasin's creed insallments should be available to mac, but @ least jus for now release revalations or AC1 at least…….Customers always right!!!!!!
Fact Sheet
Publisher:

Ubisoft

Category:

Games

Released:

Mar 17, 2011

Current Version Released:

Jun 05, 2012

Version:

1.0.1

Size:

7925.5 MB

Compatibility:

Requires iOS 10.6.6 or later.

Recommended Age:

17+

Game Center Certified:

No

Supported Languages:

English;