Recommended app!
App last updated
May 30, 2012
Screenshots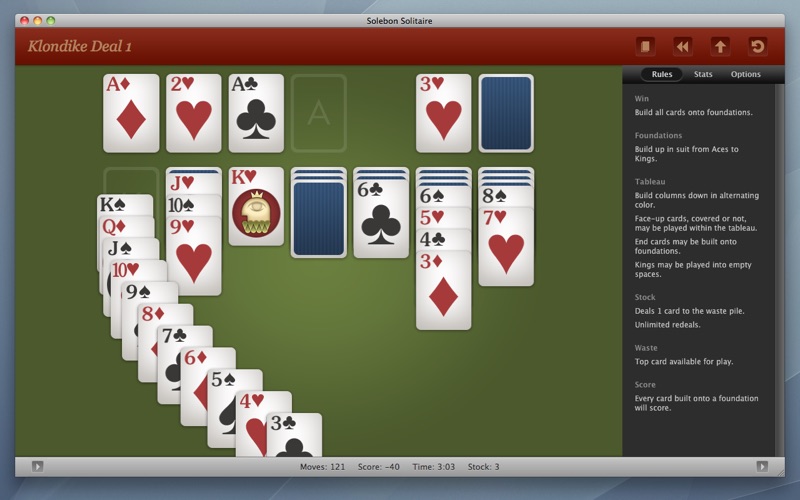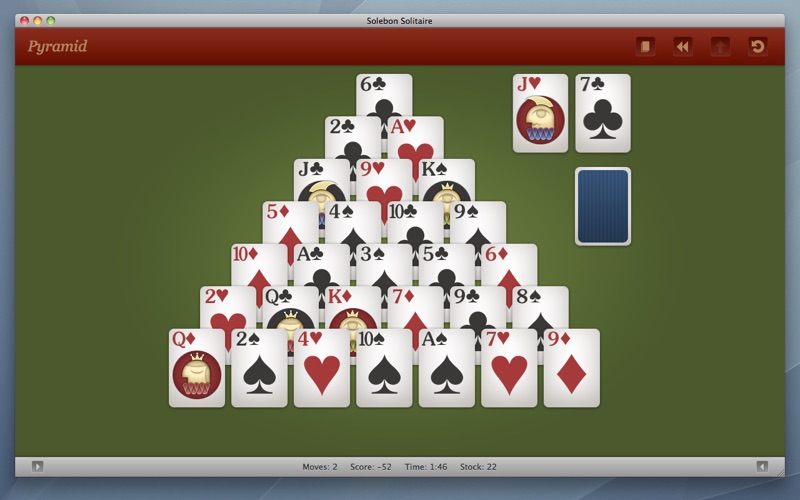 New in version 1.3.0
CHANGED: Color preference changes are now shown immediately on the game screen.

FIXED: American Toad, Bristol, Carlton, Demon, Fortune's Favor, Four Seasons, La Belle Lucie, Miss Milligan, Russian Revolver, and Yukon now score correctly if a foundation card is dragged rather than auto played.

FIXED: Ambrose and Golf now have the auto play button disabled.
Description
50 GAMES FOR SOLITAIRE GURUS
Our premium solitaire suite for refined solitaire players: clear cards, clean interface, lots of variety, no distractions.

50 GAMES : Accordion, Aces Up, Agnes Sorel, Ambrose*, American Toad, Askew*, Baker's Game, Baker's Game Easy, Beleaguered Castle, Blind Alleys, Bouquet, Bristol, Carlton, Colorado, Creepy Crawly*, Demon, Doublets, Eight Off, Eight Off Easy, Fanny, Fanny Easy, Fortune's Favor, Forty Thieves, Forty Thieves Easy, Four Seasons, Fourteen Out, Free Cell, Free Cell Easy, Golf, Honeybees*, Klondike Deal 1, Klondike Deal 3, La Belle Lucie, Lady of the Manor, Miss Milligan, Monte Carlo, Penguin, Provisional*, Pyramid, Pyramid Easy, Russian Revolver*, Scorpion, Simple Simon, Spider, Spider 1 Suit, Spider 2 Suits, Spiderette, Triple Mulligan*, Will o' Wisp, Yukon. (* indicates our own original game creations)

CLEAN INTERFACE
Solebon has a clean, professional look. You won't find photographic backgrounds, wild card designs, or sparkly effects. The interface has what you need to play comfortably with no distractions.

REAL CARD PLAY
Solebon is modeled on how you'd play with an actual card deck. Click to drag cards around or deal them from the stock. If card dragging is difficult for you, you can click to highlight a card then click where you want it to move. Either method will smoothly move the cards. In games where there is only one possible place to move a card, a single click does the job for faster play. Also, the Auto feature speeds up otherwise tedious play by moving cards into foundations for you.

NO HINTS OR CHEATS
Solebon randomly shuffles the cards before each game; it does not stack the deck for you or against you. Just like real cards, you're playing against the shuffle. Harder games are difficult to win because the rules are against you - even with perfect play! This is the true nature of solitaire. And Solebon will not help.

QUICK FEATURE LIST
• Large, easy-to-read cards
• Drag cards or click cards to move
• Rules sidebar
• Stats sidebar
• Unlimited undo
• Foundation autoplay
• Timer
• Scoring
• Moves tracking
Reviews
Soleban fixed the errors which deleted key processes on screen bottom
Soleban attended to and fixed the problems. The app again works as intended. The Solitair play is excellent, the best I have used. However, the process of fixing the app resulted in the loss of all data, we users start over. In addition, Soleban provided a link for me to follow to withdraw my negative review. Hello! It happened. BTW, FYI, the link takes me to a dead end, more time wasted because of the app. I was not able to find or remove my negative review. So, why keep doing things that have not been checked. Right now, use of the app continues, but I don't trust it and soon, I will move on to a different vendor and a different entertainment app. Relaxation is the only value. The process is not soothing and fun any more. Profit overwhelms some current Soleban decision makers. Twice in the same issue is too much.Five Stars as an APP when functioning, unacceptable APP support.
This app is really needs an update
I really enjoy playing Easy Bakers Game on my iPhone 5s, but the macOS version is similar to the version I used back in the days of iPod in the mid 2000s. The best feature of the newer iOS version is when the game has a solution. It really detracts from the game to lose to a game that never had a solution. When I bought this game package I thought that the macOS version would be the same as the current iOS version. Back in the day when I bought that iPod, the game was a free download that included this game but didn't always have a solution. Now that I bought this version… well is seems like it was money ill spent. Please update.
Needs update
While the iOS version has received needed updates, this Mac version has been ignored. Since I play it on my iPhone, I am accustomed to some of the shortcuts included there. Wouldn't it be nice to use the same or similar shortcuts here? Four years without an update is too long.
Please Update!
Please update this Mac version just like the iOS version! That would be perfect. There are some slight pauses with the app too.
Out of date
I really like Solebon on my iPhone - I play it daily. But the Mac version is so far behind - it hasn't been updated in years - so it's hard to rate the app has anything more than adequate. Please bring it up to date!
Gross resolution with retina display
Charlie Alberty
on
2/20/2016
I had this game in my iPhone and iPad. I think it's one of the best solitaire games around. Just bought to play in my Macbook Pro retina: look awfully wrong. Loses three stars.
I love the iPhone version….
…but this hasnt been updated in sometime. I wish the new features from the phone can appear here too.
Not that great
auntiemandme
on
10/8/2014
Could be more games and choices on different games.
Not what I expected
Kind of disappointed. I have this on my iPad and my iPhone. I play it a lot. The Mac version isn't half what the iPad version is. Three of my favorite games aren't here. If you're buying this because you like the iPad version, you will be disappointed too. BUT, even though I'm missing some of my favorite games, THIS IS A GREAT APP. It's not fancy, but it works and I love it. I will swtich back to playing on my iPad for now.
Best Solitaire on both iOS and MacOS
Like golf, solitaire is a game you play against yourself. (Remember the handicap in golf, which results in your playing against your past scores.) In our hyper-competitive world, many developers have tried to turn solitaire into still another form of competitition with others. They compare your results on a game against everyone else's world-wide. As a result, they won't let you replay a game. For some, that may be great, but for many of us it loses its real essence that way. Both on iOS and OSX, Solebon gets back to the roots of solitare. You can restart games to try different approaches, something you have great difficulty doing with "real" cards, for examples. It improves your problem solving skills in the process. I have stopped playing all the other solitaire apps on both platforms. And there are a lot of games ranging in difficulty so you can match both your skill level and your mood.
Great Game
This is a really nice card game suite for the mac. I bought it because I was so impressed with their iPhone/ipad solitaire game, and I am not dissatisifed with my purchase. If I could offer one request to the dev team, it would be to implement full screen spaces — I use that with alot of other apps, and would be useful here too.
Doesn't Work on 11" Air
Zac Schellhardt
on
3/24/2013
This game looks nice, but if you've got an 11" Macbook Air, you can't see the bottom bar. And if you can't see that, there are hidden options and data. You can't resize the window at all to fix this, which is pretty ridiculous.
Hours of total enjoyment
Sapphire Trish
on
10/23/2012
So many different games - so many hours of enjoyment. I've loved this app on my iPhone for years and finally bought it for my MacBook. No matter what mood I'm in - whether I want a mindless game or one that challenges me with total concentration - I always find the perfect game. Worth every dollar! If you're tired of common solitaire, invest in this app. You'll never be bored or dissappointed.
A great game collection with one major flaw
Macaroni555
on
10/23/2012
This is truly a great collection of card games, so many games that it's hard to imagine playing them all. I only wanted a regular (Klondike) solitaire game and a Spider Solitare game which were as close to the Windows versions as possible. I read through the history of the company and reviews of this game package, and thought I'd found exactly what I was after. And, in general, I did. But there is one difference in the Spider game from the Windows version which I consider a flaw, and which has made me get a refund for this collection. That is this: when you want to move cards from one pile (tableau) to another, you can only move the bottom card on the sequence, not the entire sequence. So, if you have red 8 - black 7 on one pile, and red 6 - black 5 - red 4 on another, you can't move the entire sequence (red 6 - black 5 - red 4) to the black 7 on the other pile. You can only move the red 4 to another pile (onto a black 5). To me, that is a limitation and design flaw. There are differences in rules between different implementations of the Spider game, but this one is pretty basic, and should be the same as the Windows version. At least, there should be an option to allow this. Unfortunately, this makes the game unplayable to me, and as a result, the entire package is not worthwhile, especially when you have to pay 5 bucks for it. If this is changed in the next version, I'll buy it again. But not until then.
Great, just one complaint
I wish that when a game is at the point when it is unwinnable, there should be a notice. For example, in Accordian, when there are no more moves left it would be nice to know, and then the player can either restart, undo, or start a new game.
Generally good interface - a quibble, though
Since Lion rendered Solitaire 'Till Dawn obsolete, I had to find a good replacement. Solebon in general is pretty good - very smooth action, clean interface, good selection of games. In Miss Milligan, however, the reserve stack doesn't work, so the game is unplayable. This is one of my favorites, so I'm disappointed. I'd also like to see them add Manx as a game.
OK product unless you have multiple monitors.
It's OK but has some annoying quirks. It always seems to start on the non-primary monitor. I'm getting used to the iPad model where things move more automatically and you don't have to drag things. It's getting to be a drag to have to drag cards around. Right click sometimes doesn't work as it should. It usually automatically moves the card to the build pile but sometimes it just highlights the card and doesn't move it.
AWSOME
<>DemonKing<>
on
3/19/2011
Definitly worth the price! Alot of games for cheap....=) AWsome...=D
It might be nice if it opened!
I just downloaded this app and had to force quit twice in a row, because it won't launch on my year old and still-in-love-with-it, Mac.
No sounds!?
Why not add simple shuffle and move sound effects? Can have an option to turn on or off for those that want silence. And would be nice if you had an option to use classic designed cards. Don't really need stylized "big number" cards on a big computer screen like you do on an iPhone. Again, give an option. Many of the iPhone and iPad solitaire games have many card designs to choose from. You should add more options. Top 10 high scores would be nice too.
Notes from the developer
Smallware LLC
on
3/3/2011
Hi, this is the developer. Since there isn't a mechanism to help players by responding to comments in the reviews, we're hoping to use this review to clear up any questions we find here. If you need to contact us, please use the "Solebon Solitaire Support" link at the top-right of this store page above the "Information" block. Thanks! - Dragging cards with a trackpad can be a problem. If you prefer to not drag cards, just click a card and it will highlight. Then click where you want the highlighted card to move and it will go there. No dragging required! - The auto play button sends available cards to foundations. If you want to send just one card to a foundation, double-click the card and it will move.
The Best gets better!
With this recent update, Smallware makes a great game even better! If you're looking for a great game of Solitare you won't be sorry going with this.
Freecell just doesn't work right
For freecell, you must move each card individually to the reserve stack. It slows down play so much it destroys the fun. Freecell is to be a nice diversion. This version makes it a tortuous time waster. No comment on other games, but if you want a freecell game, DON'T BUY IT.
Best solitaire game
I've been playing this version of the game since my early Blackberry days, also and now have it on my iPod and iMac. Would love to see a way to have the game track records for more than one player since i don't want my wife lowering my score. ;)
GREAT other then Freecell
Other then Freecell where for some reason you can't select multiple cards the game is perfect. I would have given it 5 stars if not for that. It is smooth, works ALL the time, perfect game other then the Freecell issue.
Beautiful looking game!
This is a beautiful looking game you got here. It would be nice to have some card sounds though. Other than no sound, you have done a great job on this...Keep up the great work.
Love it but just missing one feature!
Love Solebon on my iPhone and iPod Touch, but what has happened to the ability to move multiple cards at once? Being stuck moving one at a time seems so... Eighties. Please fix this and it will be perfect!
Uninspired Freecell
I chose this title because it includes both a Yukon and Freecell flavor, both of which I'm addicted to. Serious Freecell addicts need two features, both of which are absent in this version. First, because it's extremely difficult even for an experienced player to determine when a game has become unwinnable, any good Freecell must include a solver. Not to complete the game for you, of course, but to alert you that the game is unwinnable even if many valid moves are still available. It's a pleasure to stick with a game when you're in a terrifyingly tight spot but know that your persistance will be rewarded. fc-solve is a great library to use. The second must-have is, as many other reviewers have pointed out, stacks should move en-masse. This is a solid, good looking Solitaire application that I think is worthy of a top-notch Freecell. I'd be delighted to fill in the extra stars with those features added.
Room for Improvement
1). I agree with Jeffery Stanley that the Freecell game only allows you to move one card at a time rather than move a stack when you should be able to. This is time-consuming and annoying. 2). You can't adjust the size of the cards, so even when you maximize the game, the cards stay small. 3). Also, it eats up a lot of memory and takes a long time to launch, even with 4 GB ram!
Mac eye candy
ZombieCowboy
on
1/24/2011
Most any solitaire suite will give you Klondike. The big difference here is that Smallware's version doesn't have the annoying glitches or oversights I've found in freebies (such not being able to move partial batteries in Klondike). The interface is absolutely gorgeous as well, very Mac-like eye candy. If Mac OS X came with a solitaire app, this is what I would expect to see.
Great Game!
app9reviewer57
on
1/23/2011
This is the missing Solitaire game I have been wishing to have in Mac OS X for years! It has a very clean and simple interface, yet has wonderful transitions when moving cards around. I would be happy to pay $5 for this game, definitely worth $0.99!
Downloaded in a weak moment
I've always appreciated that Apple does not bog their computers down with a bunch of mindless, free games. I'm more productive that way. However, there is something built into all of us that seeks out time-wasting games. Gotta say, this one is a gem. I've only played a couple of games of Klondike (the one that opens first after you donwload), and, ummm, not sure how many games of Spider...definitely more than a few. Smooth graphics - it's a card game! What more can you want? Occasional 'screen freeze' in Spider, but appears all you have to do is click on a few other columns, and things return to normal. Another reviewer complained that the 'stats' could not be reset. Personally, I love the fact that it is tallying up exactly how much time I have wasted, oops, I mean invested in playing a mindless game. Love it. It's replacing another well know Mac Solitare game. Thanks Smallware! Great price! Grab it before it's more!
These folks have been doing card games right for years
I've been a SmallWare customer since I had a PalmPilot in the late 90s. They have a lot of experience making just these types of games for the small screen, and the simplicity of design translates well to the big screen. Very nice graphics, straightforward gameplay, and a bunch of games -- what more could you ask for? (I also have this game for the iPhone, and it is the best card game I've found on that platform....) A couple issues I have noticed: 1) The graphics don't scale well. They're nice and large, so this won't be a problem for many, but it would be nice if I had more control over the size of the cards, etc. 2) In their push for simplicity, they've made some of the controls fairly cryptic. The first time or two you play, the various buttons are definitely a case of "click it to see what it does". An example are the small arrows on the bottom corners of the window: the one on the left opens a list of different games; the one on the right displays the rules for the current game. Handy? Yes. Convenient? Yup. Intuitive? Er.... No. 3) In Freecell they really need to fix it so that you can move stacks of cards. This works in the iPhone verison, but here if you're moving multiple cards, you must move each one individually, which is a pain. This bug can easily turn what should be two clicks into sixteen! Smallware please fix this one! Okay... if you need more, there's a bigger version on their web site with something like 200 solitaire games. It's quite expensive by comparison though, so unless you're a REALLY serious solitaire player, the version you're looking at here should be plenty for most people. One last thing: It would be fun to see more options for "skinning" the game. Different table surfaces, different card backs, and so forth. No need to get silly with it, but a few options would be nice.
Terrific App, gorgeous, and quick customer service!
I'm running a mac intel desktop with a Cintiq 21UX and another generic monitor - so multiple displays. When I bought the app (at a super low price), it didn't work. I was disappointed, but knew that the app store was fresh out of the gate, so I waited for an update to come (Smallware quickly posted an explanation and game plan for fixing the multiple display issue). After a few days, I was curious as to a possible timeline for Apple releasing the update. I wrote to Smallware support. I have to tell ya, folks, they were prompt, informative and more helpful that I EVER could have expected. They kept me up to date, communicated quickly, and were more responsive than I have EVER experienced with an app. So now I have a glorious game with beautiful graphics that runs really well on my Cintiq (that I'm spoiled to have at work). I can't wait to try more games from them.
This is an ok solitaire game.
I've been playing it a bit since I updated to the new, working, version. I am just now playing Free Cell and I notice that you can't move more then 1 card at a time. This is extremeley annoying. So much so, that I think I will not play Free Cell again. Free Cell can be a fun game to play in quick bursts, but without the ability to move card stacks, It will now take me much much longer to play...and just to be manipulating the cards. There is also the issue that you can't get a card to auto play. Really? If an Ace pops up, it's a sure bet that I want to move it up. Why should I have to do this manually? Look... I'm not being a complainer, and I am not really that lazy that I can't do it myself, but it's a pretty simple functionality issue that much lesser quality solitaire games have built in. Soleban, please address these issues and I will raise my rating. On the plus side, this is a clean interface that's easy on the eyes.
Great App
Pretty, fast, and cheap. What more could you want? And variety, to boot.
Great first start
I've played this on my iPhone and iPod Touch for a while and had been looking for a good Solitaire game for the Mac. I'm glad I found a game that I am familiar with and has a good UX and UI. I just have 2 small quibbles: - the running scores do not aggregate (at least not in Klondike Deal 1, haven't tried the others) - there doesn't seem to be any contact information anywhere on how to report bugs One suggestions would be an in-app upgrade to add the additional 202 games available in solavant (since there is no way to contact the devs other than here.... iPad version please! game center integration too!)
Best there is
The odd man out
on
1/15/2011
Have enjoyed this game on the iPhone for quite some time and just got the Mac version. Has all my favorites and lets me set the preferences the way I want. Don't know why anyone would have a problem with dragging cards on a trackpad. I use a magic trackpad and you just click down with your thumb and drag with your index finger. It's a lot faster than clicking the card and then clicking again at the destination. To move an "eligible" card to the pile just double tap with the index finger. Works great! I have to agree with one of the other reviewers, You really really need to come out with an iPad version. The iPhone version on the iPad doesn't cut it.
Awesome solitaire app
I have solebon for my iPhone, so I was expecting a good, clean solitaire app and that's what I got! Completely worth the 99 cents - I'd rather have a great app than a soda any day. The only problem: I'm noticing that the current running score is only for the current game I'm playing. If I'm remembering correctly, on my iPhone app, the running score adds up all the games I've played. Other than that, no problems at all! UPDATE: Can't move a stack in Freecell when I should be able to...
Can't beat it for a buck
Great graphics and great gameplay. Let's face it, there are hundreds of solitaire games out there. For me, it has to have smooth gameplay (which this does) and it has to look good. You better snap this up before they start charging more.
great solitaire app
Andrew Frezell
on
1/14/2011
The new version is working and it's a good as the iphone version. Great app.
Freecell all wrong
Pete the bard
on
1/14/2011
Freecell is my favorite solitaire game. There are two versions of it in this app and BOTH are wrong. I should have bought a slice of pizza instead of this app. Even bad pizza would have been superior Peter Schug
The Best Solitare on Every Platform
I've been playing Solbon since I purchased my fist Palm Pilot over ten years ago. This is the best solitare out there for Palm and iPhone. For some reason the freecell game isn't working quite as well as it does on the iphone. It makes you manually move stacks into reserve piles rather than let you move several cards together if enough reserve piles exist. It is the best Mac solitare I've found so far, and I trust Solbon to fix this small issue. Pleeeeease Solbon folks, bring this to the iPad. The scaled iPhone version isn't good enough.
Scale the cards for high resolution displays
The free Windows 7 solitaire game has a feature most Mac solitaire games are missing: the cards scale. Most Mac solitaire games have cards that don't scale on high-resolution displays. This makes them appear tiny. Also, all game developers should play the games without using a mouse (try it on a MacBook Pro). The click/drag motion gets old, fast, on a MacBook.
Great, but....
If you have a second display attached to your computer, it will not open. I contacted the developer on day one, and they had a fix that they submitted, but the update is yet to be pushed out to users. If you have multiple displays, please get it, as it's great (I just play it when my laptop isn't connected to a second display) and just be patient. If you don't use multiple displays, what are you even waiting for? It looks great, plays great, has many different games, and it's so cheap!
Solitaire for Mac
If you are looking for a good solitaire game for your Mac, this is it. There are 42 different versions of solitaire you can play. You can customize the color of the background and the back of the cards as well. New to a mac and looking for solitaire? You want this one.
I love Solebon
I love Solebon... I'm very pleased to see that the version for my Mac is the same as it is for my iPhone.
Do not buy this junk software
Buyer beware, this software does not work! Upon starting the application I get "An exception of class NilObjectException was not handled. The application must shut down." Nothing else, no help, no nothing but a waste of a buck. DO NOT BUY THIS SOFTWARE, it does not work. I thought that Apple would at least do a test run of what they are selling. I just read that many others are having the same problem, especially with multiple monitors. What kind of developer writes software that does not work with two monitors. I think this Apple App Store thing is not going to workout very well if Apple allows developers like this to rip off customers like this. I'll give apple another month to get their stuff together, but I will not give this developer any longer, it was too stupid of a mistake.
Great
Just like the iPhone version, this Solitaire game is very well done. Shame about the multi monitor bug, but good that they've managed to find the issue and submit a patch.
Favorite Solaraire Program
I've been playing Solebon on my iPhone for a couple years now. Solebon for Mac offers all of the same games in on the desktop. For those (like me) who like to keep track of the stats like win %, you can now keep the stats on screen full time. This is a big win for me... I like to play a hard style like Scorpion over 100 hands and try to maximize my win %. I have only one complaint- the graphics for the face cards (Jack, Queen, King). While nicely rendered, I do not like the style at all, and I find it extremely distracting. I'd love to see an option to display more traditional playing card graphics.
Fact Sheet
Publisher:

Solebon LLC

Category:

Games

Released:

Jan 04, 2011

Current Version Released:

May 30, 2012

Version:

1.3.0

Size:

3.7 MB

Compatibility:

Requires iOS 10.6.6 or later.

Recommended Age:

4+

Game Center Certified:

No

Supported Languages:

English;