Games
Education
Puzzle
Family
Recommended app!
App last updated
Jun 07, 2011
Screenshots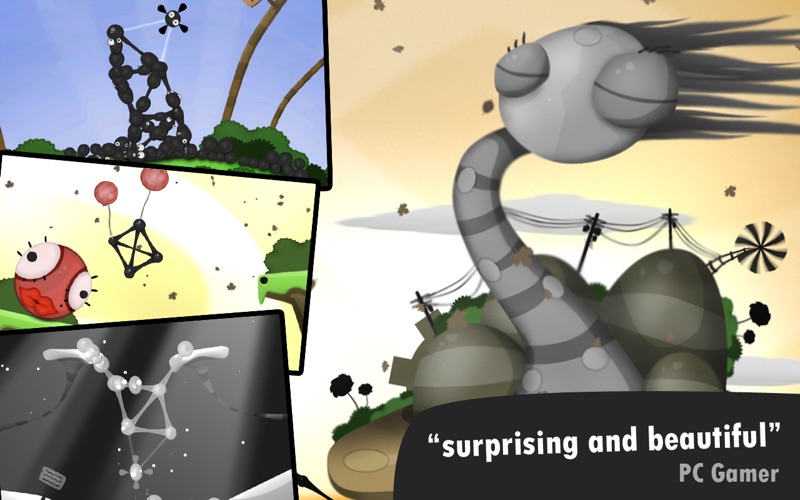 Description
Beautiful and surprising, the millions of Goo Balls who live in the World of Goo are curious to explore - but they don't know that they are in a game, or that they are extremely delicious.

Drag and drop living, squirming, talking, globs of goo to build structures, bridges, cannonballs, zeppelins, and giant tongues.

Mysterious Levels - Each level is strange and dangerously beautiful, introducing new puzzles, areas, and the creatures that live in them.

World of Goo Balls - Along the way, undiscovered new species of Goo Ball, each with unique abilities, come together to ooze through reluctant tales of discovery, love, conspiracy, beauty, electric power, and the third dimension.

The Sign Painter - Someone is watching you.

World of Goo Corporation - Congratulations! World of Goo Corporation is the Global Leader in Goo and Goo Related Product, including World of Goo Corporation Trademark Brand Soft Drink Beverage and World of Goo Corporation Trademark Brand Facial Exfoliating Lotion. Succulent!

Massive Online Competition - Human players around the world compete in a living leaderboard to build the tallest towers of goo in World of Goo Corporation's mysterious sandbox. World of Goo Corporation is contractually obligated to state that everyone is a winner and is enthusiastic to celebrate everyone's tower building opportunities equally.

Congratulations, and good luck!

Awards and recognition for World of Goo:
* Best Design -Academy of Interactive Arts and Sciences
* Best Downloadable Title -Game Developers Choice Awards
* Best Design -Independent Games Festival
* Technical Excellence -Independent Games Festival
* Best Indie Game -Spike TV Video Game Awards
* Game of the Year -Rock Paper Shotgun
* Game of the Year -GameTunnel
* Wii Game of the Year -IGN
* Best PC Puzzle Game -IGN
* Best Wii Puzzle Game -IGN
* Best Artistic Design Wii -IGN
* Best New IP Wii -IGN
* Most Innovative Design Wii -IGN
* Puzzler of the Year -Golden Joystick Awards
Reviews
Can't Exit Full Screen EVER
The game is great—imaginative, physics-based, cool design. However, as a previous reviewer noted, you can't get out of full screen once you enter it. NOTHING works—not "ESC", or moving the cursor to the side or corner of the screen, etc. Once you quit the game and reopen it, it is STILL in full screen. The previous review was posted several months ago, and I bought this app figuring that the developer would have figured out how to address the problem, but no, they don't seem to care. If al I want to do with my computer for an hour or more is play this game, fine, but I use my computer for a lot of stuff, and often need to check mail, etc., between levels.
fun… but
The game is stable, fun and relaxing however there are three issues that I find particularly annoying. 1. No way to get out of full screen mode. In order to do anything else on my machine I have to quite the game. 2. No way to turn off the music. I don't want to listen to the tedious, unimaginative sound track. I want to listen to the music I have in my library. 3. No way to control the volume of the sound effects or music. These are all basic interface functions and I can't imagine why the devs didn't include them.
Great Game
Good gameplay with continual twists. Funny story and good puzzles, without being frustrating.
Spectacular game
Beautifully engaging, genuine physics, an original soundtrack, incredible interaction with expanding environments, a game within the game that offers multiplayer engagement, plus the cutest, happiest gooballs ever to live in a gorgeous, post-human dystopian nightmare. What's not to love? This is what Mac gaming should be.
HO BRAH WAN GOOOD GAME
CHICKEN DINNA
on
6/28/2013
RAAAAAAJHHHAAAAAAA
Fun game!!!
RobertusMaximus
on
2/1/2013
Fun game!!!
Where is Version 2 ??
MacUpdate shows Version 2 as current. Where is the premium Apple Mac software app store experience?
Freaking Gypsies
This game is freaking bullcrap. I bought this game and my boyfriend loved this game more than life itself for a day, and now I get on my Mac and it's not there. I even tried to unistall and reinstall it. Glad I paid ten bucks for a stupid game that was only useable for a day. Now I'm gonna have to talk to my boyfriend and crap. Thanks alot.
Fun, but...
Username: AwesomeKat
on
7/14/2012
This game is sooo fun, but there is some sort of bug in the "Tower of Goo Memorial Park and Recreation Center". The game will not let me collect more then 200 goo balls, but it clearly shows other people, playing the game online, have exceeded that number of goo balls. I would play the game more often if there was an update to fix this problem.
Just awesome
Stunning soundtrack and nice, smooth graphics. This game is very playable and highly addicting! One of the best games I ever played.
Nice looking but tedious
DojoBaggins
on
12/30/2011
I'm surprised with all the glowing reviews; I expected to be awestruck by this game. But I found chasing goo balls and moving them centimeter by centimeter to construct something already solved in my head 10 minutes ago a bit tedious. Don't get me wrong, I WANTED to like this game, and appreciate the art and the top-notch physics, but after a while I felt like I was shoveling rocks every time I played. Maybe it gets better (I'm on chapter two), but I don't think I'll find out...
World of Meh
The game has a pretty good idea and engine but the physics and level design make the game WAY to difficult. If its less than two dollars than maybe, but defintely not worth ten dollars when you can't unlock half the levels.
Wish they would make "world of goo two"
I love this game they need to make another veirsion.
Love the Game
bellisisland97
on
11/5/2011
Fun and easy to handle, world of Goo was a great game for me to play as a recover from amy appendix being removed. Simple, but challenging, the concept truly amazes me. Just wish it had a higher resolution, but I can get over that. Love the game
Very fun game
PowerBook180
on
10/29/2011
The story, design, music, and dynamics of this game are AWESOME! My only complaint is that it only runs in the old fullscreen mode and it doesn't scale to a higher resolution.
Best Game on the Mac App store hands down!
bigvelvetdog
on
10/19/2011
This is by far one of the best games available in the Mac App Store. I've been playing it for about a year now and when it showed up here I had to purchase it for my mac. Runs flawlessly on my 2nd gen mac mini. The style of the game reminds me of a cool Danny Elfman film. Only thing that would be better would be if 2D boy were working on World Of Goo 2. Great job guys!!!!!!
HIGHLY ADDICTIVE!
KickyMcBollocks
on
10/14/2011
If you're looking for a game to pass a little time, this one is not for you. You'll end up spending a LOT more time than you wanted to. Amazing concept, amazing gameplay. Waiting for the next version or a new level pack to come up. When it does, I'm buying it. Awesome job on this one!
Add Screen Resolution Configurations
I cannot adjust the screen resolution of the game. Please add this functionality! Thanks!
graphics
game is addicting and fun but the graphics need a bit more tweaking, better graphics for a 5 star plz
great but
I dont get why I see the game not in real full screen. Im using a Mac Book Pro and the game shows a little part of the sides in black. I think it should extend to the entire screen :s
Why only one resolution!?!
If you are going to make a game for Mac's WHY WOULD YOU NOT SUPPORT EVERY RESOLUTION!!!! This game looks better on my freaking iPad 2 because this version doesn't have 1560x1440 resolution like EVERY SINGLE 27" iMac! I really wish I had not bought this since it looks better on the iPad… $2 WASTED!
LOVE this game!
It's a fantastic game as we all know but I am SO HAPPY to not be seeing another war game or slash game yuck. Thanks!!!!!!!!!!!! 10 stars!
Great Game!
Its one of the best physics puzzle games out there!!! Definitely more innovative and exciting than Angry Birds. The only reason I give it 4 instead of 5 stars is that it doesnt support High Resolution for widescreen display (The only resolution it has is 1024 x 768, meaning there will be 2 black vertical stripes on the 2 ends, and the graphic is a little blurry). That kinda annoys me when I play the game. I will definitely change my rating to 5 if 2D Boy can release another update with High Resolution support.
So good.
Just an all around classy game, that evolves in such a beautiful way. Worth the money.
I've waited a long time to play a decent puzzle game, and now I have one.
World of Goo is wonderful, it actually makes me think (Few puzzle games actually do that). One of the best aspects is that there are multiple ways to finish a level, which allows for creativity and innovation and that is exactly what inspires games like this. Definitely a buy, you won't regret it.
game works fine
mr. Fairbanks
on
9/10/2011
it looks good and it is fun, but it is way too easy i beat it in a few days, now I have to play old levels. they should have at least fifty more levels for ten dollars.
AWESOME and very addicting game!
This game is addicting, yet not frusterating as you go on to the higher levels. Its an awesome buy! My favorite app hands down. this should be ranked #1 in top paid games.
Amazing Game!!
If you are bored, this game can keep you active for hours. There are tons of levels, and if you find some that are too hard, you can skip them. Sound effects are quite interesting too. I highly recommend this game.
wonderful
this game is wonderfull it is amazing game amazing soundtrack if there is more than 5 stars i will give it to this game
World of Goo
This is one of the most fun games that I have played. Okay, I don't play many games, but still WofG is really enjoyable to play, and at the same time frustrating to the point of making me want to blow the tiny balls away with my not-so-trusty 1868, 45cal, single action revolver.
Really great game
You will not stop playing this.
لعبة رائعة وشيقة
Aladdin Nimer
on
6/22/2011
تمتاز اللعبة برسومات جميلة واضحة جدا وكذلك الموسيقى والاصوات مبهره نظام اللعبة :يجب عليك بناء جسور واعمده من كرات الجوو حتى تستطيع ايصالها الى فوهة الانبوب الذي بدوره يقوم بشفط هذه الطابات وتجميعها في الاناء الزجاجي. كما ان اللعبه تعتمد على الذكاء وتعتمد على التخطيط المستقبلي في بناء الجسور وتوصيل الكرات في بعضها البعض دون انهيار البناء .. يجب عليك تجميع اكبر عدد ممكن من هذه الكرات . العبة متعددة المراحل وكل مرحلة هي تجربه جديد ونظام جديد وتعتمد على اسليب متعددة . قصة اللعبه بسيطه .. الموسيقى رائعه ... والرسومات غنية بالتفاصيل . أنصح الجميع بها
Fun and original
It's nice to take a step away from the overwhelming monotonous selection of games that seem to serve the same thing over and over and over and over again. World of goo is both original and interesting enough to keep you far away from being bored. The music is really great and the art style is quite nice. For the price, this game is definitely worth it.
Doesnt worth $9.99
well it may be a cool application on itouch or ipad. but definitely not fun on a mac. the graphic is not good enough and u can even see the pixels. Anyways it doesnt worth 9.99 dollars at all!!!
Bizarre
Why can I only see a small part of the game? I have to keep scrolling around to what's not on screen. Perhaps I'm doing it wrong but I'm running it on an iMac with a big screen. What I can see looks like fun but till this major bug is fixed I don't see much point buying the game. It's not just the full-screen mode (which is kind of scrappy) that does this. When it's open in a window the same thing goes on.
Not as great as expected
I absolutely love the iPhone and iPad versions. This is the same game, but the graphics are pretty disappointing. Everything is pixellated (not extremeley pixellated, but definitely noticaeable). I would expect more from the developers; then again, perhaps an update is coming...
NEVER EVER
Heroatthecross
on
6/12/2011
Try to read after playing this game for more than 30 minutes. The swaying back and forward will train your eyes to flow with the motion on the screen (kind of like trying to operate normally on land immediately after being on a boat for a long period of time). This game is addicting and a lot of fun, but the aftermath of it can be really annoying.
Great game!
I was missing a game like this... Great graphics Great story Great soundtrack Great game play GREAT GAME :)
Best Game Ever!!
Best Game Ever!! Better than CoD! I like World of Goo Corperation! Best game ever!
The best puzzler I've played in a long time
This game is one of the greatest ones ever made. I first experienced this game on iOS, practically stealing it for a measly 99 cents. I bought it again for 9.99, both to support the developers and because I love this game that much! Please, if you have yet to play this marvelous and innovative game/experience, support the creative minds behind this project by buying this game as soon as possible!
AWESOM GAME
the soundtrack is GREAATTT has a lot of veraity innovative game play 5 stars is really not enough
Great Game!
Works fine in my Mac. very entertaining game I recommend this game 100%
Fact Sheet
Publisher:

2D BOY

Category:

Games

Released:

Jun 07, 2011

Current Version Released:

Jun 07, 2011

Version:

1.0

Size:

68.1 MB

Compatibility:

Requires iOS 10.6.6 or later.

Recommended Age:

4+

Game Center Certified:

No

Supported Languages:

English;