Screenshots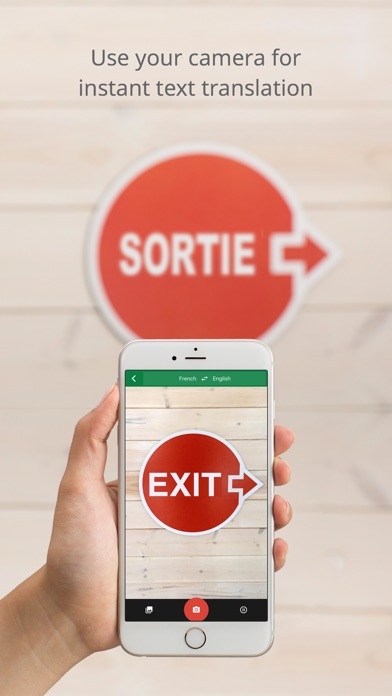 New in version 5.16.0
• Translate your clipboard with a 3D Touch shortcut
• Text to speech for more languages (Estonian, Javanese, Sundanese)
• Improved support for iPhone X
Description
• Text translation: Translate between 103 languages by typing
• Offline: Translate with no internet connection (59 languages)
• Instant camera translation: Translate text in images instantly by just pointing your camera (38 languages)
• Photos: Take or import photos for higher quality translations (37 languages)
• Conversations: Translate bilingual conversations on the fly (32 languages)
• Handwriting: Draw text characters instead of typing (93 languages)
• Phrasebook: Star and save translated words and phrases for future reference (all languages)

Permissions Notice
• Microphone for speech translation
• Camera for translating text via the camera
• Photos for importing photos from your library

Translations between the following languages are supported:
Afrikaans, Albanian, Amharic, Arabic, Armenian, Azerbaijani, Basque, Belarusian, Bengali, Bosnian, Bulgarian, Catalan, Cebuano, Chichewa, Chinese (Simplified), Chinese (Traditional), Corsican, Croatian, Czech, Danish, Dutch, English, Esperanto, Estonian, Filipino, Finnish, French, Frisian, Galician, Georgian, German, Greek, Gujarati, Haitian Creole, Hausa, Hawaiian, Hebrew, Hindi, Hmong, Hungarian, Icelandic, Igbo, Indonesian, Irish, Italian, Japanese, Javanese, Kannada, Kazakh, Khmer, Korean, Kurdish (Kurmanji), Kyrgyz, Lao, Latin, Latvian, Lithuanian, Luxembourgish, Macedonian, Malagasy, Malay, Malayalam, Maltese, Maori, Marathi, Mongolian, Myanmar (Burmese), Nepali, Norwegian, Pashto, Persian, Polish, Portuguese, Punjabi, Romanian, Russian, Samoan, Scots Gaelic, Serbian, Sesotho, Shona, Sindhi, Sinhala, Slovak, Slovenian, Somali, Spanish, Sundanese, Swahili, Swedish, Tajik, Tamil, Telugu, Thai, Turkish, Ukrainian, Urdu, Uzbek, Vietnamese, Welsh, Xhosa, Yiddish, Yoruba, Zulu
iPad Screenshots
Reviews
So Thanks
محمد عمر بن انس١٩٩٨
on
12/13/2017
So Good App , I need this app never for translation
نمط الترجمة بالتصوير لا يعمل في الايباد انجليزي-عربي
طلال القثامي
on
12/12/2017
نمط الترجمة بالتصوير لا يعمل في الايباد انجليزي-عربي
Great
MoodyMilano
on
12/12/2017
Amazing
What happened?
A decent app went to hell with iOS 11.....11.1.....11.2.....good thing Apple does not charge for this!
Just terrible
AaronGuitarPlayer
on
12/11/2017
Just the worst translator app I've ever seen!! The camera doesn't even say the right words!!! Watch out!!!!!!
Problem
I have problem with camera I can't take scan or picture to see translate
Screen Shots
HairyAvocado
on
12/10/2017
I think they should add screen shot translate if you can't copy text
Small Mistakes here and there but a lifesaver
Natsuyaki123
on
12/10/2017
Could not live without this app! occasionally some translations are wrong (depending on the language) but that's as to be expected when there isn't always an equivalent to it in the same language. i would REALLY love it if the developers would add Slovenian to the text to speech list! it would be SUCH a lifesaver! oftentimes pronunciation can be really tricky in slovene for native english speakers and it's hard to find many resources that have audio files for the words. it would really mean a lot to me and many others who work hard to find resources to learn it from (which can be few)
Worst thing ever to be created ever!!!!!!!!!!!!!
I hate every thing about this app its the worst ever in the history of ever!!!!!!!!!!!!!!!!!!!!!
Almost Useless
MarkiplierPlaysBetterThanMe
on
12/9/2017
I'm trying to use it to bridge the Japanese words I don't know yet, and so far I've gotten nothing but gibberish and nonsense. If I get anything at all. Google can mistranslate themselves off of a cliff.
It's awful!
I tried to use the camera for my Pokémon card (written in China) but the app only got half of it!
Use it all the time and it's awesome!
Politically incorrect redneck
on
12/8/2017
My only negative is this for the love of god almighty slow down the speaking of the translated spoken sound so you can learn how to say the word words! It's speaks way to fast! Slow it down!
Translate your clipboard with a 3D Touch shortcut
How do we do that ? Edit: thank you for the response
Thai
Please add Thai as one of the languages that you can take a photo to translate.
Just a reply
I hate ....mary something
Great App. Would be even better WatchOS app
PLEASE MAKE THIS FOR WatchOS IT WOULD BE AN INCREDIBLY USEFUL APP - id pay for it
"Just" 5.11.0 version ⭐️⭐️⭐️⭐️⭐️
shahram@musician
on
12/7/2017
With this app, I was born again ... Although sometimes, its translation is not good, but I hope it gets better
Problem
فارسيش كه خيلي ايراد داره
Good for bilinguals.
Howmanynames?
on
12/6/2017
If you know both languages it is a great tool to help you translate. You can translate several paragraphs and then fix the mistakes.
Why is the default English - Spanish. Screw mexico
00 of ur biz
on
12/5/2017
Screw mexico and 3rd world cultures. And screw u hillary.
You can forget translating German
Unfortunately this app directly translates German into English. As you can imagine, Mark Twain would be laughing his head off. Nice idea but the technology is not there yet.
Poor screen layout & no carriage return key.
Prof Daniels
on
12/5/2017
I used this app on an iPad to help me learn to speak a foreign language rather than the simple translation of a phrase. I found the screen layout to be very poorly utilized with an enormous space for history and a very small space atop for editing. I remain truly baffled why the carriage return key was removed in favor of a "Go" button. For my purpose it made the app impractical to use. I found another highly rated app that doesn't have these deficiencies and discontinued use of this app.
👏🏼👏🏼👏🏼👏🏼👏🏼
collarbones_
on
12/4/2017
That turning the screen thing to translate what you want to tell someone is genius. 10/10 would recommend. Essential app for your phone.
The best app
La mejor app, completa y muy eficaz la recomiendo al 100%
iPhone X
Computer Tech and programmer
on
12/4/2017
This has been one of my must have apps that I've used ever since day its induction. It had flaws that are always fixed over time They listen to their clients input and make changes accordingly. Never had a problem and it just keeps improving. I've no idea if a comparison cus I've used this always so really don't know how other apps compare. But as they say if this works so good, why change it does all I want and more. Also I recommend "Memrise " application to learn the languages, very nice also.
Best Translator App
Please Add Landscape Mode
Excelente
Stupid app I hate it
on
12/1/2017
No se que haría sin el
Review
Used to be good. What happened?
It's not that great
jurjjekelwlejf f,elsonfv hfnf
on
11/30/2017
When you use google translate for Chinese or mandarin it doesn't come accurately. Most of the time when you use it for those languages it tells you random thing that's close to that word or symbol, but it's not the symbol.
Kinda Iffy
Wolfgorl1159
on
11/30/2017
The use of the camera is glitchy and isn't able to easily translate if it's able to translate at all. The rest of the features are pretty much the same as the computer
Vietnamese translation is horrible
NONBODYS HERO
on
11/30/2017
I'd say 95% of the time the translation is not even close especially when spoken in Vietnamese to English. Why can't you get this right ?
for team translate
Bishwan Raza
on
11/29/2017
please add Kurdish(Sorani) for translate ❤️🌸
Uzbek
Feruz Mirza-Aliev
on
11/29/2017
Not so many words are correct in uzbek language, but still great app
AWFUL
IT CAN BARELY READ THE INFORMATION I NEED TO TRANSLATE AND JUST COME UP WITH RANDOM WORDS. DO NOT BUY TERRIBLE APP
Meh
Unable to zoom on text when using video. The swiping on text in a photo is slow. Many words don't translate and just bring up a definition in a foreign language, which doesn't translate - on Android you can have the definition translated but on iPhone it doesn't do it. Disappointed much worse than "word lens" for video translation and so many words even for common languages like Spanish not translating, but I can look them up in phrase books or other dictionaries.
It only lets you paste one sentence at a time
When I cut and paste from Whatsapp conversations.
Good but Android verson better
I have an Iphone 7 and an Xperia phone. I use google translate on both in Puerto Rico and was disappointed that offline works better and speaks the word off line on Android, ios version has no voice offline.
最低最悪👎
最低最悪。やばい。どうしてこんなに不便なの?こっちが聞きたいわ。後で消してあげるね🖕🖕🖕🖕🖕🖕🖕🖕🖕🖕🖕🖕🖕🖕🖕🖕🖕🖕🖕🖕🖕🖕🖕🖕🖕🖕🖕🖕🖕🖕🖕🖕🖕🖕🖕🖕🖕🖕🖕🖕🖕🖕🖕🖕🖕🖕🖕🖕🖕🖕🖕🖕🖕🖕🖕🖕🖕🖕🖕🖕🖕🖕🖕🖕🖕🖕🖕🖕🖕🖕🖕🖕🖕🖕🖕🖕🖕🖕🖕🖕🖕🖕🖕🖕🖕🖕🖕🖕🖕🖕🖕🖕🖕🖕🖕🖕🖕🖕🖕🖕🖕🖕🖕🖕🖕🖕
Samar
samaralyani
on
11/26/2017
Samaralyani
Great
The app is very helpful
Never works offline
I'm sure I'm doing something wrong but this never works for me offline. I download the languages but still get the message "offline" when I try to translate something.
Bad app
Abooood50005000
on
11/25/2017
هذا التطبيق جيد لاكن فيه الكثير من الاخطاء في الترجمه لذا احكم على هذا للتطبيق بل اعداام
Doesn't translate Traditional Chinese
I use this app to translate from simplified Chinese to traditional Chinese. When selecting traditional Chinese as the translated language from a simplified, it stays simplified. This is an issue that needed to be fixed.
Incomparable with the web version
Incomparable with the web version
Mamas_Bakhsho
Mamad_Bakhsho
on
11/23/2017
بهترین برنامه مترجمی که تابه حال دیدم
شكرا على هذه البرنامج الجميل
🌹😍
Fact Sheet
Publisher:

Google, Inc.

Category:

Reference

Released:

Feb 08, 2011

Current Version Released:

Dec 06, 2017

Version:

5.16.0

Size:

63.1 MB

Compatibility:

Requires iOS 9.1 or later.

Recommended Age:

4+

Game Center Certified:

No

Supported Devices:

iPad2Wifi-iPad2Wifi, iPad23G-iPad23G, iPhone4S-iPhone4S, iPadThirdGen-iPadThirdGen, iPadThirdGen4G-iPadThirdGen4G, iPhone5-iPhone5, iPodTouchFifthGen-iPodTouchFifthGen, iPadFourthGen-iPadFourthGen, iPadFourthGen4G-iPadFourthGen4G, iPadMini-iPadMini, iPadMini4G-iPadMini4G, iPhone5c-iPhone5c, iPhone5s-iPhone5s, iPadAir-iPadAir, iPadAirCellular-iPadAirCellular, iPadMiniRetina-iPadMiniRetina, iPadMiniRetinaCellular-iPadMiniRetinaCellular, iPhone6-iPhone6, iPhone6Plus-iPhone6Plus, iPadAir2-iPadAir2, iPadAir2Cellular-iPadAir2Cellular, iPadMini3-iPadMini3, iPadMini3Cellular-iPadMini3Cellular, iPodTouchSixthGen-iPodTouchSixthGen, iPhone6s-iPhone6s, iPhone6sPlus-iPhone6sPlus, iPadMini4-iPadMini4, iPadMini4Cellular-iPadMini4Cellular, iPadPro-iPadPro, iPadProCellular-iPadProCellular, iPadPro97-iPadPro97, iPadPro97Cellular-iPadPro97Cellular, iPhoneSE-iPhoneSE, iPhone7-iPhone7, iPhone7Plus-iPhone7Plus, iPad611-iPad611, iPad612-iPad612, iPad71-iPad71, iPad72-iPad72, iPad73-iPad73, iPad74-iPad74, iPhone8-iPhone8, iPhone8Plus-iPhone8Plus, iPhoneX-iPhoneX,

Supported Languages:

Albanian; Arabic; Armenian; Azerbaijani; Bengali; Bosnian; Bulgarian; Central Khmer; Catalan; Valencian; Croatian; Czech; Danish; Dutch; Flemish; English; Estonian; Finnish; French; Georgian; German; Greek; Hebrew; Hindi; Hungarian; Indonesian; Irish; Italian; Japanese; Kazakh; Korean; Lao; Latvian; Lithuanian; Macedonian; Malay; Malayalam; Mongolian; Nepali; Norwegian; Persian; Polish; Portuguese; Punjabi; Romanian; Moldavian; Russian; Serbian; Chinese; Sinhala; Sinhalese; Slovak; Slovenian; Spanish; Castilian; Swedish; Tamil; Thai; Chinese; Turkish; Ukrainian; Urdu; Vietnamese; Welsh;