Screenshots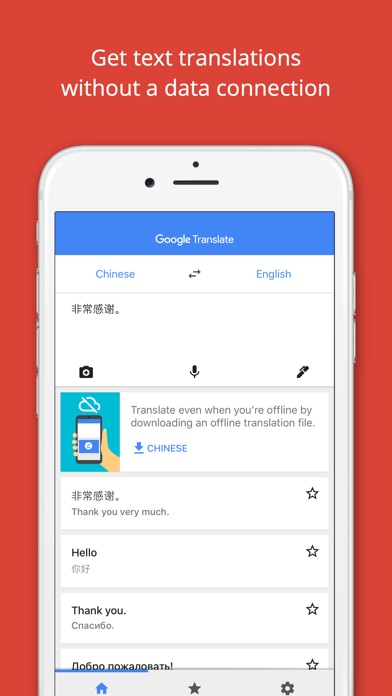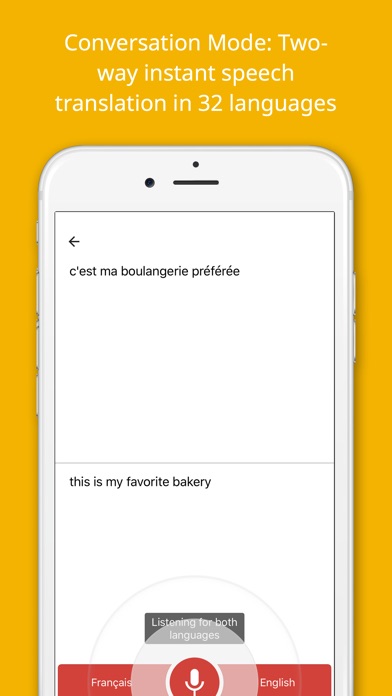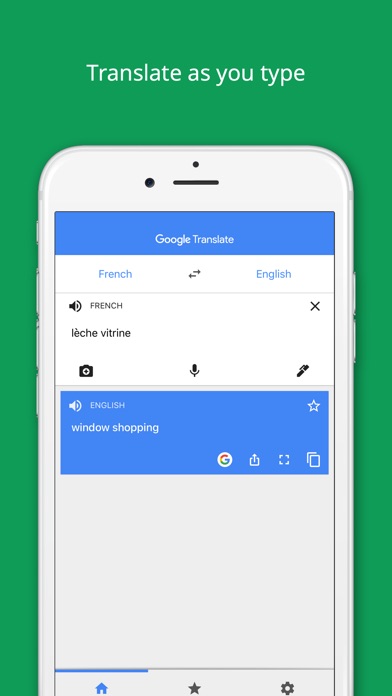 New in version 5.14.0
• Voice translation from 20 more languages
• Several bug fixes and usability improvements
Description
• Text translation: Translate between 103 languages by typing
• Offline: Translate with no internet connection (59 languages)
• Instant camera translation: Translate text in images instantly by just pointing your camera (38 languages)
• Photos: Take or import photos for higher quality translations (37 languages)
• Conversations: Translate bilingual conversations on the fly (32 languages)
• Handwriting: Draw text characters instead of typing (93 languages)
• Phrasebook: Star and save translated words and phrases for future reference (all languages)

Permissions Notice
• Microphone for speech translation
• Camera for translating text via the camera
• Photos for importing photos from your library

Translations between the following languages are supported:
Afrikaans, Albanian, Amharic, Arabic, Armenian, Azerbaijani, Basque, Belarusian, Bengali, Bosnian, Bulgarian, Catalan, Cebuano, Chichewa, Chinese (Simplified), Chinese (Traditional), Corsican, Croatian, Czech, Danish, Dutch, English, Esperanto, Estonian, Filipino, Finnish, French, Frisian, Galician, Georgian, German, Greek, Gujarati, Haitian Creole, Hausa, Hawaiian, Hebrew, Hindi, Hmong, Hungarian, Icelandic, Igbo, Indonesian, Irish, Italian, Japanese, Javanese, Kannada, Kazakh, Khmer, Korean, Kurdish (Kurmanji), Kyrgyz, Lao, Latin, Latvian, Lithuanian, Luxembourgish, Macedonian, Malagasy, Malay, Malayalam, Maltese, Maori, Marathi, Mongolian, Myanmar (Burmese), Nepali, Norwegian, Pashto, Persian, Polish, Portuguese, Punjabi, Romanian, Russian, Samoan, Scots Gaelic, Serbian, Sesotho, Shona, Sindhi, Sinhala, Slovak, Slovenian, Somali, Spanish, Sundanese, Swahili, Swedish, Tajik, Tamil, Telugu, Thai, Turkish, Ukrainian, Urdu, Uzbek, Vietnamese, Welsh, Xhosa, Yiddish, Yoruba, Zulu
iPad Screenshots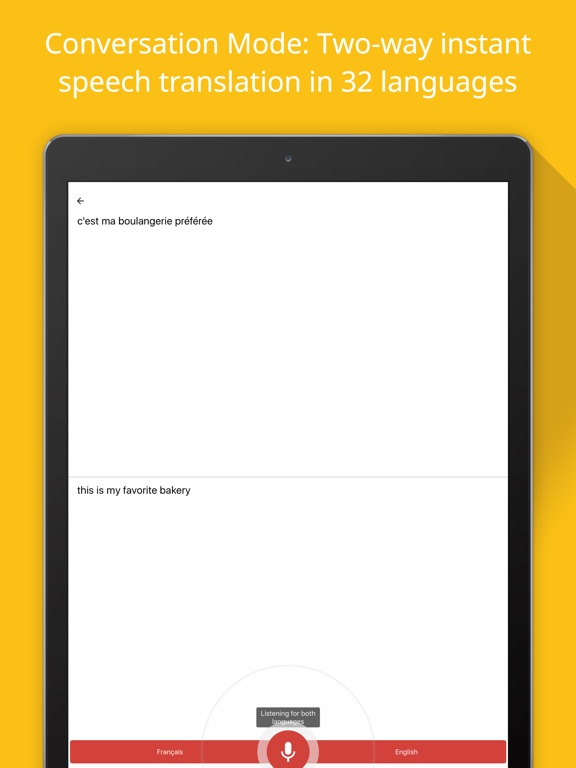 Reviews
Add Sanskrit language with Audio
Parsu Pokharel
on
10/18/2017
So far looks good support audio for Nepali language too it's helpful for me. Now Admin could you please Add Sanskrit Language? I really really need Sanskrit translation. Detect Language also didn't working not working for Sanskrit. Thanks
Please read .
when opening the app the keyboard checker does not work, I have to minimize the app and then open the app again to have the correct keyboard available or sometimes does not work in any way. this error has always been with this app. another error is the text corector of the app also does not work correctly. a fatal error is when you are writing the text to translate the window is very small I can not read everything I write, very bad that. I have a phone with a big screen and when writing the text box it does not occupy 1/4 of the screen very badly.
Needed Help With Homework. This Got the Job Done
Hollister7387479
on
10/17/2017
This app is amazing. My mandarin teacher assigned us a crazy hard packet where we had to translate a bunch of characters we didn't know into english. I was having an extremely difficult time so I downloaded this app in hopes of getting it done. I used the drawing feature for the app and it works amazingly! From what i could translate myself, the translation is very good. Strongly recommend.
community-checked badge
/u/Xkinetism3
on
10/17/2017
add community checked badges for translations like the mobile web site. then i know a translation is 100% correct
I like turtles
This app is really good
Nearly perfect but lacks small features I'd like to see added
When I click on the text box to type, I'd like to see a "Paste" and "Paste and translate" box dialogue pop up without having to click the typing area a second time. Additionally, it would be nice to have a "Translate text from clipboard" option for Force Touch when on the home screen. Currently the only Force Touch capability is "Share Translate". Finally, and this is not for every user as it's a bit more technical, I would like to see a URL scheme so that external apps such as Workflow can quickly open Translate and use its functionality quickly. This is especially useful if one is consistently translating between three languages and needs to switch the language often.
Autofill doesn't always work
It's pretty frustrating when you're used to autofill and it's so inconsistent on this app. This problem slows down the process and you end up having to type over and over again. NO online resource can explain why sometimes autofill is there and sometimes not. All online references refer to Google Chrome's ability to translate, not this app. Clear up or explain this problem and it's 5 stars - not 1.
Italian does not work in offline mode
Other languages do, please fix
Was great
Cryttal2000
on
10/13/2017
I use this at work and now it freezes up after the first translation. I have to close the app completely and restart. So disappointed looking for a new translator
Wow what an app!!!
Love it very efficient! Does what it promises! Another great app along with snapseed!!!
Most helpful than ever
👏🏻👏🏻🙏🏻🙏🏻👍🏻👍🏻
No offline available
It's a great app except that there's no way to download a language package which is its best feature when you travel to another country and have little or no internet connection.
Ok but could use improvement
The translator could be more accurate
Not the app that Word Lens was
RalphSwartz
on
10/11/2017
I was a big fan of Word Lens (both on my iPhone and my iPad). I used it in France and Italy against everything from street signs and magazine articles to menus in restaurants. All I had to do is point my camera and it instantly translated — all within the context of the background. Now, it seems, I have to point the camera, select the camera, and watch the app scan the image for a translation. Entirely too cumbersome.
Es increíble, es fundamental en mi vida.
Muy bueno.
Clumsy and hard to use
Bolingbroken
on
10/10/2017
Surprisingly bad for Google. It's not intuitive, the camera function is very hard to use.
The Best App and very important
As I write these words I want to use the app to translate some words. The best
Very helpful!
Kawaii Lover 😊
on
10/9/2017
I am shocked. This app is amazing I love it so much I show off to my friends at school every day that I can speak "French" it's so funny their reactions! They're like:😲😲😲😲! But anyways, this app is amazing! You can take photos from a picture and translate it! EVERYONE NEEDS THIS APP!
this app very good :)
after used this app 5 months until now i'm feeling better about anything.
This is awesome
raichuthunder
on
10/9/2017
This is one a of the best apps I've ever used... it's helped me so much with my homework, and plain just helping me learn. I recommend getting this app!!!
Helpful
Helps communicate with customers I have who speak Spanish. Very accurate when using the voice translation.
Amazing technology
Wish I would've had this when I was first learning Spanish. Everything translated instantly, and the instant text translate feature via the camera is a marvel. Everyone should see that feature in action.
Offline translation don't work
mohamed modric
on
10/8/2017
Why every time I downloaded offline languages they didn't stay and just gone then told me there's no package to download . This problem always happens to me why I can't translate while offline. Plzzz answers me
Parseltongue please!!!
Hello! I love google translator! I use it to learn japanese, However, CAN YOU PLEASE ADD PARSELTONGUE (From Harry Potter) PLEASEEEE! I WILL GIVE 5 STARS!!!
Crashed
Christian cool dude gaming
on
10/7/2017
I will using the trap, since June 2017. I downloaded it on my phone, but, it crashed.
Inaccurate
Frau Einhuasen
on
10/7/2017
A majority of the English to German/ German to English translations are incorrect. It's mostly just the wrong version of "the" (Die, Der, Das) but it's still wrong.
Google is better for me
Ghasemsadeghi
on
10/6/2017
A good app
Ok never mind.
#THEPROGAMER
on
10/6/2017
Ok,I was just playing with it when it disappeared. Just found out that it was just on the second folder.
Works
Works for me yet in last update lost the one window that would keep track of words you used the most so could click them and not have to retype them over and over
AMAZING but one HUGE flaw for me
This app is perfect, accurate translations and I love all of the perks. There's just one thing that impacts me a lot...There's only Brazilian Portuguese not Portuguese Portuguese please put Portuguese Portuguese in.
Translation
Google does it again! Nothing less than an easy to use great app. App works everytime. Perfect enough for English to Spanish & vice versa. It's free! Who could complain? Thanks Google.
Terrible
Debbie.depot
on
10/5/2017
I want to learn Italian this app isn't even speaking Italian it's only speaking with an English Italian accent are you kidding me!!!!
Decent translations
The translations are good but the sentence structure is usually terrible. However I have seen some improvements. The only thing I want to see is them adding papiamentu it's a language spoken in Curaçao. There are translations out there for it but they are trash. I'm confident Google translate can do this one good.
Greta App!
Works great and the translation are rarely not correct! This helped me a lot to prepare for my trip to Japan! Tysm! ❤️
Thats a thing to make life easier
Thank you I appreciate
Getting me through Chinese
Awesome1011111111
on
10/3/2017
This is literally the reason I didn't fail Chinese last year, and this year. Gods gift to mankind.
Pretty amazing. Still needs improvement
Mehrdad Asadi
on
10/3/2017
This app is practically helping me communicate in a country I live in as an expat. The only thing is there are wrong translations every now and then. I am a language teacher myself and I know how hard it is. In fact translating is something I believe no machine can ever do as accurate as a human being.
It's so useful But ..
Just add the American accent too
Could use work with Vietnamese
Sometimes does not translate from Vietnamese very well or at all and is very picky if caps are used or not. All in all decent app though
I updated it an now it wont work !!
👎🏻
Needs improvement
I get corrected still a lot on Japanese words and phrases because they are not correct. Please hire a native Japanese speaker to fix all the phrases and sentences.
Review
La catrachita
on
9/29/2017
Algunas veses no se escribe lo que es pero funciona un 90" bien
Absolutely amazing!
Google translate is exceedingly well thought out and very well implemented! I highly recommend this app for translating.
A life saver
Excellent app for finding the word you need in a second.
No audio for Haitian Creole
Juliecirca87
on
9/29/2017
I do love this app for many languages however I have a student who speaks Haitian Creole and can not read the language so the audio would be perfect but there is no audio icon by the translation for that language. It will only read aloud the English. Am I doing something wrong here or does this dialect not come with audio?
Fact Sheet
Publisher:

Google, Inc.

Category:

Reference

Released:

Feb 08, 2011

Current Version Released:

Sep 28, 2017

Version:

5.14.0

Size:

61.6 MB

Compatibility:

Requires iOS 9.1 or later.

Recommended Age:

4+

Game Center Certified:

No

Supported Devices:

iPad2Wifi-iPad2Wifi, iPad23G-iPad23G, iPhone4S-iPhone4S, iPadThirdGen-iPadThirdGen, iPadThirdGen4G-iPadThirdGen4G, iPhone5-iPhone5, iPodTouchFifthGen-iPodTouchFifthGen, iPadFourthGen-iPadFourthGen, iPadFourthGen4G-iPadFourthGen4G, iPadMini-iPadMini, iPadMini4G-iPadMini4G, iPhone5c-iPhone5c, iPhone5s-iPhone5s, iPadAir-iPadAir, iPadAirCellular-iPadAirCellular, iPadMiniRetina-iPadMiniRetina, iPadMiniRetinaCellular-iPadMiniRetinaCellular, iPhone6-iPhone6, iPhone6Plus-iPhone6Plus, iPadAir2-iPadAir2, iPadAir2Cellular-iPadAir2Cellular, iPadMini3-iPadMini3, iPadMini3Cellular-iPadMini3Cellular, iPodTouchSixthGen-iPodTouchSixthGen, iPhone6s-iPhone6s, iPhone6sPlus-iPhone6sPlus, iPadMini4-iPadMini4, iPadMini4Cellular-iPadMini4Cellular, iPadPro-iPadPro, iPadProCellular-iPadProCellular, iPadPro97-iPadPro97, iPadPro97Cellular-iPadPro97Cellular, iPhoneSE-iPhoneSE, iPhone7-iPhone7, iPhone7Plus-iPhone7Plus, iPad611-iPad611, iPad612-iPad612, iPad71-iPad71, iPad72-iPad72, iPad73-iPad73, iPad74-iPad74, iPhone8-iPhone8, iPhone8Plus-iPhone8Plus, iPhoneX-iPhoneX,

Supported Languages:

Albanian; Arabic; Armenian; Azerbaijani; Bengali; Bosnian; Bulgarian; Central Khmer; Catalan; Valencian; Croatian; Czech; Danish; Dutch; Flemish; English; Estonian; Finnish; French; Georgian; German; Greek; Hebrew; Hindi; Hungarian; Indonesian; Irish; Italian; Japanese; Kazakh; Korean; Lao; Latvian; Lithuanian; Macedonian; Malay; Malayalam; Mongolian; Nepali; Norwegian; Persian; Polish; Portuguese; Punjabi; Romanian; Moldavian; Russian; Serbian; Chinese; Sinhala; Sinhalese; Slovak; Slovenian; Spanish; Castilian; Swedish; Tamil; Thai; Chinese; Turkish; Ukrainian; Urdu; Vietnamese; Welsh;