TapNova recommends this app!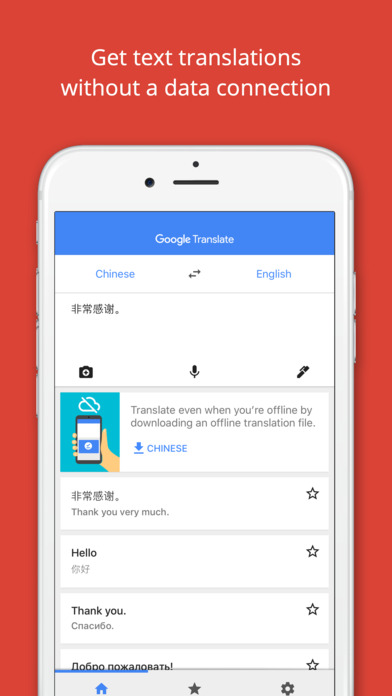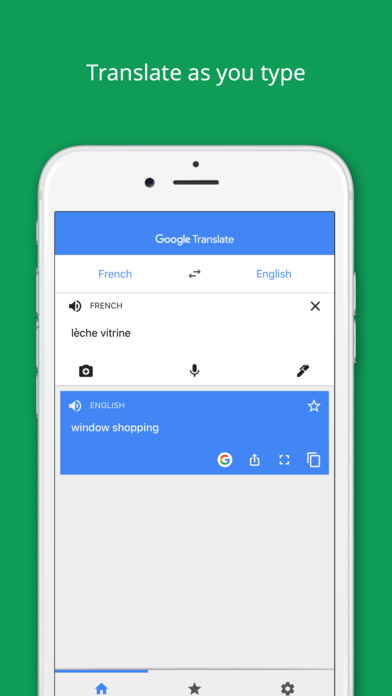 New in version 5.10.0
• Several bug fixes and usability improvements
Description
• Text translation: Translate between 103 languages by typing
• Offline: Translate with no internet connection (52 languages)
• Instant camera translation: Translate text in images instantly by just pointing your camera (30 languages)
• Photos: Take or import photos for higher quality translations (37 languages)
• Conversations: Translate bilingual conversations on the fly (32 languages)
• Handwriting: Draw text characters instead of typing (93 languages)
• Phrasebook: Star and save translated words and phrases for future reference (all languages)

Permissions Notice
• Microphone for speech translation
• Camera for translating text via the camera
• Photos for importing photos from your library

Translations between the following languages are supported:
Afrikaans, Albanian, Amharic, Arabic, Armenian, Azerbaijani, Basque, Belarusian, Bengali, Bosnian, Bulgarian, Catalan, Cebuano, Chichewa, Chinese (Simplified), Chinese (Traditional), Corsican, Croatian, Czech, Danish, Dutch, English, Esperanto, Estonian, Filipino, Finnish, French, Frisian, Galician, Georgian, German, Greek, Gujarati, Haitian Creole, Hausa, Hawaiian, Hebrew, Hindi, Hmong, Hungarian, Icelandic, Igbo, Indonesian, Irish, Italian, Japanese, Javanese, Kannada, Kazakh, Khmer, Korean, Kurdish (Kurmanji), Kyrgyz, Lao, Latin, Latvian, Lithuanian, Luxembourgish, Macedonian, Malagasy, Malay, Malayalam, Maltese, Maori, Marathi, Mongolian, Myanmar (Burmese), Nepali, Norwegian, Pashto, Persian, Polish, Portuguese, Punjabi, Romanian, Russian, Samoan, Scots Gaelic, Serbian, Sesotho, Shona, Sindhi, Sinhala, Slovak, Slovenian, Somali, Spanish, Sundanese, Swahili, Swedish, Tajik, Tamil, Telugu, Thai, Turkish, Ukrainian, Urdu, Uzbek, Vietnamese, Welsh, Xhosa, Yiddish, Yoruba, Zulu
iPad Screenshots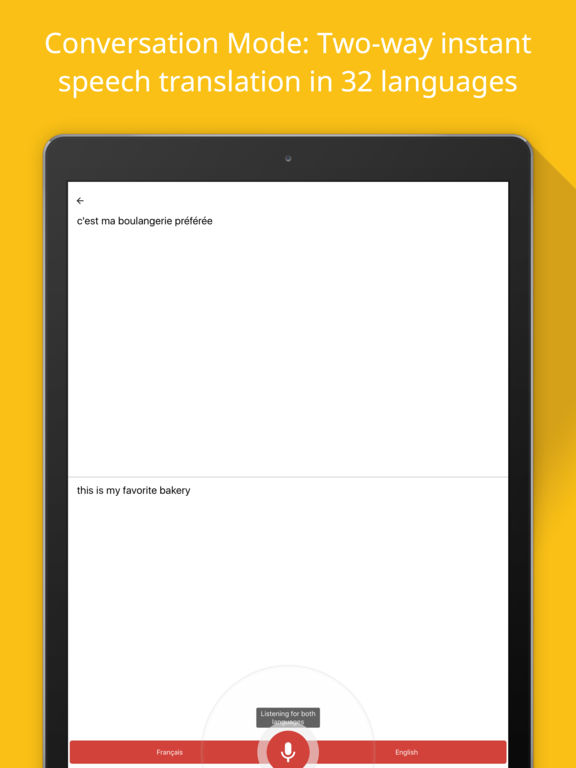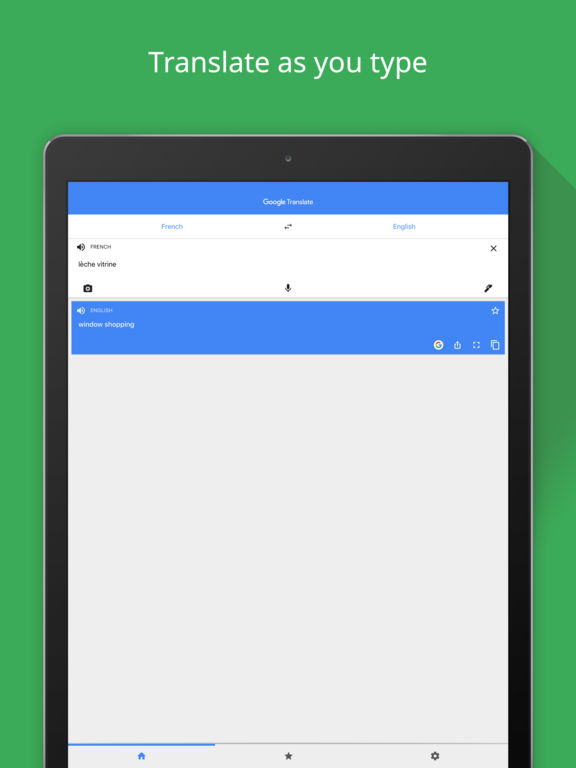 Reviews
Hate it
josh radford
on
6/25/2017
It doesn't sense reviled texts.
OK but don't translate any idiom to spanish
The app is okay but it awfully translates any idiom to Spanish. It makes de translations sloppy.
Great!
Fantastic -- Works great!!!
Imprescindible
No se puede estar sin el.
Great app
Works well and doesn't take up a lot of hard drive space.
Was Superior to Update
Video Ranger
on
6/22/2017
Now Japanese transliterations are no longer translated. All it returns is the transliteration. What a joke. Prior to update, it gave a translation.
Glitch?
Um I don't know yet
on
6/21/2017
The translated words disappear when I try to translate something
Most Recommended App!!
Twisted_MetaL547
on
6/20/2017
This app is the most recommended translator . It has many great features like translating by camera,,that's why I used this app for years . Google trying to make life easier .... *Many thanks and greetings from "IRAQ" .
Splendidly convenient
530CaliCreepHls
on
6/19/2017
I work with a lot of bilingual coworkers and some don't know a lick of English so this app makes life at work less secretive more aware and easier day by day.
A very useful app for my job!
I work in a nursing home where 90 percent of our residents are Chinese. This app helps me a lot especially working at night shift where no one can even help us to translate English to Chinese.Whoever made this app thank you so much. God bless!
DOTTO
DOTTO DOTTO DOTTO DOTTO DOTTO DOTTO DOTTO........
Excellent
iMLHSKJHSKJGSJKH1896
on
6/18/2017
Excellent
Indispensable!
I leave this app on almost all the time. I'm actively working on French very often, and I find this ad very useful. I think the best uses for someone who knows French fairly well and can discern whether a translation is accurate or not because I haven't found an app yet that can translate subtlety. But for every day translation, like when you forgotten the meaning of the word, it really is indispensable, especially since I don't think I paid anything for it! Thank you guys. This is really good work. Thanks a lot!
Love it 😍❤️
Best App Ever ⭐️⭐️⭐️⭐️⭐️
Terrible
nikolefain536
on
6/17/2017
I hate it it so stupid doesn't tell me the meaning just tells me the same word but with a stinkin accent!!!! 😡😡😡😡😤😤
Strongly recommended to use it for everyong
I really love it .
Excelente app
Muy buena herramienta de traducción 👌👌👌buenísima
Google Translate: Awesome!!!
I use it very often. It is great! Thanks!!!
Extremely helpful!
I communicate regularly with people from Columbia and Ukraine, and this translator is extremely helpful. You have to know how to use it correctly, and minimize the use of cultural references, slang, figures of speech and other words and expressions that it may not recognize. But, if you speak literally, it does a fantastic job of translating.
Review
Excellent app. Gives your formal translations in Spanish for example. So you come across as super smart 🤓
Please improve features
Scan photo feature doesn't work
👍🏻
Tomascanales
on
6/13/2017
Nicely done 👌🏻
Muy bueno
El mejor traductor asta ahora
Perfect every time
Perfect
Best translator app in the App Store
It's the official Google translation service. I can't believe it doesn't have more reviews on the App Store!
Best Translation App ever
Great app. Easy to use and excellent translations. Can not live without it.
🙂
Boomnfeatggds
on
6/11/2017
i love this app so much 😌❤️
Useful and helpful
Ammar Al Amri
on
6/11/2017
It is useful and helpful app that can help you around. However, still I have problem with Translate off line
Me encanta
rena de reinas
on
6/9/2017
Esta aplicación
Google translate
It is super app🙏🙏🙏
Good translation app
Zozo is your Angel
on
6/8/2017
A+
No it doesn't work for old phones
I have iPhone 4 this app used to work. Now when I HAVE to use it to speak and write Spanish it glitches and it says network error. I know that the app is wrong. On the other hand I used to use it and it worked fine.
A good idea
Add iMessage keyboard functionality so you can just access the translation in your iMessages without exciting the app.
Very powerful and useful tool!
ToonamiBeforeThe****
on
6/7/2017
Anyone traveling should have this app. It's really crazy to see it in action when using your camera
Very helpful!
Jennifer@China
on
6/7/2017
I use this app in different countries when I travel. Super helpful!
Eglish to brasil
After update you fuk the app thnk you
ĝi ne malbonas
mi uzas ĝin por koni, ke miaj mesaĝoj en esperanto povas esti tradukita bone. ĝi funkcias!
Great app
I have family over seas and do not know how to speak their language, now I can communicate and talk to them easily. Thanks Google!
The best!
Yep... just the best translator out there
Google error message when I try to update
Uses way more data and battery than competitors app, called iTranslate.
Asusual awesome product from google!
I have trying to translate from bengali to english.....and i am astonished! Just prefect. Thnk you google.
So far so good
Sneaky Badness
on
6/4/2017
And the Russian translations are more accurate than usual it seems
Needs some improvement
This app works OK for the most part the problem with it is that it does not translate some words correctly
Invaluable
GRASP in SONORA, CA
on
6/3/2017
It is just what I needed years ago when I lived in Italy for 2-1/2 years. During that time I had an interpreter too handy... That's a lousy excuse for my laziness.
no African languages!
footloosemary
on
6/3/2017
I thought I was going to be able to use this in Africa but they don't even have Swahili!
Fact Sheet
Publisher: Google, Inc.
Category: Reference
Released: Feb 08, 2011
Current Version Released: May 31, 2017
Version: 5.10.0
Size: 65.3 MB
Compatibility: Requires iOS 9.1 or later.
Recommended Age: 4+
Game Center Certified: No
Supported Devices: iPad2Wifi-iPad2Wifi, iPad23G-iPad23G, iPhone4S-iPhone4S, iPadThirdGen-iPadThirdGen, iPadThirdGen4G-iPadThirdGen4G, iPhone5-iPhone5, iPodTouchFifthGen-iPodTouchFifthGen, iPadFourthGen-iPadFourthGen, iPadFourthGen4G-iPadFourthGen4G, iPadMini-iPadMini, iPadMini4G-iPadMini4G, iPhone5c-iPhone5c, iPhone5s-iPhone5s, iPadAir-iPadAir, iPadAirCellular-iPadAirCellular, iPadMiniRetina-iPadMiniRetina, iPadMiniRetinaCellular-iPadMiniRetinaCellular, iPhone6-iPhone6, iPhone6Plus-iPhone6Plus, iPadAir2-iPadAir2, iPadAir2Cellular-iPadAir2Cellular, iPadMini3-iPadMini3, iPadMini3Cellular-iPadMini3Cellular, iPodTouchSixthGen-iPodTouchSixthGen, iPhone6s-iPhone6s, iPhone6sPlus-iPhone6sPlus, iPadMini4-iPadMini4, iPadMini4Cellular-iPadMini4Cellular, iPadPro-iPadPro, iPadProCellular-iPadProCellular, iPadPro97-iPadPro97, iPadPro97Cellular-iPadPro97Cellular, iPhoneSE-iPhoneSE, iPhone7-iPhone7, iPhone7Plus-iPhone7Plus, iPad611-iPad611, iPad612-iPad612, iPad71-iPad71, iPad72-iPad72, iPad73-iPad73, iPad74-iPad74,
Supported Languages: Albanian; Arabic; Armenian; Azerbaijani; Bengali; Bosnian; Bulgarian; Central Khmer; Catalan; Valencian; Croatian; Czech; Danish; Dutch; Flemish; English; Estonian; Finnish; French; Georgian; German; Greek; Hebrew; Hindi; Hungarian; Indonesian; Irish; Italian; Japanese; Kazakh; Korean; Lao; Latvian; Lithuanian; Macedonian; Malay; Malayalam; Mongolian; Nepali; Norwegian; Persian; Polish; Portuguese; Punjabi; Romanian; Moldavian; Russian; Serbian; Chinese; Sinhala; Sinhalese; Slovak; Slovenian; Spanish; Castilian; Swedish; Tamil; Thai; Chinese; Turkish; Ukrainian; Urdu; Vietnamese; Welsh;