Screenshots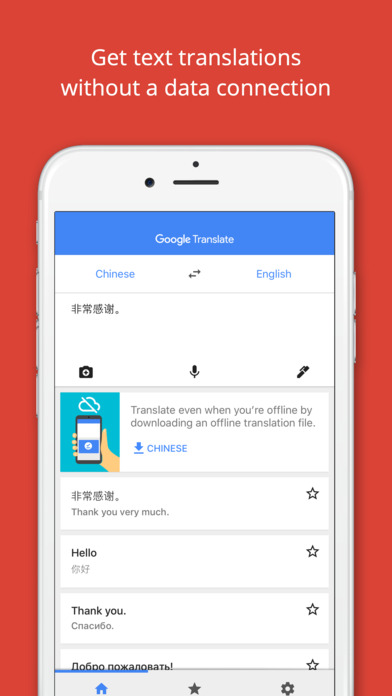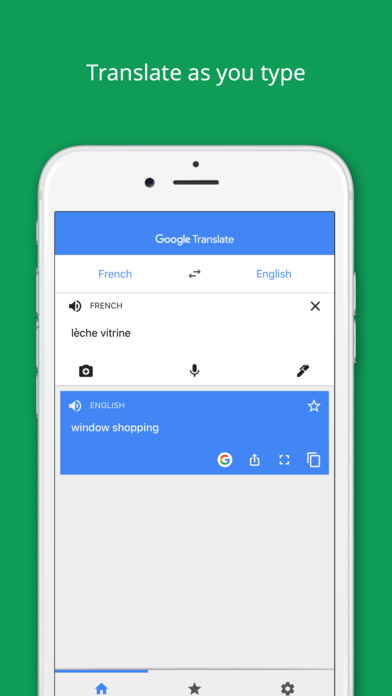 New in version 5.12.0
• Several bug fixes and usability improvements
Description
• Text translation: Translate between 103 languages by typing
• Offline: Translate with no internet connection (52 languages)
• Instant camera translation: Translate text in images instantly by just pointing your camera (30 languages)
• Photos: Take or import photos for higher quality translations (37 languages)
• Conversations: Translate bilingual conversations on the fly (32 languages)
• Handwriting: Draw text characters instead of typing (93 languages)
• Phrasebook: Star and save translated words and phrases for future reference (all languages)

Permissions Notice
• Microphone for speech translation
• Camera for translating text via the camera
• Photos for importing photos from your library

Translations between the following languages are supported:
Afrikaans, Albanian, Amharic, Arabic, Armenian, Azerbaijani, Basque, Belarusian, Bengali, Bosnian, Bulgarian, Catalan, Cebuano, Chichewa, Chinese (Simplified), Chinese (Traditional), Corsican, Croatian, Czech, Danish, Dutch, English, Esperanto, Estonian, Filipino, Finnish, French, Frisian, Galician, Georgian, German, Greek, Gujarati, Haitian Creole, Hausa, Hawaiian, Hebrew, Hindi, Hmong, Hungarian, Icelandic, Igbo, Indonesian, Irish, Italian, Japanese, Javanese, Kannada, Kazakh, Khmer, Korean, Kurdish (Kurmanji), Kyrgyz, Lao, Latin, Latvian, Lithuanian, Luxembourgish, Macedonian, Malagasy, Malay, Malayalam, Maltese, Maori, Marathi, Mongolian, Myanmar (Burmese), Nepali, Norwegian, Pashto, Persian, Polish, Portuguese, Punjabi, Romanian, Russian, Samoan, Scots Gaelic, Serbian, Sesotho, Shona, Sindhi, Sinhala, Slovak, Slovenian, Somali, Spanish, Sundanese, Swahili, Swedish, Tajik, Tamil, Telugu, Thai, Turkish, Ukrainian, Urdu, Uzbek, Vietnamese, Welsh, Xhosa, Yiddish, Yoruba, Zulu
iPad Screenshots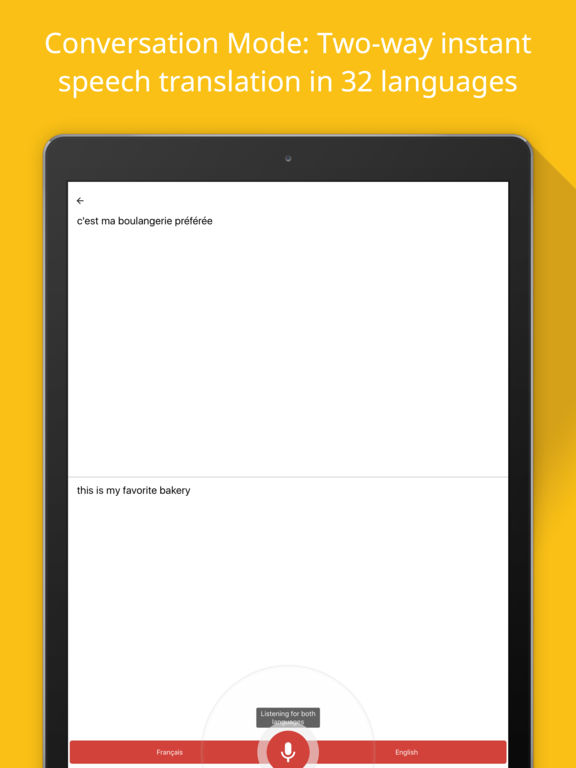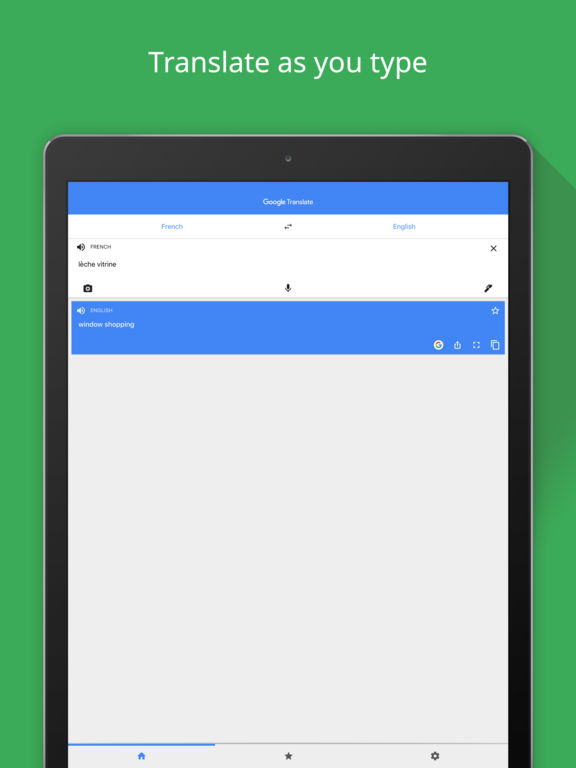 Reviews
Phrasebook needs improvement
1) IOS app cannot export starred items to text file or spreadsheet, nor will it let me copy the list. Should have some way to save phrasebook to another format. 2) phrasebook does not save pinyin. Otherwise this is very useful
It's ok
Smoshfangirl11
on
8/19/2017
So I want to learn Japanese so I'm thinking about getting a DS game that was only released in Japan it was a tomodachi life DS version not the 3DS one now I was watching a Japanese commercial of it on YouTube and pausing everytime the words came up it works pretty well but sometimes I'm not able to understand it. I'm always thinking about buying the animal crossing magnas but everytime I scan the title it can't read it so it works pretty good but it could do better also I don't like how they make u take a picture I'd rather have it scan the writing for u. But overall it's pretty good
ADD KURDISH (SORANI)
Shaza baxwae
on
8/18/2017
Please add new language kurdish (SORANI) pleasssssse 🤕
It could be way better
I use this app more than 20 times a day it has excellent translation but it should faster when you reinter the app takes long time to re-launch again and it's kindda disturbing when try delete the previous translated words to put new one
خدمه نفعت كثير من بالإعتماد بنفسه😍👍
نعمه بس محاسب علىيه
"Just" 5.11.0 version ⭐️⭐️⭐️⭐️⭐️
shahram@musician
on
8/17/2017
this version have problem, but the version before that NO. i love this app and i use of it always. please to tell me that, how can i going to the version befor.
This app works really well
Risingriverrecords
on
8/15/2017
You have to enter short sentences with the mic, but the results are accurate. Very nice.
Amazing.
I love this app so much. Definitely recommend to everyone. Keep up the good work.
Best translating app
Ishraque1994
on
8/14/2017
Must needed app
Best
Спасибо за качество! Просто пользоваться даже ребенку! развитие приложения тоже радует! 5/5/5
After latest update, APP won't work
Slot_Master_T9
on
8/14/2017
Don't update APP yet because I can't open APP after doing so. Please be advised.
best translate app BUT...
this needs to be an iOS extension, please bring to safari extension!!!!
Phrasebook syncing feature
Phrasebook syncing feature is missing!
While abroad on vacay
Excellent app. The trick for best results is to speak into the app. The translation is then more accurate.
Broken.
Older version worked so well. Half the time it works; half the time it does not. When I speak English it translate to Spanish. But I speak Spanish it translate to Spanish. Tried swapping "English to Spanish" to "Spanish to English" but no joy. Uninstalling.
Good
Y'all should add keyboard translation for it to be quicker
Best app ever
Greatest app ever created. It helped me tremendously in the Dominican Republic
Not what I hoped for.
Ok so I'm trying to learn how to translate Japanese language to English language, but I'm not sure if it's doing it correctly. I get words that aren't related to the topic, plus I hope to find an app where you put your tablet on a camera stand to translate the language you see on the tv screen to another language.
Google=Anti-Semitic(No Hebrew 2 English Translator)
All languages translate to English except Hebrew. That's very offensive and anti-Semitic. 🇺🇸Go on YouTube and watch "Zionist Project 3"
Diversity?
iCloud Strife
on
8/10/2017
Fire an employee for having a diverse opinion?? Delete this SJW garbage.
Its decent
Im currently learning german, so this is a good reference whenever im unsure with a word. However, it is only accurate 4/5 of the time. But they do offer a way where you can help translate for them. So don't take the translation it gives for granted.
Need to fix pinyin for Chinese
Previously, pinyin for Chinese expressions is automatically provided. Now it shows up only periodically. Please fix so pinyin is available for all entries. I prefer to learn pronunciation by seeing pinyin instead of pressing the 'speaker' button. Thank you.
Very useful App
I hope you upgrade this app , so that it would be more intelligent in translating .
Absolutely Fantastic - Absolutely Free
Why pay for iTranslate or similar apps where the download is free but require in app purchases to do you any good? I've been using this for almost 2 years - nothing better out there!!
Dialects
Bubblecocanuts
on
8/7/2017
It's an amazing app but needs more dialects. Based on asking Korean friends they all say that what the translated says it is a different dialect such as thank you- goma woyo 고마워요 I'm sorry Mian haeyo- 미안해요 and more and instead it says 고맙습니다 and 죄송 해요
No funciona con ios 11
No funciona con ios 11
Deleted
The Hawaiian Avenger
on
8/7/2017
Because it's google
I love it!
So helpful! And always there...easy to use
How to extract the whole words?
I have just one important sugestión I thing, it would be great if I can extract the whole words that I don't know in order to study later. The app doesn't do it.
ok
b8:e8:56:13:f2:80
on
8/6/2017
ok
Great App
I used this app for the first time when I had to communicate with spanish speaking contractorz. The conversation mode on the app helps to get the point across very quick and effectively. I will continue to use this app in the future.
Greatest app in my life.
Seung Min Yoo
on
8/5/2017
From august, I start to live in Shanghai without any knowledge of Chinese. With this app I can live well. Thanks google.
Lol
Plz no steal my nickname 1246
on
8/5/2017
えぐ = DECEARING EGG!!! xD
Best app ever
stawberrycrispycat
on
8/4/2017
This is the best translator app ever. I love it everyone should have this app 😍😍😍
Google Translate, the best
Use it on Google+ when someone posts in Russian and I will answer them back in Russian. Can't make the post fancy because it probably won't come out right. Keep it short and sentences will be right.
Google Translate saved her!
I have this app but I never imagined needed it before I actually went on a trip. A Japanese tourist arrived at my job in NJ absolutely terrified with a map of NYC and possessing very little command of the English language. I was able to quickly open the app, change the setting to "English to Japanese", and communicate with her. I typed the information in English and the app spoke the words in Japanese. This app is very accurate. We were able to help her get to her destination in NYC. Thank you!
Translation
Terrific, super good, so helpful, easy to use, & if you disagree you can offer or add a correction.....I suspect they "check it out" before they would make it official. Thank You G.T.. I recommend it to all.
Great App!! Road Warrior Approved
I live this app. Worked like a charm over seas typing entries or thru photos. The ultimate test is being told by locals that I got the translation correct. 5stars from a Road Warrior
Great app
I love this app great for learning new languages
Muy bueno
Chilefrito para el mundo
on
7/31/2017
Es una aplicacion muy Buena
Nice
February 7, 2012
on
7/30/2017
I use it for homework and for manga. Works great, no complaints
...
Hddgiurhophvsrukbse
on
7/30/2017
Japanese fetish porn, here I come!
Good
Qnsgfodjdmcispsm
on
7/29/2017
Ok not great but super good
"Filipino"
Country-music rocks
on
7/29/2017
I would like to point out that "Filipino" is NOT a language, it's an ethnicity. The main dialect in the Philippines is called Tagalog. Furthermore, some words in English come up to be the same in "Filipino" when they in fact are not the same. Ex. 'Grandpa' should translate to 'Lolo' which it does not. There also is no pronunciation voiceover so you can't hear what the words are supposed to sound like. These reasons bring down the value of the app and the entire google translate system as I'm sure these problems are not exclusive to one language.
Amazing
I learned French because of this app
LOVE It
Love it so munch
on
7/27/2017
This app is the best
Fact Sheet
Publisher:

Google, Inc.

Category:

Reference

Released:

Feb 08, 2011

Current Version Released:

Aug 07, 2017

Version:

5.12.0

Size:

61.1 MB

Compatibility:

Requires iOS 9.1 or later.

Recommended Age:

4+

Game Center Certified:

No

Supported Devices:

iPad2Wifi-iPad2Wifi, iPad23G-iPad23G, iPhone4S-iPhone4S, iPadThirdGen-iPadThirdGen, iPadThirdGen4G-iPadThirdGen4G, iPhone5-iPhone5, iPodTouchFifthGen-iPodTouchFifthGen, iPadFourthGen-iPadFourthGen, iPadFourthGen4G-iPadFourthGen4G, iPadMini-iPadMini, iPadMini4G-iPadMini4G, iPhone5c-iPhone5c, iPhone5s-iPhone5s, iPadAir-iPadAir, iPadAirCellular-iPadAirCellular, iPadMiniRetina-iPadMiniRetina, iPadMiniRetinaCellular-iPadMiniRetinaCellular, iPhone6-iPhone6, iPhone6Plus-iPhone6Plus, iPadAir2-iPadAir2, iPadAir2Cellular-iPadAir2Cellular, iPadMini3-iPadMini3, iPadMini3Cellular-iPadMini3Cellular, iPodTouchSixthGen-iPodTouchSixthGen, iPhone6s-iPhone6s, iPhone6sPlus-iPhone6sPlus, iPadMini4-iPadMini4, iPadMini4Cellular-iPadMini4Cellular, iPadPro-iPadPro, iPadProCellular-iPadProCellular, iPadPro97-iPadPro97, iPadPro97Cellular-iPadPro97Cellular, iPhoneSE-iPhoneSE, iPhone7-iPhone7, iPhone7Plus-iPhone7Plus, iPad611-iPad611, iPad612-iPad612, iPad71-iPad71, iPad72-iPad72, iPad73-iPad73, iPad74-iPad74,

Supported Languages:

Albanian; Arabic; Armenian; Azerbaijani; Bengali; Bosnian; Bulgarian; Central Khmer; Catalan; Valencian; Croatian; Czech; Danish; Dutch; Flemish; English; Estonian; Finnish; French; Georgian; German; Greek; Hebrew; Hindi; Hungarian; Indonesian; Irish; Italian; Japanese; Kazakh; Korean; Lao; Latvian; Lithuanian; Macedonian; Malay; Malayalam; Mongolian; Nepali; Norwegian; Persian; Polish; Portuguese; Punjabi; Romanian; Moldavian; Russian; Serbian; Chinese; Sinhala; Sinhalese; Slovak; Slovenian; Spanish; Castilian; Swedish; Tamil; Thai; Chinese; Turkish; Ukrainian; Urdu; Vietnamese; Welsh;