Screenshots
New in version 5.31
No big fixes in our latest update, just a few small bug fixes.

Rest assured, we are constantly improving our app to make it even better for travelers like you.

Thanks for all your great feedback - please keep it coming!
Description
Skyscanner is an all-in-one travel app with flights, hotels and car rentals, all in one place. Travel smarter with our app by instantly searching, comparing and booking cheap flights, hotels and car rentals anytime, anywhere. Independent, unbiased and completely free, we find you the best deals in seconds. Book your next trip with our award-winning, easy to use app brought to you by the world's travel search engine. Now available in over 31 languages.

*FIND CHEAP FLIGHTS
Easily find and compare the cheapest days and months to fly with our color-coded calendar and chart view.

*NO ADDED FEES
We don't charge any booking fees – so no hidden charges, just cheap flights.

*PRICE ALERTS
Never miss a deal. Get notified of any price changes for flights with automatic price alerts. Unsure of where you want to go?

*FREQUENT FLYER MILES
Earn frequent flier miles by booking via our app where applicable.

*TRAVEL INSPIRATION
Not sure where you want to go on your next trip? Get instant inspiration by selecting 'Everywhere' in the destination box and let us brighten your day with cheap flight prices to places around the world. You can also find the best deals from your nearest airport with our Top Deals feature.

*TAILOR YOUR TRIP
Narrow down your options: filter results by flight duration, airline, stops, travel class, departure and arrival times.

*SEARCH FOR HOTELS
Compare great hotel deals from hundreds of thousands of hotels, resorts, apartments and hostels. Find rooms near your current location. Even search last minute hotels for tonight. Just looking for inspiration? Search for hotels in all your top destinations and dig out some great deals.

*SEARCH FOR CAR RENTALS
Search the world's car rental companies in seconds. Choose from 30,000 airport or city locations, then filter by vehicle type, fuel type and features to find the car you want at the right price. What's more, our Fair Fuel Policy flag will make sure you don't get ripped off on fuel.

*BROWSE RECENT SEARCHES
Look at your recent flight and travel searches straight from your home screen, and quickly pick up where you left off.

*SEARCH HASSLE-FREE ACROSS DEVICES
Log in to sync your flight searches and price alerts across all your devices - phone, tablet and desktop - so you can plan your trip anytime, anywhere.

*NO ADDED FEES
No booking fees or hidden charges, just the best prices on flights, hotels and car rentals.

*AWARDS
New York Times, Travel Planning Apps Reviews
Webby Awards, Best Travel App Nominee.
Appy Awards, Best Travel App.
Refinery29, Best Hacks for Flings a Cheap Flight.
TimeOut, Best Travel Apps.
Utilities & Services: Tablet, The Lovie Awards 2012.

*Discover more travel tips, tricks and inspiration by following our blog: https://www.skyscanner.com/tips-and-inspiration
iPad Screenshots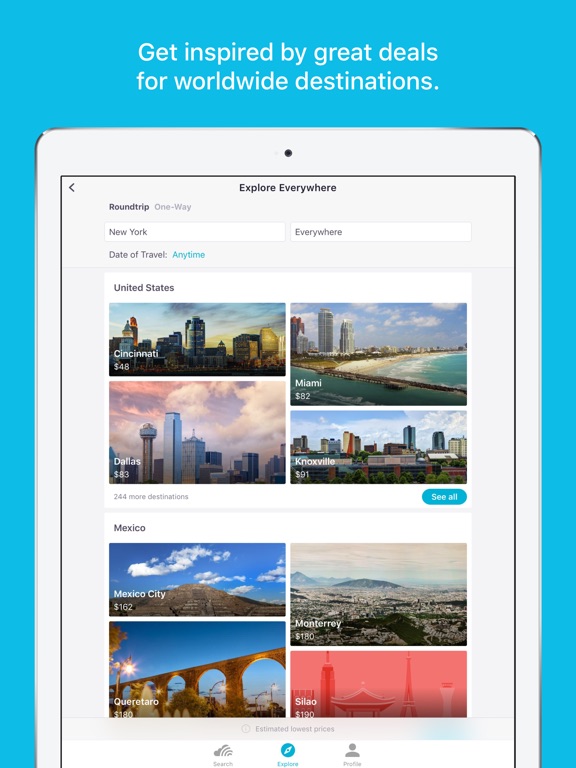 Reviews
Needs new feature
snapapotamous
on
11/17/2017
Please allow option so search multiple locations for departure and arrival in same search.
Best app for Low cost airlines in Asia
All the major airlines such as Jetstar, AirAsia, tiger, scoot are on this app which is great
Great air travel app
Presents results in a very easy to understand format, and very flexible.
Deceitful, elusive and liar app
Haytham Osman
on
11/12/2017
It's not a frank app about the flight prices, it gives you fake prices then when you click on the fake price which is usually low price a new window takes you to a higher price. It's very bad app and it liar, elusive, shifty! Devious and deceitful.
Disappointment!
I was really liking this app until I miss a really great deal! It says it has a price alert but IT IS NOT WORKING! I trusted that it'll warn me so I waited for a little while but when I was finally ready to book, it was almost twice its price. One star is for the "explore" option.
Very helpful
I don't have to hop around to all Airlines and a lot of Airlines show up here but not other apps.
Best Flight App Ever!
If there was a price guarantee it would be even better.
Where upgrades make things worse
Used to be a good app. Used to be able to search a departing airport to 'everywhere' and get the cheapest flights in order of price. Now you have to look specifically at each country, not knowing which is cheapest no matter country.
Crashes
Update this app. Completely unusable
Excellent APP
It's very useful and friendly used.
Easy and convenient!
Morganicolex3
on
11/5/2017
Provided me with all the details I needed in a simplified way. Got the cheapest flight I could have imaged. A+!
Rip off
I made a reservation for a trip 3 months in advance and paid for it upfront. A couple of weeks later I called back to make changes to it. Due to changes outside of my wonderful, the wedding I am attending changed venues. I called to make changes to my reservation. Not only was I reminded that my reservation was nonrefundable, but when I tried to change the destination of it I was being charged over $1500. It was explained to me that this was the total fo change penalties, plus the fare difference on the new destination. I checked the fares to the new destination before I called and they were cheaper than my original destination so I am not sure how they came up with this number!
Super fast and efficient
Awesome App !
Bad with updating prices
I like the app because it compares all airlines. The only downfall is it does not push alerts when prices change. You have to physically go in and recheck everyday. Even if you have a flight on watch. Disappointing
What happened to the graph view?
I love, love, love this app and have recommended it time and time again but my favorite part was the graph view and with the new update I don't see how you can check fares using a graph. Hope you bring it back!
Worst booking experience ever
The rates in the app were incorrect. Actual fares were almost double. I booked a hotel first, only to find that the airfare was unaffordable. Now I have to cancel the hotel reservation. Vacation cancelled. Be very careful when using this app. In fact, don't use it at all.
رائع لكن لو تضاف اللغة العربية للمؤلف
مسفر السهيمي
on
11/3/2017
تطبيق جميل جدا
Amazing app
Very amazing app and very useful
Mejorar
El orden al hacer la reserva y poner la hora local relacionada con la hora de llegada al destinatario
Did it lose its best feature?
Tom1253378dfytdst
on
11/1/2017
Nice app, but where is the feature that shows cheapest flights across different sets of dates? Also, the calendar shows prices for each month, but no way to click to reveal actual itinerary...Lastly, many of your prices are just not available even seconds after being shown
Great service
I really used it frequently to reserve my reservation and always find them the lowest
Slow and clunky
The older version was nice, but the latest version is slow bloatware. For example, when you click flights, it remembers your old search and immediately does it again. I wish I could revert it.
App crashes
I love using skyskcanner for all my flights but this app keeps crashing on me!
AWESOME APP!!😁👍🏼
Lowest prices the awesomest most amazing useful app ever!!!!👍🏼👍🏼👍🏼👍🏼👍🏼👍🏼😁😁
Great
Def a great tool for travelers. I would recommend
Fantastic
I love the app it always gives me an overview of the lowest prices and options been using it for years never had a problem, Quick and easy to use
The price
fisnikmshkup
on
10/28/2017
You're app was great before no one could beat you in price. Now you're bad very bad
La mejor app de vuelos que he probado
santilinares02
on
10/27/2017
Realmente encuentras los vuelos mas baratos y tienes la info completa, Excelente.
Watch out
Just got hit with the bait and switch. Will not use this site again.
chart
the ability to view the chart with the filters in place would be great thank yoi
Super Easy
This site is so easy to use and versatile. You can make modifications in seconds for multiple options.
اقل الأسعار
Touna bubbles
on
10/24/2017
عن تجربة أحسن وأقل الأسعار
Excellent Application ❤️
Ramy abdelfattah
on
10/22/2017
Best application you can find good deals
Prices
Price are different
Excellent, no further comments needed!
I am using SkyScanner for many years, every year it gets better. It is my "go to" app when I need to book a flight.
Scared to use vendors
I see great prices then find they are from third party companies with really awful reviews. So what point of a price alert if you can't trust vendor? Check out the hop2 reviews. Scary!
Lost functionality
Please bring back the cheapest prices based off days instead of just one cheapest price UPDATE: they brought back flexible dates for up to 3 months then took it back when I looked today, not sure why it comes and goes
Great app!
Love this app. It's truly a Time saver.
Not a fan of the update
Update 2 10/18/17. I am no longer given several cheap flight options. Only a calendar showing average return prices by month. What happening? App look and information keeps changing Updated: seems the cheapest flight information is back. Not only does the app provide the cheapest flight it provides several other cheap flight options. ORIGINAL REVIEW: This used to be my go to flight app. But the update has definitely changed that. Where are the multiple flight options that we used to get from the explore button. All we get now is the cheapest flight and the average price by months. This is not a good update.
Saved me thousands$$$$$
Best app for searching flights hands down
YAAAAAAAS!!
ModelesqueDivo
on
10/19/2017
I LOVE IT!
Like it and use it
🙌🏼🙌🏼🙌🏼
No competition
Fav malfunction
on
10/18/2017
This app is the greatest flight booking app on the market. Even if the location you want to fly to is expensive, the Explore option give you much better opportunities to travel to different places. The prices are amazingly cheap (compared to other apps) and the service is A+. Will keep using for a long long time
Recommendation to SkyScanner
I love this app. I use it for 99% of my flying when o travel both in the US and Europe/Asia. I definitely recommend this app to everyone who flys a lot and likes to travel. If SkyScanner sees this review I have a recommendation for improvement!!!! **ADD a Flexible date option** when choosing to travel, like the feature Kayak uses on their website. I don't like Kayak.com but I do like that feature. An example would be you put in your destinations and then choose flexible days or months and input the amount of days you wish to travel. That way if someone like myself wants to travel for a 28 days but doesn't care when the dates are, the app will show me the cheapest days to leave and return whether it be all in one money or multiple.
Bait and switch
Every time I finish putting in my information I get a message saying the flight isn't available. Happened every time, then the price would increase.
Last update fail
Prizepatrol123
on
10/17/2017
The last update caused the names of the destination countries and cities no longer to appear in explore mode.
Good app but...
The app doesn't have the flexible dates (+/- 3 days) when searching
Great App!!
Ms.JacksonIsADiva
on
10/17/2017
Great App! Always sources the lowest and best prices for travel
Fact Sheet
Publisher:

Skyscanner Limited

Category:

Travel

Released:

Feb 17, 2011

Current Version Released:

Nov 13, 2017

Version:

5.31

Size:

116.9 MB

Compatibility:

Requires iOS 9.0 or later.

Recommended Age:

4+

Game Center Certified:

No

Supported Devices:

iPad2Wifi-iPad2Wifi, iPad23G-iPad23G, iPhone4S-iPhone4S, iPadThirdGen-iPadThirdGen, iPadThirdGen4G-iPadThirdGen4G, iPhone5-iPhone5, iPodTouchFifthGen-iPodTouchFifthGen, iPadFourthGen-iPadFourthGen, iPadFourthGen4G-iPadFourthGen4G, iPadMini-iPadMini, iPadMini4G-iPadMini4G, iPhone5c-iPhone5c, iPhone5s-iPhone5s, iPadAir-iPadAir, iPadAirCellular-iPadAirCellular, iPadMiniRetina-iPadMiniRetina, iPadMiniRetinaCellular-iPadMiniRetinaCellular, iPhone6-iPhone6, iPhone6Plus-iPhone6Plus, iPadAir2-iPadAir2, iPadAir2Cellular-iPadAir2Cellular, iPadMini3-iPadMini3, iPadMini3Cellular-iPadMini3Cellular, iPodTouchSixthGen-iPodTouchSixthGen, iPhone6s-iPhone6s, iPhone6sPlus-iPhone6sPlus, iPadMini4-iPadMini4, iPadMini4Cellular-iPadMini4Cellular, iPadPro-iPadPro, iPadProCellular-iPadProCellular, iPadPro97-iPadPro97, iPadPro97Cellular-iPadPro97Cellular, iPhoneSE-iPhoneSE, iPhone7-iPhone7, iPhone7Plus-iPhone7Plus, iPad611-iPad611, iPad612-iPad612, iPad71-iPad71, iPad72-iPad72, iPad73-iPad73, iPad74-iPad74, iPhone8-iPhone8, iPhone8Plus-iPhone8Plus, iPhoneX-iPhoneX,

Supported Languages:

Arabic; Bulgarian; Catalan; Valencian; Croatian; Czech; Danish; Dutch; Flemish; English; Finnish; French; German; Greek; Hindi; Hungarian; Indonesian; Italian; Japanese; Korean; Malay; Norwegian; Bokmål, Norwegian; Norwegian Bokmål; Polish; Portuguese; Romanian; Moldavian; Russian; Chinese; Slovak; Spanish; Castilian; Swedish; Thai; Chinese; Turkish; Ukrainian; Vietnamese;