Screenshots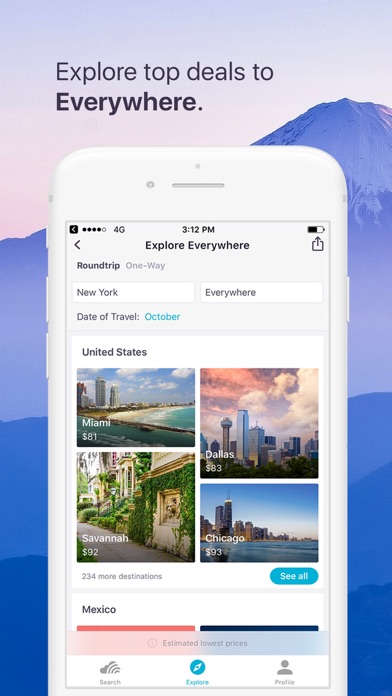 New in version 5.27.1
We've created some new features for you using the enhanced functionality of iOS 11.

- Login to Skyscanner without the hassle. Access your saved username and password simply from the QuickType bar on the keyboard.

- Compare your favorite flights by dragging them to the bottom of the screen, one by one or all together.

- Notifications filter. Now you can choose which notifications you want to get from us, and which you don't. Choose inspirational travel ideas or deals and offers. Or both. Or none!

Please keep sending us your feedback. Our app is made by travelers for travelers like you and your comments help us make it better.
Description
Skyscanner is an all-in-one travel app with flights, hotels and car rentals, all in one place. Travel smarter with our app by instantly searching, comparing and booking cheap flights, hotels and car rentals anytime, anywhere. Independent, unbiased and completely free, we find you the best deals in seconds. Book your next trip with our award-winning, easy to use app brought to you by the world's travel search engine. Now available in over 31 languages.

*FIND CHEAP FLIGHTS
Easily find and compare the cheapest days and months to fly with our color-coded calendar and chart view.

*NO ADDED FEES
We don't charge any booking fees – so no hidden charges, just cheap flights.

*PRICE ALERTS
Never miss a deal. Get notified of any price changes for flights with automatic price alerts. Unsure of where you want to go?

*FREQUENT FLYER MILES
Earn frequent flier miles by booking via our app where applicable.

*TRAVEL INSPIRATION
Not sure where you want to go on your next trip? Get instant inspiration by selecting 'Everywhere' in the destination box and let us brighten your day with cheap flight prices to places around the world. You can also find the best deals from your nearest airport with our Top Deals feature.

*TAILOR YOUR TRIP
Narrow down your options: filter results by flight duration, airline, stops, travel class, departure and arrival times.

*SEARCH FOR HOTELS
Compare great hotel deals from hundreds of thousands of hotels, resorts, apartments and hostels. Find rooms near your current location. Even search last minute hotels for tonight. Just looking for inspiration? Search for hotels in all your top destinations and dig out some great deals.

*SEARCH FOR CAR RENTALS
Search the world's car rental companies in seconds. Choose from 30,000 airport or city locations, then filter by vehicle type, fuel type and features to find the car you want at the right price. What's more, our Fair Fuel Policy flag will make sure you don't get ripped off on fuel.

*BROWSE RECENT SEARCHES
Look at your recent flight and travel searches straight from your home screen, and quickly pick up where you left off.

*SEARCH HASSLE-FREE ACROSS DEVICES
Log in to sync your flight searches and price alerts across all your devices - phone, tablet and desktop - so you can plan your trip anytime, anywhere.

*NO ADDED FEES
No booking fees or hidden charges, just the best prices on flights, hotels and car rentals.

*AWARDS
New York Times, Travel Planning Apps Reviews
Webby Awards, Best Travel App Nominee.
Appy Awards, Best Travel App.
Refinery29, Best Hacks for Flings a Cheap Flight.
TimeOut, Best Travel Apps.
Utilities & Services: Tablet, The Lovie Awards 2012.

*Discover more travel tips, tricks and inspiration by following our blog: https://www.skyscanner.com/tips-and-inspiration
iPad Screenshots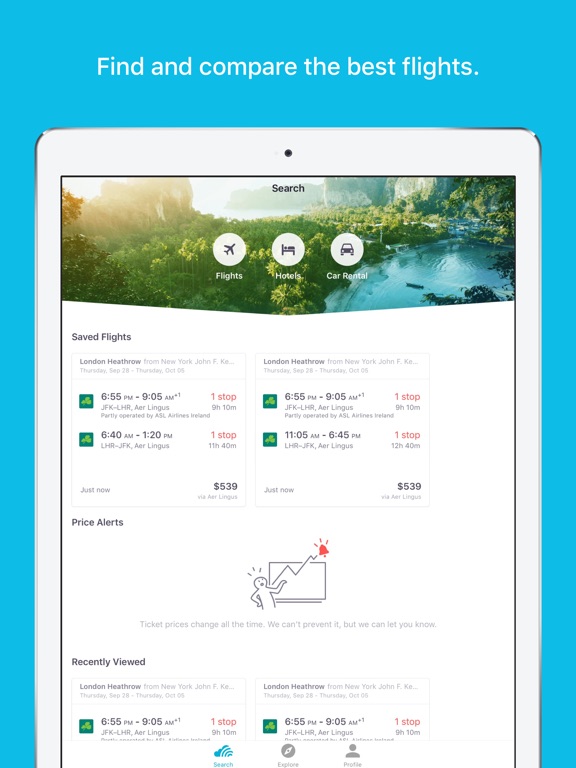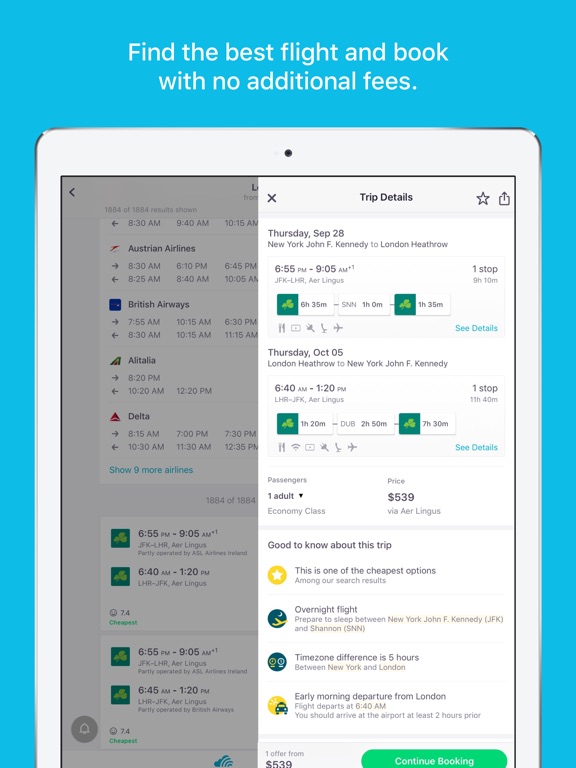 Reviews
Great place to find best flights
It does what it actually says and it scans for the best flights. Simple to use and easy to check out. Simple and clear.
Average app
I've had the app on my phone for a while in hopes one day I'll find a good travel deal. Haven't yet!
New Update is AWFUL
I used to really and I mean really love this app. You could go to the explore tab pick a place and it would give your a variety of flight options by number of days you wanted to travel. Now there's only one option they give you as "cheapest" and then they list the average price in that month with no other flight options. I wish I could un-upgrade this app so I can continue booking flexible trips instead of by strict dates. Someone help!
Best Options!
Best prices! It's a great app and I use it every time I travel.
Don't Book a Trip Without Using Skyscanner
powerboned_drugfree
on
9/25/2017
The best from my experience! A+++++
Nice
This app stopped working all together after an update a while back and I stopped using it. But I'm happy to say it's working again and just as great as before!
Ice cream app
I love ice cream and this app
Love this easy app!
Canyon Craft Co
on
9/24/2017
We use it all the time and it's so easy to navigate.
The best!!!!
Nickname leo
on
9/23/2017
Love the fact that it gives you a lot of options!!
Doesn't show plane type in results
Nobueno_7294926
on
9/23/2017
Selecting plane type is important for both short and long haul flights. Why omit this information?
Love Love Love Skyscanner!
I have been traveling a lot and don't have time to constantly check airfare for my travels...but Skyscanner does!
Lost functionality
Please bring back the cheapest prices based off days instead of just one cheapest price
Great simply great
The Taxpayer
on
9/22/2017
Works very well. Provides great flight options and prices. Also finds flights that other apps do not. My new favorite app for finding flights.
Great
Cocoliso3419
on
9/22/2017
Great app
A big help!
Moose girl 1213333
on
9/22/2017
This app has been such a big help trying to figure out the best month and destination for our next family vacation!
Life saver
Cutiesakeepa
on
9/22/2017
I don't go on a trip without stalking this app first
Amazing
Ecointernet2002
on
9/22/2017
Incredible
My super Hero
Excelente! 😎
Best one our there
Buakleb17388
on
9/21/2017
I travel overseas a lot. This app has helped me find the best price every single time. Very easy to use.
Best Travel App
I use Skyscanner every time I am looking to travel. Very convenient and easy to use. Forget going through hundreds of sites searching for the best prices, they show you all the options with the click of a button. I always buy my flights through them.
Easy to use & very useful!
This app is easy to use to help me find cheap places that I can travel all over the world. My favorite function is where I can put where I want to fly out of and I get to see the map of the globe to see average prices to destinations from my city.
Review# =}
Very helpful !
Great App
Easy to use. Best feature is flight notifications.
ابو فهد
موقع ممتاز 👍🏼
on
9/21/2017
برنامج رائع جدا 👍🏼💐
Extremely useful
I really like the price comparison by different dates chart thing. Makes it easy to capitalize on flexible vacation days.
Love the app
It has cheep flight to Europe
GREAT!
It's wonderful and convenient, very legible, and I like that you can save flights that your not quite ready to book yet.
Very godo
HenrrydobleR
on
9/20/2017
Excelent....
Outstanding app
Skyscanner is awesome. It is always dependable to give me a comparative quote and often the most cost effective one. Thank you Skyscanner.
Very User Friendly
Very User Friendly App. I found this app gave more flight options then the other apps. It's also very user friendly Highly recommend
Fantastic!
I might be that guy
on
9/20/2017
Easiest way to look for the best price of a flight. Definitely way better than Expedia and the other travel sites.
Best app ever
Ghazi1000001
on
9/20/2017
Best app I've tried ever
Smart apps
Smart fast wonderfully saving time
Love This Ap
Super easy to use. Was able to book multi-city, international flights-ALL Business Class, and at about 30% lower cost compared to AmEx, Orbitz, Kayak. Will absolutely make this my #1 air purchase ap.
Love the convenience
I love that I can plug in my information & just wait for notifications. A blessing!
Great For Finding Low Fare Options!
Buzzkill040403
on
9/19/2017
Great For Finding Low Fare Options!
So useful!
Tigerlily 115
on
9/19/2017
I can't believe it took me this long to find this. Europe here I come!
Extremely useful
Skyscanner makes searching for flights easy. I preferred a previous version, but they've updated this one enough and made it more user friendly.
Skyscanner
Наверное это лучшее из того что есть. Удобно, понятно, быстро. Из негатива - небольшое кол-во авиакомпаний, и практически полное отсутствие поиска по дешевым лоукостам (wizzair, rainair ...)
Excellent
The app works well, just don't be too greedy, as sometimes the prices go back up!!
Superb app - easy to use and Fast!
Sivakumaran S
on
9/18/2017
Easy to use and compare the price and apply the filter as you wish, reloads the information fast!!
User Friendly
easy to use
Love it!
@_thosenineboys_
on
9/18/2017
I found my flight for much cheaper than any other site/app here with just the click of a button! It's super clear about flight details and layovers and there's even a helpful tip section special to the flight you're looking at :)
I use all the time!
I always check here first! It's my one stop shop. I booked my last few trips here. Easy Breezy!!
Fantastic! Skyscanner $ > Kayak $
I can find the best prices with such ease, & get alerted with the ability to WATCH A FLIGHT! Oh & delete browsing history! I'm still trying to figure out if there is a way to do this, without picking a specific airport and instead a mile radius of multiple departure options.
Works great
Works great. So far I love it.
Love it!
BrooklynFinn
on
9/17/2017
I love it!
My favourite flights app!
Skyscanner has been for many years my to go app when it comes to finding the best and cheapest flights. I love it.
Fact Sheet
Publisher:

Skyscanner Limited

Category:

Travel

Released:

Feb 17, 2011

Current Version Released:

Sep 18, 2017

Version:

5.27.1

Size:

113.2 MB

Compatibility:

Requires iOS 9.0 or later.

Recommended Age:

4+

Game Center Certified:

No

Supported Devices:

iPad2Wifi-iPad2Wifi, iPad23G-iPad23G, iPhone4S-iPhone4S, iPadThirdGen-iPadThirdGen, iPadThirdGen4G-iPadThirdGen4G, iPhone5-iPhone5, iPodTouchFifthGen-iPodTouchFifthGen, iPadFourthGen-iPadFourthGen, iPadFourthGen4G-iPadFourthGen4G, iPadMini-iPadMini, iPadMini4G-iPadMini4G, iPhone5c-iPhone5c, iPhone5s-iPhone5s, iPadAir-iPadAir, iPadAirCellular-iPadAirCellular, iPadMiniRetina-iPadMiniRetina, iPadMiniRetinaCellular-iPadMiniRetinaCellular, iPhone6-iPhone6, iPhone6Plus-iPhone6Plus, iPadAir2-iPadAir2, iPadAir2Cellular-iPadAir2Cellular, iPadMini3-iPadMini3, iPadMini3Cellular-iPadMini3Cellular, iPodTouchSixthGen-iPodTouchSixthGen, iPhone6s-iPhone6s, iPhone6sPlus-iPhone6sPlus, iPadMini4-iPadMini4, iPadMini4Cellular-iPadMini4Cellular, iPadPro-iPadPro, iPadProCellular-iPadProCellular, iPadPro97-iPadPro97, iPadPro97Cellular-iPadPro97Cellular, iPhoneSE-iPhoneSE, iPhone7-iPhone7, iPhone7Plus-iPhone7Plus, iPad611-iPad611, iPad612-iPad612, iPad71-iPad71, iPad72-iPad72, iPad73-iPad73, iPad74-iPad74,

Supported Languages:

Arabic; Bulgarian; Catalan; Valencian; Croatian; Czech; Danish; Dutch; Flemish; English; Finnish; French; German; Greek; Hindi; Hungarian; Indonesian; Italian; Japanese; Korean; Malay; Norwegian; Bokmål, Norwegian; Norwegian Bokmål; Polish; Portuguese; Romanian; Moldavian; Russian; Chinese; Slovak; Spanish; Castilian; Swedish; Thai; Chinese; Turkish; Ukrainian; Vietnamese;