Recommended app!
App last updated
Mar 14, 2018
Screenshots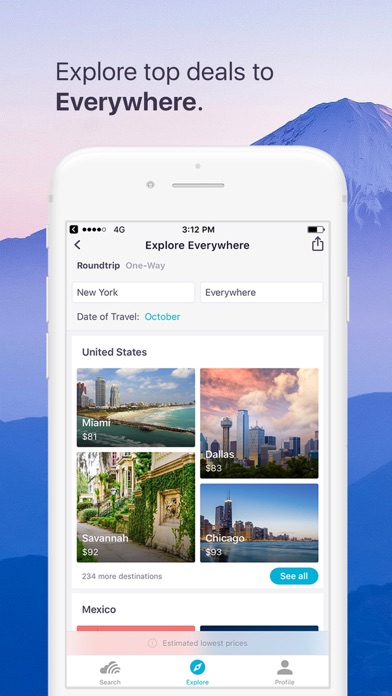 New in version 5.39
In this version:
- We've tweaked signing up to make it faster
- No more big news; we tidied up some code and tried out a new pizza place. Where did the week go?
- We know you're busy, but please keep your feedback coming - it brightens up our day.
Description
Skyscanner is an all-in-one travel app with flights, hotels and car rentals, all in one place. Travel smarter with our app by instantly searching, comparing and booking cheap flights, hotels and car rentals anytime, anywhere. Independent, unbiased and completely free, we find you the best deals in seconds. Book your next trip with our award-winning, easy to use app brought to you by the world's travel search engine. Now available in over 31 languages.

*FIND CHEAP FLIGHTS
Easily find and compare the cheapest days and months to fly with our color-coded calendar and chart view.

*NO ADDED FEES
We don't charge any booking fees – so no hidden charges, just cheap flights.

*PRICE ALERTS
Never miss a deal. Get notified of any price changes for flights with automatic price alerts. Unsure of where you want to go?

*FREQUENT FLYER MILES
Earn frequent flier miles by booking via our app where applicable.

*TRAVEL INSPIRATION
Not sure where you want to go on your next trip? Get instant inspiration by selecting 'Everywhere' in the destination box and let us brighten your day with cheap flight prices to places around the world. You can also find the best deals from your nearest airport with our Top Deals feature.

*TAILOR YOUR TRIP
Narrow down your options: filter results by flight duration, airline, stops, travel class, departure and arrival times.

*SEARCH FOR HOTELS
Compare great hotel deals from hundreds of thousands of hotels, resorts, apartments and hostels. Find rooms near your current location. Even search last minute hotels for tonight. Just looking for inspiration? Search for hotels in all your top destinations and dig out some great deals.

*SEARCH FOR CAR RENTALS
Search the world's car rental companies in seconds. Choose from 30,000 airport or city locations, then filter by vehicle type, fuel type and features to find the car you want at the right price. What's more, our Fair Fuel Policy flag will make sure you don't get ripped off on fuel.

*BROWSE RECENT SEARCHES
Look at your recent flight and travel searches straight from your home screen, and quickly pick up where you left off.

*SEARCH HASSLE-FREE ACROSS DEVICES
Log in to sync your flight searches and price alerts across all your devices - phone, tablet and desktop - so you can plan your trip anytime, anywhere.

*NO ADDED FEES
No booking fees or hidden charges, just the best prices on flights, hotels and car rentals.

*AWARDS
New York Times, Travel Planning Apps Reviews
Webby Awards, Best Travel App Nominee.
Appy Awards, Best Travel App.
Refinery29, Best Hacks for Flings a Cheap Flight.
TimeOut, Best Travel Apps.
Utilities & Services: Tablet, The Lovie Awards 2012.

*Discover more travel tips, tricks and inspiration by following our blog: https://www.skyscanner.com/tips-and-inspiration
iPad Screenshots
Reviews
Shady travel agencies it recommends!!!
Nothing wrong with the app itself. The problem lies with the shady travel agencies it suggests - a lot of them operating from either Eastern Europe or India. And that's for regardless where the flights are to and from. I am never going to use this site or app again after having had several issues with the travel agencies it recommended while purchasing ticket. When the call is routed to Eastern Europe you know that any changes to the ticket whether airlines charges or not they want hefty change fees. And if the it's an Indian agency they want to "verify" your credit card even after the ticket issuance by having to divulge credit card and passport info again (usually by sending actual pictures of the stuff) - archaic and obnoxious!!! Screw this - buy from the airline site directly - prices are lower or at worst the same - who need this app!!!
Awesome!!!
Great app, easy to use!
Great way to fly
Simple and easy with best results
Not so hot
Just checking this site out for the first time. When I click on an expensive flight, upon further investigation: those fares are not available. Also when adding my flights a few times I have gotten the response "Hmm...cannot find that flight in our database" (These are correct & legitimate flights I am already booked on!)
Unreliable prices
I have been using this app to book my flights for a while, and it used to work perfectly. Good procedure, clear comparisons and a friendly interface. Lately, after searching for a flight, the prices shown first are way different then real prices when I continue booking. The price doubles after hitting "continue booking". Very unreliable.
Great site.
Constantly sends alerts.
Cumbersome
Talking Santa
on
3/12/2018
Can't save preferences. Changing airports is cumbersome. Design is lacking.
Super Helpful!
Supersmashlink17
on
3/10/2018
I never book directly through Skyscanner, but they always offer accuracy and reliability on price when booking through the airline. They make it easy and simple to watch flights and prices and I've not been disappointed so far!!
Love this app
jenthetravelhacker
on
3/8/2018
I recently discovered this app and am happy with the search results. I see airlines that I don't see on some of my other flight alert apps
Awesome app
This is an awesome app that gets to the deals that I don't see sometimes on google flights. This is a staple for my travel hacking needs.
Very-good one
good one , you can get the best price with reviews!!
Easy and perfect
Easy interface, simple, and perfect. I can come here and book a flight in less than 5 minutes total THROUGH the actual carrier's website (which usually enables you for perks you wouldn't get if you purchased via third party). I love this app and always recommend to friends. Will use for a long time. Thank you!!!
I wish the price alerts provided more data at a quick glance
Kiki teh awesome
on
3/6/2018
I wish that the price alerts on the iPhone app were more similar to the android app. I am tracking flights to the same location at different dates, but I cannot tell the difference between the flights. It just tells me what airports I'm traveling between. I have three alerts that all look the same, so I have to click each alert to find out the dates or prices
Helpful and reliable
Definitely a quality app with quick tech responses and a wonderful user interface. I have booked about 4 flights through SkyScanner and I definitely recommend it to all of my friends!
Very helpful!
Found a much better price for same flight and car rental! Thanks!
App unable to continue updating all flights
Baby says Saggy balls
on
3/1/2018
App unable to continue updating all flights App not able to send alert when price drops. App unable to tell you you to wait for a cheaper fare.
Increase passengers from 8 to 20?
How about increasing number of passengers to 16?
Great app
It's #1 app for all my bookings I really love this app Hope everyone ok after the fire alarm ...☺️ Keep up the good work
Excelente App muy recomendable
Segura, rápida y muy eficiente
Wow!
why cant I use the all!!
on
2/26/2018
Well, until the end of time we'll probably never get a perfect app, but this is pretty darn good! It'll show me a list of prices, but also show me how good the deals are for the price. It makes shopping for flights and other deals much easier that way, since i don't have to guess if it's gonna be a long layover or a quick stop and go. I like Skyscanner, and I recommend it to all of my friends looking to travel.
Way better than Orbitz/Expedia
This is a great, simple app that will actually save you money. It avoids the terrible customer service of the Orbitz/Expdia/Travelocity conglomerate. Very simple look and organization of fares.
Review
doedollakash
on
2/24/2018
Anytime I've traveled my flights have always been booked through Skyscanner it's the only way to go
Shockingly good
Been aware of the website forever but haven't used it in a long time and never needed the apps (usually use website etc). So currently with new flight Ike's and booking multiple flights for a trip I downloaded this just to see what's new. So.. um, wow. For flights, super smooth and fast. Searches flights ASAP. Can sort quickly and accurately as well. Notifies you before you have to jump to website to buy if this is a flight where you have to make your own connection in red. Shows clearly the bulletin points to be aware of for the flight (ex, overnight flight, long layover u might need a hotel, short layover, everything you might be overlooking!) Refreshes so smoothly and quickly and accurately. I even did some crazy multiple destination flights and it did it just as smoothly as well. Later before booking the Airbnb for part of my trip I decided to look it up on this app. And it found the apartment and showed me all the various websites where I can buy it (so it gave me additional info to variety the listing), but I will be coming back to it to confirm prices for big name hotels etc. so for hotels it's very good but for flights right now it's basically amazing.
Exceptional!!
Easy to use and super fast.
Crashing
Crashing like crazy. Glitchy
The best travel app
Every time I travel, I book through Skyscanner, love the website 👍👍
listed fares are often not up to date and wrong.
i have much better results with skiplagged and momondo. heck, even fareness.com is more up to date with bargains. long gone are the days when skyscanner was relevant much less essential.
:)
Aaanaaaaaaaa
on
2/19/2018
Great
Just booked my next trip
Charliemproductions
on
2/18/2018
I have searched high and low, and Skyscanner definitely has the best variety of flight information. I am very happy! Hoping my flight will go well and that I will not have to make any changes! Thanks, Skyscanner!
Best travel booking app
Been using it for two years, searches all airlines and hotels for the best prices. A must for travelers. Love the app !!
TERRIBLE CUSTOMER SERVICE!!!!
I'd rate this app a zero if I could! I was suppose to receive my e-ticket within 2-4 hours. It's been 2 days, my flight is for tomorrow & I'm currently on hold for the past hour and a half to speak with a supervisor. This is insanely frustrating because it seems no one wants to help and are passing my calls off to the next person.
Total crap
This app just connects you to websites that sell tickets at a very cheap price the problem is it's unclear what you get with that ticket such as do you have to pay for your own baggage things of that nature and when you try to cancel your reservation in two hours after you made it they charge you $125 a ticket do not use this.
Cheapest by far.
Cheapest by far. Next a hotel.
Amazing
The best travel app to date. Super fast, smart, with a variety of flights and destinations to choose from at the right price. A travelers dream come true.
Amazing app!!
Easy to use and better prices than in any company's main website! Love it
5 stars for functionality 2 data accuracy
App works great. It does not, however, provide accurate data. We were presented with one price on the website and when we got to the point of paying the price, magically and mysteriously, doubled. For this reason we will use the app to look at prices and someday, perhaps, purchase tickets through the site.
Awesome for research
Perfect app but I will like to combine my fly and hotel at the same time.
Can't Filter Airlines
I dislike that I can't filter out airlines I don't want to use. The budget airlines skew the cheapest results every time but I'd rather save time and exclude them. Can't find it anywhere.
Paid for ticket twice
Skyscanner made finding my trip easier until I went to the airport and the airline couldn't find my ticket. Apparently, my flight with Spirit was cancelled but the charge for the flight was taken out regardless.
Needs more filters
Great little app, but I need more filters for times/airports/airlines/fares. There are some airlines that I refuse to fly on, times that I don't want to fly, airports that I don't want to transit through, and basic economy fares that I refuse to buy due to luggage restrictions.
Love it!!
This app has saved me time and money! Thank you!!
Meh..
Used to be better. Discount all the 4 and 5 star adjective filled reviews. Nobody is ever that legitimately excited about an app. If it was that good I wouldn't tell anybody about it for fear that popularity would kill it.
Great app
Better than cheapo
iPhone 6
I've use this site a few years and it has never let me down!
Super Awesome
I've been using Skyscanner for many years! I love it because I can search most airlines at once and find the best combination of travel dates to save money by day, week, month, and year. We used Skyscanner recently for our trip to Australia and New Zealand because I found a super cheap time to fly for our family and changed our previous destinations. The search functionality by month and year is particularly useful when you are not stuck in flying a certain time of year or day and just looking for cheapest travel times. We LOVE Skyscanner!
أفضل برنامج للتذاكر السفر وابدااااع شكرًا سكاي سكنر
Adnan N Alhujili
on
2/6/2018
👍🏼ابداااااااع
Great stuff
Great app. Always reliable.
Fact Sheet
Publisher:

Skyscanner Limited

Category:

Travel

Released:

Feb 17, 2011

Current Version Released:

Mar 14, 2018

Version:

5.39

Size:

128.2 MB

Compatibility:

Requires iOS 9.0 or later.

Recommended Age:

4+

Game Center Certified:

No

Supported Languages:

Arabic; Bulgarian; Catalan; Valencian; Croatian; Czech; Danish; Dutch; Flemish; English; Finnish; French; German; Greek; Hindi; Hungarian; Indonesian; Italian; Japanese; Korean; Malay; Norwegian; Bokmål, Norwegian; Norwegian Bokmål; Polish; Portuguese; Romanian; Moldavian; Russian; Chinese; Slovak; Spanish; Castilian; Swedish; Thai; Chinese; Turkish; Ukrainian; Vietnamese;