This version of the app is not recommended
App last updated
Oct 03, 2017
Screenshots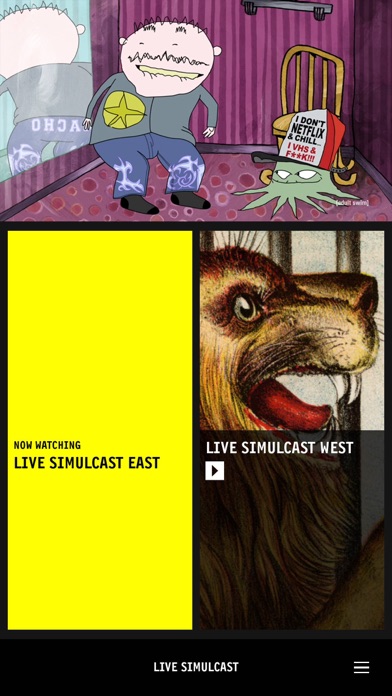 New in version 3.1
The streamlined Adult Swim app highlights our live simulcast and selected on-demand programming.
–Dropped support for iOS 8
–Various technical fixes for iOS 11
Description
Streamlined. Slicker. Smooth. The Adult Swim app focuses on delivering dependable live simulcasting of our on-air broadcasts.*

*May require cable provider login.

The Terms of Use for this app includes arbitration for disputes – see http://www.adultswim.com/mobile/one-app/terms-of-use.html
iPad Screenshots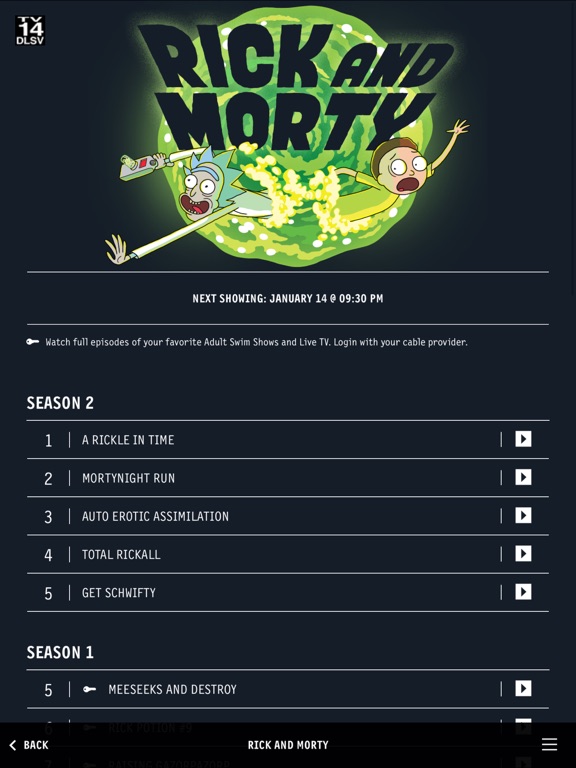 Reviews
Useless
Sweeniepacman125
on
1/20/2018
Missed a lot of the episodes watching on TV so I thought I would catch up on this. Doesn't let me watch any episode that I missed though. Only the ones I've already seen.
Please put work into this app for us fans please update for iPhone X also
Please put work into this app for us fans please update for iPhone X also
Improvement needed
Fruit loops captin crunch
on
1/16/2018
Please add chrome cast to this app, I think a lot of people will like it better.
The new updates give it a lack luster from the original
once a mastershake cosplayer
on
1/16/2018
I remember when the adult swim app first came out there were tons of awesome features you can choose if you didn't want to just watch or stream. They did away with all that. Why? Now it became a mediocre app that's not even worth going on. It seems that adult swim are cutting back on the gem of what they used to offer.. this is not just referring to the app but the events and their main website to just name a few. Adult swim is going down the drain.
Auto play in context makes sense, out of context it just makes noise.
5 stars for listening to / responding to feedback --edit-- Auto play when I open the app is rude. I mean, if I'm opening the app to see if the latest episode of my favorite show us online, I need to make sure my device is muted. Auto play isn't a bad feature, but it needs to be in context. If a user selects to view clips... Auto play a clip. If the user is just opening the app... It just feels rude.
No support for new devises!
Alejandropf44
on
1/11/2018
No iPhoneX support and when I connect airplay for the Apple TV the iPhone goes to sleep and stops the streaming. Step up your game Cartoon Network!
Missing DirectTV Now provider
suburbanantihero
on
1/10/2018
Giving this a one star because it does not include DirectTV Now in the TV provider list. Most other apps support it now.
No Cast support
This app is terrible but no streaming (e.g. chrome cast, fire tv, etc) is the worst
Update for iPhone X Users
The title is self-explanatory; however, it would be nice to have any tv watched show from Adult-swim to fill the entire screen of the iPhone X. Since the app does not fill the entire length of the phone; there are two awkward black spaces. I'm just disappointed because Adult-swim has always been ahead of these technical problems, but sadly I am mistaken that you missed out on this one. Please create an update soon. Thank you.
Cool but like... not cool enough
First off how come those pussies at Cartoon Network get chrome cast capabilities and I don't. Secondable, that was my only complaint have a nice day.
WTH!!
Colombiansoul324
on
1/3/2018
Just DL and have not been able to watch one show!! Keeps saying error over and over I can watch the stupid commercials but no show! Delete!!
Chromecast
k vengeance
on
12/30/2017
I'd gate five stars if there was Chromecast support
Why no casting ????
Crappiest of all the TBS network apps just get the ppl that do the TNT app to do yours because whoever is currently doing is not doing a good job at all.
App Keeps Closing on Me
Re-connected my cable provider to the AS app and tried watch a show but it keeps trying to load commercials. However, it cannot seem to load the commercials and then displays a "reload player" option. Unfortunately when I hit this button, it causes the app to crash.
When will AdultSwim be available for Apple TV!!!
Please!!! That's all i want for Christmas!!! Bring it to the big screen!!! Everybody want's that so make it happen!!! ADULTSWIM ON APPLE TV 2018!!!! I need my Samurai Jack & Rick & Morty!!!!!
Works
I just understand what's up with all the reviews saying it doesn't work. My app works fine. Maybe just a bunch of whining complainers like usual? Yep. Good grief it's cartoons for crying out loud! That adults watch. Maybe that's the problem it's a bunch of kids in grown up skin. This app works fine and is great for catching up on your shows.
Seasons
ITz meeeertin
on
12/16/2017
So I have like this huge problem with the app. I mainly watch rick and Morty but I don't really watch it on the tv, what you guys should do is release all Episode's from season 1 to the current season because honestly it gets pretty boring/ annoying just having like 3 seasons but in different order from s.12, s.3 s.6 you know just doesn't seem like a well put app. Please respond on if you guys can or why you can't Thank you
Not in order
doggofroggo
on
12/15/2017
I don't own a tv, or one of those so I can't watch all th episodes. I was hoping to catch up on Rick and Morty I mean I get not having ALL the episodes but you could change it in order I got 1 2 3 4 10 and I was so confused plus I couldn't get to the second sesson
R&M
Cole stafford
on
12/11/2017
I wish their was all episodes from rick and morty season 1 not just a few
Feature Request: Cast Support
shroomy dan
on
12/10/2017
I love adult swim! I love it so much I need to watch it all the time. Sadly I cannot watch it all the time due to a lack of support for streaming to Chromecast and Firestick. Please Adult Swim devs, relinquish me of my suffering, and add support for these very popular streaming devices.
Needs work
Freezes a lot after and during adds then won't start to play anymore.. also needs to be updated to where you can watch recent episodes of shows.
Why no cast option
SamanthaDarko13
on
12/1/2017
That's really my only complaint is that I can't cast it for whatever reason
SIMULCAST
Please please fix the simulcast, I cant watch it for more than 5 minutes without getting the error. I use this app every night and it's very irritating that the simulcast will not work!
No simulcast and no Chromecast
The app will not let me log in to my tv provider (spectrum) and also chromecast support like CN app would be nice.
No chromecast
3 stars for the selection of shows and lack of chromecast capability. Edit: changed to 4 stars since I can understand why Adult Swim does not have Rick & Morty season 1. I can also understand why there is a lack of Chromecast, but Chromecast would make the shows and live stream like 1000% more enjoyable.
Rick and Morty
I can only see season 2 and 3. Where is Season 1 ? Also I can't even see the full seasons. On season 2 it only lets me see episodes 6-10 and on season 3 I can only see episodes 1,2,8,9,10. What up with that ?
Umm, A few short things.
English Agua on YouTube
on
11/20/2017
First off, it is great that these are free, but... So why do RnM have only some, the only reason I got this thing is because Hulu is late on Season 3. Also there is a weird pause glitch thing.
Ah,...Hell Yeah!!!
This app works GREAT! I've had no problems at all. Nor did it require me to sign in w/my cable provider. So, 👍🏼👍🏼! I've give 5 thumbs but I only have two hands.
Not supporting chromecast in 2017
Cmon seriously?
Needs updating
With such a wide audience, I'm surprised the app is not more updated. Developers should really make the app compatible with chromecast and other devices instead of forcing viewers to watch on their phone.
MISSING RICK AND MORTY EPISODES
All I'm trying to do is watch some freakin Rick and Morty but they don't have Episodes 3-6 of Season 3 on the app. Do they just expect me to skip those 4 episodes and be ok with it?????? Unbelievable
Minimalist
Dread Lord CyberSkull
on
11/13/2017
In some ways this app's UI feels a bit cleaner than other channel apps. But that doesn't come without a few problems. UI-wise, the menu bar on the bottom of the screen seems underutilized (putting the title bar from the top of the screen in the bottom is a bold design choice that negatively impacts function as that area is commonly occupied more usefully by shortcuts). The app is missing two important features: TV integration and an Apple TV version.
Don't bother.
GankedYaNub
on
11/11/2017
Do you know what I hate about networks that create apps for the episodes? They advertise the app as a "free" method of watching your favorite shows, but, once you download the app, you realize that all or most of the content you were hoping to access is restricted by a Cable Television Subscription Identifier. Honestly, if I wanted to pay for television I would just DVR your content, buy it, or stream it online for free on some sketchy website. If you can't make your content available for the cost of internet advertisement, which I am happy to watch and consume, then you should refrain from hosting content entirely. What's the benefit of trying to make Cable Providers relevant? Television is a dying market, make a subscription service to capitalize on new trends or suffer the venture consequences.
Can't log into spectrum
Digitalsolid
on
11/7/2017
Error 404, you need to use the correct web address for us to sign in. It's been a long time now let me see the shows I pay you for.
Y U NO Apple TV?
Seriously, why u no Apple TV app? I await your response.
Need improvement
No support for Apple tv. No support fot Chrome cast.
Chromecast Capability?
Disgruntled Hockey Fan
on
11/5/2017
Where's the chromecast capability? What age are we living in? Oh the humanity
Lol Screw this I'm just watching them on YouTube
SuperVenom20
on
11/1/2017
Had the app open for 5 minutes. I tried to watch a show and was treated with an ad. Okay whatever. Try to at least make the ad full screen. As soon as I touch the ad it takes me to a separate page for the advertisement. Sure. I wait the 30 seconds for the ad be over and my show starts. Yay!! Wait the brightness is too low. Lemme adjust it real quick. Okay done now back to the show. Oh what's this? An ad that lasts 3:30. Nope! Time to go back to YouTube! 👍
Too many ads, repetitive, potential to be so much better
Dave-o-Rama
on
10/30/2017
The content is great. But the ads are ridiculous. I've seen the same ad for Geico a million times to the point that I start despising the advertiser. But the latest issue (10/30/17) is that the new season for Tim and Eric's bedtime stories doesn't play past the 5 minute mark. Any episode. The swirling load icon appears...ya I will try reinstalling but can you guys refresh connection on launch? Sheezes mateezes we are paying for this content via our cable subscription so don't phone in the app performance please.
No Chromecast support
JustSomeone55
on
10/28/2017
Why no Chromecast?
It's fine.
Captain Zesty
on
10/25/2017
Navigation is a pain. Seeing the same 15-20 second commercial on a loop for 3 minutes is maddening. But, it's free. Edit: I recieved a dev response to my original review basically saying "there are ads because it's free." That's fine, but my complaint wasn't about the ads, it was about the bugs including one that had me stuck on a loop of the same ad. It only stopped at 3 minutes because I forced the app closed and restarted it. Ads are fine. Bugs are a pain.
Garbage
Ddddddaaaaaaannnnnnnggggg
on
10/23/2017
Never had an issue with the app before. However I am unable to watch anything now. Constant error messages saying unable to load video. Playback errors. Videos will stop buffering and crash. Have to rewatch ads after going back to the episode selection screen when reloading a video. Hey, but those ads will load and play consistently without a hitch! Priorities!
No Chromecast option
ColdWinterNights
on
10/22/2017
I can't believe that it's not possible to cast using the app. Practically every other streaming app has this capability! Only downloaded the app so I could cast to my TV 🙁Guess I'm not watching Adult Swim.
Some archived streams are back...
VoodooManNC
on
10/22/2017
I'm a big fan of the streaming content on the website, Fishcenter Live, Williams St. Swap Shop, etc. We now have a few of them back, but still would love to see Williams Street Swap Shop. Add those to the Show list & a 5 star review will follow, it's a deal!
Garbage.
cleggerbyte
on
10/20/2017
Garbage.
Needs DTV Now Support
Please add DirecTV Now as a supported provider. App works well but is pretty limited to me without this support. Thank you. Update: Appreciate the developer's quick response to my review. I have updated my rating to 4 stars to reflect the good support, and sent a note to DirecTV Now support to see if they're able to get this working. DirecTV itself is supported, so shouldn't be difficult to get DTV Now working. Hopefully I can make this a 5* review when I have access to all of the content. Have always thoroughly enjoyed AS's programming.
Chromecast Support?
Xoab3utifulst0ryxo
on
10/17/2017
Only way for my to watch my Adult Swim shows, don't wanna be reduced to watching on my phone. Would love this app to be ported to PS4 or offer casting support!
No chromecast support
I'd love to use this with chromecast
Rick and morty
The Father Figure
on
10/16/2017
To be fair, you have to have a very high IQ to understand Rick and Morty is a copypasta, which fans of the animated television series Rick and Morty use to respond to criticisms of the show. The text, which may have been originally posted sincerely, refers to the high-falutin and self-congratulatory way people talk the show.
Fact Sheet
Publisher:

Turner Broadcasting System, Inc.

Category:

Entertainment

Released:

Feb 17, 2011

Current Version Released:

Oct 03, 2017

Version:

3.1

Size:

58.9 MB

Compatibility:

Requires iOS 9.0 or later.

Recommended Age:

17+

Game Center Certified:

No

Supported Languages:

English;

Parental Advisory:

Mild Alcohol, Tobacco, or Drug Use or References; Intense Profanity or Crude Humor; Mild Sexual Content and Nudity; Intense Cartoon or Fantasy Violence; Suggestive Themes; Mild Realistic Violence;