New in version 4.1
Thanks for all your feedback. Keep it coming!

New in this version:
•Music recognition feature
•Search results improvements
•Performance and stability improvements
•Bug fixes
Description
Just type or speak to find what you're looking for quickly and easily. Search with Bing and earn free rewards that you can redeem for popular gift cards or donations to charity. Keep up with trending stories, news, and images. Save the beautiful images of the day to customize your phone's wallpaper or lock screen
 
Functional, fast, and beautiful
• See what's trending on the web and other useful information such as news and weather directly on the home page.
• Translate entire web pages in Safari or the Bing App through the "share" button
• Share what you find with your friends on your favorite social networks and messaging apps
 
Stunning Bing homepage images, every day
• Swipe left on the homepage to view previous images
• Save your favorite images to customize your iPad's wallpaper or lock screen
 
Your local search
• Explore shops, restaurants and more with helpful info like ratings and prices, and other information
• Get walking, driving, and transit directions with current traffic conditions
 
*Some features are not available in all countries.
iPad Screenshots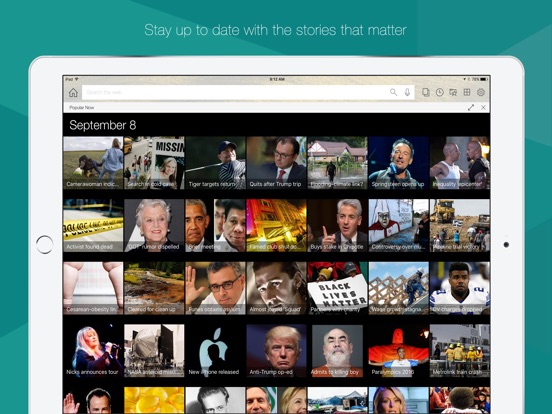 Reviews
App does LESS than Bing.com in Safari. Deleted. 😕😕
GTD Meister
on
12/13/2017
No material advantage over opening Bing.com in a plain ol' browser!! Deleted.
Nice app - 1 *** MAJOR *** flaw
I enjoy using Bing on iPad for easy browsing but when I need to research something, I am forced to use another browser. Currently Bing on iPad 10 Pro with Smart Keyboard does not have a 'find on webpage' option. No Ctrl F or Cmd F. Nothing. Even the Microsoft community could not find a way to do a text search on a web page. This is a must have and I am surprised that Microsoft removed this option.
Finally
Always have enjoyed Bing's search result features on the PC and to be honest the previous Apple incarnations were lacking but this version is spot on! Clean, truly intuitive UI and the search AI is excellent. Great job!
stuck in sign-in
Gets stuck on the sign-in screen. Unusable, except without accessing your microsoft account. So much for those bing rewards!
Great app!
I like this app better than any other browser I've ever used. I don't need to open a private window just to keep my history from being recorded. I just select no history in settings and I never have to worry about it again. I've tried the same searches on other browsers and then on this and the differences were significant. If you give this a chance, I think you'll be pleased with it in a big way. I am.
App doesn't work now
After the update, I can't even get the app to open. Starts to open, then immediately closes. Very upset. My saved bookmarks keep deleting. This needs to be fixed
iPhone app vastly superior to iPad app
If Microsoft would just add a reader mode to Bing News for iPad like the iPhone app has had for multiple releases, I would completely abandon Google News forever. Bing for iPhone is absolutely outstanding, but the iPad app pales in comparison due to a slightly quirky interface and the lack of a text-only reading mode. The number of news sources for major stories is inexplicably more limited as well. Seems like two teams handle the development with minimal oversight by Product Management. Make these changes and you'll win five stars from me...
ReCaptcha
Many sites us recaptcha but bing hasn't been updated for its use yet.
Must-have App
Flash.Gordon57
on
11/1/2017
I've been using MS's Bing app since v.1, and it quickly matured into my preferred search and browse tool. My wife uses it as her primary browser, she likes it so well. The search results are almost always right on point. I find what I want at or near the top, at the top results gives me primary choices for where I want to go on the site, saving me extra steps. Sometimes they have exactly what I need, displayed, without having to click through. If you haven't tried it, give it a spin for a week...even a day. Find out if this might be your preferred portal to the internet.
No Help
There's no Help for this app. Something should be simple, like Save a Page, is a mystery. The web has no answers. Good fast app, works in China, but no access to help, non-intuitive interface..
It was good
Nat-King-Cha
on
10/22/2017
It was good but now it doesn't even translate webpages and just stuck on 0.0%
worst browser for ipad
just horrible
Ok
Deleted it432654
on
10/15/2017
You can not usually go back one pg with the Bing controls. This should be fixed.
Fascinating!
Tecateeddie
on
10/12/2017
Bing always is the site I can count on. Great news,daily pictures, and fast searches!
This app is completely useless.
Jeremy Gott
on
10/12/2017
This app is one of the main reasons that I wanted an iPad, but the app doesn't allow me to get any mobile searches making it a complete waste of time!
I Like That......
ANDIRONCOUNTY
on
10/7/2017
Bing app is convenient&easy to use.
Jem
I just love it! It always gets where I want it to no matter what I say. Love love love bing
Great search
They did it right. Took them a while but this is the best. Bye bye google.
Gossip mag; lacks landscape use
with newsy junk pop-up bottom banner that intrudes with every change. Icch! Terrible effort continues by MS
Great search app
trying to workout
on
9/21/2017
I particularly like the information given for major league base ball games. It is quick and easy with no need to do searches to find pertinent information.
Bing for iPad and iPhone
MICRO-BING😀😀😛😘
on
9/16/2017
It's not awesome, it's beyond. Nothing can compare to BING😜😂😫😊😃 MICROSOFT BING IS THE ONLY COMPANY THAT CAN BE GREAT AND BUILD IT EVEN BETTER
Great!
Best images/video search in the industry--by a mile.
Easy to use
Switched to Bing after using Google for years. App is easy to use. It keeps my searched page up even after closing as I generally end up going back to the page.
Easy to use , Well Organized & Robust in Feature
Sonoftadpole
on
8/26/2017
A lot of thought went in to creating this app. I like the fact that it fluidly ties into to the Bing platform. I'm finding that I prefer using this over opening Safari and then proceeding search, etc. The voice feature could use some work but's in minor in comparison to the overall feature..in fact if it weren't for the glitchiness of the voice feature I would have given this a five star instead of a four.
Good
Hftyfhgfhcthchtgnfthftchfdhfcb
on
8/23/2017
It's good
Great app
Bing is a great search engine. This app is easy to use and includes some great features I have absolutely nothing negative to say about it.
Not as good as Bing for iPhone.
This app needs to be more like Bing for iPhone.
Keep up the great job, Microsoft... Thank You!
_BOT_MONITOR
on
8/21/2017
1). This and every other Microsoft iOS app I use is among the best, and keeps getting better... 2). 2). For those of you having "issues" -- you need to
Friendly and fast
amalikishere
on
8/18/2017
Works, is fast, and good features.
Bing
Journey82~49
on
8/13/2017
Love the different images on the homepage everyday & I like how u can save a image to use on your device or computer for a background or wallpaper. Love,Love,Love:)
Just Awful. Can't Block Popups !
iPhone 5 Newbee
on
8/9/2017
Don't waste your time trying to use this app.
Excellent!!!!
Love the APP!!!! Love Bing and its interaction with Microsoft top of the line!!!!!
Completely Awful
I hate the navigation. Compatibility with popular websites like Facebook and YouTube are problematic. Unusable.
Good App
Searching with Bing is very fast, informative and you get to see the most beautiful photos every day. Better than other search engine.
Very good ... but voice search not working.
When I tap the mic icon in the search bar, the listening box pops up but it never seems to hear me speak. It eventually goes into thinking mode, then fails with an I didn't understand msg error. Btw, the music icon works fine on identifying songs. This is on an iPad Pro with latest update 10.3.3. Pro 9.7". Also safari could not redirect to the support page from the iOS App Store bing app. Would be 5 stars it fixed.
Love this ap
Pretty Accurate Easy
Music Recognition Feature
Volperdinger
on
7/20/2017
The recent update isn't working too well. Bing surfing perpetually knocks me off of my music app.
Still buggy after all these years
dorisgetsheroats
on
7/15/2017
I can not even sign into my MS account. Screen just goes blank. Does not even give error message. Was this written by amateurs?
Awesome
Fraa & Leib laser power
on
7/14/2017
This is one awesome app!!!
Bing, It's s beautiful thing
Was using my smart phone for social media activities and noticed my go to search engine wasn't cutting it. Gave Bing a try and, it has become my go to source. Thanks Bing, much appreciated.
bing
Best search app for iOS. Very much Windows 10 like in its feature set. Intuitive returning precise results. Google has nothing on Bing!
Nice
Best thing cense sliced bread
Well designed!
A very unusual thing for Microsoft apps. This app is actually very well designed. Apples design philosophy seems t o be rubbing off for a few at Microsoft.
Almost There!
I like Ya! You're Rewarding! You're Suggestive w/ your Suggestions that are Actually Important to me and just randomly fired at Me like Goggle's Suggestions are! I Like Free Images You Give Away and Your Screen Quizzes that Teach Us About Places, God's Creature's He Made, Plants & Trees, Oceans, We Learn About Different Cultures of People in Different In Countries through these Quizzes so its Pretty Neat. Thank You for The Educating Us on Regular Bases!
Review of App.
ASH town fool
on
6/12/2017
Easy to use. Only way to go !
Love!!!!!!!
Bing is my favorite search engine next to AOL this is a must have app!!!!! ENJOY!!!!!!!!!!
Best browser used
Have tried several browsers on my iPad and this is the first one that works good on it. Just got rid of google for freezing up all the time.
I would love to see the Ipad version catch up to the IPhone
I am puzzled as to why the iPad version doesn't include the same photo search features that the iPhone has. Bing is hands down my preferred search engine, and I love the images of the day but would really love to see the iPad to include all of the amazing features that I enjoy on my phone.
Fact Sheet
Publisher:

Microsoft Corporation

Category:

Reference

Released:

Apr 07, 2011

Current Version Released:

Jul 15, 2017

Version:

4.1

Size:

12 MB

Compatibility:

Requires iOS 8.0 or later.

Recommended Age:

17+

Game Center Certified:

No

Supported Devices:

iPad2Wifi-iPad2Wifi, iPad23G-iPad23G, iPadThirdGen-iPadThirdGen, iPadThirdGen4G-iPadThirdGen4G, iPadFourthGen-iPadFourthGen, iPadFourthGen4G-iPadFourthGen4G, iPadMini-iPadMini, iPadMini4G-iPadMini4G, iPadAir-iPadAir, iPadAirCellular-iPadAirCellular, iPadMiniRetina-iPadMiniRetina, iPadMiniRetinaCellular-iPadMiniRetinaCellular, iPadAir2-iPadAir2, iPadAir2Cellular-iPadAir2Cellular, iPadMini3-iPadMini3, iPadMini3Cellular-iPadMini3Cellular, iPadMini4-iPadMini4, iPadMini4Cellular-iPadMini4Cellular, iPadPro-iPadPro, iPadProCellular-iPadProCellular, iPadPro97-iPadPro97, iPadPro97Cellular-iPadPro97Cellular, iPad611-iPad611, iPad612-iPad612, iPad71-iPad71, iPad72-iPad72, iPad73-iPad73, iPad74-iPad74,

Supported Languages:

English; Chinese;

Parental Advisory:

Mild Profanity or Crude Humor; Unrestricted Web Access; Treatment Information; Mild Sexual Content and Nudity; Fear Themes; Mild Alcohol, Tobacco, or Drug Use or References; Suggestive Themes;