Screenshots
New in version 13.0.1
Version 13.0.1 includes performance improvements and bug fixes.
Description
Stream your favorite radio stations, listen to music, talk radio & all the latest NFL, NBA, NHL & NCAA games with TuneIn.

Listen to your favorite programming for free, live and on-demand. With 100,000+ AM and FM radio stations, TuneIn has a variety of music, news, podcasts & sports radio for you to discover from all around the world.

Top 5 Reasons to Download TuneIn:
1. Stream AM & FM radio stations with varied programming from around the world
2. Listen to live sports coverage, including NFL football, NHL, NBA & NCAA games
3. Listen to your favorite sports talk radio shows and podcasts live and on demand
4. Download your favorite podcasts for offline listening
5. Hear every play in your favorite NCAA college football and basketball games, including live CFB and March Madness broadcasts on Westwood One

Listen to all your favorite radio stations for free - anytime, anywhere!

TuneIn also has great commercial-free music from all of your favorites genres:
- Hear today's top hip hop hits and classic hip hop beats
- Get in the holiday spirit with Christmas music from your favorite artists
- Listen to the best classic rock music, country music, indie rock, Latin pop and much more

Stream music from your Apple Watch while you workout or tap into TuneIn for CarPlay and listen to the latest sporting event or hit podcast on the go. Access TuneIn Radio at home with Google Chromecast and enjoy the largest selection of programming from around the world!

Subscribe to TuneIn Premium & discover even more great content:
- Get live play-by-play from every NFL, NHL and NBA game, all season long
- Enjoy exclusive access to 600+ commercial-free music stations
- Listen to varied content, all with no banner ads!

Subscribe to TuneIn Premium through the app. If you choose to subscribe, you will be charged a monthly subscription fee according to your country. The subscription fee will be shown in the app before you complete the payment. Your subscription will automatically renew every month at the then-current subscription fee unless auto-renew is turned off at least 24 hours before the end of the then-current subscription period. Your iTunes account will automatically be charged within 24 hours prior to the end of the then-current period. The subscription fee will be charged monthly. You can turn off auto-renew at any time from your iTunes account settings.

Download TuneIn Radio and listen to varied programming and a wide selection of music, sports, news, podcasts and sports talk radio from all over the world!

Privacy policy: http://tunein.com/policies/privacy/
Terms of use: http://tunein.com/policies/
iPad Screenshots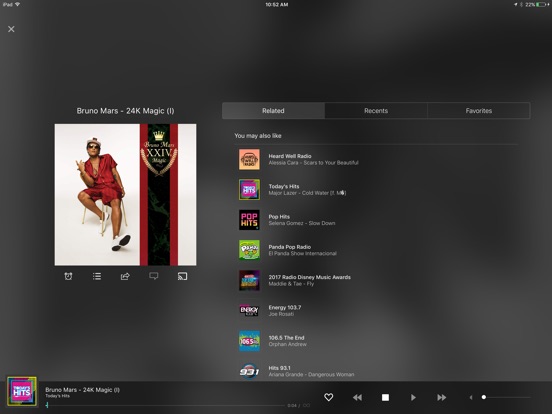 Reviews
Superrbbb
Best online radio
Older versions were better
This app doesn't work nearly as well as it used to. The main thing I miss is the ability to go forward and backward in a program. That no longer works.
Cancel
FbMakesmetalklikeapirate
on
12/12/2017
Can't find the cancel button.
Cancel
Please cancel my subscription
Update for iOS 11 works now
The app broke, with iOS11, but good developer support resolved the problem. The ads are more prolific than they used to be, but the developer needs to be paid somehow.
Tune in
AAMU Bulldog
on
12/12/2017
It is very easy to use.
Thank you
DJ Pickles 2015
on
12/12/2017
A true service. Almost perfect window to conservative media. Two problems Icon of Larry Elder for hours when clearly it another radio show is on (i.e., Michael Medved Show). Pod casts for Michael Savage and Phil Hendrie not available certain times during the night time hours.
Went from 5* to 1*
Well this used to be the app I could go to to listen to audiobooks but apparently not anymore. While they still have the books (at least for now), there is no longer a way to find them apart from searching for the books title or author. No tab anywhere for audiobooks anymore, nor is there any mention in the app description about them. I will be ending my subscription shortly. Really sad after you initiated the download ability, to now take them away.
Beware of Subscription Charge
I'm not complaining about the app, but about the auto-charge of the Premium Subscription. I had downloaded this app to listen to one specific game, did not realize I was signing up for a $100 annual subscription! Fortunately, Apple did refund my $100, and of course I cancelled my subscription. Buyer Beware! If you use the app and love it, then no problem.
Cool music app
Speedster1979
on
12/12/2017
Love this music app but I would like it if it had lyrics for every song
.
Wizard On Acid
on
12/12/2017
Good except for promoting CNN. I took one star off because of that.
Jose
Likens(pochas)
on
12/12/2017
Perfect for me
TuneIn Radio
Awesome App! Listening well done. Thank you Developer(s) making it all possible to have such a SUPERB App.
Sneaky Charge
Bought tune in radio years ago for like $5. Two days ago I was charged an auto fee $99 for only a year long subscription. Not sure why I would have to pay twice or why it wasn't apparent that I would be charged. Dropping tune in. Getting iHeartRadio.
App update destroyed the app!
I give up 2222222222
on
12/12/2017
Was working perfectly fine till I updated the app. Now it won't even launch! Is this a trick so that ppl are forced to get the premium? If you already have this app, do yourself a favor and don't upgrade it!!! (The upgrade with the new icon is the wrecker)
Station gone
Loved the app until they removed Germany Hit Radio
Audiobooks?
From this new update it appears that TuneIn is no longer going to offer audiobooks. If so I'll be cancelling my subscription soon.
Good, not great
brilliantmarie
on
12/11/2017
I've used this app for maybe a year now. While I still use it all day and it's almost completely replaced my Pandora habits, there's room for improvement. I've noticed that the "see more" option for podcasts lists often disappears, depending on the update. I'll be able to see the podcasts' earlier work one day but not the next, which is a shame because I binge them in order of release date. So I have to skip to something new if the backlog option disappears. Not that it's fun hunting that deep, four to five clicks and scrolls just to restart where I was is annoying. I've also noticed that once in a while if I pause the podcast or switch to external speakers/blue tooth tools, that whatever I'm listening to gets this stuttering/screech noise anywhere from 5 to 45 seconds. I have to back track and retry that section. This used to happen a lot on audio books but I don't notice it on podcasts as much. Or with "live" shows. I really wish I could speed up books, like other apps, "1.5 the normal speed" would be great. Finally, the app never accurately remembers what I've listened to (completion of a a track) or where I'm at in a chapter or book. It constantly says I've only partially finished books because it forgets everything. I usually have to hunt for where I last was - a completely nightmare for something like IT.... gotta scroll forever to find the last chapters anyway. Sounds like a lot of stuff, and it is, but it's little stuff. The sheer variety of items I can listen to makes up for it.
Music
Rampage1039
on
12/11/2017
Beautiful music
Use to be my Favorite radio app
I have had this app for a long time through many updates. I loved it till the record option was removed. I can't always get to hear a topic on my favorite station because of work , so that dropped the rating for me. Still a decent app for listening.
Good
Connect me with my country every day!
Update loses forward/back buttons
The recent update breaks 15-second forward and back buttons. I get that TuneIn wants to prevent non-subscribers from forwarding past commercials, but they messed up the code so that the skip controls don't always get enabled after the commercial is over. Especially when switching back to TuneIn after a call, the skip buttons get disabled for the main program.
Wrong title
Your channel listing says David Webb and it isn't David Webb. Need to get David Webb!!!
My go to
Tune In always has something for me, home or away. My local news, favorite NPR and podcasts!
Thank you for providing CNN and local PBS
Everyday I link my TuneIn to my car and listen to the news. It always works and keeps me informed. Love the app it's awesome! Love ❤️ the feature where I can Listen to the Morning Joe broad cast in the afternoon. It lets me listen when I have time😀
Was Really good but average now
The app doesn't pause correctly. It is very rare when it works correctly. You use to be able to pause and then fast forward or rewind but the buttons are almost always unselectable. So, I can pause and play but it that is it. To change the feed I have to close the app.
💯
Construcctor
on
12/11/2017
👍🏻👍🏻👍🏻👍🏻👍🏻👍🏻
I love this app
I use it every day. Gets better and better.
Crashes
This once great app has a perpetual error message. No longer works.
very useful app
I can't go a day without using this app. I really like it. The commercials are too many lately.
Spotty
Unfortunately this app fails to perform about 40% of the time, and I have an 8s so its def not my phone.
Great carry along music station
Very good music selections of all type genres. I carry among a small bluetooth speaker and have music wherever I go. Really like Tune In
Love it for Podcasts
KimD from Cali
on
12/10/2017
I get some of my shows a week early, and for free - Yay!
Streams out/buffers too much
I've had a love/hate relationship with this app. Main complaint is it just buffers/hangs too much, particularly with the latest version. The pause often isn't functional. I'm sorry I updated. The only real improvement I've seen is it is easier to x out of pop up ads. But the buffering really went downhill.
Fraudulent?
Christopher Spivey
on
12/10/2017
Kafkaesque experience. Like a rash you can't rid. This is emblematic of a lesser world. A brave but very unsatisfactory world. How can you unsubscribe to this useless app?
Terrible
Steve in West Side Cleveland
on
12/10/2017
I have to listen to a 30 second ad every time I change stations, or come back to listen within 5 minutes. I have a feeling the developers don't even use this app. Asleep at the wheel. I'd rather download the proprietary apps which require a login than put up with this crappy design. 8 year user signing out!
Update
Thetachi488
on
12/10/2017
Ever since the update I can't find the audiobooks section. And I pay 9.99 a month
No way to unsubscribe this app
downloaded this app about a month ago, then went to Europe, when I got back I received an email telling me that I will be paying 99 dollars for a year to use it. So I went to apple store tried to unsubscribe from it. But you just can't find the unsubscribe option any where! This is unacceptable! You can't just not put the unsubscribe choice out there! This is forcing people to buy it!
Low broadbAnd capability
With our slow speed TuneIn works well no circle of death😊
Love this app💗💗💗💗💗
breluvsscott
on
12/10/2017
The radio at your fingertips, what else do you need?! Nothing, it's great, I seriously use it daily! It's easy to use, it runs perfectly and they have great stations of their own! 5 stars, 5 hearts, Love it😍!!
The best radio estation
sopas zapopan 13
on
12/10/2017
Lo mejor de lo mejor
Muy buena aplicación de radio 👍🏻
el papiyoyo
on
12/10/2017
Buena
Dogman
Trash Trash App
on
12/10/2017
I don't think it's necessarily the commercials that annoy the life out of me but rather the same redundant* commercials playing over and over.Redundancy at its best... At this point I'm not paying for another app, so what you all need to do is kill the volume until the commercials end. Haaaaaa
Why isn't this app free anymore?
I have been using this app for 5+ years. I recently needed to delete the app. When I downloaded it for re-installation, I found that they now charge $100/year.
The best app
losapostoles
on
12/10/2017
I just love this app
Can't rewind
Momonthephone
on
12/10/2017
There is no way to listen to a podcast twice. Once a podcast finishes, it will skip it if you try to listen to it again.
Review
Woodchuck chucking wood
on
12/9/2017
Great radio app!! Improvement needed is a more defined playlist option.
Still useless in iOS 11, but the new logo is nifty
Since early October, either it crashes while opening up or else a few minutes after it starts playing. I've updated it many times but no difference.
Review Tunein
War really good until the last two updates. Now I can't get it to stop playing. Even after an hour or so it will just start playing music by itself. Woke me up in the middle of the night??? It was my favorite music up till the last updates. Please fix it or I'll have to delete it for good!!
Fact Sheet
Publisher:

TuneIn

Category:

Music

Released:

Apr 19, 2011

Current Version Released:

Dec 11, 2017

Version:

13.0.1

Size:

102.8 MB

Compatibility:

Requires iOS 9.3 or later.

Recommended Age:

12+

Game Center Certified:

No

Supported Devices:

iPad2Wifi-iPad2Wifi, iPad23G-iPad23G, iPhone4S-iPhone4S, iPadThirdGen-iPadThirdGen, iPadThirdGen4G-iPadThirdGen4G, iPhone5-iPhone5, iPodTouchFifthGen-iPodTouchFifthGen, iPadFourthGen-iPadFourthGen, iPadFourthGen4G-iPadFourthGen4G, iPadMini-iPadMini, iPadMini4G-iPadMini4G, iPhone5c-iPhone5c, iPhone5s-iPhone5s, iPadAir-iPadAir, iPadAirCellular-iPadAirCellular, iPadMiniRetina-iPadMiniRetina, iPadMiniRetinaCellular-iPadMiniRetinaCellular, iPhone6-iPhone6, iPhone6Plus-iPhone6Plus, iPadAir2-iPadAir2, iPadAir2Cellular-iPadAir2Cellular, iPadMini3-iPadMini3, iPadMini3Cellular-iPadMini3Cellular, iPodTouchSixthGen-iPodTouchSixthGen, iPhone6s-iPhone6s, iPhone6sPlus-iPhone6sPlus, iPadMini4-iPadMini4, iPadMini4Cellular-iPadMini4Cellular, iPadPro-iPadPro, iPadProCellular-iPadProCellular, iPadPro97-iPadPro97, iPadPro97Cellular-iPadPro97Cellular, iPhoneSE-iPhoneSE, iPhone7-iPhone7, iPhone7Plus-iPhone7Plus, iPad611-iPad611, iPad612-iPad612, iPad71-iPad71, iPad72-iPad72, iPad73-iPad73, iPad74-iPad74, iPhone8-iPhone8, iPhone8Plus-iPhone8Plus, iPhoneX-iPhoneX,

Supported Languages:

Arabic; English; French; German; Italian; Japanese; Korean; Portuguese; Russian; Chinese; Spanish; Castilian; Swedish; Chinese; Turkish;

Parental Advisory:

Mild Sexual Content and Nudity; Suggestive Themes; Mild Profanity or Crude Humor;