Games
Arcade
Action
Entertainment
This version of the app is not recommended
App last updated
Dec 04, 2017
Screenshots
New in version 1.6.4
Thanks for making Temple Run one of the most popular apps of all time!

Our Demon Monkeys have been squashing some bugs.
Description
"In pretty much every treasure hunting adventure movie there's one specific scene in which the plucky hero finally gets his hands on the treasure but then has to navigate a maze of booby traps in order to get out alive. Temple Run is this scene and nothing else. And it's amazing." - SlideToPlay.com

From the makers of the award-winning best-seller Harbor Master® comes the most exhilarating running game on the App Store. Test your reflexes as you race down ancient temple walls and along sheer cliffs. Swipe to turn, jump and slide to avoid obstacles, collect coins and buy power ups, and see how far you can run!

REVIEWS

"Best endless running game in the App Store… You'll love every minute." - AppleNApps.com

Voted by TouchArcade Forums as Game of the Week

One of TouchArcade's Best Games of the Month

"Most thrilling and fun running game in a while, possibly ever." - TheAppera.com

"A fast and frenzied iPhone experience." - IGN.com

"Very addicting… definitely a very different running game." - Appolicious.com

FEATURES

* Simple swipe and tilt controls that are easy to use and just feel right
* Level up your character and use crazy powerups
* Original 3D running mechanic combining turning, jumping, sliding and tilting - the first of its kind!
* Play as 7 different characters!
* Game Center Leaderboards and Achievements to compete with your friends
* Incredibly fun, just one more time, endless game play!
iPad Screenshots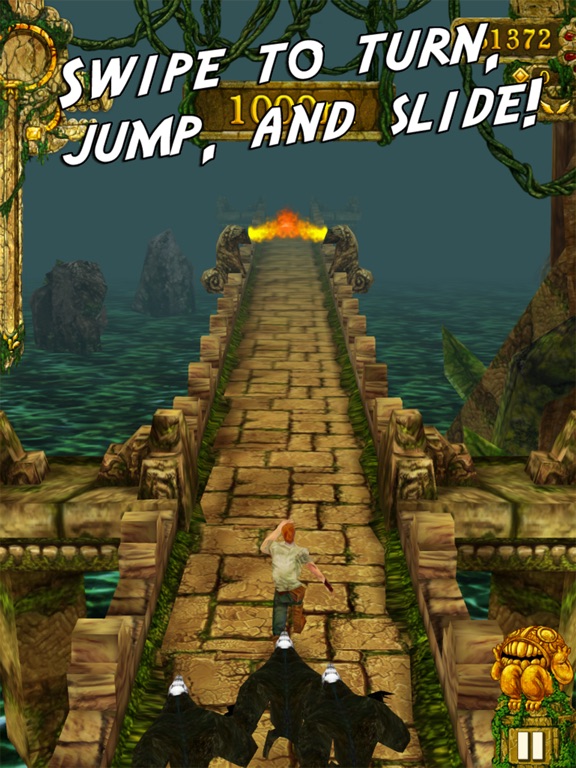 Reviews
Love
cutting the cord
on
1/23/2018
Love this app👍
😡😡😡😡😡😡😡😡😡😡😡😡😡😤😤😤😤😤😤😤😤😤
Lucianamomma
on
1/23/2018
I have been playing for many years and I have never Beat The Record
So much fun!
This game will keep you on the edge of your seat. Lots of excitement and great graphics. Plenty of ways to vary the game so you don't get bored. Overall not bad for a freebie!
Game
It's okay but isn't very hard
Why do you have to pay for Scarlet?
Cayte WorthDuchesss
on
1/21/2018
I remember when I first played this game you had to pay for her, and then you changed it so that you don't have to pay for her....and then you changed it back? I don't understand...but this is a great game and I've been playing since I was 6!!!
Ads with no way to remove them
Every time you fall or get caught, interactive ads come up and there's no option to remove them. Not in the game settings, in-game store, not even an ad-free paid version of temple run.
Fast action
Hard to put down
Would be better with new worlds
I over all think that it is a pretty good app but it gets boring after doing the same obstacles every time and the same setting
Lag after update
Bkaksjdndjskksdj
on
1/19/2018
After the new iOS 11.2.2 update, the game has been lagging. Good game, this is the only reason it's 3 stars.
Best game ever
whitetiger100
on
1/18/2018
At first I was scared about the demon monkeys but after awhile I was fine and got really good at the BEST GAME EVER
TEMPLE RUN
Temple run is such a fun game, it is so fun, it's so so so fun that I can't say anything else
Anoying
It is okay but the ads are anoying
Awesome game 💄💋. 😍😻
PICKLE123456789101112131415
on
1/16/2018
This game is so much fun and you will never be able to stop playing.It's the best game ever in the iPhone history.😍😻.I want to say thank you to who ever made this game because it is so much fun. I also love the 2 one so great job at both of them.I love them so much.Thank you!!!!!!! Love, Ivy 😍😻. 💄💋
Wild!
Busy business owner & wife
on
1/16/2018
Very addictive game. Having fun with it. One suggestion:find a way to get rid of adds. I'd be willing to pay a buck just to get rid of ads. They are annoying!
Amazing but has 1 MAJOR problem!!
You only have 1 life! You need at least 3!
This game is awesome
This game is a great game to pass the time and super simple yet super challenging! And it's FREE!
Eh
zombiekiller 14
on
1/12/2018
I love this game don't get me wrong, but it has its flaws. One, the characters are so expensive. Not all people want a male avatar. Some people want a female avatar. Players should have a choice between male or female. Second, almost every item is way too expensive it took me over a month just to make the money to buy a minor item. My point is this game is great but lower your game point prices.
**DONT PLAY WHILE ON COKE**
i played this while i was on cocaine and i had a seizure because of the game, or the the coke idk. JUST DONT PLAY HIGH
Pretty good
sadee the potato
on
1/11/2018
This game has some problems but they can be fixed but overall it's a good game
Frustrating glitches
I am deleting this after playing forever. There have been multiple times when I have performed the right movement and the person either doesn't respond at all, or does the wrong action. I figured at first it was just me-but I know for certain several times it was glitchy. That makes the whole game frustrating enough to just get rid of it all together honestly.
You have a great time with this app
tinabobbymiaian
on
1/7/2018
Hi there I hope you have a good time with this app and you will Have a good time I hope! Anyway I can't believe this app is still Out there I hope it will download but it won't I no it it's a great App 😄😎👍 and that's what I mean so you download this app And have a good time 💎🛩 sorry I'm just weird I don't no way By now no never mind I'm still hear so now download this app now 📲 or else this have a good time and have fun like a boss I had a good time with this app I hope you do to!!!!!!!!!!!!!!!!!!!!!!!!!!!!!!!!!!!!!!!!!!!!!!!!!!!!!!!!!!!!!!!!!!!!!!!!!!!!!!!!!!!!!!!
This was good
Wow am so happy that I got to play this game when I first got this game I was about to play it but I had to do something but when I got back I was so happy about this game and it made me smile all day and play it for the rest of this day. 1-6-18
And I still like this game
So when I had this app when I was 5 I loved it and all of the years ago I still love this app
Fun
Very fun and easy to play great time saver
It used to be better
I had this game years ago and I loved it. So I downloaded it for my iPhone. It is different. The idea is the same, but I remember other things I liked about the set up that isn't the same. Also I need my resurrection objective so I've gotten the coins and purchased it. It won't let me use it! A bit frustrating.
Really Good
Great game dudes!
💰
Love this game but I found it to get a little boring after a while, so I believe that you should make the characters cost a LOT more coins to make something to strive for. Also to the players, you should try this awesome glitch I found where you get the boost and slide until you start to run out of energy, then you run as fast as you did with the boost but you aren't invulnerable. 🏃💨
Play it every day at work
Il love the app so much I play it at work my kids love it so much one morning my son came up and told me all about it so I gave it a chance and now I cannot get of it
Disappointed! 😡
Queen of Coffee
on
1/2/2018
Since the last update, I am now forced to turn on data to get the full version of the game, ie: different games and coins! Then, the game is now riddled with ads! I can put up with one or two, but right in the middle of a hand being played? Deleted! 😡😡😡😡😡😡😡😡😡😡😡😡😡😡😡😡😡
Ok but graphics are horrible
Bearzy, Nick 2017
on
1/2/2018
I like the game itself, but the graphics could use some serious work..7
Addicting as hell
sammy the pilot
on
1/1/2018
This is one of the most addictive games I've ever played. It's also challenging in a fun way.
Temple run
senter ps🤩🤩🤩🤩
on
1/1/2018
It is so boring my mom tried it and she said it was not good at all then I tried to delete it and I couldn't it would not let me.
Only one star
It will get 5 if ads are removed or have a paid version to remove. Good game!
Super fun but.....
I love temple run. Although, the pop up ads do drive me crazy
Classic Game
TempleRunLover86
on
12/30/2017
This game is super classic. Me and my sister also play each other and want to beat the other person. I don't like the 2nd one that much because it is weird and I just Love the classic. Right now my score is in the millions
I like it
Yard sale Nana
on
12/28/2017
The game is awesome
😘😍😍😍😍😍😍😍😍😍😍😍😍😍😍😍
Hello cat 55
on
12/28/2017
Hey I love this game it is my favorite please fix temple run 2 I hate temple run2 It not fun at all because it is so expensive And I hate that about Temple run 2
WOW just WOW
Temple run is really easy and entertaining it challenges your brain but temple run 2 is much more fun and hard I like temple run 2 way more ! But I hate that on temple run 2 the animal you are running from blocks your character !
Really really good
chihuahua🐾🐾
on
12/26/2017
if u r bored and do not know what to do for the day u know there is something called "TEMPLE RUN" yep u read it if u r bored play this game the whole day nothing will stop u ( well maybe some things but who cares right) like i was saying this game will let time fly by and i recommend everyone to download this game and i swear to god if u read this and do not download the game like i recommened then i will huant u down and kill u!!😈😈 sorry for my violence😊this recommends no wifi so u can play this game whenever u want!!😊thank ladys and gentlemen and have a good day with this game!!😊good bye👋✌️
BEST GAME EVER!!!!! 😱😱😱😱😱😱😀😃😄😆😆😍😘
Horroraddict13
on
12/26/2017
L O V E I T
ITS REALLY ADDICTING
the ten year old🍩✌🏻🦄🍫
on
12/26/2017
The reason why I rated it four stars it's because the animation is kinda bad-I don't mean the characters I mean the back round and the obstacles are repeating by other wise it's super fun and I think they should make more funny phrases when you die
🇺🇸
Posh mama 2013
on
12/24/2017
Loving this game everyone loves it to so I will play the game with my friends and family 🍕🍕🍕🍕🍕🍕🍕🍕🍕🍕🍕🍪🍪🍪🍪🍪🍦🍦🍦🍦🍦🍦🌮🌮🌮🌮🍟🍟🍟⚽️⚽️⚽️⚽️⚽️⚽️⚽️🎮💎💎💎💎💎💎💎❤️💛🇺🇸🇺🇸🇺🇸🇺🇸🇺🇸🇺🇸🇺🇸🇺🇸 I think everyone is getting on a good mood today so I'll have some fun playing this game!
Pretty good but..
Alice The Cheetah
on
12/23/2017
The characters are kinda expensive but other than that it's the best running game I have played! Also..sometimes when I swipe left/right it jumps off the ledge. Maybe a difference of controls between jumping and turning. Pretty good game! 😁
Gg (good game)
salman the man
on
12/21/2017
Really good game. Very challenging I don't mean it's hard I mean fun challenging. The only game I find better is temple run 2. I Like it more because the graphics are better. So yeah that's my review.
Tilt
Maria Janae Carter
on
12/17/2017
I don't like how it never tilts to get me any coins! 😒
This game
It isn't really fun
So much fun!
This game so sooooooo much fun, but I'm still confused why you haven't added any new features?
Awesome game!
This game is honestly amazing. I always play it when I don't have wifi. Y'all should totally get it, you'll thank me later! My friend rlly loves it, all I see on her Samsung is "TEMPLE RUN". Thank goodness it doesn't cost money, or I'll die! Keep up the good work. :)
It is okay
4awesomeforever
on
12/13/2017
You never see what is coming up and when you do you have a chance of dying. There needs to be something where you can have like 2-3 more chances to live after your first death.
Fact Sheet
Publisher:

Imangi Studios, LLC

Category:

Games

Released:

Aug 04, 2011

Current Version Released:

Dec 04, 2017

Version:

1.6.4

Size:

67.3 MB

Compatibility:

Requires iOS 6.0 or later.

Recommended Age:

9+

Game Center Certified:

No

Supported Languages:

English; French; Japanese;

Parental Advisory:

Mild Cartoon or Fantasy Violence;