This version of the app is not recommended
App last updated
Jun 20, 2017
Screenshots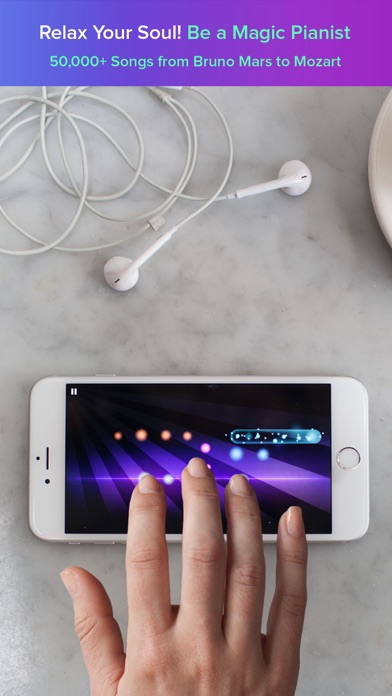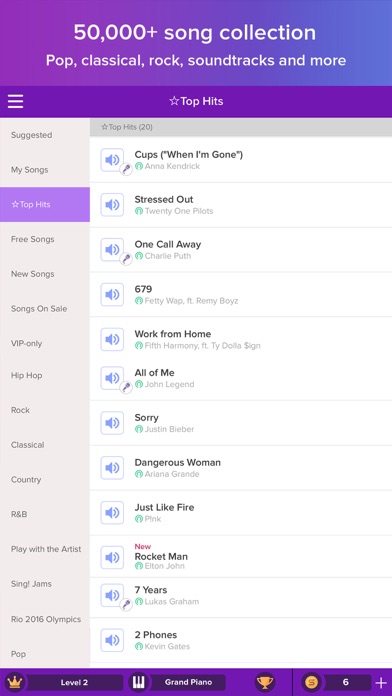 New in version 8.3.3
Ongoing Improvements
A few minor updates to increase the joy
Description
From Bruno Mars to Mozart, play the hottest songs!

Relax your soul with beautiful sounds of piano while playing your favorite tunes on original #1 piano rhythm game. Featured by TIME, New York Times and Apple's Best New Apps.

Features
- New hits added daily - 1000+ hits across genres
- Rhythm and tempo control - recreate the music!
- Pair with real vocalists on Sing! Jams mode
- Instrument options: classic, harpsichord, Funky 80's synth, organ and more

Current most popular songs (all genres):

------- POP -------
** All of Me - John Legend
** On Top of the World - Imagine Dragons
** Safe and Sound - Capital Cities
** Counting Stars - One Republic
** Blurred Lines - Robin Thicke, ft. T.I. & Pharrell Williams
** Wake Me Up - Avicii ft. Aloe Blacc
** Treasure - Bruno Mars
** Cups - Anna Kendrick
** Stay - Rihanna ft. Mikky Ekko
** Bubbly - Colbie Caillat
** What Makes You Beautiful - One Direction
** Moves Like Jagger - Maroon 5

------ ROCK ------
** Eye of the Tiger - Survivor
** Rock You Like a Hurricane - Scorpions
** More Than Words - Extreme
** The Final Countdown - Europe
** Bring Me to Life - Evanescence
----- CLASSICAL----
** The Magic Flute - Mozart
** Moonlight Sonata - Beethoven

----- MOVIES AND MUSICALS --
** Phantom of the Opera
** Jurassic Park Theme

----- COUNTRY -----
** Friends in Low Places - Garth Brooks
** Before He Cheats - Carrie Underwood

------ R&B ------
** I Believe I Can Fly - R. Kelly
** Hero - Mariah Carey
** Respect - Aretha Franklin 

Want a song that's not available? Suggest songs on Smule's Facebook page: www.facebook.com/smule

PICK UP AND PLAY EFFORTLESSLY
Magic Piano makes you sound like a piano prodigy - any time, anywhere. Play your favorite songs with your own spin and sound great every time.
-Follow beams of light to guide your fingertips to the correct note. You control the notes, rhythm and tempo, allowing your creativity and expressivity to shine.
-Try out different instruments - change your piano into a harpsichord, Funky 80's synth, organ and more!

PLAY WITH VOCALISTS FROM SING! KARAOKE
In the new Sing! Jams mode, you can play the piano alongside real vocalists from the Smule community!

CONNECTING THE WORLD THROUGH MUSIC™ - SHARE YOUR PERFORMANCES
-Broadcast your performances on the in-app Smule Globe or listen to other players' songs and give their performances some love.
-Share your pieces through Facebook, Twitter and email.


UNLIMITED PREMIUM SUBSCRIPTION
- You can subscribe for unlimited access to our full song and instrument catalog
- The subscriptions are $7.99 weekly, $19.99 monthly and $99.99/annually*
- You'll be able to play all available songs on any instrument for the duration of your subscription
- Payment will be charged to iTunes Account at confirmation of purchase
- Subscription automatically renews unless auto-renew is turned off at least 24-hours before the end of the current period
- Account will be charged for renewal within 24-hours prior to the end of the current period at the cost of the chosen package
- Subscriptions may be managed by the user and auto-renewal may be turned off by going to the user's Account Settings after purchase
- No cancellation of the current subscription is allowed during active subscription period

*Price are equal to the value that "Apple's App Store Matrix" determines is the equivalent of the subscription price in $USD.

https://www.smule.com/termsofservice
iPad Screenshots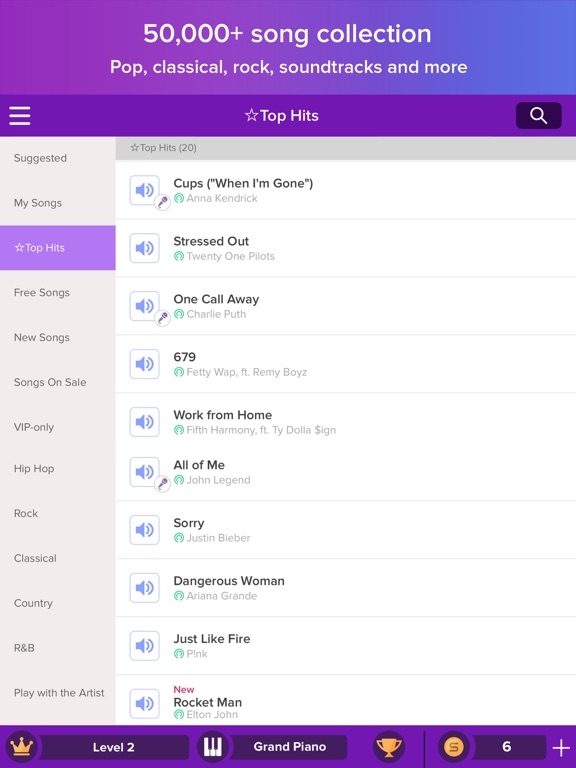 Reviews
Sleazy way to charge for using it
REQUIRES adult supervision. Not for use by children because there is no warning when the 'All Access Pass' is selected and you get billed $8 a pop. What may have been a cool app is ruined by the complete lack of controls.Definitely not worth it!
TOO MANY ADS COME ON SMULE
BethyWethy6542
on
1/22/2018
too many god dang ads
Used to be awesome...
nickodonnelhsdh
on
1/22/2018
I used to love this game, I was a level 42, and had over 100 songs completed with 3 stars. Now my account cant even be signed in, it says there are connectivity issues; however, I am connected to the internet. I tried signing in, deleting the app, making a new account, nothing is working. There is a bug in the app. Sad. Additionally, there are WAY. TOO. MANY. ADS. I understand an ad here, an ad there. In contrast, when an ad for the same game (which I actually downloaded in an attempt to cease that ad, it doesnt work) pops up before I begin and after I complete a song. It is excessive. I found a way where I turn of wifi after completing a song to avoid the ad, then quickly turning it back on to bypass the ads. Despite my efforts, they still make me want to throw my phone into a concrete wall. Finally, I despise the personally created songs. I never see the smule created anymore. No offense to the song creators out there, but usually the songs are incorrect, too long, or genuinely not fun. Just irritating overall. Disappointed, I am deleting this app. But, it has officially gone down the drain. :(
IT SECRETLY CHANGES YOU!!!
It charges me $8.58 every week!!!! I even deleted it!!!! MAKE IT STOP!!!!!!!!!!!!!
Artificial Sound
I love the piano. I have played since I was 4 years old. The sound of it is magical and glorious. I saw Smule and thought, 'This looks amazing!' However, when I opened the app and played the songs, I heard the most abashing sound in the world. And THEN I saw that there was no actual keyboard. You didn't play to your own accord. When I was little, there was an option. So, that was a setback in the app. And then, there was these 'Smule Coins', whatever that was supposed to mean. When. Fund out you had to ram coins to play songs, I was furious. But then I got the hang of the game and I made a huge profit. If you stick with it, you can be really successful. Eventually, you will have the different piano tones and all the coins. Composing is another story, but, so far, Smule has been agreeable.
Excellent App
122345885236
on
1/22/2018
All I have to say is that this app is very easy and fun to play with
Missing Smoola
I love the app but i don't know why when i'm trying to earn smoola's like watching the ad but then after watching the ad i don't get rewarded 😕 Please fix it before i was able to earn smoola's by watching those ads.
Way too many ads
mancityfan09
on
1/22/2018
I understand that an app has to make money and ads are a good way to do it, but you have to watch an ad before and after every song is ridiculous. I came back to the app after a while and it never had this many ads. I really like this app and it's fun but again too many ads. What a pity
Relaxing but not interesting
Talented swag kawaii fox🦊🦊🦊
on
1/21/2018
U get in to the game when u start but then u go through a hard level of it and get stuck so u don't play the game anymore that's what happened to me that's my opinion btw if u love really fun games then down load animal jam play wild friend me my user name is swagkawaiipanda TYSM if u do!!!🤗🤗
AWESOME!!!!!!!!!!!!!!!!
K13kinney@ love poop emojs
on
1/21/2018
I love this app so much!!!!!!!!!!!! It is so much fun!!!!!!!!!!!!!
SO MANY ADDS
I get that you guys have to make money but every time I played a song after there would always be an add. Also you guys should have more free songs. Another things what's up with the songs costing a lot of smula? 25 just for one song?
Piano fail - Could have been good!
Lizzyborden01928366
on
1/21/2018
Downloaded this app on my iPad and thought it would be really something fun to pass the time because I don't play the piano. But I'm about to delete it for 3 main reasons: 1) WAY TOO MANY ADs!!!!! It's absolutely ridiculous and makes no sense to have an ad every time u try to select a song. And the ads are long. 2) It's almost impossible to earn enough coins to get more songs. Each achievement is only like 1-2 coins and the songs require 25-75 coins. 3) If I liked it enough I might consider signing up for VIP but it's $7.99 a month!!! There's no way I'd pay that much for an app. So I'll play it a few more days and then probably delete it. It's too bad cause it could have been a nice way to decompress after a long day.
Advertising
@Bumbagump100
on
1/20/2018
I've only ever left a bad review on the sell-out of an app, Instagram, before now. Even so, they still have more integrity in regards to not exploiting its users. The amount of ads this game entails is absolutely absurd. You'll spend more time viewing advertisements than actually playing the game. To remedy this you must pay $8 a week. It's a wonderful game in itself and the concept is addictive. But this alone is not sufficient to compensate for such prominent faults.
A Review
i like the music and all the features, but every time you go to a next level, we only receive 1 Smoola which really annoys me. if we plan to get a song we want we can't because we never have enough Smoola's; making the game harder. so i end up deleting the game after a while.
I ❤️ this game
Ayda ( age 10)
on
1/20/2018
It's really fun, and it sounds good. I love this game so much it's amazing 😉 it has every song you can think of and more. ❤️❤️❤️❤️❤️😊❤️💩❤️😊😊🤩
What happened?
SkyHighGaming_52
on
1/20/2018
So a week ago I was scrolling through the AppStore looking for new apps and I came upon this one, and I used to have it and always played it with my mom. So I downloaded it for nostalgia. I went on the popular page and literally every single songs you have to pay for (in coins). Either that or you pay a ridiculous amount of money for 1 week which is 7.99 per week and 20.00 a month. Not to mention 100 dollars a year. Also, some songs are completely VIP which means you do the free trial for one week like I did or pay up. Coins are hard to get as you get like one every time you level up, or watch 1 video for 1 coin. It's ridiculous! A 13 year old like me or anyone for that matter shouldn't have to do that. So I am deleting this app until Smule changes their app.
Amazing
PegasusQuest
on
1/20/2018
I love it. I just wish that everything was free
Awesome
KatieParrack
on
1/19/2018
Addicting game
Used to be good
I used to not have a problem with it, but I logged in today and all my starts and stuff like that was gone. And now after EVERY SONG there is an ad, no matter if I press continue or replay.
Magic ads, not piano
Flying upside down
on
1/19/2018
Never saw a game that contains so many ads, you have to watch the ads before, between and after the game..
Try a another game
amariz real name
on
1/19/2018
I play this game called roblox and its a game were you can create an account then once that is done you can play a lot of games that players have created I'm alumb1 on that game and if you buy robox you can buy stuff and you can make your character pretty as whatever you want it's a free game it is called roblox try it!!!!
Ads ads and more ads
Fun game but one sometimes two ads per song is ridiculous!
Question
Kawaii2004183SoulEater
on
1/18/2018
I watch videos to get 5 coins but I've watched 3 videos now and I have 0 coins. Also ALL OF THE SONGS I BROUGHT NOW DONT SHOW UP. What's with that?
Good, but ADS. And Smoola? Forget it.
This app is very good. I like the wide range of songs, that you can play with singers from Smule SING!, that people can are their own songs, etc. But there are two huge things that annoy me about this app. Number one is the ads. Now, ads are a part of every game, and have been since I started playing PIANO. But they have never been this intrusive. I understand that Smule has to make money, but this is over the top. Now there is an ad before and after every song. This is ridiculous. I cannot afford V.I.P. subscriptions, but if it's anything like nonV.I.P.? I can't be bothered. The second thing is Smoola (coins, money, currencies, etc.). To play more songs, you can buy them with Smoola. You earn 2-3 Smoola every time you level up. But the cheapest I've ever seen a song is 25 Smoola. The songs can range from 25-100 (150?) Smoola. The only way to earn Smoola is by inviting friends, using social media...or watching ads (5 Smoola/ad). The way you only earn a few Smoola daily, if you're lucky...you'll be saving up for that one 75 Smoola song for months. Overall, it IS a good app. But a) not worth my money, because b) there could be many more improvements.
Meh
It's not the best yes it's fun and addicting, but it's glitchy and there's constantly commercials whenever I'm on the app. This app is fun but at the same time you're probably watching four commercials if you play one song.
horrible
Madi McAwesome
on
1/17/2018
i'm addicted to this game because it is fun, but there's an ad after EVERY SONG. it's so annoying so i'm deleting this app. and also they make it almost impossible to earn the coins you need to get a song, i used the free coins thing and it didn't register😡😡 very disappointing. wish i could give this app 0 stars. DON'T WASTE YOUR TIME
Horrible
There are way too many ads and every time i go to play a song. Ad. It's ridiculous and i really hate it. Seriously. one time all my stars just disappeared and i was so mad that it took me a few months to re-gain it. and what happened? they all went away this app is horrible. never download it.
Love it but.....
Potterhead 🦄
on
1/16/2018
I love the app it is so addictive but there is WAY to many adds like before every song add after the song add I think they should fix that but other than that I love it
Unnecessary ads
Something.Appropriate
on
1/16/2018
When this app first came out, it was great with no ads. Now there are too many ads and the app is getting deleted.
Kind of like it
I keep playing the same song over again
HATE IT
I used to love it but now I hate it there's either an ad before you play a song or after you play a song or before and after you play a song and it's terrible and I hate deleting the app.
AWESOME
ALOHA UNICORN
on
1/16/2018
This game is awesome.when your bored this is a good game to play. I myself love this game and I think who every is THINKING about getting it you should not have to think about it just get it
Was hyped to get it,but
GIRLYGIRL2018
on
1/16/2018
I don't recommend getting this app if you don't have any experience even though it says that you don't need any. I begged my mom to let me get it, but I hate it now😡😠😑. First of all, the first level is even challenging, secondly, it is always telling you what you're doing wrong. And finally most of your favorite songs aren't even on it and if you do want them you have to be a VIP but there aren't very many of those in existence so I don't think they should have the axes I think it should just connect do you are songs instead of whatever the heck the creator picks! If you think that you can ACTUALLY play this game without experience then you're wrong. Do not get this app if you don't have any experience on the piano! I'm probably about to delete this app! I definitely don't think you should get it if you don't have any experience on the piano!
Ads are ridiculous
cannabisRenegade
on
1/15/2018
I can't even play one song without an ad. It's a good app, but chill with the ads.
Too many ads
LillyMarie907
on
1/15/2018
There are way too many ads and I feel like you can't play any good songs without having to buy the membership ($7.99 a WEEK!! That's insane!)
TOO MANY ADS
I love this app ever since I was very young but there is just too many ads to enjoy it please get rid of some of the ads because bio costs way to much
Report
You guys need to add an option to report a song that hasn't been composed correctly
I hate these ads
I love this app but I hate having adds for apps I will never get blasted in my ears every time I play a song, I'm thinking I'm gonna delete it soon if this goes on
Why
IHateClubPenguinIsland
on
1/14/2018
I love the game don't get me wrong but why can't I play songs I COMPOSED that makes 0 sense i composes it but I can't play it. Why?
Not that great
What the heck, ppl?!?
on
1/14/2018
First: The ads! I hate the ads. Every time you play a song an ad pops up. Then, after you play, another ad pops up. I understand if they make you watch one out of free will in order to get smoola, the currency you can use to buy a song, but this is too much. Second: You can't always trust the reviews because they pay you smoola to leave good reviews. Don't get this app. It is a waste of time and storage.
Too many ads
CarsonIsBoss
on
1/13/2018
The game is super addicting (if you love music), but he ads are horrible. Every time you try to do anything it is ad after ad, so if the developers are reading this MAKE LESS ADS PLEASE!!! Also if you don't reduce the ads at least make a variety all of them are the same ones over and over. That's all
It's Fine But...
It's Alright in my Opinion But The Things I HATE about the game is that there are not as many Free songs anymore. Also That the Keyboard Thingy Buttons That Make Sound, Sometimes I cant Reach or even Do a 4 Finger Chord.
My songs are gone
Spent soooo many hours playing to get coins and buy songs just to have hem deleted randomly. I have only one song left I bought. Gay.
Too much adds
Elitewarrior246
on
1/13/2018
Can u guys like lowers the ads a little cause every song I get into there's an ad and when I finish the song and try to move on there's an add maybe u guys should call this app "Magic piano and ads"
So many fricken ads!
The anime pianist
on
1/13/2018
There are so many ads! When I start a song. When I end a song, when I'm scrolling through my song list to find a song to play, an ads plays. It's not even diverse in its ads. I either get a spelling game, a toddler gymnastics game, or a sausage run game. It's getting annoying. I get that they pay you to show their ads but can you limit them please?
Great App!
I love this app! It's so life like. There are tons of different music types and artists! Never experienced anything like this before! Keep up the good work! I'll keep it forever! Just love it so much!
This is my favorite game in the whole world
This is the best game I have ever played in my life I play it all night an day literally I am obsessed with this game. When I saw it I thought it was going to be boring but I played it and I said to myself don't judge a book by its cover especially this game. This game is not joking this is lit this is fire this is omg I can't even explain the whole story like it is life keep doing what your doing but I am about to go buy the microphone game you guys made like please make more like it is life to me o ya I forgot to say who I am and what my name is I am Ailani Thomas I am nine years old and I am in 4 th grade I never ever in my life got left back or sent back if you don't now there to different thing left back is going to the same grade but left back means they but you I the same grade because you did not learn as much as the other kids I but sorry for bringing school up I just Love school because I get to learn 😘😍😃😀😅😄😁☺️🙂😇😉😌😏🤔🤗
In it for the money
I had downloaded this app many years ago (2014ish) and it was great very easy to play. Now that I have a phone and downloaded it again I am annoyed because after EVERY. SINGLE. SONG. When you finish your song you get shown your score and then how many stars you earned then after you click continue and instantly get shown an ad.
Lost 3 of my songs!
Ok I really liked the game, then I logged on and I went to play my favorite song when I could not find it. I lost It's the Final Countdown, supermario bros theme, and strange things theme HARD version. I didt even get my coins back!
Fact Sheet
Publisher:

Smule

Category:

Music

Released:

May 04, 2011

Current Version Released:

Jun 20, 2017

Version:

8.3.3

Size:

55.4 MB

Compatibility:

Requires iOS 8.0 or later.

Recommended Age:

4+

Game Center Certified:

No

Supported Languages:

English; French; German; Indonesian; Japanese; Korean; Malay; Portuguese; Russian; Chinese; Spanish; Castilian; Thai;