Screenshots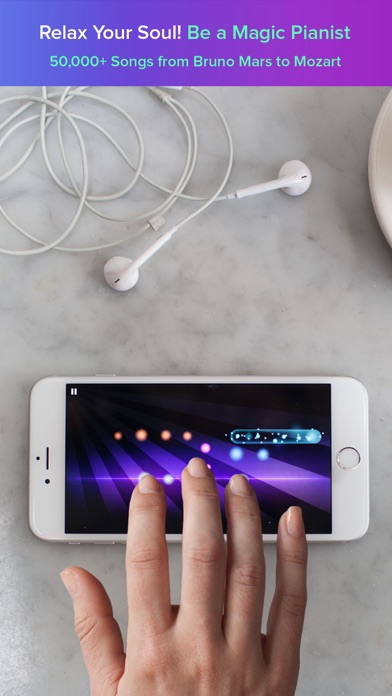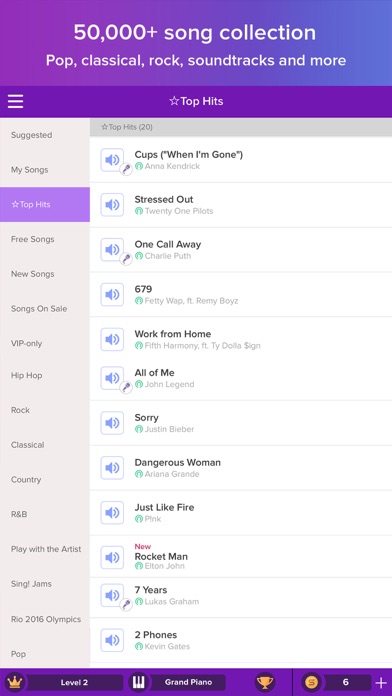 New in version 8.3.3
Ongoing Improvements
A few minor updates to increase the joy
Description
From Bruno Mars to Mozart, play the hottest songs!

Relax your soul with beautiful sounds of piano while playing your favorite tunes on original #1 piano rhythm game. Featured by TIME, New York Times and Apple's Best New Apps.

Features
- New hits added daily - 1000+ hits across genres
- Rhythm and tempo control - recreate the music!
- Pair with real vocalists on Sing! Jams mode
- Instrument options: classic, harpsichord, Funky 80's synth, organ and more

Current most popular songs (all genres):

------- POP -------
** All of Me - John Legend
** On Top of the World - Imagine Dragons
** Safe and Sound - Capital Cities
** Counting Stars - One Republic
** Blurred Lines - Robin Thicke, ft. T.I. & Pharrell Williams
** Wake Me Up - Avicii ft. Aloe Blacc
** Treasure - Bruno Mars
** Cups - Anna Kendrick
** Stay - Rihanna ft. Mikky Ekko
** Bubbly - Colbie Caillat
** What Makes You Beautiful - One Direction
** Moves Like Jagger - Maroon 5

------ ROCK ------
** Eye of the Tiger - Survivor
** Rock You Like a Hurricane - Scorpions
** More Than Words - Extreme
** The Final Countdown - Europe
** Bring Me to Life - Evanescence
----- CLASSICAL----
** The Magic Flute - Mozart
** Moonlight Sonata - Beethoven

----- MOVIES AND MUSICALS --
** Phantom of the Opera
** Jurassic Park Theme

----- COUNTRY -----
** Friends in Low Places - Garth Brooks
** Before He Cheats - Carrie Underwood

------ R&B ------
** I Believe I Can Fly - R. Kelly
** Hero - Mariah Carey
** Respect - Aretha Franklin 

Want a song that's not available? Suggest songs on Smule's Facebook page: www.facebook.com/smule

PICK UP AND PLAY EFFORTLESSLY
Magic Piano makes you sound like a piano prodigy - any time, anywhere. Play your favorite songs with your own spin and sound great every time.
-Follow beams of light to guide your fingertips to the correct note. You control the notes, rhythm and tempo, allowing your creativity and expressivity to shine.
-Try out different instruments - change your piano into a harpsichord, Funky 80's synth, organ and more!

PLAY WITH VOCALISTS FROM SING! KARAOKE
In the new Sing! Jams mode, you can play the piano alongside real vocalists from the Smule community!

CONNECTING THE WORLD THROUGH MUSIC™ - SHARE YOUR PERFORMANCES
-Broadcast your performances on the in-app Smule Globe or listen to other players' songs and give their performances some love.
-Share your pieces through Facebook, Twitter and email.


UNLIMITED PREMIUM SUBSCRIPTION
- You can subscribe for unlimited access to our full song and instrument catalog
- The subscriptions are $7.99 weekly, $19.99 monthly and $99.99/annually*
- You'll be able to play all available songs on any instrument for the duration of your subscription
- Payment will be charged to iTunes Account at confirmation of purchase
- Subscription automatically renews unless auto-renew is turned off at least 24-hours before the end of the current period
- Account will be charged for renewal within 24-hours prior to the end of the current period at the cost of the chosen package
- Subscriptions may be managed by the user and auto-renewal may be turned off by going to the user's Account Settings after purchase
- No cancellation of the current subscription is allowed during active subscription period

*Price are equal to the value that "Apple's App Store Matrix" determines is the equivalent of the subscription price in $USD.

https://www.smule.com/termsofservice
iPad Screenshots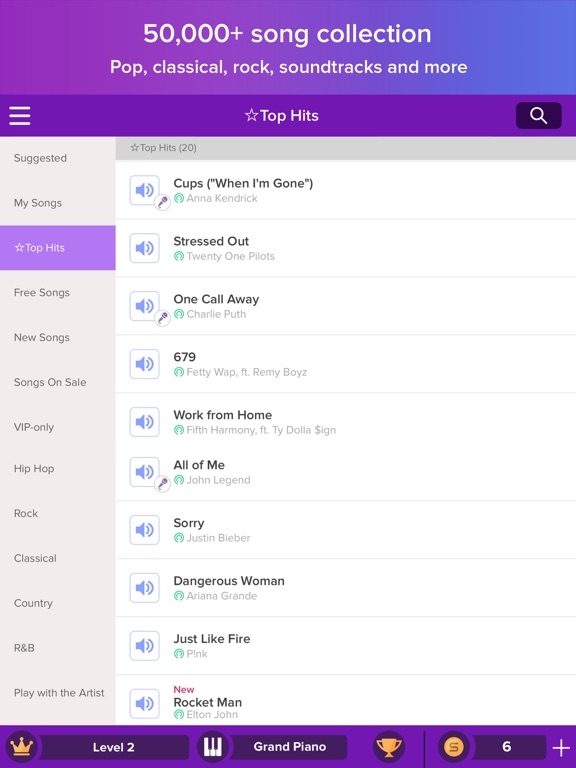 Reviews
Great but to much adds
Girlwiththegames
on
11/18/2017
I love this app. It's so fun and calming but in between every song I play an add pops up. Also, on songs I own it says please watch this add to be able to play this song, so I have to watch another add just so I can play a song!!!
A W E S O M E, but not E P I C.
*I LOVE THIS APP!! *But, I do have some problems with it. *The price for the songs needs to be lower. ((in my opinion)) *There needs to be less VIP only stuff. *And there needs to be more recognizable songs ((trending)) *And I forgot the rest, lol XD *Welp, that's it for me, cya! -Asriel Dreemurr
It could be better
gavin.walton_11
on
11/18/2017
The app itself is really fun, but all the songs cost a lot of coins or you need a vip membership. There is WAAAAAAYYYYYY to many adds unless you have a vip membership which cost money every month. I only had it for about half an hour.
Magic Piano
Jimdaddy1000
on
11/18/2017
Smile Does not give smula for completing tasks that are supposed to earn them I don't know if it is a glitch or if they are denying on purpose, but there is no way to contact to find out I have lived Magic Piano for years, but will soon be forced to find other music entertainment... a shame...
Really fun app
Minecraft gamer 5598
on
11/18/2017
Ok this is a must have if you love music. I have no complaints. But I see all these 1 star reviews and I don't get it. There's not a problem here and it annoys me to see all the bad reviews. I guess it's bc I have the vip and they don't, which the app is worthless without it and I think it is too expensive but worth it. But overall I love love love this app and 5 ⭐️ for u!!!
hi
Chickebpovet33
on
11/18/2017
Amazeballs
Not the same
Lyricocean1223
on
11/18/2017
Used to have more options without too much spending. Now it's whatever
Song glitch
All the songs that I bought went on sale again. Fix this
More ads than actual piano
Hdhhajsjxjjs
on
11/18/2017
You have to watch an ad to play a song, you then have to watch an ad right after playing the song you already watched an ad for. I understand the developer wants money but there are too many hard for it to have any sort of fun anymore. It's no longer magic piano, just magic ads.
Not fair
Ndonsfnfodgeli
on
11/17/2017
I don't think it's fair how more than half the songs cost coins
Fail
My fat fingers can't play this. This game is plart
Awesome Ahana
Ahana,Andy,and Mom
on
11/17/2017
My name is Ahana and I want to know who invented this game. I really love this game a lot it feels like you are playing piano.
One star.
jane smithe
on
11/17/2017
It deleted my songs, so I deleted the app.
Pugs like pianos
Piano puggy
on
11/17/2017
Magic piano is fun and easy to play and pugs love it to you play and get coins and spend them on more songs and play those songs and get more songs and over and over and over 🙂 ❤️❤️❤️❤️❤️❤️❤️❤️❤️❤️❤️❤️❤️❤️❤️❤️❤️❤️❤️p.s. I can't find a pug face so 🐶 dog face sorry
Awesome
This game is awesome I love it
Good and easy
Enjoyable playlist of a wide range of music and easy to learn and immerse yourself in.
Yuss!🤩🤩
Love this game!!!!!
My review
This game helps me focus on my fingers and this game for me test out how good I am in pianos
Long Term Player
Reviewer1179
on
11/16/2017
I have been with Magic Piano for several years, and now... I can no longer stick with it and deal with some of the choices made for the app. While there are various things that were great ideas, the poor ones are simply over powering making it pointless. First and foremost the excessive and invasive advertising on the app. Before you'd get an ad every now and then, but now it's after every single song and action the player does. Secondly, VIP. While I don't hate this completely, it's simply a thing that should have spent more time on the drawing board. Lastly, the new leveling system. Before this was updated I was level 60+ or so, I can't quite remember because of the timespans . However either way, it's now less rewarding to level and much harder when in the 20s. t said, I'm not really bugged by the leveling, but rather by the greed from the massive advertising and VIP requirement prices to remove ads. For now, and perhaps forever, I am leaving this app. Good day.
Do Not Get
raisinbeeryyeyywyyye
on
11/16/2017
Don't even waste your time on this. It has 30 second (boring) ads that literally trick you into clicking the ad and takes you to another page. And the ads come after every single song you play. Literally this is my 5th time downloading and deleting the app. Never getting this again, hope you don't either!!
Songs?
Asdfzgbmcnf
on
11/15/2017
I don't know why I'm writing a review it's not like it will matter no one probably actually reads that the company but here i am writing a review so anyways I get magic piano a lot because I run out of space and have to delete it but I end up getting it back and I'm really disappointed with how it is now it's like I don't want to spend lots of time for 75 coins for one song that I like it's really sad the way it's turned out but I still like the game I like the daily challenges but still please make stuff less expensive and FIX THE ADDS
Very addictive
Perdue Familie
on
11/15/2017
When I first started I could not stop( even at school)
Darla's review
OK I just got this game four minutes ago and I already want to delete it I can't believe you have a seven day trial and then you have to pay and I might start deleting it right now you really need to make it A free game I mean I want to hear music and play It for free
Love the music!!
Living out of boxes
on
11/15/2017
I love the music personally because some of them I know and I don't have any ward some of them.
Great
Kk girl8675309
on
11/15/2017
Good
So many ads and not enough songs
Oh my god there are ads before and after every song and it completely ruins the entire experience; they're like 15 seconds long before you can exit out of them. Now don't get me wrong, it's so fun when you are actually playing, but I genuinely cannot use this app very much because it makes me so angry. Also, I don't know about anybody else but I would like to play something other than the same 5 songs all the time and I can't buy more songs unless I watch MORE ADS. Please change this.
Don't buy or download gives away your information to scammers
Good music high quality Singer
on
11/15/2017
So I bought the magic piano 1 month pass 2 months ago and then today it said your vip pass has been renewed on my email. I almost fell for it but I looked on smile and it said 1 month pass 9.99 and the email said 40.00 so right away I went to the website in the if you didn't buy this part in the email so I typed my iCloud and stuff and it said instantly it didn't work and it was trying to make me type in my social security and also my credit card info so right away I knew something was fishy. After that I called apple told the lady the sender of the email and as soon as I told her she said it was a scam. And then right away I never did anything fishy online so right off the bat I just knew magic piano is stealing my info will delete immediately.
Went down the drain with the ads!
skeusksbfia
on
11/15/2017
Used to love this game so much, but within the past couple months, there's been a tremendous amount of ads, every single song I have to watch one before I play and then right after I have to too, that's 2 ads just to play for a minute! Really disappointed 😐
Uhmm...
LittlerBuzBo
on
11/15/2017
I think the idea for this game is golden! But the actual thing is slow and hard to follow. Plus, songs are super expensive!
Relaxing
I use this app at the end of the day to help me unwind.
Money hungry
This game is loaded with ads, before and after every.single.song. Long ads too, not short ones you can click off of. Also, only 8 free songs, and they make it very hard to purchase new songs with the coins you earn. Basically making you pay to play. This company got very greedy with money. I like to actually play the game but they ruined it.
👏🏻
injusticefanboy👍
on
11/14/2017
I love the game so much because I've been playing for three years ,but I deleted due to overriding storage, and returned this year only to find out that my game had not saved any progress from my first two years I am mad about this because every app on my tablet can save progress of something like email BUT APPARENTLY A SIMPLE NON PERPLEXING PIANO GAME CAN'T! Also the game is inaccurate due to the fact of when I play moonlight sonata from Ludwig Van Beethoven it is supposed to be a calming smooth flowing piece BUT here comes the twist again when I took the tutorial again because it saved NO progress it told me to play notes on the and when I did it told me to play faster so I did and then the dang thing told me to slow down IT IS SUPPOSED TO BE A GAME THAT IS NOT A PITCH PERFECT HANUS CRACKER WHO WHIPES YOU EVERY TIME YOU MESS UP!
AD AND BUG/GLITCH INFESTED APP!!
Used to like the game but maybe if they added an instant replay feature pianist can see where they might have messed up, and also there's a bug or glitch that makes the songs I purchased with smolda coins via search, the only songs that show up in the "my songs" section is the songs that the app created. It's really annoying when I can't play the songs I spent a long time watching ads to get. And also sometimes I sit through a 30-50 second ad and I don't even get the coins for it, um..... WHATTTTT?!?!?!? I used to really like this game. I played it for hours without any ads and it was fun and enjoyable and all bugs were squashed, but now we have ads around every corner, bug nests everywhere and ads with sexual content, um excuse me but (no offense intended to Smule) who do you think you are?! It's an app rated 4+ so there should be content that's appropriate for 4+ aged people. UNACCEPTABLE!! How would you feel, developers of Smule, if your child was playing an app and encounters an ad containing sexual content? I would feel like a bad parent! And if more and more people feel the app makes them feel like bad parents, they'll delete the app and you'll loose money! Then what will you do? Just think about that.
Songs disappearing
Silver-Fatigue
on
11/14/2017
So I've had the app for a while and I really enjoyed it, but recently I've been noticing that the songs "Kagome, kagome" "X.U Owari no seraph op" "morning remembrance -bleach" and a song I bought yesterday which I don't remember the name of, just disappeared!! I'm very disappointed!!
It good
It good trust me
on
11/14/2017
Nibba it good
Charges
They are charging me $30! Won't let me cancel. Please help.
Guide
Fingers too big?: No, you just forgot that you can tap anywhere on the screen! And if your having a problem with it being "too far left/right", turn on perfect pitch in settings Doesn't register my fingers: It does. It will register if you hit hard enough with "all" your fingers "at the same time"! Sometimes that may be hard cause of the length of your fingers, but it's not going to be the developers fault if you're fingers don't hit the screen in unison. Composer, changing the speed or length of the notes: To change the speed you obviously just adjust the BPM. To adjust the length of the notes, just stretch the screen larger for quicker notes! They don't have a measurement longer the 1/4 notes.... Ads: There will always be "too many ads" when it comes to free apps(but iMovie is ad free and free)...... there are now only ads at the end of a song. Check review dates to make sure it's not like a YEAR OLD!!!😜 Composer songs are terrible!: I have to agree that some composer songs are stupid and poorly done.... but you can fix them!!! Just load in composer! Then edit it till it's amazing!! I do that a lot cause I don't have enough musical knowledge(or patience) to properly compose a good quality song... but I use other songs that need improvement/finishing as a base block and add to it or improve it for the better!!! I'm not getting smoola!: You can easily fix that with a quick reboot! Or as I have noticed, it won't show that you got smoola, but when you buy a song it registers the smoola! So even if it doesn't show up in your counter, it probably still registers that you have smoola! That's all I have now. Check back for an update if there's more I can do!!! Not a dev, -MoonDotEXE🌙
This app is 🐱- ridiculously amazing
Daniiiiii7640642
on
11/14/2017
AMAZINGLY fun to play this game. 🐶🐯
Its so cool!!😜😋😁
I don't have alot of games but this is the best one.
Scam emails sent from smule
I know you can't control it, but what are you doing to prevent it? Phishing emails are lame.
Can I remove a membership?
JeremyFitzgerald12
on
11/13/2017
I got a membership that I don't want anymore, is it possible to remove it?
Ads
The game itself is great but I felt compelled to leave 1 star due to the simple fact that this game is AD HUNGRY, before every song and after every song you have an extended ad that you can't skip and your just forced to spend most of your play time watching ads for things you probably don't even want. They also advertise their other app karaoke, why would you want to download that with the amount of ads on this app??? I'm sorry smule but if there's going to be this many ads I refuse to download any further apps from you.
It's alright
Just 1 tiny thing
on
11/12/2017
The game plays smoothly and I haven't encountered any bugs. I like the variety of songs and how you can create your own, even if it's complicated lol. However, there are a lot of ads. Frustratingly so; for every song you play you must sit through an ad before and after the performance, and if you'd like to purchase a song with the in-game currency you have to sit through one as well. I like it anyways but if you don't like ads I wouldn't recommend it. Not many new updates either (I deleted this game a yr ago and am trying it again but nothing has changed), besides new songs.
Don't get this app
Started the free trial and didn't like it so I cancelled it very shortly after I started it and I was still charged a week later. I emailed support a couple weeks ago and they never replied or gave me my money back. Don't waste your time or money.
Best game ever 🤘🏽
My daughter loves this game and this is like the only thing she play
Unbelievable amount of ads!
I'm shocked by the amount of ads they put into this game! Back then there used to barely be any ads! Now, every button includes an ad. I loved this a while ago, but now, i'm not so sure. 😕
Best game ever
My favorite song is fire flies and it has my favorite band in it I LOVE THIS GAME ❤️❤️❤️❤️❤️❤️❤️❤️❤️❤️❤️
Amazing!
Surferdude1313
on
11/11/2017
Love this app. Simplistic design, beautiful and fun songs. The perfect download🙏
Fact Sheet
Publisher:

Smule

Category:

Music

Released:

May 04, 2011

Current Version Released:

Jun 20, 2017

Version:

8.3.3

Size:

55.4 MB

Compatibility:

Requires iOS 8.0 or later.

Recommended Age:

4+

Game Center Certified:

No

Supported Devices:

iPad2Wifi-iPad2Wifi, iPad23G-iPad23G, iPhone4S-iPhone4S, iPadThirdGen-iPadThirdGen, iPadThirdGen4G-iPadThirdGen4G, iPhone5-iPhone5, iPodTouchFifthGen-iPodTouchFifthGen, iPadFourthGen-iPadFourthGen, iPadFourthGen4G-iPadFourthGen4G, iPadMini-iPadMini, iPadMini4G-iPadMini4G, iPhone5c-iPhone5c, iPhone5s-iPhone5s, iPadAir-iPadAir, iPadAirCellular-iPadAirCellular, iPadMiniRetina-iPadMiniRetina, iPadMiniRetinaCellular-iPadMiniRetinaCellular, iPhone6-iPhone6, iPhone6Plus-iPhone6Plus, iPadAir2-iPadAir2, iPadAir2Cellular-iPadAir2Cellular, iPadMini3-iPadMini3, iPadMini3Cellular-iPadMini3Cellular, iPodTouchSixthGen-iPodTouchSixthGen, iPhone6s-iPhone6s, iPhone6sPlus-iPhone6sPlus, iPadMini4-iPadMini4, iPadMini4Cellular-iPadMini4Cellular, iPadPro-iPadPro, iPadProCellular-iPadProCellular, iPadPro97-iPadPro97, iPadPro97Cellular-iPadPro97Cellular, iPhoneSE-iPhoneSE, iPhone7-iPhone7, iPhone7Plus-iPhone7Plus, iPad611-iPad611, iPad612-iPad612, iPad71-iPad71, iPad72-iPad72, iPad73-iPad73, iPad74-iPad74, iPhone8-iPhone8, iPhone8Plus-iPhone8Plus, iPhoneX-iPhoneX,

Supported Languages:

English; French; German; Indonesian; Japanese; Korean; Malay; Portuguese; Russian; Chinese; Spanish; Castilian; Thai;