Screenshots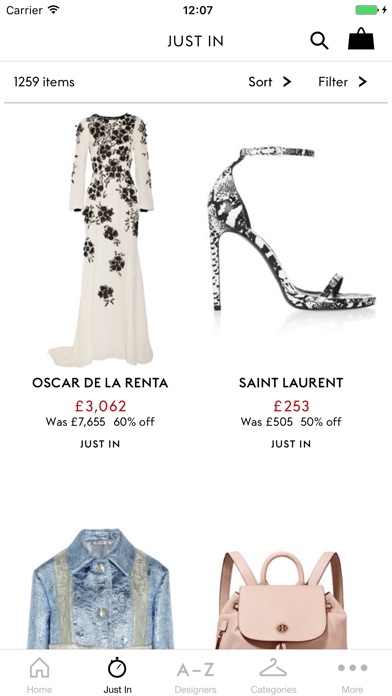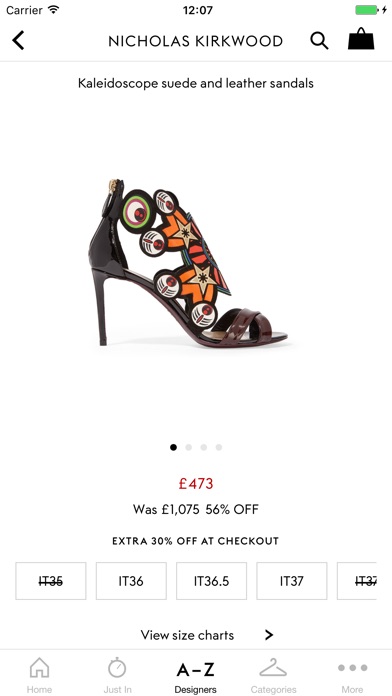 New in version 5.0.3
General bug fixes and performance issues. We're aware of all of the issues with the app and are working behind the scenes to fix these. Thanks for your patience and stay tuned over the coming weeks for more updates soon!
Description
From dresses and tops to shoes, bags and more, THE OUTNET.COM's sleek and intuitive app makes upgrading your style quick and easy!

Established in 2009 by The NET-A-PORTER Group, THE OUTNET carries 350+ luxury fashion designers, from Michael Kors and Isabel Marant to Stella McCartney and Tory Burch, all with discounts of up to 75% off. Download now for exclusive access to app-only sales and the latest arrivals every Monday, Tuesday, Thursday and Friday – plus use My Designers, a feature exclusive to the app, to see the latest products from your favourite designers!
iPad Screenshots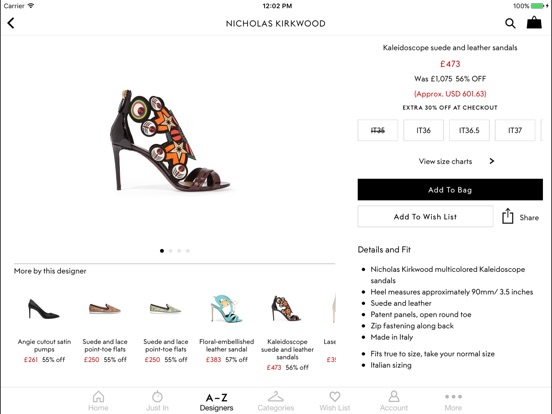 Reviews
First Purchase
Just did my first purchase let's see how I.T goes but quick and easy
Great Company, Buggy App
There have been a lot of bugs in the app lately. The company is great, but I would recommend buying on the website and avoiding the app until they've worked out the bugs from the last month or so. Of note, the filters are difficult to use and the search logic seems to be set to 'or' instead of 'and' so you get too many results.
Misleading Promo
Leightorres💜
on
12/13/2017
I received an email from The Outnet that if I downloaded their app, I could use a promo code for 20% off my purchase. I decided it was worth it, downloaded the app, and tried to complete my purchase, but the promo code doesn't work. I reached out to The Outnet and their response is that they are working to make the app better, so sometimes certain things don't work. It seems shady and disingenuous to offer a discount for downloading the app, and then tell the user that it doesn't work. Blech. Deleting the app as soon as I submit this.
Great site terrible app
Better off going to their webpage. Their app is clunky and doesn't work well
New update huge step backwards
New update is super frustrating- wishlist blown away, order history not functioning, my favorites don't load most of the time and plenty of other bugs make me more likely to turn to competitors apps. The update was not well executed and a step backwards in functionality.
Fix the update!!!
The new update is horrible. Agee w all the other user complaints. Used to be great. Clunky and not user friendly at all. I saw a recent update stating you guys are aware of the problems- please fix it asap.
Favorite designer
user20151003
on
11/9/2017
Please fix the favorite designer list. It does not load
Horrible upgrade
Truly awful. I can't even find how to shop USA.
New app is awful!
LenkaPenka13
on
11/7/2017
The Outnet has just gone through website and app update and it is absolutely horrible! You can't see your past order details. Recent orders disappeared entirely. Old wish list did not save. Items that were in my shopping bag vanished and no longer exist under the designer name. Poor item descriptions and sizes are all mixed up and you cannot tell if you are looking at French or Italian sizing! The address got mixed up and I now have an address in there that I have not used in over a year. The app is really buggy. This is a massive FAIL!
Not a good app anymore
I used to love this app however recently is has become much harder to use, items from my wish list randomly get deleted, when I search under some of my favourite designers not all the clothes show up, I have to do a wide all category search to see everything. Very annoying and time consuming.
You are clearly not ready for this update
Notwayitstaken
on
11/5/2017
One, the pop up in the holiday section. The app flow is a mess. Two, why remove the model information and size she is wearing? That's critical information for me to purchase the correct size.
A lot of bugs and much slower
After the most recent upgrade, noticeably more bugs showed up. Hope those can be fixed soon
New update
Greens2diworld
on
11/1/2017
The update is terrible. The details and fit in the new update is not helpful. Please bring back the old details and fit! The selection of items have lessen. The new OUTNET is just bad.
New Version Crashing ~ AGAIN!
New update on October 30th keeps crashing again! What's going on with the app? It's crashing upon opening. This happened back in April and now again in October. What's the ETA to resolve?
What happened to the latest update?
Blackcat0830
on
10/31/2017
With the most recent forced update, they lost all of my favorited brands, all of my wish list items. The order of the sizing is random, and where is the sizing and fitting information that used to be there?! This is one of the most information for online shopping! The app is smooth, but the ux is not on par with the old version. Please fix!
Bad update
I want my things
on
10/31/2017
Was about to go back to the site to buy some of the clothes from my wishlist, but there is no list! Somehow the update deleted all my items from the cart and wishlist, and nowhere to be found even when searching for it. Also, as someone else has mentioned, the size and fit info isn't as optimal as the previous version of the site. The search bar won't work either with this app; works fine on the web.
the latest version is terrible
Ightdermcse
on
10/31/2017
So many bugs and the update website cleared up all items in my wishlist and past shopping history. Horrible upgrade.
Latest update is terrible (version 5.0.0)
Pghtraveler
on
10/31/2017
All my wishlist items and "my designers" lists disappeared after the update. App is slower to load pages. Items I had in my shopping cart have also disappeared. Overall just very buggy! Can't even view my order history anymore. The worst part is that it was a forced update in order to keep using the app. Should have made my purchases before updating! Outnet just lost a sale here...
Worst version ever
Juicyjuicy77777
on
10/30/2017
Deleted most of my wish list items, removed all of my favorite brands. Very buggy
Horrible website. They do fraud on your orders
Horrible website. They do fraud on your orders
Life Changing!
I love this app. So easy to use and so full of beautiful and amazing designer clothes, shoes and handbags at a great discount. What's not to love! When I need a pair of shoes or a cute outfit for an event, I go to THE OUTNET! 👍🤓💕
Great shopping experience every time!
Easy to use app, great prices, easy returns!
Charges for returns
I wouldn't have bought from here if I had known they charge $ for returns.
Great!!
Easy to use overall great app
First time !
My daughter clued me in to The OUTNET. I saw a line for sleep wear that I love called Skin. I ordered a white cotton sleep shirt on sale that was exactly my style? In arrived beautifully wrapped in tissue paper with the round stick on logo closing. You may have this presentation from a Neiman Marcus or Saks Fifth Avenue, but with most on-line purchases the item comes in a plastic bag. This is a first class company. Will order from The OUTNET again.
My go-to shopping anywhere
Will be back
on
6/27/2017
No matter which country I relocate to, I can always find what I want to where that can work with local style here at the OUTNET. Easy to shop w reliable shipping&return anywhere in the world. Love it!
Fab app, amazing store...
But need to add Filters for viewing stock
Great discount couture window shopping with excellent delivery results!
Great discount couture window shopping with excellent delivery results!
Instant crash
Can't access sales!!!
App does not work
Don't download the app doesn't load
Crashes immediately
Like the others said the app crashes right upon opening. Terrible.
Fix this app
The company needs to fix app. Crashes at open
Cannot open app
Please fix the app no able to open
Crashes immediately when opened
Can't use app at all. The new update causes the app to close immediately.
New version crashing immediately after opening
Michelle Froome
on
4/25/2017
Not working at all. App closes as soon as it's opened.
Love it
The app is amazing and user friendly
Great experience!
Good selection of clearance items from a variety of great brands. You can save your favorite brands for a filtered shopping experience. Fast shipping. When items arrive, they are wrapped in tissue paper and dust covers.
Love it!
LuckyLefty7945
on
3/25/2017
Great site easy to navigate and thank you for making designer pieces affordable. You have a lifelong customer for sure!
Great except...
Thatgirl1515
on
3/12/2017
Really nice shopping experience with items sorted well and great angles and info perfect for shopping online. The only thing that can be frustrating is when scrolling through large volume sections like clearance there are no pages, so hard to keep track of and go back to "maybe" items unless you put them in your cart. Sort that out and it's perfect!
Cannot delete cached contents
This is a great app for shopping but now occupies A LOT of storage (1.5gb for me right now) without offering an option to delete cached content.
Best in everything
I love it The only thing I wish they do Provide free shipping better and add more brands But the prices unbeatable
Nice
Very organized app that let's you do the same thing you can do on computer
Can only browse, unable to use other function.
For some reason it's just impossible to log in, aldy told the customer service but still the same. Can only use this app to see what's on sale but need to use my home computer to buy stuff.
Fast and easy to use
Very good
Needs a lot of work
The app's appearance is nice but the mechanics just aren't there. Trying to search for a particular item is impossible, and you're not even able to see all the products in a specific category.
Easy to use and shop
Great selection and prices.
Great selection
Kickin it up a notch
on
11/14/2016
I have found that The Outnet has a great variety of items available for a very varied population of individuals. As someone who is over 50 it's not always easy to find great key pieces that we can make our own. The Outnet has me going back to check to see what is available and I've purchased some pieces that have become favorites!! The only thing I would like to see is when showing items, I always prefer to see someone modeling the item. I'm a shoe and bag person and I want to see how it really looks on someone.
poor customer service!!
customer care service is absolutly unexeptable! i did not get answer on my emails for the whole dayy!! i had to call them every time i needed something!! guys this is not serious!!! most online shops have LIVE CHAT !!!!
The Outnet app keeps me shopping
This app has a great user interface. It's easy to browse, search and filter. I always swipe when I get a push notification because they're always useful! Best part, if you log in it links to your account online, so you can seamlessly switch between the two (unlike the Net-a-Porter app where logging in doesn't link your accounts).
Fact Sheet
Publisher:

THE NET-A-PORTER GROUP LIMITED

Category:

Shopping

Released:

Jun 01, 2011

Current Version Released:

Nov 30, 2017

Version:

5.0.3

Size:

79.5 MB

Compatibility:

Requires iOS 9.0 or later.

Recommended Age:

4+

Game Center Certified:

No

Supported Devices:

iPad2Wifi-iPad2Wifi, iPad23G-iPad23G, iPhone4S-iPhone4S, iPadThirdGen-iPadThirdGen, iPadThirdGen4G-iPadThirdGen4G, iPhone5-iPhone5, iPodTouchFifthGen-iPodTouchFifthGen, iPadFourthGen-iPadFourthGen, iPadFourthGen4G-iPadFourthGen4G, iPadMini-iPadMini, iPadMini4G-iPadMini4G, iPhone5c-iPhone5c, iPhone5s-iPhone5s, iPadAir-iPadAir, iPadAirCellular-iPadAirCellular, iPadMiniRetina-iPadMiniRetina, iPadMiniRetinaCellular-iPadMiniRetinaCellular, iPhone6-iPhone6, iPhone6Plus-iPhone6Plus, iPadAir2-iPadAir2, iPadAir2Cellular-iPadAir2Cellular, iPadMini3-iPadMini3, iPadMini3Cellular-iPadMini3Cellular, iPodTouchSixthGen-iPodTouchSixthGen, iPhone6s-iPhone6s, iPhone6sPlus-iPhone6sPlus, iPadMini4-iPadMini4, iPadMini4Cellular-iPadMini4Cellular, iPadPro-iPadPro, iPadProCellular-iPadProCellular, iPadPro97-iPadPro97, iPadPro97Cellular-iPadPro97Cellular, iPhoneSE-iPhoneSE, iPhone7-iPhone7, iPhone7Plus-iPhone7Plus, iPad611-iPad611, iPad612-iPad612, iPad71-iPad71, iPad72-iPad72, iPad73-iPad73, iPad74-iPad74, iPhone8-iPhone8, iPhone8Plus-iPhone8Plus, iPhoneX-iPhoneX,

Supported Languages:

English;