Screenshots
New in version 1.8.4
- Introducing a redesigned iPad experience that's faster, easier to navigate and more enjoyable to browse
- iPad users can now personalize their experience to based on their interests
Description
Snapguide is a beautiful, easy way to create and share how-to guides. Discover new recipes, DIY projects, fashion ideas, make-up tricks, tech tips and lifehacks. Create your own guides and share what you love doing.
iPad Screenshots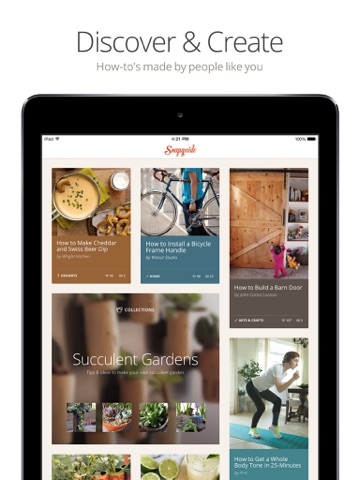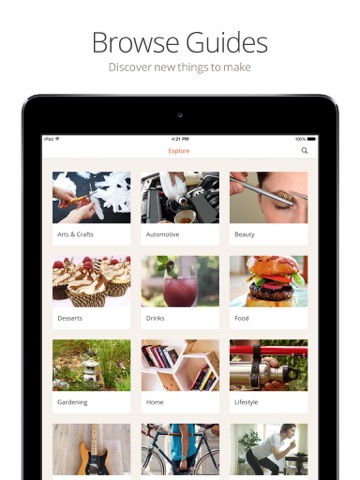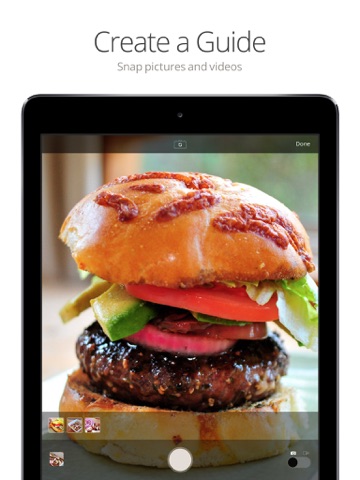 Reviews
I'm happy to rediscover Snapguide!
What an easy, useful and fun way to learn new things, and to teach what you know to others! Regular people like me can create brief teaching content with tutorials. For me, it is easier to create a slideshow for a quick tutorial. (I'd like to one day have a YouTube channel, but first I have to master the video.) Snap guide allows me to create content, within a helpful format. And that allows viewers to have consistency with how they're being presented with information. What a great idea! I used snap guide several years ago and now I am rediscovering it again.
Wonderful Learning App
This app is great! There are so many creative and talented people out there; it's great that we can all share our talents to help each other out. I have learned so many wonderful things by many wonderful people (I'm sure). This service is right up there with Wikipedia and EHow in regards to being very helpful to different facets of our lives.
Enjoyable
Having fun exploring.
Update!
Last update was in 2014?!?!?!
Cool App. Good for everyone
Instructions are simple direct with easy to follow pictures. Love it.
LOVE
Hello I'm Megan Greene
on
8/12/2016
I've had this app for about 5 years now... And I absolutely love it! I mainly use this app on my iPhone.. Not a fan of it on my iPad bc it cuts some of the words off but the phone app is fantastic. I love the page by page recipes and the supply list makes it easy for me to get stuff from the grocery store. All around happy. Follow me for recipes @ Megan Greene
AMAZING!!!!!💞💞💞
haileysull2201
on
6/29/2016
Don't listen to any other reviews except this one!!! This is the most awesome diy app ever! I definitely recommend this for all kids and adults! Love this app!💞💞😊😊
Prefer Pinterest
Was hoping for more but just not up to par compared to other apps especially Pinterest
Disappointed 😓
It's not as good as it used to be. Crashes a lot. Haven't been update in a while, most users are inactive. Basically there's nothing new. They do contests more often, but prizes usually goes to >>> old guides and popular users. They don't give a chance to new users&guides.
I don't like it
daisydaniels
on
6/16/2016
You can't see the recipes without signing up
I don't like it
You must sign up to see the guides
Used to be good but....
In serious need of a new update. That is if the developers have not completely gave up on this app.
Crashing
I am trying to write a guide but the app keeps crashing after I enter two materials. Then I have to start over. Soooo frustrating!!
Eh
I had this app a couple years ago and it seemed to work well. I opened it up for the first time in a while to find that it has not been resized for the iPhone 6 screen. Aside from that, I immediately noticed where some text didn't have a proper background and it was hard to read depending on the picture behind it. Very disappointed that these issues have not been addressed considering the iPhone 6 has been out for well over a year.
I LOVE but...
88oogremlin
on
12/30/2015
This is such a good app. The only problem is it crashes whenever u try to make a guide. When I want to type in the quantities or take a picture it crashes. I will give five stars if fixed. I love this app. Please fix as soon as possible. I recommend this app
I don't like it sometimes
💎JoJoNikki💖
on
12/29/2015
Every time I try to make a guide, just as I finish it closes the app and dosent save my guide! It's sooooo annoying and frustrating! The first time it closed out when I was halfway done. The second time I needed like one more step, low and behold, it closed out! I was sooooo mad! I really hope they fix that because it gets me SOOOO angry!!! 😡😡😡😡😡😡😡😡😡😡😡😡😡
Not overwhelmingly impressive
It's like Pinterest meets Instructables at Trello's house party. 5 stars for functionality but if it's radical revolution you seek, I'm afraid you've come to the wrong place.
Visual Quality Has Been Lowered.
I am a frequent poster on snapguide and I recently noticed a drop in quality. Please fix this. Not a good look for anyone. We all love snapguide.
Great Useful App
Love this app. Works great for me. Very useful. Thanks!
When...
When are you guys going to update this app?
Recommend this app!
Elphaba_Katniss
on
6/27/2015
I personally love this app, it's really coolio cause you get to "teach" people how to make your creations and share really nice things. It's kinda like Instagram, except you don't have to be 13 or 14 to have this! I love putting up guides on my account, it's pretty cool! I recommend this app.😁😊
Love this app!
Great and useful information!
Love it!
I love this app! I love the fact that it gives you step by step instructions instead of just showing you a picture and excepting you KNOW how to do it. The projects are cute!
Closes too much
When I try to read my messages the app closes. Been doing that for 3 days now. I have even uninstalled the app and downloaded it through the Apple Store, but it still closes out. It needs an update.
Can't Sign In
QuirkyCarter
on
2/28/2015
Sign in with email is completely broken on iPhone 5. Pretty useless if I can't even do that.
Works for me!
RosieRosieRose
on
2/15/2015
I haven't seen any problems with the app other than occasionally finding it hard to read the light print. Other than that, it's very convenient not to have to look up the tutorial! It's all right there for you.
Unfortunate
It's to bad really. This app had such promise! It has been over run by half assed, useless, low class and a lot of repeat guides. Also, I have found that at least 50% is now just spam posts. Sad. It showed such promise at first! 😕
Not very good 😕
I like the idea of using this app on my iPad but the truth is that it's too frustrating. Many of the steps have text that's cut off at the bottom. There's no way to read the text. I've tried switching from landscape to portrait views, double tapping, pinching to zoom in & out and of course scrolling. I end up going to the website and pulling up the same guides so I can read all of the text. Seriously, without the ability to read the text this app is pretty much near useless. 👎
New update removed profile info.
Not impressed This new update erased all of my meticulously bookmarked information from items I liked, and bookmarked.
Just downloaded .. Doesn't do anything!
Just downloaded this, signed up, checked the categories I was int. in. Then-- nothing. This was recommended in Shopsmart magazine. Very disappointed.
Works well
I like the design and overall layout of the app. It's easily the best way to find and view an abundance of tutorials. Pinterest is still my favorite, but Snapguide is extremely similar and I love that it's so easy!
I hate the new update for iPad!
Ice princess 201424
on
12/23/2014
So seriously, I hate the new update for my iPad! I cannot see how many views are on my guides. I don't even like the setup of the new version of this app! I try and search things and it won't come up even if I put. The exact words of the guide! Please give me back my old Snapguide and I will be very pleased and give this app a better review but for now, believe me and fix this app!
Meh.
Much like pinterest...within 2 minutes was bored. Doesnt have an attractive presentation.Plain boring.
Favorite app!!
apricottree
on
12/12/2014
This is my favorite app!! Beautiful design!!
1.8.4 for iPad (no!)
The new design of Snapguide for iPad is not pleasing. The icons for the guides are low quality, it is slower, and when someone likes your guide, it doesn't list the name of the guide. It just says that someone liked your guide (of the perhaps 100 guides you might have.) The overall design is a downgrade. I should waited.
Love it for the inspiration!
redheadloves
on
12/12/2014
Awesome update! Love the new personlization!
Won't let me sign in with FB...
Just because I already have an account. What's the point then???
Love it but crashes all the time
I absolutely love this app. But I'm really annoyed because lately it crashes all of the time. If I want to make a guide I can't take pictures using the snap guide app I have to take a regular picture and then upload bc once again it crashes. Opening guides.. Crashes. Not to mention it takes forever to show the pictures on a guide. The app crashes more often than not. Annoyed. Can someone please fix this? Or someone from snap guide talk about this with me?
LOVE IT!!!!
Love it!!!!!!
The best app
Absolutely the best app. Been using for a long time. Love it
No Push Notifications
It works great as always but I can't get the push notifications to come up like they used to.
Day one user over here!
I've been using Snapguide since day one, and since then it has never left my homescreen. A great app for finding new recipes and DIY guides with a great helpful community. The app is constantly updated and keeps getting better with each new update.
AWESOME
Great app, lots of creative people out there. My Fav App, use daily!
Loving it!
I am a very visual person so I love this app for recipes and crafts b/c I have pictures to follow. I also love making guides when my girls and I cook and create together!
Awesome idea!
The concept behind the app is what I like the most. Now you don't have to browse through hundred of pins or all your bookmarks to find a new DIY because Snapguide does it for you. The interface is pretty and smooth and there are a lot of interesting guides on there that grab my attention. I think members should make their pictures more editorial though, so it can match that interactive magazine look you have going on. Maybe you guys can suggest using Canva or partner with them so they can make a nicer cover photo? You could also contact bloggers like Design Love Fest and Oh Happy Day to make special guides for you so the community can get bigger! Congrats on the nice app and I can't wait to see it get bigger!
Great guides
andrew.conkling
on
9/11/2014
Very nice resource for all sorts of topics, and an excellent example of quality mobile interfaces.
Great app 👍
Luis, merry christmas for all
on
9/9/2014
I like it
Good app but..
Good app but keeps crashing whenever I press the notification(💬) button at the bottom of the screen. Plz help.
Fact Sheet
Publisher:

Brit Media, Inc.

Category:

Lifestyle

Released:

Mar 29, 2012

Current Version Released:

Dec 11, 2014

Version:

1.8.4

Size:

57.6 MB

Compatibility:

Requires iOS 7.0 or later.

Recommended Age:

4+

Game Center Certified:

No

Supported Devices:

iPhone4-iPhone4, iPad2Wifi-iPad2Wifi, iPad23G-iPad23G, iPhone4S-iPhone4S, iPadThirdGen-iPadThirdGen, iPadThirdGen4G-iPadThirdGen4G, iPhone5-iPhone5, iPodTouchFifthGen-iPodTouchFifthGen, iPadFourthGen-iPadFourthGen, iPadFourthGen4G-iPadFourthGen4G, iPadMini-iPadMini, iPadMini4G-iPadMini4G, iPhone5c-iPhone5c, iPhone5s-iPhone5s, iPadAir-iPadAir, iPadAirCellular-iPadAirCellular, iPadMiniRetina-iPadMiniRetina, iPadMiniRetinaCellular-iPadMiniRetinaCellular, iPhone6-iPhone6, iPhone6Plus-iPhone6Plus, iPadAir2-iPadAir2, iPadAir2Cellular-iPadAir2Cellular, iPadMini3-iPadMini3, iPadMini3Cellular-iPadMini3Cellular, iPodTouchSixthGen-iPodTouchSixthGen, iPhone6s-iPhone6s, iPhone6sPlus-iPhone6sPlus, iPadMini4-iPadMini4, iPadMini4Cellular-iPadMini4Cellular, iPadPro-iPadPro, iPadProCellular-iPadProCellular, iPadPro97-iPadPro97, iPadPro97Cellular-iPadPro97Cellular, iPhoneSE-iPhoneSE, iPhone7-iPhone7, iPhone7Plus-iPhone7Plus, iPad611-iPad611, iPad612-iPad612, iPad71-iPad71, iPad72-iPad72, iPad73-iPad73, iPad74-iPad74, iPhone8-iPhone8, iPhone8Plus-iPhone8Plus, iPhoneX-iPhoneX,

Supported Languages:

Catalan; Valencian; Czech; Danish; Dutch; Flemish; English; Finnish; French; German; Greek; Hebrew; Hungarian; Italian; Japanese; Korean; Bokmål, Norwegian; Norwegian Bokmål; Polish; Portuguese; Romanian; Moldavian; Russian; Chinese; Slovak; Spanish; Castilian; Swedish; Chinese; Turkish;