Screenshots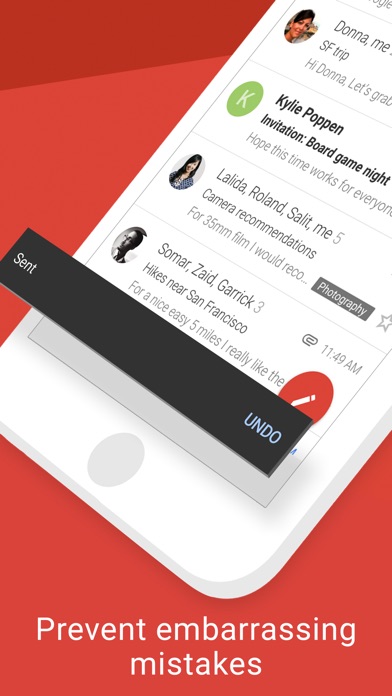 New in version 5.0.171119
• You can now add non-Google email accounts to the Gmail app via IMAP.
Description
The official Gmail app brings the best of Gmail to your iPhone or iPad with real-time notifications, multiple account support and search that works across all your mail.

With the Gmail app, you can:
• Undo Send, to prevent embarrassing mistakes
• Switch between multiple accounts
• Get notified of new mail fast, with notification center, badge and lock screen options
• Search your mail faster with instant results, predictions as you type & spelling suggestions
• Swipe to archive/delete, to quickly clear out your inbox
• Read your mail with threaded conversations
• Auto-complete contact names as you type from your Google contacts or your phone
• Respond to Google Calendar invites right from the app
• Organize your mail by archiving, labeling, starring, deleting and reporting spam
• Send and receive attachments
• See profile pictures as part of the conversation
iPad Screenshots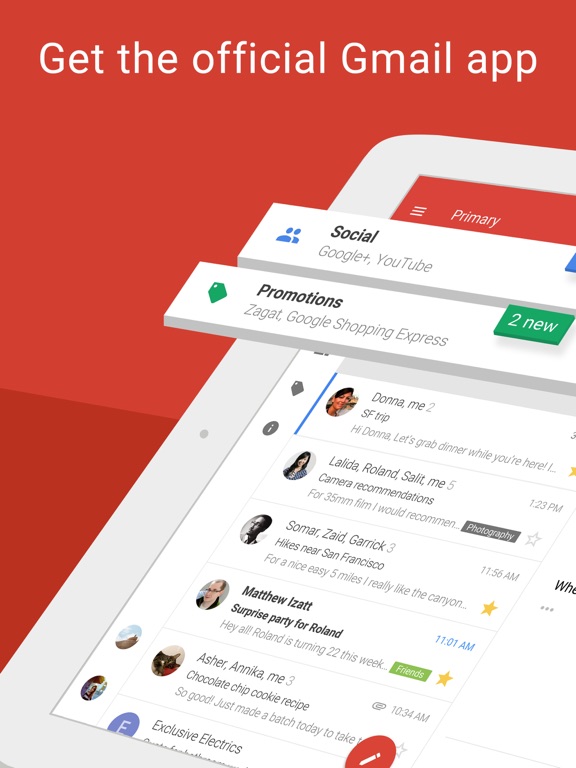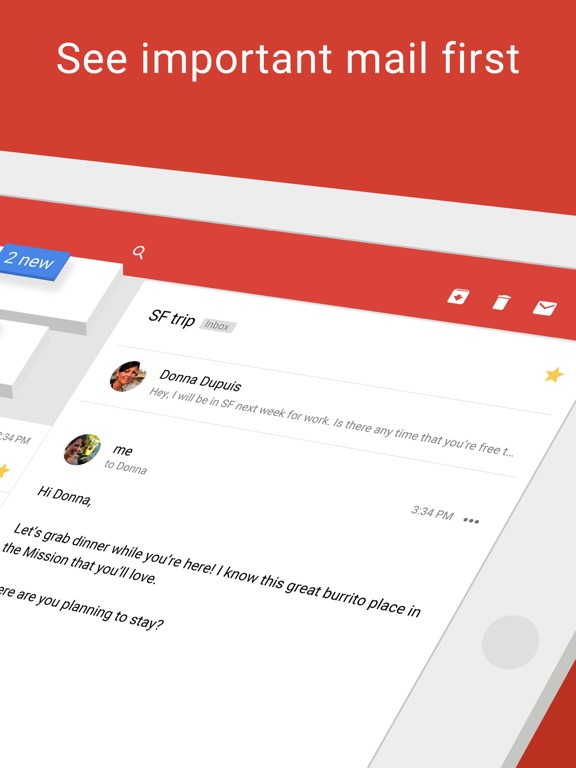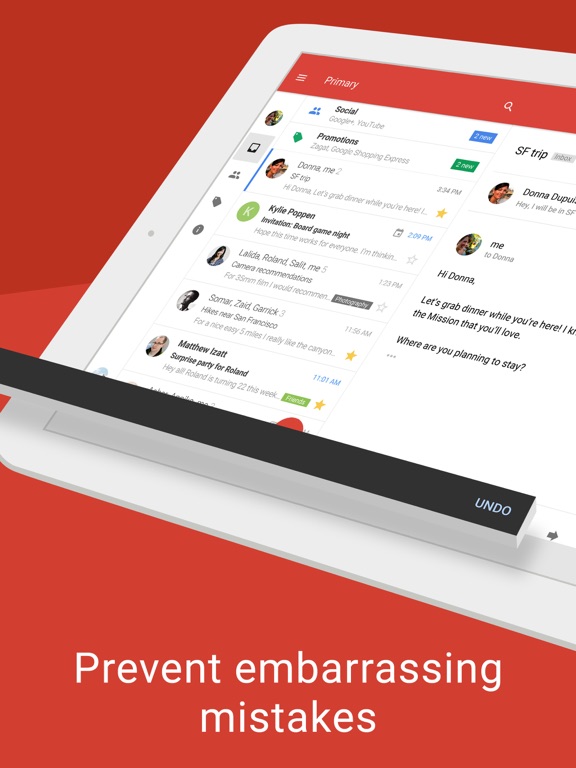 Reviews
Please add "mark all as read feature"
Parktronica
on
12/16/2017
Does not deal with large email accounts well, spam filter does not work perfectly and my inbox fills up quickly, here is no easy way to mark these as read.
Problems
I have been having issues in the past few weeks that are pretty annoying to deal with: app will continue to show I have unread messages even though they have been clicked and read, recently stopped notifying me of new messages. Notifications for the app are turned on but still experiencing these problems
I heard but who knows the Source (Mac 9-5 ...sssshhh)
27 percent sol.
on
12/16/2017
That Android wallet and Gmail was not as secure as Apple Pay and Zello but it doesn't mean you can not occlude their bid billing your debit or Credit Card to the marrow and then toss you're media in the cloud you bought and rent and AppleCare fell from a great height in the 90's to the state it is now iphone X is actually #9 as 4-4S 5S and SE, SEE and Samsung making chips, while QQQ AND BROADCOM MERGER MAY BE A HAPPENING IN 2018 Tx instruments is making sensors and not too bad ones either but I digress yes Oreo and Android may actually procure my interests w/ codec MPEG H. 264 HD CODEC $20 per each device only allowed by compact Sony $AAPL et al.
Doesn't Support Signature
Unlike MS Outlook in which you can add and edit HTML signatures, G-mail doesn't. Bummer
Add "Move to" tab on home page
Love the app. You guys should add or give users the option to add the "Move to" tab on the home page. I don't use the "archive" tab but I wish I could replace it with the "move to" option. This would eliminate the need to click several times to move an item to a folder.
It has its uses. And its flaws. 🤔 Get a free Coin Toss app and decide.
I use the base Apple mail app. I keep the Gmail app around for those few times when I get something I want to "Report Spam". That's it. My gripes: - As with all things Google, NO support. - When you use the browser site you get prompted to get the app even though you already have it. - TFA doesn't kick in: worthless. - Upon folder (er, "label") open, first mail's ENTIRE contents displayed. Open Spam, see first whole Spam message; open Trash, see first whole Trash message. - "Delete forever" not always effective: may reauire website visit plus app refresh. (NOTE: for those of you considering the Gmail app over the base Mail app for its ability to "Send As", you should know some tricky fiddling with SMTP servers will let the Mail app do the same—in the same way Google does it! You can find instructions several places online.)
Good format
Aaaaaaaaaaaaa1
on
12/16/2017
Now it's easy to sort out through the email.
Delete Emails
Why can't you delete emails in bulk or all?
Stop asking me to download Chrome!!!
ResidentVet
on
12/16/2017
The App WILL NOT allow me to turn off the pop-up asking me to download chrome instead of opening Safari. The slider at the bottom of the pop-up can't be moved to turn this question off. I can't stand this sort of marketing that wears you down with annoying questions. If I wanted chrome on my freakin' iPhone I would put it there!!!
Best mail app
Mm mm get money
on
12/16/2017
So much better than apple's mail app, highly recomend
El mejor
Es la mejor aplicación que tuve que descargarme
Back up to three stars, but could be better
Thats the Rub
on
12/16/2017
They fixed the ever present notifications, but for five stars I want to see some improvement to the "too easy to accidentally archive something important" problem. It's been a complaint for many many updates now and I still don't know where my emails are going. I never use the archive function except by accident. I'd love to just have a switch in settings where I can turn off the archive setting all together. Also I would very much appreciate being able to choose my color scheme within the app. The red is so stressful, just let me choose it please.
Unsubscribe all
Amali Norris
on
12/16/2017
Hi can we please have an unsubscribe all button cause i keep getting inappropriate emails from places i never looked at so pleaseee🙏🏻 I'm begging you
Great email app for multiple accounts
Thank you for a great app! Pros: Easy to use. Robust. I use it for multiple gmail accounts. Cons: sharing a web page page through this app is a little laborious. I wish it would put page title into email subject, and title, url and full page contents, or selected content, into email body.
Excellent
Very good app. Well organized. Helpful to combine many others apps.
Gmail
I just updated gmail on my IPad and got a black screen. Not impressed. Need to know how to get it back.
iPhone X
You guys need to update your app so it can take advantage of the new iPhone X screen because right now it looks ugly with black bars and it is annoying! Update: Thanks for updating to support the new iPhone X!
A problem
Dylan DeGroff (Pierce)
on
12/15/2017
For about a month now I've been archiving emails I'm getting on the gmail app and the way I archive them is by hard pressing on the email and a pop up shows and says 'archive' or 'reply' and I hit archive. Most of the time I have to tap 'archive' anywhere from 1 to 6 times for it to actually register and archive the email. Every time I hit the archive button it knows because the color around the letters changes so it notices it. This is the only problem I've ever had!! Wish it would be fixed. Operating the iPhone 7.
Rating Gmail
Rating Gmail
on
12/15/2017
I haven't had any problems until about a month ago. Was getting emails saying gmail was out dated and my account was going to be deleted. I tried everything possible and then a few weeks back I lost it everything. Thank God for backup. I'm not sure if it was gmail or my Windows Last Update. But that is the only problem I have had with my gmail.
App
This is a great app. Few minor hookups. Other than that, perfect for what I need.
Good, but....
This app is pretty good in general except for when I try to download files. Every single time I save a file to my phone the app just closes and nothing saves. Please fix.
Cant move emails into a different folder
I set up sub folders so that i can move certain emails into those folders to easily find them again. More than half the time the gmail account wont let me do that. Disappointed
Makes Life Easy
Carlos Gaslin
on
12/15/2017
I personally couldn't and wouldn't be able to work my career if it wasn't for Gmail in particular, because the app works great, notifies me of emails faster than the mail app that comes with the iPhone and makes replying to messages so easy. I recommend for anyone.
Excelente harramienta!!
Fácil de usar, accesible y gratis!!
Perfect
realtalkshaw
on
12/15/2017
Simple yet effective and efficient.
Badge doesn't update properly
I find that if I delete an email, but exit the app before the "message has been moved to trash" notifications has left, the notification badge doesn't update. I have to close the app, then open it again for the badge to properly register the amount of emails.
Unread mail badge won't go away!
What changed in the last few updates? For the last few months, the notification badge on the icon (number in red dot on icon) does not update. My friends have noticed this bug too. It says there is one unread message but really there isn't! This is incredibly annoying!!!
Must Have
A must have app!
A perfect free app
This app deserves 5 stars for what it does and the fact that it is free!
Apple Watch
It would be very helpful if you made an Apple Watch version available in the next update.
???
The app shuts down when trying to save a photo from an email
GMail
I love Gmail and I really don't have any problems with it.
Nice app way better then app by apple
JohnCfSan DiFrangeles
on
12/14/2017
This app sant to you a notification
Super Email - Feature Rich
Rlinternational2
on
12/14/2017
I have used Gmail for many years. It has many useful features like sorting of incoming Email into folders that Greatly reduces the time needed to address and prioritize Email.
GMAIL
Uuuuuuuuuuuuuoooooo
on
12/14/2017
Must have app
The Best
StyrbjornUlfhamr
on
12/14/2017
The best email app - don't bother with any others.
The standard by which all email apps are graded
I can't say I've fallen in love with Gmail. More like, with proper extensions, it has become an incredibly powerful solution to my hundreds of thousands of annual emails. Coupled with Google Drive, it becomes THE workflow solution for busy people. And its fast. I have a decade+ of emails I can quickly search and reference. Critical for our research work in the nutrition and medical fields. A must have. On every device you use.
Works great
No issues have cropped up.
Options.
maxiscontroller
on
12/14/2017
If the app doesn't let me do what Mail app from iOS doesn't either, what's the point of having space used on this app? Great performance and interface, but if you want to save space in your iPhone, keep using Mail app, it does more for you.
Works for me
Richman2002
on
12/14/2017
Does everything I need it to do.
Dumb gmail
It didn't even work I try to enter my email and it worked by the word thing what not working it said I spelled it wrong but I put the right letters in so I am not using trash no more
awesome app!!
This is a really awesome app for email. The interface is concise, clear; the interaction logic is simple. Anyway, I love it! Thumbs up to google!`
Love this app
Switched from android to apple and with the mail app it shows me all my unread emails and omg. This app is the solution for sure.
Horrible
I need to use this for work or would delete.
This version keeps crashing
Ever since I updated the app to the most recent version my app crashes almost every time I open it and refresh my emails.
Best app
Goldensurfer73
on
12/13/2017
La uso para manejar tres cuentas personales . Me organiza todo. La recomiendo ampliamente
Need iPhone X support
chrisbellox
on
12/13/2017
iPhone X support is needed
Some Improvements after coming from the IOS Mail app:
- make a way to choose to view all accounts' inbox at the same time - make it so a swipe from the left marks as read and a swipe from the right trashes or deletes. (helps so you don't have to open every single email) - make a way to "select all" then archive, trash, move, etc. - make a way to manage notifications (like for specific people / VIPs & disable the rest) - shake to undo archived/trashed email Other than that stuff, I love it!
Fact Sheet
Publisher:

Google, Inc.

Category:

Productivity

Released:

Nov 02, 2011

Current Version Released:

Dec 04, 2017

Version:

5.0.171119

Size:

217.2 MB

Compatibility:

Requires iOS 8.0 or later.

Recommended Age:

4+

Game Center Certified:

No

Supported Devices:

iPad2Wifi-iPad2Wifi, iPad23G-iPad23G, iPhone4S-iPhone4S, iPadThirdGen-iPadThirdGen, iPadThirdGen4G-iPadThirdGen4G, iPhone5-iPhone5, iPodTouchFifthGen-iPodTouchFifthGen, iPadFourthGen-iPadFourthGen, iPadFourthGen4G-iPadFourthGen4G, iPadMini-iPadMini, iPadMini4G-iPadMini4G, iPhone5c-iPhone5c, iPhone5s-iPhone5s, iPadAir-iPadAir, iPadAirCellular-iPadAirCellular, iPadMiniRetina-iPadMiniRetina, iPadMiniRetinaCellular-iPadMiniRetinaCellular, iPhone6-iPhone6, iPhone6Plus-iPhone6Plus, iPadAir2-iPadAir2, iPadAir2Cellular-iPadAir2Cellular, iPadMini3-iPadMini3, iPadMini3Cellular-iPadMini3Cellular, iPodTouchSixthGen-iPodTouchSixthGen, iPhone6s-iPhone6s, iPhone6sPlus-iPhone6sPlus, iPadMini4-iPadMini4, iPadMini4Cellular-iPadMini4Cellular, iPadPro-iPadPro, iPadProCellular-iPadProCellular, iPadPro97-iPadPro97, iPadPro97Cellular-iPadPro97Cellular, iPhoneSE-iPhoneSE, iPhone7-iPhone7, iPhone7Plus-iPhone7Plus, iPad611-iPad611, iPad612-iPad612, iPad71-iPad71, iPad72-iPad72, iPad73-iPad73, iPad74-iPad74, iPhone8-iPhone8, iPhone8Plus-iPhone8Plus, iPhoneX-iPhoneX,

Supported Languages:

Afrikaans; Arabic; Basque; Bengali; Bulgarian; Catalan; Valencian; Chinese; Croatian; Czech; Danish; Dutch; Flemish; English; Estonian; Finnish; French; Galician; German; Greek; Gujarati; Hebrew; Hindi; Hungarian; Icelandic; Indonesian; Italian; Japanese; Kannada; Korean; Latvian; Lithuanian; Malay; Malayalam; Marathi; Norwegian; Bokmål, Norwegian; Norwegian Bokmål; Persian; Polish; Portuguese; Romanian; Moldavian; Russian; Serbian; Chinese; Slovak; Slovenian; Spanish; Castilian; Swahili; Swedish; Tamil; Telugu; Thai; Chinese; Turkish; Ukrainian; Urdu; Vietnamese; Zulu;