Screenshots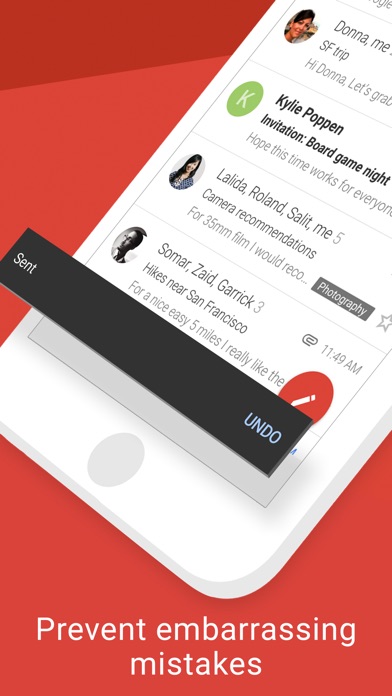 New in version 5.0.170910
• Gmail now supports the text size you've selected on your iPhone.
Description
The official Gmail app brings the best of Gmail to your iPhone or iPad with real-time notifications, multiple account support and search that works across all your mail.

With the Gmail app, you can:
• Undo Send, to prevent embarrassing mistakes
• Switch between multiple accounts
• Get notified of new mail fast, with notification center, badge and lock screen options
• Search your mail faster with instant results, predictions as you type & spelling suggestions
• Swipe to archive/delete, to quickly clear out your inbox
• Read your mail with threaded conversations
• Auto-complete contact names as you type from your Google contacts or your phone
• Respond to Google Calendar invites right from the app
• Organize your mail by archiving, labeling, starring, deleting and reporting spam
• Send and receive attachments
• See profile pictures as part of the conversation
iPad Screenshots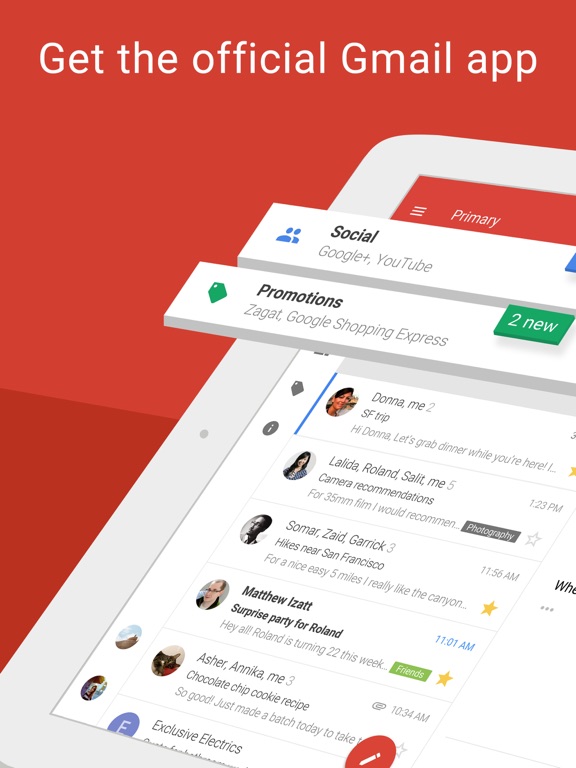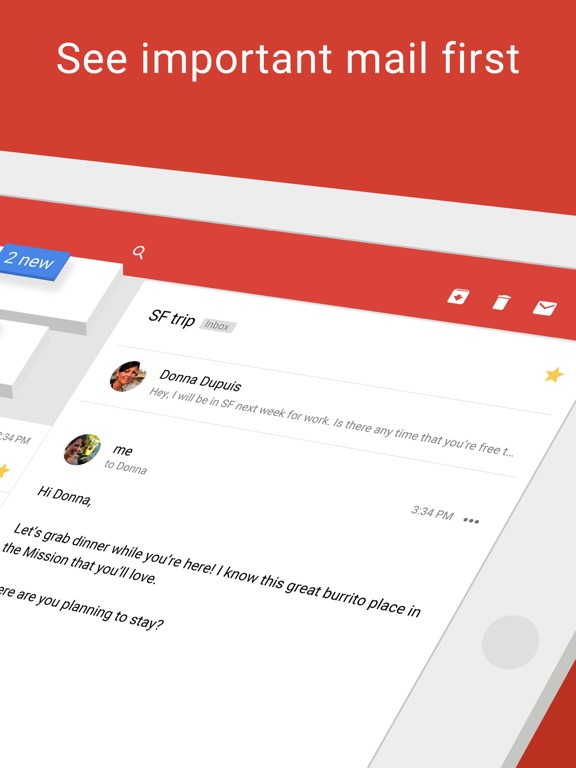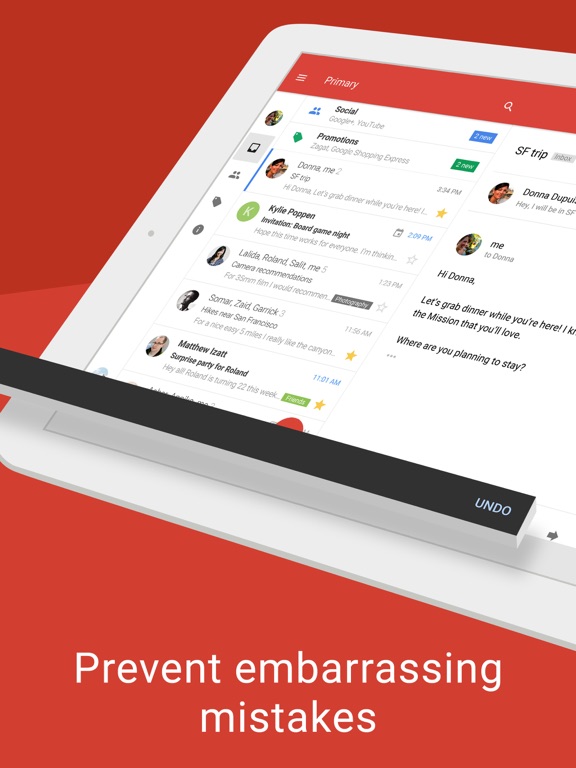 Reviews
Never had an issue!
So far gmail has worked like a charm - you need it for so many things, and since almost everyone seems to have a gmail account, I think they really keep on top of updates and troubleshooting.
Please fix the bug
Annoyed bish
on
10/19/2017
I have had no problem with gmail in the past, but for the past month the notifications have been "sticking". It drives me crazy seeing 34 emails constantly, and not being able to do anything about it.
Get your all your stuff and put it in a back pack
First off. Why can't you just make your UI easy instead of an android kind. If i wanted an android UI i would of bought one. Second why dont you have a basic option to filter unread mail. Something is wrong with your app. It has a badge with a #2. I read all my mail why is it still up with a badge.
Great app, but notifications stick around
Love this app, nothing I would want to change or add. Only problem is that the notification badges for when I have an unread email take a long time to go away after I've read the email. Really wish they would fix this, it's the only reason it's 3 stars instead of 5
Notification Error
I'm experiencing a bug where the little red notification symbol isn't going away even though I've read all the emails. I try solving this by refreshing the inbox, but it takes forever to refresh.
Childish
SchlitterTex
on
10/19/2017
I like using GMAIL as a service but the app is not functional or aesthetically pleasing. I will search my settings, but the way the threads are presented seems designed by someone who doesn't use email for anything other than receiving notifications for social media and/or for clothing/electronic sales. It's childish. If you have a multi conversation email chain, tracking back particular communications is a nightmare. Some will disagree, but I would bet there are many that would agree with the aforementioned statement.
Alter bug
Its simple and good enough on the design part, but it has a bug: alter wont go away! Always a red mark on your phone, really hate that!
Lacks feature parity with it's android app
The ios app doesn't let me turn off the conversation view, which i can do on android. Why? Is it to hard to implement on ios?
👍
Good App but lately everytime I get a email a one just sits at the top of the app and doesn't go away. And it's kind of frustrating.
Totally waste of memory
Terrible auto defaults for UI. Will push you into unread.... even tho nothing is in there. Also places "move to" option to separate options tab and only allows archiving to be first setting. The delete is crammed between; causing mistaken deletes or vice versa. Also attaching photos through mobile is a mess. You cannot select the folder to upload from it defaults to your "memories" folder...
GMAIL
*charlie+10*
on
10/19/2017
Yes I like gmail a lot all the goodies setting so if I could I would give a ten plus five star plus thank you all of you guys at gmail :-) Five stars plus July 03 2017 thanks again 73's it means have a good one take care 😎👌Rate October 19 2017 it's still working great thank you gmail.😎
Good app but needs tweaks
If stars could be multi colored like on the web that would visually help a lot. Also in the new version I will read a new email and then it will still mark it as new for a few moments after I have read/closed it. A bug maybe?
Badge notifications don't update anymore
User4943708
on
10/19/2017
Either with the IOS update or an app update, the badge notifications no longer disappear once all messages are read and it's driving me nuts. I'll move to the apple mail app soon if they can't fix it.
Badge Notifications on iOS 11 Do Not Work
I love the app and have been using it for years, but since the iOS 11 release, the badge notifications for the email count does not update correctly. It seems like this has been a known issue since the release, but after a few weeks it should be prioritized since it's well documented and none of the troubleshooting recommendations have fixed it. Please fix and update!
Update much?
#1 app in productivity yet 30 days after ios 11 is released (never mind the months of betas) the notification bug is still not fixed.
PLEASE fix the badge icon!!
MandaKay1283
on
10/19/2017
Since ios11, the badge app notification doesn't update properly! Please fix it!! It's so frustrating!!
Too much going on
It's hard to navigate through the emails. They really need to simplify it. I gave them 2stars because the media emails are separated but the archive, starred, and important tabs confuse me and I cannot figure out how to use them. TOO MANY USELESS TABS IN AN EMAIL APP! It's got to be much simpler! Why isn't your email understandable?
Advertisements displaying above my inbox...
Jdbierbfbdn
on
10/19/2017
Google tries to sell this app by telling me to "keep your account info secure" but then gives me an inferior interface and has the audacity to put PAID ADVERTISEMENTS at the top of my inbox?! Sick of trying to pretend like this is better than the built-in mail fetcher... good riddance!
Showing wrong badge count
The badge count for number if unread messages used up be fine but recently it didn't work properly. Not sure if app needs ios11 update our what. Please fix this.
Badge Notifications
They won't go away even after reading new mail!
Stop showing multiple badges
thenicharding
on
10/18/2017
Multiple badges keep appearing for 0 unread messages. It's been a month. Please fix!!!!!!!
Update is a step back
Now displays a badge notification no matter what, which means badges are useless. New UI has color everywhere, which is very distracting. Also, it's difficult to view attachments. Fix this please!!
Update is not working so smoothly.
Sith Lord Ettie
on
10/18/2017
I've been using this app for about two years for work and I have never had an issue. I am not sure if it is the app itself or the new iOS update, but my app keeps showing that I have a notification when there is none. I checked my mail multiple times, both on my phone and on my laptop and I have no unread messages. I cannot find where this notification is coming from. I guess I can say thanks though, because it gave me the chance to completely clean out my gmail. I'm really disappointed with this.
Love app
Elizabeth0831
on
10/18/2017
I love the gmail app because it is easier to look at your emails and at deleting also.
Unread messages
This app should have a folder or option to view all unread messages only. I am so annoyed seeing a notification all the time sayingI have unread messages but I could not find if either this is a bug or not, but it is so annoying and frustrating.
Unread Bubble Never goes away
Ever since the IOS update the gmail app has been reading that I always have an unread email, when I do not. I've checked all my email addresses and all their inboxes and folders and it just seems to either be delayed. But even when I've read all my emails it still has a bubble that at very least says (1). I've tried deleting and re-downloading the app. I've tried turning my phone off and back on. I've tried signing out and signing back in and doing it all again. Nothing is working. It must just be a bug . And it's making me crazy..... please fix!
Badge app icon
Red circle with number not updating when you have read an email. Continues to give number of unread email when all emails are red. Hoping this is a simple bug fix.
Notifications won't clear
EffingPenguins
on
10/18/2017
Like many people recently reviewing have stated, the notification icon on the app will no longer update properly and requires logging out and in again to clear. Has been this way since the iOS 11 update. Unbelievable this tiny bug hasn't been patched yet.
I like the GMail app, but...
It has some minor "flaws". For some reason, in iOS 11.0.3, on an iPhone 8 and an iPad Pro, notifications do not disappear after new emails have been read. This happens on both devices, equally. Very annoying, but the app itself is great, if you are a gmail user. If the devs fix this minor annoyance, I'll give it a 5 star review.
Doesn't update changes and advertising...
First, I hate that there are ads in my email. I already get enough junk mail to have ads in there and you can't turn them off. Second, this app is incredibly frustrating in that it doesn't update with changes made on other devices. If I clean out my email on my computer it is not reflected in the app and there is no 'select all' like there is in the regular Mail app for iPhones. If I am wrong and there is, it's too hard to find.
Easy to work with!
Just love the simplicity of gmail. My six year old daughter already using it. It's safe and user friendly. Just loving it.
Shows unread on badge counter when there are no unread
Badge counter isn't updating when all unread emails have been read. I have confirmed that there are no unread emails via search. Opening all unread emails via web interface clears the badge though. Sent feedback to devs twice over the last two weeks, but the bug remains.
Can't get it to work!
Don't get me wrong I like gmail,but when I get a personal gmail why does it tell me I need to open messenger, and when I do I don't know what I'm getting,whether it's an ad for messenger or messenger homepage! I wish someone would figure out what's going on. When a gmail comes in from a company it shows right up, But most times I can't get to my gmail!
simple and sufficient--just how i like it
Antonius LeFei
on
10/18/2017
👍🏾 plz continue this functional trend
App works well
Mr. David M.
on
10/18/2017
Gmail App works well. I really like the way it classifies emails by General, Social, and Promotions. It boosts the effectiveness of my volunteer professional association work considerably. Highly recommended.
🔴انتبه🔴
برنامج رائع جدا خصوصا على الايفوون
Fix Notifications
Unacceptable that the notifications have been broken this long.
Love It!
Very functional, easy to use. The only I gave four stars instead of five is that sometimes the search function doesn't seem to work as well as in gmail for desktop. (That is, search results don't always include emails I know are there, and I have to find ten by scrolling through the whole folder instead.)
Clear Notification Badges
Gmail's notification badges do not clear as of IOS 11. I have been clearing them manually by logging out and logging in every single time I get an email. Google! Please fix this! Otherwise great app 10/10!
Delete
Deere is great
on
10/18/2017
I really don't like this app. I only went from the apple mail to this app for security concerns. I do not like that I cannot do an edit—>select—>delete multiple emails from my primary emails and when I swipe the email it archives it, but where? If I want to do a mass delete of emails I have to go online to do it.
Slow since update
Apparrentlyevernameistaken
on
10/18/2017
Since the new iOS update it has been slower at getting emails and is constantly sending push notifications when I have no unread messages. It has said I have 1 unread message and 3 unread social messages for three days. I even deleted and reinstalled the app and restarted the phone. I understand it's not originally built for iOS and an update just occurred but I still feel updates of an app should respond to updates of an operating system.
My app keeps saying I have an unread EMAIL .....and I DONT
My app keeps saying I have an unread EMAIL .....and I DONT. Please fix this. It's my biggest pet peeve.
Unread mail badge icon doesn't work
nickname is already take
on
10/18/2017
The unread mail badge icon will not clear after mail is read. Google, please fix.
This is what google pestered me to download?
It's nothing but dead weight. Up until this point, I accessed my gmail through a browser, that's what I'm going back to. The app itself works, but it's clunky.
Badge Notifications Not Working Properly
The Fashion Connoisseur
on
10/18/2017
It seems as though the badge notifications aren't working, not because they don't show: It says I have 3 emails but I check in every inbox possible and yet there's nothing even in the trash. If this doesn't get fixed soon I'm most likely deleting the app completely
It's OK
It works OK for the most part. However it doesn't show/list all the emails I've received and read or sent and that is a major problem. I have to wait to get back to my computer as they are there in the desktop version. It's not reliable.
Frequent User
I have trouble "sending" emails or sending replies while online and through my mobile app. It's not as clearly marked as it is in the other emails.
Annoying
I hate having the little red notification button on my apps but since updating to iOS 11, the gmail app never gets rid of the notification until hours later no matter how many times I refresh it. I understand it's a little flaw but it's just annoying
Badge notifications
Please please please please please please please fix the badge notifications!!!!! They don't always go away when all the emails have been read. I find myself going opening and closing the app in order to get rid of the notification after I've already read the email. I have multiple accounts and sometimes I'm not sure which account the notification is referring to when I know I've read all the messages. So again, PLEASE fix this issue and the app is 5 stars. Thanks for your consideration.
Great, but Missing a Useful Function
The Gmail app does its job well, but I have found that my iPhone doesn't allow it to open when I use a "mail" link on a website, instead opting to download Apple's default Mail app. If this were resolved, then I would give the app five stars.
Fact Sheet
Publisher:

Google, Inc.

Category:

Productivity

Released:

Nov 02, 2011

Current Version Released:

Sep 25, 2017

Version:

5.0.170910

Size:

200.8 MB

Compatibility:

Requires iOS 8.0 or later.

Recommended Age:

4+

Game Center Certified:

No

Supported Devices:

iPad2Wifi-iPad2Wifi, iPad23G-iPad23G, iPhone4S-iPhone4S, iPadThirdGen-iPadThirdGen, iPadThirdGen4G-iPadThirdGen4G, iPhone5-iPhone5, iPodTouchFifthGen-iPodTouchFifthGen, iPadFourthGen-iPadFourthGen, iPadFourthGen4G-iPadFourthGen4G, iPadMini-iPadMini, iPadMini4G-iPadMini4G, iPhone5c-iPhone5c, iPhone5s-iPhone5s, iPadAir-iPadAir, iPadAirCellular-iPadAirCellular, iPadMiniRetina-iPadMiniRetina, iPadMiniRetinaCellular-iPadMiniRetinaCellular, iPhone6-iPhone6, iPhone6Plus-iPhone6Plus, iPadAir2-iPadAir2, iPadAir2Cellular-iPadAir2Cellular, iPadMini3-iPadMini3, iPadMini3Cellular-iPadMini3Cellular, iPodTouchSixthGen-iPodTouchSixthGen, iPhone6s-iPhone6s, iPhone6sPlus-iPhone6sPlus, iPadMini4-iPadMini4, iPadMini4Cellular-iPadMini4Cellular, iPadPro-iPadPro, iPadProCellular-iPadProCellular, iPadPro97-iPadPro97, iPadPro97Cellular-iPadPro97Cellular, iPhoneSE-iPhoneSE, iPhone7-iPhone7, iPhone7Plus-iPhone7Plus, iPad611-iPad611, iPad612-iPad612, iPad71-iPad71, iPad72-iPad72, iPad73-iPad73, iPad74-iPad74, iPhone8-iPhone8, iPhone8Plus-iPhone8Plus, iPhoneX-iPhoneX,

Supported Languages:

Afrikaans; Arabic; Basque; Bengali; Bulgarian; Catalan; Valencian; Chinese; Croatian; Czech; Danish; Dutch; Flemish; English; Estonian; Finnish; French; Galician; German; Greek; Gujarati; Hebrew; Hindi; Hungarian; Icelandic; Indonesian; Italian; Japanese; Kannada; Korean; Latvian; Lithuanian; Malay; Malayalam; Marathi; Norwegian; Bokmål, Norwegian; Norwegian Bokmål; Persian; Polish; Portuguese; Romanian; Moldavian; Russian; Serbian; Chinese; Slovak; Slovenian; Spanish; Castilian; Swahili; Swedish; Tamil; Telugu; Thai; Chinese; Turkish; Ukrainian; Urdu; Vietnamese; Zulu;