Screenshots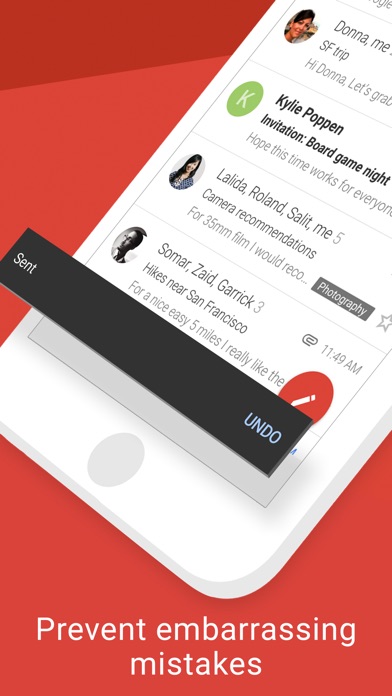 New in version 5.0.171119
• You can now add non-Google email accounts to the Gmail app via IMAP.
Description
The official Gmail app brings the best of Gmail to your iPhone or iPad with real-time notifications, multiple account support and search that works across all your mail.

With the Gmail app, you can:
• Undo Send, to prevent embarrassing mistakes
• Switch between multiple accounts
• Get notified of new mail fast, with notification center, badge and lock screen options
• Search your mail faster with instant results, predictions as you type & spelling suggestions
• Swipe to archive/delete, to quickly clear out your inbox
• Read your mail with threaded conversations
• Auto-complete contact names as you type from your Google contacts or your phone
• Respond to Google Calendar invites right from the app
• Organize your mail by archiving, labeling, starring, deleting and reporting spam
• Send and receive attachments
• See profile pictures as part of the conversation
iPad Screenshots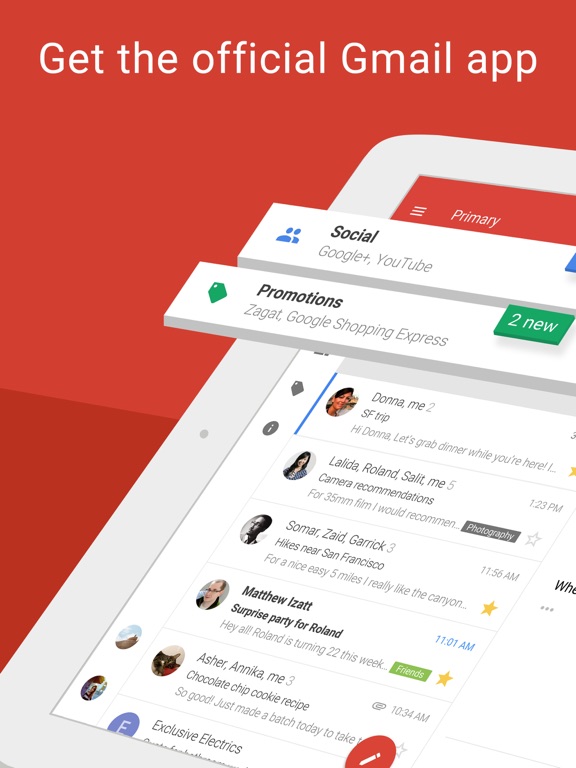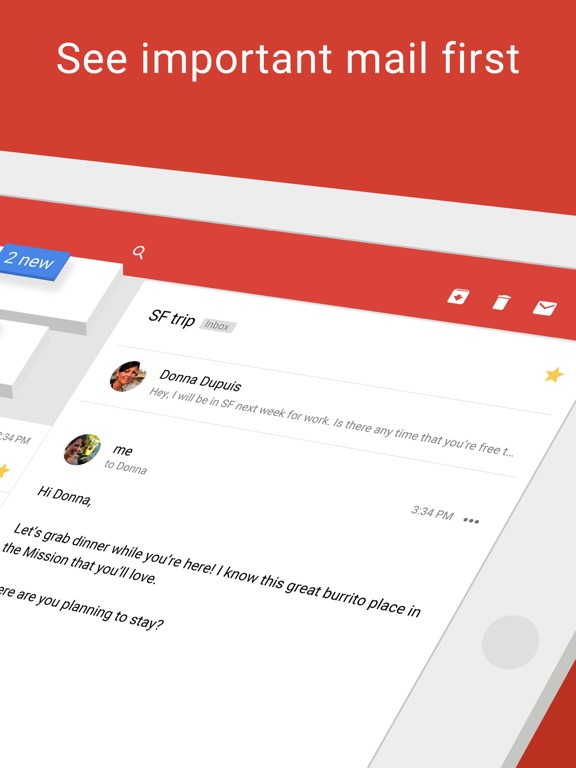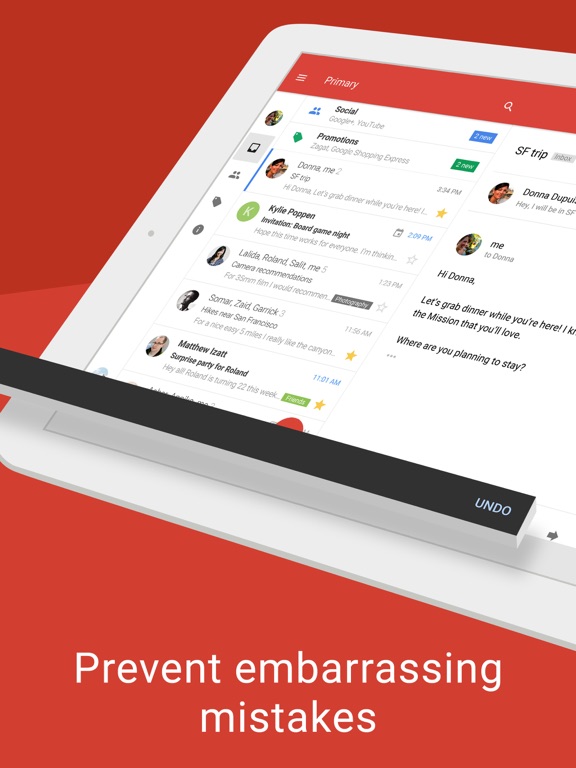 Reviews
PHOTOGRAPHERS BEWARE
I love the app but the most recent update made it so it's impossible to download anything. All of the buttons are still there but any time I try to save an image from an email (I'm a photographer I do this A LOT) the app crashes. Every. Single. Time. I restarted my phone, tried other images in different accounts. It's the app 100% FIX IT
Excellent
Gordon Guitar
on
12/11/2017
I ditched Apple's Mail app years ago in favor of the GMail app. I've never looked back.
Fix the update
New update constantly crashes. Garbage.
Ok update
Thisnamebetterbefree
on
12/11/2017
The update doesn't work as well as the classic app. The old app used to properly separate the primary, promotions, and social tabs. Now, every single minute, while in the Primary tab, a new line item appears to show new emails in the promotions tab...but appears like a regular email. Way to go google, pushing your promotions on customers. How does one turn this off? Or roll back to the old version?
Best email app!
CaitLumos126
on
12/11/2017
I love his app. I love how it is so easy to use and to perform a variety of functions.
George
George Bade
on
12/11/2017
Good need to check gmail everyday so rating is good
Can't add my company's email
I heard from so many people that Gmail was a much better app than the original Mail app and even the Outlook app from Microsoft so I gave it a shot last night and it became useless for me the second I opened the app and tried to add my company's email address. The app doesn't let me turn of SSL for IMAP emails therefore I can't add my email which is a weird thing since I added my email easily on the android version of Gmail since there I can turn SSL of and even have the option for SMTP and POP3 emails. The iPhone version doesn't have these options. WHY?
Great but
JaysonHidalgo
on
12/11/2017
I honestly prefer this gmail app out of any apps I ever tried (noting it's only Apples standard mail app). the way it breaks down your mail, they put tabs so you see important information, and not just mail from your favorite stores. This is easily, my favorite app for mail, but it bugs me how this app is constantly getting updates, yet lacks support of the IPhone X new screen size. Please fix this issue as it's not only annoying, but plain ugly. I been using the standard mail app mostly for this reason, and the lack of support brings the app to an unpleasant experience. Thank you
Lack of Select All baffling and annoying.
Why did google leave out this standard functionality? I am using other mail apps until google fixes this.
No Mark as Read when swiped
Add the feature when you swipe to make it as 'Mark as Read' Otherwise it's nice app
Nice
babakjamshidi
on
12/10/2017
Nice
Esta bien
Ñeñeñeoscart
on
12/10/2017
No es mala cumple con su tarea
iPhone X compatibility
I use this app for my everyday email usage. It's very annoying that the developers taking this long to update it for the iPhone X.
iPhone X Support
Bronson1499
on
12/10/2017
Love the app! It's fantastic but come on where is the iPhone X support?!
Constantly crashing
Finally upgraded my Gmail after hanging on to the 4.x for as long as I could, and now it's crashing all the time (a few seconds after I open the app). Yay. Guess it's time to move to Outlook.
Crashing
Ever since I did the last update the app crashes every time I open it. Please fix it!
No swipe options
Bad app you can only do one swipe.if more swipe option i amy use this
Where are the useful functions…?
MaybeAfterLunch
on
12/10/2017
I downloaded this app specifically to create a filter for an annoying email that I receive every day but cannot unsubscribe lest I forfeit rewards earned. Unfortunately, there is no easy way to "filter messages like this one" either from the message or the new folder containing two of the messages in question. Also, I could find no way to quickly move or delete all similar messages currently in my inbox. I suppose I'll go back to 2009 and get a desktop tower computer so I can efficiently manage my Google electronic-mail messages on the World Wide Web.
Good but no actions on notifications
I like the app! However, there's no actionable items on the notifications. Most other email apps let me archive, delete, etc
Eh..
It's ok, but I wish I could sign out 😕.
Love My Gmail
Dallas,Tx QUEENNANA
on
12/10/2017
GMail Is Most Def My Best/The Best To Use...Thanks GMail For Your Creative Business ❤️
Solid application that gets the job done
David O in Tacoma
on
12/10/2017
This app just works. It's a solid client for gmail. And now that it's using the entire iPhone X screen it's dang near perfect.
E-mail, improved
For years, I used Thunderbird on the computer but such a solution isn't possible. Accessing my three Google e-mail accounts is quick and easy now. The app seems to work better than it does on that other platform. Shared addresses over the years are found quickly and sending photos to customers works well.
Back Hutton iPhone X reachability
The back button in the upper left corner is too far away on iPhone X to reach it with one hand. Need a swipe to go back gesture.
Not supported for Iphone X resolution
Current update is not supported for X resolution.please fix this
Fast
Batman85311
on
12/10/2017
The email came really fast thanks so much google
Great app
Bjimenez1223
on
12/10/2017
It's a great app! Very easy to use but there are a few things that I do not like... for starters I wish there was an option on the app to "mark all as read" as there is on the website. I sometimes get many emails that I do not wish to open and I don't want them showing up in my notifications, going through them individually is a pain. Second, this app is still not optimized for the iPhone X. There are smaller less successful apps that have already fixed the screen size to fit that of the iPhone X without showing two big black empty spaces on top and bottom. Nevertheless the app is great and works ALMOST flawlessly.
Gmail
Can't stand the fact that I can't delete all of one type of email. ie:Walmart old and new. Takes so long Get so many emails in a day. Too much to keep up with
iPhone X support
Mariofan78989
on
12/10/2017
I really love the gmail app as it makes my email be accessed with ease and really be able to make it my own email inbox with the ability to even change notifications between inboxes. However, I'm giving the app three stars as I have been waiting for some time and there is still no update to make the app's UI friendly for iPhone X (being able to fill the screen). I hope to see the support soon and I will then rate this five stars as it is really good.
The best
As Tina Turner said, Simply the Best
Bette option to Inbox by Google
I have been switched to inbox for its sleek look, but it turns out the Gmail app is still better. More productive, better performance and on-time update
IPhone X
Where is the update for iPhone X screen??
Giving 1 star review to highlight fact that google's Inbox app is better!
Inbox by google is better than this app! Well worth getting your company admin to enable inbox app functionality. It's too bad they even require that though
Conversation View
You really need to make the conversational view an option and provide an easy method to turn it off for mobile use.
Need watch app!
Love gmail, but can we please get an Apple Watch gmail app!
Thanks guys
Always getting better
Needs fix for emails marked as 'Not Spam'
Spam email is stripped of all links. When I mark something as 'Not Spam', these links are not restored. So... when I'm provided links to websites that you can only sign up via email invite, they don't work because the email is stripped of all links. It's very frustrating. All else works great though.
تطبيق رائع
ربيع السعوديه
on
12/10/2017
ممتاز التطبيق ..
Gmail
erinrebekah
on
12/10/2017
It is so organized so it's easier for you to get to your mail
Exelente
una App increíble
Gmail
Really it's awesome
App icon issue with unread email
The app shows on the app icon how many emails you have unread. It's wrong. I have no unread email. It shows 1. No way to get rid of it. Please fix.
Worthwhile
Gave me an easy access to my apps that required payment. Plus the deals that came along were worthwhile considering my low budget.
Quit bugging me
It's email ,now stop begging for stars
Priority mail is inefficient
I used the Apple mail app for gmail, but for work used the outlook app. I was amazed by the focused inbox and wished gmail could sort similarly. I was told if I went through the app I could see "priority" mail.... but it's nothing on outlook. Things that should be priority aren't shown, and items that aren't a priority are shown (even though I've gone through the checks of trying to get it to learn and differentiate). The app also ignores the amount of priority items I've set to show - so theoretically I would have to scroll through emails from like, 2011, before I can see important emails from today. I know I can switch to seeing everything...but I just don't understand how MICROSOFT has made a better mail app than gmail! Sticking with the Apple app for gmail
Awesome
Mines gnarly
on
12/9/2017
Easy, fast and convenient!!
Quite useful
very efficient
Challenging
This new version is not intuitive. I wish there were a more extensive intro to this app. I am still trying to find my way.
Fantastic for Productivity
Archiving emails at a swipe, the ability to customize tabs and labels while maintaining good sorting policies, and the the integration with the Google calendar product make this app a dream — even on iOS. This is my favorite public email app/client by far. I do, however, wish that Google would adopt some of the features from their invite only beta mail project into this one, like the timers feature. It lets you put a timer on a email to be "redelivered" at a later date. Useful for prioritizing emails that are important, but not relevant to your busy week. That feature in particular is sort of handled by the calendar integration, but there's a host of other useful features in the beta that could be adopted into the public client. All in all, I give this app a whopping five stars, because compared to other competitors' email solutions, this delivers the most by far.
The app has bug can't save photos...
mvpeast88888
on
12/9/2017
When i click save photo, the gmail app closes.. plz fix it. Thanks
Fact Sheet
Publisher:

Google, Inc.

Category:

Productivity

Released:

Nov 02, 2011

Current Version Released:

Dec 04, 2017

Version:

5.0.171119

Size:

217.2 MB

Compatibility:

Requires iOS 8.0 or later.

Recommended Age:

4+

Game Center Certified:

No

Supported Devices:

iPad2Wifi-iPad2Wifi, iPad23G-iPad23G, iPhone4S-iPhone4S, iPadThirdGen-iPadThirdGen, iPadThirdGen4G-iPadThirdGen4G, iPhone5-iPhone5, iPodTouchFifthGen-iPodTouchFifthGen, iPadFourthGen-iPadFourthGen, iPadFourthGen4G-iPadFourthGen4G, iPadMini-iPadMini, iPadMini4G-iPadMini4G, iPhone5c-iPhone5c, iPhone5s-iPhone5s, iPadAir-iPadAir, iPadAirCellular-iPadAirCellular, iPadMiniRetina-iPadMiniRetina, iPadMiniRetinaCellular-iPadMiniRetinaCellular, iPhone6-iPhone6, iPhone6Plus-iPhone6Plus, iPadAir2-iPadAir2, iPadAir2Cellular-iPadAir2Cellular, iPadMini3-iPadMini3, iPadMini3Cellular-iPadMini3Cellular, iPodTouchSixthGen-iPodTouchSixthGen, iPhone6s-iPhone6s, iPhone6sPlus-iPhone6sPlus, iPadMini4-iPadMini4, iPadMini4Cellular-iPadMini4Cellular, iPadPro-iPadPro, iPadProCellular-iPadProCellular, iPadPro97-iPadPro97, iPadPro97Cellular-iPadPro97Cellular, iPhoneSE-iPhoneSE, iPhone7-iPhone7, iPhone7Plus-iPhone7Plus, iPad611-iPad611, iPad612-iPad612, iPad71-iPad71, iPad72-iPad72, iPad73-iPad73, iPad74-iPad74, iPhone8-iPhone8, iPhone8Plus-iPhone8Plus, iPhoneX-iPhoneX,

Supported Languages:

Afrikaans; Arabic; Basque; Bengali; Bulgarian; Catalan; Valencian; Chinese; Croatian; Czech; Danish; Dutch; Flemish; English; Estonian; Finnish; French; Galician; German; Greek; Gujarati; Hebrew; Hindi; Hungarian; Icelandic; Indonesian; Italian; Japanese; Kannada; Korean; Latvian; Lithuanian; Malay; Malayalam; Marathi; Norwegian; Bokmål, Norwegian; Norwegian Bokmål; Persian; Polish; Portuguese; Romanian; Moldavian; Russian; Serbian; Chinese; Slovak; Slovenian; Spanish; Castilian; Swahili; Swedish; Tamil; Telugu; Thai; Chinese; Turkish; Ukrainian; Urdu; Vietnamese; Zulu;