This version of the app is not recommended
App last updated
Mar 20, 2018
Screenshots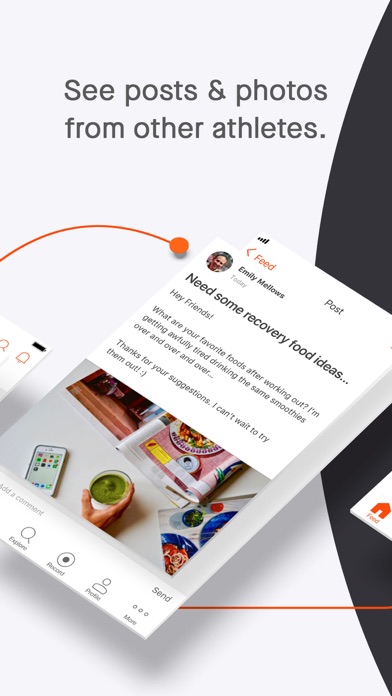 New in version 38.0.0
Run, ride or swim with Strava. Just like your personal best, we're continuously improving our app - so you get the best out of your training.
This version includes minor bug fixes.
Leave a review & let us know how we can improve Strava to suit your fitness.
Description
Record your activity with Strava. Track your run, map a cycling route and analyze your training with all the stats – for free!

Whether you're training for a marathon or simply love taking your bike out for a ride, turn your smartphone into a sophisticated running and cycling tracker with Strava. Join millions of athletes and active people and reach your fitness goals!

TRACK & ANALYZE
• Get key stats like distance, pace, speed, elevation gained and calories burned
• Compare your running, cycling and swimming performance over time
• Use your iPhone or Apple Watch, or pretty much every GPS device out there

ROUTE & TRAIL MAP
• Access the world's largest road & trail network
• Discover new routes for your run or bike ride
• Upload routes to your phone or GPS device for easy navigation

CHALLENGE & COMPETE
• Participate in your own monthly Challenges designed to push you even further
• Segment leaderboard: see how you fare on popular stretches of road or trail
• Track your progress & analyze your performance

CONNECT & SHARE
• Record an activity on your Strava feed, where friends & followers can give kudos, comments & share their own performances
• Join Clubs of brands, teams and friends for activities & growing communities
• Show off your route & share photos of your adventures

UNLOCK PREMIUM
• Get your own customizable training plans. Run that marathon or set your own distance, time or segment goals.
• Get live feedback to help you train safer & perform better
• Dive deep into your data with advanced analysis & extensive performance metrics

It doesn't stop with running or cycling, you can track a whole range of sports with Strava:
• Swim
• Alpine Ski
• Crossfit
• Kayak
• Rock Climb
• Surf
• Yoga
...and many more!

Additional web-only features, including route building, clubs and group activities, are available to all Strava athletes at www.strava.com

Strava Premium is available with a monthly or annual subscription ($7.99/month or $59.99/year). You can subscribe and pay through your iTunes account. Payment will be charged to iTunes account at confirmation of purchase. Your subscription will automatically renew unless cancelled at least 24 hours before the end of the current period. Your account will be charged for renewal within 24 hours prior to the end of the current period. Subscriptions may be managed by the user and auto-renew may be turned off after purchase by going to the 'Manage Subscription' page in settings. Any unused portion of a free trial period, if offered, will be forfeited when the user purchases a subscription to that publication, where applicable. The subscription will renew at the same cost.

Terms of service: https://www.strava.com/legal/terms
Privacy policy: https://www.strava.com/legal/privacy
Reviews
I just want to track runs
iCookOutdoors
on
3/23/2018
Eww. I just wanted to track runs, not install a sketchy hookup app. Tell Brittany I'm sure she's a really nice young lady and good luck finding love.
I want chronology
I don't care that someone went on a run three days ago. Three days ago, I did care. I will never understand the need for apps to use algorithms. People hate them. Listen to your users.
Solid
GPS tracking is very accurate, and the design works really well. I use it every week and it keeps getting better.
Strava support
There's a bug or glitch that does not allow strava to record data correctly. I've been using this app for years and am currently using on iPhone X so I don't think the hardware would be the problem. It does not read out audio cues, when I finish somehow it provides a distance but does not record pace or total time. This is a serious problem and would like to hear when this is fixed. Until then I'll be using the UA or Nike app
Interval splits
Great app but wish it would get my interval splits instead of mile splits when I'm doing workouts.
Privacy issues
Someone liked a run I ran who is a friend of a friend. I thought I had mine set up so only friends could see it. Contacted support. They explained it to me but not in a way I understood, so 1 Star. Posting where you workout is unsafe. Boo. I'll still use this lame app bc it's the only one my friends are on. But if I get stalked and killed, this one is on you guys. Also, make a direct message feature. Thanks for doing the bare min.
Bring back chronological
I join in to the choir of many, many users: abandon the 'post' feature to mimic Facebook and concentrate on your core strength: Let athletes track their workouts through Strava and share with others in CHRONOLOGICAL order. I want to see my buddies workouts from today. Not last Saturday's.
Watch App needs updates
Only speaking about the watch app here. Audio Cues What happened? Did you pull this? Because it does not work at all anymore. I really enjoyed this feature. Music Integration It's often a nuisance to fully switch apps just to turn music down or pause it. It would be really nice to have it integrated with the Strava app (like it is on Apple workouts) where it just a swipe away. Realtime Breadcrumb Mapping This would be a game changer. Please integrate this for people without cellar (if possible). ··· For those complaining about not starting and stopping without significant motion, just swing your arm hard and it detects motion immediately. Basically just give it a jump start and you're good. That's literally all it takes. Never failed me.
Limited functionality and not accurate
Not a fan 787654478
on
3/21/2018
Not good at tracking activity without GPS. Also doesn't track stationary activity or time you spent doing activities in a gym. Would record time spent on a treadmill as 0.0 miles and 0 minutes.
Syncing
Yesterday my upload from Garmin took 12 hours? What's up with that? Seriously!! Otherwise I really love the app but randomly the syncing with Garmin can be sketchy. Also. It is BEYOND annoying that I need to sign into the web version to add or update my gear. It doesn't even make sense.
Latest version is way worse
Moveyourfeet
on
3/20/2018
This thing where it arranges rides maybe based on story popularity really stinks. I want to see what my friends and I did arranged in simple chronological order. SIMPLE. Today I wanted to see if a friend went on a group ride and I looked and looked and his ride didn't show up. I finally went to his profile to find his ride. Allow me to choose chronological order. Other than this latest tweak the app is 5 stars otherwise
Decent, could be better. (1 feature Request)
The app is generally pretty good, no issues to note lately, ones that I have noticed before seem to have been fixed, however I do wish it was a bit more fully featured like your web version that I access with my laptop, I wish that everything and all the features available online will work in the app. Such as moving along at any point along the recorded route to show the instantaneous information recorded at that point, I'd love to have that available to me on my phone like you have it online to name a few. New feature request: Problem: On occasion I've forgotten to stop tracking my cycling when finished and I end up recording the drive home as a part of my workout. Possible solution: It would be cool if I could set an earlier point as the end of the workout to cut out the drive home afterwards.
Crap app that somehow can't do HealthKit right
kylesethgray
on
3/20/2018
Somehow, the best app on the store for health tracking can't do HealthKit. It's not like Apple has a million tutorials or anything.
Alow selection between elapsed and moving time
Until strava stops deciding to change the total time of my activity, exporting my runs here are pointless. The total elapsed time is right , but moving time is wrong which throws out my average pace
Battery life
Overall, I like to use the Strava platform. However, I do not use it to track my rides.. this app is a battery killer.. great for short rides, but anything over 2 hours, you might be stuck without phone life on the battery..
Badge icon not working
Butlertotheb
on
3/20/2018
Every time I use the app I have one notification. I close the app and I still have (1) badge notification. No matter what I do it after I use the app and close it without looking at the notification window I have 1 badge icon.
Latest iwatch 3 update
Cool breeze 12345
on
3/20/2018
Previous version worked well for running if auto-pause was disabled because the watch would pause if you looked at the screen while running. I thought that was fixed with latest update because the timer keeps going. I tried to run four miles two different days and I begin looking at my screen a lot at 3.8. The timer kept going but the distance was stuck on 3.8. I finally stopped looking at the screen at hit 4.0 eventually. This has happened last two runs and kills my average speed and try distance. I'm pretty sure the app stops counting miles when the screen is active. I don't know if this is related to auto-pause or not. I've turned auto pause off and don't look at the screen anymore. The app is definitely buggy. Strava creates a great social network that is the standard for cycling, but stick with Your Garmin and then upload. Not sure why it's taking this long to build a stable watch app. I never had problems with the phone app.
Siri
Great app. I have been using it for years and I love the flyby feature. Please add Siri support so you can start recording a ride using Siri. For example, Siri integration would allow me to say "Hey Siri, start recording with Strava" or something along the lines of that. This will allow users to start rides without fumbling with their phone and having to open the app. Very helpful if you are wearing biking gloves or if you are biking and cannot divert a lot of attention to the phone. My ski tracker app called "snoww" has this feature along with apps such as "Lyft" which allow you to request rides using Siri. I contacted the support team about this and they responded with a canned response describing the voice feedback feature which gives you updates during your ride. This is not the feature I am requesting or talking about. That is a pathetic response. Please add Siri integration. Thanks.
So much noise over nothing
hyperboreanwolf
on
3/19/2018
Says trip planner in description, does not perform this basic function. Website doesn't work for it either, as a cyclist I'm just warning others who wanted it for this function too, to skip it
Please add two tiny features
Please add the ability to keep the phone screen on while recording. Also please add a "night screen" with dark colors that doesn't kill your night vision.
Continual updates for old run
JenniferJean61
on
3/19/2018
Strava notifies me daily that I can view my run from weeks ago. Can't get the old notification to go away and customer support has been unresponsive. Deleted the app, shut phone off and reinstalled.. it's still stuck. It doesn't work well with a new pair of Vi training headphones I got recently. Several runs simply won't sync.
Recently Buggy - Beware
double bogey dougie
on
3/19/2018
App worked great until January this year then recordings became inconsistent and unreliable - missing chunks of runs, failing to record, etc. big topic on Strava's Support site but next to no updates on progress by Strava. However, when working, this is a great app.
New update is No where near accurate!!!
Goredsox2213
on
3/19/2018
I've been using strava for 4 years and it's been great until the newest update. It says I'm running either a 5 minute mile or 15 mins, not my normal speed, nor the distance. Fix this strava! I use this every day and it is very disappointing, otherwise I need to look into other apps.
Ok app
Could be a lot better if it was really user friendly. Hard to figure how to create my own routes. Slot of it is hard to figure out.
Watch App Doesn't Work
intermediatic
on
3/18/2018
Still borked. I press start on my phone and the watch app just sits there like a muppet on a rock. It used to display information about my run and allow me to finish the run on my phone from the watch. It also used to collect heart rate. Now the watch app is some garbage that doesn't work. Get a grip Strava, there is a massive thread about this on your site. Why oh why do I pay to be a premium member?
37.0.0 Broke It For Me
With this release: • Auto pause is now on steroids, pausing even when I slow down a bit. When I reached a point I know is 1K from my house Strava showed that I had cycled only 0.1K. 90% gone. • Audio Cues no longer work. No more "Starting Ride", "Pausing", etc. I've tried toggling it on and off, but no joy.
Consistently miscalculating time
Mikeyroks123
on
3/17/2018
I loved the app when I first started using it. For the last 4 months I have started runs and gotten into it only to check back on strava and it reporting Distance=0 Time=0 Pace=0. I believe it might just be better to buy a garmin and input the time manually
Upgrades Unstable
Love your app and what you are doing to make it competitive with Apple's native workout app. But you are breaking or changing previous functionality. No more voice on AWS3? And the HR is now the average HR vs real-time?!? I logged a ticket and was promised the next release would fix it. But no dice. Don't assume you know best! If you change something that isn't broken, like HR display, make it an option and not a mandatory change. Was five stars before the latest two releases. Side note...Why no hundredths on distance? On long runs this gets exhausting and frustrating.
Great app
@briannorris1
on
3/16/2018
Would be even greater if you can easily stop a ride or run from home screen on a phone instead of having to unlock the phone. It would be like stop/pause music, shows up a control on home screen
Good app but don't listen to user requests
I have been using Strava for around 6 years, was premium for 2 but cancelled because I wasn't getting the value in paying anymore. One of the biggest things me and thousands of other people have asked for is the ability to switch to chronological view but they keep trying to add new features instead of listening to what people want. Good app but the developers should pay attention to what people are asking for.
Good... But
This has been one of the more comprehensive workout apps. I have 2 suggestions: include .01 miles for runners, and make the watch app a little less finicky. I'm always struggling to get it to start up at the beginning of a workout, or after pausing to restart. That can cost valuable time when you're doing speed workouts... I've seen some apps use a twist of the dial for starting or stopping, or a hard press on the face. Either way would work better than tapping a tiny icon and hoping for the best. I love the app, especially the social aspect, it just needs some fine tuning.
Strava and the iwatch app
I been using Strava for years when I (road) cycle. Then a few years ago after a knee replacement I started swimming. I bought a Garmin watch to track my swimming progress and was happy to see that the Garmin watch, used to share this info with Strava app on my iPhone and automatically shared this info. It had my swim with all stats right on my iPhone. I recently was given an Apple iwatch as a gift and it has a default Strava app on it. It does not offer a swim tracking option. Furthermore, the Apple default activity app which I've been using for swimming does not automatically share this info with the Strava app and there is no option to do this. So, I'm kind of disappointed since I am "friends" with a few people and they would give me the 👍 after a swim. Now I have to explain that I'm using a new watch that doesn't offer swimming in the Strava app. I suggest the developers figure out how to incorporate swimming in their iwatch app or at least "share" this info with the Stava app the way Garmin does.
Awsome App...
Sanchez 19821311
on
3/15/2018
Great app... A recomendation: Please add another decimal in the distance metric. Example: 1.25 miles... Thanks
Re: Recent updates. NEEDS IMPROVEMENT
4 years being a premium subscriber and many devices later, this is the worst experience so far. Recent watchOS app updates have made usage more unstable and prone to crashing mid-activities. Sixth time today in several weeks. Watch memory usage shared between other apps and notifications forces the Strava app into background activity essentially stopping it from registering inputs even as the app won't cycle to the forefront nor respond after closing all other watch apps. Requires hard reset of watch and momentary loss of activity progress. After rebooting, app restarts by first notifying you of your activity being uploaded! Great... as I'm still running and then have to restart it several miles later to continue tracking. This watch app needs better functionality optimization instead of UI testing of moving buttons around.
Good for social fitness
When I was able to run, before my knee injury, this was useful. This version doesn't sync with Apple Health or swims. The units for manually entering swims is miles or kilometers. Who came up with that genius idea? Being basically a running app that dabbles in swimming and biking, I won't be using it until they bring those sports up to par. Apple's app does those well, it's just not as popular on the social front.
Good for what it offers!
Really good for my bike rides and running!! I enjoy seeing my progress through the season and being able to compare to previous season!! The free version is pretty amazing on itself! But would really enjoy seeing indoor and outdoor swimming option on my Apple Watch! I wonder if Strava is working on a 'tri' option that I could use during competitions that could automatically sense transitions?? Wouldn't that be cool and handy!!
It's broken, so fix it
Since the last iOS update, the app is deleting approximately half of my hiking and running substance and time when I save. It records the full map route and distance during activity, but then deletes substance and time when I save the event. I'm recording directly in the app so there is no device integration problem. Maybe it's time to move on to another app.
Love it...update us on what you're changing
Love that strava is getting updated frequently. REALLY wish that you'd publish what changes you are making in each update. Can't look for new improvements if I don't know where to find them. Thanks!
Utter garbage
The last rides I've logged have missed entire segments of my trips. I logged 0.3 mi on what should be a 3 mile trip. Last ride was 16 minutes with 0 Miles. What is going on?! I can't use this app anymore.
Overall good sports app
Overall good sports app, which however needs some major important functions added: (i) There is no way to see your current pace on the Apple Watch 3 App when running. Only split (for 1km) and average for the whole workout can be seen. This is especially a problem when you do interval workouts like yasso800´s, since you don't know the speed for the 800m you are running. Other apps can easily do it and I don't get the point why Strava just doesn´t add a third option of current pace besides split and avg. (ii) There is no way to use your Apple Watch 3 to record a swimming workout and upload it to Strava. The only thing you can do is upload a workout manually, but it won't show you the splits not anything. The Apple Watch 3 is the most native device to iPhones and the activity app nicely records the swim data, so it there should either be an option to import that to Strava or do natively record a workout with the watch in Strava. (iii) it would be nice if there were certain standard interval workouts added, so you can choose the pace you want to run and the distance for each split and the watch will tell you when to speed up/ slow down. Hope to see some of these features added in the future! Keep up the good work!
Frustrating
Hannah2555555
on
3/13/2018
I used to really like strava because it kept up with me and was accurate. I was amazed that it could calculate my pace close to real-time in June-August 2017. In March of 2018 though, after a 6+ mile run (that's a long run for me and something I want to document and be proud of) it had only collected 3 of the miles and had cut out 20-30 minutes of my run. Very discouraging for me. After driving back through my route I am POSITIVE that strava's accuracy has gone downhill. Plus after a poorly documented run, they then have an ad for premium. Honestly, over the summer I had thought about paying the outrageous amount for premium for the goals activities, but at this point... absolutely not. My last bit of frustration is with their safety feature that notifies certain people when you go out. I love the idea of this feature, but this seems like a basic feature that should be provided in the free version. I understand a business needs to make money, but praying on peoples fears is pretty low. I would have tons more respect and be slightly more lenient with my criticism if they valued their users safety more than the $8/month they can earn off this basic safety feature. I just use find my friends and let a friend know when I go for a run alone. Honestly, it just seems odd that they're plan doesn't take into account the fact that having mutual respect with your users can really earn more trust and money in the long run... no pun intended. They definitely need to revert back to a previous version or clean up this version before I continue using this over Map My Run.
Live HR removed for non-premium users
Without any announcement the Apple Watch functionality of seeing your live HR was removed for non-premium users. Now you can only see your average HR. I understand Strava needs to make a profit somehow, but it feels like charging the premium subscription for a really basic functionality to, arguably, mostly occasional users is not the way to make people willing to go premium. Anyway, thanks for ruining that workout for me as I was constantly trying to figure out why my HR wasn't responding to what I was doing. Not seeing you HR drop after you stop running is quite concerning to say the least. At least make an announcement on such a change of functionality.
Used to work great
Now I go for a run and either it doesn't measure my distance or my time. Strava support gave me a bunch of steps to remedy the issue. They blame it on my phone (6s plus) and iOS 11. All my other gps related apps work fine. I fix the issue by uninstalling and reinstalling the app. It works for a few more runs then it happens again. I always go on a run with a full charge and a good gps signal.
Good and getting better, but...
I mostly only use the Apple Watch app, which is still lacking features like marking splits/laps, which Apple's Workout app can do. Cadence for running is measured but not reported (again, Apple's workout app can do this). Given this, will use Apple's workout app for recording activities and use iPhone app for reviewing results, etc. New strain feature looks good so far.
Panama
Tremendo App para seguir y ser seguido en los deportes.
Apple Watch audio cues no longer work
In this latest update for the Apple Watch app, the audio cues function no longer works. I've become accustomed to this feature especially now that I'm doing longer runs and wearing gloves over my watch. Please fix this bug. Otherwise app works great.
Apple watch a litttle wonky
Previous version was good, new version misses the map...misses my pace...heart rate 30-40 BPM higher than if the regular Apple Watch native app measured it. I'm sure they will work it out, but the difference between updates is pretty severe
Amazing!
Beit Ariella
on
3/10/2018
I love the amount of data I can store and analyze as well as the clubs.
Excellent update
Strava has done a great job with this update. I have been using Strava for many moons. This is a big update and they knocked it out of the park. I love how you can easily swipe through pictures and the feed is cleaner and more informative. I checked the website and it has also been updated. Now all they need to do is integrate a messaging into Strava so we don't have to leave private stuff in the very public comments.
Add this
I love using this app I run everyday and all my friends have this. I like how it tracks weekly miles and it's cool to see other peoples races and workouts on here. I wish it just had more decimals for the timing. How hard could it be to add a hundredths place for time and mileage I'm constantly getting like 3.99 miles and it counts it as 3.9 erasing almost .1 miles off my total
Fact Sheet
Publisher:

Strava Inc.

Category:

Health & Fitness

Released:

Mar 24, 2011

Current Version Released:

Mar 20, 2018

Version:

38.0.0

Size:

162.4 MB

Compatibility:

Requires iOS 10.0 or later.

Recommended Age:

4+

Game Center Certified:

No

Supported Languages:

Dutch; Flemish; English; French; German; Italian; Japanese; Korean; Portuguese; Russian; Chinese; Spanish; Castilian; Chinese;