This version of the app is not recommended
App last updated
Jan 17, 2018
Screenshots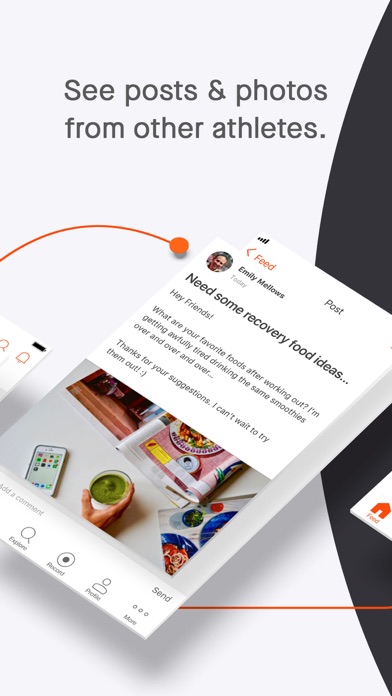 New in version 29.0.0
Strava is the best app to help you reach your run, ride or workout goal. We are always improving our app to make it better for you. This version includes minor bug fixes.
If you like to run, ride or just adventure outside, Strava is the best app for you.
Description
If you like to run, ride or just adventure outside, you'll love Strava. Give it a try, it's free!

Millions of runners, cyclists and active people use Strava to record their activities, compare performance over time, connect with their community, and share the photos, stories and highlights of their adventures with friends. Strava works with just your iPhone or Apple Watch, as well as pretty much every GPS device out there.

Track Your Runs, Rides and Activities for Free
• Activity Tracking: During and after activity, get key stats like distance, pace, speed, elevation gained and calories burned, as well as an interactive map of your activity
• Personal Challenge: Participate in monthly Challenges designed to push you further
• Segments: Got a favorite hill climb or long straightaway? See how you fared on particular sections of your activity with Strava segments

Connect with Friends and Fellow Athletes
• Social Training: Follow friends, training buddies and pros to view each other's activities and encourage them with kudos and comments
• Clubs: There's a club for all your athletic interests, from the world's biggest sports brands to your neighborhood running posse. Join your favorites to learn about events, participate in discussions or just find out what's new
• Activity Photos: Showcase the best moments of your run or ride
• Friendly Competition: Dig deep and shoot for a top time on segment leaderboards
• Strava on Social: Share activity details on Facebook, Instagram, and Twitter

Pair Your Favorite Technology
• Device Friendly: Strava works with almost all GPS running watches, cycling computers and activity trackers
• Heart Rate: Train with a heart rate monitor for additional performance data
• Apple Watch Series 2: Leave your phone at home with Strava for Apple Watch*, totally redesigned for Series 2. Your activity will sync automatically.

Additional web-only features, including route building, clubs and group activities, are available to all Strava athletes at www.strava.com .

Make the Most of Your Sport with Premium
• Stay safer when you're on the go with Beacon's real-time location tracking
• Train for peak performance with personalized coaching such as training plans and custom goals
• Get unrivaled live performance feedback during your activity, and exclusive and detailed analysis after every activity, including heart rate, power meter and race analysis
Premium is available through in-app purchasing.

Strava Premium is available with a monthly or annual subscription. You can subscribe and pay through your iTunes account. Your subscription will automatically renew unless cancelled at least 24 hours before the end of the current period. Auto-renew may be turned off after purchase by going to the 'Manage Subscription' page in settings.

* Apple Watch Series 1 and first-generation users still need their phone to collect GPS data.
Reviews
Skewed priorities and poor customer service
Strava is trying to turn the list of activities into a Facebook-like feed that optimizes spending you time there; that's too bad because eg the non-chronological ranking and email reminders just create the same kind of desensitization and context collapse as Facebook. Customer service is poor even for premium members; eg sharing activities by link broke months ago for accounts with enhanced privacy but their representatives don't even understand the issue.
Tracking fail
Rockpaperstar
on
1/20/2018
I love this app, but recent versions stop recording mid-run with no warning or reason (full reception). It's making it hard to use because I don't want to be continually checking my app to make sure it didn't cut out on me 1/2 mile ago.
Dislike the inverted pace bars
This is not a value add feature. Product team should be spending time on higher priority features like auto flagging of mistagged activities (ie bikes tagged as runs, parity across mobile and desktop).
Clunky interface
Can you please give us the ability to enter numbers on the keypad for manual entries? I usually swim at least a mile and to enter the workout, I have to scroll up in 5 yard increments—which takes a while.
Useles!!!!!
Youknowwho2017
on
1/18/2018
Cannot get it to setup with my iPhone running iOS 11.2.2 and updated Series 3 Apple Watch. Sad app! Very Sad app!
Awesome
Great at tracking and helps me want to beat my previous time and run
Better Apple Watch Support.... Soon? 😭
AssertiveBard
on
1/17/2018
Hey Strava, I LOVE my Apple Watch, but without the Strava app supporting HR zones, Live segments, etc... I'm left wanting more. Any chance we Apple fans are going to see these come soon? Other than that, Strava is the best app for training, tracking and social connections with other runners.
Great apart from Apple activity sync
Would be a 5 start review if they took the countless requests to import apple watch activities to strava and did something about it..
Absolute Best!!!
The best sport tracking app there is!
Favorite app
The app still needs work to reach feature parity with the website but I'm leaving 5 stars with good faith that it will get closer each day.
The best!!
Strava is the best!!
Strava is awesome !
colinmaidens
on
1/16/2018
I use strava almost daily along with many friends and family. It works great !
Continues to get better
Great app for runners and cyclists. Favorite capability is segments, which help me understand my fitness level over months and years.
Love this app!!
Just started using it. I like the "personal record" achievements.
Still waiting for more detailed distances
Yet another version with only one decimal place. My Apple Watch and health app give me mileage with two decimal places. Why won't the developers at Strava include this level of detail? Other than that, would be nice to add more goal options, more notification options, maybe some 'trainer' options such as a voice coach who help you start/stop tempo and intervals runs when outside on the road or track. I love this app and will continue using it. I just wish some basic functionality that is missing (and Nike has had for years) could finally be added.
Solid app!
Disappointed1234012309876
on
1/16/2018
I especially love the heat map and fitness/freshness.
The best app for cycling
Awesome app.
More climbing stats please!
DJ Scott6969
on
1/16/2018
Would love it if I could see the amount of feet/meters I have climbed during use not just after activity is saved. After the end of the year all my elevation I have climbed disappears!?!? What is the deal with that!!
Exceeds expectations
Wish there were more partner integrations (ie. weather), but all-in-all Strava exceeds expectations.
Full meal
Love Strava! Great open riding, excellent workouts. I have used this program as part of my training for multiple ironman distances.
Great Ride Tracking App
Of course there's room for improvement, but this app is great. The free version has everything I need to block my rides, get useful stats, share with all my friends etc. it would be nice if there was a page for top tens, not just KOMs. And it would be nice if the app automatically paused when you were going up a mountain on a lift. But still, definitely a five star app
Awesome App
I have been using Strava for years. Easily syncs my Garmin data. Very good app.
Great way to stay consistent!
I love this app, it's the most accurate way I've been able to track my runs. I like that I can connect with friends and see how they're doing too! I'm curious to know what happened to the map when you select a single run? It's cut off now whereas it used to be a full view in the feed view and single view. I miss that! Please bring it back.
Start/stop
I hate this app go to hell
on
1/14/2018
The only thing wrong is the auto start stop is a little bugged.
Strava going DH
Yierba Buena
on
1/12/2018
I used to love strava. Now it's just ok. The new feed algorithm is trash. Just let me see activities in chronological order! In its attempt to more accurately identify activities I might be interested in, they miss the mark. Give an option for chrono and I'd give it 4-5 stars.
Strava
JustinPaulSaunders
on
1/11/2018
Love the app, works great; just wish it had an option for verbal notifications for pace/mileage while biking (similar to how it does with the running.). Every 5 or 10 miles would be nice. Should at least be a premium option
Newest update
Firefighter9107
on
1/11/2018
Just wanted to let you know there is a bug with today's update. The app now doesn't allow you to post your workout to social media.
User
The last two updates to this app have just made it go from bad to worse. I know you need to keep your developers employed, fix the bugs, but making changes for the sake of making changes is not progress. You need to revert back a couple versions. Does anybody there actually use this app?
Apple Watch Heart Rate
Love this app. The Apple Watch support is amazing and love that I do not need my phone to record workouts. However, I recently noticed that the app on the watch does not read heart rate data anymore and my settings are set to read it. A fix would be greatly appreciated!! (I'll change back to 5 stars)
Great app
Been using the app for years. Always loved it and they do a good job with updates to continue to make it more user friendly. Would love to see them incorporate weather into the workout info.
For runners? Meh.
mightyjackrabbit
on
1/9/2018
I would leave less stars but I think this may be a good app for cyclists. Two off for advertising to runners and falling waaay short compared to the other running apps. Back to Endomondo I go.
Great for running and cycling... However
RandomUser1111119999
on
1/8/2018
The website offers so much more than the application. I can only start a run or bike from the app. So when I go on mountain hikes I have to go to the website and edit my upload to reflect that. Other running apps are way more flexible and give you the option in the app. There are ~30 other activities on the website but the app offers 2. You also need to go to the website to create your gear for your workouts as the app lacks the functionality. You can't see how you are doing as far as your annual goals in the app. This is a weird omission.
It'd goxd
Dhgdfhtgghhgfffrrergv
on
1/5/2018
I like itv
Favorite app
Great way of tracking runs and miles. Shows progression in segments well, total miles easily, even helps me keep track of mileage in what pair of shoes. Fun to compare my time on segments to friends that run the same trails I do. 10/10
Garbage
Fix your app or I'm canceling my premium membership. After 2 rides I'm still at zero miles. Might as well use no app at all. Definitely not worth paying for.
Lagging data
I've been using this app for a couple years now. Haven't had one issue...until now. My last two runs it doesn't connect to satellite perhaps? I don't know, but it sure doesn't take me 34 minutes to run 1 mile and I'm not running through fields. The GPS is all jacked up and its really frustrating. Good thing I have a Garmin for back up. Maybe fix the problem before I give up on the app.
No way to record heart rate from AppleWatch
Tracked my route but that was it. Would way rather have heart rate data and there doesn't seem to be anyway way to get that.
Needs Indoor Running setting for Apple Watch
I love Strava. I've been a premium member for years. But it doesn't work with my new Apple Watch when I run on a treadmill, and it frustratingly discards my runs when it doesn't detect any GPS movement despite having tracked my splits and my heart rate. Please add this feature!
Dificult to cancel Premium account
Used the premium features for a race and after that month I changed all my devices to the free membership, 5 months later they still charged me the premium membership. At the end, is not in the device where you need to cancel the premium membership is at the app store. The app is misleading! and it cost me 4 more months than I wanted. Need to change this in next version.
Syncing problems all the time
cyclesomatic
on
12/22/2017
I'd give it a four if it synced workouts from other sources consistently. One day it syncs perfectly and the next it doesn't. Garmin/Strava is always a problem and trying to download 5 to 6 workouts a week makes it a hassle.
Watch App Doesn't Work
intermediatic
on
12/19/2017
I press start on my phone and the watch app just sits there like a muppet on a rock. It used to display information about my run and allow me to finish it.
Updates downgrade the app
MutterdesDrache
on
12/18/2017
Repeatedly after an update (did not realize there was one a few days ago or would have used a different app) the app does not track my distance. Ran a route today I do routinely and it put my distance at 0 miles for 1.3 miles.
Apple Health Integration Broken
Chemistry76
on
12/16/2017
Apple Health Integration has been broken since the beginning. It usually duplicates ( or 3-4x) distance, calorie, and workout data. Most recent update no longer adds any data to Apple Health.
Disappointing
Bowling Maniac
on
12/16/2017
Missing "interval" training options and to manually enter a run you need to go to the website (not able to enter through the app). Not worth the premium subscription.
App Keeps Crashing
I'm using an iPhone 6 on iOS 11.2.1. App crashes every time I use it.
Strava
Love strava I'm a premium member the only trouble I have is the unaccurate calorie count other then that it has everything I need
Heart rate from Apple Watch
This is awesome, I opened the ride and the heart rate was magically there! Really good job on the update, as that was something I was looking for.
Could use some tweaks
Overall great app. The connection between Strava and my Apple Watch series 2 is better than I expected. However, I feel in a future update you should be able to edit the time or distance manually. While running in the woods or on trails the GPS is naturally lower than what you're actually running, so it would be good to be able to edit it to an extent so the pace isn't way lower than it's supposed to be.
Fact Sheet
Publisher:

Strava Inc.

Category:

Health & Fitness

Released:

Mar 24, 2011

Current Version Released:

Jan 17, 2018

Version:

29.0.0

Size:

145.7 MB

Compatibility:

Requires iOS 10.0 or later.

Recommended Age:

4+

Game Center Certified:

No

Supported Languages:

Dutch; Flemish; English; French; German; Italian; Japanese; Korean; Portuguese; Russian; Chinese; Spanish; Castilian; Chinese;