This version of the app is not recommended
App last updated
Mar 15, 2018
Screenshots
New in version 18.11
Paper is so 2017. Ditch the printouts and go paperless with the Expedia App, where you'll find all your travel details in one convenient place.
Description
The Expedia app is your all-in-one travel companion. Save big on hotels, find the perfect flight, discover things to do, and get helpful trip reminders right when you need them. Plus, you'll earn double Expedia Rewards points every time you book through the app.

Why should you use it? It's got everything you love about Expedia, including:
- Over a million flights, hotels, rental cars, packages, attractions, and more
- Exclusive discounts and perks when you join the Expedia Rewards Program
- Huge savings when you bundle flights and hotels — up to $570*
- Car rentals in as little as 30 minutes
- Great deals on tours, shows, theme parks, and other attractions
- Easy reservations for airport shuttles and ground transportation

Plus, great mobile-only features:
- Up to 30% savings with mobile-exclusive hotel deals
- Double Expedia Rewards Points on every booking
- All your travel reservations all in one place
- Helpful alerts for flight delays, gate changes, and more

So whether you're planning a culinary tour of Las Vegas, taking in a show in Chicago, or enjoying a romantic getaway to Paris, the Expedia app has everything you need to get you there in style. Plus, while you're there, you'll get helpful, real-time advice like directions to your hotel, flight status alerts, checkout times, and more.

Download the Expedia app now!

*Savings based on all vacation package bookings with Flight + Hotel on Expedia.com from September 2013 through February 2014, as compared to price of the same components booked separately. Savings will vary based on origin/destination, length of trip, stay dates, and selected travel supplier(s). Savings not available on all packages.
iPad Screenshots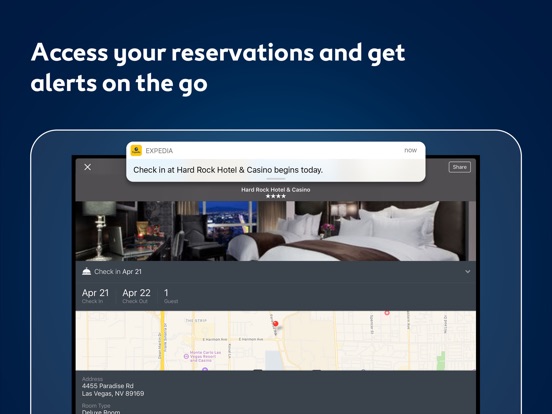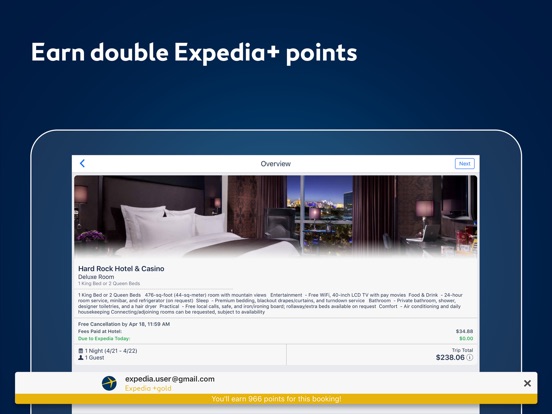 Reviews
Zero if possible
This review is about customer service (or lack of) and not particularly the app. After realizing I made a mistake and booked my hotel in the wrong city, I quickly made the correct reservations and called to cancel the incorrect hotel. I was placed on hold while they contacted the hotel to cancel. Once they returned to my line they stated that the hotel manager was not there and they were the only ones who could cancel the hotel. Expedia was to follow up with the hotel and then follow up call would be made to me confirming that it was cancelled and I wouldn't be charged. Guess what was charged?!?! I called Expedia back and again the same situation. Placed on hold until returned and again they were not able to reconcile my issue. This time CS stated they had no record of my 1st call to cancel. OH!! AND..I was charged for 3nights the full booking too!! Again a follow up call was supposed to be given to me and I still have not received a call.
Worst
ryan atencio
on
3/17/2018
I would rate Expedia at -100 they are the worst I will never use them and we'll tell all to never use them I will put this on social media maybe it willing show what a scam they are
Love this app
But it would be nice to book a car along with your trip like you can do online.
Useless for cruise
This app is useless if you want to book a cruise. On their website when I booking the cruise. They advertise you get double the point if you use their app for booking. And guess what? You can't search or book cruise on the app.
Disappointing App
dissipointed in Philly
on
3/17/2018
I love Expedia. I use it for most of my travel needs I am a gold member. Every time I go on Expedia's website to book a flight or hotel on my phone or IPad it encourages me to get the app it even offers more points if I book using the app. Months ago I downloaded their app only to be disappointed. I tried over and over to book a hotel with no success. I then went on the website and booked the room I needed. The other day I tried again and I was successful up until the end when I had to verify my credit card. The app could not recognize any of my cards. I once again went on the website and had immediate success. Why have an app if it isn't usable?
So easy to use
Book all my trips through Expedia
One of most favorite apps!
Easy to use. Works great and great customer service!! Thanks!
Add to Apple Wallet Broken
Add to Apple Wallet does not work in the app for hotels...it just shows the error "frame load interrupted". I have the latest version of the app & OS.
Travel with Expedia
Mileycastillo01
on
3/16/2018
I travel a lot and I love Expedia because they always have the cheapest flights even though I booked my flights 1 or 2 days before.
My Fav Travel Site!
I have been using Expedia for hotel & flight bookings - Expedia is reliable! I feel I always get the best prices :)
DO NOT BUY Travel protection, not worth it at all
dontbuyprotection
on
3/15/2018
The travel protection is useless, you can only use it when you are having a serious medical condition with all the paper works. For change or cancel, you just need to pay the same as those people who didn't purchase the protection. I called customer support, and they escalated to a Will guy from corporate office, boss Will told me: " you just need to look through your stuffs better, don't call us call the insurance company instead" The support is sooooooo bad! They talked to customers like we should had figured out everything, if we didn't, it's our fault. Well played, Expedia!
Pure garbage
The imbeciles at Expedia can't do the simplest thing right: I cannot get my itinerary despite having an itinerary number, a username and a password. Did Nancy Pelosi invent this thing?
Easy to use
Easy to use, great options, great prices
Best prices. Great Customer service
Their prices really are unbeatable. The app is super easy and customer service is awesome. I don't bother with any other company anymore.
With each update reduces functionality
Coffee Fiend 10
on
3/15/2018
I've used this app for years. Why? I no longer know. I can't limit the neighborhood to search in for hotels. They tease you into thinking you can change the visible area on the map and research. It just goes back to the original map version prior to repopulating the results. Not helpful. It can't filter on user ratings. It can't filter on distance. It can't filter on amenities. I'm surprised it doesn't pull up none lodging results while searching for hotels. Perhaps in the next update they'll just mix in car rental results to "help" the user or perhaps just to create additional screens to scroll through while trying to compare. •Would like to have the ability to filter and the system honor the chosen filters. •Would like to have the ability to flag specific results to not appear again. •Would like yo be able to save preferences. •Would like to save searches. •Will look for other apps - Hopefully for business Expedia doesn't secretly (or not so secretly) already own
Great
The app is very easy to use!
All A LIE!
I thought I'd save money using Expedia but i was wrong! I purchased a hotel stay through Expedia and paid it in full. The place i booked was actually an apartment stay rather than just a hotel room which was awesome. So since Expedia the middle man, i also received a payment receipt/ payment summary from the other party which says that I've paid it in full. That's fine but HOW come the total i was charged from Expedia's was $100 than it was than the actual apartment stay!! Everything from fees of cleaning and taxes and city taxes were included on both. NEXT time I'll just book from the first guy instead of the middle guy CLAIMING that I'd save more and it's a "private sale" pfff. I'll be deleting this app once I'm done with this review. Peace out Expedia
Terrible Customer Service
Expedia works fine until you need customer service.
Not flexible
The app s ok if I am going and returning from same place but is useless if my travel plans are multiple city or one way.
Big bear lakefront lodges
Wimfuadswords
on
3/14/2018
This is a horribly disgusting place and Expedia's Which I use Quite often had used and had good luck with really missed the mark on this one 🥝. Maybe I don't think Any one shoikdvevdr lllllllp I will not trust Expedia again unless they go out and surprise check these places we should stay instead touring rfpedis our bar instead I use to yrusg
Best rates on the web
The mobile app is improving. Most of our bookings can be done on the phone app. Happy that it is improving. Hopefully soon multi destinations can be done on the app too
No airport codes?
Dumpster0915
on
3/14/2018
Doesn't seem to recognize any airport codes. Website does
Expedia... why don't you hire people who speak English from the U.S. 😡
Absolutely horrible experience!! First of all, does Expedia NOT support jobs in the U.S.? It took 4 people, 3 transfers and 38 minutes to resolve my problem... Including having a HUGE language barrier while trying to understand people from places like Cairo, Egypt!! HIRE FROM THE U.S., Expedia!! 😡
Can't sign in since update
Ever since I updated it won't let me sign in. Before I had no trouble. Otherwise it's a good app, when it's functional. Please fix.
App needs work.
Had to confirm my email 4 times. Itinerary does not link to calendar through confirmation email. It doesn't recognize that you have already installed the app while using the main webpage. It keeps asking you to download the app.
Fast and reliable
Bm carpet and floor care
on
3/13/2018
App fast, price straight. No hassle .
Found a room fast on busy week!
No Sleep tonight
on
3/13/2018
I knew this would be a busy week in Kearney, NE and I was afraid I would not be able to find a room at the last minute. I jumped on Expedia and found the Ramada Inn at a great price. I looked at the Ramada site for room and it was $20 more even with my Wyndham member rate. I recommend Expedia when looking for hotel rooms.
Best experience ever
expedia saved my trip
on
3/13/2018
Expedia was so helpful in finding a room for a very busy night in NY. Free Cancellation available !
Reliable and Usually Best Price
Used many times for air and auto combinations especially in last minute situations.
No true information
The information the post when you trying to purchasing change the price, expend to much time for nothing. Customer services no good actitud.
Better Searching, Better Rates.
Easiest way to find and search for hotels. Whether by list or by map. Rates are great!
Crap
This is not an app this is a crap.
Terrible customer service
theuglyfriend
on
3/12/2018
We're getting snowed in here in Boston. All my flights were changed or cancelled. I sat on hold through out the day for three hours to cancel my trip and it's still not taken care of. I deleted the app. I'm done.
So easy!
I love using this app on the go! Arrive at a place without a room and boom! Find one and reserve! Love it!
Why
THE HECK!!!!!! Is the apps time of my flights different than what I see on the website!? I hope the app is more accurate than the website!!!
Cruise?
Mullennick90
on
3/11/2018
Love Expedia but why cant i book a cruise though the app? There is no option for it and using my browser is annoying!
This Worked Great
Jae Austin K.
on
3/11/2018
Had to travel for work with a 2 day notice to book a flight and hotel! First time I ever used Expedia and it was Great!
Review
Princess Ivy
on
3/11/2018
Even thou I booked From Expedia my trip doesn't show up & I can't refresh or get it.
Really bad and stupid...
I have always booked my vacations thru Expedia, with desktop or the app, but this time Expedia was unbelievable. It was trying to do a robbery. Every time I was trying to book in the end I got the message that the price has changed (by +$500) and I will have to pay asap so I don't lose the deal..... in the end I booked thru Priceline much cheaper (with the price given by Expedia in the beginning). Very disappointing experience and I hope they fixed because it's just stupid.
Doesn't work
Made a reservation at a hotel a few months ago. It showed fine. Recently I added air tickets to the itinerary. The hotel reservation disappeared and won't show as part of the trip. You should be able to do better.
Disappointed
I've used this a few times to book hotels and never had any issues, however this last time I booked several, as we were going on a cross country move and needed pet friendly accommodations and you can't use that filter on the app so I had to use the website. you can't choose options like "close to the highway", Or "can accommodate truck/trailer parking" so that was another headache trying to make sure the hotels weren't too far out of the way. One of our hotels was just AWFUL and I went to write an HONEST review to warn other potential guests and they wouldn't allow my review to be posted because 'they only allow positive reviews' which kinda upsets me as I spent money to stay in a hotel where I felt unsafe yet that I could have avoided had others reviews been allowed to be posted. I would highly suggest doing your own homework about hotels you are about to book so you don't have a terrible experience in a sketchy hotel. I'm not sure if I'll ever use again.
Fast! Easy!
Just booked a great room at a 4star hotel in San Diego for Memorial Day weekend! Couldn't have been easier! So far I am very happy. Applied my Expedia points automatically!
La peor aplicacion
Esta es la peor aplicación que e utilizado para rentar un carro, por internet rente un mercedes y al llegar al aeropuerto me dieron un jetta Tambien me cobraron 33 dolares de una aseguranza que no me hicieron valida en el aeropuerto 👎🏻👎🏻👎🏻👎🏻
Amazing app
Amazing app I used the app whenever I travel and meet new women helps fund a hotel close by cheap.
The worst experience ever!!!!
Payed over $1600.00 for a 5 day stay. Which was supposed to be around 1200.00. Bell hop actually shut the door while I was opening it and said your not really staying here. WOW Worst most expensive trip ever.
best travel app
easy to navigate, loads quickly, good prices plus excellent customer service. None better.
Can't even book a room
Double points to book through the app so I got the app. Every time I try to search for a room, the app has an error and says try again. Doesn't work.
Poor
Hard to find already booked trips. Usually want to see that quickly.
Total satisfaction
J.Beck's girl
on
3/8/2018
I have utilized EXPEDIA for years for all my travel, car rental, etc. The website is such an excellent resource for finding great accommodations, vehicle rentals, travel needs, etc. You can never go wrong with this website👍 All my needs are smoothly dealt with & well managed by EXPEDIA.
Fact Sheet
Publisher:

Expedia, Inc.

Category:

Travel

Released:

Apr 07, 2011

Current Version Released:

Mar 15, 2018

Version:

18.11

Size:

145.1 MB

Compatibility:

Requires iOS 10.0 or later.

Recommended Age:

4+

Game Center Certified:

No

Supported Languages:

Danish; Dutch; Flemish; English; Finnish; French; German; Indonesian; Italian; Japanese; Korean; Malay; Norwegian; Portuguese; Chinese; Spanish; Castilian; Swedish; Thai; Chinese; Vietnamese;