Screenshots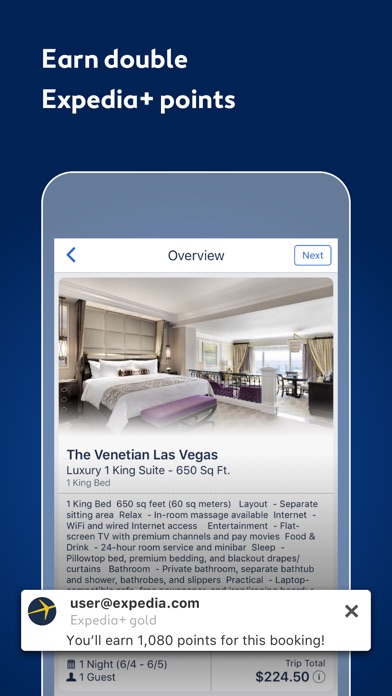 New in version 17.49
Dreaming of a family vacation (or maybe a vacation from your family)? We've got the deals to get you there. Choose from hundreds of flights, hotels, events, and more.
Description
The new Expedia app is your all-in-one travel companion. Save big on hotels, find the perfect flight, discover things to do, and get helpful trip reminders right when you need them. Plus, you'll earn double Expedia+ points every time you book through the app.

Why should you use it? It's got everything you love about Expedia, including:
- Over a million flights, hotels, rental cars, packages, attractions, and more
- Our unbeatable Price Guarantee
- Exclusive discounts and perks when you join the Expedia+ rewards program
- Huge savings when you bundle flights and hotels — up to $570*
- Car rentals in as little as 30 minutes
- Great deals on tours, shows, theme parks, and other attractions
- Easy reservations for airport shuttles and ground transportation

Plus, great mobile-only features:
- Up to 30% savings with mobile-exclusive hotel deals
- Double Expedia+ points on every booking
- All your travel reservations all in one place
- Helpful alerts for flight delays, gate changes, and more

So whether you're planning a culinary tour of Las Vegas, taking in a show in Chicago, or enjoying a romantic getaway to Paris, the Expedia app has everything you need to get you there in style. Plus, while you're there, you'll get helpful, real-time advice like directions to your hotel, flight status alerts, checkout times, and more.

Download the Expedia app now!

*Savings based on all vacation package bookings with Flight + Hotel on Expedia.com from September 2013 through February 2014, as compared to price of the same components booked separately. Savings will vary based on origin/destination, length of trip, stay dates, and selected travel supplier(s). Savings not available on all packages.
iPad Screenshots
Reviews
Great Developer
Love my app! It's very easy to use. I book every trip from here
Review
Dina Erickson
on
12/16/2017
Love using my reward points!
Terible experience with Expedia
Gabriel Georgiev
on
12/16/2017
Hi, I have been using Expedia iPad app rarely, mainly to plan our family vacations. However, the past four days I have been trying to change an upcoming reservation with no success. Once I go through selecting new dates, flights and click next I am sent to a white screen with only one button "DONE" shown at the top-right corner of the screen which make the competition of the order imposable. Once I click "DONE" I am being sent to the home page and the reservation was not changed. After repeating this 10ish times I contacted customer support, left a feedback saying there is a technical problem, call again customer service etc. meanwhile the cost of changing the reservation went up by $93. At the same time I tried using Expedia website from my browser. The problem there was different, it would not accept my credit card. My credit card company confirmed they are not blocking the transaction and the problem should be with Expedia's website. I tried a different credit card just to be sure - same problem again. As of now, 48h before my original flight departure I can not change my ticket. Let's see where I am going to end up with this. Gabriel
Grateful for Expedia
I enjoy all the perks of Expedia
App not user friendly
candlequeen98
on
12/15/2017
I thought with Priceline you are allowed to name your price. This must have changed since I last used Priceline.
Excellent App
Convenient and simple to use
Awful service
ex expedia traveler
on
12/15/2017
I booked 2 rooms only to get 1 at a higher price. When I called there was nothing anyone could do. I booked about 50 stays and about 15 flight this year exclusively with Expedia. I will not use them again if I can avoid it. Ex-Expedia user.
Fast & Easy
I found and booked a room in less than 2 minutes!
Terrible App
I use Expedia all the time but the App is awful. Says to log in yet I'm logged in so won't give me itinerary. Very annoying.
Easy and great price
Thank you
Good app - not perfect.
I wish I could book a bundle deal on app with partial hotels. Currently no option to book flight and a hotel for just a couple of nights and not whole trip. I have to drag out my laptop and go back to Expedia.com!
Use for all travel
Never an issue and always lowest price. Honestly would be so lot trying to book flights on my own without their systems.
Rates changed!!
Booking a room for two couples and prices changed after entering new information!!! Give me a break!!
Efficient & love the options!
Definitely loving this app!!! It makes my life a lot easier w/ the different prices & different options I can choose from. I haven't had a problem yet!
Dave
Retired2016
on
12/13/2017
This has the most run around telling to do the same things over but it can't find my itinerary
Can't pull up itinerary...
App is very slow, cannot pull anything up on the app
Great
Simple and secure !
Only showing airlines that sponsor them!
anninarizona
on
12/13/2017
Terrible! While I've had some good experience with Expedia in the past, it seems they've now been completely taken over apparently by advertisers. They are blocking certain airlines and only showing a select few..... a disgrace!
No Hassels
Just started using the app which has excellent choice and price range. I made a booking error and customer service sorted it out for me no problems.
Misleading!
I booked a trip through Expedia, and based my hotel selection on the rating here. Upon check-in, I found that the hotel was dirty and unacceptable. Dirty And the TV didn't work. The hotel tried switching rooms and even the 2nd one was dirty. Certainly not what I expected based on 3.5/5 stars. I didn't expect fancy, but I did expect clean. I was told by both hotel management and Expedia customer service that I could not receive a refund because I didn't change my arrangements at least 24 hours in advance. But I didn't know that the hotel was in such poor condition until after check in!!! Seeing as how I didn't feel comfortable even taking my shoes off in the room, I checked out and paid for a 2nd hotel nearby. I won't be using Expedia again.
Just a great app
Easy to use, and always has the best prices. No matter where you compare it to!
Rates are wrong
Prices are not updated. Excited to book a great room at $165 and then as I'm about to pay the rate is different.
Book a flight
I was trying to book a flight & they charged me 3 times for it & I called & they weren't so helpful & I still haven't received my money back!!
Charged my Visa after their app crashes
Do not ever, and I mean ever use this app or Expedia. Their app crashed while purchasing tickets and I was charged almost $850 dollars to fly out for an emergency. Their response after being on hold for nearly 3 hours was to wait until 5 am PST for a manger. How does a person get charged for tickets without the transaction being processed and I have neither the money or he tickets. DO NOT EVER USE THIS SERVICE OR THIS APP FOR ANY REASON AS IR CHARGES YOU BEFORE YOU CONFIRM AND IF THEIR APP FAILS YOU WILL STILL BE CHARGED!! I will never use this service again. This isn't the first time, I should've learned my lesson!! I will now delete the app!! I only rated 1 star because it wouldn't let me post as 0 star!!
Multi flight Option
Do not like the fact that you don't have the option to do multi city flights at one time like on a desktop! Defeats the purpose of using the app
Great so
Tugboat.charlie
on
12/11/2017
App useful
Good app
I travel to LA often, for short visits. Expedia always has a good supply of rooms. The hotel descriptions, and map locations are helpful. Higher points would be earned if they worked in speed of customer service calls, and ensured points. Otherwise, it's a great, easy to use app.
Could be better
Adamrunsthis
on
12/10/2017
Not a lot going on with this app and sometimes they have different prices for different times and my app isn't always giving me the best answers
Lack of communication
Booked a family trip with three rooms on Expedia- we paid over $20 extra a night for lake view and breakfast. I am not sure how legitimate Expedia is. We checked-in around 9pm. Nothing left but one ok room, one handicap and no lake view. They said they were all booked out. I wonder why they can't reserve our rooms knowing we booked and paid extra for specific locations. They tried to fight it saying that Expedia never provides proper channels of communication and that it's not their fault. Fine. At least give us a discount right? I also had a horrible night only to realize my restless sleep was due to 30 high school kids banging and screaming until 5am. I'm assuming the kids got my lake view but yet we paid over $60 per each room for an upgrade. So I'm pretty tired, grouchy and frustrated. Also, cleaning was inconsistent. One day they clean and two others they didn't.... not sure why. Expedia and Marriott, please communicate better on your deals and description. And for your consumer willing to pay more, please put them on a separate list. Nothing is more frustrating than knowing that I got ripped off and that I was surrounded by high school kids that got better rooms than me.
The most convenient site to purchase tickets.
Customer service when needed was great. The best thing of all that tickets can be cancelled within 24 hours.
Great app
This is a great app. Easy to use, convenient and has everything the website does in my phone.
Excellent App! Easy to use!
I am a Tour Operator/Manager and my company partners with Expedia on many things! This is a great company and this is a great App! Very user-friendly and well designed! I would recommend Expedia and the Expedia to all my colleagues and friends that need to book travel! Thank you! Great Job!
An excellent application.
This app is awesome!!!
AA++
I have had only good experiences with app so far!
Best Booking Company !
I really enjoy booking through this company. Excellent service and a speedy reply every time no matter what. I really enjoyed it and I can't complain at all. I will keep this forever !
Super user friendly!
Love it! Easy to use and love the double Expedia+ points!
ATTN: BOYCOTT EXPEDIA!!!
ATTN: BOYCOTT EXPEDIA!!! Boycott Expedia!!! Boycott Expedia!!! Boycott Expedia!!! They promised to refund my money after traveling round trip to Detroit from Albuquerque for the past fall colors of northern Michigan even after the American Airlines Check-in Manager, Miss T, calls Expedia on my behalf & we all heard the recording that I would be receiving a refund within a few days. I'm sorry to say that was back on October 11, 2017. I still have no refund and the original flight I had booked back on Aug 5, 2017 has just disappeared and I am not allowed to view part of my own account. Next time, I'll be booking straight through American Airlines because they are really nice people who are there to help in person not out on an unknown location screwing up my schedule and my bank account!!! Shame on you Expedia!!! Hope you have a Merry Christmas enjoying the money you are keeping in your pocket instead of returning to my account. SHARE THIS INFO WITH YOUR FAMILY PLEASE!!! DO NOT GET ROBBED BY THEIR COVER UP FOR A LOUSY CUSTOMER SERVICE SYSTEM!!! Times are hard enough these days.....
Expedia Works!
Needa Vacation
on
12/8/2017
Every trip I plan on Expedia goes exactly (to plan). No surprises, no problems.
Strange format
The app used to be better. Now it employs strange narrow-banner photos of the properties that make some of the hotels look truly bad. Want a photo of the room? Good luck. They're in the hotel photo list... unlabeled. And the amenities are often incorrect. Booking is still easy. And the filters for searching are still amazingly limited. Show me just the properties with an airport shuttle? Can't do it.
Love Expedia.
Always spot on pricing and convenience.
Needs improvement
Won't let you use Coupons on packages (although it will work for hotel). Won't let you get a hotel for only a segment of your trip.
Easy to book a room
I had used my laptop a few days ago to explore a few possibilities for hotels within a 75 mile radius. My laptop is having some internet connectivity issues so I decided to book a hotel through this app. I signed in; it remembered the locations I had explored. I readily changed the date by one day by dragging on the calendar. I then looked at the possibilities for the city I planned on overnighting on my 800 mile road trip. Picked a room and completed the reservation. The app then prompted me with a couple of choices including adding to my calendar, sending an email with reservation details, adding to my Apple wallet. Again, easy-peasey.
Rare Reviewer
Neffrophiliac
on
12/7/2017
Don't be hesitant based on any potential negative reviews, download and give it a try for your next getaway! It's free, so there's nothing to lose, and I just got double points (as do all bookings through the app) for a weekend stay for business. Found a great hotel I have stayed in before for an ever better rate! **not a paid spokesman in any way whatsoever.
Convenient
I use this app when traveling and it works well. The set up is easy to use. Only issue is it needs more filter selections to make search preferences easier.
Booking a hotel
Friendlytexan
on
12/7/2017
Easy to use. Great service.
Dirty carpet and no cable
Husband and I couldn't walk around barefoot because the carpet was leaving our bottom of our feet black. And we were there for two days and one whole day we didn't have cable
Full of bugs
Frequently omits available hotels, frequent payment problems, not the cheapest prices, and very difficult to use the measly points they give you. Definitely not impressed.
Expedia Rocks
Has never let me down!
Fact Sheet
Publisher:

Expedia, Inc.

Category:

Travel

Released:

Apr 07, 2011

Current Version Released:

Dec 11, 2017

Version:

17.49

Size:

125.9 MB

Compatibility:

Requires iOS 10.0 or later.

Recommended Age:

4+

Game Center Certified:

No

Supported Devices:

iPhone5-iPhone5, iPadFourthGen-iPadFourthGen, iPadFourthGen4G-iPadFourthGen4G, iPhone5c-iPhone5c, iPhone5s-iPhone5s, iPadAir-iPadAir, iPadAirCellular-iPadAirCellular, iPadMiniRetina-iPadMiniRetina, iPadMiniRetinaCellular-iPadMiniRetinaCellular, iPhone6-iPhone6, iPhone6Plus-iPhone6Plus, iPadAir2-iPadAir2, iPadAir2Cellular-iPadAir2Cellular, iPadMini3-iPadMini3, iPadMini3Cellular-iPadMini3Cellular, iPodTouchSixthGen-iPodTouchSixthGen, iPhone6s-iPhone6s, iPhone6sPlus-iPhone6sPlus, iPadMini4-iPadMini4, iPadMini4Cellular-iPadMini4Cellular, iPadPro-iPadPro, iPadProCellular-iPadProCellular, iPadPro97-iPadPro97, iPadPro97Cellular-iPadPro97Cellular, iPhoneSE-iPhoneSE, iPhone7-iPhone7, iPhone7Plus-iPhone7Plus, iPad611-iPad611, iPad612-iPad612, iPad71-iPad71, iPad72-iPad72, iPad73-iPad73, iPad74-iPad74, iPhone8-iPhone8, iPhone8Plus-iPhone8Plus, iPhoneX-iPhoneX,

Supported Languages:

Danish; Dutch; Flemish; English; Finnish; French; German; Indonesian; Italian; Japanese; Korean; Malay; Norwegian; Portuguese; Chinese; Spanish; Castilian; Swedish; Thai; Chinese; Vietnamese;