Screenshots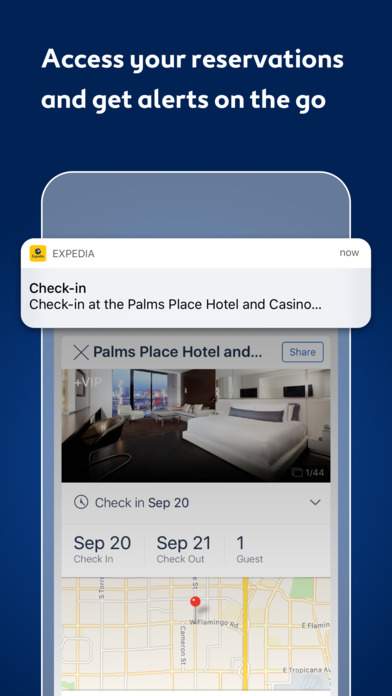 New in version 17.32
Mid-August is the perfect time to visit Paris: longer days, warmer weather, and smaller crowds. But why not pack a bag and see for yourself? Bon voyage!

Enjoying the app? Spread the love with a review!
Description
The new Expedia app is your all-in-one travel companion. Save big on hotels, find the perfect flight, discover things to do, and get helpful trip reminders right when you need them. Plus, you'll earn double Expedia+ points every time you book through the app.

Why should you use it? It's got everything you love about Expedia, including:
- Over a million flights, hotels, rental cars, packages, attractions, and more
- Our unbeatable Price Guarantee
- Exclusive discounts and perks when you join the Expedia+ rewards program
- Huge savings when you bundle flights and hotels — up to $570*
- Car rentals in as little as 30 minutes
- Great deals on tours, shows, theme parks, and other attractions
- Easy reservations for airport shuttles and ground transportation

Plus, great mobile-only features:
- Up to 40% savings with mobile-exclusive hotel deals
- Double Expedia+ points on every booking
- All your travel reservations all in one place
- Helpful alerts for flight delays, gate changes, and more

So whether you're planning a culinary tour of Las Vegas, taking in a show in Chicago, or enjoying a romantic getaway to Paris, the Expedia app has everything you need to get you there in style. Plus, while you're there, you'll get helpful, real-time advice like directions to your hotel, flight status alerts, checkout times, and more.

Download the Expedia app now!

*Savings based on all vacation package bookings with Flight + Hotel on Expedia.com from September 2013 through February 2014, as compared to price of the same components booked separately. Savings will vary based on origin/destination, length of trip, stay dates, and selected travel supplier(s). Savings not available on all packages.
iPad Screenshots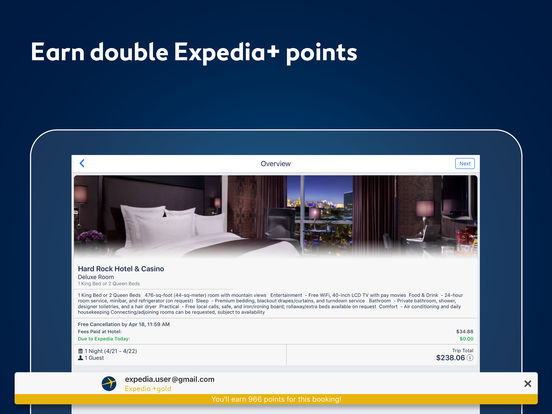 Reviews
LOVE!
I use Expedia for all of my booking needs. They offer stupendous deals, especially when you need to book more than one thing. I was offered a great deal for my recent stay in Washington. When I went to Mexico, I was also able to book my flight and hotel all at the same time, and for a fraction of the price. All in all, a great service!
Continued to fail in checkout
Succeeded in making one payment for a reservation and then failed many times when tried to make an additional one. Total frustration
super useful
this app puts your whole vacation in one spot, really big fan
Awesome!
This app is so helpful and so are the people over the phone. We are homeless right now due to being scammed out of over 4000 dollars renting a foreclosed and auctioned off home. Needless to say there's not much help these days and hotels are all we can do right now. I find the cheapest deals and booking is a piece of cake and usually there is no deposit if we pay through the app. They will handle re-booking as well. Thanks!
Great app
Great app and easy to use! I now barely ever go to their actual website. Have used the app for past few years with rare minor glitches and Expedia support has been great when that does happen.
App won't let me make an account
It says there's an error
Horrible
Expedia finally did it....took the best app that made them better than others and confirmed to the poor graphics, poor, tougher on the eyes layout used by similar companies. Terrible! One giant step backwards for Expedia!
Cannot buy tickets for someone else
I just bought by mistake an airplane ticket for myself, because the app simply assumed I was the one flying and never asked me to select the passenger. Otherwise it's a good app.
Crashing when exporting to wallet
I used the app quite a lot recently. Mostly it fails to export to Wallet. The credit card management is also a week area.
Excellent
Great app . Easy to use . Simple as that!!!
App is good
The only complaint I have is when I open the trips tab it takes a while to open. Also the app shows I have an upcoming trip for a trip that was already completed
Very easy and efficient to use !
Found a place, got a discount, booked the reservation ... great design and usability!
Great Products
This App truly provides the latest and widest hotels and flight resources that one can find. I booked my trip to Thailand, Las Vegas and New York with them. The reservation can all be cancelled within 24 hours and customer services are extremely helpful.
Must have for Expedia users
UnorthodoxMuse
on
8/17/2017
I am very impressed with this app and I am convinced I'll never use another booking company again. Thanks Expedia! 👍 (new review) with my Expedia credit card and this app I know I will be able to travel and get the best deals. Plus the Expedia citi card gets ya into Ticketmaster pre-sales for concerts. I couldn't ask for more!! I love Expedia and this app rocks!! 👍👍👍👍👍
The best
Is the best application for hotels, fligh and car! Love it
Reliable
Baroness Lynda
on
8/16/2017
I've been using Expedia to travel to over 8 countries. Very reliable
Beware
Plurabelle06
on
8/16/2017
You must sign into the app every single time you use it, if you don't it will book things as a guest and they don't show up in your itinerary, so you don't know the booking went through. I went to cancel a hotel after travel plans changed and I couldn't find the reservation in my app or when I logged into my account, so it looked like the hotel wasn't booked. Then I got billed for a hotel I didn't check into and couldn't get it refunded. I won't use Expedia anymore. I will book directly with the hotel to be safe.
Best Travel App
This is the best Travel app I have used also its the only one I use.
Love the app
Makes traveling easier !
Nothing is Better than EXPEDIA
I have been using this App for more than five years, and I had tried all, and believe is the best App for Travel, Rent a Car and Hotel ever developed
Awesome
Burtonthebeast
on
8/16/2017
Easier than using the computer
Best travel site
I use it for all my travels
Where's the Business class selection????
Poor. Cannot easily navigate or find the business class selection. Useless. Your best to use the website.
Very easy to use
Quick and efficient!
I really like it!
This app is perfect for everything I do with Expedia. Perfect to search for flights and hotels.
Ups and downs
Great timesz
on
8/15/2017
1. I don't like the way the filters are done. By just clicking stars or money signs. I want to be able to be very specific. 2. The way you book and the way the hotels are displayed makes it easier than trivago because honestly, the way trivago is set up makes it look like a scam crappy website your grandma gets stuck on. It needs some work 3. I LOVE the book now, pay later option. And the fact that it gets out onto my calendar for me after I book. 4. Booking is easier than trivago although I did have some issues and had to click to book 4 times but that could have been a random glitch. All in all I think Expedia is great.
Limited
No option to search for business class flights.
Help with Travel
I use this app all the time to look for flights and hotels. With the filters I can select the a two star hotel or five star it all depends what I'm looking for as far as services offered. Very easy to select and book flights and hotels.
Updates to place ads
MiralliMaxwell
on
8/15/2017
Does updates often so it can place ads in the update. So annoying!!!
Very Helpful and Fast
Easy to use to book flights, rooms and bundles. Not easy to find screens to update current credit card information.
So Easy
The Great Sandini
on
8/15/2017
I love this app. I get an idea. Look up the area options. Book it! And receive booking credits!!
Terrible release notes
Anon from Chitown
on
8/15/2017
When I need a flight/hotel, I usually book with Expedia. But I'm docking 2 stars because your release notes for version 17.31 say NOTHING about what's in the update. The update page is to tell users what will change, so they can decide whether to download the update. Do not waste this space with ad copy for an app I have already downloaded!
Easy to use app
The app is easy to use. The only thing that I noticed between using the app or going straight to the website is that the app gives you less hotel choices.
It works. Overseas. Great rates. Easy
SharkCustard
on
8/14/2017
The title says it all. I've used it for years, and even spontaneous overseas last minute travel has been great and a great rate.
Satisfied
Scrambler chickadi
on
8/14/2017
It's a good app. I booked my trip on a desktop and mostly shopped around on the mobile version. I liked that it updates you while on your trip. It sends reminders and locations. So if you have a rental car it reminds you when it's due and send directions to drop off point. That made it easier. For flight information, it was ok, the airlines have better apps that keep you up to date.
Awesome
Frankly 1930
on
8/14/2017
Expidia make my vacation easy
Can't look at the hotels
Currently trying to research bundle deals and every time I click on the deals they won't load.
Awesome
ThrillWill21
on
8/13/2017
Great and easy to use
Cannot sign on
So far a useless application. My Expedia account with my PC browser works fine, but this app doesn't allow me to sign on. I made the mistake of trying to sign on with Facebook. And, sadly, no meaningful support.
Can not book with your points!
Trying to book a hotel with points and going to the process during checkout unable to charge my credit card. Getting pop up to try again and you need to call customer support. When we call customer support they ended up charging us full price for the room.
Convenient
This app is really convenient and easy to use. I enjoy being able to make reservations and see my reservations as soon as I open the app. This saves a lot of time while traveling. Incredibly useful.
Not for AARP
This app could not find my itinerary. When I called Expedia customer service I was told that the app would not yet work for trips set up through AARP - perhaps later. So, it is currently useless to me.
Great App
John Millhouse
on
8/13/2017
Easy to use and navigate.
Lake Powell Manor... stayed in a bed at a house
As the name implies... this was NOT close to Lake Powell or Page AZ... for at least 30-40 minutes ... it was a large family home in Big Water Utah.... in the middle of nowhere ... with nothing to offer except a bed. My mistake for not researching better and not finding any reviews... except 1 that seems like a self post. NO TV, NO hot water, and accommodations were in a boy's Mario Brothers themed room -- complete with twin beds... was invited to use kitchen and share with 10 + kids and parents(S)... if I had not have driven so far ... I probably would have cancelled. It was extremely awkward and I felt mislead regarding it being a family home versus a proper B&B ... The on extras were the ice cold shower & the extra twin kids bed. Could not get out of there quick enough and wish I would have stayed at another true Lake Powell accommodation/hotel. Lady that met me at door & took my credit card info... was not notified about booking by Expedia and it was even more awkward being worked into her full house of family. ... only Expedia disappointment on my 6,450 mile road trip from Florida to California & back ... please update listing to show nothing, but a bed Available in this accommodation at a family's home in Utah.
Fact Sheet
Publisher:

Expedia, Inc.

Category:

Travel

Released:

Apr 07, 2011

Current Version Released:

Aug 15, 2017

Version:

17.32

Size:

131 MB

Compatibility:

Requires iOS 10.0 or later.

Recommended Age:

4+

Game Center Certified:

No

Supported Devices:

iPhone5-iPhone5, iPadFourthGen-iPadFourthGen, iPadFourthGen4G-iPadFourthGen4G, iPhone5c-iPhone5c, iPhone5s-iPhone5s, iPadAir-iPadAir, iPadAirCellular-iPadAirCellular, iPadMiniRetina-iPadMiniRetina, iPadMiniRetinaCellular-iPadMiniRetinaCellular, iPhone6-iPhone6, iPhone6Plus-iPhone6Plus, iPadAir2-iPadAir2, iPadAir2Cellular-iPadAir2Cellular, iPadMini3-iPadMini3, iPadMini3Cellular-iPadMini3Cellular, iPodTouchSixthGen-iPodTouchSixthGen, iPhone6s-iPhone6s, iPhone6sPlus-iPhone6sPlus, iPadMini4-iPadMini4, iPadMini4Cellular-iPadMini4Cellular, iPadPro-iPadPro, iPadProCellular-iPadProCellular, iPadPro97-iPadPro97, iPadPro97Cellular-iPadPro97Cellular, iPhoneSE-iPhoneSE, iPhone7-iPhone7, iPhone7Plus-iPhone7Plus, iPad611-iPad611, iPad612-iPad612, iPad71-iPad71, iPad72-iPad72, iPad73-iPad73, iPad74-iPad74,

Supported Languages:

Danish; Dutch; Flemish; English; Finnish; French; German; Indonesian; Italian; Japanese; Korean; Malay; Norwegian; Portuguese; Chinese; Spanish; Castilian; Swedish; Thai; Chinese; Vietnamese;