This version of the app is not recommended
App last updated
Jan 16, 2018
Screenshots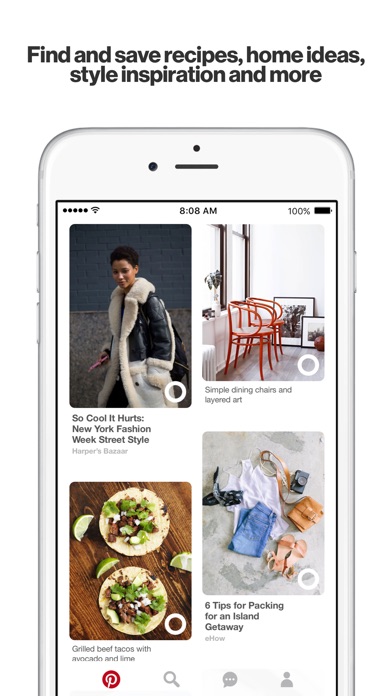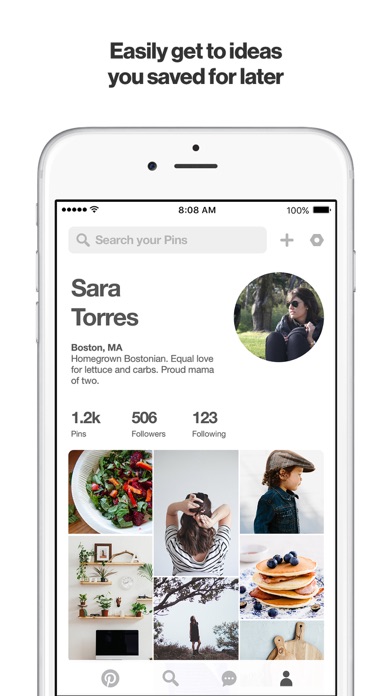 New in version 6.42
Every 2 weeks, we polish up the Pinterest app to make it faster and better than ever. Tell us how you like this newest version at http://help.pinterest.com/contact
Description
Pinterest is full of possibilities to design your life. Discover recipes, style inspiration, projects for your home and other ideas to try.

Just some of the things you can do with Pinterest:

• Find everyday ideas you love—what to make for dinner, what to put on your walls, what to wear and more ideas for every part of your life.

• Save ideas for later—organize ideas by topic, so they're always easy to find.

• Search by keyword or with your camera—discover ideas inspired by anything you point the Pinterest camera at.

• Collaborate with friends—save ideas together for your next group trip, party or project.

• Save ideas you find around the web—just use the Pinterest's Save button on your mobile browser.
iPad Screenshots
Reviews
Too much pornography
I don't have any problems with Pinterest accept there is too much pornography! I really wish there was more done about it. Sometimes people get called out or pins are taken off, but it clearly doesn't happen enough because there is an overflow of the stuff! One other problem I've noticed is a recent glitch with pins. They won't show up in sections I've put them in, even if it has the number of pins up top. If both of these got fixed I'd give it 5 stars.
This Pinterest is doing better
Nick_awesome13
on
1/23/2018
Pinterest is a great place to look at images and find new ideas. However with every update you never know what is going to change for the better or worse. The last couple have been for the better, but before that it seemed like many of the updates took away something I enjoyed about the app unexpectedly. I like the change back to showing who saved each pin on my main dash. I also appreciate the new board sections. I do not mind the picked for me pins to some extent, but I prefer the pins from the boards I have followed. I didn't like it when they changed the way a pin would show how many times someone save a pin from a specific board to all the boards that it has ever been saved to, but I got used to it and it turned out to be better. However taking that away helps no one. I do not care how many times a pin has been saved if I can't see what boards it has been saved to. I would appreciate it if the updates told me what was changing. I don't like being scared to update because I have no idea when there is going to be another change that will go against my enjoyment of the app.
Caroline Weed
Caroline Weed
on
1/23/2018
Pintrest is a fun SoCal media for all ages if your kids want it let them have it you do not communicate at all in the Medea
Awesome
rainbowdash45678
on
1/23/2018
Awesome
Love Pinterest
Miz Diva 253
on
1/23/2018
Love love love seeing others creativity. I also get TONS of recipes love love love Pinterest 😍😍
It's good
Get this app it's good.
Thank You
As before I depended upon just writing and expressing my feelings by writing and since joining Pinterest it spiced and opened my mind to new adventures.
Go away
woundedthumb
on
1/23/2018
Displeased
Searching for different app
I was highly addicted, now, just not the same. You pin something, you see pins for that item over and over. I know you need advertising, but it's taking over the feed. Also, really miss the made it button, without having to take a picture. If I've made it, we've eaten it. No food left for picture. Also, it seems to be moving slower and slower with each update.
Amazing
Great app overall!
Kay34
I use to enjoy pinterest! I wish they would leave it alone and quit the updates! It just keeps getting worse. It's almost not worth my data usage anymore. Before all the updates I would spend hours in Pinterest but I rarely get in there anymore ! Please change it back to the beginning and leave it alone !!!!!
BRING IT BACK
PLEASE RETURN THE LIKE BUTTON FEATURE
Trashier and trashier
I'm getting ads that have nothing to do with my interests. Ones that I have blocked keep coming back too.
STOP SENDING ME EMAILS
Philip gulotta
on
1/23/2018
STOP SENDING ME EMAILS ITS ANNOYING AF
Project Ideas
I love the variety of treasures and project ideas I find on Pinterest!
Love this app!
I love Pinterest so much, but sometimes when I search it doesn't pull up what I'm looking for, but other than that, it is an amazing app!
Pinterest
I luv Pinterest it's giving me new ideas what to do in the house and when I'm bored, my family and I like the beach and the water so when I look at all these cool crafts I could do it fills me with joy that I could do these crafts for my family.!.!.!
I'm now gay
OHYAHMRCRABS
on
1/22/2018
Ever since I started using this app I began to have homosexual thoughts.
UNABLE TO SEND PINS
Many times I send pins to my own email to print later. I've sent many lately but none have been receivedZ. Please fix ASAP!!
Breast Feeding
You can find so many pins on breast feeding and any other topic ! Love the convenience and variety of sources!!
Never opens what I found when redirected to app
I find Pinterest to be a frustrating interruption of my internet surf. I feel like it overloads the search and then when I try to open the image in the app to find out more I never get the image. I have to start all over! I joined. I downloaded the app and it's still just a roadblock for me.
Pinterest helps me plan
Pinterest is my planning tool for allmy projects - from gardening to party planning.
Overjoyed With Pinterest
Gotta really thank my daughter for introducing me to this site. Addictive to the many aspects and the worldwide varies of people sharing advice and secrets. If it wasn't for Pinterest, my regular morgue file would demand a bedroom size file cabinet,...🤣
Nope.
Pinterest has gone way downhill. I changed my password and saved it. When I try to log back in using my newly saved password, it said my password was "INCORRECT". It's was being stupid. Like all new updates for everything. All apps have stupid updates that just completely ruin the app.
Pinterest
maddiekaye05
on
1/22/2018
I love Pinterest if I need boredom ideas, if I'm sad I look up sad quotes and I get better. Pinterest is AWESOME
SPAM, CANT SEND
For a few weeks now I've noticed this error message pops up. At first u thought it was because I was using an ancient iPhone with the app. However, since getting an newer phone, the message keeps coming up. I love the idea of getting an update on the app every two weeks, but here lately the freezing, the can't send, the SPAM... those are no-nos. Please fix. I've gotten so many fabulous ideas from Pinterest...
Still not fixed
I still can't update my profile picture whenever I try and am unable to comment on any pins at all. Also editing the default photo for each board is next to impossible since the image does not center or crop correctly after you go about editing it to your preference. I'm really not sure why these things haven't been addressed yet but it is quite irritating how sloppy the UI is...
Don't like new changes
WarHorseFilly
on
1/22/2018
I love Pinterest, but it's getting ridiculous. Me and my friend spend all day messaging pins back in forth, but since the new spam rules have been set, I can only send 2 things to her before I get blocked. Here's how it works, if they get annoyed with me, have an option where they can block me, DONT JUST DO IT FOR THEM! And what is with the ads and pins that I'm not even into? Are you even trying anymore Pinterest? Just cause I'm fat doesn't mean every other ad should support plus sized women's clothing(which I've never looked up on Pinterest so how they even figured out I'm plus sized is a mystery to me) and just because I like a certain topic doesn't mean I don't want to see pins from other boards that don't always see eye to eye with me. That's why I used to love Pinterest so much, because I could follow boards by other users with similar tastes, and if I wanted to explore into other people's boards, I'd type something into search like "horses" and look at the pins, found user I liked and followed their boards so their stuff would pop up more in my feed. Please get back on you A game Pinterest! I'll take this post down when you fix the spam thing!
Love
This sight has helped me many times. I'm never bored of it ever, love it.
My opinion.
I love seeing all the suggestions for what I search for however there are times odd things come up unrelated to my search. I would prefer not to see them. Just give me posts related to my search.
UPDATE!!!! WORST UPDATE YET
Update #3 THEY FINALLY ADDED BACK THE NAMES AND BOARDS TO PINS. IVE NEVER BEEN SO HAPPY. UPDATE 2.0*** If I could give this app ZERO stars I would. nothing has changed and now it's worse. Having a like option is an absolute MUST. Sometimes I don't want to pin it I just want to look at it again for reference and get rid of it. The like button wasn't hurting anyone. It was useful for crying out loud. Not having this doesn't make things easier, unlike what you think. Pinterest claims to have made the app easier and wants us to focus on the image. I've always focused on the image and whether or not I pin it depends on CAPTIONS AND THE NAME OF THE PINNER. apparently it makes things "easier" even though we have to click on the pin to see its information? No. It's a waste of time. This app is absolute trash now. It's useless. It took away my daily round up, which I really truly enjoyed seeing all the suggestions in one place. MAYBE PINTEREST SHOULD LISTEN TO ITS USERS INSTEAD OF ASSUMING ITS "EASIER". If this doesn't change soon I'm deleting this app. Update***Everything below is still true. It's frustrating that there have been several updates and none of them bring back features that were actually useful. Also I find it funny how the pictures of the app you provide to Apple have captions and who pinned them but in real life it's just pictures and you have to click on it to see who pinned it. (Aka it's a waste of time on the app). I am going to delete and just use on a browser. Do not update your app if you enjoy seeing the basic information about the pins in the home feed. They took away who pinned it, what board it was pinned to, or the caption. You have to click on it to see anything which is a waste of time. All they show you is a picture of the pin. You can't see what pins people "liked" on their profile. It should be an option if you want people to see your likes. My mom and I used to look at each others likes to figure out Christmas presents. This is ridiculous! BRING BACK THE PINNER NAME AND BOARD NAME AND CAPTIONS!!!!!!
Pinterest
The best website in the world!!!
Can't Do This!
Every few months I get it in my head to search Pinterest for some brain boosting ideas, I download the app...only to be reminded why I cannot spend more than a minute on this app anymore. The social aspect of this once-great app is gone, replaced with ads on top of ads! The pins that aren't ads are so overwhelming and smashed together, you can't tell where one ends and the other begins. I also used to love finding people with similar interests to follow and communicate with, but you can't tell who's pinned what, the comment option is gone, and don't even think of trying trying to be social here, the only thing to be found are the same ads over and over. Whatever happened about 1.5 years ago when all the changes started have absolutely destroyed the enjoyability of this app, it's just one big messy mess of ads!
Good app
Easy to navigate and has everything.
Pinterest
I love that this app for finding things quickly, (especially funny memes when im having a bad day!)
Pinteresting!!
I love this app! It keeps me more interested than social media/games and I have been using it for 6 years! Please keep up the hard work, it is APPRECIATED! 💜✨
Love pintrest
Best spp for ever it grows talents
😭😭WHY!?!?😭😭
Dog Loving Geek
on
1/22/2018
FOR THE LOVE OF GOD WHY?! WHERE IS THE LIKE BUTTON, WHY CAN I NO LONGER TUNE THE RECOMMENDATIONS, AND I MISS IT WHEN I COULD TELL WHEN A PIN WAS LONGER WITHOUT CLICKING ON IT! PLEASE PLZ JUST PLZ FIX THESE PLZ THIS APP USED TO BE GREAT USED TO BE FIVE STARS BUT NOW IT'S THREE AND A HALF
Frustrating
cruise traveler
on
1/22/2018
I think you're much too quick in removing what's posted by people we're following. I liked it when our notifications covered a longer time span.
I have an idea
Noting Society
on
1/22/2018
I love Pinterest. I use it for my writing. I make character boards and all of that. My writings are rather complex and so I create more and more boards. I think it would be cool if we had the ability to group boards together in like a file or something. For example I could have a folder for Female Characters When I click on the folder it has my boards Blonde Hair Red Hair Brown Hair Etc. Another file could be Places Wonderland Never land Newlandia Etc. I feel like this would be an easy thing to add and it would make my life easy and less overwhelming. I'm sure I can't be the only person who would appreciate this. :) Add on: When I hit organize it would be much more efficient if it simply moved the image to the other file rather then copying it there. I feel like this could be a glitch
From a creative mind
Irenejimeneznehmzow
on
1/22/2018
I love all the ideas on Pinterest, they seem endless! I've been looking for something like this for years! I used to have so many catalogs that took up a lot of room! I just love this!💞
One star to get your attention
As I scroll through pins, every once in a while it automatically hides a pin. I did not mean to hid the pin. I can't find a way to unhid it. Grrrr! Still love Pinterest.
Quit Telling Me What To Do!
Update 01/22/2018: Update the app, which will now not load at all. Troubleshooting has not resolved the issue. Deleting it. 01/2016: Can't move Pins around, and I'm not following enough Pins to satisfy Pinterest. Good deal, I'll just quit using Pinterest. You used to be user friendly. Now, you are big-business friendly. Kiss off, Pinterest.
Pinterest Access
What happened to Pinterest. I too use this app every day and now I cannot even open my app. Very frustrated!
Old Pinterest
I love old Pinterest. I liked seeing who originally posted the pin, and why it's showing up in my feed. And being able to see some small description before clicking on it. But mostly, I'm annoyed that I'm getting blocked from sending pins. I can't send more than 2. My husband and I use Pinterest to chat, we send each other pins with descriptions of what and why. But I get blocked because of spam. And I. Any reply to his messages either. I can only send pins, instead of being able to reply with why I like something.
Cool
This app is excellent and I love it it is good for ideas and clothes and etc love it
Features
Neji FanGirl
on
1/21/2018
I love Pinterest! I wish there was a way to have multiple accounts like instagram. I want to have more than one account and be able to manage it
Fact Sheet
Publisher:

Pinterest, Inc.

Category:

Social Networking

Released:

Apr 28, 2011

Current Version Released:

Jan 16, 2018

Version:

6.42

Size:

106.6 MB

Compatibility:

Requires iOS 9.0 or later.

Recommended Age:

12+

Game Center Certified:

No

Supported Languages:

Czech; Danish; Dutch; Flemish; English; Finnish; French; German; Greek; Hindi; Hungarian; Indonesian; Italian; Japanese; Korean; Malay; Bokmål, Norwegian; Norwegian Bokmål; Polish; Portuguese; Romanian; Moldavian; Russian; Slovak; Spanish; Castilian; Swedish; Thai; Turkish; Ukrainian; Vietnamese;

Parental Advisory:

Suggestive Themes; Mild Sexual Content and Nudity;