TapNova doesn't recommend this version of the app.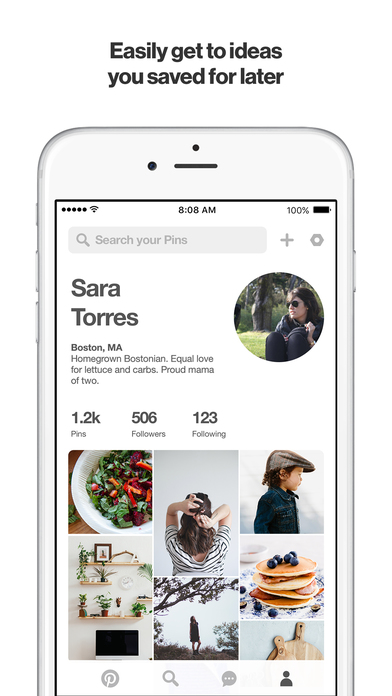 New in version 6.30
Every 2 weeks, we polish up the Pinterest app to make it faster and better than ever. Tell us how you like this newest version at http://help.pinterest.com/contact
Description
Pinterest is full of possibilities to design your life. Discover recipes, style inspiration, projects for your home and other ideas to try.

Just some of the things you can do with Pinterest:

• Find everyday ideas you love—what to make for dinner, what to put on your walls, what to wear and more ideas for every part of your life.

• Save ideas for later—organize ideas by topic, so they're always easy to find.

• Search by keyword or with your camera—discover ideas inspired by anything you point the Pinterest camera at.

• Collaborate with friends—save ideas together for your next group trip, party or project.

• Save ideas you find around the web—just use the Pinterest's Save button on your mobile browser.
iPad Screenshots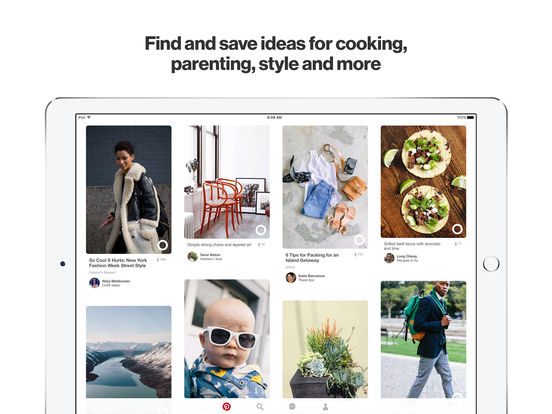 Reviews
Awesome
I love this app because u can personalize what kind of things you want to look at
Fine except for one feature
I love using this app. It's easy and doesn't have any bugs (as far as I can tell) my one big issue is that they seem to haven taken the "social media" portion out. You can still follow other people, but you can no longer see who posted what.
Crashing on notifications
Load up the app, see notifications, click it - app force closes. Over and over. Tried to email developer and can't even figure out how to report a bug without an endless loop of "reply to this email", "go to this website", etc. etc. It's like calling an 800# and being in the endless "Press 1 for ..." and never getting an operator. Get your act together, folks. Read the reviews.
Four stars with no 'like' button
I love the app and Pinterest in general but I'm super bummed that they removed the 'like' button. Don't really get why they made that decision. Bring back the like button!!!
Excelent
I really like this app, it's one of my favorites!!
I'd give it 5 buuuuutttttttt.......
This app is great! Pinterest is great! HOWEVER. My productivity has greatly DECREASED since installing. Why? 'Cause I get sucked into looking at all the things that I COULD or SHOULD be doing. 10/10 for addicting. Now please excuse me while I go get my perfectly baked goods from the oven that were put into mason jars for individual treats, I have an epic DnD campaign to DM. (Treats offered so that I still have friends at the end of this campaign. Can't hate a good baker 😉!)
What happened to the like button?!!
This app is horrible now that we can't just like something. My boards are so messy and I really can't find anything once it gets pinned. I highly disappointed! It change a couple weeks ago and I thought I would like it but it is a hard pass! When you use Facebook you don't have to share something if you like it. So why do we have to pin everything we like. I don't want to have to pin the stuff I just like.
App won't let me login with Facebook
Installed app for first time. Tried to sign in with Facebook. Didn't work. Tried a few more times and now my account is suspended. Sweet!
Just amazing!!!
Some of the greatest things I've ever wanted to create I found here on Pinterest and is most amazing thing I've ever found thank you so much.
Yes!
My favorite app!!! Thank you Pinterest!
Amazing app
Pinterest is not only a resourceful app but an app where you can express your creativity and let your inner artist out. Would recommend to everyone
So convenient!!
Absolutely love this app!! Can't live without it! Had the most awesome ideas for anything your mind can think of!!! Recommended highly!!😍👍🏼👍🏼👍🏼👍🏼👍🏼👍🏼
How to stop email notifications?
casual pinterest user
on
7/21/2017
Not intuitive
Ughhhhhhhh
Shanedawson12345
on
7/21/2017
It needs another update the app keeps crashing!!!😕😒😩😫
Who posted what?
daOrganiCzar
on
7/21/2017
It's important to me to know who posted something on my feed. I don't know why they got rid of poster names on the tiles…
Awesome app
Great app tons of ideas for just about everything
Great app! 4 stars because you can't maximize pictures.
Kgfhijgfghfd
on
7/21/2017
Great app! 4 stars because you can't maximize pictures.
Was 4 Stars, Now 2!
Awesome App But Needs Fixes: I love Pinterest, but it keeps freezing and crashing. It also needs some new features, like being able to create boards within boards (having dog and cats boards inside an animal board). I also wish it didn't show my pins on the homepage. I go there to find pins to repin; I don't want to have to wade through my pins (or accidentally repin one of my pins) to find someone else's pins. (4 stars) Update: ABSOLUTELY HATE that the Like button is gone! That was an easy way for me to save things that I wanted to look at or read later and didn't have time for at that moment. Now I have to wade through all my other boards to find my My Likes board. Also, because the likes are now in a board, it no longer notifies me if I've already saved something because it considers it saved on the My Likes board. Seriously considering not using Pinterest anymore! (2 stars)
What happened?
All of the system on my iPhone , when I click on boards other than my own, they won't open. What on earth? Please fix this glitch.
Love it but...
Young rider4
on
7/21/2017
I'm an iPhone user and every time I'm on a pin and I lock my phone because I need to go do something else, my phone doesn't stay on that pin. I want to come back to that pin but it either takes me to the beginning of my feed or closes the app altogether. When I used android it never did that.
My Pinterest updated now won't open
For some crazy reason my Pinterest won't open and I'm about to flip out. I see it updated on July 17, 2017 and now it won't open... Heeeeeeeeelp Plllllleeeeeaaaase!!!!!!!!!!!
Great
Cinco estrellas2011
on
7/21/2017
An awesome app! I find anything and everything! It gives me wonderful ideas, diys, food, creativity, painting, makeup and etc!....
I want to see what my friends are pinning.
I'm really disappointed in Pinterest lately. I want to see what my friends are pinning. Put it back to the way it was!!!
Help
Oregon Ducks !!!!
on
7/21/2017
Pinterest is very helpful when you need good ideas or want to clean something if even cool for your family
Love!!!
I am super addicted to Pinterest! There are so many great ideas and wonderful cool things. I haven't bought anything from Pinterest but I am sure you would be getting your money's worth.
Show Patterns
Patterns show on different sites are not or no longer available!
NOW 80% ADS AND OFFENSIVE CLICK BAIT
Simmerkungfu
on
7/21/2017
Used to be so refreshing not to have marketing for crap products shoved in my face but not anymore. The click bait is even worse since everything is assuming you have body issues. "Melt away belly fat!" "Are you a negative person?" And on and on. Basically just Donald Trump in the form of an app at times. STOP CONTRIBUTING TO A SOCIETY THAT ASSUMES WOMEN ONLY CARE ABOUT THEIR APPEARANCE OR THEIR KIDS. WE ARE MORE THAN JUST A GROUP OF PEOPLE TO SELL CRAP TO.
Pinterest
Very good way to organize likes!
Loving Pinterest
Haven't had the time to browse through pintrest. Enjoying the website.
Love this app!
Pinterest opens your mind to an unending universe of ideas.
Nice Pint
Happytime272
on
7/21/2017
Great app. Catalogue of ideas using photos.
Great App
Would definitely recommend using this app. You can find useful information for all kinds of topics, from dance 💃🏽 to health & fitness.
Ads & Recommendations..
Please stop flooding my pinterest feed with a bunch of useless ads and recommendations...if I want to follow someone, I'll follow them--after I search for something. Don't act like you know what I am looking for and send me a bunch of "related" things. I don't care. I'd pay to stop seeing ads and recommendations.
Love!
My favorite, go to, use everyday app!! There's nothing I can't (or won't do) as long as I have Pinterest!!
FIX ASAP
CatTakeOVerWorld
on
7/21/2017
Every time I try to go into my inbox the app crashes. It's highly annoying and I hope you will take account of that 👎🙄😤
Love, heart button whatever
Bring back the love button
Food
MonicaMiranda
on
7/21/2017
I don't like the fact that you can't just click on an article or recipe to read.
Annoying Updates
I love Pinterest, but the constant updates are beyond annoying. I don't like that it no longer shows who's pinned things & I can't stand all the suggested pins & ads all over my feed! I follow the people who's pins I want to see. I also miss the daily roundups personalized to what you've pinned lately, please bring this feature back! The updates seem to make things worse instead of better. If it ain't broke, don't fix it! Also, please consider adding sub-categories or folders to boards! It would make things SOOO much easier
THE LIKE BUTTON
Eenymeenyminymo:))
on
7/21/2017
WHY DID YOU GET RID OF THE LIKE BUTTON I DONT WANT TO PUT EVERYTHING ON A BOARD
Best App Ever!!!
I love it I always can find something new!
Addicting
I don't have social media, so I spend all my time on Pinterest
Bad Update
Reallyuniquename
on
7/20/2017
This update didn't fix any of the issues that have been plaguing the app. Instead, it just kept most of the same flaws and made the layout uglier. Bring back board covers. BRING BACK BOARD COVERS. The squished, broken version of board covers is hideous and defeats the purpose of having them in the first place. If the app is going to be glitchy and riddled with advertisements, it should at least look nice. Also, the large "read more", "visit page", and "tried it" buttons are annoying and take up way too much space on the screen. The latter two are also unnecessary (especially because you can visit the page by simply clicking the image. There is absolutely no need to have an additional button for it.) I strongly regret even updating the app, because it overall just made things worse, but I was desperate to fix the more obnoxious and pervasive bugs (one of which was solved, so thank you). I understand that some things are easier said than done and it's difficult to fix all the problems of such a large app, but it still feels like many updates degrade the app rather than improving it. Rather than 'fixing' stylistic and formatting aspects of Pinterest that already worked, you should cut down on advertisements, remove bugs, and fix the social features that you broke (it's pretty much impossible to tell who is repinning/following what). If the app has neither proper functionality nor good design, then it's not worth using. And right now, it really doesn't have either.
Great App!!
I love this App!! I get so many useful things from here and I love it!!
LOVE IT!!!!!
I spend alll day on it. I get so manny good ideas on it. Motivation from quote and more !! 🤗 I've spent the last 4 years on this site. I love it !!
What Happened
What happened. I used to be able to look at many selected categories like Humor, History, Home etc. it's all gone. Pintrest is almost unusable now. Impossible to browse posts effectively. Pintrest was my top used app and now I won't use it at all. Not because I don't want to but because it's totally ineffective now. Who is your product manager and QA lead. They are failing to understand or account for your User Interface. I would have given Pintrest 5 stars until this week. I wish I could give zero stars but I'm forced to give at least one to leave this review.
Amazing
Love everything about this app and use it religiously!! Only thing I miss is being able to say whether something went well or not with with the "tried this" button. With the new update I can't view boards and that kinda takes some of the enjoyment out of this app :/
Fact Sheet
Publisher: Pinterest, Inc.
Category: Social Networking
Released: Apr 28, 2011
Current Version Released: Jul 17, 2017
Version: 6.30
Size: 77.7 MB
Compatibility: Requires iOS 9.0 or later.
Recommended Age: 12+
Game Center Certified: No
Supported Devices: iPad2Wifi-iPad2Wifi, iPad23G-iPad23G, iPhone4S-iPhone4S, iPadThirdGen-iPadThirdGen, iPadThirdGen4G-iPadThirdGen4G, iPhone5-iPhone5, iPodTouchFifthGen-iPodTouchFifthGen, iPadFourthGen-iPadFourthGen, iPadFourthGen4G-iPadFourthGen4G, iPadMini-iPadMini, iPadMini4G-iPadMini4G, iPhone5c-iPhone5c, iPhone5s-iPhone5s, iPadAir-iPadAir, iPadAirCellular-iPadAirCellular, iPadMiniRetina-iPadMiniRetina, iPadMiniRetinaCellular-iPadMiniRetinaCellular, iPhone6-iPhone6, iPhone6Plus-iPhone6Plus, iPadAir2-iPadAir2, iPadAir2Cellular-iPadAir2Cellular, iPadMini3-iPadMini3, iPadMini3Cellular-iPadMini3Cellular, iPodTouchSixthGen-iPodTouchSixthGen, iPhone6s-iPhone6s, iPhone6sPlus-iPhone6sPlus, iPadMini4-iPadMini4, iPadMini4Cellular-iPadMini4Cellular, iPadPro-iPadPro, iPadProCellular-iPadProCellular, iPadPro97-iPadPro97, iPadPro97Cellular-iPadPro97Cellular, iPhoneSE-iPhoneSE, iPhone7-iPhone7, iPhone7Plus-iPhone7Plus, iPad611-iPad611, iPad612-iPad612, iPad71-iPad71, iPad72-iPad72, iPad73-iPad73, iPad74-iPad74,
Supported Languages: Czech; Danish; Dutch; Flemish; English; Finnish; French; German; Greek; Hindi; Hungarian; Indonesian; Italian; Japanese; Korean; Malay; Bokmål, Norwegian; Norwegian Bokmål; Polish; Portuguese; Romanian; Moldavian; Russian; Slovak; Spanish; Castilian; Swedish; Thai; Turkish; Ukrainian; Vietnamese;
Parental Advisory: Mild Sexual Content and Nudity; Suggestive Themes;