TapNova doesn't recommend this version of the app.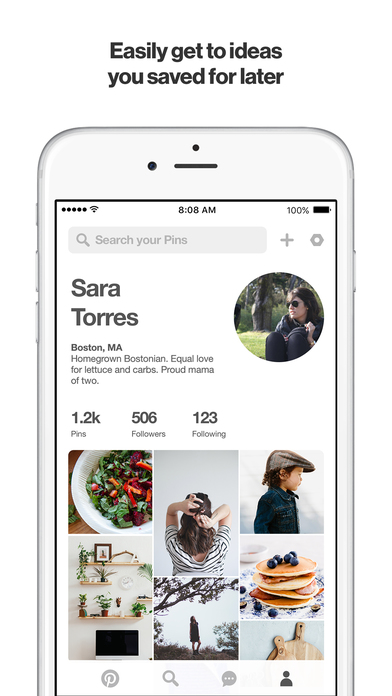 New in version 6.28
Every 2 weeks, we polish up the Pinterest app to make it faster and better than ever. Tell us how you like this newest version at http://help.pinterest.com/contact
Description
Pinterest is full of possibilities to design your life. Discover recipes, style inspiration, projects for your home and other ideas to try.

Just some of the things you can do with Pinterest:

• Find everyday ideas you love—what to make for dinner, what to put on your walls, what to wear and more ideas for every part of your life.

• Save ideas for later—organize ideas by topic, so they're always easy to find.

• Search by keyword or with your camera—discover ideas inspired by anything you point the Pinterest camera at.

• Collaborate with friends—save ideas together for your next group trip, party or project.

• Save ideas you find around the web—just use the Pinterest's Save button on your mobile browser.
iPad Screenshots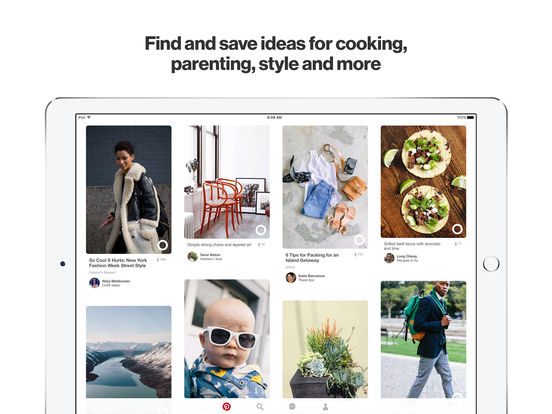 Reviews
I do not like the new update
I really like Pinterest, don't get me wrong, but in this new update I don't like how I am unable to "like" pins. There are pins I do really like, but I am unable to "like" them. Can you please add the "like" feature back in the app?
I miss the like button
This is a great app but I would like it if the like button came back.
bring back the likes button!
pinterest, what even? please bring back the likes button. i doubt everybody pins a post all the time, so the like button was very useful. come on now?!
Was my favorite app.....
Pixiesugarush
on
6/22/2017
Pinterest is one of my favorite apps. I use it all the time. The constant updates are a pain. Most of them come with lots of bugs. This is by far the worst update so far. Why would you take away the like feature??? Everyone used it a lot!! I really dislike it. I now have lost pins I wanted to try!!!
Seriously? No likes?
The hell. Why would there not be likes anymore? It was an easy way to keep track of things you were interested in without having to immediately commit it to a specific board. For me, it was a way to hold onto recipes so that I could look through them before putting it in my recipes board. I think that was a pretty stupid move. Why fix something that no one is complaining about? I'm beginning to really hate using Pinterest because it's so much harder to use these days. Just being back freakin' likes.
Love the site .. Apps ok
I absolutely LOVE pinterest! I also enjoy the app however WHAT DID YOU MONSTERS DO WITH MY 'LIKE' BUTTON!?!?!?!?!
BRING BACK THE LIKE BUTTON PLEASE!
savagemonster21
on
6/22/2017
I've never written a review but, I have to say not seeing that heart button and liking pictures is making it difficult to cope with. Pinterest is my life, and it's the only thing that helps me calm down. Not being able to heart the pictures I like makes me anxious. It was one of the only things I could count on to relieve stress. I know it sounds ridiculous, I didn't notice how much that one button impacted my life until it was taken away.
Likes
Babydoll babe
on
6/22/2017
It's ridiculous to take the likes away like seriously 😑wtf they were useful now it's pointless
Ummm the like where it at
I personal like Pinterest it is one of my favorite apps on my phone. The fact that you guys took away the like/heart is not sitting well me. I used the like/heart for pins that I necessarily didn't have a board for but still wanted to save it. I also personal enjoy the new update with seeing more pins but I need my like button back please.
Why?
MairaElizabet
on
6/22/2017
Why did y'all remove the love it button/option. I used it 90% of the time, and now it's just gone. Bring it back.
Add account
Adding an " add account" would be great to add a 2nd account and go back n forth without having to log out of current account
No love?
What the fudge.....bsnsnsnsnd
on
6/22/2017
I logged into Pinterest one day and realized the love or like option has been disabled. Now you only have the option of reposting, sharing, or reporting a pin. I was absolutely in love with Pinterest and have been a huge Pinner for years now. What's going on? Another thing I find quite annoying, is holding my finger on a pin to repost and it instead doesn't open, then once I manually open it it blanks out and I have to drag my finger down to bring it to the picture I initially wanted to repost. It's extra for no apparent reason and I'm disappointed to say the least. Pinterest, if you care, please fix! This is one of the few apps I seriously don't like giving a low rating to because the app was extremely awesome when you guys first came out. P.S.- My friend, another faithful pinner, recently shared with me that she felt highly uncomfortable seeing certain pictures on the app. When she will follow the policy of reporting whatever she felt was heinous or disrespectful, the picture would always pop back up once she logged back into her app. Don't know if it's a bug but I told her I would help put in the review. Please fix as well.
-_-
MadeleineC1507
on
6/22/2017
Yeah... bring the likes back.
bring back the like button🙏
😀Emoji Luver😀
on
6/22/2017
i absolutely love pinterest, it's a really cool app and everything, but my only problem is that in the new update you can no longer like a pin. i liked only the personal stuff that mattered to me. now it's gone! that's totally not fair, and if you bring the like button back, i really, really hope that everything i liked is still there. other than that pinterest is cool.
Where are my liked photos??
Listen if you want to take away the like button fine whatever but where are all the photos/posts I liked before?? Can I at least have all those back?? Other than this I love Pinterest but I am really up set that all the posts I liked is all gone.
Love like button!
Life challenger!!!
on
6/22/2017
Please restore the love like button. Thanks
😘
Love love love Pinterest
Terrible and awful
Getting rid of the likes was the last straw. I have been nice after you took away our individual pin counts, pin info from the homepage, murdered the notifications, forced us into the smart feed, and repeatedly forced us into your changes that NO ONE likes. LISTEN TO YOUR PINNERS. Fail.
Disappointed
*insertclevernickname*
on
6/22/2017
Pinterest has always been great; however, these last few updates have been disappointing. Now they have taken off the "like" feature, which made me a little frustrated. Due to the like feature being removed, hundreds of pins, that I was hoping to keep, are gone. I am upset that they have just completely disappeared, rather than relocating/renaming the pins. I am just really upset 🙃
Please...FIX IT. NOW.
music addict345
on
6/22/2017
Ok, I try to avoid updating your app because it usually messes with the gifs and I accepted that. I dealt with the ads, the recommendations, everything. Taking away the likes page? Seriously?!?! The whole point of likes was "Hey, I don't know if I actually want to pin this. I'll just like it and look at it later." No!! I can't even get rid of a like now or even find out which board I got it from. Please fix this. I love this app, but god you're becoming like the Tumblr staff. And the people of Tumblr are REALLY mad at their staff. I apologize if this comes off really rude, but this has been brewing in me for months and this was the straw that finally broke my camel's back.
Why can't we like a pin?
Lily Weasley
on
6/22/2017
Seriously, why? What is wrong with liking a pin? I have had Pinterest for a very long time and kinda got annoyed by the constant updates, but THIS??? This is completely and utterly stupid. - Very Upset Customer
no like button??? really??????
an angry former user
on
6/22/2017
ok. i've dealt with the various updates this app has had. i've been through it all. and you know what? i didn't complain that much. it was still a good app. but this?? this is just too much. a like button is a detrimental feature in almost every app that features images that You Might Like. this "update" (which i see as a Downgrade) takes a streamline process that was Liking an image and perverted it into putting it into a board of things you like. if i wanted to take the extra steps and put the image i liked into a board, i'd put it into the board it belongs in, not a generic board of things i like. this is simply a bad app design decision and i hope the sub par web designer who thought of this understands the weight of their design change. i'm still gonna use this app but like, im piss'd, ya know?
What happened to the likes?!?
I love Pinterest sooo much. Normally I would give this a 5 star but the recent updates have made it a bit meh. Also, I use my likes so I don't pin things that aren't worth pinning so I like something, check it out when I have time and pin it accordingly if it is useful to me. Now ALL of my likes are gone. All of those little pieces of information are missing. And that's just the most frustrating change. Please stop making weird changes. You're ruining the app.
App is great but....
This app is great but why did y'all take away the love button?? 😒 Fix this please!
HATE THE NEW UPDATE
MyBlackShirt
on
6/22/2017
Update June 22, 2017 You just can't leave things alone can you Pinterest. Why would you remove the like button? And why are my "Tried It" photos so huge now? Every update shows one bad decision after another and is making the app worse and worse. Start reading your feedback and reviews. Users are not happy with all of these changes! Also, just an FYI to some Pinterest users, The ✅ button means you actually TRIED the idea in the pin. It is not for LOL or commenting that you like it. 1 year ago- I am a Pinterest addict. I have over 8.2 thousand pins. I am on Pinterest every free minute I have. I am having a mental melt down right now because if the new update. It is HORRIBLE. YOUR USER EXPERIENCE DESIGNERS SHOULD BE FIRED! My boards are huge and no longer organized the way I had them and the only way to view them now is by date added or alphabetically. I have over 50 boards and I have to scroll through all of them to find the one I need. I want my old small boards back and I want to be able to drag and organize them the way I want to and be able to change by board cover. Bring back my old boards!! PLEASE FIX THIS!! THE NEW LOOK IS TERRIBLE.
Miss the older features
Need the Like button back. Sometimes I find stuff that doesn't really fit any of my boards. Liked being able to see who pinned what. Finally, and it may just be me on this, but my feed only refreshes 2-3 times a day now. I know it's not because people aren't pinning new material because I used to have new pins every time I opened the app.
Change back
Where's the like button????
Boo!
I love Pinterest, but the latest update....? Please bring back the "likes". 😔
No more liked pins?!
I love Pinterest but some of these updates seem unnecessary. And why can't we like pins anymore? This is a great app but it is getting kinda bland. Please bring the like button back!
LIKES BOARD
I'm upset that the likes board is gone, definitely not a worth while update.
Love the app
I love this app. I use it all the time. It's a great app. But why get rid of the like feature? I used that all the time. Everything I've liked is gone. But you keep my screenshots? That doesn't make sense.
Like button?
Fine with it but....
on
6/22/2017
Ever since I got the new update I have hated Pinterest. They removed the like button which was like my bookmark for things and now I can't save anything and if I add it to a board then I have to scroll on and on for that certain pin. Please Pinterest add the like button back!!!
Just not appealing anymore and why.
I use Pinterest as a social network and the like button is a crucial feature in my opinion. I like the idea of letting folks that I follow know that I'm watching their feed and like their posts; however, I don't always want to save their content. Also my feed no longer distinguishes between what is followers content, content Pinterests thinks I might like, and between sponsored content. Currently I must open the pin to know who it's from. This is tediously slow and boring. I find myself using Pinterest less and less.
Stop Updating
poohbear5522
on
6/22/2017
I use to love Pinterest was literally obsessed over this app but now since all the updates and changes its no longer fun it's becoming more of a task than it is fun. Recently Pinterest sent me and error saying you can no longer pin anything because we have run out of space for your pins....WTH I even went in clean up mode and deleted multiple boards and deleted my 54K of likes and still nothing...Seriously hate this app now!!!!
Noooooooo!
I am very upset that the likes option is gone I had a lot of pins liked and I was planning to use them I am disatisfied and I want all of my liked pins back.😤😡
Omg !
Imaniellabeasley
on
6/22/2017
I use this app everyday . When I'm bored , I go to Pinterest . But for a while now , after I have been using the app for like 15 minutes , it just closes out ! Do something about this ! Getting sick of it !
Pinterest obsessed.
jdp_________
on
6/22/2017
I am forever obsessed with Pinterest for giving me inspiration for all the aspects of creating, art, food and life. Pinterest is my go-to. I'll love it forever. However, I am one among many who is begging to have the "like" button back! Please!!!!! I used it sooooo much and it was so useful. If you can take it off, surely there is a way to put it back on. I'm on my knees here.
I'M DONE!!
I've been on Pinterest for a few years now and I LOVE the idea of Pinterest, however the management of of this app just drives me nuts and I'm done with it. Having so many of my pins deleted due to "copyright" regulations and limits on pins and boards are so frustrating that I stopped using Pinterest for almost a year, but dropping in occasionally to see if anything had changed or updated and besides removing their "LIKE" button it pins are constantly removed and limits on pins and boards are still an issue. Maybe someone out there will come up with something similar to Pinterest but less frustrating. Thanks for the memories Pinterest. 😡
Updates are garbage
Jennnnnnnnnnar
on
6/22/2017
Some of the recent updates I can deal with, but you've cut down your categories drastically and somehow picked what categories you thought I should be interested in. I have to say that data retrieval and the whole internet craze of trying to personalize the experience isn't working. If you're going off what I like or save, you're gonna miss the mark every time. EDIT: It's getting worse. Just go back to the older version. PLEASE. I can't even use the app anymore, I genuinely don't enjoy it anymore.
Likes is a must to categorize later!
Please, this close to be deleted. Give us an option to go back. I also like to eee what my friends are pinning. I do shop based on your suggestions....
Like button please!
ApostolicSister7
on
6/22/2017
I enjoy this app I just miss the like option...
Can't pin
New update in June 2017. Pinterest completely got rid of all the pins I've "liked" or "hearted" and saved on my page. And that option is now completely gone for any pin ever. Uh... I was clearly saving those Pinterest. Wth?!? Yep. Still 1 star rating. What are you doing Pinterest? All the updates are making Pinterest worse, not better. Also, I'm finding I see more of ads and pin that Pinterest wants me to see instead of what I want to see. I followed those boards for a reason and now I hardly even see them because of all the ads. I feel as though Pinterest is becoming unreliable. One day will I wake up and all my thousands of pins will be erased?
Love Pinterest, but not update
Pinterest is my favorite app. However, the recent update is aggravating. I miss the like button. Seems to be more ads lately too. Hope this can be improved so I continue to enjoy it.
Bad update
The latest changes are not improvements. Why get rid of the 'like' button? Every time they change this app it seems to get less user friendly.
Removing the likes was obnoxious
Can't save - won't use
on
6/22/2017
Not everyone is using Pinterest to find something to buy - the vast majority from what I've seen are people posting workouts - recipes or vision boards. Motivating things without a product to purchase. Your efforts to spite instagram by removing likes and push this attempt at making an image collection app into an etsy/b2b type app is really annoying and shows that you're ignoring how your users utilize the app.
We like the lakes 1 star
Belle Voyage
on
6/22/2017
Go back. We like the likes. This is where I put the pins to try and until I find the perfect board for them.
New Update
Every time Pinterest updates it takes away a really good feature. Just stop updating, please. Most of the previous features are there, but the option to like is missing. Why take it away?
Why?
2000lexidice
on
6/22/2017
I like the old version I cannot see anything that I like can you change it back to 6.10 please and thank you
WASTE OF TIME
Really wish I could give this app one star, im annoyed at how every time i want to go to pinterest online from my phone i have to have to app which isn't all that great, why pinterest? very stupid and inconvenient.
Fact Sheet
Publisher: Pinterest, Inc.
Category: Social Networking
Released: Apr 28, 2011
Current Version Released: Jun 20, 2017
Version: 6.28
Size: 75.8 MB
Compatibility: Requires iOS 9.0 or later.
Recommended Age: 12+
Game Center Certified: No
Supported Devices: iPad2Wifi-iPad2Wifi, iPad23G-iPad23G, iPhone4S-iPhone4S, iPadThirdGen-iPadThirdGen, iPadThirdGen4G-iPadThirdGen4G, iPhone5-iPhone5, iPodTouchFifthGen-iPodTouchFifthGen, iPadFourthGen-iPadFourthGen, iPadFourthGen4G-iPadFourthGen4G, iPadMini-iPadMini, iPadMini4G-iPadMini4G, iPhone5c-iPhone5c, iPhone5s-iPhone5s, iPadAir-iPadAir, iPadAirCellular-iPadAirCellular, iPadMiniRetina-iPadMiniRetina, iPadMiniRetinaCellular-iPadMiniRetinaCellular, iPhone6-iPhone6, iPhone6Plus-iPhone6Plus, iPadAir2-iPadAir2, iPadAir2Cellular-iPadAir2Cellular, iPadMini3-iPadMini3, iPadMini3Cellular-iPadMini3Cellular, iPodTouchSixthGen-iPodTouchSixthGen, iPhone6s-iPhone6s, iPhone6sPlus-iPhone6sPlus, iPadMini4-iPadMini4, iPadMini4Cellular-iPadMini4Cellular, iPadPro-iPadPro, iPadProCellular-iPadProCellular, iPadPro97-iPadPro97, iPadPro97Cellular-iPadPro97Cellular, iPhoneSE-iPhoneSE, iPhone7-iPhone7, iPhone7Plus-iPhone7Plus, iPad611-iPad611, iPad612-iPad612, iPad71-iPad71, iPad72-iPad72, iPad73-iPad73, iPad74-iPad74,
Supported Languages: Czech; Danish; Dutch; Flemish; English; Finnish; French; German; Greek; Hindi; Hungarian; Indonesian; Italian; Japanese; Korean; Malay; Bokmål, Norwegian; Norwegian Bokmål; Polish; Portuguese; Romanian; Moldavian; Russian; Slovak; Spanish; Castilian; Swedish; Thai; Turkish; Ukrainian; Vietnamese;
Parental Advisory: Mild Sexual Content and Nudity; Suggestive Themes;