Screenshots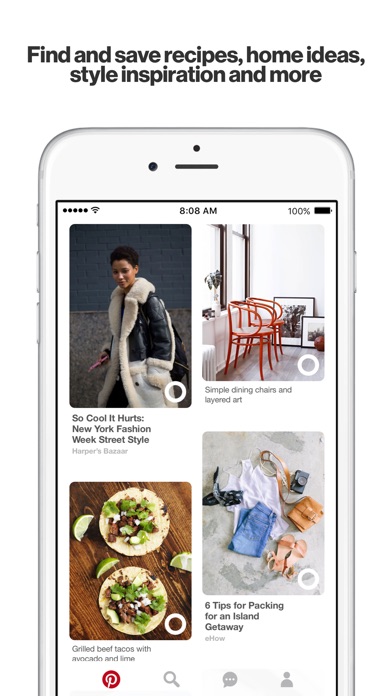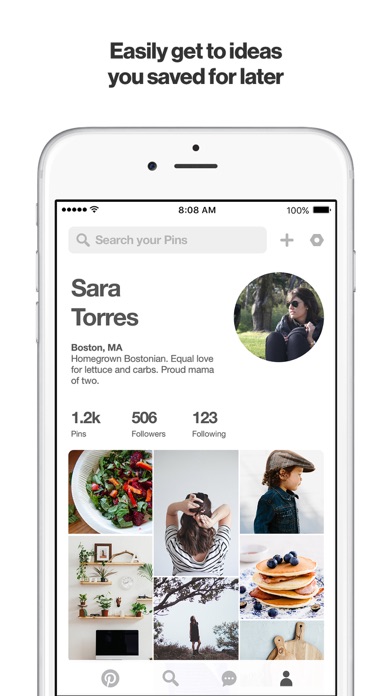 New in version 6.34.1
Every 2 weeks, we polish up the Pinterest app to make it faster and better than ever. Tell us how you like this newest version at http://help.pinterest.com/contact
Description
Pinterest is full of possibilities to design your life. Discover recipes, style inspiration, projects for your home and other ideas to try.

Just some of the things you can do with Pinterest:

• Find everyday ideas you love—what to make for dinner, what to put on your walls, what to wear and more ideas for every part of your life.

• Save ideas for later—organize ideas by topic, so they're always easy to find.

• Search by keyword or with your camera—discover ideas inspired by anything you point the Pinterest camera at.

• Collaborate with friends—save ideas together for your next group trip, party or project.

• Save ideas you find around the web—just use the Pinterest's Save button on your mobile browser.
iPad Screenshots
Reviews
Doesn't work with ios11
Bookaddict300
on
9/25/2017
Ever since I've updated to iOS 11 and find something through Facebook that I want to pin, it directs me to the App Store then asks me to open. Once I go through this EVERY TIME I lose the place I was at and what I'm trying to pin.
This is my favorite app!
I love pinning recipes to use, to share, and to make when I'm out of town visiting with family and friends. I also love pinning ideas for future projects or decorating ideas. I also use it to improve my home keeping skills.
Luv,luv Pinterest
So many ideas!!!
Something New!
What I need a new recipe I need a new style Pinterest always have something I can try.👍🏽😊
Amazing!!!
I work with Dementia Patients and do arts and crafts with them 3 days a week and get most of my ideas from Pinterest!! Thank you to everyone that submits ideas!!! 🤗
Confirmation
I ❤️ Pinterest and finding pins for all occasions. I have found new favorite shopping sites and great event 💡 from Pinterest. My male boss even pins and he is a true mans man! Glad u came along when u did!
Love it but...
I use this app all the time but it keeps shutting down on me when I try to save an image.
SOOO FUN
I love this app there is nothing to go wrong. Like fandoms they got chu' you like fashion they got chu' so just have fun with the app and you will have no problems
Love Pinterest but it's time for a better interface
I love Pinterest... but the interface and app could use reboots. I hate that it doesn't orient and you can't zoom in on photos.
HORRBLE
Absolutely ridiculous. Wouldn't let me log in with my Facebook. Demanded I download the app. All I want was to get some ideas for homecoming 😭
Love it
Addicted to pinning at home improvement ideas! Best way to save inspirations!
About Pinterest
sophiahess2907
on
9/25/2017
I love this but I think that you should put a video on how to do a good pic but I love Pinterest you pick your own style I Love it❤️❤️❤️
Missing the like button
Everything else is ok I just really don't like that there is no like button anymore. It's annoying when I try to like a pin and get "try saving to a board instead". Saving to a board takes longer and it's confusing that everything I like is all saved to the one board. I also use the like button to save time cause a lot of the time when I tap on a pin to open the full recipe or something the app almost always crashes when I'm in the middle of reading something. I use the like button to like it when I search it so that I can access it again quickly after the app crashes so that I don't have to search for it again and I can determine if the pin is something I actually want to pin or unlike
Loving Pinterest
Goody2shoesnot
on
9/25/2017
One of the best apps I have ever downloaded!!!!
I love Pinterest
I love Pinterest! I find great ideas and styles on Pinterest, but I'm giving them a 4 star cause thy took my Like button away. I hate that I have to pin stuff and I can't just Like it anymore. 🙄
Makes you happy!!
Pinterest is still awesome. It's just makes you happy to see the beautiful pictures, recipes, crafts. Even if you don't have the money to buy things, by saving to your boards, it feels like you own home items, decoration and many other things. It gives you ideas.
FABULOUS APP!!
This is the best app ever! If you have varied interests like I do, the entertainment and info are unlimited. I especially like the suggestions you get based on what you pin. Could not live without it!!
Love it
Gives me all kinds of idea
Sugarcraft artist
sugarcraft artist
on
9/25/2017
Really enjoying all the load of information. Thanks
Pinterest review
This is my review and I think that this is a great app and I do not think that I like any app more than I like this one
I love pintrest ❤️
Pintrest is like insagram but you can keep private my parents won't let me have social media so pintrest is baciclly my social media.Thats why I love pintrest.
Used to be good
I am not liking the constant updates & changes. Why is the Like button gone? Why is it such a pain to add my own photos to my boards? Why cant I organize the pins in my board the way I want? And now I cant even use it on my iPhone 5S (iOs 11) as it shuts my phone down every several hours to where I have to reboot with the power button & the home button, its not just a power off, its a wacked shut down. I have installed & removed the app 3x in the last month: no problems when it is removed.
Go back to the way things were!
Why why why did you have to change everything? I don't want you moving my boards around, the features where the app highlights sections of a pin to "find that item" neeeever works. I tried it, and when I highlight a dress, you bring up a bowl... Could you develop more time wasters? Also, why do I bother following people now. I can't see who posted what and everything seems to be what you think I'd like. I loved the Pinterest from a year or so ago. Everyone did! Why do you think you need to continuously come up with new ideas? Just leave it alone! This app is so annoying.
Why is this on my feed?
I swear, every update makes this app worse. Since the last update, pins have been showing up on my feed from people/boards/ideas that I haven't followed. These pins have nothing to do with my browsing history, and it's impossible to get rid of them without reporting them and blocking the poster. Even with recommendations, I could get rid of them temporarily. With these, I can't even do that. So, think y'all can fix that? Oh, and I don't need you people telling me which pins would go good in my boards via notifications. Believe it or not, I'm a big girl that can make my own decisions about what I like and what pins are useful to me. I don't need your recommendations.
Me lol
I love Pinterest everything I pin up I try to get or put together it help me fine things I love to know were .
Tried it
Miss the tried it button. Also, too many ads for me.
I love Pinterest
Suzie Carmichael
on
9/25/2017
Provides me with so many ideas
Great!
I love this addicting app, but Gifs sometimes have trouble working. Idk that's probably just me and my horrible wifi.🤷‍♀️
Mrs.
I am pleased as punch with this app.nice lay out and great information. I use all the time.
Fun time!!
I've found myself enjoying this site more and more! Rediscovering old memories and learning new things!! Love it!
Love it helps me with anything and everything!
Needs to be more user friendly.
Please stop crashing
The newest update made it so the app crashes every time I try to save an image to the camera roll.
Sandy Vicencio
Sandy Vicencio
on
9/25/2017
Always looking for quotes or awesome work outs;D
Inspiration
I look to Pinterest daily for ideas and inspiration, thank you for such a creation!
Life Saver
Best place for GREAT ideas.
Stop crashing !!
Lillybloomer14
on
9/25/2017
Couldn't live without it. Who buys cookbooks anymore?
Pinterest
I love Pinterest! It helps boosts my creativity and helps me find great ideas for arts and crafts! The best app you can ever have is Pinterest!
Great app
Francesmarionz
on
9/25/2017
Easy user interface. If it exists it is on Pinterest!! Loving the new enlarge feature as I'm a Granny with pitiful eyesight 🌟🌟🌟🌟🌟
Review
Sameolesameo
on
9/25/2017
I enjoy Pintrest immensely. But I will focus on some wishes: Wish I could connect or comment with some of my followers Want to be able to alphabetize my boards to get to them easier Don't know how to change main picture on board without deleting it Would like to combine some boards Would like to reorganize some boards Don't know how to pin something's I find on my I pad if there's no Pinterest button on that page How do I put my pictures on Pinterest? Thanks Camilla Also, would love boards to be in alphabetical order. Thanks for note that says already pinned! Like edit board feature that addresses much of the afore mentioned problems! Camilla I still cannot alphabetize new boards I don't like that I cannot see pincers name's on Home page Home page frequently shows my most recent pins ridiculous. I do not like the page of everyone who has pinned my pins. I do like that I can enlarge the photos
Wth! Home page update terrible
What were you thinking? I loved seeing right away whos pin i was seeing! How can i undo this last update? I loved Pinterest. It was therapeutic like a journal and seeing my friends pins was exciting. Now nothing. What moron decided to make this change? Grrrrr seriously how can i undo update???? Still can't stand this for the same reason above! Months later. Ug
Won't let me comment
CasuallyIndie
on
9/25/2017
Whenever I try to comment on a post, it won't allow me to press "send". All the other actions work fine, except for that.
Pinterest
wanda Ivelisse
on
9/25/2017
Me encanta este lugar. Logra relajarme de las tensiones del diario vivir. Puedo pasar horas y no me doy cuenta. Gracias
Pintrest
Magnolia_beauty23
on
9/25/2017
Love seeing new ideas and projects. I really like the fact that I can select what type of things I like to view and it suggest other topics that are related or similar to things I like.
Overall great
Some of the updates over the past year haven't been great. Regarding having to refind the Pin you were looking at, and reopen a recipe when your device locks. I liked the feature of rating the recipes, don't know where that went. I enjoy the content it feeds me, for the most part. Overall a good experience.
Great app Absolutely love it
Before I start a project I always come to Pinterest first soo great for holiday and events!!!!
Pinterest will always be my #1!
CountryGirrlxoxoxoxo((;
on
9/25/2017
Pinterest gets me. Everyday going on Pinterest it remembers things I've searched and puts it on my main feed it's awesome it's my go-to app! I love it! I've been on it for years and I'm so addicted still after all this time! I recommend Pinterest for everyone!
Animals
My wife and really enjoy all the animals
Helpful
This is the best tool a busy Mom GramMa yes I am GramMa 😀😆 can use to keep Ideas recipes traveling remodeling gardening tips on one place. Might I might add get some fashion sense.
Fact Sheet
Publisher:

Pinterest, Inc.

Category:

Social Networking

Released:

Apr 28, 2011

Current Version Released:

Sep 18, 2017

Version:

6.34.1

Size:

86.9 MB

Compatibility:

Requires iOS 9.0 or later.

Recommended Age:

12+

Game Center Certified:

No

Supported Devices:

iPad2Wifi-iPad2Wifi, iPad23G-iPad23G, iPhone4S-iPhone4S, iPadThirdGen-iPadThirdGen, iPadThirdGen4G-iPadThirdGen4G, iPhone5-iPhone5, iPodTouchFifthGen-iPodTouchFifthGen, iPadFourthGen-iPadFourthGen, iPadFourthGen4G-iPadFourthGen4G, iPadMini-iPadMini, iPadMini4G-iPadMini4G, iPhone5c-iPhone5c, iPhone5s-iPhone5s, iPadAir-iPadAir, iPadAirCellular-iPadAirCellular, iPadMiniRetina-iPadMiniRetina, iPadMiniRetinaCellular-iPadMiniRetinaCellular, iPhone6-iPhone6, iPhone6Plus-iPhone6Plus, iPadAir2-iPadAir2, iPadAir2Cellular-iPadAir2Cellular, iPadMini3-iPadMini3, iPadMini3Cellular-iPadMini3Cellular, iPodTouchSixthGen-iPodTouchSixthGen, iPhone6s-iPhone6s, iPhone6sPlus-iPhone6sPlus, iPadMini4-iPadMini4, iPadMini4Cellular-iPadMini4Cellular, iPadPro-iPadPro, iPadProCellular-iPadProCellular, iPadPro97-iPadPro97, iPadPro97Cellular-iPadPro97Cellular, iPhoneSE-iPhoneSE, iPhone7-iPhone7, iPhone7Plus-iPhone7Plus, iPad611-iPad611, iPad612-iPad612, iPad71-iPad71, iPad72-iPad72, iPad73-iPad73, iPad74-iPad74,

Supported Languages:

Czech; Danish; Dutch; Flemish; English; Finnish; French; German; Greek; Hindi; Hungarian; Indonesian; Italian; Japanese; Korean; Malay; Bokmål, Norwegian; Norwegian Bokmål; Polish; Portuguese; Romanian; Moldavian; Russian; Slovak; Spanish; Castilian; Swedish; Thai; Turkish; Ukrainian; Vietnamese;

Parental Advisory:

Suggestive Themes; Mild Sexual Content and Nudity;