Screenshots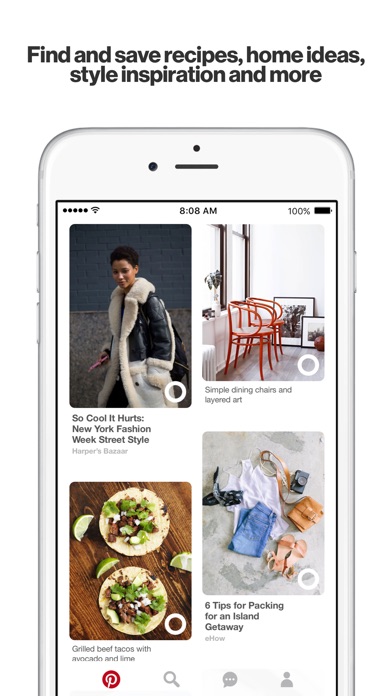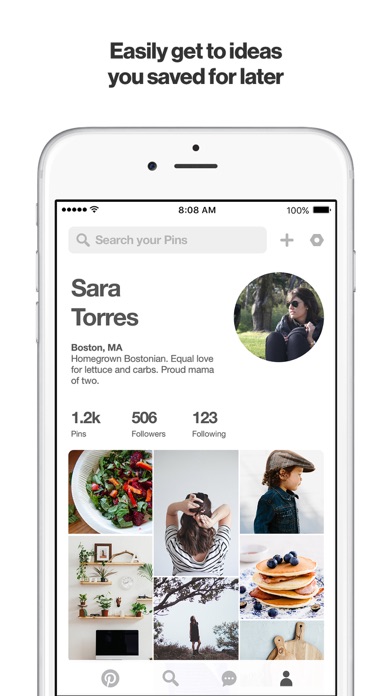 New in version 6.38.1
Every 2 weeks, we polish up the Pinterest app to make it faster and better than ever. Tell us how you like this newest version at http://help.pinterest.com/contact
Description
Pinterest is full of possibilities to design your life. Discover recipes, style inspiration, projects for your home and other ideas to try.

Just some of the things you can do with Pinterest:

• Find everyday ideas you love—what to make for dinner, what to put on your walls, what to wear and more ideas for every part of your life.

• Save ideas for later—organize ideas by topic, so they're always easy to find.

• Search by keyword or with your camera—discover ideas inspired by anything you point the Pinterest camera at.

• Collaborate with friends—save ideas together for your next group trip, party or project.

• Save ideas you find around the web—just use the Pinterest's Save button on your mobile browser.
iPad Screenshots
Reviews
Why oh why
cactus-socks
on
11/19/2017
You removed sliding from picture to picture and that's not chill bro fix your shiz Pinterest
Always Helpful
Pinterest is always helpful to find exactly what I'm looking for.
Love this app but
Raysselisel
on
11/19/2017
Every time I click on a notification to see a comment, it won't show me anything but the arrows and stuff but no picture or description or the comment. Also some of my pins in my boards says they are there but really aren't even when I click on them, please if you guys could fix these bugs then I'll give your app more stars.
Love Pinterest!!!!
I really love Pinterest it is such an amazing app and I literally can search anything and find exactly what I want! If there was more stars I would rate higher than just 5!!!!
Why
Pinterest has been terrible this year. Too many updates that we don't need or want. Everything is confusing.
What can I say!?
Trying to describe Pinterest to people I talk to, that apparently live under rocks, that has never visited the site is like trying to but a gift for that person who literally has everything! I'm almost ashamed how much I depend on Pinterest throughout my day lolbvvs. No matter what im looking for or how crazy it seems, I can always find it on Pinterest! Hands down thee best idea ever!!!! I'm in love 💕😅
Hate the update
Marissa Roese
on
11/18/2017
Seriously.... how are you going to take away categories... this is pathetic.
Love being able to access on my phone
I love Pinterest but have not been thrilled with the updates. I was sad when I was no longer allowed to "like" a pin (why???) and now I can't bring up a pin and swipe to the next one. Why!!??!! I don't want to have to go pull up each pin in my feed to get the details. I also agree that I see waaaaay too many of the same pins.
it's become so predictable
i'm so tired of seeing the same content and even the exact same pins again and again. like, i pin one kind of thing, e.g. bedroom decor, and it's all i see. there's no longer any variation in my home feed, and i don't even know if i'm seeing any content from people i actually follow. my feed feels like it's an abundance of ads and "picked for you" pins (even after i disabled that feature). i rarely use pinterest to explore any more, now it's just a search engine for me.
Great, although
Alypooh12love
on
11/18/2017
I just started using the app again. And there are many improvements and great posts, but the search option keeps disappearing.
ANNOYING APP
Pinterest used to fun and easy. Now, not so much. I don't need to be shown what YOU think I should see.
My search button keeps disappearing
I LOVE this app but over the last week my search button is gone. I have to keep deleting and reinstalling the app. Any ideas what's up?
Most recent update got rid of the search bar 😩
I think this is how we let you know glitches so they can be fixed right?
Awesome app
Great for creative inspiration
Stand_and_fight
stand_and_fight
on
11/18/2017
Best of all I love it
glitches
the search button keeps disappearing? so it forces me to look at random pins and i cant do anything about it except for continuously delete and reinstall the app
REALLY HELPFUL AND A GOOD APP
I've been using this app for quite a while now. I've used it for food recipes, looking at fandoms, art tips, diy things and sooo much more. It's really useful when looking up character designing ideas and when I'm bored this is a great app to spend your time looking at hilarious memes and comics. PLEASE DOWNLOAD! YOU WILL NOT REGRET IT! :)
WHERE IS THE SEARCH BUTTON
How are you supposed to search for things with no way to?....
Cant see pins
Pinterest is usually great for me, but the boards are glitching- I add a pin to it and it's not there, even though the pin count and board cover says otherwise ******ANOTHER GLITCH PROFILE PICTURES ARE UNABLE TO CHANGE
No more topics
There is no option to look through topics (food, kids, quotes, etc.). Is my phone just messed up or is this how Pinterest is now? I don't like it.
Search feature?
Since the latest update, I can't seem to find the search feature in the app. No bueno. Am I missing something?
Search bar missing!
Crush girl 2014
on
11/18/2017
Where'd it go?!?
Hounding
It's a great website but I was overwhelmed by the daily (and I do mean DAILY) emails and alerts. I'm done. Sorry.
Hate the new updates!
You took away what our friends pinned...HATE You replaced it with promoted pins and ads...HATE Then you took away seeing how many repins each item has...HATE Now you took away searching by category....HATE And you allow pop ups which either you can't close or freezes the app Pinterest has turned into a glorified classifieds.
New update awful!
I've LOVED my Pinterest app forever but with this new update they did away will being able to browse by category. Now there is just a home feed and search option. I found most of my pins simply by browsing a specific category (Home, Food etc) now that option is gone. Very very disappointed.
Great way to connect with people
I miss the like option!
Great.....
Thank you for adding sections to boards. I've been wanting an organizational feature for so long. BUT my search button on the bottom bar has disappeared.... where is it???? I'll have to resort to using my laptop or safari until it's fixed.
This has only been recently but why can't I search stuff?
I've had to re-download the app so many times to get my search tab to come back. writing this review while it downloads again. Ugh.
Too many changes.
I've been using Pinterest basically since it's launched so I've been through all the updates and got use to them but recently there have been such drastic changes to where I'm considering not even using Pinterest anymore. Pinterest is my favorite app, if I could use only one app it would be Pinterest. That is not true anymore. My home page is filled with ads. I don't see anything from the boards or topics I follow. They took away the like feature so you have to pin it to a board. They took away the search page and everything that goes with it. No trending topics in the topics you follow. It's all gone. I don't see anything I want to see and I can't even search for it. They didn't even give you a walk through with all the new changes. They changed everything, took stuff away and expect you to know what you're doing. I tried contacting them to ask questions but they're impossible to reach and never answer back. I'm very sad to watch my favorite app go to trash.
Discriminating sexual allowances
They remove items from boards that are extremely tame compared to ENTIRE BOARDS are are profound pornography! And THEY WILL NOT COMMUNICATE WITH ANYONE!
Love Pinterest...but...
Abbi_normal
on
11/18/2017
Where did the search button go? No more magnifying glass?
Pinterest,
Peeledfour20
on
11/18/2017
I love it. You have the cutest animal pics and DIYs.Thank you for trying so hard. Half of the time I'm on Pinterest.My mom has cooked so many recipes on here. THANKS!!!!!!!!!!!!!!!!!!!!!!! I would never delete Pinterest!!!!!!😎😍😘
Nueva versión?
No me gusta que en la nueva versión no se pueda ver en la página principal de quién es el Pint, muchas veces solo por quien lo pone lo abres porque te gusta o fías de esa persona
The best
Abcdefghizzy777
on
11/18/2017
Literally one of the apps I could spend hours on. Love it
STOP
Toto weeeeee
on
11/18/2017
STOP TRYING TO USE A USELESS LAYOUT. GO BACK TO HOW IT WAS.
Where's the search?
TotallyWeird
on
11/18/2017
Is there no longer a search feature in the new version of the app? I feel like that's essential to my Pinterest experience when I'm looking for new content. Will not use the app much without it.
Very angry girl rn!!!1!!
I'm very very upset w the new update and that I cannot scroll through my feed without exiting from each individual picture and tapping a new one. Very annoying and I don't know why it was even removed in the first place
Um...where's the search bar?
DaniQuesadilla
on
11/18/2017
With every update comes an almost unnecessary update, and now there's no way to search for pins.
Hate how Pinterest hijacks my browser
shutyourpiehole
on
11/18/2017
I've learned to hate Pinterest. It's useless except for a bunch of pictures which I could get fine on the web without it. Now I can't get to what I want because every darned link wants to take me to Pinterest. I touch the image there to try to get to the source (aka legit website) to maybe buy the item I want but I keep being sent back to the Pinterest app. It's useless. I don't want to see a bunch of pictures from other people. Pinterest should only allow people to post personal photos instead of interfering with people's businesses and websites? I want to browse the web and go to the site that has the item that I'm interested in. Worst is that I can't just decline. Pinterest hijacked my browser and my browsing experience. Every darn link wants to force me to open the Pinterest app. And it doesn't even do that like other normal apps, eBay, Amazon etc. No, Pinterest has to First send me to the App Store EVERY time. I'm unable to use the browser without Pinterest hijacking the experience . I hate this thing.
Where's the search bar?
\m/ Rockstar \m/
on
11/18/2017
Updated the app. What happened to the search bar on the bottom next to the notification bar? It would be nice if the app had a way for me to look for what I'm looking for through the search bar... Can you fix this problematic issue please?
Great teaching resource
I am an Art teacher with over 20 years of experience in teaching art from kindergarten to college level. Pinterest is my go to for project ideas, visual references, and supplemental resources.
Bad update.
Lilliankat123
on
11/18/2017
I would normally say 10 stars I love it but the app just updated yesterday and they took away the search option. I dont google, I search on Pinterest and Im a little aggrivated....
What happened?
After the new update, I can't swipe from pin to pin. This is getting really annoying please fix it!
Create a new board option
I hope this latest update took care of the missing create a new board option when using Pin from an Internet article. One of the best options is gone.
Great
This app is great for inspiration
Search feature
Why can't I search for recipes anymore?
Past its prime
I cannot see who pinned what to which board. All I see are random images. Interspersed with ads. It's now gone from a curated "magazine" to the loads of junk mail i get everyday.
Needs improvement
Update: Now I can't swipe This app is terrible. It crashes and closes frequently. If I close it for a few moments and come back, it jumps to the home page and loses where I was browsing
Latest update
Pamela Wheeler
on
11/18/2017
My search button at the bottom is gone! 😳
Fact Sheet
Publisher:

Pinterest, Inc.

Category:

Social Networking

Released:

Apr 28, 2011

Current Version Released:

Nov 14, 2017

Version:

6.38.1

Size:

95.3 MB

Compatibility:

Requires iOS 9.0 or later.

Recommended Age:

12+

Game Center Certified:

No

Supported Devices:

iPad2Wifi-iPad2Wifi, iPad23G-iPad23G, iPhone4S-iPhone4S, iPadThirdGen-iPadThirdGen, iPadThirdGen4G-iPadThirdGen4G, iPhone5-iPhone5, iPodTouchFifthGen-iPodTouchFifthGen, iPadFourthGen-iPadFourthGen, iPadFourthGen4G-iPadFourthGen4G, iPadMini-iPadMini, iPadMini4G-iPadMini4G, iPhone5c-iPhone5c, iPhone5s-iPhone5s, iPadAir-iPadAir, iPadAirCellular-iPadAirCellular, iPadMiniRetina-iPadMiniRetina, iPadMiniRetinaCellular-iPadMiniRetinaCellular, iPhone6-iPhone6, iPhone6Plus-iPhone6Plus, iPadAir2-iPadAir2, iPadAir2Cellular-iPadAir2Cellular, iPadMini3-iPadMini3, iPadMini3Cellular-iPadMini3Cellular, iPodTouchSixthGen-iPodTouchSixthGen, iPhone6s-iPhone6s, iPhone6sPlus-iPhone6sPlus, iPadMini4-iPadMini4, iPadMini4Cellular-iPadMini4Cellular, iPadPro-iPadPro, iPadProCellular-iPadProCellular, iPadPro97-iPadPro97, iPadPro97Cellular-iPadPro97Cellular, iPhoneSE-iPhoneSE, iPhone7-iPhone7, iPhone7Plus-iPhone7Plus, iPad611-iPad611, iPad612-iPad612, iPad71-iPad71, iPad72-iPad72, iPad73-iPad73, iPad74-iPad74, iPhone8-iPhone8, iPhone8Plus-iPhone8Plus, iPhoneX-iPhoneX,

Supported Languages:

Czech; Danish; Dutch; Flemish; English; Finnish; French; German; Greek; Hindi; Hungarian; Indonesian; Italian; Japanese; Korean; Malay; Bokmål, Norwegian; Norwegian Bokmål; Polish; Portuguese; Romanian; Moldavian; Russian; Slovak; Spanish; Castilian; Swedish; Thai; Turkish; Ukrainian; Vietnamese;

Parental Advisory:

Suggestive Themes; Mild Sexual Content and Nudity;