Not Recommended
App last updated
Mar 13, 2018
Screenshots
New in version 20.1
- Bug fixes and performance improvements

We're always improving Postagram and making it easier for people to connect with their loved ones and friends all over the world. It's because of people like you that we can do what we do - if you had a great experience with Postagram, please consider giving us a review.
Description
Mail your iPhone, Instagram, and Facebook photos as beautiful postcards for only $1.99 (this includes printing and shipping costs in the U.S.A.)

Send a Postagram:
- Photo pops out of the postcard as a 3x3 inch photo print (so you can keep it forever)
- Printed on thick, glossy 4x6 inch postcards at 300dpi resolution
- Delivered anywhere in the US for $1.99 or $2.99 for addresses outside of the US (price includes postage)
- Delivered to the US, Europe & Canada in only 3-8 business days. Other international destinations can take up to 2 or 3 weeks.
- New card designs that change seasonally. Customize the colors of the design to fit your unique style.
- Include a personal message with emoji!
- Choose photos from your iPhone, Facebook, Instagram, Dropbox or just take a photo within the app
- Purchase with Apple Pay or scan your credit card at checkout.

Perfect For:
- Thank you's
- Birthday cards
- I love you notes
- Vacation postcards
- Invitations, wedding, & baby announcements
- Prints of favorite photos
- Pen pals
- Holiday cards
- Just because…

100% Customer Satisfaction:
Each Postagram is backed by the Sincerely Guarantee: If your Postagram gets lost in the mail, damaged or you are otherwise not happy, we will send another Postagram free or return your money.

CONTACT US:
Web: http://www.postagramapp.com
Email: support@sincerely.com
iPad Screenshots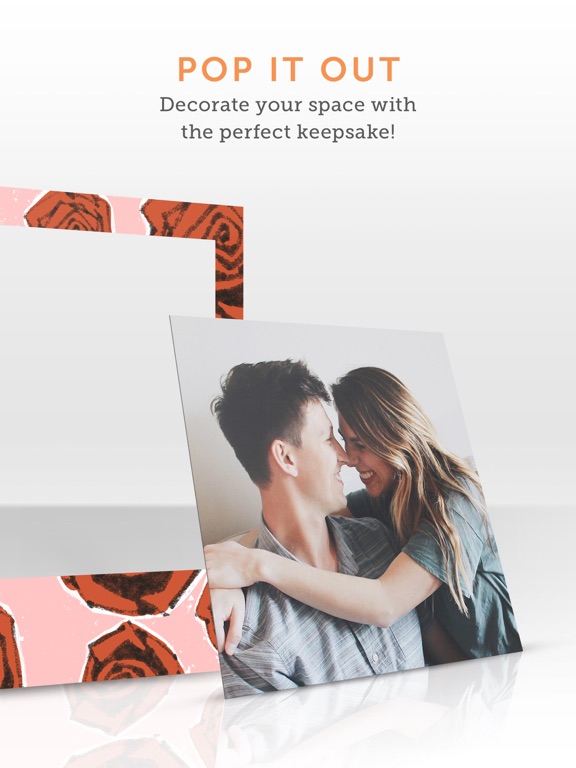 Reviews
Thank You!!
The BEST way to send a thank you note! I snap a photo of me USING the gift, ticket, or whatever. And they get REAL mail! You don't have to write too much so I WANT to send it!! User friendly, personal, colorful options, and easy on the wallet? NO BRAINER!
Price doubled, total rip-off now
Functionally the app works well, it's very intuitive and makes it quick to prepare/send an order. When it was $0.99 (for U.S. addresses) it was well worth it considering it costs pennies to print and maybe $0.40 to mail. The price has now doubled to $1.99 (for U.S. addresses) which seems nothing short of greedy price gouging. Very disappointed, certainly won't be using Postagram going forward.
Love it!
Superiorwaste
on
1/13/2018
I have been sending postagrams for 5 years or more. So easy to use by buying the credits up front. Lots of choices of card designs. Sending the message is super simple and it's nice they have added the use of emojis. But the best thing is the reaction of the recipients, they love them! Great way to stay in touch with friends and love ones!
Yay!
This is a wonderful app, it was so exciting to use! Thank you!
Fun Pics
Upper Arlington Shirley
on
12/13/2017
Postagram is so great you just snap a pic and say something quick hit recipient and your fun photo is on its way. Love it!! Postagram has been such a joy to my friend a Veteran who recently had a leg amputation His son says these family postagrams give him strength and Joy keeping in touch with his family and new great granddaughter and he looks forward to the mail each day. He lives several states away from his family.
Great... when it works
woohoolinzee
on
12/6/2017
Great app when it works - it very often freezes on me and does not allow me to edit the colors or the text, so no matter how great the app is, it's useless when it doesn't work. The rating is for the app itself, I would give the completed product a higher rating if I could get it to work regularly.
Does the job nicely, annoying bugs
Like the simplicity and reasonable price per card. More than once, however, I have had a postcard-in-process go missing. The most annoying time was when the "Do you like our app? Please rate" dialog came up, and after I replied "No Thanks" my postcard was gone! Luckily postcards don't require a whole lot of time and effort to create, or such bugs would be a fatal flaw.
Love the finished product but the app needs work
The app doesn't allow you to a) save progress if you need to stop editing mid-project, b) turn off or modify email notifications which are sent for every single postcard sent and c) save template to send to multiple people with different text (i.e. thank you notes). Love the concept- but please fix!! Especially a&b!!
Works great, but still buggy
I used it to send postagrams for people who contributed to our honeymoon. The main frustration is that when you are in the middle of an edit and need to switch apps or leave your phone, the editing page won't work correctly when you come back — you have to start over again. Please fix it ASAP.
Excellent
The best and easiest app to send photos to anyone near or far. Great quality and timely delivery every time.
Easy way to send thank you cards
I always want to send people thank you cards for things, but never seem to find the time to do so in my busy schedule. This app has really helped me easily find the time to send adorable postcards to family and friends. I also love that you can pop out the picture. Great idea and super convenient.
Handy App
I use this app to send pictures to my Grandmother. She loves to get letters in the mail and this way she gets a short message and a photo. It's easy to use, stores addresses and makes sending notes to family and friends easy.
So great! UPDATE-NOT SO GREAT
Update- 09/2017: My first review was from 2 years ago when I was in love with Postagram. It was inexpensive and fun and the quality was superb. Now it costs an arm and a leg for pretty much the same product, with some themes to choose from for your postcard background which aren't at all worth how much the price was just increased. If anything it should have stayed the way it was and then had the jenky themes offered as an add on. I also was very upset when I logged in and found my credits had disappeared after some time. I used to order Postagrams for friends off all the time and was ready to start ordering again now that I am living away from home again but there is no way I am going to give my money to you guys now! 2 yrs ago: Been using Postagram since it first came out and have always been extremely happy with the quality as well as the customer service they provide. The first few times I ordered from them, there was a few little hiccups with my order but the moment I emailed the support department and explained the situation, they would email me back within 24 hours letting me know that a replacement was being sent out immediately and credited me for the cost of the order. I was always so pleased with the outcome. The kinks must have been worked out in that first year because every order has been perfect since then, and I have nothing but good things to say about Postagram and the service they provide. A must have for all with an iPhone!
The envy of all
My mom is in a senior living facility loves the postagrams she gets. It's so Easy! Also a great way to send a personal thank you, get well or thinking-of-you card anytime from anywhere. Customer service is spot on with any problems - they will resend or refund for a card that arrives damaged.
Used to be my very favorite app, but now quitting
Total bummer. Used to provide a great basic photo-postcard at great price ($1), as well as overseas for a bit more in postage. But then they chipped away at the quality slowly but surely. First they removed a small second photo icon, and then they doubled the price, and the new credit system seems built to decieve-it says cards at purchase but then shows credits on your accout so you never really know how much you have. Really, one of my most disappointing falls from grace of all apps i ever had in ten years on app store. To repeat: Total bummer!
Amazing!
I am obsessed with this app. It's so cool! Everyone I have sent postcards to have absolutely loved them.
Recently doubled the price :(
Katie in Michigan
on
8/28/2017
I've used this app in the past to send out mass mailings (baby shower, birthday thank yous) and figured it was worth the price at $1 each for postage, card and convenience. I just went to send out a card today and was really disappointed to see that the price has more than doubled in the last several months ($.99 to $1.99). After my prepurchased credits run out, I'll be finding another app if the price doesn't return. Bummed.
So far, so good!
Fun way to send a postcard toward the end of our vacation. Hoping it arrives shortly after they get home to remind them of the fun we had!!
Stopped using after 3 years
Was great as my wife and I used this often as the postcards were $1 each, then they double the price to $2 each (for the same card), and then pushed on using a credit system where you can't buy a certain number of cards, instead they use an archaic "credit" system that always leaves money on the table to try and force you to keep buying. And then they added a huge coupon banner to the postcards which just looks cheap and horrible. Basically I'm paying for them to take up 20% of the card I paid for, for their advertising. Whoever acquired this place sure know how to make something good, just plain bad. I'm sick of it. Thankfully there are so many other app postcards options now with lower costs, upfront per-card pricing and don't plastered an Ad on my card I paid for.
Thoughtfulness and simplicity meet!
I love this app! It's so easy to send a note to say, "I'm thinking of you". Love the color options and the price! Cards waiting to be mailed usually get left on my counter for DAYS! Postagram sends it for me - problem solved!
Wonderful quality
Just love getting them in the mail and many of my friends and family loves them!
TAKES FOREVER
Carleygrace98
on
8/9/2017
I sent my boyfriend a postcard 3 weeks ago. He never received it. They kept telling me that they would send another one in its place which is pointless since I sent it while I was on vacation.
Keep in touch with mom
Granny Sensai
on
8/5/2017
My mom has dementia and lives across the country. I send her a postcard every week to show her what we're up to. I'm so glad I found this.
Happy customer for over 6 years!
I travel constantly and this has enabled me to let my friends and family know that I'm thinking of them. The postcards do take time to print and dry, which makes sense, it's on durable glossy cardstock not regular paper you just run through the printer. Preparing and then actually shipping so takes about a week to arrive. I've been an extremely happy customer for six+ years, they were the one of the first ones to do this. Everyone's always received their postcard and they always have free codes during the holidays or for special occasions. Plus the credits sync with their other products on the sincerely ink app! Thank you guys! Don't care if you up the price, love this company! Keep up the amazing work. 😘😘😘😘
Had High Hopes
Doggy triggering
on
8/2/2017
Three times tried to send PC to my wife. Twice while traveling. Once when I got home and complained. None ever arrived.
great cards with unique design
some skittish girl
on
7/27/2017
This is such a convenient way to send a quick note and a photo!! I love how the photo pops out of the card so that the recipient can hang it or keep it. I feel like no other company is doing this! Photo and postcard in one! BTW, in response to the reviews complaining about the price... I feel like $1.99 is a very good price to send a personalized card. if I buy a generic postcard at the store it's already $1, plus postage is almost 50 cents. this is a personalized product and doesn't take me the effort to write it myself and barely costs more than a cheap travel postcard - I think that's a great deal.
Good but relatively expensive!
I've used Postagram on & off for years. It's gotten better but it's also twice as much! It used to be $.99. Now it's $1.99 and still quite limited in choices available to the user. It could certainly be made better with just a little bit of tweaking and adding no extra expense to the user. What would really be nice would be to have your image fill one entire side of the card, as actual postcards do, instead of the silly designs they offer. However, the good part is being able to send postcards from the comfort of anywhere!!
Disappointing
judging jeopardy
on
7/21/2017
The postcard didn't ship until 5 days after the order was placed, and didn't arrive until 9 days later, rendering it useless since it was supposed to be sent for a specific occasion. The postcard arrived with just the borders! No picture! Apparently the photos are perforated and can come off in the mail. I contacted the company, and no one returned my email. Worst purchase I've ever made. I could never recommend this app. Extremely disappointing. Weeks later someone responded to this review, likely hoping I would take it down. In the response they told me to reach back out to customer service to take care of the issue. Yup,I already did that, and customer service NEVER GOT BACK TO ME! Frauds!
Simple and straight forward
The thought of going to a post office makes me too lazy to write a postcard. Postagram makes everything easier. I also like that you can pop out the photo out of the postcard. That's neat!
Perfect for travel
Gnocchi Pesto
on
7/20/2017
I used this app to send postcards during my vacation in Europe! I got to send my own photos from 8 different countries to my family, and they loved receiving them in the mail. This is way cheaper (& easier) than buying a postcard at the store!
Cool but Slow
This would be a 5-star app for sure if they could just make processing faster. It can take forever for a card to arrive, which severely limits its usefulness. I would gladly pay to be able to remove the branding, which again puts a damper on what could be a stellar service.
When did the prices double?
I used to send these for .99 and now it's double at 1.99. No real reason to stick with Postagram now. I am switching to another app that prints a full bleed picture on one side. Otherwise the service seems ok, but true not the fastest, but for .99 I didn't expect it overnighted!
Fun way to send cards
OMG this app is awesome! I love how easy it is to upload a pic. And you can customize the colors of the designs!!! Plus the picture is perforated and pops out. Super fun way to share memories with friends. Try it!!!
Very slow and doesn't update
Takes 3-5 days just to process and then an additional 3-5 to ship so over a week till recipient gets it! App does a poor job of telling u if postcards have arrived at their destination. Everything is either "in process" or "shipping." There is really no way to know if recipient has gotten the postcards. Also, there are only 5 backgrounds to choose from...very boring :(
Great App!
Love this App! I use this for thank you notes it's fast, easy, cheap and I love that I can add my own picture. Would love more background options and to be able to edit picture or different layout options.
Works, but Slow and Limited
It's all digital. Why aren't the cards printed and sent within minutes instead of days? Card designs very limited. Message space limited. Wish photos could be full side of card like a real postcard instead of limited to a small square crop on the same side as the message.
SLOW SERVICE
Joe alex smith
on
7/7/2017
Claims to deliver 3-4 days I sent a card one state over and it was processing for 5 days finally shipped and still not there - over a week later . Great idea but VERY slow.
Excellent App
Lindiisawesome
on
7/4/2017
I use this app to send postcards to my grandmother and can set up to send them to her weekly and do it a month in advance. The only problem is that now it is double the price it use to be.
LOVE This App
I use this app to send thank you notes to friends and family and it is so incredibly easy AND my friends and family love the cards. I've received multiple compliments on how cool receiving the cards are and how quickly people receive thank you'd from me. I love that it grabs addresses from the Contacts already on my phone. The price per card is so reasonable too, since it includes the price of postage. Seriously probably my favorite app on my phone.
Clever app
However, it takes approximately 2 full business days to process the order and then add on the transit time from there. So if you send a card on a Saturday, it likely won't ship until Tuesday and then add X number of days through the postal service
Such a fan!
I turn on all of my friends and family to this. It's so easy to write a quick postcard with a photo and send it to your loved ones. Huge fan and if your kids go to camp it's the best!
Great for grandma!
Picture taking mama
on
6/25/2017
We love these cards and have been sending for years!!
Zero stars
Sent a pic postcard to my sister, that I paid for and she never received it. 👎
Disappointed recently
Used to use this app because it was the cheapest option. But they raised the price so I'm switching to a different app that has nicer cards for the same price. This one doesn't let give you as much room for text either
The best
Ohgal2gallies
on
6/22/2017
Postagram is so much fun to send quick pics and letters to my kids at camp. I love it and it's SO easy!!
Love it!
Kickbuddy488337
on
6/20/2017
This has been such a great way to let someone know that you think enough about them to take the time to make a card, and that you can add a special photo!
So easy peasy
I love to send post cards and Postagram makes it so easy to do. I love using my own photos and not having to look for post cards I Like not stamps! Thank you Postagram!
Use with my class
This is such a neat tool to use to capture special memories when I do things with my students. What a cool app! Now that the cost has doubled... I am less enthusiastic about it. Too bad... love sending these to my students.
Used to love this app
This app used to be fantastic! Now, it takes far too long to ship the cards.
Sad about price hike
I used to LOVE this postcard app. It was really reasonable and a fun way to send people postcards. The price hike (it doubled in price) makes it no longer really all that affordable. I most likely won't buy more when I run out of credits. Such a disappointment because it is great.
Fact Sheet
Publisher:

Sincerely Inc.

Category:

Travel

Released:

Apr 12, 2011

Current Version Released:

Mar 13, 2018

Version:

20.1

Size:

41 MB

Compatibility:

Requires iOS 10.0 or later.

Recommended Age:

4+

Game Center Certified:

No

Supported Languages:

Dutch; Flemish; English; French; German; Indonesian; Italian; Japanese; Korean; Malay; Portuguese; Russian; Chinese; Spanish; Castilian; Swedish; Chinese;