Games
Word
Puzzle
Education
Recommended app!
App last updated
Jan 18, 2018
Screenshots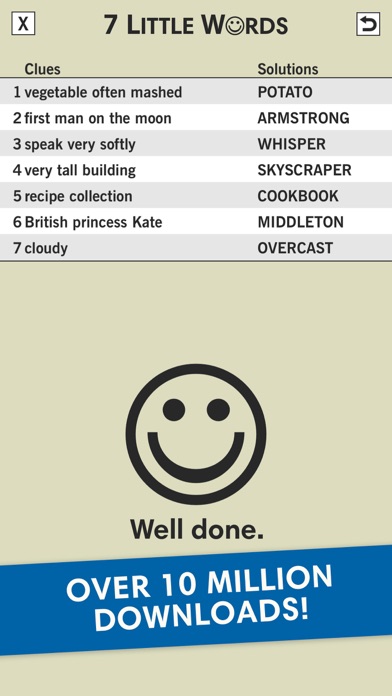 New in version 5.7.0
Under the hood improvements.
Description
If you enjoy crossword puzzles, word finds, and anagram games, you're going to love 7 Little Words!

Each bite-size puzzle consists of 7 clues, 7 mystery words, and 20 letter groups. Find the mystery words by deciphering the clues and combining the letter groups.

7 Little Words is FUN, CHALLENGING, and EASY TO LEARN. We guarantee you've never played anything like it before. Give 7 Little Words a try today!

From the creators of Moxie, Monkey Wrench, and Red Herring.

-----

7 Little Words contains 50 puzzles that you can play for free. One new puzzle is available for free each day without a subscription.

MONTHLY PUZZLE PACKS

New puzzle packs are added to our app monthly. These may include themed and non-themed puzzles from our 5 difficulty levels, as well as semi-annual Daily Puzzle collections.

CATALOG OF 10,000+ ADDITIONAL PUZZLES

The app also includes more than 10,000 puzzles that have been compiled since the original release of the app in 2011. There are themed and non-themed puzzles of every difficulty level, as well as puzzles in Spanish and puzzles written for an Australian audience.

You may subscribe to play our monthly new puzzle packs plus our entire catalog. Subscription options include annual ($29.99 per year), monthly ($3.99 per month), and weekly ($1.99 per month) subscriptions. The subscription amount will be charged to your iTunes account as an in-app purchase. Your subscription will renew automatically unless you cancel it at least 24 hours before expiration. You can also turn off auto-renew at any time in your iTunes account settings.

You may buy individual packs within the app without a subscription.

Terms of use http://www.7littlewords.com/terms-conditions
iPad Screenshots
Reviews
Mrs Vogy
I am really enjoying this game...makes you use you mind and improves intelligence!
7little words
I've no time for games. But, this is a good for you app. It's challenging and distracting. For when you need to stay focused but need to concentrate on something other than the task at hand.
Simple concept but still a fun challenge.
Love it. Been playing for years and still get enjoyment from the game!
7 Little Words
Great game, I am having lots of fun and am learning some too.
Daily fun
I've been playing this game for several years. It never fails to entertain
Seven Little Words
Love this game.
I start every day with the Daily Puzzle!
Disappointed 8-1-2013
on
1/20/2018
Great game to help keep your brain working!
Do you like pop-up ads? How about misspelled words and triple meanings?
If you like pop-up ads that have the gal to not even display the time they will remain on the screen, damaging your eyeballs, and if you like checking the dictionary for words that the app 'tells' you are spelled incorrectly (the dictionary and you were right), then you'll probably like this game. With so many more options out there and available (and free without the ads), this is just insulting. But hey, maybe they're just hoping to get bought-up by one of the behemoth companies....it certainly appears that way based upon the length of time this has spent in the App Store without ever improving. #Yawn
Seven little words
My husband and I love this game !!! Wish it was available more times a day.
Words
Addictive, fun to learn syllables.
Thank you.
Thank you! I play 7 Little Words every day and Monkey Wrench every day. No problems.
Hints
I purchased the unlimited hints right after I downloaded this app a long time ago. I enjoy the game. But now I get a message saying I need to purchase unlimited hints again. This happened after one of the recent updates. I hope you can help.
A great game!
manis munweller
on
1/12/2018
I love playing this game every chance I get!
7 little words
Enjoy this past-time
Love it!
Play it every day!
Love the game
Don't Love that like other apps that your fees you pay this company/app does not transfer over to other devices!!
Pure fun
Quite a fun game that keeps you mentally sharp. I've been playing for 5+ years and won't stop any time soon.
Addicting, hard but never impossible.
Love this simple game!!!
Very good
This game is intelligent and fun. Makes you think. Keeps you playing for a long time. However, what's with those ads! You can't X out of them. Very frustrating. I might just pick a new game.
Too many intrusive ads
The user experience is horrible on the free version. Full app overlay ads now take over. Avoid this app.
Enjoyable
Some clues make sense in weird ways but that's the fun of this game. Challenging, enjoyable.
How about a Hangman app?
I've been playing all the Blue Ox word apps for several years. Great time-fillers in airports, during the kids' lessons, etc. I would love to see what this group could do with a Hangman app. There aren't many for the iPhone and none are very good. Please think about it!
Brain Exercise
The Spouses Challenge
on
1/8/2018
My wife and I compete every morning with seven... Highlight of our day... Keeps us mentally sharp...
Nice game
Never a glitch!
CHA LLE NG ING
This game is a lot of fun! It's unique and challenging!
Love this game
Fun to decompress for ten minutes when I'm waiting on kids or sitting in the airport. Love the just right challenge it gives me in the few minutes I periodically have to play! Keep the games coming.
7 Words: Brain Exercise
I got the app at the behest of our daughter, and use it almost daily. It's addictive, but with only one puzzle each day, I don't waste a lot of time with it. It's just enough exercise for my brain to get it kick-started each day.
Really enjoy it
It's fun to play! Thanks:)
Great word game
Challenging memory game, where you assemble words.
A delight! But have dropped a star!
7 Little Words A delight! But have dropped a star for reason described later on... First, the good stuff. Simple, but engaging! A brilliant design for a quick and easy, yet often challenging, word puzzle game. It's worth buying a few extra puzzles just to support the app developer's creativity! To the person who said they wanted to pay just one time--while I'm sympathetic, he or she should just buy the 4 or 5 available games and consider it hours of enjoyment for only $4 or $5. Much less than going out to the movies! You could even make your own popcorn! To the person who complained about knocking off the puzzles in one day-- well, develop some self-restraint, pace yourself, delay that instant gratification, spread the games out, savor the moments, and enjoy life more! MAJOR ISSUE Finally, though, while the game is great on an iPad, the text is far too small on an iPhone! The names of the puzzles and number in each pack are tiny; even after choosing Large Print and Darker Text for Clues, the clues and letters on the tiles remain too small — unless one holds the phone up to their eyeballs! Which isn't good for vision or brain health! Please fix that and give us a font resizing option that works for reading at arm's length or, at least, elbow's length! PROBLEMS WITH SUBSCRIPTIONS AND IN-APP PACK PURCHASING Many of us are put off by subscription models, so it is good to see all the puzzle pack offerings — however, they are a confusing morass! When I go to the Menu, it is filled with dozens of confusing options! Also, calling something "Free Bonus Collections" when you have to BUY 5, 9, or more puzzle PACKS is off-putting. That's a phrase usually used for unlocking levels, accomplishing certain goals or tasks — NOT for after buying a bunch of packs! And, that's a lot of money in App Store terms to have to spend to get the bonus! It also sends one back to the Menu to try and figure out which packs are available! Which keeps changing (see below). Plus, any purchase is a blind one! Is it a *good* collection or pack?! Who knows?! DECEPTIVE LABELING Below one's puzzle list, one finds a "New! All Access Pass" button with the *deceptive* description "10,000+ Puzzles and more for as low as $1.99". No, it is NOT available for $1.99; it is $1.99 per *week*! You need to change the wording there posthaste! There's also an error in your iTunes description of subscriptions — you mention weekly but in the parenthesis state something contradictory: "weekly ($1.99 per month)" :-). So, what is the rate?! PACK CONFUSION Then, there is the problem of the rotating kiosk of puzzle pack bundles! It was showing Canyons for $4.99 below my list of puzzles, then suddenly switched to Skyscrapers for $9.99! Now, it's Polka Dots for $4.99! The rotation is a distraction — where did the one I wanted go? How do I find it? (I finally hunted it down, but that shouldn't be necessary!) Which Super Value pack(s)/collections are the better ones? Which have the most errors or misleading clues? Which are the most interesting? Who knows?! Are those 250 puzzle items, a single pack or a collection of 5 packs?! If one buys one of them with 250 puzzles, does that qualify as 5 packs and gets the buyer the Free Bonus?! Or, is it just a single pack? That's not explained. Confusion reigns! CONCLUSION You have such a wonderful game and app that it's a shame to see it drowning in such clutter, and in such misleading, greedy, nickle-and-dime schemes! All of that needs to be simplified.
Addicting
Butterfly7123
on
12/28/2017
I love this game. Challenging but fun
My Ritual
quiltmasterj
on
12/27/2017
7 Little Words is one of 4 games that I do every morning to get the brain cells stimulated!
Good brain exercise!
Shutterbug120458
on
12/27/2017
Sometimes when I look at the clues, I think I'll never be able to solve all seven clues but if I stick with it, I can eventually get there. I don't play regularly but it is a great diversion when we travel.
Almost 5 Stars
This is a great game, and I've been playing since my granddaughter introduced it to me several years ago. The only thing about it I wish they'd change is the use of people's names. I don't know Madonna's daughter's name, and don't care to. Names of obscure (at least to me) authors and actors, etc. are not "words," they're names. Please stop doing that.
Love it!
Charino1195
on
12/26/2017
I've really enjoyed this game. It was a good challenge for me everyday. Hope they can workout the problems so I can play again 🙁
Crashing...
Nevermindalready
on
12/26/2017
Enjoy your app, but the daily version has been crashing since yesterday.
Love it
Hello, The 7 words game was frozen (it had been freezing briefly for a week or so), so I deleted it and reinstalled it as that procedure has worked fine with other apps. However, all my purchased packs are now gone and I can't find a way to "restore purchases" as with other apps! Can you help me! Many thanks! (& Thank you for the daily challenges. Have you thought of adding a timer or other personal statistics?)
Brain stimulating exercise
JesuslovingHolyroller
on
12/21/2017
This is a great game to stimulate the brain and exercise it. It's quite challenging and can even be exhausting after a couple of games 😂
Challenging
Some days are harder to get than others.
Great game
Naplescindy
on
12/17/2017
Seven Little Words is a delightfully, and fun game to play.
Great fun and challenging
Throw away your crossword puzzles! This game is much more fun and entertaining. You'll find that you can knock out one of these games in a lot less time than a crossword and still be challenged. My wife and I pass the puzzle back and forth, making it a great team effort with lots of laughs.
Love this game
B.AlexanderMiller
on
12/15/2017
I play it every day!!!
Now Happy!!
Golfing Lady
on
12/15/2017
Somehow overnight the game became available!! Even though it's from the beginning, meaning I'm back to all unplayed games, I'm just glad it's now available to play!! I love this game. 😇
Frustrated
I've played this game for years and love it, but suddenly had trouble with it loading. Then I noticed there was an update. I clicked on the update but still couldn't get it to load. I deleted it and reinstalled it, then it didn't show my purchases, including the unlimited hints that I paid to get. Now I even have to try several times before it'll even load. Betty
Addictive and surprisingly challenging
Aged, Not Rotted
on
12/14/2017
Also fun. Tried to acces the puzzle playground several times but it glitched and closed too much. :(
Morning ritual
I enjoy playing this every morning. My day always starts with coffee, 7 Words, and a jigsaw puzzle. Being retired, I look forward to simple little pastimes such as this.
Extra puzzles
Well, bummer. I was enjoying the extra puzzles. Will miss them.
Mediocre
Seven Words is a mediocre game. I like to play it right before I fall asleep because it can be relaxing
Fact Sheet
Publisher:

Blue Ox Family Games, Inc.

Category:

Games

Released:

May 05, 2011

Current Version Released:

Jan 18, 2018

Version:

5.7.0

Size:

60.5 MB

Compatibility:

Requires iOS 9.0 or later.

Recommended Age:

4+

Game Center Certified:

No

Supported Languages:

English;