Recommended app!
App last updated
Nov 06, 2017
Screenshots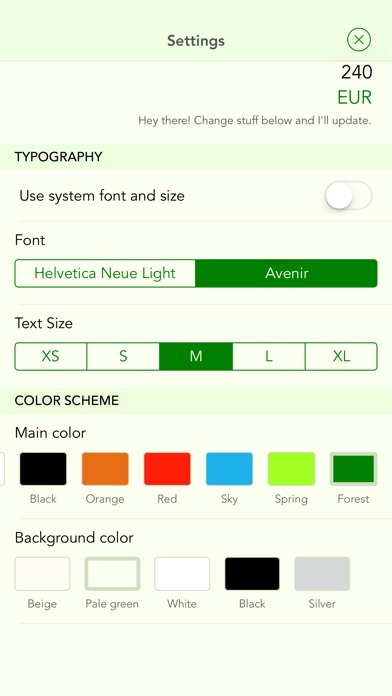 New in version 6.4
Fixed currency rates source.
iPhone X compatibility.
Description
An efficient, beautiful currency (exchange) converter, designed for iPhone / iPad, optimized for iOS 8.
Supports ALL currencies in use all over the world!

VIDEO:
· http://radianttap.com/banca/
· http://vimeo.com/radianttap/banca-for-ios8

• • • Today Extension • • •
· Today extension in Notification Center, showing the last currency pair used in the app
· Automatically uses any currency or number value you may have copied into pasteboard
· Expand with one tap to change source currency
· Tap the target currency to copy the result back into pasteboard
· Double tap source value in the widget to choose from few pre-defined values (100, 200, 500)


• • • App Features • • •
· Focus on _your_ favorite currencies, which are easily managed
· Instant conversion to all chosen currencies
· Banca uses your location to automatically add the currency for the country you're currently in - great for frequent travelers
· Automatic refresh of the exchange rates
· Automatic transition to offline mode when network is not available
· Use long-press on the delete key to clear all values
· Integrated simple calculator with basic operations
· Supports every (non-obsolete) currency in the world
See full list of supported currencies on our site: http://radianttap.com/banca/currencies
· Full support for state preservation - app will always remember what you last did

• NOTE • if you like Banca, make sure you review it here on the App Store - it helps others find the app and it gives me incentive to develop it further.
Thank you for your time.
iPad Screenshots
Reviews
Love this app.
Listen Really Listen
on
8/3/2016
Clean interface, very easy and intuitive to use. The only currency converter I need.
Great currency exchange app
It's pretty easy to use and I like the built-in calculator for adding up purchases.
Absolutely indispensable when traveling.
brysonholland
on
11/21/2014
I found this while traveling Europe for work. It has been absolutely indispensable. It is fast, easy to use, and accurate. How much more can you ask for than that? I used it daily during my travels and still refer to it often when working with my remote teams. Worth the money this developer is asking and more.
Wonderful!!
Jadd.not.taken
on
10/9/2014
This is great app, very useful. The best converter!
Lovely and usable
Merry Hornton
on
10/9/2014
Loving the new update, thanks. Landscape support for iPhone 6 is awesome.
Great app
Continues to be a great app. New widget is fantastic, to the point I will barely need to use the main app. :)
Awesome widget!
Love the animation when you tap currency
Love landscape mode
Thanks for the 6 Plus landscape support!
So handy and very intuitive!
Love it! This is the best currency converter for comparing several different currency at the same time. Also the mini calculator is super handy to use in the app. Love it!
Just one glitch
Simple UI,easy to calculate,many currencies,BUT cannot access currency manage menu w/ numerous tries
Bitcoin
A good app overall, it would be very much appreciated if it were to support Bitcoin.
Great App
Ahmad Nadeem
on
1/18/2014
Must Have App
Great app with potential
CuongPNguyen
on
1/17/2014
Would be a lot better if it can support more currencies than the current 8. What about pesos? Ruppies? Some other? The interface is excellent and easy to use though
Banca -currency converter
I downloaded most of the apps but I find the banca the most thorough and easy to maneuver and follow-their text support was excellent
Too difficult to add currencies
It took me about 20 tries before I successfully slid the numeric keypad down and exposed the menu to add currencies.
Good
一直在用,很不错,只是最近的版本有两个缺点。一个,左下角的删除键无法使用,被覆盖掉了,还有一个,没有办法手动更新汇率,不知道到底是否最新,还不如以前版本易用,希望改进。
Outstanding
Best currency app out there and I tried a few... Well done, A+++
Easy, nice, fast
Thanks for the new look. It's only getting better! Best UI for currency converting on the go. Always travels with me :) Thank you 👍💰
Crashes
Aaron M Fisher
on
4/26/2013
I cannot use this application half the time because it crashes upon opening. No updates since September??
It support iPhone5!!!
Jeason. Vbrinc
on
10/23/2012
So easy to use.
برنامج رائع
جميل وبسيط في استخدامه يحوي اهم العملات وليس جميعها
برنامج روعه
تقدر تستفيد منه في السفر وتقدر تستخدمه بدون الانترنت
Excellent App
Easy, fast and friendly
العملات محدوده
ليس به عملات خليجيه وبالاخص عملة الريال السعودي اتمنى اضافة العمله مع التحديث الجديد للبرنامج
👍
Ibrahim AL-Hajri
on
7/19/2012
😄
The best currency converter
Zoran Stojanovic
on
7/19/2012
I simply love it. It has a beatiful user interface, and it is incredibly fast.
It is very good.
First to clarify. You can add any currency you want. I added Mexico and Croatia and got rid of most of the default ones (Click the green tools button). Secondly, there is a clear button. It is a big "x" up in the display area rather than on the keypad. I found that it took a few tries to get used to the system from controlling the direction of the conversion: are you converting 1 dollar to pesos or 1 peso to dollars. It is very clear after you type the value because each field is labeled, but the first few times I had the conversion backward. A button to easily switch direction might be nice. Finally, an iPad version that didn't just pixel-double the iPhone version would be nice. Doesn't need to be fancy. Just a bigger display of the same interface and support for rotating the display. It is a keeper.
Отличный конвертер валют!
Потратил кучу денег и времени на поиски удобного и простого конвертера валют. Покупайте и пользуйтесь, похоже этот самый лучший:). Спасибо разработчикам.
Delete... 👎
Glad it was free! Ugh...no pesos conversion 😡
Beautiful!
Very nice interface, easy to use. Universal / iPad version too please?
1 thing to add before 5 stars
Please add Croatian currency and it will be 5 stars. Other than that it really handy app with great UI.
one of the best
easy to understand and use, highly recommend it
Learn to use
Those reviewing that currencies are limited, need to dig deeper and learn to use the app. Go to the settings and add just about every currency out there. Based on this I give it 4 stars...I added the fifth because of the people who downgraded this app based on their lack of understanding on how to use the app!
Can go to setting
To add mor currency
Excellent app
Gorgeous interface, feature-rich and easy to use.
Will keep but disappoints!
No Latin American currencies? Really? I hope this is fixed in the future because the app has much potential!
Helpful
Great utility app!
Limited
Cap'n Planet
on
6/24/2012
The app is designed well, but very few currencies are supported. What a shame. I hope this limitation is fixed in a future update.
Good
Very useful tool, besides it has a nice user interface. Recommend!
5stars app
i recommend this app , it's awesome
Great app
It's easy to use but one small problem it needs to be able to set it to auto refresh the rate then it'll be perfect tool.
Great app! Easy and gorgeous!
Wonderful, and beautiful, currency converter. Simple and easy on the eyes. One special note: I am not sure why some reviewers are asking for a 'clear all' button, the app already has this functionality. Just press and hold delete key.
Great app that's easy to use
It just makes sense. I hope a future release adds a 'c' button to clear the current values, but 5 stars regardless.
Fact Sheet
Publisher:

Aleksandar Vacic

Category:

Travel

Released:

Aug 02, 2011

Current Version Released:

Nov 06, 2017

Version:

6.4

Size:

5.8 MB

Compatibility:

Requires iOS 9.3 or later.

Recommended Age:

4+

Game Center Certified:

No

Supported Languages:

Dutch; Flemish; English; French; German; Italian; Japanese; Portuguese; Russian; Serbian; Chinese; Spanish; Castilian;