Screenshots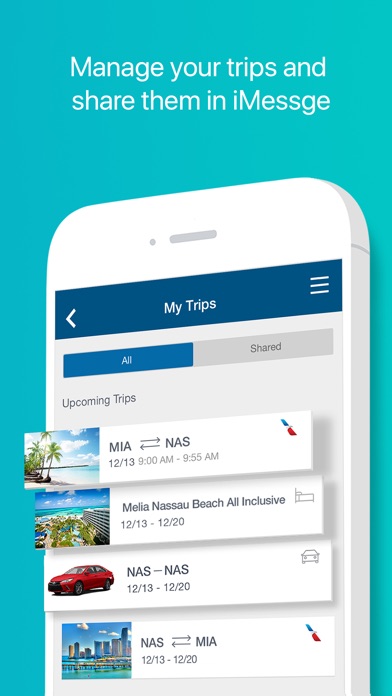 New in version 3.3.124
We fixed a few bugs and added some performance enhancements.

Fun Travel Fact
An average of 61,000 people are airborne over the United States during any given hour.

We're available by phone 24/7, just call 1-800-566-2345 or email customerservice@CheapOair.com.
Loving our app? Leave us a review in the App Store!
Description
Save up to 40% on your next flight! CheapOair lets you know when to buy. Watch your flights and get a notification when the price drops!

CheapOair is like a super-fast, all-knowing travel agent that analyzes up to 20 billion flights every day and lets you know the best time to buy.

KNOW the best time to fly and buy!

WATCH a trip to receive price alerts.

BUY in a single tap with Apple Pay.

FLY confidently knowing you saved.

CheapOair is an award-winning travel app. No spam. No ads. No popups. Just the confidence you're booking the best flight and saving money.

Only the good stuff.
• Double Reward Points in the app!
• Free 24/7 customer phone support.
• Share your trips directly in iMessage.
• Save on last minute deals with FlyNow™
• Fly in comfort with seat reservations.
• Flight track notifications in real time.

CheapOair Credit Card
Get and manage your CheapOair Visa Credit Card activity right in the app. Earn 7 times the CheapOair Reward Points!

We Price Match
If you find a lower rate on another US-based app within 4 hours of booking and we'll credit or refund you the difference, no questions asked.

Download CheapOair and save on travel!

CheapOair Love
"Gold Award" – Magellan Awards, 2017.
"Gold Award" – American Business, 2017.
"Gold Award" – AVA Digital Awards, 2017.
"Gold Award" – Hermes Creative, 2017.

Say Hello
Facebook.com/CheapOair
Instagram: @CheapOair
Twitter: @CheapOair
iPad Screenshots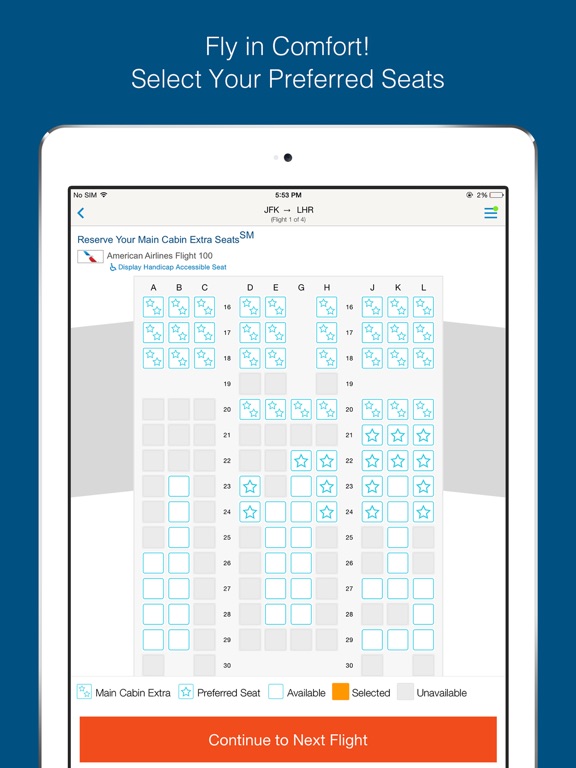 Reviews
HORRIBLE DONT GET IT!!
Kyle_morris1988
on
12/9/2017
I didn't read all the reviews. This app is a scam. They sold me a ticket on a 140$ mark up. Granted this was a last second ticket ... but I call south west the next day and they told me I would have saved over 140$ if I just went threw SW AA. Very unhappy. Don't get this app!!!!
Great App BUT
Lalo drotter
on
12/8/2017
The app is easy to use, but the email promotions cheapoair sends never send you to the app to get discounted rates :(
Over expensive flights!
Purple piratee
on
12/6/2017
$2,000-3,000 for a flight from Houston to Boston!? In March and or April This app is broken. I've checked airlines via their website online and it's way cheaper. I've found flights for $70 bucks! How does this app not find these deals? Fix or update or something! Must be broken
Same things
It is still cannot buy from el paso texas to legos Nigeria.
Awesomely awesome! Powerful & Excellent App! :)
ghanem.yaqoub
on
12/4/2017
Thank you for such a wonderful, powerful, trustworthy and reliable App (Service). User since 2013 ✌️😁💘
Best app to get deals
I know another apps like skyscanner that can be cheaper, but I personally recommend this app, because is so much secure, I have never heard someone complaining about CheapOair
A great help
Blackstallion132
on
12/1/2017
Making reservations with ease. This app is a great help and I recommended it to a friend this week. It's very useful and helpful.
Disgusted
farmgrlok11
on
11/30/2017
Do NOT use this company!!!! They advertise a cheaper rate on the dates you chose. And then, after you pay for your flight, they switch the dates on you to an alternate booking, which I didn't chose nor agreed to. And, I didn't even click on the area, which offered alternate dates for a cheaper price, because the dates I chose are the only dates I can go. And then, they want to charge you hundreds of more dollars to charge your itinerary. It is illegal business practice & straight up fraud, and I am going to contact the BBB and make a report.
UPDATE:
Original review below. Thanks to developers for the response, better late than never. Your whole response could've been simply , "no, the app cant do that" as opposed to repeating what I stated already as the entire POINT of the concept; that groups of people flying all together sometimes find it easier to book all tickets at once, but unless you book your own single flight you cannot access the info on the app, so this app is NOT for your needs. Great. Got it. Sheesh. Original review: It looks like I cannot use the app to track my booking because I wasn't the one that bought it. Under "My Trips" the screen pops up as "No Trips Found" with no place to input a booking conf number which I have because my kid bought my plane ticket for me. So maybe the app would be great if I could use it... We did find the cheapest tickets via CheapOair but the app seems to have this one loophole for me or anyone else who didn't buy their own ticket.
Me
Same thing happened to me, they put you on another days, hiding them and you buy but everything is wrong, after you have to pay 40 dollars fee per person
It doesn't work
It doesn't work. It says try again later. What kind of app is this????
It was cheaper than other apps
It was easy to book and then when the booking comes it's in other date and they even dare to charge you a fee to change your flight even when the mistake wasn't yours; I knew the dates I was looking for and then this system change them ridiculous their customer service, nothing to help the customer just looking for make it difficult and have a hard time It was easy to use and cheaper price for same flights I was looking in other apps
Amazing service!!
Moonshinegurl
on
11/8/2017
Last time I went to see my brother I used Cheap O Air and I did so again. It's the fastest and friendliest place to go through! I will always go through here to get my tickets! Thanks for the help and great customer service.
READ 1 star REVIEWS
Initially when you enter your destination, the 1st option on the site seems to be the cheapest. I selected this option because duh "CHEAP-O-AIR" right ? Wrong this flight had a different date & location which I was not aware of until I received an email confirmation after my account had been charged. I called to explain my mistake & see if they could change the date but I would be charged a fee to change the date or a $50 fee to cancel all together. How does a business operate like this? The location I entered should have been the suggested flight option this is very upsetting & I cannot afford to do either option at the moment so I am hoping I can dispute this charge & find a flight elsewhere. After readying more reviews they apparently change the dates of your flight all the time
Cheapoair
This app is awsome! I love it, makes me want to go around the world !!
Easy and cheap
This is a good app, just be warned that if there is a flight problem neither the airlines company or cheap o air will do anything to help or reimburse your money.
Overall: great
Wholikescurtians
on
10/29/2017
Easy to use, cheap prices, and a useful app.
Super easy
rdhcschoenherr
on
10/26/2017
We buy lots of tickets and this was the easiest app to use. GREAT prices too!
Tampa trip
First time using CheapO air and it all was smooth and easy no issues.
Just what I needed
chicagonora
on
10/20/2017
No problems booking, easy to use, and got a good deal on a flight
No 👎🏻 NO 😡😡😡
I broth 6 tickets in here and when I tried to cancel because the airline was going to charge $25 dollars 💵 per luggage. They says that I can cancel but I need to pay $50 dollars per person because of the cancelation!! WHAT HAPPEN WITH THE SENTENCES DON't worry you have 24 hrs of cancelation to bad 😡😡😡😡😡😡😡😡😤
Baggage fees
Never give up.
on
10/17/2017
When I booked my reservation, I didn't see anywhere I could choose carry on or checked?
Thanks!
Thank you for easy and low price tickets to purchase
Love
jonathangeovanni
on
10/15/2017
Just love the deals
Fantastic
oxsarahnicolexo
on
10/11/2017
Awesome!
Enjoyable booking experience
Just wanted to leave some positive feedback regarding my recent experience booking with the updated CheapOair app. The app is fast and easy to use and the prices are wallet friendly. Just used it again for my upcoming trip - worked perfectly. Highly recommend, my favorite booking app by far!
GREAT!
Abby Quezada
on
10/9/2017
Better than Expedia 😂
Great
Love this app everything's reasonable
Cheap flights
Have had great flights for as cheap as I can find
Is this app hacked?!!
Another dmv test taker
on
10/3/2017
After I booked my flight there were other charges on the credit card!! First was a "sixpanel" and another was an american airlines!!! Wth?!!! It was good because it was cheap but this?!!!! Omg!!
App will not let me login!
App will not let me login! I reset my password online and still won't let me login???!!!!?
Two thumbs up 👍👍
I always book with Cheap OAir! The app is very easy to use!
Amazing Service
Congratulations covert
on
9/30/2017
I booked my flight for Dubai and they had everything our flight was cancelled but cheap o air contacted me with new flight details. Everything was great and the prices are amazing I even booked a last minute flight and still got an awesome deal 5stars thank you I will book my next trip through here.
👎🏽👎🏽👎🏽👎🏽👎🏽👎🏽👎🏽👎🏽👎🏽👎🏽
Quit buying tickets from this app. I canceled 2 tickets almost a year ago and still haven't got my refund back yet. Don't waste your time on this app.
Easy, quick, reliable
I booked a trip with several stops / flight changes. The app was beyond easy to book with. Upon calling customer service when I had an inquiry with billing I was greeted warmly and all my concerns addressed. Would definitely use in the future.
If the first I will use it
Let's see
Great and easy❗️
I always enjoy using Cheapoair. It is safe and secure, and easy to navigate. I will recommend it to everyone❗️
booking was a trap
prepared my flight with desired dates and booking was set until i noticed at confirmation email dates were modified and any other options for flight were 3x price and now i will hav to consent to 50$ cancellation fee for the "eye grabber" popup deal the website offered at cheapest price by longshot. called to cancel in under 5 mins. i will now most likely not be taking my trip. also customer service will make you cringe with frustration
Great Deals
Great experience, need improvement in organizing emails with flight and confirmation numbers.
Ghbvgh
I liked this app but it was frustrating not being able to choose baggage
Easy to Use!!!!
Dennis Freire
on
9/12/2017
I love it!!!! Easy to use. The only is that it looks like prices went up in this particular app in comparison at KAYAK OR PRICELINE.COM
Friendly app
It's very easy way too book flight, hotel....
Great and honest
I booked my flight with CheapOair last year,and went overseas .It was smooth and easy. They answered my phone calls directly every time I call and get emails to get trip updates even when I was outside the country
Very Happy
Booked everything far in advance got awesome rates. No hassles when checking in, boarding, or picking up rental car. Honored the same price for better flight that opened up later on and notified me of it.
Service
Great service provided.
Great
My trip was wonderful the price the time the food was okay...
Great deals
Great deals and easy booking process. Very customer friendly.
Fact Sheet
Publisher:

Fareportal, Inc.

Category:

Travel

Released:

May 18, 2011

Current Version Released:

Dec 06, 2017

Version:

3.3.124

Size:

127.9 MB

Compatibility:

Requires iOS 9.0 or later.

Recommended Age:

4+

Game Center Certified:

No

Supported Devices:

iPad2Wifi-iPad2Wifi, iPad23G-iPad23G, iPhone4S-iPhone4S, iPadThirdGen-iPadThirdGen, iPadThirdGen4G-iPadThirdGen4G, iPhone5-iPhone5, iPodTouchFifthGen-iPodTouchFifthGen, iPadFourthGen-iPadFourthGen, iPadFourthGen4G-iPadFourthGen4G, iPadMini-iPadMini, iPadMini4G-iPadMini4G, iPhone5c-iPhone5c, iPhone5s-iPhone5s, iPadAir-iPadAir, iPadAirCellular-iPadAirCellular, iPadMiniRetina-iPadMiniRetina, iPadMiniRetinaCellular-iPadMiniRetinaCellular, iPhone6-iPhone6, iPhone6Plus-iPhone6Plus, iPadAir2-iPadAir2, iPadAir2Cellular-iPadAir2Cellular, iPadMini3-iPadMini3, iPadMini3Cellular-iPadMini3Cellular, iPodTouchSixthGen-iPodTouchSixthGen, iPhone6s-iPhone6s, iPhone6sPlus-iPhone6sPlus, iPadMini4-iPadMini4, iPadMini4Cellular-iPadMini4Cellular, iPadPro-iPadPro, iPadProCellular-iPadProCellular, iPadPro97-iPadPro97, iPadPro97Cellular-iPadPro97Cellular, iPhoneSE-iPhoneSE, iPhone7-iPhone7, iPhone7Plus-iPhone7Plus, iPad611-iPad611, iPad612-iPad612, iPad71-iPad71, iPad72-iPad72, iPad73-iPad73, iPad74-iPad74, iPhone8-iPhone8, iPhone8Plus-iPhone8Plus, iPhoneX-iPhoneX,

Supported Languages:

English; Japanese; Spanish; Castilian;