Recommended app!
App last updated
Oct 15, 2017
Screenshots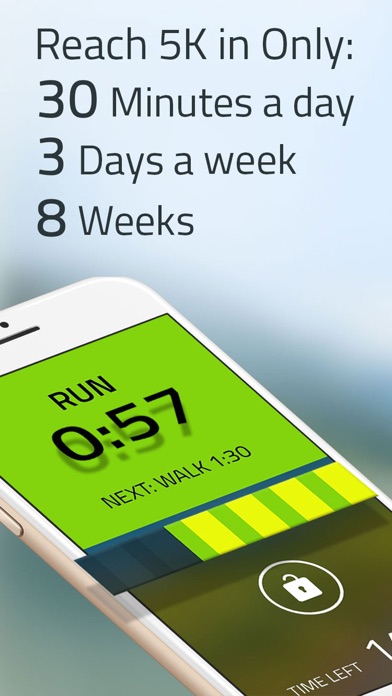 Description
Get in shape in 8 weeks with the official and often imitated 5K Runner® 0 to 5K program. This app has over 4.2 million success stories of people that got in shape and started living healthy, and you can do it too. Only 30 mins, 3 times a week, for 8 weeks and you will run 5K.

Get ready to start your new healthy life.

This app has won multiple awards (see below), is the most effective & popular 0-5K app and is highly recommended by health & fitness experts.

Features
● Alternating walk / run intervals
● Run segments gradually increase over 8 weeks
● Human coach voice through your headphones that tells you when to walk / run.
● Listen to your music and the coach will blend in
● Control music through the app or headphones
● Compatible with Nike+ and all other GPS apps
● Compatible with all music apps
● Giant community of 0-5K runners on Facebook
● Earn achievements & badges as you advance
● Integrated with Facebook & Twitter
● Outdoors or Treadmill

GPS & Apple Health
● Built in GPS & Distance Tracking, also when app is in background
● Integrated with Apple Health for Calorie calculation & saving workouts

NOTE: Continued use of GPS running in the background can dramatically decrease battery life.

Simple, Easy, and Gets Results
● Nothing to learn. Just press start
● Excellent for weight loss
● The best & most effective 5K training app
● Completely ad-free

We're here for you
● We gladly answer all questions - just ask us at: support@fitness22.com

Praise
- 4.2 Million People successfully did it

- Awards: Best 5K Training App, Best Running App, Editor's Choice, Top fitness app, Best Beginner App, Top Quality App, Best fitness and nutrition apps.

- Featured on CNN, Fox, USA Today, Times, Fitness Channel, Apple's "New & Noteworthy", AppAdvice, AppCraver, Best10Apps, Appolicious, Daily Motion, AppOfTheDay, MakeUseOf, the iPhone App Review, Remix Your Health, AppShopper, Apple's Top Health & Fitness apps, and so many others.

- Recommended by doctors on healthTap.com

- See real life success stories on facebook.com/5K.Runner.Community

Press Reviews
"If you thought that you could never run - get ready for a BIG surprise. With this app - you will run"

"It's a great App, I was hooked by the second run, and it kept me running"

"If you want to start running and to keep running - this app will do it for you"

"One of the best iPhone running apps I've tested." 

"This application is a must-have fitness trainer for anyone trying to catch the running bug or getting ready for a major running event"

"This app is amazingly effective and will help you achieve that coveted 5K distance. If you want to get running, this app is a must."


Do Good
- We are proud to be associated with several charitable organizations. Although we contribute to several causes, we have a particular soft spot for animals and are proud to contribute to aspca.org and rescuefromthehart.org. Please also consider donating.

● Privacy Policy:
http://www.fitness22.com/privacy-policy

----- CONTACT US -----
Dear customers, we are here for you!
Questions? Comments? Ideas?
support@fitness22.com
iPad Screenshots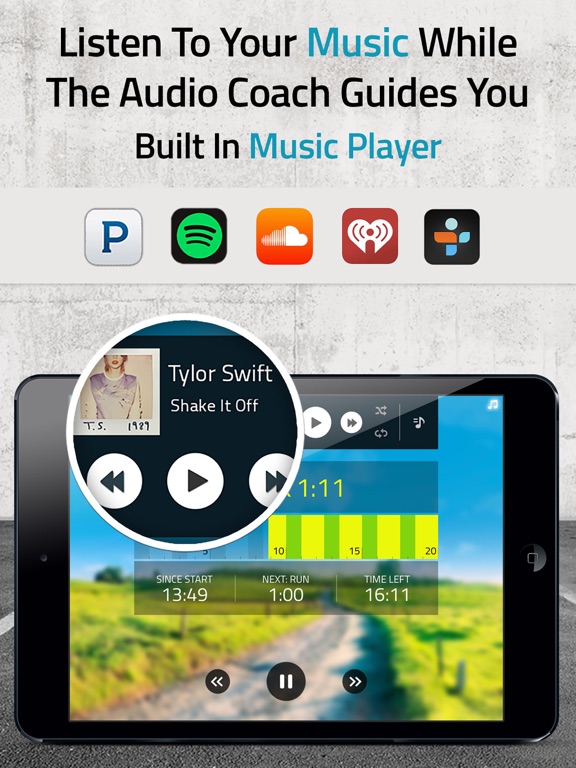 Reviews
C25K
Slitherman02
on
1/22/2018
This app is AMAZING. Everything about it I love. Highly recommend it to anyone who wants to get in shape, or just wants a running schedule.
Great App with exception
I love this app. It gives me the push I need to (re-)start exercising/jogging. I wish it actually told you how far you should have gone or how fast/slow you should go. I've never hit 5k in the time allotted. So I assume I should be running faster.
Awesome!!!
Fantastic program and so easy to use!
DD to 5ks
I have always wanted to run 5ks but the girls got in the way. I had reductions on both girls done February 2017. This training app got me the skills I needed. I did five 5ks and two 10ks last year. I'll be doing many others in addition to my first 10miler in April 2018. I highly recommend this app for anyone wanted to boost their goals into running or lots of walking. Thank you
What happened???!!!!
Ijuswannarun
on
1/10/2018
App no longer works on my iphone 7 if I try to play music. Music never starts and it causes whole app to freeze. Was a great app but have been trying several times in past few weeks and same thing hsppens every time. Please update so we can listen to music while running!!
Disappointing
SecurityFlawsEverywhere
on
1/7/2018
All the reviews make the app look really promising, but it has multiple problems - both with Apple Watch and treadmill support. It isn't really Apple Watch compatible. Sure, it will display your walk/run status on the watch, but offers no notifications (vibration or sound), not any other information via the watch. You can't start the app from the watch, and you must keep your phone with you during the run for it to work. It is not treadmill friendly. The app will not capture distance or calories burned if you run on a treadmill as it requires GPS to calculate that, it also doesn't offer pace information. While running on the treadmill, I closed my exercise ring on the watch, however when I was done and the 5k app synced to Apple health, my exercise ring actually reversed itself because the 5k app didn't recognize that I did 30 mins of exercise based on my run. It said zero. The interface is nice, but overall the app is disappointing.
Great App
This app really helps me to move forward with my running. It is gradual so that each week is able to be accomplished. Sometimes I repeat a day before moving forward if I feel I need it.
Great App
I have been using this app on and off the last 5 years. It was my first step to my half marathon and once again- I'm on that track. The only reason I'm only giving a 4 star is because it sometimes crashes when I'm trying to get my music playlist to start...
Great App, but...
This is a great C25K app. The app is nicely designed, with a clean interface, and has helpful audio cues for warming up, walking, running, and cooling down. I used this app religiously the best three months or so to run my first 5K! I don't think I would've without this app. The app isn't perfect tho. The notifications in-app to purchase the developer's other apps can become annoying. Also, finishing the program doesn't mean you'll be able to run a 5k. The app will train you to run continuously for 35 min, how far you get in that time is up to your ability and pace. It got me through my first 5k, but YMMV. It's a well-design and great app and I recommend it wholeheartedly. I've begun using the 5k pacer app in preparation for my next 5k and find it to be just as wel-designed. After that I think I'll move on to their bridge to 10k app. This is the C25K app to get!
Try it
juststayfab
on
12/31/2017
Very reasonable goals. I wish it "measured" my miles after I'm done with a "running session". Other than that, I highly recommend it.
Disappointing
The running goals are unrealistic for beginners. Tried it and couldn't get past week 4.
Good App
Works well. Helps me stay on track.
Good but minor issues can make it great
Deacon Soul
on
12/25/2017
I have been looking for a program that will help me improve my running and it's here. Thank you! Only thing is it takes awhile to sync my music!
Old faithful!
Destinyseeker
on
12/15/2017
I always come back to this when I want an efficient training or interval workout. Put in the time and you will see results in your stamina, running distance and overall fitness. Just don't forget to include a stretch at the end. :)
Favorite running trainer
Never ran before this! Now I can run a 5k:)
Easy initiation to 5K
This app has been instrumental in getting me to run a 5K. I started out doubtful that I could run one, but with this app I trained for, and successfully completed, an official 5K, and now I'm working on improving my times.
Like your own coach
I'm a couch potato, and this pushes me to speed up even when i feel like walking and being lazy. I look forward to when I get stronger and more energetic!
Excellent app
pfefferness
on
11/27/2017
This app is perfect for beginners!
Great app! Essential
happyandinshape
on
11/24/2017
Must have
Great app been using for years to keep on task!!
Motivational! Highly recommend it
Deleting...
I used to like this app a lot but I'm deleting it. The past few times the app has timed out while switching from app to app. This never used to happen.
Easy to use and motivating
This app is easy to use and motivating. I've definitely improved and sometimes repeat the runs as I haven't been able to do it I'm 6 weeks but I will get there. Music plays fine in background and you can set voice and sound alerts for when you are supposed to switch. I also like he GPS monitoring.
Structure &Discipline
Great App easy to follow and perfect for people who need a disciplined workout structure not only build up to a 5k but to start up a work out regime
Really wish this had option to download workouts to Apple Watch
Love the app, but since the addition of series 3 with lte it's a shame I can't leave my phone and be able to use standalone!
Great app to reach 5K goal
This app really helped me out these past few weeks to reach my goal to run a 5K! Very encouraging at time and I like the daily inspiration.
Stop asking
David Steven K
on
11/7/2017
Stop asking me to review
5K? Depends on your speed
Overall, I think this is a good app. I needed something to help me run more consistently, and for that it does what I need it to do. But if you're thinking of buying this, be aware, you will not achieve a 5K at the end of the program if you're not running a ten-minute mile. I run in the four MPH range, and this will only have me running two miles the final week. Suggestion: allow us to use our actual running speeds to adjust the program.
Hoping to become a runner - UPDATE
I got this app hoping to become a runner. I'm running 20 minutes straight now. Think it's working :)
Great app. Could use better integration
Jared & Jess
on
11/4/2017
The  watch integration and the activity app use some help. The watch app crashes back out to the watch face multiple times and there is no vibration when changing intervals. I'd also like to see my runs in the activity app on the phone. Otherwise great app.
Awesome.
Awesome. Best app for starting out. Go for it!!
Makes running fun
I love this app. It has key me motivated all the way to 5K and beyond.
Excellent
I'm new to working out and this app allowed me to listen to my phone and it guided me all the way.
My first fitness app!
It helps keep me motivated and I love the incremental growth.
Great coaching
Just start where you are! Week 1 day 1 and follow the program! Trust your body to learn how to build each run! Don't question your ability, just do it!!!
Good for training
Northerncoog
on
10/27/2017
I started training with this after not running for 20 years and was able to enter a 4 mile run in a short time.
Great App
I enjoy building towards running a 5k with this app. It coaxes a little at a time to challenge and train towards the goal. Love this app!
Great App
aberrantnyc
on
10/24/2017
Love this app. Helped me start running after not running for years.
The path to fitness!
Workingmomof3under5
on
10/19/2017
I'm halfway through the program and thrilled that I'm actually making progress and able to do it. My only request is that I'd love to leave my iPhone at home and use only my watch to do my runs.
Great App
Mandi3louwho
on
10/19/2017
Easy to use Helps me stay on track
Love it, but wish...
I wish it would work independently of the phone and give prompts on the Apple 3 Watch (cellular enabled). As it is, they have to be together.
Great start
Volleyball cat lover
on
10/17/2017
Easy to use!
Love it!
ChanWhanFan
on
10/16/2017
Best app EVER!! Been using for 4 years!!! No glitches works w my music ... love it!
Great app for training
I love this app because I want to run a 5k next summer and this totally helps me to get ready for that and I cannot wait to try the 10k,21k, and the full on marathon training apps they are the best.
Great app
Runner in NYC
on
10/15/2017
Great app. Took me from the couch to 5k step by step. Trust the app. Follow its steps. You'll reach 5k when your body is ready to be there!!
Buggy
The app frequently resets your run if you leave for too long during a workout. Also, the app plays a sound every time you open it after restarting, even if your device is muted.
Great
Prasant Sinha
on
10/15/2017
Works as intended but please give an option to remove the annoying intro sound when you open the app
M
Lululululu202
on
10/15/2017
Tyff
Fact Sheet
Publisher:

FITNESS22 LTD

Category:

Health & Fitness

Released:

Jun 02, 2011

Current Version Released:

Oct 15, 2017

Version:

7.5

Size:

110 MB

Compatibility:

Requires iOS 9.0 or later.

Recommended Age:

4+

Game Center Certified:

No

Supported Languages:

Afrikaans; Catalan; Valencian; Croatian; Czech; Danish; Dutch; Flemish; English; Finnish; French; German; Greek; Hungarian; Indonesian; Italian; Japanese; Korean; Malay; Bokmål, Norwegian; Norwegian Bokmål; Polish; Portuguese; Romanian; Moldavian; Russian; Chinese; Slovak; Spanish; Castilian; Swedish; Thai; Chinese; Turkish; Ukrainian; Vietnamese;