Screenshots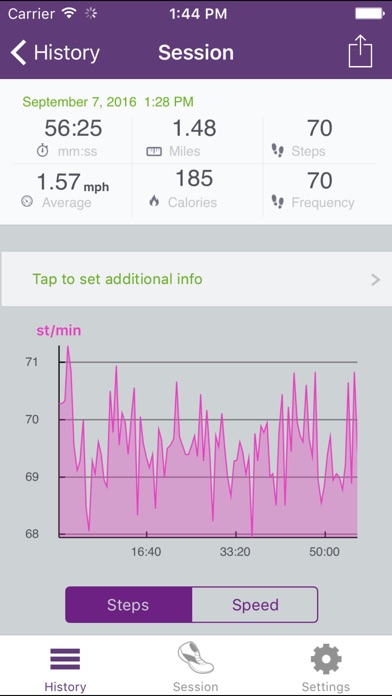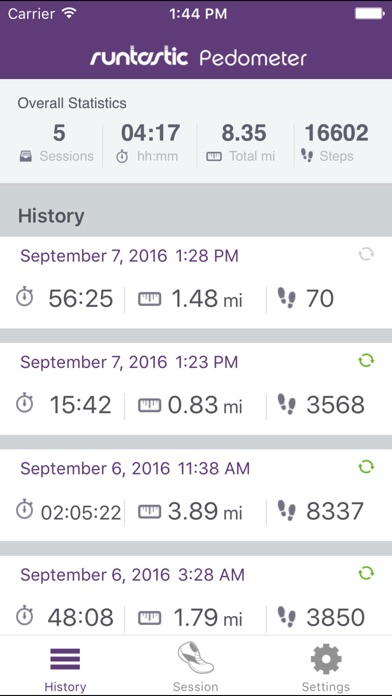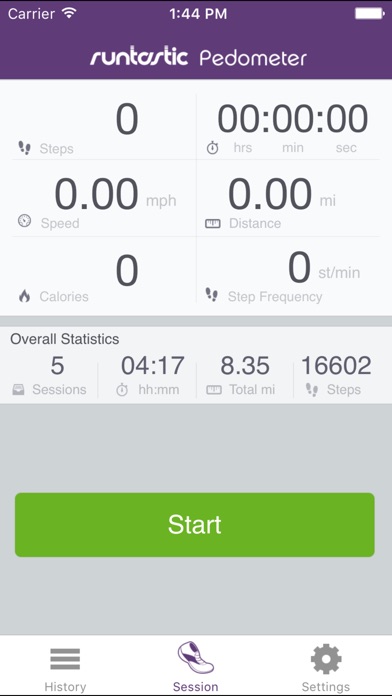 New in version 2.3.3
Your favorite pedometer and step counter app has just upped its game!

- Your feedback counts: We're constantly improving our apps to provide you with the best possible experience.

Love Runtastic? Rate us with 5 stars & tell others about your experience in the App Store.
Description
Are you reaching your daily 10,000 steps per day? Step to it and download Runtastic Pedometer PRO now. Step tracking with a pedometer app is the perfect starting point for a fitness beginner and a great addition to the training of the more advanced.

Your personal step counter works on your iPhone, iPod or iPad.

APP FEATURES & BENEFITS:
- Automatic step detection
- Works anywhere: pockets, purse, arm, hand
- Accurate calculation of calories burned
- Calculates speed & distance
- Step frequency calculation
- 1,000 step beep: Audio signal every 1,000 steps to keep you on track
- Users can save body metrics like weight and height for a more accurate calorie count
- M7 and M8 processors are used (on compatible devices)
- Sync with Runtastic.com: Manage all data online
- Share your activities on Social Media like Facebook, Twitter, WhatsApp or via email and iMessages

Runtastic Pedometer PRO is ideal to track your daily steps and movement while the app motivates you to take even more steps every day. Let Runtastic Pedometer PRO help you reach the recommended 10,000 steps per day. Kick off your journey towards a fitter, healthier self!
Reviews
Pretty Good App for Walking
Good for those who walk. I find it to be reasonably accurate. Cannot address how it does for runners. My only complaint is the sensitivity of the step length setting. Very difficult to set it. Way, way too sensitive to the slightest finger touch. App developer needs to fix this defect.
Wildly Inaccurate
I like the bike app from the same company so I went ahead and bought this thing. Wow, what went wrong? I walk the same route daily in the same time frame and it has never matched. Never. Distance, calories, and steps are always way off. I just downloaded the app from under armor and voilà! Perfect! Don't waste your time with this one.
Not accurate at all. Very disappointed
Don't buy
Not accurate
Florida Girl 23232323
on
11/6/2016
I thought this app would be a good way to keep track of my steps for a friendly challenge at work. It has a user friendly interface and nice features. That it why is didn't get 1 star. When compared to Map My Walk which has been tested for accuracy during my half marathons, this app is completely off. I did the EXACT same track 2 days in a row. Day1 said I did 10000 steps and 4 miles. I actually did 9900 steps and 5 miles. I get that you have to adjust your stride length. I did that, and Day2 it said I did 5600 steps and 2.6 miles. This app is very inaccurate. The steps logged are independent of the stride, and lengthening your stride per step should have increased the distance, not shorten it. I wish I had not tried the pro version before testing. Wasted $1.99. Deleting the app.
Please fix.. 😕
Love using this app because it's so convenient but hate that the tracking for calories and distance never update properly. PLEASE FIX! 😕
For better or worse??
Far better to stick to walking with the Runtastic blue app instead. This one is complete junk! It needs to have use of the gps to cross-check and update its calculations before it screws up our tracking accounts with the Runtastic Me app and alike. This app will contaminate historical fitness data collected equaling: hard work out the window. Seems very low-tech compared to the main blue app. I really like Runtastic, but this one really stinks!
Ridiculously inaccurate
What happened to you, Pedometer pro? After years of consistent use I'm finally giving up as it sheds useful features with every update. Too bad.
the best 😍
perfect app 👌🏻
Accuracy needs calibration
I like the way this app works with my iOS iPhone, except that when I thought I had walked one mile as the pedometer indicated – – when I checked it with two cars they confirmed that the pedometer was off more than 2/10 of a mile. (So I guess the good news is that I walked further than the pedometer said I walked!) This app needs an easy way to recalibrate itself!
Important خيلي مهم
Not very good app but still half working. The calculation for calories or time do walk and step is not correct or good. When i come back to app it will be hanged for 5 min or more. Finally it work for you about 30% correction and not so more. برنامه خيلي خوبي نيست و محسابه دقيقي از قدم شماري يا كالري مصرفي نداره و حتي زمان حركت رو هم اشتباه حساب مي كنخ مثلا اگه ٣ ساعت بري بيرون مي گه ٥ ساعت بيرون بودي و وقتي كه بعد از ٢ ساعت وارد برنامه مي شي كه ببيني چي حساب كرزه برنامه واسه چند دقيقت هنگ مي كنه كه بخواد درست نشون بده و كلا زياد روش حساب باز نكنيد ٣٠ درصد بيشتر دقت نداره موفق باشيد
Phenomenal?!?
99 cents poorer
on
2/6/2016
What a joke! I could be laying still and watch my numbers climb! In fact, I walked a quarter mile in 3 minutes while I was laying in bed!
Love it
Love it but stopped working after update!!! Otherwise I would have given it 5 stars!
Daily steps
Just want something that tracks daily step like a Fitbit, this app died not do that.
So-so, Should Be a Lot Better
I like this app over most others because it tracks steps without Location needing to activated. I work in a huge building which doesn't get cell signal in much of the building, so this feature is needed. But sadly the counter stops if I don't move my phone for a period of time & doesn't automatically restart when I move it again. If I'm too busy to actually reopen the app to reset it I could lose many hours. And then when I restart it back up it seems to have a lot less steps than before. I'm going to see if there are new movement activated apps out there now.
All Runtastic apps
I have purchased and downloaded all of the run tested apps excepting cardio and mountain bike. All of them continually bombard you with advertisements to purchase additional apps. I cannot recommend any of these apps until this practice is discontinued. Pedometer Pro fails to sync sessions under iOS 9.
Misrepresented
This app is grossly inaccurate on a consistent basis. I just jogged 3+ miles and got credit for 1.2 at under 2mph. This is very discouraging and disheartening.
Runtastic doesn't care what you think
Writestuff64
on
9/15/2015
Like many other users on here, I have found it doesn't track the distance correctly. Same exact 1-mile route, and sometimes it measures .84 or whatever. Obviously Runtastic doesn't care what we think because they offer no fix for this obvious bug. They just keep taking people's money, and I guess, laughing at us for paying for the "pro" (ha ha, yes, joke is on us) version.
What happened!
I agree, doesn't track correctly. I can walk same route everyday and the mileage is always different, I mean way different. I had to delete it today because I couldn't get it to open. I hope that helps! Please fix, I have always enjoyed using this app!
Freezes every time.
I had this app for a while with an iPhone 5 and I could never determine if it was really all that accurate but at least it seemed to be in the ballpark and would count my time and distance. Now I'm trying to use it with a 5s and on my last 5 runs the app has glitched out each time and has stopped counting mid run. When I open the app I see it struggling to catch up and big chunks of numbers in mileage start skipping upwards. I've given this app so many chances. Restarted my phone, closed all other apps, etc. now I'm deleting it because it fails to serve its single simple purpose. Feels like a rip off to have paid for this.
Pauses in background
Previous version worked great, but I only use it now when my Jawbone dies. For about the past year when I use this app, it pauses in the background, even in the middle of a walk. I lose so much data. If I leave it up to keep it on, it devours battery. What was the improvement with the upgrade? I don't get it.
PoS
Don't bother. Constantly drops your location and with increasing frequency. Promises to eliminate ads when you upgrade, but keeps inundating you with ads for its "other products" which are just as worthless. Will delete from my apps.
Disappointing
After purchasing this app I was very disappointed to find how inaccurate it was in reporting the number of steps I had taken.
I do not advise!!
It is not very accurate. I do not advise!
Would NOT recommend
I purchased the "pro" version. Big mistake. As others have noted, this app misses steps. It is totally unreliable -- a total waste.
Fitness
Calories info are always inaccurate... the numbers are 3 to 4 times more than what they should be!
Umm
Not reporting accurate information. Says I walked twice the time I did, and calories are about 400 more than what I did. There is some glitch. But before that I loved it and it was accurate.
Runtastic
App is not accurate. One day it will read I ran 3.1 miles, the next day on the same trail it will read 2.5 miles. Calories are inaccurate also. I run the same speed everyday. Then when I walk it will say I burned more calories than running in same amount of time.
Sr
West palm beaching
on
6/2/2015
Beware if u have I-phone 6 If u receive a text or phone call - even if u don't answer it messes up & reports all inaccurate information. Very disconcerting. Tried to send this 5x & the only way it would accept if I put many stars but not deserved. Please fix this for I - phone 6!
Crash
Went to use it today and would not open kept crashing
Latest update stinks!
This used to be a great app until the last update. Now it can't even calculate the distance correctly. Walked the exact same route 2 days in a row. First day it said .87 miles, second day it was 2.3 miles! What a disappointment!!! I used to use this app daily. Not anymore.
Great App
It's a great tool to help you lose weight I have lost 10 pounds using this app love it.
(
Який раз виходить оновлення на програму оптимізуйте нарешті під iphone 6+
BROKEN
Last updates have ruined this app. Used to give what seemed to be accurate feedback. Now time used may be off by an hour or more. Calories can be wildly off ( I know 3 hours of walking doesn't burn 2k-3k calories). Mileage is not reliable. Worked pretty good when I had a 4S. Since I got an iPhone 6 it's not been consistent at all. Don't waste any money unless they REALLY fix this app.
Pedometer PRO
Afternoon walker
on
5/12/2015
I've had the pedometer for a while and eventually upgraded to the Pro version. Started using it again, wen after installing all updates - and all prior history is gone. The 'slide bar' to stop session does not work on iPhone. Eventually session is stopped but stats are totally off.
Bad, bad update!
Have not been able to use my pedometer since the update.
MY M POINTS 😡
Bittersweet90
on
5/10/2015
I was so close!! Where my Mpoints!!??? So disappointed!! It was better before!! DELETING IT!
Runtastic
The new update caused the app to close before opening the start page. You need to write a debugging update ASAP!
Where are my Mpoints?
What happened to my Mpoints? Nothing comes up for rewards anymore! Very disappointed that it don't exist anymore!
No longer accurate
No longer accurate. Deleted app and have re-installed. I'll see if that helps. Disappointed as I have used this app for a long time and loved it. 😞
Runtastic Pedometer
App inconsistent, intermittently resets during sessions. Walked and counted steps on multiple occasions, app reported 27-30% less steps.
App Update
Updated last night and can't get back to log my steps today. I am close to 3 million steps since downloading ur app nearly 3 years ago. Please correct without me losing my steps . I am a Fitbit owner and use ur app daily. Thank You
MPoints gone!
Desert_wisdom
on
5/7/2015
My app crashed and I had to delete and install over. Now there are no MPoints. Very disappointed in the current version. Icons not as appealing and hate that I can't earn MPoints.
MPoints gone?
Latest update is a failure, app not working and MPoints Rewards are just gone? Unacceptable.
Try, try again
Today's update is simply NOT working - what have you done?
What a rip off
Do not get thos
on
5/3/2015
Calorie count does not work on apple 5 either! That is the whole reason I up graded and paid! The advertisements work fine though-like I would ever buy something from them again!
Good Pedometer
TrooperScout
on
4/23/2015
Only thing I am frustrated about is that I cannot figure out how to actually link it to Runtastic.
Runtastic Steps
So I purchase the Pro but when I try to connect it with my fitness pal it throws me to the download window for the free version. Why can't I connect with the Pro version??
Fix bugs
It was good before I got my iPhone 6 plus. Everything is wrong. It freezes after I used it. I have to wait for several minutes for the steps to go up... I also use other apps and this one shows the most random tracks, including mileage and steps... Not happy because I've spent money on it! And it still tries to sell me stuff. Free apps work much more accurate.
Gone wonky on iPhone 6 after 3 years accuracy
Please fix Runtastic's background run functionality for iOS 8 running on iPhone 6! Calorie count has been off for months, but now even time and step count are off!! Argh!!
Fact Sheet
Publisher:

runtastic

Category:

Health & Fitness

Released:

Jul 20, 2011

Current Version Released:

Sep 12, 2016

Version:

2.3.3

Size:

31.2 MB

Compatibility:

Requires iOS 8.0 or later.

Recommended Age:

4+

Game Center Certified:

No

Supported Devices:

iPad2Wifi-iPad2Wifi, iPad23G-iPad23G, iPhone4S-iPhone4S, iPadThirdGen-iPadThirdGen, iPadThirdGen4G-iPadThirdGen4G, iPhone5-iPhone5, iPodTouchFifthGen-iPodTouchFifthGen, iPadFourthGen-iPadFourthGen, iPadFourthGen4G-iPadFourthGen4G, iPadMini-iPadMini, iPadMini4G-iPadMini4G, iPhone5c-iPhone5c, iPhone5s-iPhone5s, iPadAir-iPadAir, iPadAirCellular-iPadAirCellular, iPadMiniRetina-iPadMiniRetina, iPadMiniRetinaCellular-iPadMiniRetinaCellular, iPhone6-iPhone6, iPhone6Plus-iPhone6Plus, iPadAir2-iPadAir2, iPadAir2Cellular-iPadAir2Cellular, iPadMini3-iPadMini3, iPadMini3Cellular-iPadMini3Cellular, iPodTouchSixthGen-iPodTouchSixthGen, iPhone6s-iPhone6s, iPhone6sPlus-iPhone6sPlus, iPadMini4-iPadMini4, iPadMini4Cellular-iPadMini4Cellular, iPadPro-iPadPro, iPadProCellular-iPadProCellular, iPadPro97-iPadPro97, iPadPro97Cellular-iPadPro97Cellular, iPhoneSE-iPhoneSE, iPhone7-iPhone7, iPhone7Plus-iPhone7Plus, iPad611-iPad611, iPad612-iPad612, iPad71-iPad71, iPad72-iPad72, iPad73-iPad73, iPad74-iPad74, iPhone8-iPhone8, iPhone8Plus-iPhone8Plus, iPhoneX-iPhoneX,

Supported Languages:

Czech; Dutch; Flemish; English; French; German; Italian; Japanese; Korean; Polish; Portuguese; Russian; Chinese; Spanish; Castilian; Turkish;