TapNova doesn't recommend this app.
New in version 2.58.0
- bug fixes and improvements
Description
4shared Mobile is a free user-friendly app that enables you to access and manage files in your personal secure cloud storage at 4shared, with free 15GB of space.

Install 4shared Mobile to watch videos, read PDF ebooks, documents (Word, Excel and other MS Office formats), notes and to-do lists, browse your photo albums in slideshow, etc. on your iPhone, iPad and connected AirPlay devices - directly via the application.

4shared Mobile also enables you to access and listen to your music, stream recommended tracks on the go, create and manage your own playlists and listen to favorite tracks in the offline mode - directly via the app.

Features:

- Full integration with 4shared cloud storage.
- Advanced file and folder management.
- Offline access to saved files.
- Easy sharing of files and folders via email, social media and other channels.
- Data backup from iPhone and iPad at 4shared for further access and download across devices.
- Multi-functional music player (supports mp3 and other major formats).
iPad Screenshots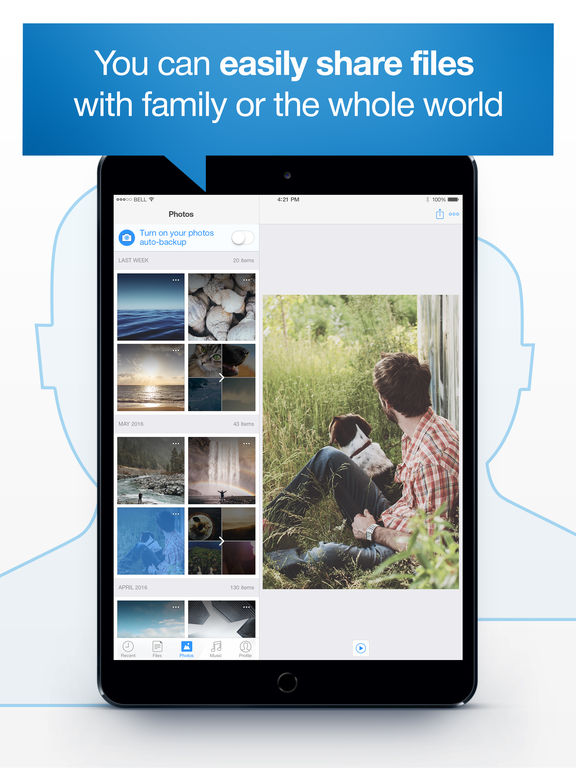 Reviews
Rating
193501881871
on
6/24/2017
Nice
Can't update email
IL_MissKitty
on
6/20/2017
There is no way to update my email so this is worthless. If you are going to use, make sure you use an universal email and not your local internet provider.
Bug fixes?
I don't what's going on or what fixes you guys made but my music files keep unsaving and I'm having to re download hundreds of songs over and over again. Please fix this.
Skipping tracks
I try to save music files to my mobile phone and they work perfectly fine, then i try to listen to them a few hours later and all the tracks are skipping; none of them work even though they are all saved to the phone. It's really frustrating since I want the quality to be more consistent. Other than the skipped tracks, this is a good app for file downloading and sharing.
Love 4shared
The best ever
Yes
EpicTurtlez647
on
5/25/2017
Very good, not *all* the songs I want, but most. I recommend
4SHARED
No siempre estan las canciones que uno quiere como uno las quiere , pero no es justo pedir más. Me encanta porque si no olvidas tu cuenta a donde quiera que vayas puedas buscar tu lista personalizada por ti mismo/a.
Good
This app is very good for you
Amazing
AssassinTheIII
on
4/14/2017
You can literally have anything you can possibly think of on this app. 10/10 ~ IGN would use every day
ME GUSTA
Es una aplicación, muy buena tengo poco tiempo usándola, y me gusta👍✨
Awesome
Moonlitwhitefire
on
3/23/2017
I absolutely love this. When you have an account it keeps all the things you put on it. It kept the things i put on there in 2012 and thought i had lost
Excellent
Skullcandy98225
on
3/22/2017
Download game APK'S and photos music all kinds of things... 😎😎😎 thank you for making this APP...😊😊😄😄😀😀... Also they can be shared by a friend or family members gmail, outlook, iCloud, hotmail, and or Yahoo. By using their email ... that's all there is TO IT... great app...😀😀😊😊❤️❤️❤️😎😎😎
Free space
Free space with out subscribe
4shares
No radio mega no radio amor
on
2/27/2017
Excelente
Awesome
RoyWilsonMusic
on
2/22/2017
Thank you!! Works great.
love this apps soooooo much
Raditya Pram
on
2/15/2017
love love love loveeee
Director of photography
Adel eltilmesany
on
2/5/2017
Very good app
Great app
Adat netzer Lewii
on
2/3/2017
This was where I got my first game
Blablabla
Farid del valle
on
2/1/2017
Bien bien 5 stars
BOO
THIS IS THE WORST APP EVER. ITS SO STUPID
The greatest music app ever!!!
This was my first music app I downloaded since 2014-2017; so far I can download most of the songs from anime I watched but it unfortunately doesn't have all the songs for me to download, however I still love this app.
Simply amazing!!!!!!
Lovekitten49
on
1/21/2017
It worked right away!!!- and I love it!!!- if you only get one App This year -get THIS ONE!!-you won't regret it!- simply amazing!!!!!!!!
Awesome
Works just great, very easy to setup on multiple devices...used the free version for years but recently opted to buy totally with the price. The ads weren't invasive at all I just wanted to contribute for their development work..
برانمج خايس واتمناء ان يفشل
زي لخراء
Muy buena app
Recomendada
Review
Very useful et strong
👉🏽 THE BEST 👈🏽
Wow Humber ‼
on
1/12/2017
The BEST bar-none!
AWESOME
My pillar of support
on
1/12/2017
Absolutely love this app!!! I used to work on the website and I never knew there was an app for this. When I found out about this I downloaded it. I can officially listen to music whenever I want to and without using my data at all! Very convenient and just the best 😄🤘
La mejor app
Me gusta esta app porque puedo bajar todo tipo de música y escucharla cuando quiera además de que no es necesario usar internet, se las recomiendo 💕
4Shared
Very good App for music lovers
Great but!
Amazing I recommend it u can save songs in it and listen to them in offline mode !! But still i cant search a song through the the app so i am doing that at the website then it gonna transfer me to the app with the song I searched for
really good but stopped working
it worked perfect at first, but now it stopped working and wont play any of the new songs i downloaded :(
I don't know how I feel about it
I loved it at first, but now it doesn't play my music anymore..... how do I fix this?
Skips my songs
I haven't been able to play the songs I've recently saved to my phone. It just skips it and plays my old songs
Love the app but hate it at the same time
Tigers_xo23
on
12/30/2016
I've been using this for a long time and since then I love it till now but there's some things need to be fix like my songs won't play each song I choose and they won't play and same goes with the other songs. Any suggestion would be helpful I already tried delete the app and download it again but kept doing to same thing so please fix the app.
The best app
The CupidVN
on
12/28/2016
Very....very....very and very good!!!
Fact Sheet
Publisher: New IT, Ltd.
Category: Productivity
Released: Jun 23, 2011
Current Version Released: Jun 15, 2017
Version: 2.58.0
Size: 45.5 MB
Compatibility: Requires iOS 8.2 or later.
Recommended Age: 4+
Game Center Certified: No
Supported Devices: iPad2Wifi-iPad2Wifi, iPad23G-iPad23G, iPhone4S-iPhone4S, iPadThirdGen-iPadThirdGen, iPadThirdGen4G-iPadThirdGen4G, iPhone5-iPhone5, iPodTouchFifthGen-iPodTouchFifthGen, iPadFourthGen-iPadFourthGen, iPadFourthGen4G-iPadFourthGen4G, iPadMini-iPadMini, iPadMini4G-iPadMini4G, iPhone5c-iPhone5c, iPhone5s-iPhone5s, iPadAir-iPadAir, iPadAirCellular-iPadAirCellular, iPadMiniRetina-iPadMiniRetina, iPadMiniRetinaCellular-iPadMiniRetinaCellular, iPhone6-iPhone6, iPhone6Plus-iPhone6Plus, iPadAir2-iPadAir2, iPadAir2Cellular-iPadAir2Cellular, iPadMini3-iPadMini3, iPadMini3Cellular-iPadMini3Cellular, iPodTouchSixthGen-iPodTouchSixthGen, iPhone6s-iPhone6s, iPhone6sPlus-iPhone6sPlus, iPadMini4-iPadMini4, iPadMini4Cellular-iPadMini4Cellular, iPadPro-iPadPro, iPadProCellular-iPadProCellular, iPadPro97-iPadPro97, iPadPro97Cellular-iPadPro97Cellular, iPhoneSE-iPhoneSE, iPhone7-iPhone7, iPhone7Plus-iPhone7Plus, iPad611-iPad611, iPad612-iPad612, iPad71-iPad71, iPad72-iPad72, iPad73-iPad73, iPad74-iPad74,
Supported Languages: Arabic; Chinese; Dutch; Flemish; English; French; German; Greek; Indonesian; Italian; Japanese; Korean; Malay; Persian; Polish; Portuguese; Russian; Chinese; Spanish; Castilian; Swedish; Thai; Turkish; Vietnamese;