Screenshots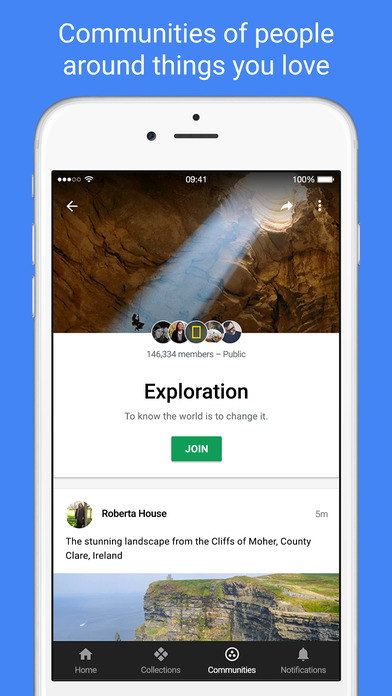 New in version 6.15.0
• Discover stream: Find amazing content and communities via the new Discover tab.
• Revised navigation: Quickly access your profile and your favorite communities and collections via the new Profile tab.
• Topics: See a high-quality stream of collections, communities and people related to a particular topic. Topics can be found in the Discover stream and search results.
• Various bug fixes and stability improvements
Description
Discover amazing things created by passionate people.
• Explore your interests
• Group things you love into Collections
• Join Communities of people around any topic
• Connect with people who share your interests
• Build a home stream filled with amazing content
iPad Screenshots
Reviews
Speed
Great app. I especially love the speed! Incredible!
Decline of Google Plus
This app is now utterly useless to me. No more notifications from people that reply or like my posts. All these updates recently have been contributing nothing but slow and painful death to great apps like Tubex and Google Plus.
Breaking
Recently i've seen posts saying that they're notifications were busted, and now I've come to find that no one can comment on my posts. Please fix these bugs
Can't see youtube replies
Usually i use google+ to see who replied to my comments i make on other youtube videos, however recently i am unable to view those comments in the notification tab. Also it says "enable comments" when i click on the dots in the corner. It doesn't do anything tho.
Google is Awesome
Hope it helps SEO
Google plus
Shadow Hawk1249
on
8/17/2017
Great app
Bad as it's ever been
Not sure who thought this update was a good idea you no longer can see who comments on your post its completely ridiculous that this change was made
Fix notifications
Victiniluigi77
on
8/17/2017
You need to fix the notifications glitch now.
No notifications
Can't get notifications from YouTube or reply from the app anymore. Wish I could give less than 1 star, but it'll do until this is fixed.
Problemas
Está aplicación tiéne problemas con el formato de apple con mi ipad air 2 Al tratar de publicar un video de you tube en la página de google+.... Frozen screen
I've gotten wind of something.
Dapper Notes (Dapples)
on
8/16/2017
I've heard you're removing collections, AND notifications, and I'm not happy. I will stop using this app, and maybe even delete my google account if that happens. What we need is improvement, not more flaw.
Fix the notifications
Please fix the notifications! I love the app but fix it!!
Was forced to download this stupid app
Katsumi Hayashi
on
8/16/2017
Just to change a setting not available on mobile browsers. Screw google and it's apps.
My review:
Good app, but please fix the glitches.
can't post?
Cookiepuppy102
on
8/15/2017
Soo... Whenever I post it takes forEVER. So yeah fix? June 19,2017 I still cannot post normally, sometimes it'll post normally but other times it'll tale forever and I'll have to reset the app. It is ridiculous now. Not to mention the white bar on top looks ridiculous. July 8,2017 Ok this is pissing me off, now I cannot post at all on the app get your crap together please! August 6,2017 I like the update but I still can't post as fast. Please fix this August 15, CANT SEE NOTIFACTIONS ALE R TTTTTR
Give us YouTube comments back
The only reason why I got this app is because of YouTube comments, I want to get notification about every reply to my comment and I want to be able to follow that notification and actually see all the replies and reply to that comment. Basically I want it how it was before. You keep updating the app but this feature is still missing. Give me back YouTube comments and you'll get 5 starts from me.
Easy to use. Great service!
The G+app is very easy to use, delivering gorgeous photos and posts that I am interested in every time I opened it.
Smh 👎
You Still Cannot reply to Your YouTube comments!!! I really Dislike this Update!!! This was the ONLY Reason why I used this App FIX THIS IN THE NEXT UPDATE PLEASE!!!
Google.
Google needs to consume less battery, so I can spend so much time with my friends. Yeah. Then I'll give it five stars! Yeah.
Not receiving notifications
Skywalking-Dude
on
8/12/2017
For some reason I'm not receiving any notifications. I go online in YouTube to find people commenting and liking my post but I'm not receiving any messages or notifications indicating that they did despite having the settings activated for me to receive them. Are these issues going to be resolved?
What kind of update is this?
I don't know what's going on but this app isn't what it was. I can't respond to comments or posts that I made thru you directly thru the app. Am I missing something? I'm going thru the settings to see if I can change anything and nothing is there. What's going on???
They'll Demonetizing & delete you 4 No Reason + Block Free speech
Google plus and YouTube were great platforms. But a flurry of Demonetization, infringement of our 1st amendment and free speech worldwide. Now, Deletions! No suspension, no Appeal. Just deletion without your notice, deletion of all Intellectual Property including all uploaded videos and any blogged speech. There are people uploading videos of pornography, violence, racism, drug use, murder, war and rape and my channel is to be deleted even though it involves Nothing Obscene. My account was hacked and I had others on it but to my knowledge nothing obscene had ever been posted. I called Google plus and contacted headquarters. Their decision was final even with evidence of hacking on my account LoL. Google will delete you for "violation of terms" but won't tell you what you did if and when you did to fix the problem and prevent further issue. I am very disappointed with google and YouTube and so are many others which is why we are all switching to other streaming sites and taking our business elsewhere. At this point, google will be remembered as an old relic that went down for being both Draconian and fascist. Say goodbye to your already dying ad revenue Google/YouTube Team... #DancingIsraelis 🇺🇸YouTube - Zionist Project 3 ☝🏻Watch this Documentary 4 our Toops
Trash
Ever since all those updates this app just totally changed for the worse. I can't see who +1'd my comment at all. Sometimes it'll tell it that it can fetch this post, I've never had that issue before these trash updates.
Rating
This app is not bad and it has some good features and as a social media is kinda boring in few details ... but if I weren't hanging on this g+ I would never meet and fall in love with my wife ... so I'm so glad I have this app it gave me eternal happiness in life and made some good friends
Uhhhh
EchoNightmareWolf
on
8/10/2017
Understandable, have a nice day.
Got worse after Update
thugnificent III
on
8/10/2017
Doesn't let me see activity under my posts
please fix
Dkskdjsknsdjidksndjska
on
8/9/2017
I can't easily reply to comments anymore. When i get into heated debates on Youtube i'd like an easy way to respond without returning to the actual video. Please fix.
The Best Review Ever Written
Google plus allows me to keep a feed of things and people that are interesting to me. Great for when I have just a couple of minutes to kill (aka taking a dump) and I want to read something interesting. +1.
Replies not showing up
I like to reply to a lot of YouTube comments, and I like to read and see what people gotta say to others or me. I don't know what's been happening, but I'm not getting any replies at all this is really driving me crazy. The main reason why I go on the app is for comments rarely for post. The app is boring now I can't see what people say to me. There's basically no reason to have it now. Can this please be fixed?
Cannot reply to YouTube comments.
Enlighten_Ment
on
8/8/2017
Why do you guys keep trying to stop people from being able to reply to comments on YouTube? A lot of people use the app mainly for that purpose. It's ridiculous and annoying.
Comment replies
Can't see the replies to my comments on google plus notifications
Can no longer reply to YouTube comments
LovelyMontaza
on
8/7/2017
You can no longer reply to YouTube comments in the latest update.
Memory hog
I like the platform and the app is good. It's a 69mb app but after using it for a while, it's grown to take up 350+mb on my phone. I had to delete and reinstall just to clear out my phone. Please manage the local data storage better.
YOU GUYS SCREWED up a GOOD THING
Sqwaky the squerril
on
8/6/2017
LOOK GUYS... I am disabled. My left arm was amputated. You can imagine typing is a challenge for me. I appreciated that I could comment on videos and edit them from typographical error's. Especially when my voice software does not always get the words right. And I don't catch all the typos that show up. So I would go back and edit my comments after I posted them if needed. NOW...I DONT COMMENT MUCH AT ALL Because you broke something that didn't need fixing I would use Google plus to respond to YouTube videos. What I can't understand is why you guys decided to screw up a good thing. Have you ever heard of the saying "if it ain't broke don't fix it?
Slow 🐌🐌🐌
Almahari ahmed
on
8/6/2017
This app is very slow fix it please
World of Sharing
The best way to present a schematic of Google Plus which reflects the changing world, the depth of the creativity and the heart-felt touch of what is shared is paying attention to the sincerity and integrity of those who share. The content, while it is great in diversity, it is also rich in substance. There is something for everyone and there is a stream of joy flowing all across the roadway of sharing. The connection among the members is spontaneous which is an indication of a genuine freedom of expression and exchange of ideas. It is new Everytime and in everyway. Google Plus is loved.
:(
Can't reply to YouTube comments
Horrid
The only good thing about the app is gone, why can't I easily reply to comments like I used to? Uninstalling.
Better
Better than the other social sites.
Cool
I'm liking this more so far as I use it.
Downloaded this for YouTube notifications
I have this app to let me know if anyone responds to my YouTube comments. However, I do not get ANY notifications. Not push, and nothing in the app. Even when I go to my notifications manually there is nothing there, even when youtubers reply back on my comments, I get nothing. I have to go onto YouTube and find my comment to see if anyone has replied, which they have and it will not show up in google +
Genial!
Más original y sobre todo muy familiar!
notification problem persists
Can't get any notifications from YouTube replies. It's been like that for the past few updates..
Google+ is growing for the better...
Michael A Brown Jr.
on
8/3/2017
A step in the right direction. I haven't had to place too many feedback tickets lately because the recent updates really fixed the stability of this app. Glad there is a navi bar at the bottom now. Also I'm starting to get used to some of the native features. Just wish there was 3D Touch support on all of the links and photos.
Great platform; app is lacking
There are some things which using the mobile app is actually worse than the mobile website. For basic surfing, viewing posts, and replying to comments tho, it gets the job done.
Good app 👍🏻
This where's I get my great Christian pictures for 1 year now 👌🏻! I get ratings for my friends 😀! Keep up the good work 👍🏻
Notifications aren't showing.
30Stephen_Curry30
on
8/1/2017
Google plus doesn't notify me about posts anymore. It only notifies me about 1+ comments. I can't see the comments I've posted or anyone else's unless I go to YouTube. I haven't been getting notifications for months now! I'm seriously going to delete this app if the next update doesn't fix all of this because the one today 8/1/17 still didn't fix the problem.
Notification from YouTube
I used to reply comments from YouTube on Google + but now it's not. Terrible decision
Fact Sheet
Publisher:

Google, Inc.

Category:

Social Networking

Released:

Jul 19, 2011

Current Version Released:

Aug 21, 2017

Version:

6.15.0

Size:

107.3 MB

Compatibility:

Requires iOS 8.0 or later.

Recommended Age:

17+

Game Center Certified:

No

Supported Devices:

iPad2Wifi-iPad2Wifi, iPad23G-iPad23G, iPhone4S-iPhone4S, iPadThirdGen-iPadThirdGen, iPadThirdGen4G-iPadThirdGen4G, iPhone5-iPhone5, iPodTouchFifthGen-iPodTouchFifthGen, iPadFourthGen-iPadFourthGen, iPadFourthGen4G-iPadFourthGen4G, iPadMini-iPadMini, iPadMini4G-iPadMini4G, iPhone5c-iPhone5c, iPhone5s-iPhone5s, iPadAir-iPadAir, iPadAirCellular-iPadAirCellular, iPadMiniRetina-iPadMiniRetina, iPadMiniRetinaCellular-iPadMiniRetinaCellular, iPhone6-iPhone6, iPhone6Plus-iPhone6Plus, iPadAir2-iPadAir2, iPadAir2Cellular-iPadAir2Cellular, iPadMini3-iPadMini3, iPadMini3Cellular-iPadMini3Cellular, iPodTouchSixthGen-iPodTouchSixthGen, iPhone6s-iPhone6s, iPhone6sPlus-iPhone6sPlus, iPadMini4-iPadMini4, iPadMini4Cellular-iPadMini4Cellular, iPadPro-iPadPro, iPadProCellular-iPadProCellular, iPadPro97-iPadPro97, iPadPro97Cellular-iPadPro97Cellular, iPhoneSE-iPhoneSE, iPhone7-iPhone7, iPhone7Plus-iPhone7Plus, iPad611-iPad611, iPad612-iPad612, iPad71-iPad71, iPad72-iPad72, iPad73-iPad73, iPad74-iPad74,

Supported Languages:

Arabic; Catalan; Valencian; Chinese; Croatian; Czech; Danish; Dutch; Flemish; English; Finnish; French; German; Greek; Hebrew; Hindi; Hungarian; Indonesian; Italian; Japanese; Korean; Malay; Norwegian; Bokmål, Norwegian; Norwegian Bokmål; Polish; Portuguese; Romanian; Moldavian; Russian; Chinese; Slovak; Spanish; Castilian; Swedish; Thai; Chinese; Turkish; Ukrainian; Vietnamese;

Parental Advisory:

Unrestricted Web Access;