Recommended app!
App last updated
Jan 04, 2018
Screenshots
New in version 6.25.0
• Various bug fixes and stability improvements
Description
Discover amazing things created by passionate people.
• Explore your interests
• Join Communities of people around any topic
• Connect with people who share your interests
• Build a home stream filled with amazing content
• Group things you love into Collections
iPad Screenshots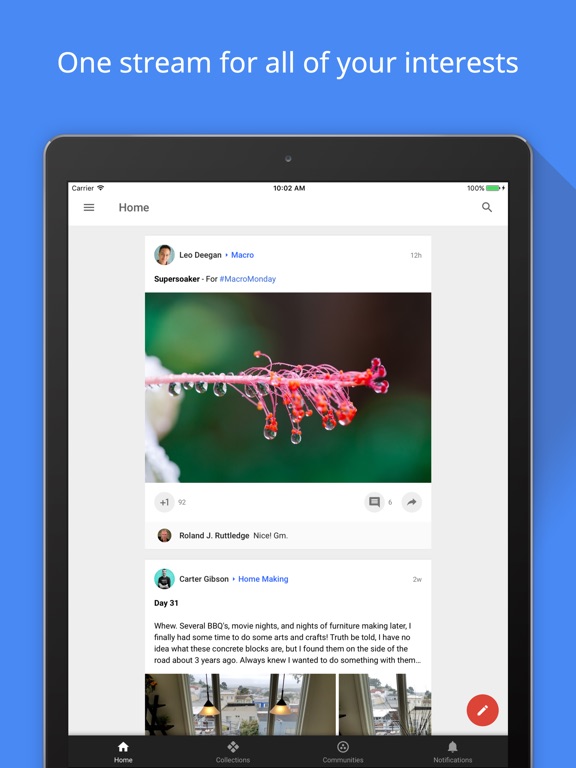 Reviews
Stop it-
YEYEYEYEYEYEZZZZX
on
1/22/2018
Can you stop deleting posts. It's getting very annoying and the fact that they aren't even inappropriate ticks my nerves.
Albums work now!
Holy cow the albums magically work today! They actually stop at the end of the gallery finally!!! What a day to be alive!!
Become a visionary of your goals.
A+ Great place to connect, engage and interact with like minded people. Never stop learning. Propel your dreams to the next level each and every step you take, Respect, Help and be Human...Follow your senses. Respectfully Yours, Wening Cintron💕😘😁💕
Help
Shadowknight53
on
1/20/2018
I keep trying to upload a profile to a community I'm in but the profile gets taken off even though no one reported it and I'm wonder what could it be?
Good experience
Thanks to Tom and all the Seans( Matt and Patrick) for getting this Gma into another 7 seater.
Jow
😎newbeginning😎
on
1/18/2018
Great place beautiful wallpapers and beautiful places !!! I enjoy very much
Many options the iOS version should have...
KaitlynVZ017
on
1/17/2018
There are a couple of things I cannot stand about the Google+ app, specifically for iOS. For iOS, why aren't we able to pin posts still? I don't understand why it's so hard to add that feature, I like that feature a lot, and there's no reason that it should just be on the android version and not the iOS version. NONE. Also, Google+ takes up SO much cellular data. For example, if I use Tumblr, it is a lot more responsive and more fast on LTE than on Google+, like it loads images faster and takes up less data. I'd really like it if you improved the performance of Google+ through LTE. Because I love this app, and I'd like to use it throughout the day without it taking so darn long to load on LTE. Another is the blue links. I've noticed that on iOS, like if there's a blue link to let's say another Google+ user's account posted. You cannot just click the link and go to it, that's honestly very frustrating and that needs to be fixed. Also, I don't understand why we cannot have the option to copy a link of a user's account on the iOS version. Like when you click the three dots on the person's profile, on Android it gives you the option to copy the link to the clipboard. It's a very helpful feature that would also improve the issue with the blue links not working correctly. Please add this feature. Seriously. Also, I'd like the feature where we can view our followers through a list, rather than the circular icons. Because sometimes I don't get the notification for when someone follows me, and this feature (that's on Android only currently) and is a very useful feature so I can check and see if there's someone following me that I didn't know about. Like the list on android, it shows all of your circles, and followers. And it also shows followers that followed you and you still haven't followed them back. Please add this feature as well. Also, you seriously need to fix Google+ with the font size. I have noticed that when I make the font size bigger or smaller, the Google+ app just stays at the default font size. This should be fixed because I have an iPhone SE, and the fact that I can't make the font size smaller (which would also fit more content on the screen) is very dumb. This would be useful especially for users like me who have a smaller sized iPhone. The GIFs, on Android I am able to click the GIF once, and it immediately loads. Even when I go back to the home page. On iOS, you have the to click the GIF so many times for it to play, and even then, it still struggles playing. Fix this please, because I seriously I'm getting very annoyed by this issue being ignored. These things that I've listed, if they're fixed/added, it would make the iOS version SO much better. So please, take the time to do this, because I love Google+ and I want to have the same (if not better) experience on iOS.
This is the best ever!!!!!
I love this app it has been awesome the 1 year that I have had it. I have no complaints about the app. Mainly I use it for catching up on some gaming stuff. But if you had a kid that wants to have app for social media but you won't let them get Facebook this is the perfect app for them because you can put the age on you child's account and then it will have age appropriate stuff for He/She. That is pretty much all I have to say about the app bye 😀.
I love this app
That's all
Google+ awesome and youth friendly
the nlpimptress
on
1/15/2018
Love how simple and friendly appt is for use. Facebook and other apps have become a scammers dream. It feels good to know I can advertise my daughters skill without stalkers lurking or responding ignorant reply's with no consequence other than blocking.
Rate it:
Wish I knew how to find responses to my posts, if any and what the red numbers mean in app fresh. I love the App and want to get a google pixel. I want to find out how to properly use google security features. I am now also attempting to incorporate Norton Core Router in System. I also want to get some other security items to use. I have had severe security problems for sometime now, and it is difficult for an old timer to incorporate in home system. Rating, good, more knowledge needed for this old man. Have to download and read any text files needed. My rating, you are trying to protect. I just haven't arrived there yet. Old man problem. Thanks for the System. George Walker.
Google + Is Solid For Your Network
Very easy to use and very easy to make your communities and profile very attractive with full customization. Google+ is the only social media site that had not been corrupted by ads. I really like the collections, you can create as many or as few as you want. Google place is the place to build a social profile if you like to network for the long run I believe that is is the most important place to post your content.
Delete your Facebook and Twitter accounts Facebook and Twitter users
bashir the clown
on
1/9/2018
Delete your Facebook and Twitter accounts Facebook and Twitter users. This social media app is better than Facebook and Twitter with their crappy privacy settings.
CANT FOLLOW ANYONE
Hey so I'm using my "Brand Account" Aka my G+ linked google account as my primary account but a few months ago I wasn't able to follow anyone, I would hit the button and it would say "there was an issue modifying your circles" or something so please fix that. Otherwise 8/10 fave social media site
Meh...
The people on there are rude and some even post porn, do something google!
Best social media app
the beastly player
on
1/7/2018
This is the best social media app I use it everybody
Love
G+ it's we're the cool people are
Great...When It Works
anoNYMous Raven
on
1/6/2018
I've lost count of how many times I've reinstalled this app, because it will either not open, or opens to a blank screen. I could go on about how many advantages this site has over other social media platforms, but this damned app, while convenient and well designed is a constant source of frustration.
Can't get notifications from commenting on videos still
Watch Earthlings on YouTube
on
1/5/2018
Can't get notifications from commenting on videos still
Removing Features Every Update
KILLER MEEMSTAR
on
1/5/2018
The iOS version of G+ was much better initially. Over the last few years, updates have removed multiple useful features that everybody liked. Due to this, iOS users can no longer delete profile pictures, view their or other user's cover photos, or crop profile photos. I've also had issues with changing my username/nickname, where when I'm finished, the "OK" button disappeares. Instead of just changing the layout every week I would recommend bringing back these features and fixing these issues.
iLike
Best Social Media for true info. in general 😀
Still some bugs that need fixing.
Recently Google+ hasn't been loading posts when I have a good and stable wifi connection. Also when someone comments an image, those comments won't show up but you can see a link when exiting the post. Please fix this, thanks. Edit: Also for some reason it won't let me post gifs seeing that it keeps reloading trying to post.
Can't load anything
Why do i have to tap the gif and then enter a facebook like page where i can scroll down to see similar stuff then tap again on the video in order to let it start?? Same thing for gifs, why is there no option to let them play automatically or at least play in window mode and not in full screen once i tap them?? And for some reason loading a gif takes forever while when i open safari or google or anything other than google+ it loads much faster and sometimes even loads instantly
Is it true that google plus is being shut down?
Fredina Fazbear
on
1/4/2018
I've seen that on the 18th that google plus is being shut down and I need to know if it's true.. I would be upset if that's the case
This app is annoying died
Despite the mental breakdowns I get with the crashing problem I get with this app I still have no way of being able to enjoy this app and it is only this app and the Google app itself I also put in a few feedbacks related to this issue
GREAT
baseball girl.
on
1/2/2018
I am twelve and not allowed to have other social media stuff so I found G+. And it is amazing and so worth getting. You can fallow everything you like and find funny photos and fallow celebrity's. I think it is definitely worth getting.
iphones are slow enough already
kalem is kool
on
1/1/2018
i love the concept of g+ but the constant loading is really bugging me
Almost perfect!
Good until notifications act up, fix that bug and you might get 5 stars
It's great
stormhammer27
on
12/31/2017
It's great
Update
After the latest update, using this app is terrible. Laggy and stuttering. I go to the web to use google plus if I want a decent experience.
It's ok
Blacktempest13
on
12/30/2017
I wish there where more ways to get discovered by people without being a celebrity. The app is easy to use, but I moved away from google one because it just looked like the community was dead. Giving it another try...
Good App
TheCrazyFox0000055555005
on
12/27/2017
This is a much better app than most of the sites. Most people are nice too
GOOGLE PLUS BLACK
ROCKSTAR6554
on
12/27/2017
THIS APP. IS BEST IN SOCIAL APP. ALLOWS YOU TO INTERACT WITH THE COMMUNITY POST TACTFUL COMMENTS A OPEN FORUM ON TOPICS CONCERNING BLACKS AND THE MASSES THERE IS NO COLOR RESTRICTIONS BUT YOUR COMMENT MUST DEAL WITH POST ! I BELIEVE EVERYONE HAS A OPINION ! I Love GOOGLE PLUS it meets my Spiritual Needs !!!
Just read this
mrestes0815
on
12/27/2017
I have no clue XD
Good App but it lags ALL THE TIME
I have had this app for a few years now. It's a really good app. But it constantly lags and freezes. In the updates, they say they fix bug fixes and other issues with the app, but the one I'm dealing with is NOT getting fixed. Please fix this ASAP
Beautiful and I love it....
Eddie Mikhail1968
on
12/24/2017
Now we talking, I had to change my review to 5 stars this is much better like the old time. Thank you google 👍🏼👏🏼👏🏼
Way better than Facebook
Google+ is way better than Facebook because the privacy settings are so much better and easier but when you have Facebook, the privacy settings are so bad... the privacy settings on Facebook don't let you be private and the privacy settings on Facebook are so difficult and your profile is set back to public every time Facebook does an update. But with Google+ you have much better privacy settings and you can even set your profile to "RESTRICTED" so no creepers can add you to their circles without your permission. I'm staying with Google+ because if I mess up on a post, I can go back and edit it and the awesome thing about Google+ is that you also have some family members on Google+ and you might have people that you know on Google+ too.
Lights out
Love Google plus but the app keeps crashing and the only way to revive it is to delete it then download the app again starting over. This continues to be a big problem
Better than all the rest!
Google plus is my primary social network and I love it. Ditched Facebook, Twitter and Instagram. It just works. iOS version is great and works well. Performs smooth and fast. No complaints. My only wish is that it has landscape view on iOS!
Warning error that won't go away...
Packard Sonic
on
12/17/2017
I was wrongfully flagged and every time I open the app on my iPhone it keeps giving me the error "you've been bad and we could take away your privilege to be here" and it won't go away. I've contacted support about it, and they don't have a clue what to do about it and I end up in a big circle of going back and forth between different departments that don't know what to do about it and won't help. Fix the issue!
Where is it?
I just installed it on a new iPhone and it keeps crashing. I can't even get on it. It's just a black screen!! Fix this or there's no point in keeping it.
The only network that I am using.
G+ is the only social network that I am using right now. It's small, clean and interests-focused, which, to be honest, most of the others don't have. G+ is the platform where you can defined yourself instead of letting others define you. I am really like it. Thanks!
The best!
Absolutely the best! Dr. Anderone has managed to get me off prescription drug medication and is a integral part of keeping my migraines in check. I have been to many chiropractors. ALL of them hurt me. There is no pain when Dr. Androne adjusts me. He is a wealth of information and will continue to see him from now on. I'm going on 3 years now due to chronic neck injury. The staff is awesome and will allow you to pop in if you are having a problem. If you are looking around for pain management, please don't mask the problems with drugs and let Dr. Anderone work with you. He's very resonable!
Awesome
From meeting new people—to checking out post by other people—this is the only social media I use. Not Twitter, not Insta, not even FB, or Discord. I'm always on this one.
Doesn't work for me
Oh, it know my name - my GMail name - but can't load anything in my profile. Can't access any settings - nothing but blank screens. Why? And who do I ask??
TheReviewer2277
thereviewer2277
on
12/12/2017
Google plus use to be easy to receive notifications from YouTube and easily reply back but now I'm having a problem with it. Every time I check to see if I've gotten any new comments I have to go back and check in safari YouTube bcuz I don't receive new notifications anymore. Even though I can clearly see that I've received new ones. Yet it still didn't notify me. Don't know if it's a bug or just a setting problem. But I never had any problems with it for more than 2 years until now.
10 years in a row and still terrific
Mike just did our company Christmas Party for the 10th year in a row. His music selection, light show, and fun vibe was a huge hit once again. Can't say enough good things about his great work ethic and communication, before during, and after the event. We wouldn't have anyone else. Thanks for another great night of dancing Mike.
Google.COM
Robertahillsjr
on
12/10/2017
I thank Google Is a great App. I like It. Thank you for being my friend and have a great day and a great weekend. From me Robert a hills jr of New York City.
Fact Sheet
Publisher:

Google, Inc.

Category:

Social Networking

Released:

Jul 19, 2011

Current Version Released:

Jan 04, 2018

Version:

6.25.0

Size:

104.4 MB

Compatibility:

Requires iOS 9.0 or later.

Recommended Age:

17+

Game Center Certified:

No

Supported Languages:

Arabic; Catalan; Valencian; Chinese; Croatian; Czech; Danish; Dutch; Flemish; English; Finnish; French; German; Greek; Hebrew; Hindi; Hungarian; Indonesian; Italian; Japanese; Korean; Malay; Norwegian; Bokmål, Norwegian; Norwegian Bokmål; Polish; Portuguese; Romanian; Moldavian; Russian; Chinese; Slovak; Spanish; Castilian; Swedish; Thai; Chinese; Turkish; Ukrainian; Vietnamese;

Parental Advisory:

Unrestricted Web Access;