TapNova doesn't recommend this version of the app.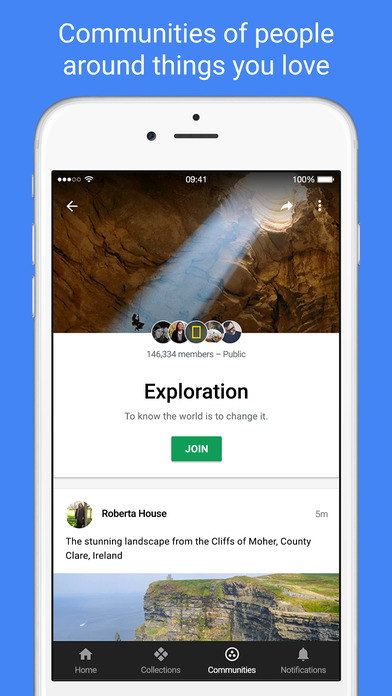 New in version 6.11.0
• White navigation bar
• Various bug fixes and stability improvements
Description
Discover amazing things created by passionate people.
• Explore your interests
• Group things you love into Collections
• Join Communities of people around any topic
• Connect with people who share your interests
• Build a home stream filled with amazing content
iPad Screenshots
Reviews
What happened?
The app was doing alright but recently I stopped getting YouTube comment notifications. I prefer getting my YouTube comment/reply notifications on the Google+ app because they're easier to read and respond to than on the YouTube app itself. I all of a sudden stopped getting notifications in my box from YouTube things and only from Google+ things, while still getting the notifications from the YouTube app. It's really weird, I don't know what happened but can you fix it? And also, what was the need for changing the color of the navigation bar? Bring the red back!!! That was unnecessary!
Greatest Socialized theatre 🌎‼️
Mr La Khuong
on
6/25/2017
Best Blessed Wishes Y'all 💕 🇺🇸 May your day be filled with Pleasure💲:): Peace, Love, and Blessings 🇺🇸 ..... we love Y'all ‼️
Simple notification problem that can be fixed
That's all. Great app
THE MEMES
JoshArgueta646
on
6/25/2017
MEMES ATE EVERYWHERE AWESOME PEOPLE ARE EVERYWHERE! I BE ON THIS APP 24/7
Google+? More like Google A+!!
I love this app in so many different ways! It's always so fun and cool to see what other people do! And it's another way to post anything and everything!!! Love it!! ❤️❤️❤️ I prefer Google+ for anything!!
Comments on post mysteriously disappear
So when ever I post something and come back later, I see a few comments, then I tap back and come back 30 seconds later, and some of them are gone, yet it says there are still the same amount I first saw
Symbol of Connectivity
Google Plus is a great social medium with comprehensive functionality and embedded multipurpose means of connectivity which enables motivational searching, discovery, learning, and meaningful sharing. It is also rich in substance and quality content which leads to better engagement of members. One can appreciate and value the dynamics of Google Plus, its continued research for innovations and the constant integration of research findings to impact its overall performance. Those who contribute and/or engage with and use Google Plus have also a role to play in impacting it positively by their constructive suggestions and by encouraging and supporing all the good that is being done.
Why is the navigation bar white?
Zacharyciolkosz123
on
6/21/2017
I like the old red bar better
Horrible App Architecture
claidheamdanns
on
6/20/2017
With over 91,000 photos, the Google+ gives no access to albums. As others have pointed out, this is just plain lazy programming. We ought to have access to the entire iPhone photos architecture, including Favorites, People, Places, Selfies, etc. near the top. I keep updating this as my collection grows, but Google is apparently asleep at the wheel.
bring the red navigation bar back
GaMzEe YeEhOnK
on
6/19/2017
bring the red navigation bar back
can't post?
Cookiepuppy102
on
6/19/2017
Soo... Whenever I post it takes forEVER. So yeah fix? June 19,2017 I still cannot post normally, sometimes it'll post normally but other times it'll tale forever and I'll have to reset the app. It is ridiculous now. Not to mention the white bar on top looks ridiculous.
Google page issue
Sameera kodikara
on
6/19/2017
Can't upload photos. Stuck uploading in my g+ page. Google is very big company. I don't knw why g+ app is very poor.
AAAAA
OKAY I REALLY LOVE GOOGLE PLUS BUT WHY DID YOU MAKE THE TOP THINGYMABOBBY WHITE ANKFKEJDOWPDKN
My favorite social network.
Guy Lovestoread
on
6/18/2017
A great social network without all of the usual social network drama.
Improvement
Hope you improve G+could update new post quicker
Yf is
wfetawxxgxyxxygwyxyycyyyxyx
on
6/18/2017
I
Google Plus Review
First type of social media app and I'm still enjoying it.
It's not bad
Helps me keep up to date with a lot of stuff!
Customization
Im not really sure why you made the navigation bar white but I'll get used to it. What would have been better is a way to make your own color for the bar like in a collection.
Could be better
One thing that bothers me A LOT is that it doesn't tell you exactly what time something was posted, just the day. If that was fixed, this could actually be a good Facebook alternative.
Annoying. Albums are useless.
It used to be good but the last few updates have had an annoying issue with image viewing. June 17, 2017 - Still a problem. Losing hope that it'll ever get fixed... 1. To view an image one must first click it. Then click it AGAIN, then sometimes click it one more time. This is unacceptable. This happens again when you want to close an image. You have to back out a couple of times. Again, unacceptable. 2. At the end of an album, it doesn't just stop scrolling (as is the intelligent way to end the album). No, it keeps scrolling usually through a seemingly random album that was not the one I was viewing. Again. This is unacceptable. FIX this.
Getting better.
The glitch still seems to be messing with my account. Please fix it! Please! ~TouyaRoselyn
I've always loved google plus
It's a great social site, I find peaceful post here. The majority of google plus users post decent images and pictures. Also, there's none of that my page is more famous than yours vibe. I miss the first google plus, when we was able to edit and crop our images and pictures. Sometimes I want to change the color of my pictures. G.P is the only social site I use.💜
iPad Pro 12.9 layout please
Eleatmelon_1
on
6/14/2017
It needs updates to make it looks better on iPad Pro 12.9. Current app looks terrible.
Site gets worse over time
zombietoucan
on
6/14/2017
There are people who post actual child porn here and don't even get a slap on the wrist but people get instantly banned for prequel memes on this website And the devs aren't doing anything at all
Great but....
I love this I can talk to my friends post art join communities but there is a issue with the moderators which are bots(according to my friends post) and they had an overload due to a user who violated many rules and people are leaving g+ and/or freaking out overall its great
Stop the bogus suspension threats!
People are getting sick and tired of having their accounts flagged for so called policy violations. It doesn't even tell why you're being flagged. The notice pops up over and over again. Fix it--SOON!
Random deletion of posts
Atrociously Devious
on
6/13/2017
For some ungodly reason harmless posts keep getting removed, despite them not breaking any terms. FeelsBadMan
Suspension problem
Lately there are people getting their account suspended even though they're posting nothing that violates the terms and conditions. There are people that has child porn on their profiles and yet people with normal accounts get suspended for 'violating' the rules. Please fix this issue.
Future
This could be FB and Instagram combined.....one day.
Great
Simple & imformative
It's ok
NOBODY IS ON HERE. It's better that all the other social apps!!!
Peace of mind
I love Google + it's my peace of mind away from Facebook. But can you make it so we can post short video Or short stories.
Great App to follow community discussions
Great App to follow discussions/news on different communities & categrories
Runs to slow
The app launch good but to slow to show pictures in the communities
America
Long history, great show!
I use google plus 24/7
Totaly not Carmen
on
5/29/2017
every thing is awesome except for that one update when you couldn't look at your notifications… that was horrible, //shivers//
Best App
Love the Google+.....
Good and a glitch
It wouldn't let me reshare a post that I want to plz fix thissss
It's like Facebook and Pinterest combined together
The real fake IGN
on
5/26/2017
It's amazing and fun
A lot better!!!!!
Google plus is a lot better than Facebook, twitter and LinkedIn because the privacy settings are awesome and you can choose what audience you wanna target.... if you don't wanna target any audience, just click on 'no one'... please give google plus a chance. Think about those poor people who felt hurt or bullied all because they wanted a friend and think about those poor people who were victims of any type of abuse or any type of violence. Please keep adding more privacy settings and please keep up the great work. 👍🙂
Terrible app
The community is immature and horrendous. Don't expect to meet anyone intelligent in this "social media platform." Nearly everyone that uses this app is edgy teenagers that post unoriginal memes. And the shared videos/Gifs take forever to load. What bothers me the most is that it seems to me that Google is doing little to nothing to improve Google plus community because the toxic people seem to always come back no matter how many times they're reported. I don't recommend this app to anyone.
Great
skittymcnando
on
5/23/2017
* *UPDATE* * All problems are fixed. Thanks!! * *UPDATE* * YouTube problem is fixed thankfully. Looks a LOT nicer. However the "report" and "delete" options when you click on a comment got moved to the top, where previously it had been the "+1" button. I'm now reporting and deleting comments because I am used to the "+1" being first. I +1 comments WAY more than I report or delete them. It would be awesome if you could change them back. ------------------------------------------- * *UPDATE** Now I can't see YT replies at all. I'll click on the notification, it takes me to the video (where I can't see the comments yet), I click on the video and it takes me to the YT page with all the comments. I scroll through to find my thread...and there are NO REPLIES!!!!! I went on YT to see if it got deleted but NOPE it was there. G+ just can't see YT replies anymore I guess. Which is literally the ONLY reason I got the app...if another update that comes out again makes it worse you guys are losing another star. I just wanted to check my notifications on my phone and I can't anymore -_- ------------------------------------------- When someone tags me in a YT comment I can click on the notification but I can only see the video, not the comment. I do not believe it was like this before the last 2 updates. (Just got the app so not sure). I don't use it for much else except to reply to comments, so it's really frustrating. =/ the only way to see the comment is to click on the video, and then scroll through ALL the comments and find the one you were in. It's not a very good system...
Bad
Mr.cool2334689
on
5/18/2017
The new update is horrible
Fact Sheet
Publisher: Google, Inc.
Category: Social Networking
Released: Jul 19, 2011
Current Version Released: Jun 16, 2017
Version: 6.11.0
Size: 107.9 MB
Compatibility: Requires iOS 8.0 or later.
Recommended Age: 17+
Game Center Certified: No
Supported Devices: iPad2Wifi-iPad2Wifi, iPad23G-iPad23G, iPhone4S-iPhone4S, iPadThirdGen-iPadThirdGen, iPadThirdGen4G-iPadThirdGen4G, iPhone5-iPhone5, iPodTouchFifthGen-iPodTouchFifthGen, iPadFourthGen-iPadFourthGen, iPadFourthGen4G-iPadFourthGen4G, iPadMini-iPadMini, iPadMini4G-iPadMini4G, iPhone5c-iPhone5c, iPhone5s-iPhone5s, iPadAir-iPadAir, iPadAirCellular-iPadAirCellular, iPadMiniRetina-iPadMiniRetina, iPadMiniRetinaCellular-iPadMiniRetinaCellular, iPhone6-iPhone6, iPhone6Plus-iPhone6Plus, iPadAir2-iPadAir2, iPadAir2Cellular-iPadAir2Cellular, iPadMini3-iPadMini3, iPadMini3Cellular-iPadMini3Cellular, iPodTouchSixthGen-iPodTouchSixthGen, iPhone6s-iPhone6s, iPhone6sPlus-iPhone6sPlus, iPadMini4-iPadMini4, iPadMini4Cellular-iPadMini4Cellular, iPadPro-iPadPro, iPadProCellular-iPadProCellular, iPadPro97-iPadPro97, iPadPro97Cellular-iPadPro97Cellular, iPhoneSE-iPhoneSE, iPhone7-iPhone7, iPhone7Plus-iPhone7Plus, iPad611-iPad611, iPad612-iPad612, iPad71-iPad71, iPad72-iPad72, iPad73-iPad73, iPad74-iPad74,
Supported Languages: Arabic; Catalan; Valencian; Chinese; Croatian; Czech; Danish; Dutch; Flemish; English; Finnish; French; German; Greek; Hebrew; Hindi; Hungarian; Indonesian; Italian; Japanese; Korean; Malay; Norwegian; Bokmål, Norwegian; Norwegian Bokmål; Polish; Portuguese; Romanian; Moldavian; Russian; Chinese; Slovak; Spanish; Castilian; Swedish; Thai; Chinese; Turkish; Ukrainian; Vietnamese;
Parental Advisory: Unrestricted Web Access;