Photo & Video
Social Networking
This version of the app is not recommended
App last updated
Jan 10, 2018
Screenshots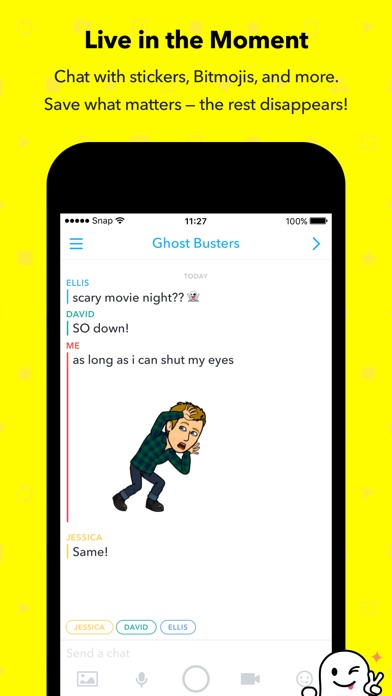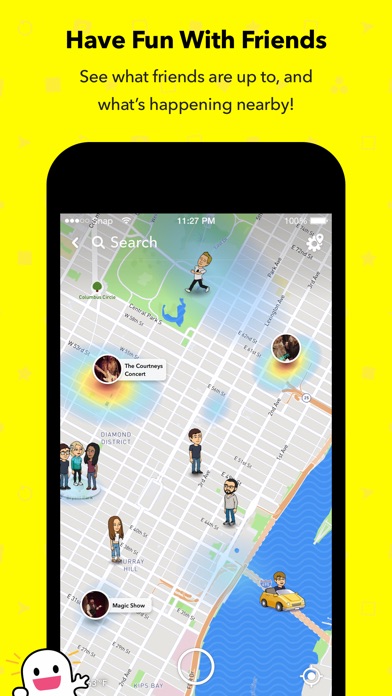 New in version 10.23.11.0
Bug fixes and improvements!
Description
Life's more fun when you live in the moment :) Happy Snapping!

* * *

Please note: Snapchatters can always capture or save your messages, such as by taking a screenshot or using a camera. Be mindful of what you Snap!
Reviews
Can you please fix the app
It's glitching every time I view stories or try to send snaps. Please fix this ASAP thank you
Major bug
My story is only going out to a couple people, instead of the hundreds of people who usually see it. Needs to be fixed ASAP
A small request
Already Bruh
on
1/23/2018
I see a lot of people have requested it as well, it would be GREAT if we could make separate lists of people we block and be able to name them as well. I would LOVE to see this on the next update ! Update *** So like my app keeps crashing on me anytime i try to take a video. It's getting pretty annoying.
Snapchat developers
I would do 5 stars but, it's missing something. Like Instagram, Snapchat should be able to switch from an account without logging out.( if you have multiple accounts) logging out is too much work and this would be better.
TERRIBLE UPDATE
67668 Mark D.
on
1/23/2018
Change it back!!!! Please!!!!
me estafaron!!!
llegue a los 500 fuegos con una amiga,con lo que cuesta tenerlos! había hecho una videollamada y nos habíamos escrito previamente y de un momento para otro desaparecieron,ahora ya no tengo más ganas de tener fuegos... espero puedan hacer algo paraa que los recupere o por lo menos ayudarnos a recuperarlos,atentamente Guada
Can't see someones snap story
Before you say they unfriended me or hid their story from me, I can still see their snap score which means we are still friends on snapchat and I asked her if she hid her story from me and she opened her settings and showed me that I was not. Please fix this as for some reason snapchat is bugging out
Crashes too much
Smooth brown skin
on
1/23/2018
It crashes A LOT for there to be so many "updates and bug fixes"
👎🏽
Polo-Montana
on
1/23/2018
Force closes every time I get on the app.
iPhone X fix
Sports is the life to live
on
1/23/2018
Hi Snapchat can u please fix the banners oabove a picture when u Recife or send a pic. I don't get the whole screen affect on the iPhone when u open a snap or revive a snap. That is my only compliant. Maybe we can incorporate animojjis in snaps too
Switching back and forth
Blank 13254769800987654321
on
1/23/2018
I hate how snapchat updated and it changed to where the stories and people you snapchat are on the same spot you can't tell who snapped you and it's confusing and stupid. My Snapchat keeps switching back and forth between them it needs fixed back to the old normal snapchat with the stories on one page and the people you snapchat on the other. Thank you please fix this!!
FIX THIS NOW
every time I try to send a snap my app closes out and it is VERY ANNOYING. Please fix this ASAP. I love the app but this problem is going to really ruin it for me so please help and fix this fast. I also do not want to lose all my streaks because of it.
Used to love but hate new update
Dianna Lushus
on
1/23/2018
So the new update makes it so you no longer see a list of your friends and their stories. It's now on the Discover page.... AND I HATE IT. Bring back the list or I'm deleting the app and solely using Insta.
Hate the new update.
Everything was better before, simpler. Now in the discover page you have stories from people you didn't add. Its just too much. Dont like it :(
Love
👸Princesses👸
on
1/23/2018
I love this app it's so cool I love the cute filters they have keep up the good work Snapchat
Hey here's a quick suggestion.
It would be nice if you can remove people from the snap group chats similar to iMessage where you can swipe the name and boot em out, besides that great app.😁...p.s More dancing characters!
Update?
I love snapchat but I'm sick and tired of the app going back and forth between the new update and the old update! So annoying!!!!!!!!!
Glitchy
Works good 98% if the time but right now I don't know if it's because of an update or whatever but Snapchat is being very glitchy; freezing, closing entirely, not reopening unless I completely close it and re open it. I guess I hope they let out another update out soon.
Dilovan kovli
Dilovan kovli
on
1/23/2018
The worst design
Suggestion
I love Snapchat. I use it 24/7. However, I'm not too happy about this new update. The look is cool, but i don't like how you can't watch all stories at once. I also don't appreciate how if you tap someone's story, it shows it from the beginning, which you could've already seen, instead of showing what was recently posted. This forces you to go through someone's entire story to see their recent update. Also, when you go to your private chats & watch a friend's story, it leads you directly into the next friend's. I would like to continue using snapchat, but this updates make me rethink. Please consider these critiques.
App keeps crashing
App keeps freezing and crashing
Stories
I lost my streak and we snapchatted in 24 hours please fix this.
im begging
sincerely butthurt to the max
on
1/23/2018
please give us the option to change our usernames, even if it is just a one time deal. so many people end up making new snaps specifically just to change up their usernames, it would be much easier to just add that as an option for all your users.
New update
I love Snapchat but I'm really hating the update.
Could be better
This app used to be fast and great. now I can't even take a picture at all without the app crashing. I lost all my streaks because of how slow this app is now and it's the only way I communicate with friends.
Great!!Just making a suggestion!
Bjzjzbzbzkjzbz
on
1/23/2018
So I love Snapchat but can I make a suggestion?!?!I think we sould be able to change are usernames. That's it but I love Snapchat if your looking for something to Easley make contact or something like that you should really get Snapchat!!
You Can't Fix It If It Isn't Broke
Never have I hated one of my favorite apps, more than I have now. I would do anything to have the old snapchat back, these "Updates" just keep getting worse and worse. It's less user friendly and slower, very hard to get used to, and has many more glitches than before. I can no longer send or see videos, which frankly, is the most annoying part to me about the snapchat updates. These "Updates" always create more problems than they should. I want to say that this app should be a necessity, and I want to recommend this app to everyone, but I simply cannot due to ALL OF SNAPCHAT'S PROBLEMS. This is the most buggy Snapchat has ever been, and I despise it. I am truly astounded that Snapchat would go this long without fixing their bugs, because they are usually quite on top of these situations. I have deleted and re-downloaded Snapchat countless times in the last month because that seems to be the only way to fix these horrible bugs, if only temporarily. PLEASE. DO. SOMETHING. I'll even take another sh*tty update over all of these glitches and malfunctions.
New update
NEWEST UPDATE IS THE WORST UPDATW EVER. Why does it post on my chat feed when someone added to there story? It's so annoying dislike A LOT!!!!
Was Good before update
the new update is absolute garbage. they got rid of the stories screen and now it's all bunched into one. it's too confusing and not organized. please go back to the original.
New update
The new update changed everything there is no stories section and is now replaced by discover seem like each update gets worse 😤 It went back to the old version and just changed again 🙃 get it together snap.
Need to be able to remove people from a group
PLEASE add a feature where you can remove people from a group chat
i'm so angry.
i don't have my automatic updates on in the app store, and when i got on my snapchat this morning, it had updated. i'm ocd & the new update makes me never want to tap on snapchat. totally worth losing streaks & never getting back on snapchat.
new update?
i hate the new update. i hate that i can't look at anyone else's story besides the ones in my snaplog . I HATE IT and it keeps going back for he original snapchat and then the update it's annoying .
CHANGE IT BACK
Timothy's only girl
on
1/23/2018
This new update is dumb, I absolutely HATE IT. It needs to go back the way it was!!
NEW UPDATE SO BAD
Weddingcrasher219
on
1/23/2018
The new update on Snapchat is pitiful. Who ever decided this would be a good idea needs to be fired ASAP.
New update
WTH !!!! The new update suckssss I want the old one!!! I'm crying return the old oneeeeee
Map
I love the app so much! 💕💍✨! But you could upgrade the map 🗺.
Whenever I open the app or get a Snapchat it stops music
Xallx xprodigyx
on
1/23/2018
I have an iPhone X on update 11.2.2 and can't listen to a full song without a snap stopping the music.
Broken
It's horribly defective at the time of writing this review, at least for me. I've literally lost more than half of my streaks (which adds up to around 40) for nothing. I'm not being a sore loser and hating on the fact that one side didn't send a snap sooner. There were times when my friends and I sent multiple snaps to each other on the same day, but yet the time emoji still appears and kills the streaks. It's terribly broken and flawed. Please fix the app. I just might quit using it due to the bugs.
Hate snapchat on I phone x
Just disappointed.... 🤭
It's an easy fix to be 5 stars
More than slightly annoyed
on
1/22/2018
It's a well known issue that with iOS 11 Snapchat notifications and the app itself have a tendency to cancel media playback. I literally struggled through a half hour drive restarting my music because my friends spam messaged me. I got so frustrated I ending up having to turn off Snapchat notifications just to listen to a song without interruptions. Half the filters randomly don't work or are tagged wrong. I'd love if you guys got it together.
Messaging
Is the notification that someone is typing really necessary? I enjoy the message feature, but don't see why we need two notifications for one message.
My story
Why do I have to keep reloading my own story to see my views that doesn't make any sense
Memories
Hunter:$:9,'
on
1/22/2018
Every time I save a memory or memories they stay then another day I go back and a bunch of recently taken memories are gone even from my eyes only
Where is the new 2018 app redesign update!
Where is the new 2018 app redesign update? Lots of other people got it on android and idk about anyone on iOS got it yet! So where is the update?
New things to update!
$$datgirllina$$
on
1/22/2018
You guys should put the time that people watched someone's stories... it'll be a really cool thing in the next update! But other than that, I love Snapchat & it's my go to social media.
Adjustments
It'd be nice if you could use the same account on multiple devices not just one device at a time. Other than that I love snapchat.
Awful
Terrible. Updates don't seem to do anything and constantly getting logged out. About to just give up on this app. They're too busy adding pointless features to do anything with the bugs.
bring back the angel filter please and thank you
zaire salters
on
1/22/2018
its a good app
Fact Sheet
Publisher:

Snap, Inc.

Category:

Photo & Video

Released:

Jul 13, 2011

Current Version Released:

Jan 10, 2018

Version:

10.23.11.0

Size:

224.9 MB

Compatibility:

Requires iOS 10.0 or later.

Recommended Age:

12+

Game Center Certified:

No

Supported Languages:

Arabic; Danish; Dutch; Flemish; English; Finnish; French; German; Greek; Indonesian; Italian; Japanese; Korean; Bokmål, Norwegian; Norwegian Bokmål; Polish; Portuguese; Romanian; Moldavian; Russian; Chinese; Spanish; Castilian; Swedish; Chinese; Turkish;

Parental Advisory:

Mild Sexual Content and Nudity; Mild Profanity or Crude Humor; Mild Alcohol, Tobacco, or Drug Use or References; Suggestive Themes;