Screenshots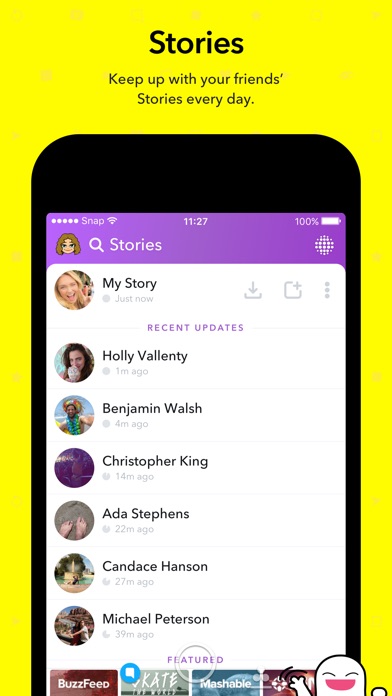 New in version 10.17.6.0
Bug fixes and improvements!
Description
Life's more fun when you live in the moment :) Happy Snapping!

* * *

Please note: Snapchatters can always capture or save your messages, such as by taking a screenshot or using a camera. Be mindful of what you Snap!
Reviews
Listen up!
P.S. bring back the horoscope lens it had a really cool secret inverted filter This may 9th update is trash; First of all bring back the timer and second get rid of limitless snaps like holy crap what a mess this app is now. You guys in corporate need to start listening to the feedback on here. And find a way to save or recover lost snapchats. My phone sometimes dies or the app crashes mid recording and boom a million dollar video is gone. The only positive feedback I have is that new "back button". It's revolutionary.
It looks fuzzy on my iPhone 8
Samantha tomlinson <3
on
9/25/2017
I have an iPhone 8 plus and I don't know if it is the app or the phone. Anyways the bitmoji looks very fuzzy and not as clear as it was before. I think an update is needed to fix this picture resolution.
Amazing
Every parent should let their kid get it. Some kids don't have phones but have iPods so the can only have Snapchat to talk to people.
Great app but please add..🙏🏻
I love this app! It's a great way to communicate with friends and see what other people are doing! I also love the articles you can read on the side. However one thing that I think would make the app better was if you allowed people the option of CHANGING THEIR USERNAME. personally I dislike my username, and I wish I could change it without having to make a new account and losing all my streaks/score/friends. )): I know a lot of people that feel the same way. So please consider adding this feature. It would be a life saver xoxo
Hate it!
I hate the new SnapChat update! It crashes so much! Fix it.
LIT AF
Grace's ipad
on
9/25/2017
LITTTTTT🔥🔥🔥🔥💥
Screenshot! And screen recoding
Araceli Aguirre
on
9/25/2017
Idk if it's the new iso update or if is snapchat but I can't even watch anyone's snapchat story because they get a notification that I screenshot their story or even in my DM's it's saying I screenshot our conversations when I didn't! Then what's weird about it is that I can't seem the find the screenshots in my library so idk... hopefully you guys will take a look at it
Losing streaks
I got the Update today and I lost my two highest streaks
Dear Snapchat
coloredfiltersplease
on
9/25/2017
I really enjoy using this app it's so fun to connect with you friends and family. The one the I don't like is that it has to know your location, I understand for the time and weather filter but just color filters? I think you should let us use the color filters without having to turn on our location, I hope this helped. 🙃
STREAKS BUTTON PLEASE
Swegggie doe
on
9/25/2017
STREAKS BUTTON PLEASE!!!!!
Camera
okay so i love snapchat! i use it all the time! but i need help, today i was trying to record my sister playing soccer and my camera wouldn't flip, it would take pictures on selfie mode but on the back camera side it wouldn't flip, i need help to figure out how to make it flip again, i double tap the screen and touch the flip thing too but nothing is working :(
Recommendation
I feel like you guys should make a feature to automatically save the chats. It's pretty annoying that I have to hold the texts to save them. Also, I think you guys need to make an update for the snapchat icon on the Apple Watch. I don't think it is caught up with watchOS 4.0.
username
punkredneckcool
on
9/25/2017
i love snapchat more than anything ,, i use it so much my score is like 700,000 but , i really believe snap should have a change username ,, b/c God knows we all made it in middle school 😂🙄
New update
Supposedly the update fixed the bugs. I'm not sure what the bugs were seeing as how I just returned to Snapchat. However, since I updated the app, while watching other's stories or even my own, it keeps freezing up. I am not sure though if this is due to the Snapchat update or the iOS update because I'm having other issues as well but it makes me not want to use it because I keep having to close it out.
Stop exposing
WE JUST GOT SCREEN RECORD AND NOW YOU WANNA HAVE IT SHOW UP A SCREEN SHOT LIKE STOP YOUR MESSING UP EVERYTHING TAKE THIS UPDATE DOWN !😐
NEEDS AN UPDATE ASAP
babydoll4321
on
9/25/2017
it keeps saying i'm screenshotting things and i'm not please update it
Add me
Daisha_loves_Hayes_Grier
on
9/25/2017
Follow my ig Renee.daisha and add my snap Renee.daisha
Usernames
Listen some of these updates are cool bit like i dont how you cant use your picture for your little ghost thing because sometimes i see someones bitmoji and have no clue who it is. Another thing usernames, please let us change them im begging you im embarrassed to add new people or tell people my snap chat handle because they always ask me what it means like umm i created that in 7th grade. I cant make a new one cause all my streaks are on my current one
Snaps posting Out Of Order
After a few updates I have noticed that my snaps are posting out of order. I really hope this is fixed soon as I absolutely love snap chat. Please fix this.
Keeps exiting
Eunique White
on
9/25/2017
Every time I opened the app and get ready to take a picture, it automatically takes me out of the app. Please fix this issue.
pinkmermvids
pinkmermvids
on
9/25/2017
You guys should allow users on snapchat the ability to change their user name and not just their passwords. Just a suggestion🙃 thanks !
I love Snapchat BUTTTTT
I love Snapchat and use it every single day, I use the app for my selfies the most but I recently purchased the iPhone 8 & the picture quality is HORRIBLE. I don't know it it's the big screen but both my selfies and rear camera pictures are extremely blurry considering this is such a high end phone I'm hoping and update or something fixes this ASAP
Suggestions
Love game change plan
on
9/25/2017
I love Snapchat, most of my day is spent on it. I would just like to make a few suggestions. 1) make a button for all streaks. It would be less time consuming if I could just click a button and send my streaks what I want to. 2) I'd really like it if we were able to change the color of our texts in the group chats. I hate how it randomly gives us a color. 3) lastly I'm pretty sure everyone would agree that we should be able to remove people ourselves. Right now people have to leave on there own, it would be nice if the didn't need to.
Usernames -_-
I looove Snapchat, the face filters are hilarious and it's a lot more real than Instagram. However, I really hate the fact that you can't change your username. -_- I mean, come on. Most of us made ours when we were 8. Even if we do make a new Snapchat, we can't restore our streaks or any of our progress. It's seriously ANNOYING. Future update idea: let us change our usernames
Everyone need to read this
Need to fix so I can post stuff please Snapchat so I can post stuff because every time I try to send stuff it says failed to send then I tap it then it exits out ok can not steel post nothing please Snapchat fix this
Snapchat
This app is awesome I love the filters and all the new improvements! Thanks Snapchat
Love it!
jesusfreak8484
on
9/25/2017
Only problem is I HATE getting "_____ is typing..." notifications! Otherwise classic app
yee
AlxLikesTurtlesAlot
on
9/25/2017
i mean it's alright. i have no friends tho.. so i don't rlly use it.
Favorite App!
This is my favorite app to use. Love the filters, love the "streaks", love the concept of a "story". GREAT APP!
Fake adds
I keep getting theses "war and order" adds, but that game is taking total war game play (a different company's game) and using video of it for their adds on here. Snapchat plz fix this.
wack don't download
i have the iphone 7plus had it since last year no cracks no nothing soon as i updated my phone now all of a sudden this stupid app keeps making my phone freeze up as if it can't handle the new update i'm good on snapchat until y'all step y'all software game up PERIOD!!!!
Streaks
My streaks keep disappearing regardless of how many times I Snapchat them
BEST SOCIAL MEDIA APP EVER!!!
You should really get this app it's a fun way to take pics and chat with friends,family,etc. I'm a youtuber and you should really check my channel out and subscribe if you want it's called Emmanuel's Lyfe. So yeah. Anyway there's so much to do in this app you can still call and to stuff with your bitmoji. A bitmoji is like a mini character of you. And the picture to my channel is a ROBLOX person with black hair so yeah. And again you should really get this app it's so amazing and a good time killer. The best part is that you can use this app offline but just to take pictures tho.👍
👅
Beast mode cool God
on
9/25/2017
👅.
Please make your bffs' stories go to the top of your stories page.
Tired of scrolling through tons of people's stories just to find the real homies.
Needs a timer button
Turboterry01
on
9/25/2017
Please add a timer .. & an other button where we don't have to hold it .. please
Love the app but...
hollyllama97
on
9/25/2017
I love this app but it keeps crashing and now it won't even let me on saying that I need to slalom access to the camera. Please fix
Ugh
Not sure if it's sprint the app or the iPhone but the filters will not load
Not letting me do it anymore
This app used to let me do the double snaps where you could make more than one vid but I got a new snap chat and I updated it and it still want let me do the double snap plz fix this asap
I like it but..
The app is cool, I like the filters and everything about this app but what I don't like is that when u press "clear conversation" you can't clear the conversations, it only clears the name of the person on your list.
When I try to use my stickers I get lagged out of the app
Ugh this annoys me so much, I try to use my stickers and I always get lagged out of the app, and they are some good meme ones. So now I can put memes in my snaps ;-;
Snapchat Live
WhassSmackinAgainstTheWalls
on
9/25/2017
Snapchat Should Be Able To Go Live Like Instagram Can It'll Be More Fun!
Snapchat
Ksknejekekekekkeke
on
9/25/2017
Why can't I update this app ?????
Great except
I love my Snapchat I check it all the time however I would love to see in the next update or so the ability to change usernames. Just from the people on my friends list they also agree.
Not working
I love snapchat its my favorite app but ever since i updated my phone snapchat keeps getting stuck when i open it from my notifications and my keyboard pops up out of nowhere when im looking at my memories so i dont know if it has something to do with the snapchat update or the iOs11 update
Great app
I love Snapchat and that's how I contact most of my college friends. The only think I don't like is if I want to go and follow someone on Snapchat and I don't know their snap name, then I can't find them at all. If there was another way to add people other than snap codes/ names that would be great. Another thing is sometimes I don't necessarily want to see someone's story for whatever reason, I wish there was an option that I could have a option if I want to see their story or not. I hope these help with anything
Fact Sheet
Publisher:

Snap, Inc.

Category:

Photo & Video

Released:

Jul 13, 2011

Current Version Released:

Sep 23, 2017

Version:

10.17.6.0

Size:

207.8 MB

Compatibility:

Requires iOS 9.0 or later.

Recommended Age:

12+

Game Center Certified:

No

Supported Devices:

iPad2Wifi-iPad2Wifi, iPad23G-iPad23G, iPhone4S-iPhone4S, iPadThirdGen-iPadThirdGen, iPadThirdGen4G-iPadThirdGen4G, iPhone5-iPhone5, iPodTouchFifthGen-iPodTouchFifthGen, iPadFourthGen-iPadFourthGen, iPadFourthGen4G-iPadFourthGen4G, iPadMini-iPadMini, iPadMini4G-iPadMini4G, iPhone5c-iPhone5c, iPhone5s-iPhone5s, iPadAir-iPadAir, iPadAirCellular-iPadAirCellular, iPadMiniRetina-iPadMiniRetina, iPadMiniRetinaCellular-iPadMiniRetinaCellular, iPhone6-iPhone6, iPhone6Plus-iPhone6Plus, iPadAir2-iPadAir2, iPadAir2Cellular-iPadAir2Cellular, iPadMini3-iPadMini3, iPadMini3Cellular-iPadMini3Cellular, iPodTouchSixthGen-iPodTouchSixthGen, iPhone6s-iPhone6s, iPhone6sPlus-iPhone6sPlus, iPadMini4-iPadMini4, iPadMini4Cellular-iPadMini4Cellular, iPadPro-iPadPro, iPadProCellular-iPadProCellular, iPadPro97-iPadPro97, iPadPro97Cellular-iPadPro97Cellular, iPhoneSE-iPhoneSE, iPhone7-iPhone7, iPhone7Plus-iPhone7Plus, iPad611-iPad611, iPad612-iPad612, iPad71-iPad71, iPad72-iPad72, iPad73-iPad73, iPad74-iPad74,

Supported Languages:

Arabic; Danish; Dutch; Flemish; English; Finnish; French; German; Greek; Indonesian; Italian; Japanese; Korean; Bokmål, Norwegian; Norwegian Bokmål; Polish; Portuguese; Romanian; Moldavian; Russian; Chinese; Spanish; Castilian; Swedish; Chinese; Turkish;

Parental Advisory:

Mild Profanity or Crude Humor; Mild Sexual Content and Nudity; Mild Alcohol, Tobacco, or Drug Use or References; Suggestive Themes;