Screenshots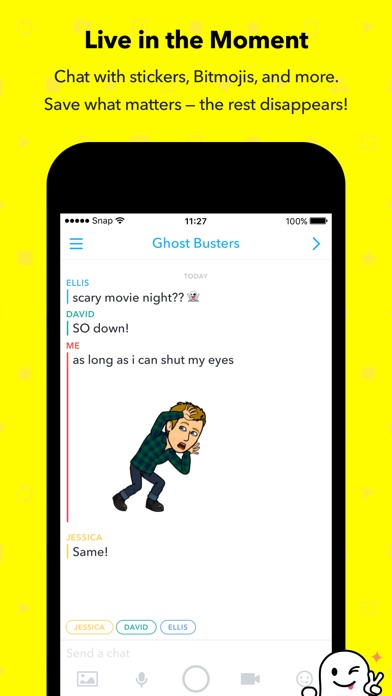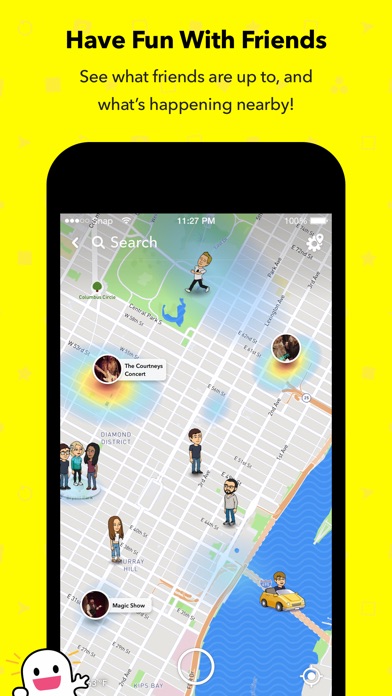 New in version 10.22.2.0
Bug fixes and improvements!
Description
Life's more fun when you live in the moment :) Happy Snapping!

* * *

Please note: Snapchatters can always capture or save your messages, such as by taking a screenshot or using a camera. Be mindful of what you Snap!
Reviews
You just updated it
Doesn't show that I have new snapchats unless I swipe right to chat which is very annoying. Plus it always likes to crash, which shouldn't be a problem.
Quality
Why does the quality get taken away from the snap whenever we upload it from our camera roll?? That needs to be fix 🙁 the quality shows blurry like whenever we upload from our camera roll
Please read..
BruhItzDarshani
on
11/19/2017
I live Snapchat, don't get me wrong. But when Snapchat glitches and don't send things or streaks that's what I get mad. I have lost multiple streaks cause of this issue. Not only that I have had update problems lately for Snapchat 11.17.17 <last updated my snapchat> Also not only that have had a lot of incidents from lack of glitches to deleting the app multiple times so it does not crash. Yes, it has crashed so many times..But I hope there is another update to fixed all of this. And I hope in the App Store when Snapchat says a new update- bug improvements or bug fixes I really do hope it works. 🤞
Love it
Best App on the App Store. Easiest way to share adventures and stay in touch with long distance friendships!
Glitch w/ adding people
EdgyMemeLord
on
11/19/2017
I was adding some people from a story my friend added me to and I only got to around thirty people before I couldn't add anymore people? And I have to hold down on the name to add them, I also think that contributes to the problem. Snapchat refuses to fix important problems and adds an unnecessary amount of touch ups.
love the app but...
Love snapchat but it's been acting up lately, recently it deleted some of my snaps that I have saved in memories!!😫 I can't seem to find them anywhere, PLEASE FIX ASAP!
Time and weather
Person1264016384910
on
11/19/2017
I'm not really sure why this is happening to me but it's very annoying. The time and weather filters do not show up for me. I have tried to delete the app, log out, etc. nothing is working. Please fix this because I love Snapchat
Snapchat issues
I've been using this app pretty much since it came out, I just recently bought the IPhone X and I'm not sure if it's the new phone or if Snapchat has been glitching but there are a couple of problems occurring. 1.) my saved memories take forever to load and when I do finally load the videos they glitch and freeze. 2.) recently when attempting to watch stories they just freeze and a tinted screen shows up I have to exit the app and open back up to fix this. 3.) the app randomly shuts down on me sometimes and for no reason. I love this app it's honestly pretty amazing but I would like to have these changes fixed as they tend to get annoying after they keep happening.
Ehh
Nathan Kenway
on
11/18/2017
It's good to use and everything but for me i never got the new time stickers. I updated my phone and snapchat and check all the sticker tabs but nothing.
Notifications????
It doesn't show the snaps I've got...I've got to swipe on their names to see the picture they send.
USERNAMES
Hsisnxbakanbshauaj
on
11/18/2017
LET. US. CHANGE. OUR. USERNAMES.
I love snap
But I won't let me download the app which makes me mad
Won't download
Snapchat will not download back onto my phone...
Videos
Whenever I send 3-6 videos or receive a lot of videos in a row, they always come out of order which is super inconvenient. Please fix this
Pausing my music bro
Fun_fun!!!!
on
11/18/2017
Every time I get a notification or go on snapchat y'all decide to pause my music I don't like that bruh
Bugs
I love the app, and I love having streaks. Recently snapchat had been deleting my streaks so that needs to be fixed
Updates
Parke malarkey
on
11/18/2017
The most recent updates rather than fixing and improving minor bugs and issues seem to have created more issues such as the screen freezing and not being able to properly lock your phone
Lenses
DEADPOOL_18
on
11/18/2017
Please add the dancing lenses back. They were one of the best
Took away stickers
So upset they took away the animal stickers! They were so great I don't know why they would get rid of them in the new update. Shouldn't have done that. It was fine the way it was.
Bug
Monkey Man222222222
on
11/18/2017
I still am getting a "?" For the letter "i". What is this!?
why
Brie harden
on
11/18/2017
why did y'all remove the time/date/etc all the stuff like that i loved doing 11:11 but i can't do it now bc of this dumb update sorry but i don't like this update
Suggestions
Infamouse spikey x21
on
11/18/2017
Yall should make stories accessible while viewing viewers 🤷🏽‍♂️
WHAT TO DO
Jellybean🍟🍔😘
on
11/18/2017
it says Snapchat is an camera app so I have to allow the camera now mind you I have had this for a year and it never did this...How do I enable camera?????
Sc is blacking out
00998754588643578kk
on
11/18/2017
Snapchat is blacking out everytime I go to my memories or camera roll to try to post something please fix it!😭
Annoyed with this
Unable to save videos in groups, please stop with the unnecessary updates and maintain things people use such as streaks🤦🏾‍♀️
Ok ok
Well I just embarrassed myself on the Sararah app because of your brilliant new update. Thanks Snapchat 👍
Battery killer
Every time I use this app it drains my battery in minutes. Anything I can do to change setting ! I have iPhone 7 Help
Keeps freezing
So tired of this. every single time i take a video on snapchat, it freezes and i can't even exit out of the app or do anything. it's been happening for a few weeks now and i'm absolutely tired of it. please fix this problem. please
Won't let export snaps
MermaidMum01
on
11/18/2017
Won't let me export any of my saved snaps to camera roll
??
Did anyone else notice the regular stickers aren't there? I only have Bitmoji, emojis and the face cut outs. 🤔
Stop with the Bitmoji
I hateee the bitmojis can you please bring back the profile picture of ourselves being in it not a freaking cartoon character seriously I use it here and there but I hate how we don't have a option whether or not to put our own pic in our profile pick. And my app keeps closing so much ever since I updated the app today it never did that before
Crashing!!
Jdisneksnsn
on
11/18/2017
Ever since the November update, my snapchat keeps crashing a couple of times a day. I have an iPhone 7 Plus and it NEVER crashes while I'm on any app besides snapchat after the most recent update. Please fix, snapchat is my life! Thanks, 👻💛.
I love this app so much!
I love this app and I love to talk to everyone on it better than iMessages!
update
Allie is cooler than you
on
11/18/2017
there should be an update where when you block people from your story it doesn't block the views from people who aren't your friends. it's irritating
Ehhh
At first before all the updates it was ok but now it will say stuff like no connection and it won't work for hours and it needs to be fixed like asap
Update Needed
I love everything about the SnapChat app. However the new update hasn't fixed any minor bugs, the app keeps force closing. Please update!
...
What u should put in
on
11/18/2017
I hate the update and you made Snapchat go slower like for the streaks it takes for forever to go away 😡🤬
Screenshot problem
Strawberry girl 16🍓
on
11/18/2017
Two people messaged me saying that I screenshot their story when I didn't. It's driving me nuts😡
The best app ever
This is the best app I have ever used. I can connect with friends on it
No way to change username
I love Snapchat and use it all the time but I wish there was a way you could change your username because mine is complicated and I made it 2 years ago thinking that it was cool. However, now when I tell people to add me they won't do it because it's too much for them to type. I love the app but it would be easier to connect with more of my friends from school if there was a way to change my username.
glitchy
WHATS HAPPENING W SC?!? I love sc but it like doesn't work anymore. Storys and memory's won't load. It says I opened a snap that I never saw. It won't send snaps, or send it and say it didn't send. Also when I'm on Snapchat, my phone dies! It has died anywhere from 52%-down (it tends to die more in the 20's and 30's % though) Please fix sc🙏🏼🙏🏼
iPhone X problems
I've noticed while using the app since getting my iPhone X that the new updates still do not make it fit for the Iphone X. With this it seems like every time I take a photo to snap someone with the front or rear camera there's a horrible lag and the photo comes out blurry if I do not hold it still seconds after pressing the button to take the photo, never had this issue before switching to the iPhone X so it seems like the app hasn't been developed to for it quite yet.
Losing streaks over 100
Young boii._.
on
11/18/2017
I lose streaks that are over 100 and they mysteriously disappear the next day even though we send each other streaks and the timer won't go off even if you have sent a streak
Awesome App
Speedy Peyton 18
on
11/18/2017
Love it! That's all! Speechless!
Iphone X users
BeanMachine0
on
11/18/2017
This app needs to be IPhone X friendly.. it's really annoying that they haven't adjusted it to fit my screen size yet. Please fix it soon so i can back to loving snapchat
Screenshot
Thatsavagegirl1947592@7
on
11/18/2017
Screenshots need to stop being told to people. The new IOS update allows people to screen record. I was screen recording someone's entire story and they said to me" Why did you screenshot my whole story" but I didn't screenshot her whole story. I did screen record her whole story. So please stop giving nonifications to people if you screenshot or screen record.
Very frustrating memories
Baileylmyers
on
11/18/2017
Everytime I'm in memories after a few seconds it crashes. Very frustrating please fix
Pauses my music every time I get a notification/ or open the app
I wouldn't complain about this if it happened with other apps but it doesn't. Just started a few weeks ago. Very annoying.
Link attachment
Rae Rae 1025
on
11/18/2017
i use snap all the time but the link attachment thing isn't working right. Every time i attach sarahah, whatever they type in the anonymous message box, goes to me in snap instead of sarahah. It's kinda annoying that the links aren't working right. Other than that it's pretty g00d
Poor Quality with iPhone X
Ever since I moved to iPhone X the quality of pictures have decreased. Hope a update comes soon.
Fact Sheet
Publisher:

Snap, Inc.

Category:

Photo & Video

Released:

Jul 13, 2011

Current Version Released:

Nov 17, 2017

Version:

10.22.2.0

Size:

220 MB

Compatibility:

Requires iOS 9.0 or later.

Recommended Age:

12+

Game Center Certified:

No

Supported Devices:

iPad2Wifi-iPad2Wifi, iPad23G-iPad23G, iPhone4S-iPhone4S, iPadThirdGen-iPadThirdGen, iPadThirdGen4G-iPadThirdGen4G, iPhone5-iPhone5, iPodTouchFifthGen-iPodTouchFifthGen, iPadFourthGen-iPadFourthGen, iPadFourthGen4G-iPadFourthGen4G, iPadMini-iPadMini, iPadMini4G-iPadMini4G, iPhone5c-iPhone5c, iPhone5s-iPhone5s, iPadAir-iPadAir, iPadAirCellular-iPadAirCellular, iPadMiniRetina-iPadMiniRetina, iPadMiniRetinaCellular-iPadMiniRetinaCellular, iPhone6-iPhone6, iPhone6Plus-iPhone6Plus, iPadAir2-iPadAir2, iPadAir2Cellular-iPadAir2Cellular, iPadMini3-iPadMini3, iPadMini3Cellular-iPadMini3Cellular, iPodTouchSixthGen-iPodTouchSixthGen, iPhone6s-iPhone6s, iPhone6sPlus-iPhone6sPlus, iPadMini4-iPadMini4, iPadMini4Cellular-iPadMini4Cellular, iPadPro-iPadPro, iPadProCellular-iPadProCellular, iPadPro97-iPadPro97, iPadPro97Cellular-iPadPro97Cellular, iPhoneSE-iPhoneSE, iPhone7-iPhone7, iPhone7Plus-iPhone7Plus, iPad611-iPad611, iPad612-iPad612, iPad71-iPad71, iPad72-iPad72, iPad73-iPad73, iPad74-iPad74, iPhone8-iPhone8, iPhone8Plus-iPhone8Plus, iPhoneX-iPhoneX,

Supported Languages:

Arabic; Danish; Dutch; Flemish; English; Finnish; French; German; Greek; Indonesian; Italian; Japanese; Korean; Bokmål, Norwegian; Norwegian Bokmål; Polish; Portuguese; Romanian; Moldavian; Russian; Chinese; Spanish; Castilian; Swedish; Chinese; Turkish;

Parental Advisory:

Mild Sexual Content and Nudity; Suggestive Themes; Mild Profanity or Crude Humor; Mild Alcohol, Tobacco, or Drug Use or References;