Recommended app!
App last updated
Sep 03, 2014
Screenshots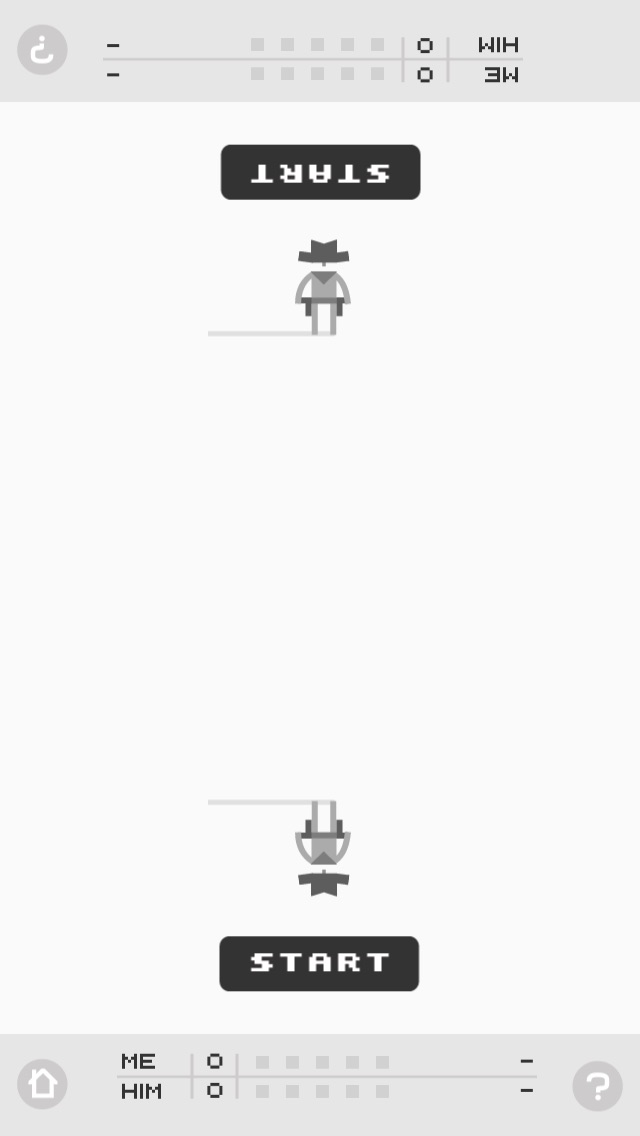 Description
Ready Steady Bang is a beautifully addictive quick-fire duelling game.

Play face-to-face with a friend on a single screen in 2 player mode or pit your trigger finger against 10 of the fastest outlaws and collect a hoard of achievements along the way.

Progress through the game to unlock 31 unique cowboy deaths, then show them off in your Kill Gallery.

Game Center integration allows you to compete against a world of cowboys and girls.

Are you fast enough?
iPad Screenshots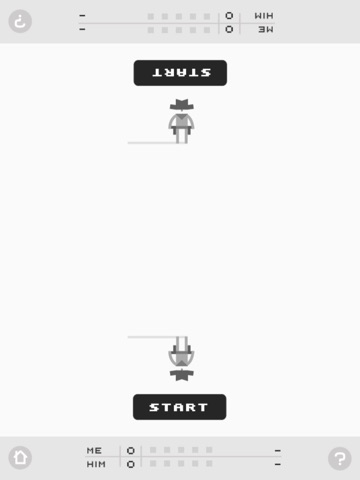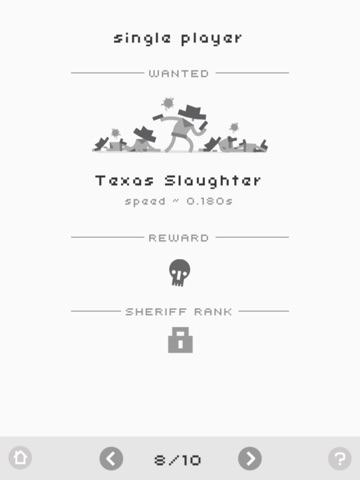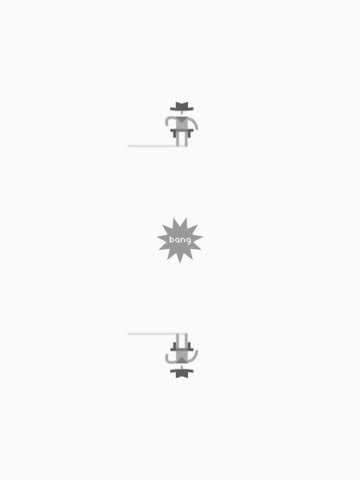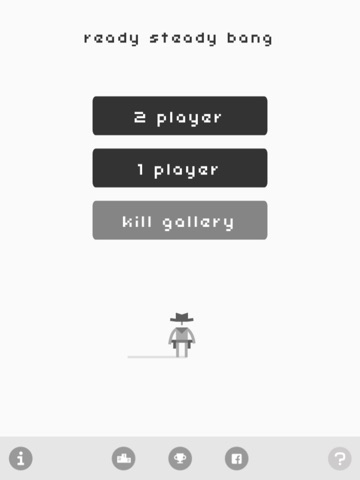 Reviews
Great
You guys need to make it so in one player, the npc occasionally shoots before bang
Touched when it said bang,
But every single time no matter what I do I'm either too early or too late even though I touch the screen right when it says bang. A waste of 99 cents.
Two players, one screen... YES!
I split screen games for the family iPad. Tiny Wings and Soccer Physics also did this well. Why aren't there more of these games?! Good job developer. Nice design aesthetic too. Simply fun.
Hey Pardner......
Good game to practice your clairvoyance from level 6 ---> I'm gonna git that little bravado mother one of these days... I have more fun with my grandson in 2 player mode, that's where this game shines for me! Check out their other app too, it's great!
You feel lucky punk ?!?!?
Mrman1552511661
on
10/22/2014
This game is awesome and this is a game where u can test ur trigger finger with the OutLaws and your friends !! 😄
Fun
I love the Wild West. This game is pure fun. Simple yet challenging.
READY...STEADY...FIXED!!!
Thank You for the updated bug fix. 😁
Awesomist
The mostest bestest game I've haves evers plays.
AWESOME!
Icebreakrz_93
on
6/22/2014
Not a complaint about this game but the reaction times of these characters are hellish! Would recommend this to anyone with an itchy trigger finger or looking to acquire one.
Good idea but it gets BORING FAST
Dtssssssssssss
on
6/22/2014
I like its style and the idea isn't bad but I got supper board vestry fast , I played against acouple characters but it's the same exact thing (ready, steady............. Bang [tap screen) and that's it, that's the game,I think it's easy and just boring, you don't even need to look at the screen to play it...... Maybe when you progress really far it changes up but it needs to interest me enough to keep me playing
Great app, freeze on launch fixed!
TheFuriousFish
on
6/21/2014
There was a bug where the app froze for about 10 seconds on launch, but this update fixes that completely. Thanks Hoover Studio! This is a great app to play alone, but it's even more fun with friends. There are tons of silly death animations that unlock as you progress against the very difficult bosses. I highly recommend this app now that the bug is fixed.
Quirky fun little app
Little E-Bee
on
6/19/2014
Awesome! Would love to see an option to play against another player remotely.
Awesome
Great entertaining app!
AWESOME!!!!
Lenonfreeloader123
on
6/19/2014
WORTH THE MONEY. BUY IT RIGHT NOW!!!!!
unique
Jumprksncmslsoe
on
6/19/2014
fun and challenging :) how about more characters though?
Cool
greenluigi34
on
6/16/2014
I like this game but I have 2 suggestions: 1. No blood 2. It would be cool if u could change the white color to another color instead of white
Simple
It is a pretty tough game, but it is lots of fun to play with your friends.
Another game like this please
I have great idea's for a game to continue this game but that's up to you creators.All I want is another game to continue this.
App Update : Freezes
I updated my app, and now it freezes when Game Center welcomes me. I love this game so much! I'd really appreciate it getting fixed.
Excellent.
DisiPodUserRightHere
on
3/17/2014
Fiendishly simple, but endlessly fun and challenging.
Crash?!?!?!
Just installed the new update. Can't even press 1 player before it jets me back to my iPods screen. Please fix. Also I think there Should be tweaks to make single player mode a little bit more exciting. The animations are beautiful but the game, just doesn't match.
Was good until update
Crashes on ios7/ iPhone 5
The update needs an update
Crash, and then crash, and then crash, and then crash.
Great game
simpleharmonic
on
2/16/2014
I happen to be a fan of minimalist games, and this game fits right to the tee. I also happen to be a fan of difficult near impossible games, and this fits right to the tee. I also love games that have no iaps, and this fits right to the tee. My only request is a longer campaign. Also, does anyone know how to swap out your guns? I can't figure it out for some reason.
NEEDS WILHELM SCREAM
Please add ONLINE multiplayer, characters to choose from, a weapon upgrade system, blood colored to be red, maybe levels? And PLEASE Make them scream the famous WILHELM scream it would be HILARIOUS!!!!!
Horrible
This game just isn't good.. At all . It doesn't need improvements because it will still be a terrible game . It's just bad; a waste of time .
Amazing Game
Ready, Steady, Bang is a very great game, although, it could use some tweaks in its design. For one thing, it's single player mode could use some more levels, as it is only about a 1 hour campaign, which is quite disappointing, considering how fun the short story is. Another thing that could use some tweaks is the two-player mode. On the iPad and iPad Mini, it's a mode that adds hours of replay, but on the iPhone & iPod, it feels a bit awkward having two people's thumbs on such a small device, unless you have a 5th generation iPhone/iPod. Another addition the developers could have added was an online Multiplayer addition.
Amazing! Game
12345678466667
on
2/2/2014
I bought this app and got stuck at van queef or whatever but it's still a amazing app!Please make a part 2!
Please...
change the app title to 'RSB'. Because what I see on my home screen is 'ReadyStead...' and that's annoying. Also, maybe change the name of the character 'Van Queef' to something else. That's kinda gross.
Great idea, but...
I have downloaded this game twice, and deleted it twice for the same reason. I like the idea of a quickdraw game but this game is way too difficult, to the point that it's not even fun and it just makes you mad. There also seems to be a bit of luck/chance involved and the opponents' speed are just ridiculous. There are not any IAPs or anything, so I don't get why this game is so difficult. Maybe I'm just getting old, but any game that consistently requires you to have less than a .3 second reaction time is both not fun at all and downright impossible.
You make it to hard from the start
Spain love Spain viva chavo
on
1/31/2014
It was way to hard from the start and even the second one was almost impossible
Very fun
amazinggates
on
1/31/2014
Simple premise, pure reflex! Love the hyper minimal design. More plz
Pretty neat, super simple game
The greyscale vector graphics are charmingly hyper-minimal.. The game itself is as well. I don't think it'll keep long-term interest like an RPG or anything, but for a couple bucks, it's a worthy trip.
Great...
graphic_content
on
1/11/2014
...I find myself coming back to this game again and again because it is a great on the go game...but by no means lacking in challenge and fun. Good times.
Come on I'm not a computer
The is too fast at the second character. Less than .3 seconds most of the time is asking for a computer reaction speed not a humans.
Dead Simple and Spreading
This is a great, simple, game to kill a couple minutes with with a friend. I call a lot of games addictive and this one is. Everyone I've showed it too has bought it. Even my own dear sweet mother.
Plz add a difficulty setting
I want to see all the 31 kills but it's impossible unless u hack it or put a difficulty setting, I can only get up to the 6th guy. I don't want to hack to beat the guy so plz add a difficulty setting
Garbage
Stone Cold3:16
on
11/9/2013
The last 2 versions of this crash every time I open the game. Not worth the download.
Ready Steady Bang
Free User7492
on
11/7/2013
Great fun.
Cool game
Definitely a lot of fun with others. Extremely simple but well crafted.
Great game!
This great game could save a lot of lives if it came out 200 years earlier!
Great app
Good time killer
Impossible but great game!
This is a really fun game, however I can't get past level 5 with Van Queef. Great for multiplayer to pass time.
👍GG
AMAZING GAME!!! SUPER FUN. I just wish you could play online
Fantastic visuals and game
jeandenishaas
on
11/5/2013
Love the design, the animation and difficulty level. It's all around fantastic. As an animator I especially like that you can view the kill animation separately. Would be fun to be able to see the winning animations as well?
Western shootout
incineration
on
11/4/2013
Simple cute game with a black and white aesthetic. Single player mode is almost impossible to finish but against a friend, it turns into a fun game to kill a few minutes.
Simple and great!
Simple and great game!!! You need to try the 2 players option!!
Gotta be quick!
Nice reaction tester, but I can only beat the first 6 guys. Maybe I'm too old...
Fact Sheet
Publisher:

Cowboy Games Limited

Category:

Games

Released:

Sep 15, 2011

Current Version Released:

Sep 03, 2014

Version:

1.5.1

Size:

20.2 MB

Compatibility:

Requires iOS 5.1.1 or later.

Recommended Age:

9+

Game Center Certified:

No

Supported Languages:

Arabic; Dutch; Flemish; English; French; German; Italian; Japanese; Korean; Portuguese; Russian; Chinese; Spanish; Castilian; Chinese; Turkish;

Parental Advisory:

Mild Cartoon or Fantasy Violence;